Why You Can't Go Wrong With The Rolex Datejust
When I started collecting watches in the late 1990's, my watch dealer – and now Fratello contributor – Gerard told me that I needed a Rolex Datejust. "Can't go wrong with a Rolex Datejust as they always work. With anything.". A short and simple statement from someone who had – by that time already – seen and tried it all. A few years later, just after graduation, I got my first Datejust. It was a vintage Datejust from 1969, with reference 1600, on a jubilee bracelet that was clearly added later. I managed to find a couple of extra bezels, including the fluted white gold one, so I could change it to a reference '1601' when I felt like it. It was also an easy watch to wear on a leather strap.
Again, a few years later, I added a Rolex Datejust 16030. It was a stainless steel model with steel engine turned bezel. I didn't have it for long though and sold it to a friend of the family who wanted to have it. The Rolex Datejust 1600 is still in my possession though, and sometimes it gets out of the bank's deposit box to be on my wrist for a week or so. Despite the fact that 36mm is considered small these days, it wears comfortably and looks great – with everything. With a suit, polo shirt, shorts, jeans, etc. Gerard was right, this watch always works and for every occasion.
That said, I couldn't be happier when Rolex introduced the Datejust II. It was in 2009 when Rolex introduced this classic wristwatch in 41mm (covered it here). Many of my friends liked it and some even bought it (and still own it). It's a more masculine sized Datejust, but with all of the cool design elements that remind us of the first Datejust from 1945. Well, perhaps 1954, as it was that year when Rolex decided to apply the – now – unmistakeably feature of this brand to the date: the cyclops, which is a loupe that magnifies the date exactly 2.5 times. But, even after trying the Datejust II for a couple of days, it didn't feel right. Rolex did something to the design of this watch that removed the elegant sleek lines of the original 36mm Datejust. The 36mm Datejust never went out of production and still is in the core collection, but the Datejust II was eliminated within a few years. It was simply too fat and bulky, a misinterpretation of what the market wanted I guess. That doesn't happen often to Rolex. Still, don't get me wrong, whenever I see a Datejust II I am still drawn to it. The design is so strong that it appears to be able to handle a bit of over-weight pretty well. In 2016, Rolex did a slight correction and introduced to you the Datejust 41. This is a more elegant version of the Datejust II, or simply a larger version of the already elegant Datejust in 36mm. At first it was only available in bi-colour (or Rolesor, as Rolex put it), but since 2017 it's also available in stainless steel (we covered it here).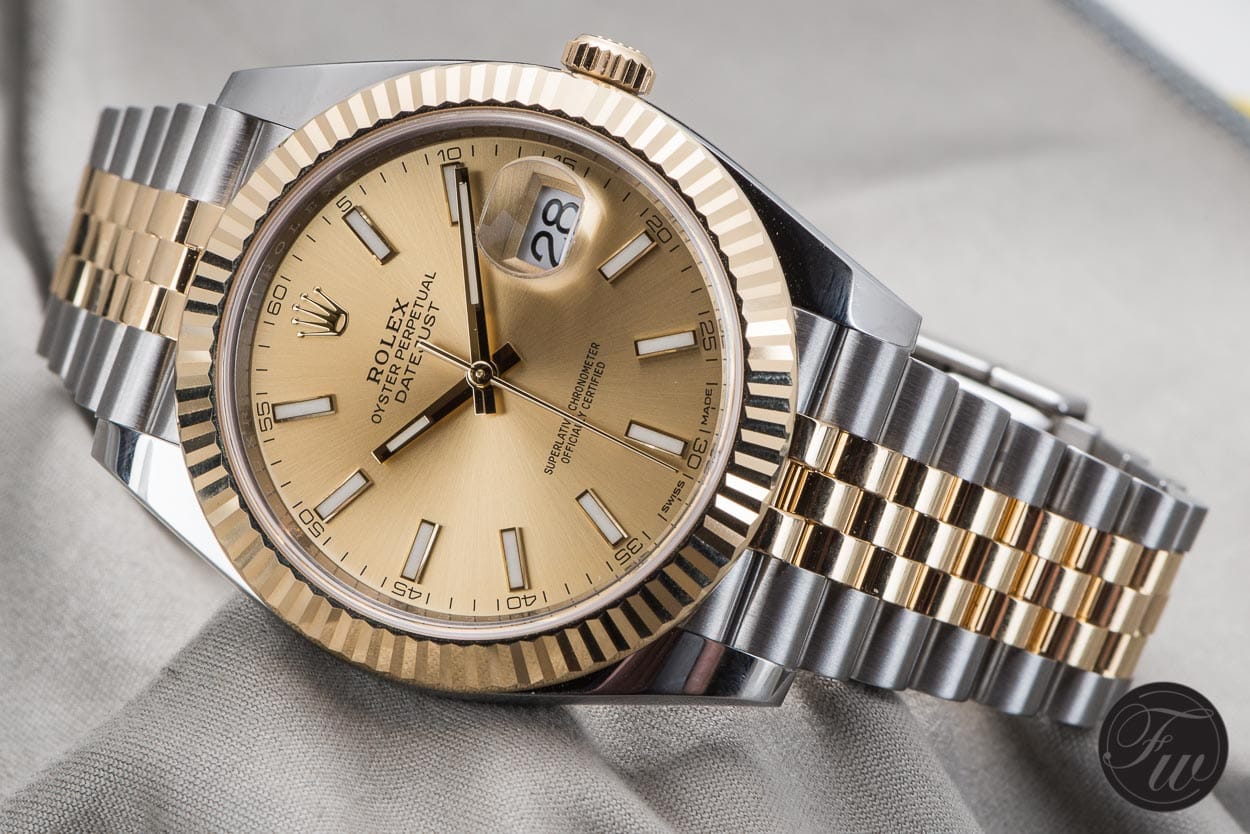 The fact that a watch is owned by famous people is not very relevant for me. However, for some people it is and the Datejust can be found on the wrists of many celebrities or featured in movies, where they even get a tad bit of attention like in American Psycho, where character Patrick Bateman tells his 'victim' to "Don't touch the watch". The Datejust might not have the same status as the Day-Date, but it is certainly a highly recognizable watch even to those who are not considered as watch enthusiasts or collectors. Importantly, you can tailor the Rolex Datejust towards your personal style. If you like to keep things in stealth mode, preferring understatement, a Datejust in stainless steel with Oyster bracelet, smooth steel bezel and a blue or silver-tone dial will fit your needs. Should the Rolex Datejust be your watch showing some glam and bling, you can choose a bi-colour (steel and yellow gold or steel and Everose gold for example), choose the fluted gold bezel, a two-tone Jubilee bracelet and a slate dial with green Roman numerals. You can make the Datejust what you want it to be.
But, to come to the heart of the matter, a Datejust might be just the perfect all-arounder within the Rolex collection. I know that the Submariner, GMT-Master and Daytona are the ones that spring to mind, but a Datejust has more or less the same specifications when it comes to movement and bracelet for example. And perhaps more importantly, a Datejust has no issues regarding availability. It seems that the production number is higher on Datejust models, perhaps because there is also more variation among them. If you simply want to enjoy a watch, and not buying one as a speculator, the Rolex Datejust could become your companion for life. Some people might think it isn't sporty enough, or too boring, but using the configurator on the official Rolex website, you will see you can go any direction with this watch. And to be honest, the 100 meters water resistance (Twinlock crown!) will allow you to just use it for swimming as well. Just like Patrick Bateman, you never have to take this watch off your wrist.
Whether you go for the Datejust in its classic size of 36mm or the new 41mm, you basically can't go wrong with any of the models. It might be the perfect watch for those who just fancy one watch, but it is also a great addition to any collection. You will probably realize soon that it is the watch you return to very often. It's incredibly comfortable, especially with the fancy looking Jubilee bracelet, or a bit more sporty with the Oyster bracelet.
Almost all Datejust models are equipped with the new generation of Rolex movements. The smaller sized Lady-Datejust models in 28mm and 31mm have the new Rolex calibre 2236 movements. Fitted with a Syloxi hairspring in silicon, patented by Rolex, it offers a high level of accuracy. It is guaranteed to perform within -2 and +2 seconds a day, and this has been regulated and tested after casing (unlike the standard chronometer certification that is done on the movement only). The 36mm and 41mm models have the Rolex calibre 3235, with the same accuracy of the movement in the small Datejust versions for ladies, but with a power reserve of 70 hours instead of 55 hours. The size of the movement is of influence for this of course, as a larger barrel is needed to provide more power reserve. Note that some of the 36mm configurations that have been in the collection for a longer period already can still use the 3135 movement. Although this movement has the same accuracy standards, the power reserve is approximately 48 hours.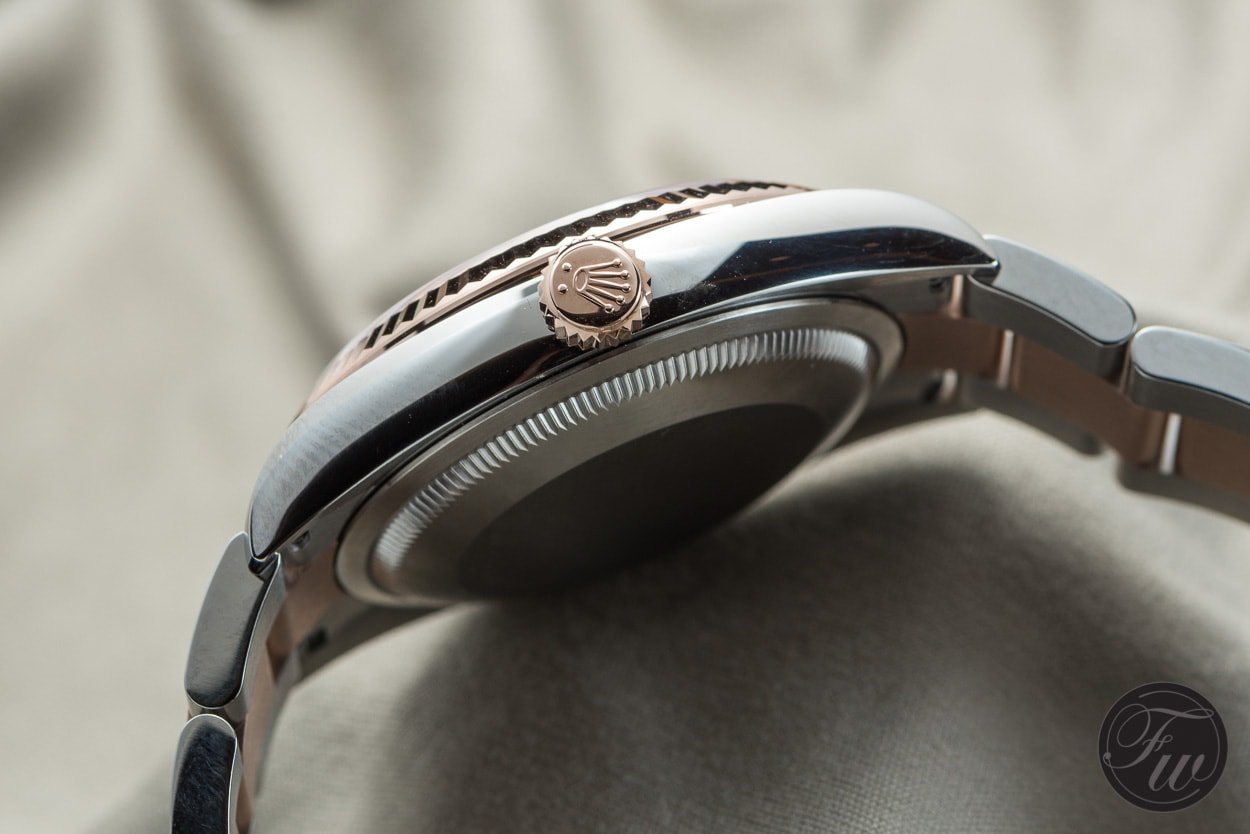 Prices for the Datejust families in 36mm start at €6100 for the all stainless steel model (calibre 3135 movement) and run to just over €10.000 for the bi-colour version. Add some diamonds to the dial and it will be more of course. The Rolex Datejust 41mm starts at €6800 for the all stainless steel model with Oyster bracelet, €8750 for the Jubilee bracelet and white gold fluted bezel and €11.750 for the same in bi-colour. Everose gold adds a few hundred more. Since awhile, Rolex lists all their prices online and using the configurator you can immediately see the effect on the price. Pre-owned prices are all over the place, as there are so many configurations possible, but a vintage 36mm Rolex Datejust 1601 in neat and original condition should be just under €3000.
The good thing about the Rolex Datejust is that the availability is very good and that you have so many options to choose from. Also for ladies, the available dial, bezel and bracelet variations on the 28mm and 31mm models are superb.
Does the Datejust hold value like the Rolex sports models? In short: No. But you are not shredding money either, as the prices of the pre-owned Datejust models have increased over the past few years. When one of my relatives bought an all steel Rolex Datejust seven years ago, the retail price was lower than the pre-owned price of today. Speculators might place a safe bet on one of the sports models, but probably either have to wait or pay over retail price as well. However, for wearing pleasure, I am pretty sure the Datejust is more versatile than any of the sports models, perhaps with the exception of the Explorer.
I would like to end this article with the sentence a wise man once said: You can't go wrong with a Datejust.
For more information on the Rolex Datejust, available configurations and pricing, visit the official website.