Monday Morning Tips: The New Gray Fratello Tropic Strap Looks Great On My Grand Seiko SBGX341
Plus a DIY Nivada Grenchen "Pac-Man" Depthmaster and news on Watches and Wonders 2023
Getting a new strap for your watch can quench your thirst for a new watch, at least for a little while. But a new strap can also re-energize the love for your watch. I'm still deeply in love with the looks of my tough quartz Grand Seiko that I bought in the fall of 2021. But sometimes I wonder what it would look like on a strap instead of the bracelet it comes on. When I saw the new gray Fratello tropic strap on the desk of our e-com guy Laurits, I knew that pairing it with the Grand Seiko SBGX341 would turn me on. Another exciting thing is that Watches and Wonders 2023 is drawing nearer and will be open to the public on April 1st and 2nd. Finally, if you love the Nivada Grenchen "Pac-Man" Depthmaster, you now have a chance to order a customized one.
The reasons why I bought my Grand Seiko Tough Quartz SBGX341 are well documented in both writing and video. It was love at first sight. The white dial with the red details around the outside, the angular and muscular 40mm steel case, and the robust three-row bracelet struck me deep in my heart. I never get tired of wearing it because it goes with almost anything, and the shapes, details, finishing, and colors never get old. Also, putting a bracelet watch on the wrist is an act that provides a unique feeling. It's that flowing motion, the clicking of the clasp that elevates it to a level that a strap and a pin buckle can't reach. To me, a bracelet watch feels rich and luxurious. So why would I put anything but a bracelet on my sporty-chic Grand Seiko SBGX341?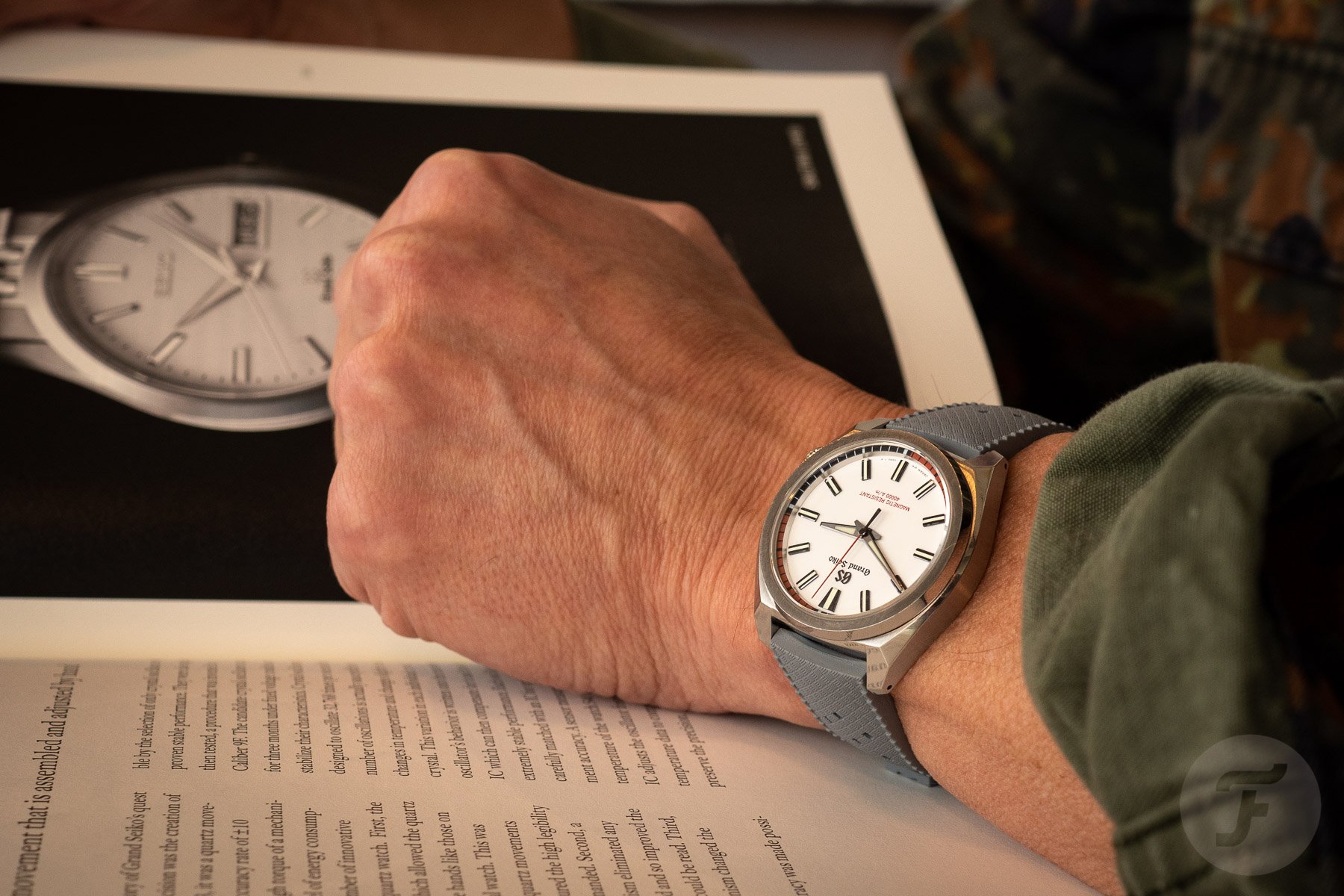 A new gray Fratello tropic strap for my Grand Seiko SBGX341
The reason I was looking at a strap for my "GS" was not because I was bored or tired of the watch on a bracelet. I just wanted to keep things exciting and fresh. And since variety is the spice of life, I thought of spicing things up a bit. But with what kind of strap? I say "strap" because an alternative bracelet — mesh or beads of rice — was never an option for this contemporary-looking watch. Leather was simply not technical enough, and a NATO strap was a too-obvious choice.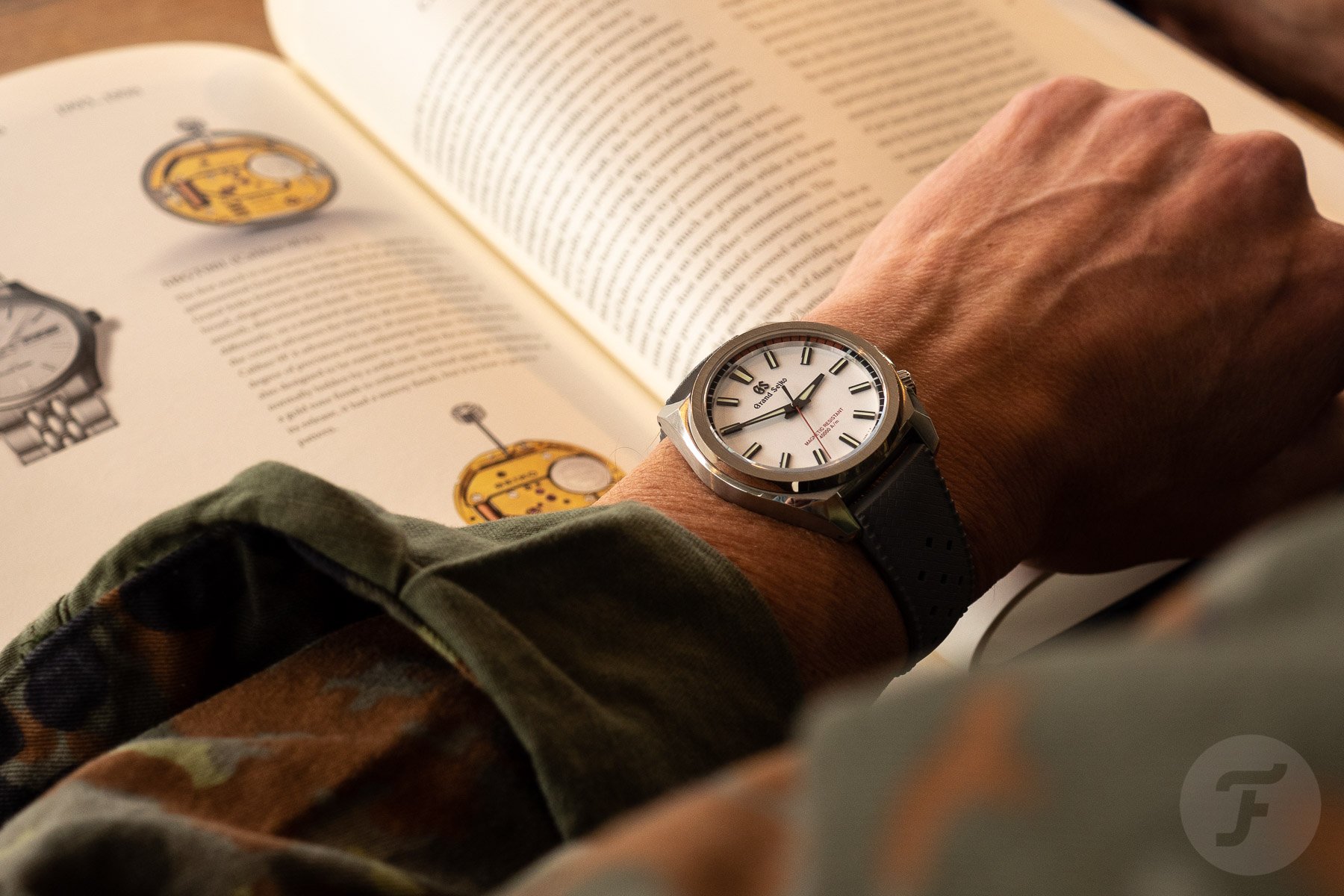 I thought a tropic strap, although very much on the retro side of things, would be perfect. But what color? Off-white works surprisingly well with a white dial, but I never found an off-white tropic strap in the right shade. They were either too yellow or too brown. But then I saw a new gray Fratello tropic strap on the desk of our shop manager Laurits.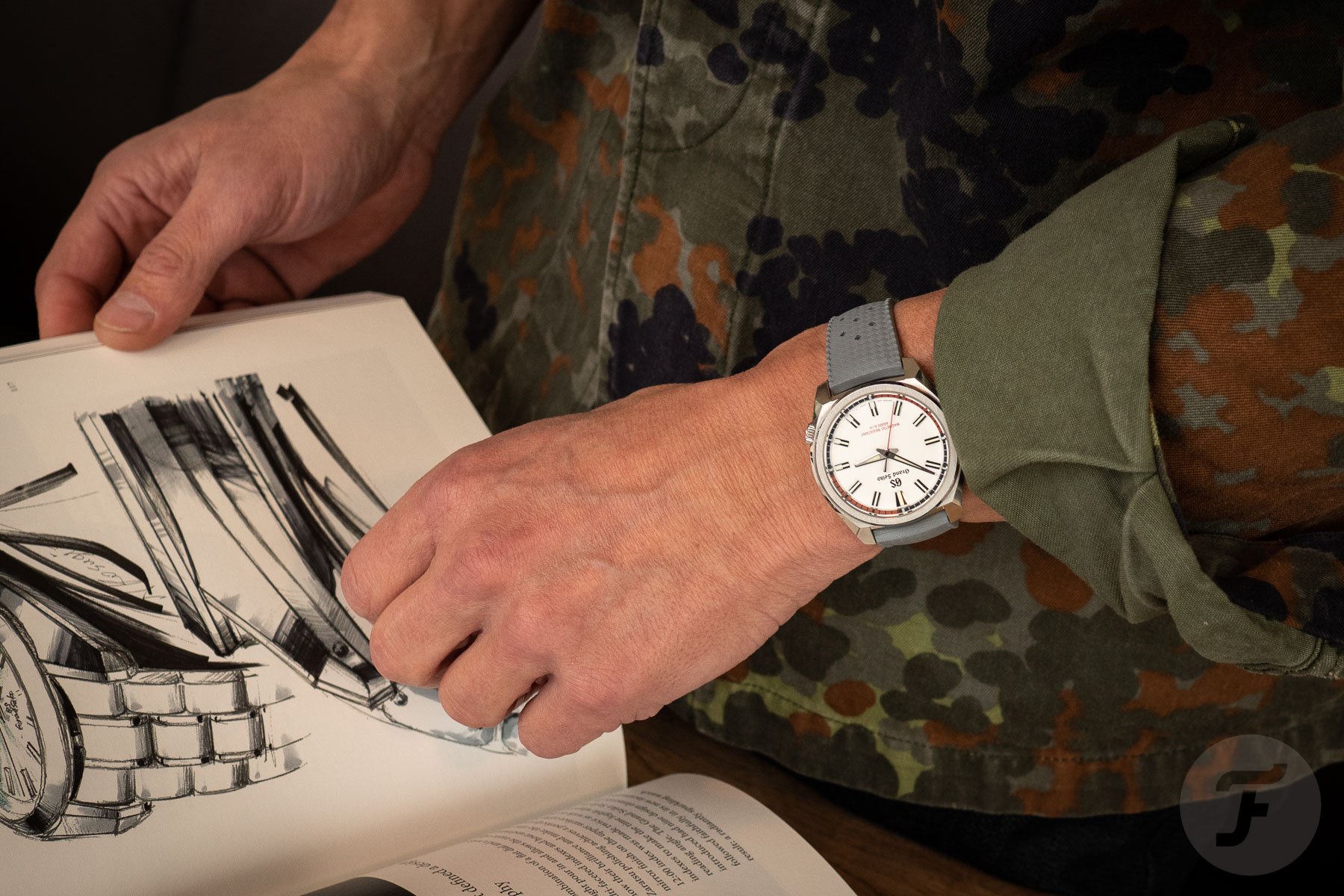 Technical gray with a hint of retro
You're right, there's no trace of the color gray on the dial of the SBGX341. So why does the new 20mm gray Fratello tropic strap (€65) work so well? Maybe because it kind of matches the metal color of the hands and the surrounding bezel and case. It could also be because gray is right between white and black, two shades that are present in the watch. Whatever it may be, I like it. A lot.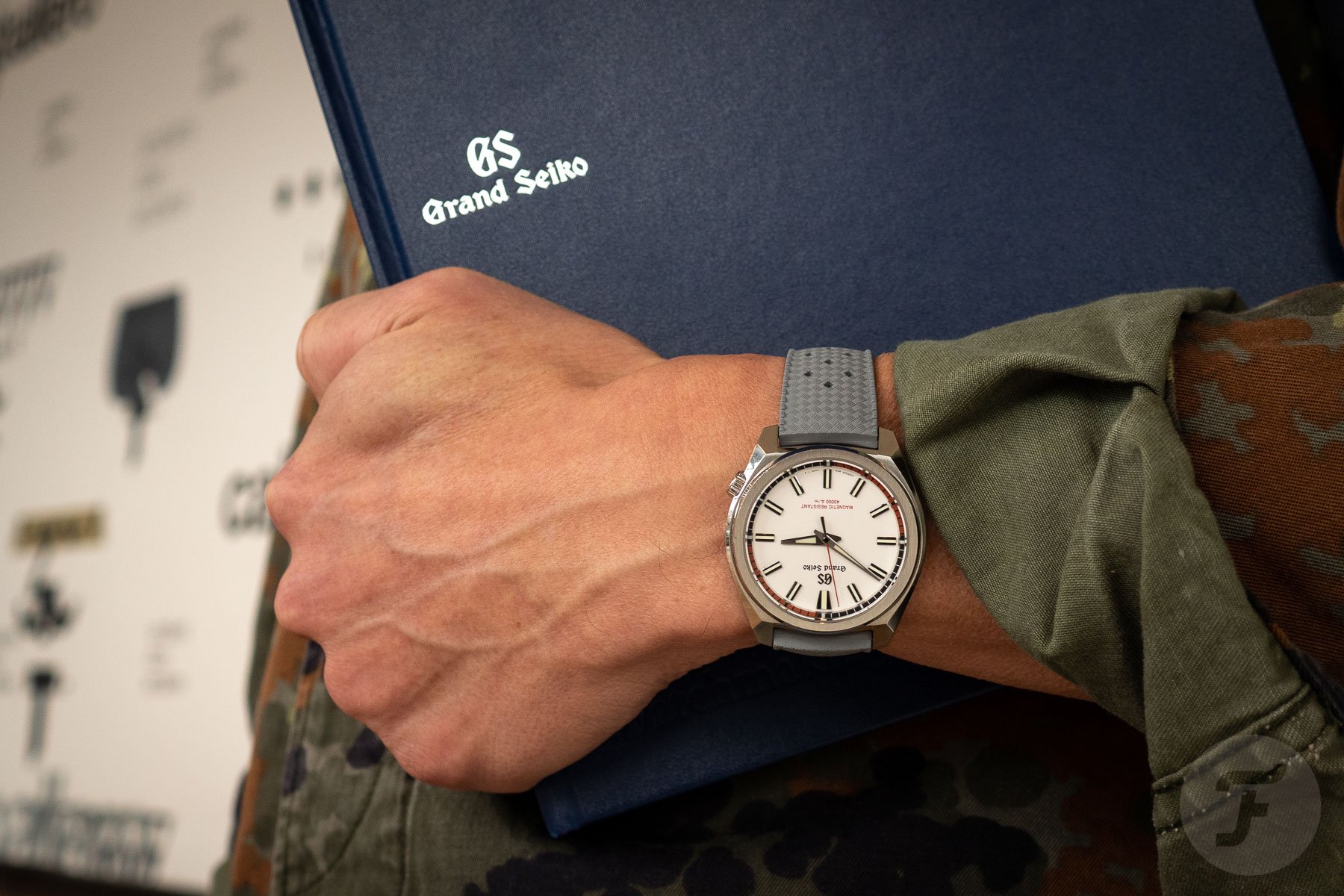 The light gray color is kind of technical, instrumental, and no-nonsense, and the tropic strap is, of course, nostalgic and very 1960s. It's also incredibly comfortable because it's super supple and flexible. I'm curious how it will wear in warmer temperatures, but I guess time will tell. Maybe I'll take the strap off in a little while — it comes with convenient quick-release spring bars — put the bracelet back on, and switch back to the tropic strap when we've left the cold season well behind us. And to be honest, I can't wait for that.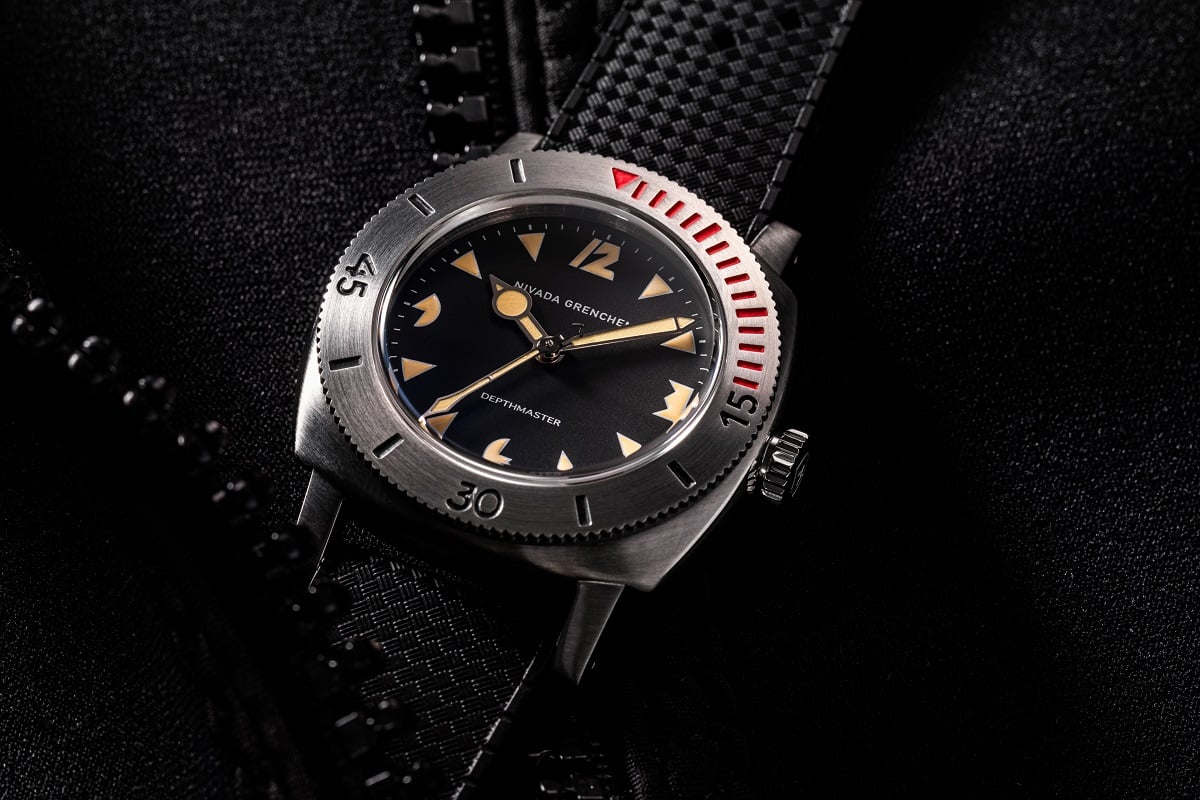 DIY Nivada Grenchen "Pac-Man" Depthmaster
So you like the "Pac-Man" Depthmaster, but somehow you think you can make a watch that looks better than Nivada Grenchen's did. Well, your time has finally come to do just that. You have until February 1st, 2023, to put together your perfect Depthmaster from a virtually infinite number of component options, including four bezels, eight dials (four "Pac-Man" versions), three hour hands, two minute hands, five seconds hands, three straps, and two bracelets. Whew!
The new Nivada Grenchen configurator allows you to play around with the 39mm stainless steel dive watch with an automatic helium release valve. Inside the case, which is water-resistant to 1,000m (3,300ft), beats an automatic Soprod P024 movement. The price of your custom Depthmaster starts at US$950, and that includes worldwide shipping. It's hours of DIY watch fun guaranteed, even if you don't put your perfect "Pac-Man" in your shopping cart once you're done.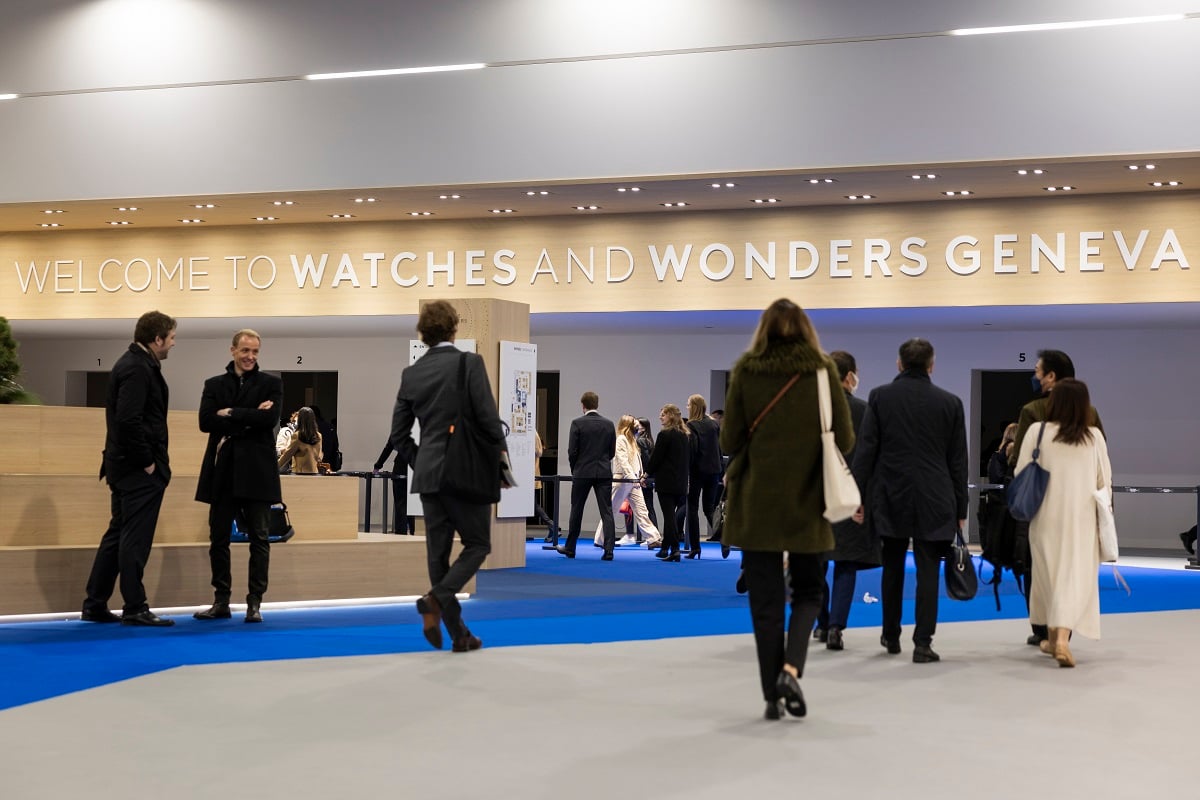 Watches and Wonders 2023 opens its doors to you too
Earlier, I said I couldn't wait for the cold season to be over. Another thing I can't wait for is Watches and Wonders 2023. The watch salon in Geneva will open its doors on March 27th and will close them again on April 2nd. The Fratello team members received their invitations last week and are now planning appointments with all 48 participants. The first few days of the salon will be a press- and invitation-only affair. But on April 1st and 2nd — that's the first weekend of April — the salon will be open to the public. It will be a great chance to be one of the first to see some of the most important 2023 novelties.
And luckily, not all the watch fun happens at the Palexpo convention center next to Geneva Airport — not the most fun location in the world, to be honest. This year, Watches and Wonders will also take place in downtown Geneva for the first time. As I write this, watchmaking boutiques are already preparing for your visit.
Tickets for Watches and Wonders will be available as of February 1st on this website. These tickets are nominative and cost CHF 70 each. See you in Geneva.
Find and follow me at Lex Stolk • Instagram.