Why I Bought The Grand Seiko Tough Quartz SBGX341 Watch
An unexpected tale of events as watch karma unfolds!
Sometimes it's written in the stars. You can call it cosmic fate. Or karma. Watch karma in this case. The story of why I bought the Grand Seiko Tough Quartz SBGX341 watch is a tale of random events that string together in the end. And it all began back in June of this year…
As you might know, this year, Seiko celebrates its 140th anniversary. As a consequence, numerous limited editions in all product families have reached Fratello HQ. Last June a rather handsome trio came in and especially one of them really struck a chord with me. That was the Grand Seiko Quartz GMT SBGN023 Limited Edition. That watch made it to my Top Five Watches Of 2021. Why? Because the watch immediately caught my eye. But it wasn't the dial that struck me, although its radiant design is striking, no, it was the sharp new case design.
It's all about that case
The new 40mm case in the Grand Seiko Sport collection is edgy, has clear and crisp lines, and because of the contrast between brushed and Zaratsu polished surfaces, it looks like an olympic gymnast in an extremely flattering light. Not an oiled-up bodybuilder, the case is too small and subtle for that, but purposefully muscular; functional yet aesthetically pleasing.
It flaunts an angular modernity that honors a traditional form.
Anyway, the case reminded me of another evolution of the legendary 44GS case shape — possibly my favorite case design of all time. It also takes hints from the quite rough-looking, discontinued SBGV243 and SBGV245, but the new case is more subtle. It flaunts an angular modernity that honors a traditional form. And because of the 40mm size, it's an easy-to-wear daily beater. But no matter how much I loved the case of the SBGN023, I didn't quite feel the urge to buy it.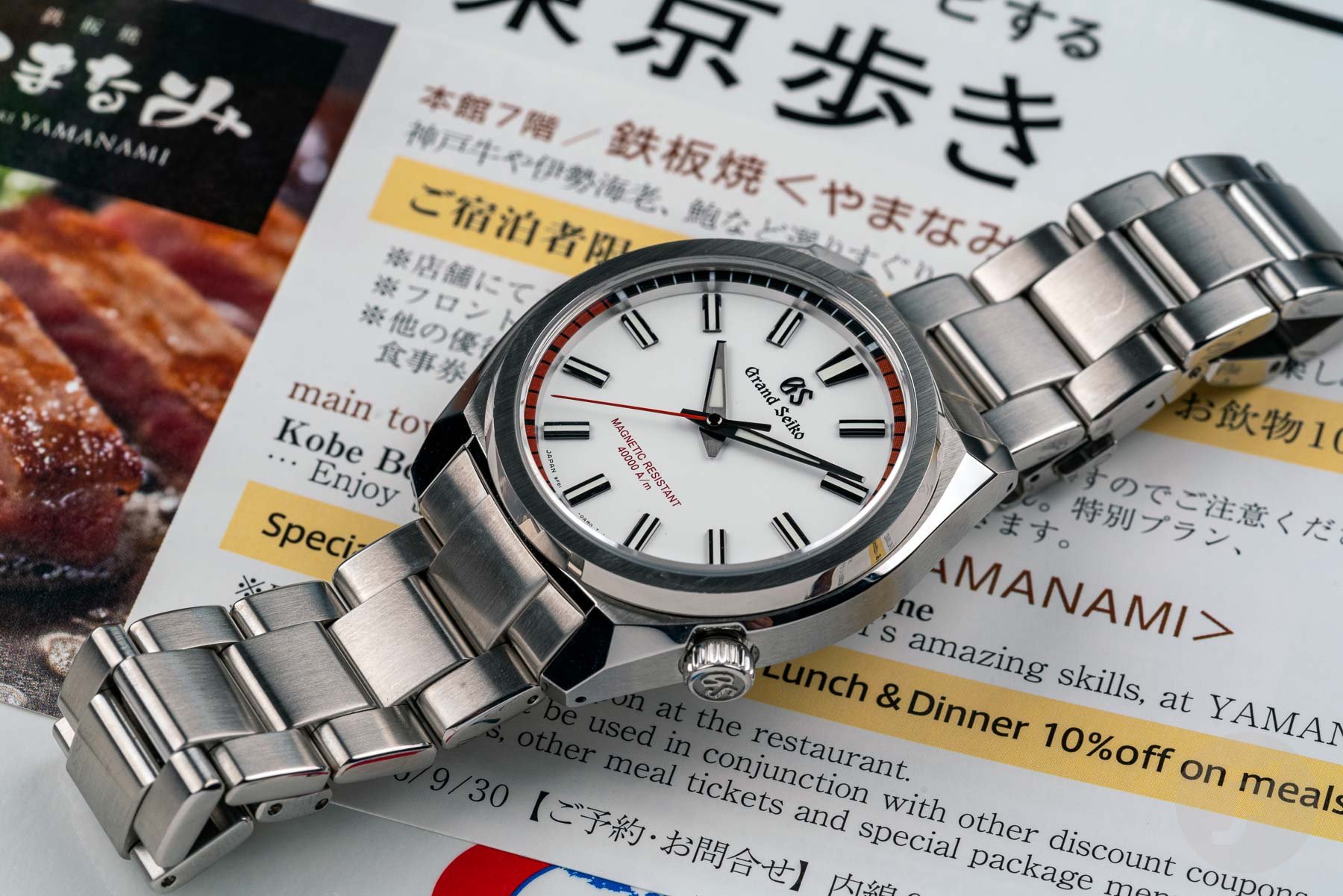 Out of mind, but not out of heart
It was partly because of the price — it fell a bit out of my budget at the time — and partly because of the dial and bezel. Don't get me wrong, they go well together, but I thought that the many visually striking details were a bit too much for my taste. I do like simple, you know, as you can probably tell if you've seen one or more articles from my "The Best Boring But Brilliant Watches In The World" series. Anyway, I wiped the thought of buying the Grand Seiko Quartz GMT SBGN023 out of my head. I didn't quite forget about it, because it made my 2021 Top 5 list, but that was that, end of story… But it wasn't, as I now know.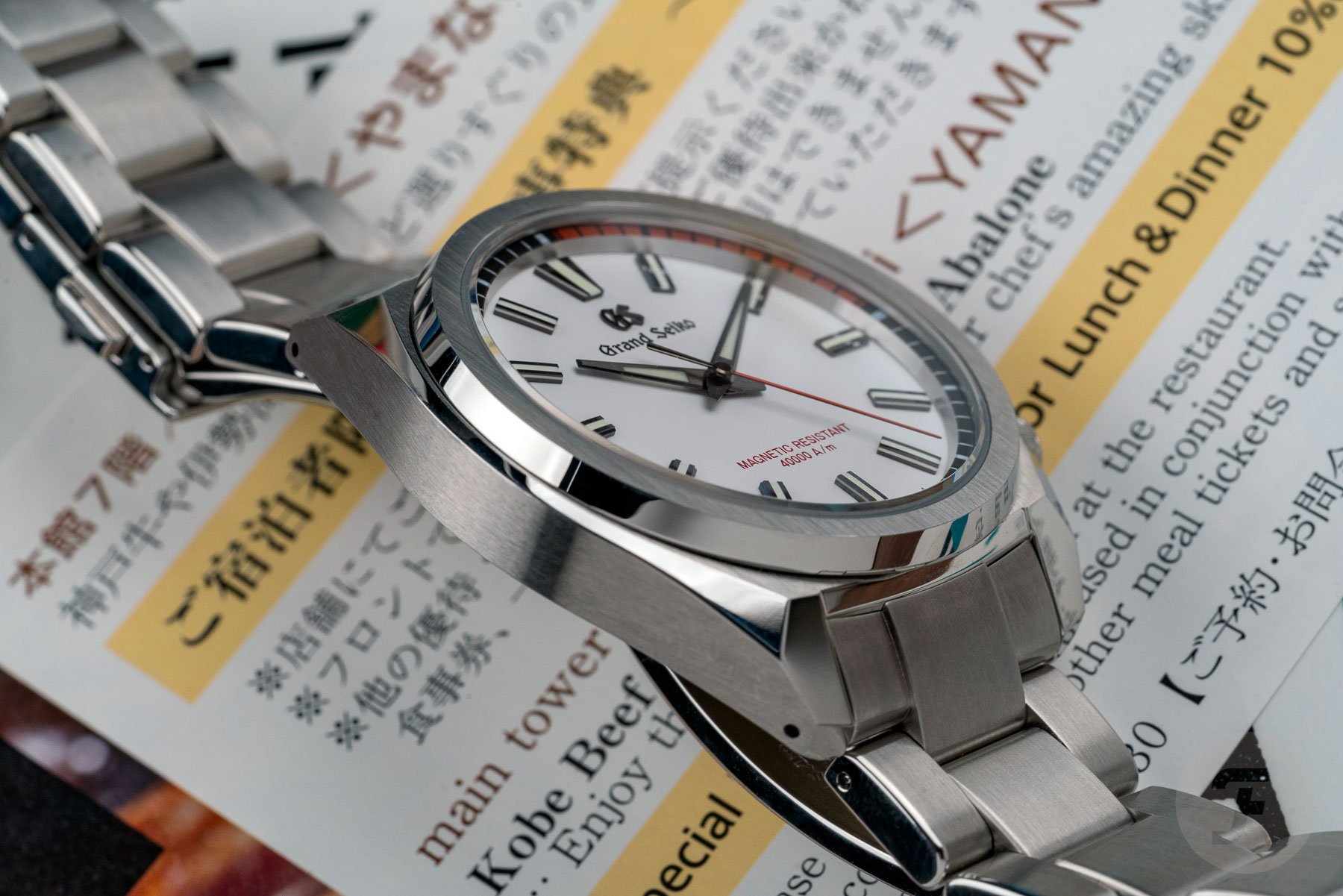 Grand Seiko Tough Quartz SBGX341: a first glimpse
Just a few weeks ago Fratello's first post-pandemic event took place at the Vendome Grand Seiko Boutique in Paris. Both Robert-Jan and Gerard met up with Frédéric Bondoux (CEO Grand Seiko Europe) and his team, a selection of Grand Seiko fans and collectors, and had a blast. I wasn't there, but I know because they told me. And Gerard showed me the pics he took. And that's when it happened. That's when I first saw the Grand Seiko Tough Quartz SBGX341. And even though it was on the tiny screen of his camera, a lightning bolt struck the horological part of my brain. I saw the case I love so much and felt in the metal, plus I was looking at a crisp white dial and a clean bezel.
Watch karma: it's a thing
I started asking questions about what it was because until that moment I had never seen this watch. Not in pictures on Instagram or on watch websites, and I also couldn't remember receiving any press release. What Gerard told me is that even at the rand Seiko Boutique they were a bit puzzled about what that watch was and why it was even there. Apparently, it just showed up. Maybe it was sent from Japan because of the fan meeting. But I'd like to think it was karma — watch karma. Because immediately after seeing the watch, I started looking for info online. I saw the watch pop up in several Japanese stores and on Grand Seiko's Australian and US websites. And I even watched a video called "The COOLEST Grand Seiko you didn't know existed".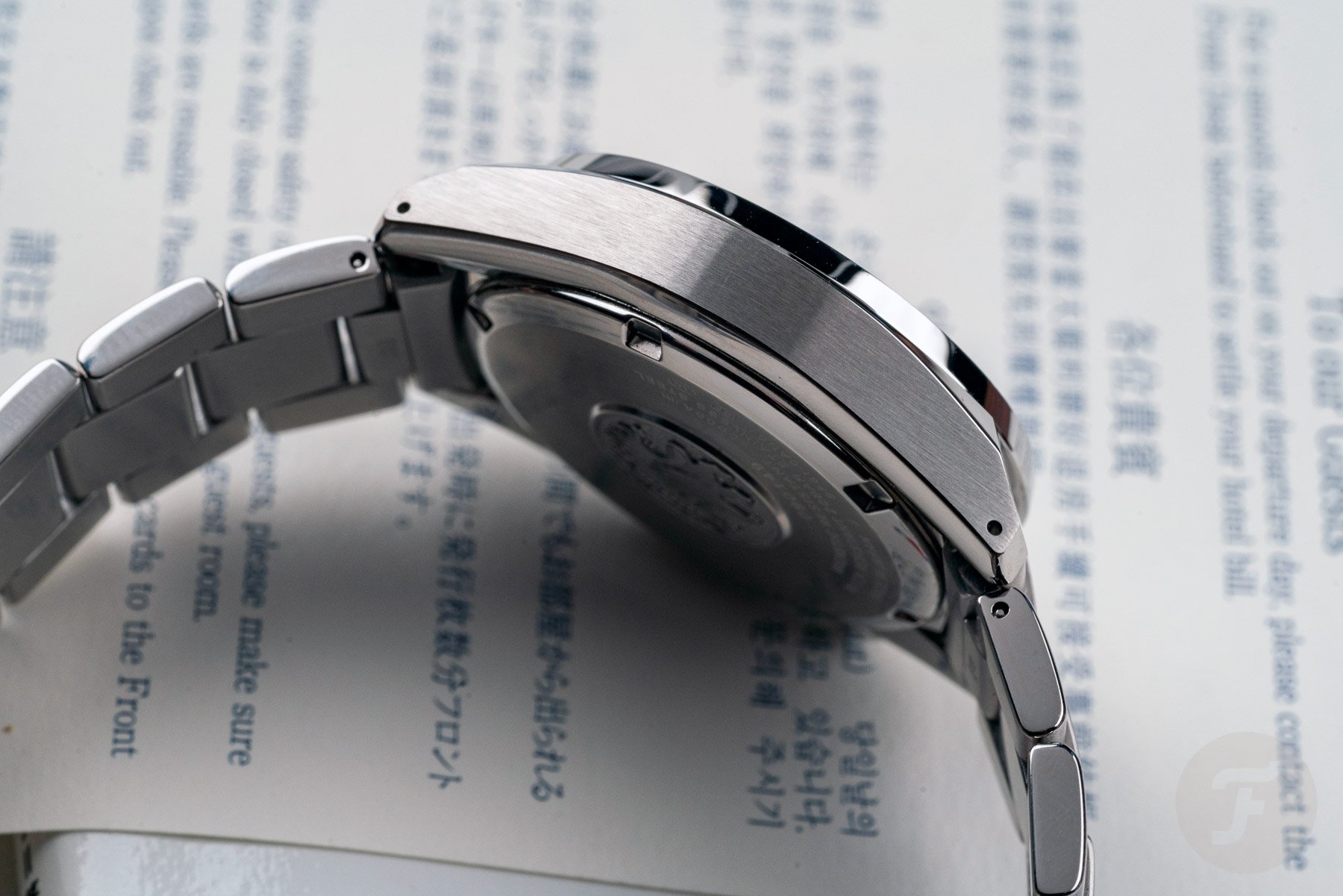 Released without fanfare
After digging a little deeper, I learned that the Tough Quartz SBGX341, a new take on the anti-magnetic Grand Seiko 9F Quartz SBGX039 released in 2003, appeared without fanfare at the end of 2020 on the Japan Domestic Market (JDM). And that some of these models were allocated to the US and Australian market, exclusively available through the three Grand Seiko Boutiques and the GS9 Club Shop. I didn't know that. And I bet only a few people in Europe know because it's nowhere to be found on any European Grand Seiko platform or GS dealers.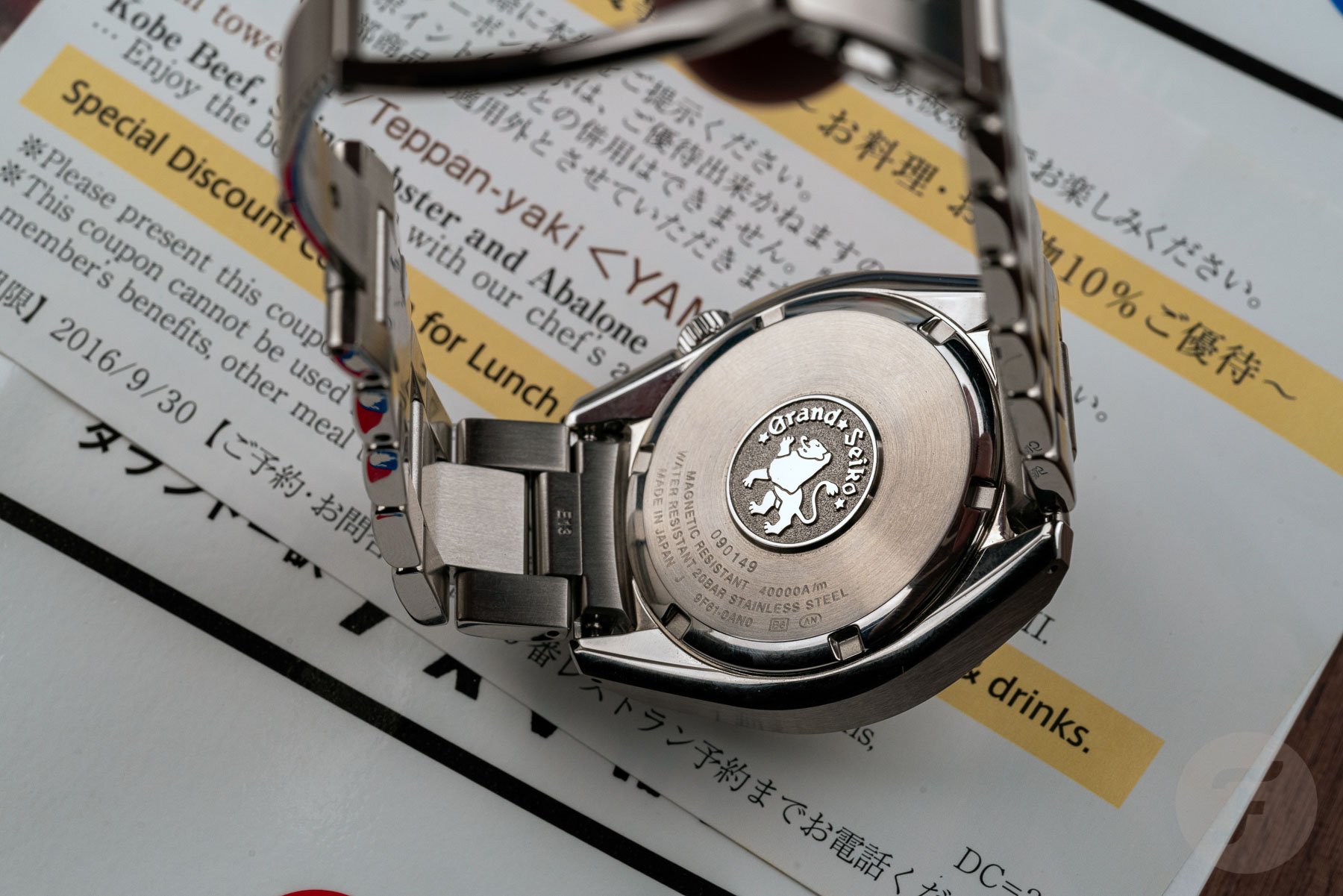 A muscular gem
The case shows off course the same clear lines and crisp edges as the GMT SBGN023 I got to know earlier. But that case measures 40×13.1mm while the Tough Quartz SBGX341 measures 40 × 11.65mm — the 44mm lug-to-lug length also stays unchanged, of course. It's slightly thinner, and that makes it proportionally even better than the GMT. I called the GMT muscular and even buff.
… the bezel ever so slightly overlaps the point where case and bracelet meet.
The Tough Quartz SBGX341 is just muscular. And the bezel is a gem. Zaratsu-polished on its sloping side and with a vertically straight brushed finish on the top. And something I particularly like is that the bezel ever so slightly overlaps the point where case and bracelet meet. By doing so it creates a very dynamic play of lines. I don't have to mention that the level of finishing is of the highest level, now, do I?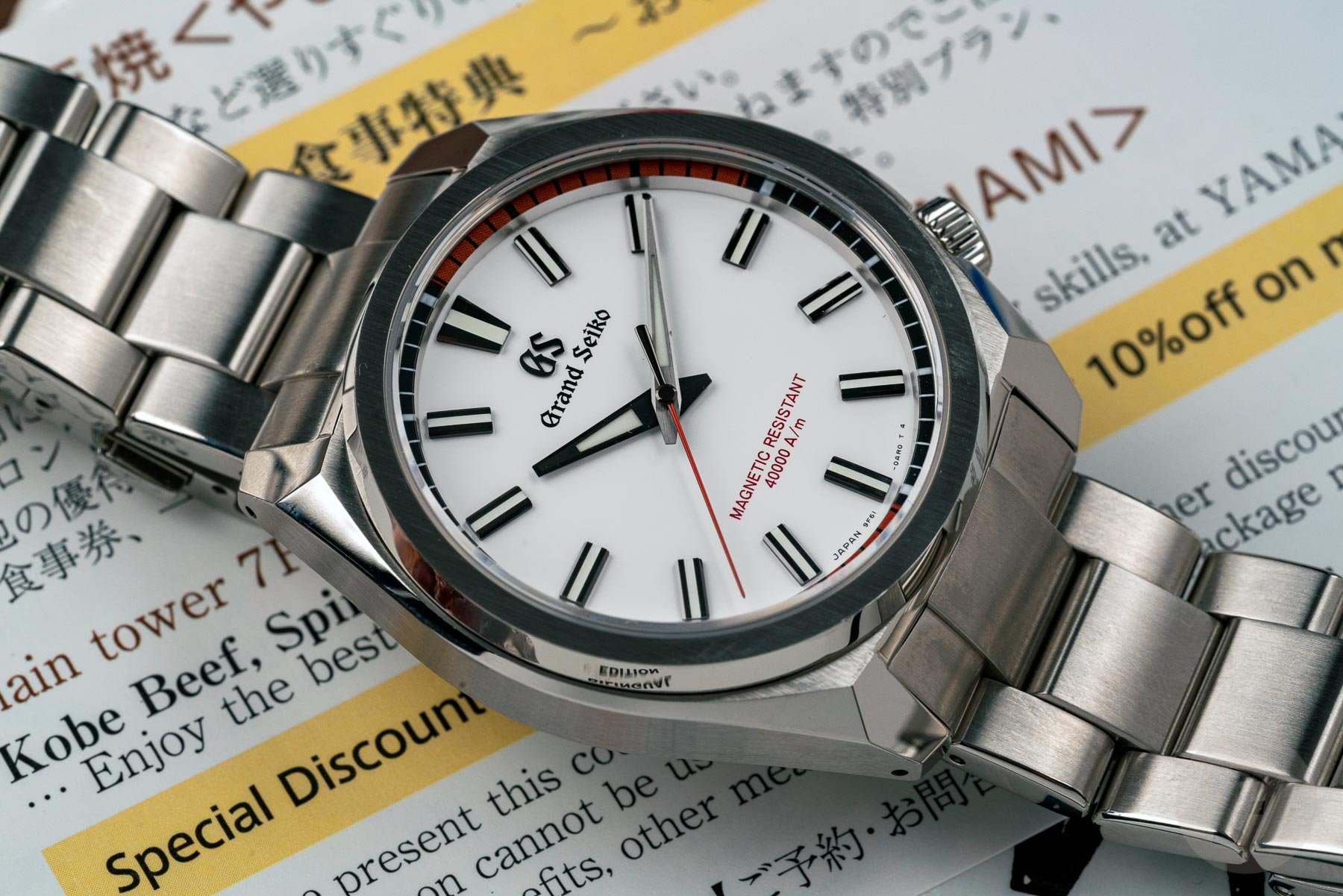 Green and blue Lumibrite combined, a Grand Seiko first
The matte white dial is another thing of beauty. It's oh so simple, but because of the accents it comes to life. On the elevated chapter ring with the seconds track, there are two black 15-minute segments and two orange ones — and when I say orange, it's more of an orange shade bordering on red. That same color accent is found on the seconds hand, which hits every second indication on the flange with great accuracy.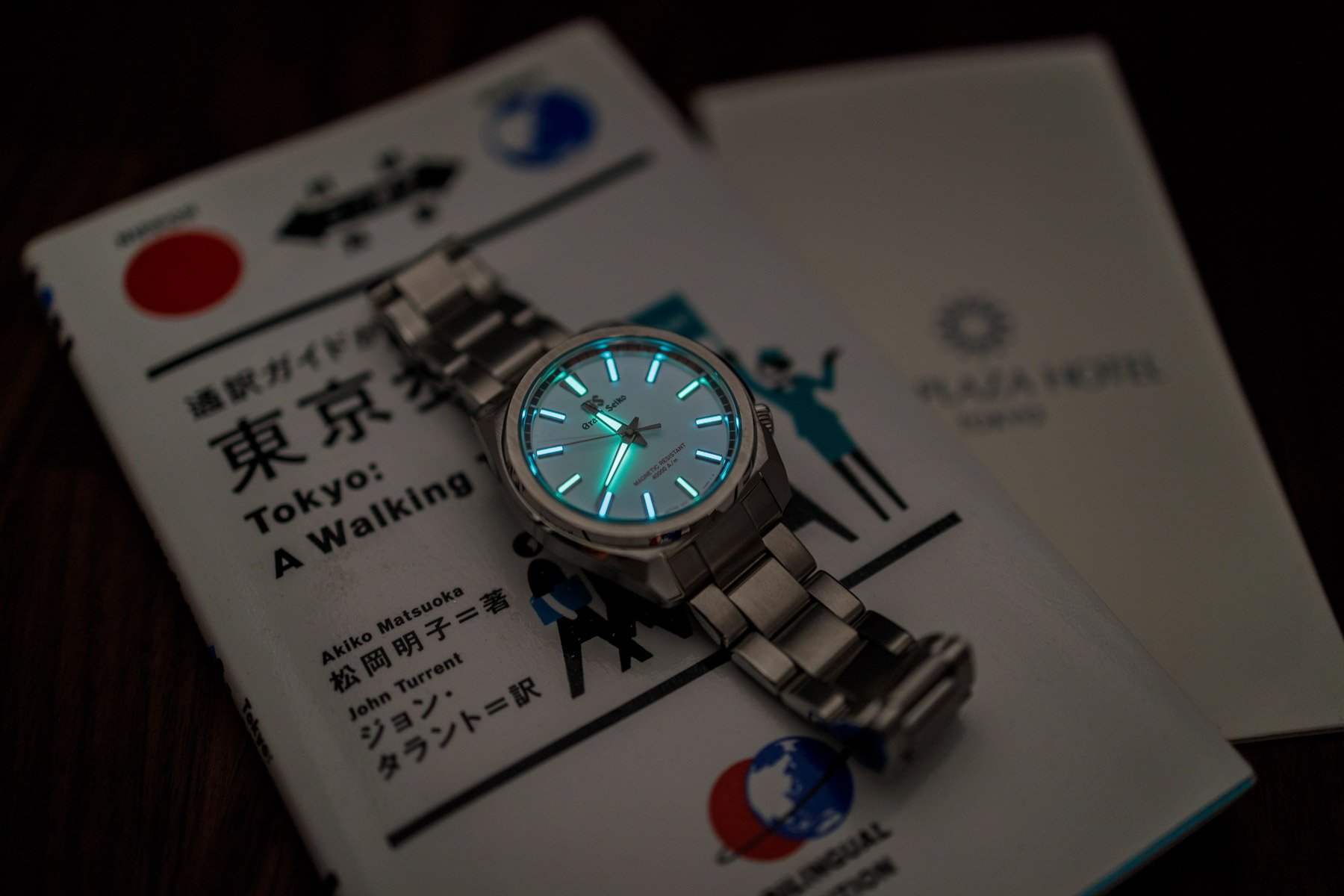 In the dark the party starts with green and blue Lumibrite in the applied indexes The 12, 3, 6, and 9 indexes light up green — as do the hour and minute hands — and the other ones glow blue. This watch is a beacon in the dark and guarantees high visibility all night long — and in some cases even during the daytime.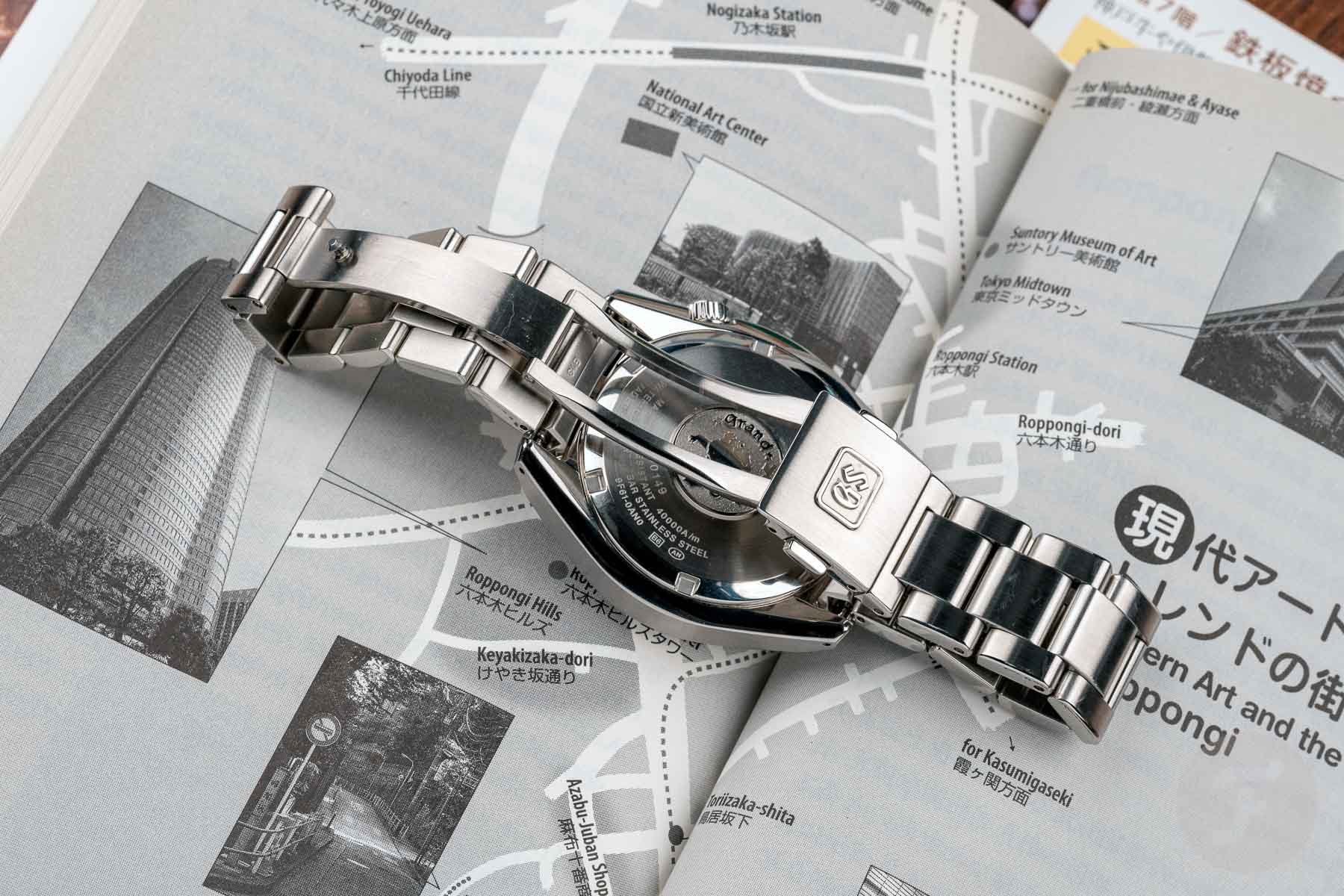 Quartz VS. magnetic fields
You probably also noted the words "magnetic resistant 40000 A/m" on the dial. The Tough Quartz SBGX341 is the Japanese Milgauss except that it's not mechanical, but a quartz watch instead. Magnetic fields don't only effect mechanical movements, it can also hurt a quartz movement, because they could have an impact on the step-motor. As a result it could speed up or even stop the movement completely.
… a pure iron shield has been placed over the crucial parts of the caliber 9F61 …
Inside the step-motor is a crucial part, confusingly named a rotor. That's a permanent magnet with a pinion. And to protect the rotor and the step-motor from the effects of magnetism, a pure iron shield has been placed over the crucial parts of the caliber 9F61 — the only 9F movement without a date display, an estimated accuracy of +/- 10 seconds per year, and a three-year battery life. This shield results in very high magnetic resistance. Being able to withstand magnetic fields of up to 40,000 A/m.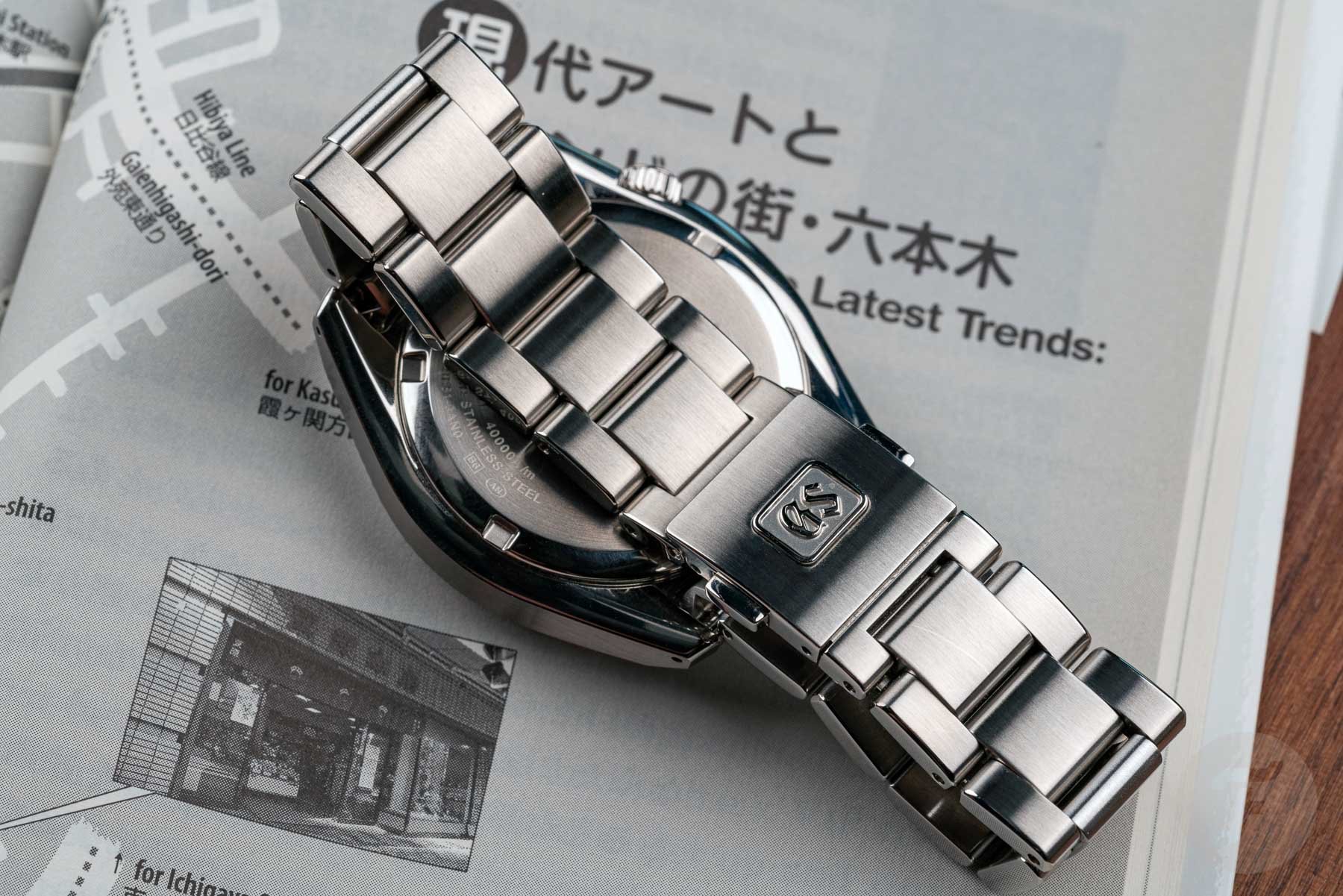 Quartz adds value and meaning
And regarding it being quartz. I think the idea of having an in-house-grown quartz crystal that has been carefully aged and selected before putting it into the ultra-low-power movement, adds value to the watch. Also meaning, especially when you look at Seiko's pioneering role in quartz movements. I have an Astron that runs on light, and my King Seiko from the seventies is outfitted with a high-beat movement. Opposing watches in every sense, but both technically very interesting. The battery-powered, ultra-reliable and accurate 9F61 is another watchmaking gem I can enjoy. Spring Drive should be my next goal, wouldn't you agree? I don't want to limit myself to just one type of movement. The purist approach to life and things appeals less to me than the eclectic one.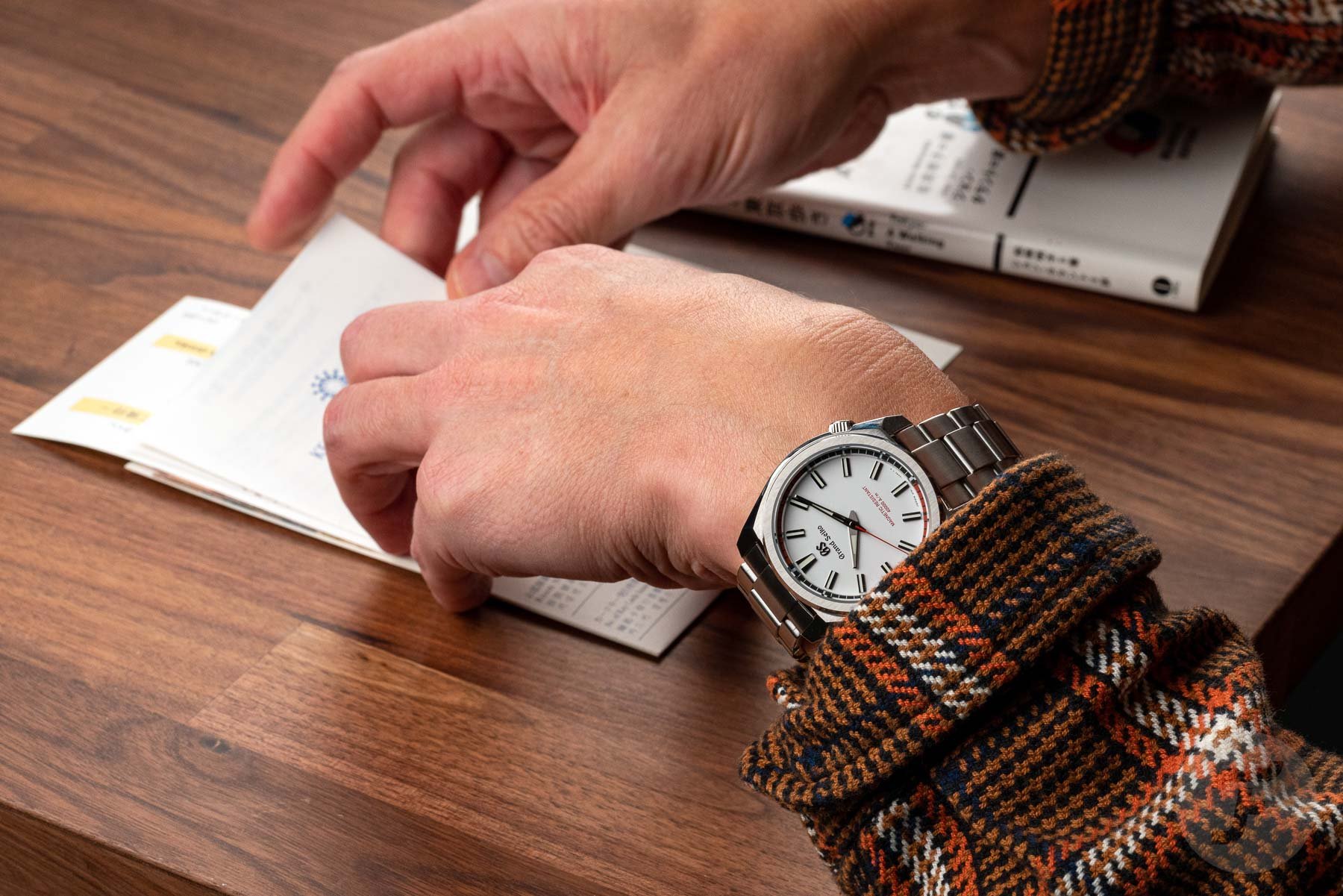 Honeymooning the Grand Seiko Tough Quartz SBGX341 watch
The anti-magnetic features, together with a screw-down crown and a water resistance to 200 meters, make the Tough Quartz SBGX341 a do-it-all daily beater. Albeit with enough finesse to hold its own in dressy situations. I haven't had the watch long enough to give you an in-depth experience; we're still enjoying our honeymoon, so to speak. But every time I look at my wrist and see the bright white dial with the subtle color accents, the multi-faceted case with its polished squared lugs, the overlapping bezel, and the hairline bevel on the brushed case flanks, I feel good. And that's also because of the rather comfortable, solid brushed three-link bracelet that smoothly tapers from 20 to 18mm. Yeah, the future looks bright with my white-dialed Tough Quartz SBGX341.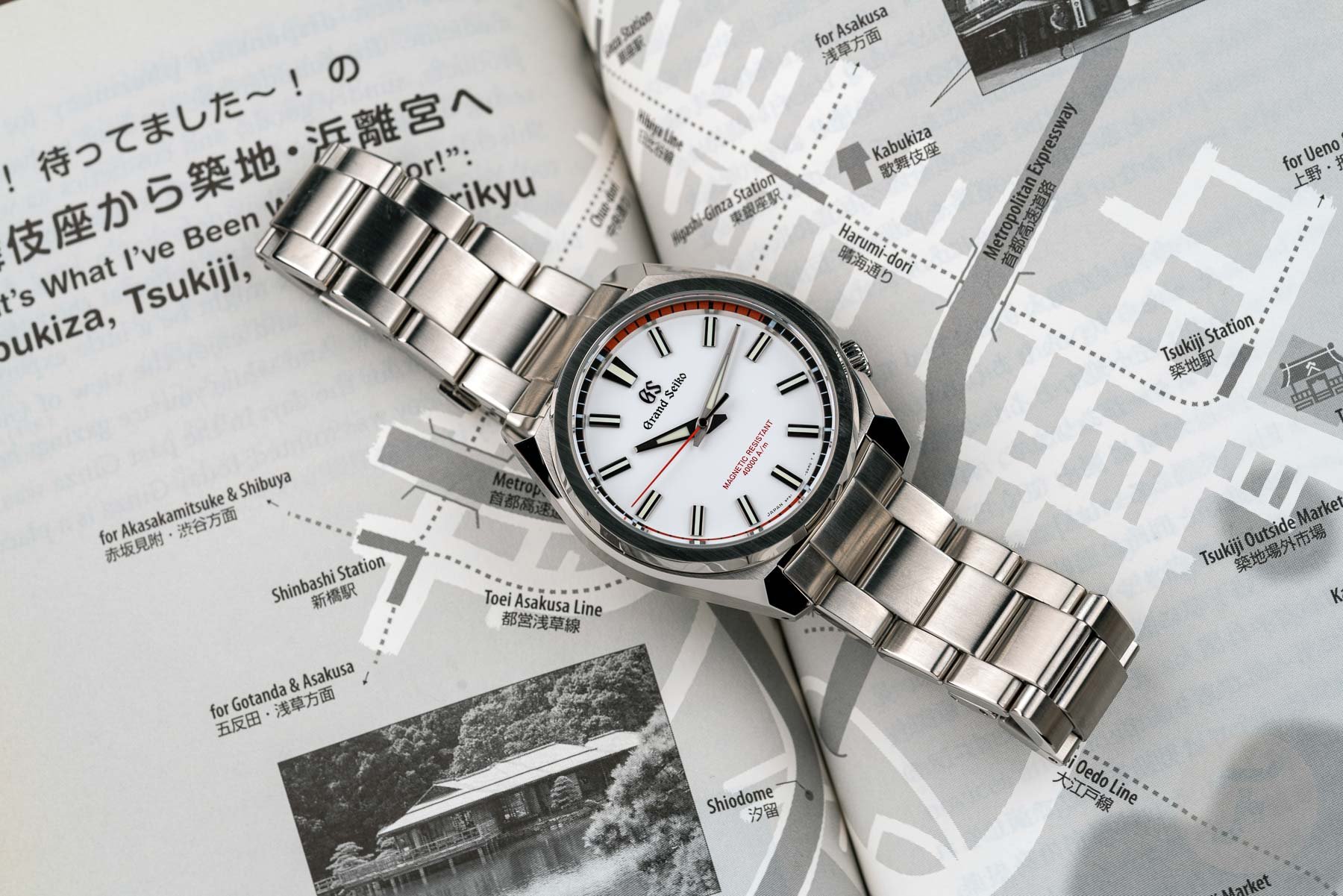 For more information, allow me to direct you to Grand Seiko's online US boutique where the watch is priced at $3,700. And if that doesn't work, you could try the Australian website.
Please follow me and the SBGX341 at Lex Stolk • Instagram