A Very Personal Experiment With A Jaeger-LeCoultre Reverso
Will I (finally) like it on my wrist, and will I buy it eventually?
Let me start by saying I've always admired the Reverso. It's one of the few watches that fully deserves the unofficial and often too easily bestowed title of "icon". Most icons are evergreens at best in my book, but the reversible watch is more famous than the producer of it, Jaeger-LeCoultre. And that's not a controversial statement from yours truly, but something Stéphane Belmont, Patrimony Director of the Maison Jaeger-LeCoultre, once told me during lunch in Le Sentier.
I loved the Reverso from a distance though because on the wrist it never felt right. But that couldn't be right, right? So I engaged in a very personal experiment with a Jaeger-LeCoultre Reverso to see if the watch had a different impact on me now I was going to wear it for a week.
As I wrote in my article about the stunning Tribute Nonantième, my favorite Reverso of all time is the Eight Days Ref. 3018420 from 2003 with a digital power reserve indicator on the case back. I even tried it on once. It felt, how can I put this, awkward. No, unusual is a better word for it. Unfamiliar too. And that was because I never had a non-round watch on my wrist.
… when you always wear round, angular stuff just feels odd, even weird.
Before 2003 I never owned anything square or rectangular. I was late to the G-Shock "square" game and I never had any Tank from Cartier. And when you always wear round, angular stuff just feels odd, even weird. Well, in my case anyway. A friend of mine had a Reverso and sold it not too long after he purchased it. Because he couldn't get used to the "strange" shape on his wrist. He wasn't exactly helping me in overcoming my Reverso aversion.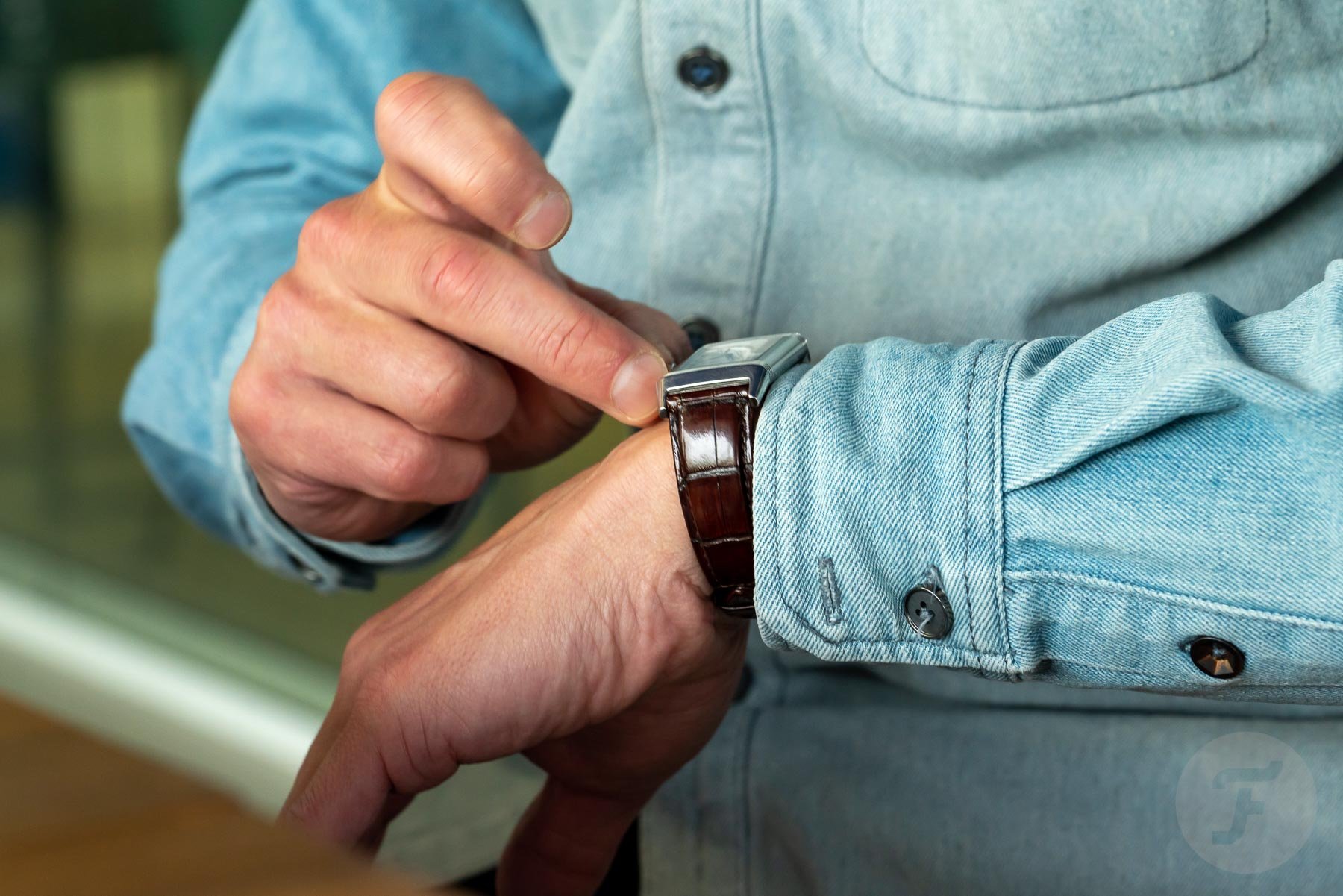 Reverso, a classic that is too classic for me?
Things changed when the Tribute Nonantième appeared on the Watches and Wonders scene. That watch planted a seed. And after a while I thought of the scientifically certified Reverso Wearing Experiment or RWE, to see if I was finally ready for something rectangular on my wrist — my aim. By wearing a Reverso for days in a row — my method — I was going to see if the shape and also the design could win me over – the hypothesis. I mention the design because apart from the shape I also thought the decoration of the dial, the shape of the hands, and the horizontal lines on the case looked a bit too classic for my taste. To put it more practically, I just couldn't see a Reverso in combination with denim and sneakers, the stuff I feel most comfortable in.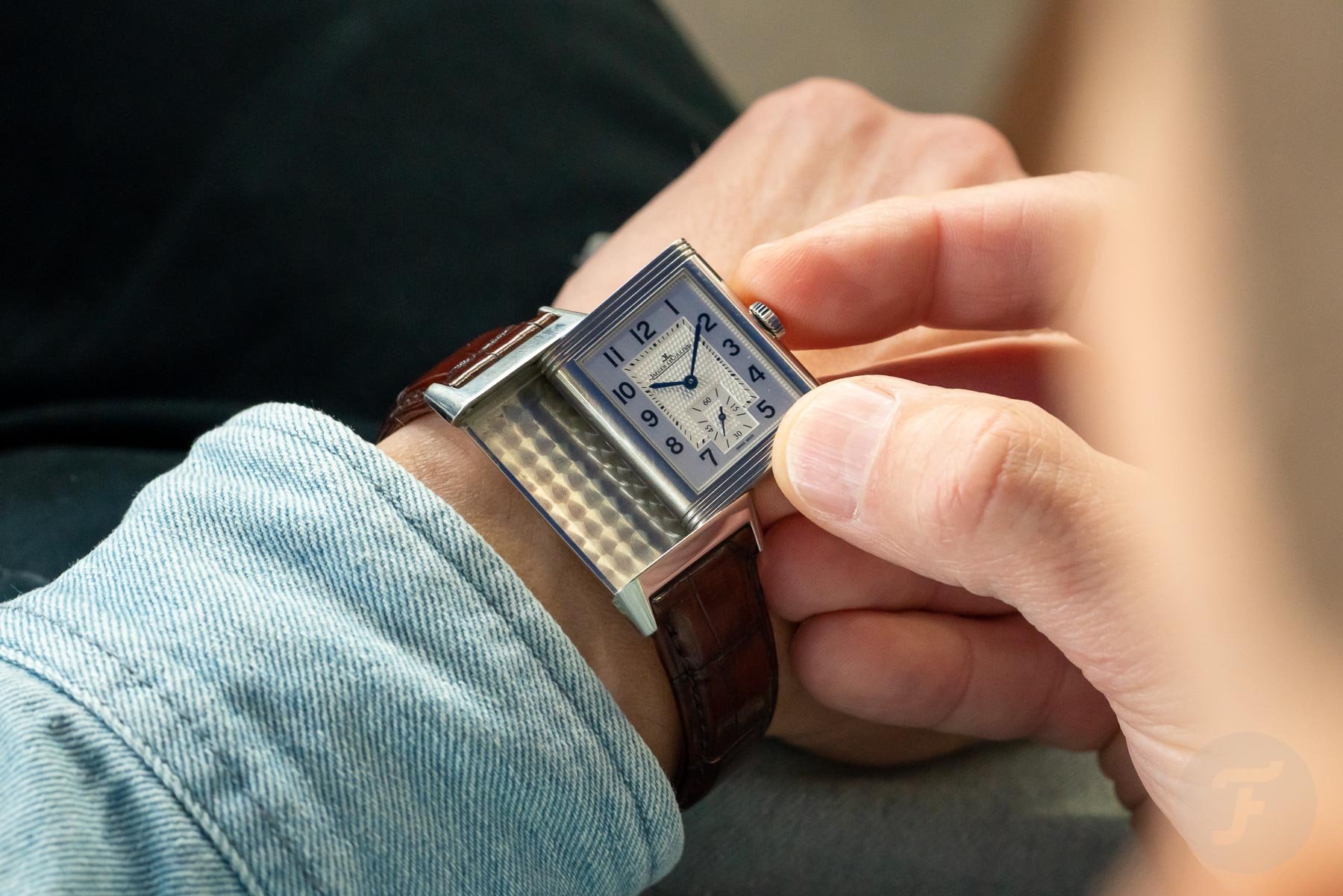 Time to start the experiment
Luckily the good people of Jaeger-LeCoultre wanted to support me in the experiment, so they send me a steel Reverso Classic Large Small Seconds — the equipment. Let's start with the facts. This Reverso measures 45.6×27.4mm, has a silvered grey dial with guilloche and vertically brushed decorations, and black transferred numerals. The blued stick hands indicate the hours and minutes and the small seconds are located at 6 o'clock. The strap the watch normally comes on is either a black alligator or a brown calfskin strap from the Fagliano Collection. The one I strapped on with a pin buckle was a reddish-brown alligator though. It had a nice "sfumato" look and you can get it as an extra strap for €355. Too bad I didn't get to try the Argentinian Fagliano strap since I was quite curious about that particular one. Anyway, it was time to start the experiment.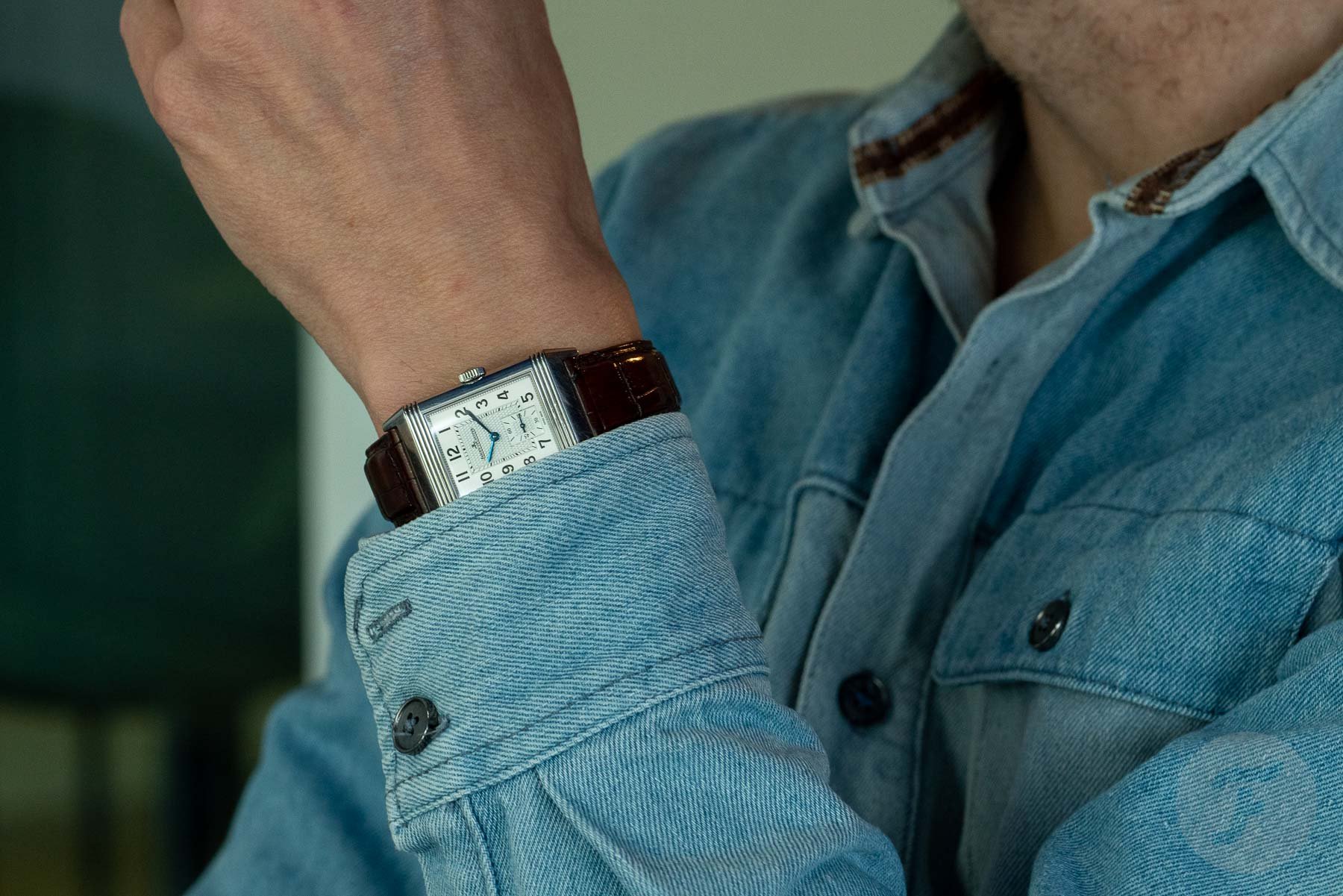 Initials or animals
Since an RWE should not be taken lightly, I went to work thoroughly and systematically. And the first thing I noticed when I put the Reverso on my wrist was that it wasn't ticking. And that's when I discovered the first perk of the Reverso. You don't have to take it off to wind the movement, you just flip the case in a vertical position. Now you can easily wind the hand-wound 3hz movement with one barrel. Unfortunately, you can't see the shaped movement with 19 jewels and a height of 2.94mm because the case back is closed. And blank. Very blank to leave room for a personal mark. Your initials for example for €350 or an engraving of one of the twelve Chinese zodiac animals for €700. I would go for initials because I'm a monkey; not my favorite animal. Did I mention the price of the Classic Large Small Seconds yet? I don't think I did. The watch on my wrist I'm testing costs €6,550.
… a rectangular watch just feels differently on the wrist than a round one.
So, with a fully wound in-house movement I continued the experiment. I can't deny that a rectangular watch just feels differently on the wrist than a round one. It just touches the bone on top of your wrist in another way. And because it's a new sensation you notice it more. That's not a bad thing though, because every time I felt something on my arm I looked at it and liked what I saw. And it wasn't just me who liked the watch on my writ. Both my parents noticed it and complimented me on the Reverso just after a few minutes they came for coffee, my son wanted to try it on as soon as he saw it, and my girlfriend said it looked smooth and mature.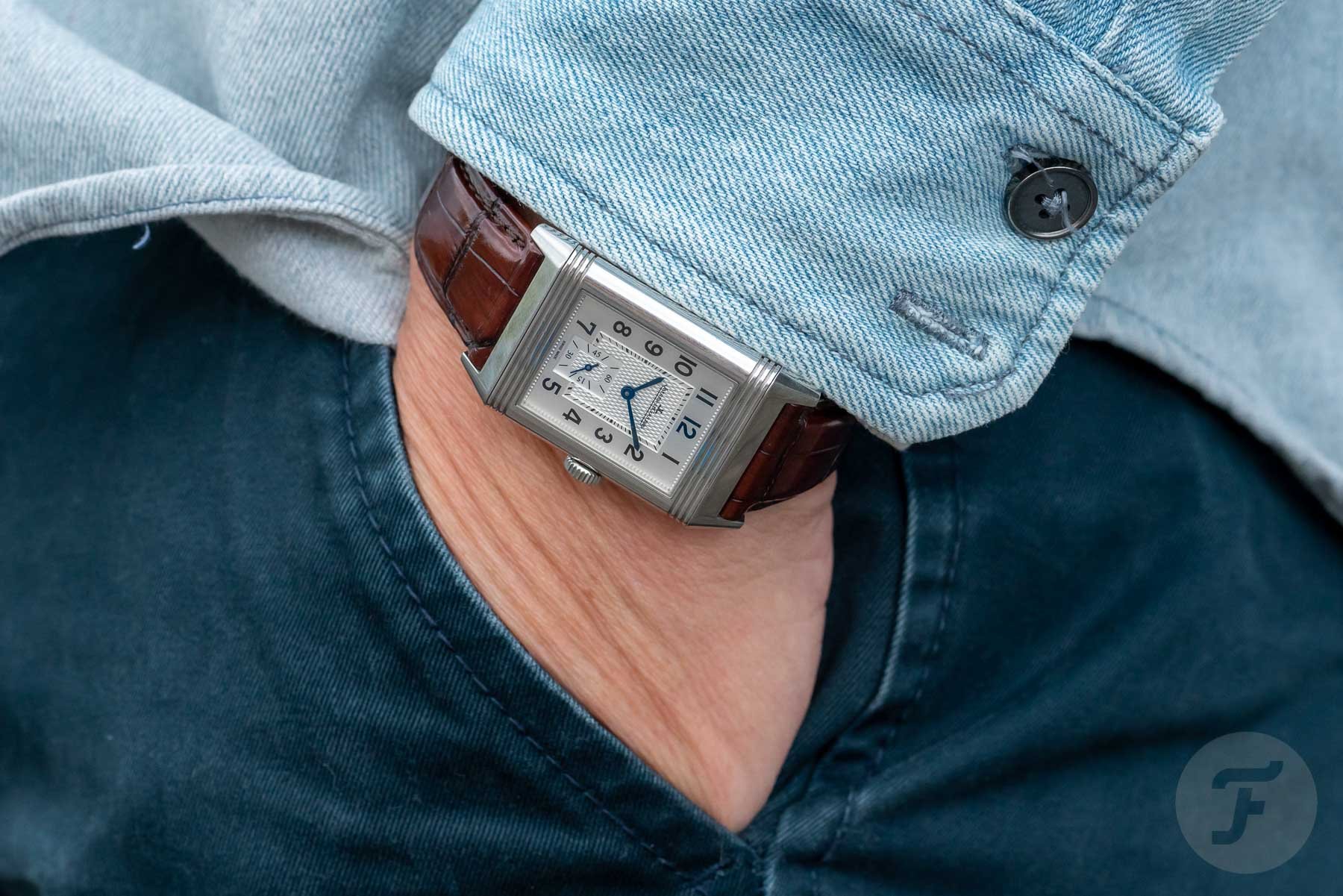 A watch for mature people
And there you have it, mature. The Reverso is a watch for mature people. I guess that's it. I'm finally mature enough to wear a Reverso. Mature enough, not old. And to my surprise, it goes well with denim and sneakers and a polo shirt of course. The Reverso is a sports watch by heart, but because it was introduced and patented in 1931, it disguises itself as a traditional gentleman. In the particular case of my test Reverso, a seasoned gentleman because the well-worn watch Jaeger-LeCoultre lend me, has been in corporate use for some time. I found out what it will look like after years of good use — mature. I would lose the alligator strap though because there's a big difference between mature and old-fashioned, and alligators are old news in my book. Ostriches on the other hand are a completely different matter…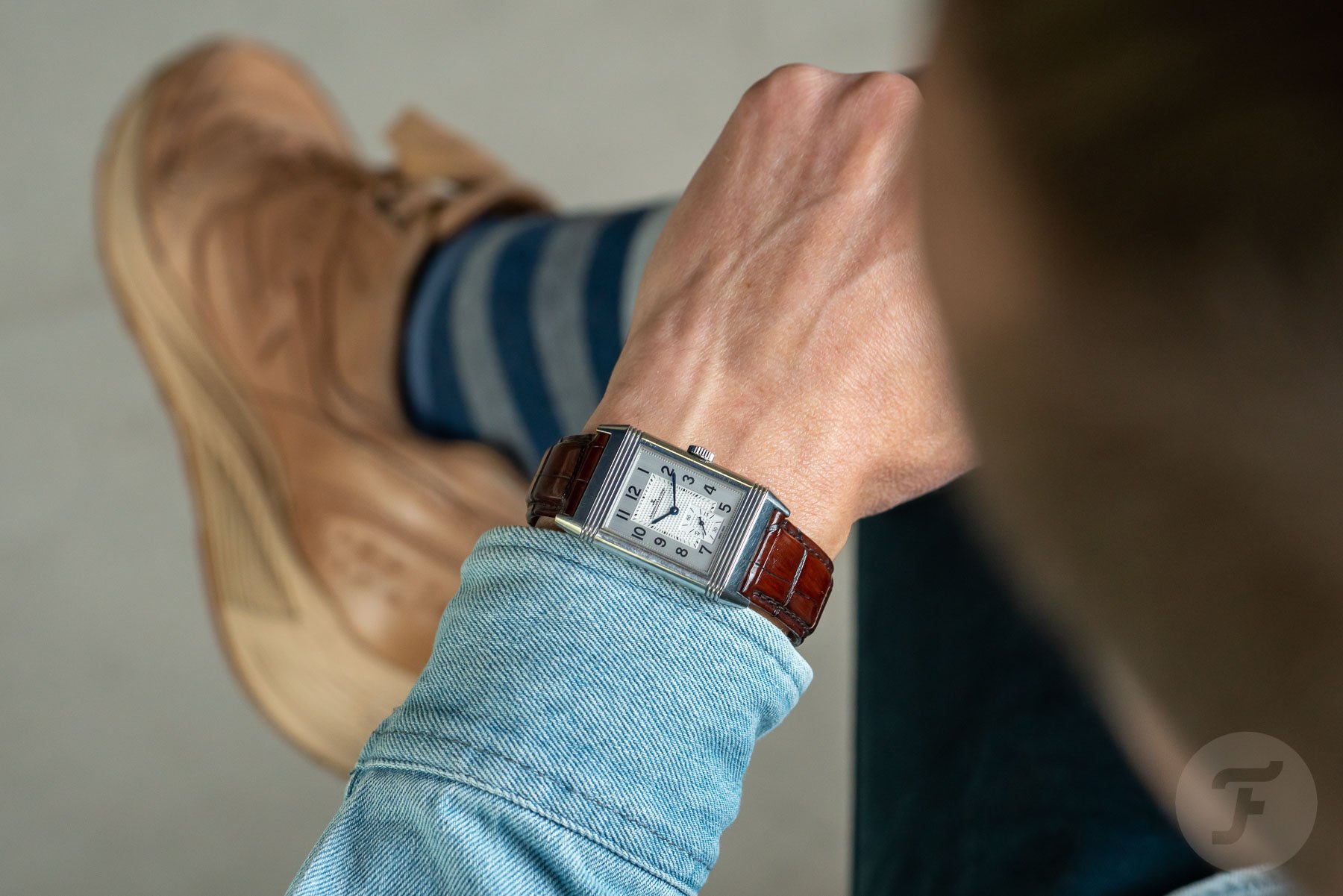 A very personal experiment with a Jaeger-LeCoultre Reverso: results, analysis, and conclusion
So, no alligator for me, but smooth Fagliano like in the catalog AND an extra light brown ostrich skin strap, a €245 strap that is. And that's because for me because a Reverso and ostrich go together like PB & J. And I would have my initials engraved too. So, after doing the math I would be presented with a bill for a total amount of €7,145. Is the Reverso Classic Large Small Seconds worth that kind of money?
An engraved Reverso is likely to become a family treasure.
I think so because my experiment concludes that you can wear the watch with anything, it will look good regardless of any trend. And because you can personalize it, the watch becomes a unique personal statement. An engraved Reverso is likely to become a family treasure. Would I buy the particular Reverso I had on my wrist for a week? Nope, I'm going to look for a Reverso Eight Days, the watch I misjudged. I want to make things right.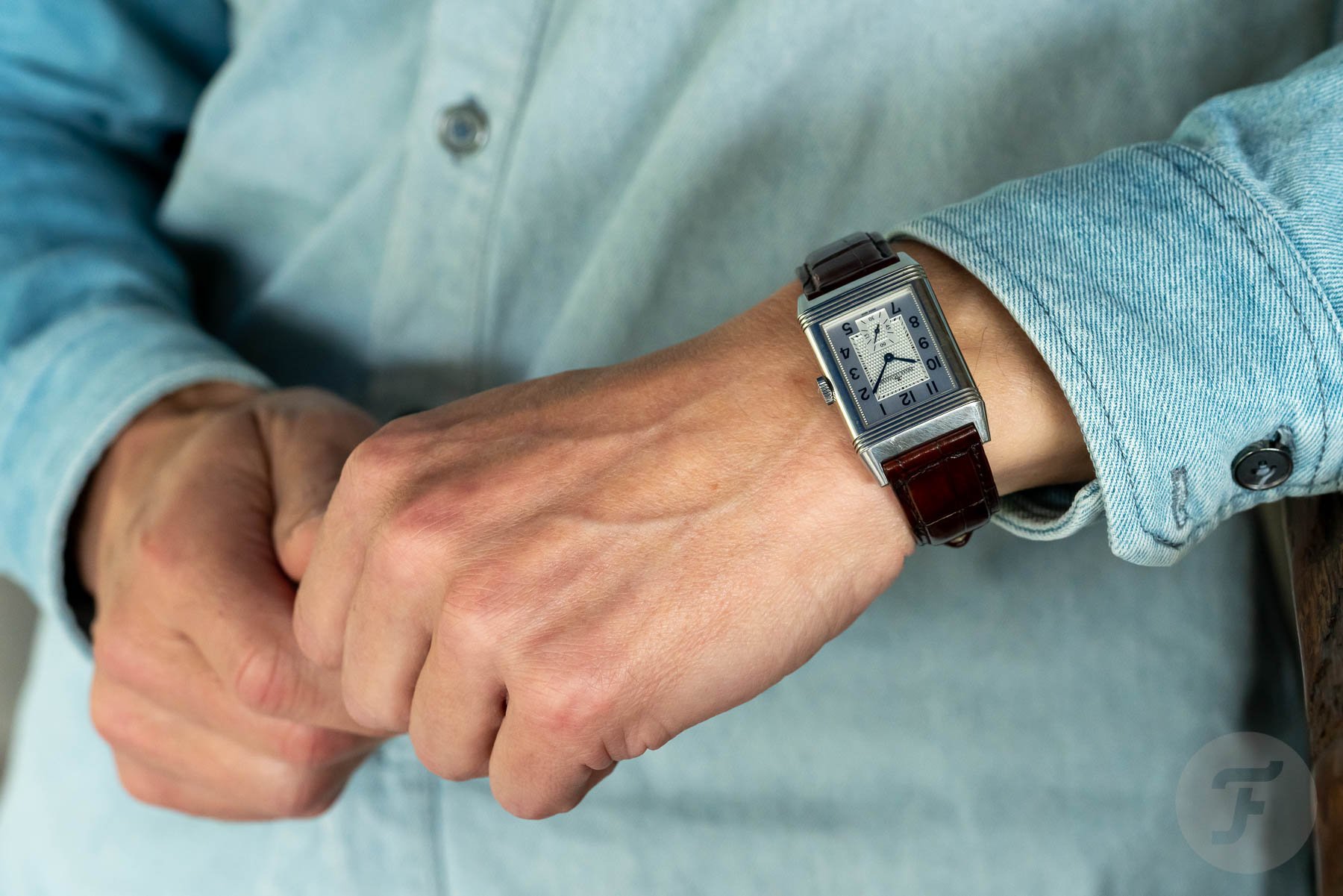 Please look here for other executions of Jaeger-LeCoultre's versatile, charismatic all-around icon that is the Reverso.
Please find and follow me at Lex Stolk • Instagram