Aging is a Trend – Three Bronze Watches For You
Conspiracy theories not included
Unless you had gone to the Moon the last couple of weeks, you must have picked up the viral buzz about an AI face-altering App, or the conspiracy theory behind it. Hundreds of thousands of people have been sharing their artificially-aged images looking 50 years older on social media, including celebrities from Drake, Sam Smith to The Lord (aka the talentless Scott Disick).
Aging is trendy.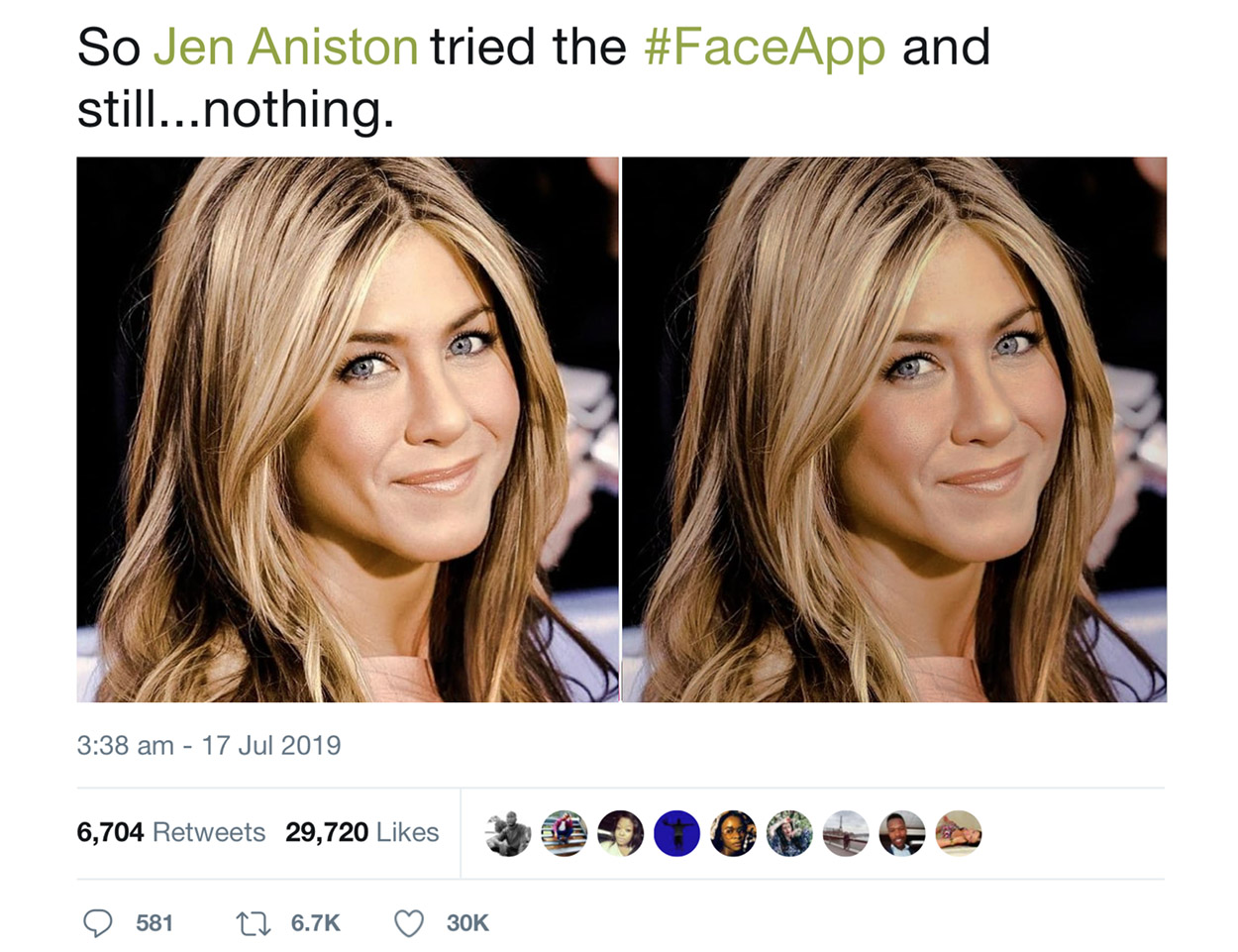 Call me weird, I love growing older. I started looking forward to my 30s when I was a teen. It raised many eyebrows whenever I mentioned it. No one had any doubt again after they attended my big 3-0 bash. We roped off the whole floor of a trendy members club in London for our shenanigans with friends of all ages. Turning the years and having fun? What's not to love.
Some were doing bronze long before it was hot.
For some not unreasonable reason, this whole aging trend has been plaguing my thoughts on patina in watches. In particular, it brought back memories of the magic show Bert performed for us last year: Bronze Patina Watch Project. Subjecting his own Pinion bronze watch to the trauma, Bert artificially aged it in an instant, created a beater look within minutes, AND reversed the tarnishing to bring back its former glory all in a day's work.
Maybe we should say blondes *bronze have more fun!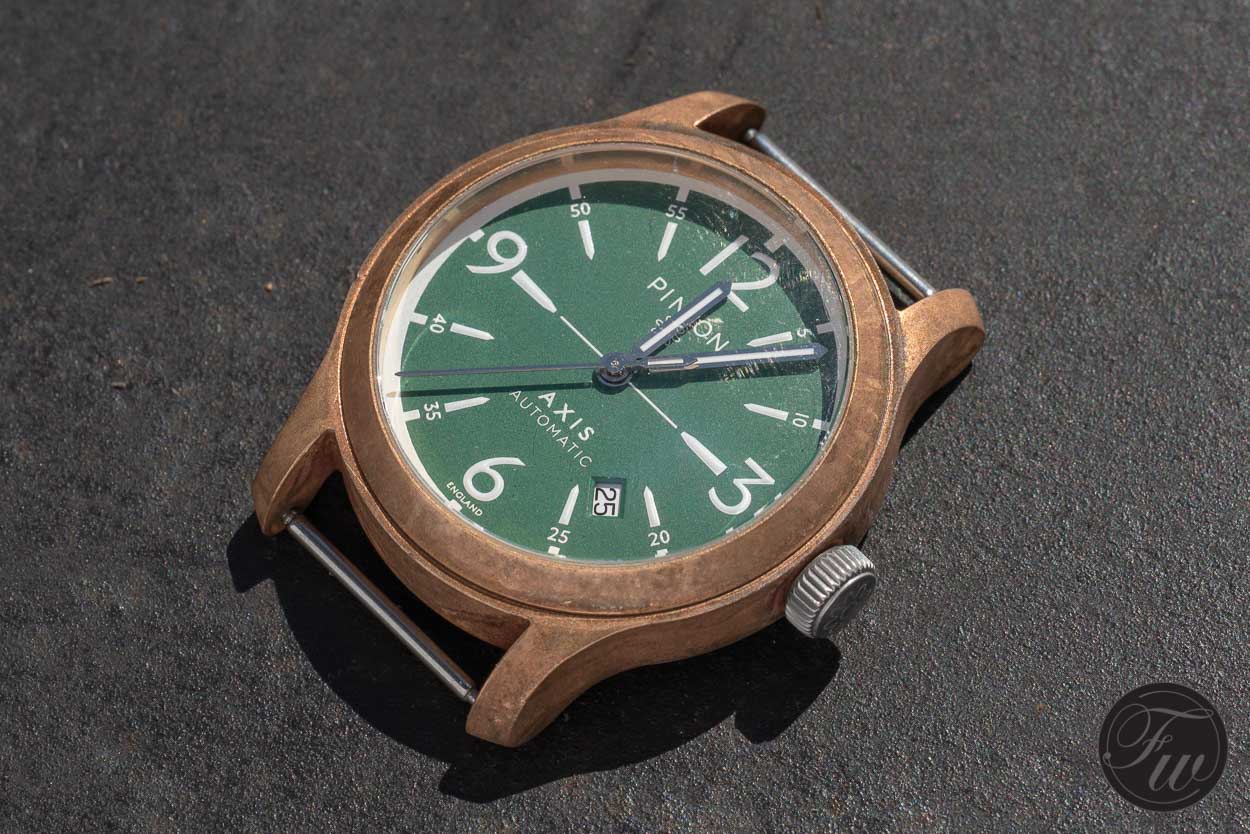 In the horological world, we already know that bronze has made a triumphant comeback as a desirable material in high-end watches in the 2010s. The interest is not easing anytime soon. Brands continue to bring bronze models to the market as part of their core line-ups. Looking beyond the mainstream media bubble touting the usual suspects in Panerai and Tudor Black Bay, there are a lot of choices from independent brands. Some were doing bronze long before it was hot (Hello Gérald Genta).
Anonimo
 We can't mention Panerai without talking about Anonimo. The brand is synonymous with its use of bronze ahead of the curve. A Firenze offshoot born out of the demise of Panerai's independence and its Florentine operations in 1997 (when it was snapped up by Richemont), Anonimo has a long history of crafting bronze watches. They conjured up unique sources of alloy and introduced the case material years before Panerai did. The brand changed ownership in 2013 and is now a Swiss entity.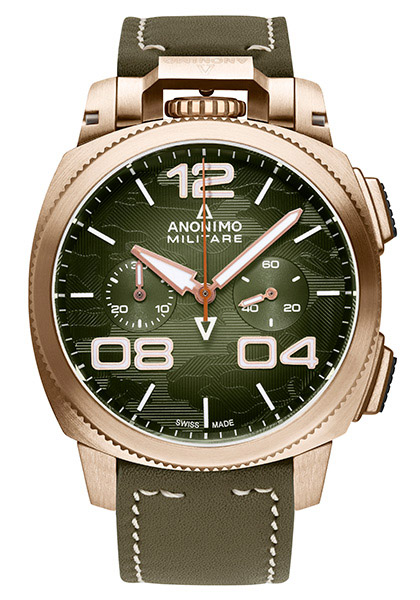 Much to our delight, Anonimo's second life is true to its roots of naval divers and alpini militare. Both the design language and the finishing have grown more sophisticated and refined. Cases go from 42mm, 43.44mm, to 44.4mm. Their entire offering is nicely executed and very attractive. Bronze remains a staple in their line-up. I'm particularly drawn to the Militare Chronos, with the crown neatly placed above 12 o'clock, adding to the appeal of its balanced aesthetics. The movement has incorporated a bespoke chronograph module developed by the specialist Dubois Dépraz, also independent and a well-regarded movement maker. At the top of the range is their limited edition in 2 versions of 97 pieces, priced at 5,250 Swiss Francs.
More information via Anonimo.
Bell & Ross
People knock Bell & Ross for flogging the BR-01 form factor (the iconic square case) to death. If it's not for you, it's not for you. As much as I love the brand, it's never been one for me. For what it's worth, they do know how to create talking pieces. Then something struck. The air-turned-racing inspirations might be a head scratcher but, blimey, I have to agree with Mike that the B&R V2-94 Bellytanker Bronze made a strong impression on our peers at Baselworld this year.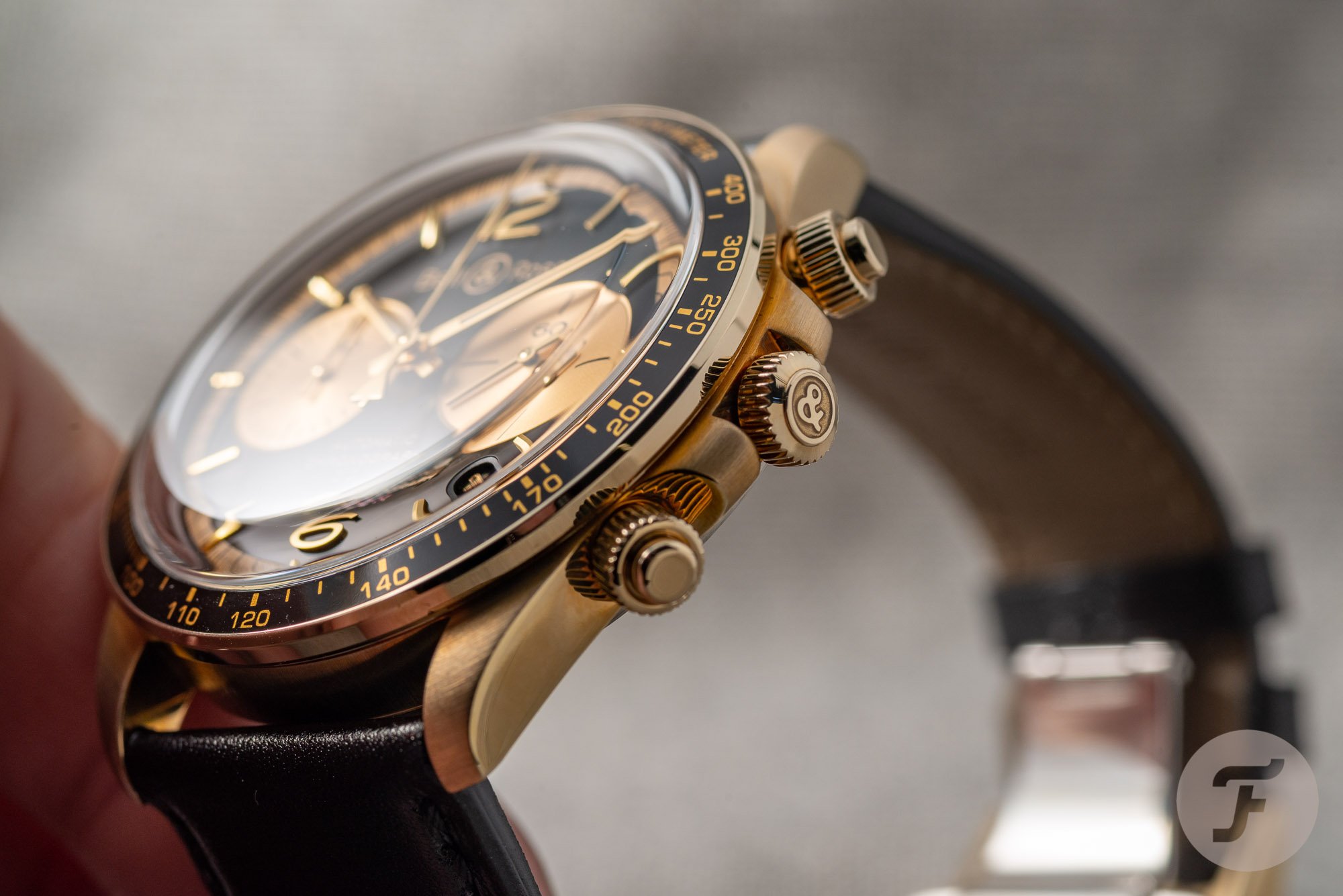 Perhaps it was a mind trick, having seen the new Tudor BB just meetings before, the Bellytanker (adore the wacky sounding name!) instantly packed a punch in comparison. The retro design was born from the imagination of the type of watches belly tank racers would wear in the 50s. The 41mm bronzo delivers a lot of value in a handsome package with a more sensible sticker price at 4,900 Euros, for a limited run of 999 pieces. Sure, the "stabilised bronze" may not age all that much, but this vintage-inspired sports chronograph no doubt exudes a rustic charm.
More information via Bell & Ross.
The key is to treat your bronze as a keeper and let it take its natural course
Schofield
In an interesting contrast, Schofield offers its bronze that comes patinated. Inspired by the rugged English coast, Schofield has taken the idea of a beater – your go-to everyday watch – and given it a patinated-lux reboot with this hard-wearing Bronze Beater. Schofield is a British boutique independent brand, based in rural Sussex in England, that has amassed a cult following since 2011. It strives to be a sustainable watch company, conscious of its environmental and social responsibilities, to make considered objects of desire. From the case material to the fabric of the strap, each element in the 44mm Bronze Beater is impeccably conceived and handcrafted with clear traces of provenance.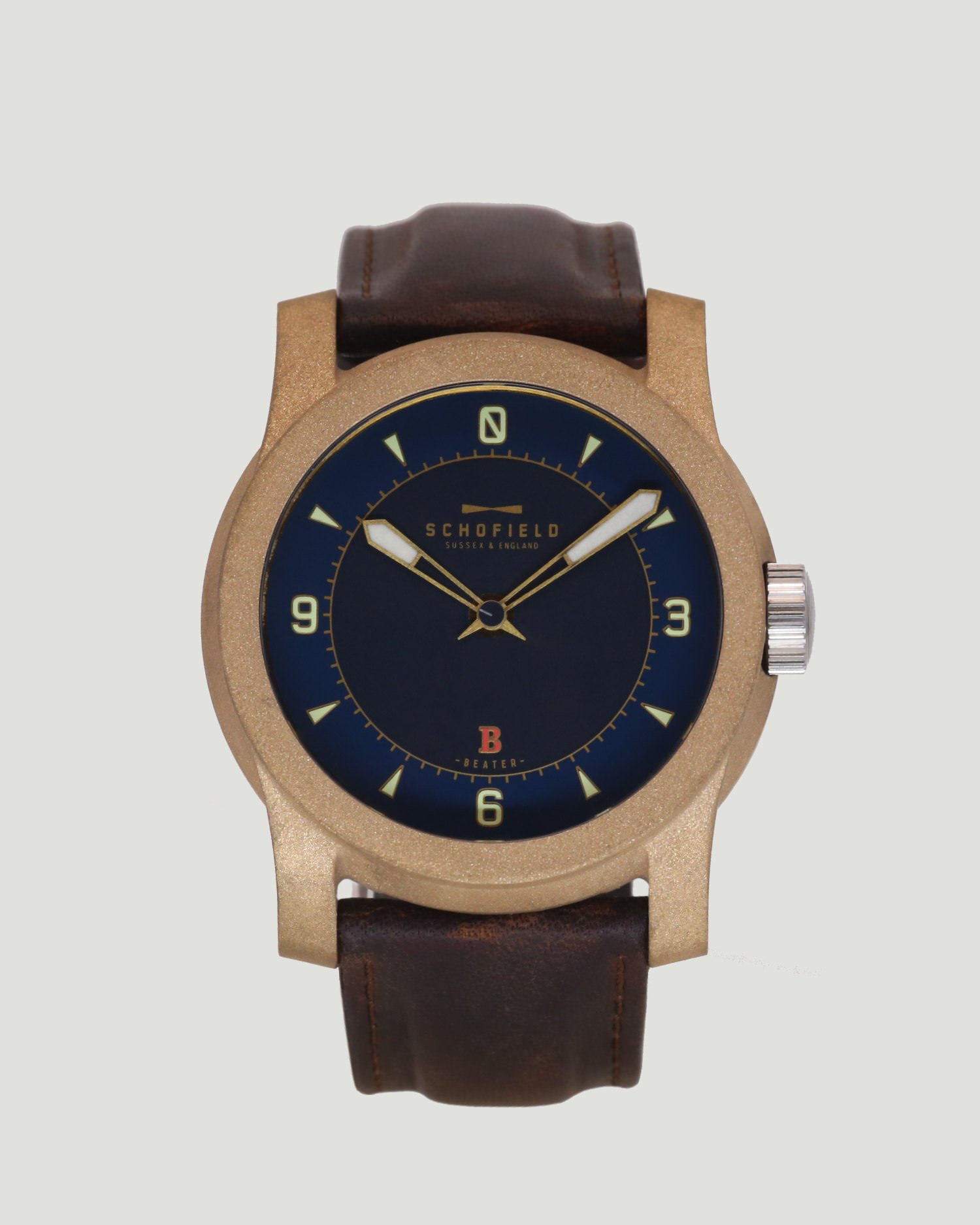 The case is a monobloc form machined in Sussex, down the road from Schofield's workshop. The patination is done one at a time in their own concoction, so each is a one-off. The case back takes 120 hours of work to complete, plus 3 hours of laser engraving per piece. The straps are produced by their artisans and materials are sourced locally. They are as changeable as your moods dictate. The dial is representative of the sea itself in all its dark-blue depths with lume. Thanks to the extremely small-batch production, each timepiece bearing the Schofield name is a mammoth labour of love at 3,465 Euros.
More information on Schofield's Patinated Bronze Beater
So aging trend may owe more to guys wanting vintage-looking watches with patina and colours that stick out, than a piece of rust on the wrist. Don't go clean it up. The key is to treat your bronze as a keeper and let it take its natural course.
According to Christie's, one of the most interesting evolutions in vintage watch collecting has been the desire to move away from watches that have been restored and polished to look 'like new', in favour of watches in original condition with honest patina.
Not all bronze is born equal.