Audemars Piguet Royal Oak Offshore Montauk: Honoring a highway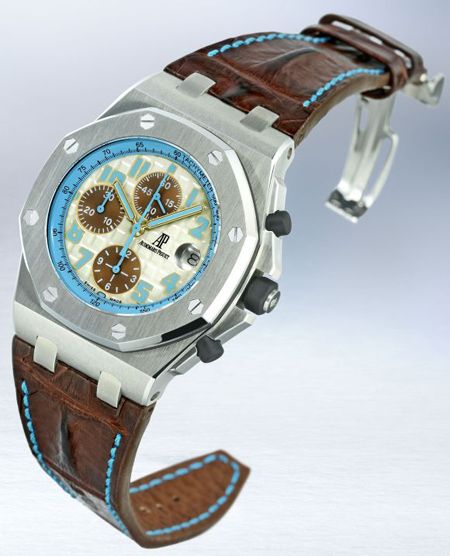 Last week, I was browsing through the monthly stash of watch magazines that enters my house. I don't know about you, but unlike the advertizements in other type of magazines, I actually like looking at watch advertizements. One of the advertizements that stopped me from quickly flipping pages was this Audemars Piguet advertizement. Since I own one of their watches, I am extra vulnerable for their ads in magazines 🙂
I was immediately catched by the great combination of the cream dial, brown sub registers and blue hands, hour markers and (internal) bezel. The brown croco strap with blue stitching completes the watch. Although I wonder if I will still like the blue accents in 5 years from now, I think they are great looking now! If I could spend 20.500 USD (and probably more if you can find one of the 300 pieces) on a watch anyway, I probably couldn't care less.
Anyway, I wondered what the Montauk Highway was, since I never had heard of it. After I looked it up on wikipedia, I kept wondering what on earth is so special about this 100 miles highway. The official press release has the following to say about the Montauk Highway:
"For New Yorkers, the Montauk Highway represents an escape from the rigors of the daily grind, a passage to an oasis where water laps lazily at the docks and boats dot the horizon. In this atmosphere, time extends and contracts in dreamlike proportions. Audemars Piguet set out to capture this spirit of weekend getaways and clambakes on the beach, succeeding with characteristic polish and flair."
Whatever. Just another lame excuse to create a great looking watch in only a limited production number. The watch is (or was..) only available through London Jewelers in East Hampton and South Hampton and at the Audemars Piguet boutiques in both New York and Bal Harbour.
One of the things that do make me wonder, is why Audemars Piguet is using this 'basement'-construction for their date window. It seems that their inhouse chronograph movement caliber 3216/3840 (based on base caliber 3120) is constructed in such a way, that the date wheel is somewhere down in the movement (hence 'Basement'-construction). No wonder a cyclops is needed to show the date. Besides that, the inhouse movement is being respected a lot amongst watch collectors. The gold rotor has both family weapons engraved, which is very nice to look at. However, the Audemars Piguet Royal Oak Offshore Montauk Highway (APROOSMH in short) has a stainless steel case back, so you'll have to do it with this picture below: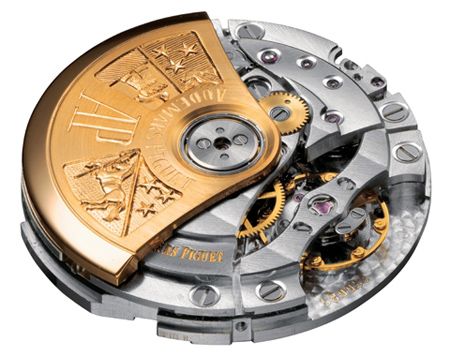 Again, too bad that they saved this version of the Royal Oak Offshore for a very limited production to honor a highway somewhere because I am really liking it and chances are little that I actually can see one up close.
Looking at this watch makes me want to wear my AP RO even more, but I guess I'll have to wait another few weeks until it returns from the Audemars Piguet dealer, since it needed a bit of regulation (and AP needs 6-8 weeks for this… ).