Just when watches with a >40mm case diameter are considered to be normal sized, I took my vintage Rolex Date-Just ref.1601 with me for a meeting last Friday with a small number of watch enthusiasts. Although I consider 36mm the bare minimum of millimeters for my wrist size, the watch stayed on all weekend and Monday during my work day. The other people who were present on the meeting also had fairly modest sized wrist watches strapped around their wrists. Among them a vintage Glash?ɬºtte (G.U.B) from the 1960s, a Cartier Tortue Mono Poussoir, a vintage Rolex Day-Date (ref.1803), a Girard Perregaux Richeville, a Patek Philippe Nautilus (5711/1A), a Breguet Type XX and my vintage Date-Just and modern Yacht-Master in steel/platinum. Except for the Yacht-Master, Type XX and Nautilus, the other watches should be considered (relatively) small for the current standards on case diameters.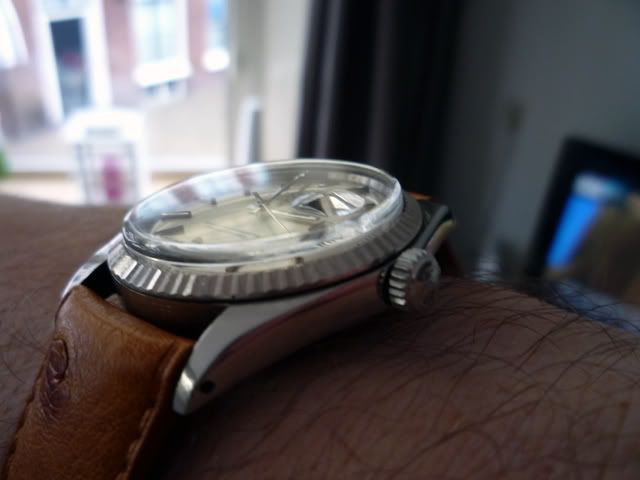 Extremely large watches ?¢?Ǩ?Äú with a reason (e.g. divers, aviators)?¢?Ǩ?Äú are probably here to stay, but I doubt if brands who recently started making larger wrist watches will continue doing so in the future. The rather conservative brands like Patek Philippe are not making serious moves towards large watches. Rolex upgraded their GMT, Sea-Dweller, Day-Date and Date-Just watches with a more muscular case with the exception of the Yacht-Master II, which can be considered to be extremely large. IWC upgraded their Fliegerchronographs as well with a few millimeters in diameter and of course, have their Big Pilot model as well. And than I didn?¢?Ǩ?Ñ¢t even mention Hublot?¢?Ǩ?Ñ¢s Big Bang watches yet. Officine Panerai always produced large watches and is probably responsible for initiating the hype of big watches 🙂
Will this hype continue to go on, and for how long? Or was this small number of watch enthusiasts not representative for ?¢?ǨÀúthe next step?¢?Ǩ?Ñ¢ in watch collecting? I actually felt quite comfortable wearing the 36mm size Date-Just for a few days in a row. Perhaps other people will think otherwise 🙂

Robert-Jan Broer, born in 1977, watch collector and author on watches for over a decade. Founder of Fratello Watches in 2004.

Latest posts by Robert-Jan Broer (see all)