Begin your own tradition
Watch fanatics will instantly recognize this slogan. Perhaps, even their significant others will do too. Patek Philippe, considered to be the best watch brand, uses this slogan since 1996. Besides this campaign, Patek Philippe also has separate one for women which started in 1999 for their "24" collection and was refined in 2006.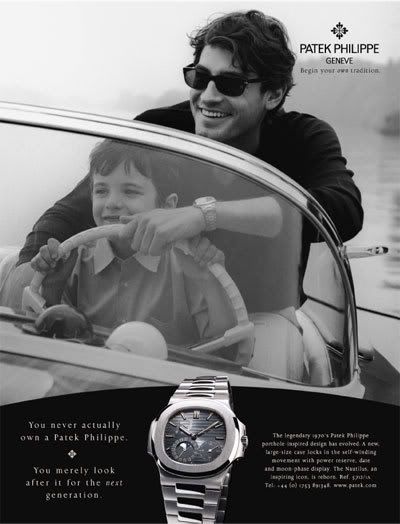 As more than ten years after it was first presented, the ?¢'Ǩ?ìGenerations?¢'Ǩ¬ù campaign enjoys continued and unprecedented success. Only a few theme campaigns of such longevity exist. According to Tim Delaney, the Chairman of Leagas Delaney and the creative mind behind the campaign, this timelessness originates primarily from its central message: ?¢'Ǩ?ìPatek Philippe expresses a universal truth, an emotional realm that is valid for every father and every son in every culture…."
Personally, I love the campaign and everytime I see it I wished my father has a Patek he could pass on 🙂 Well, he has not, which means I have to save up for one myself to pass on to the next generation. No problem, because I already know which Patek Philippe model will be passed on to the next generation (if I can make it to save up for one). Last weekend I was able to handle a Patek Philippe Nautilus (ref.5711/1A), which has a waiting list even more absurd than for the stainless steel Rolex Daytona. Designed by Gerald Genta, who also is responsible for the IWC Ingenieur, Audemars Piguet Royal Oak, Omega's Constellation and Seamaster, the Nautilus was introduced by Patek Philippe in 1976. Based on either Disney's Nautilus or the US Submariner called 'Nautilus', Patek remains silent about the origin of the Nautilus name.
To me, the ref.5711/1A is the ultimate luxury sportswatch. If you handle this watch, you will instantly notice that this is a whole other level than the Rolexes, Omegas and IWCs in this world. The watch silently screams craftmenship in the best way you will be able to get. At a list price of over 15.000 Euro, no discount possible, it is probably also one of the few watches that nobody will get unless you are a real watch addict/admirer. There is no gold, no complication and no other sign to show off your wealth. Holding a watch like this, staring at it, admiring its movement and fine crafted bracelet, case and dial… my brain starts to calculate immediately what kind of funds needs to be raised. How long will it take? Do I need to do some selling or trading?
No I don't. My current modest collection has been built over a period of almost a decade. If I sell or trade anything, I will certainly regret it. There is no other option than to save and to restrain from buying other fine watches when I am half way…