Balazs's Top 3 Blacked-Out Watches From Geneva Watch Days
A bit of ceramic, a lot of carbon, and a nice sprinkling of gold
Whenever we look back on a significant watch fair, whether Watches and Wonders or Geneva Watch Days, we tend to look for a pattern: in what direction is the industry heading? Is it about specific colors or materials brands are using? I feel that in the last few years, perhaps since COVID-19, pinpointing those things has been challenging. So, in this article, I won't lament that. Instead, I will talk about some of my favorite blacked-out watches of the show because there were many.
I know that watches coming in black cases, whatever the material, are not new. Still, I saw a notable number of them this year at Geneva Watch Days. Here are my favorite three in no specific order.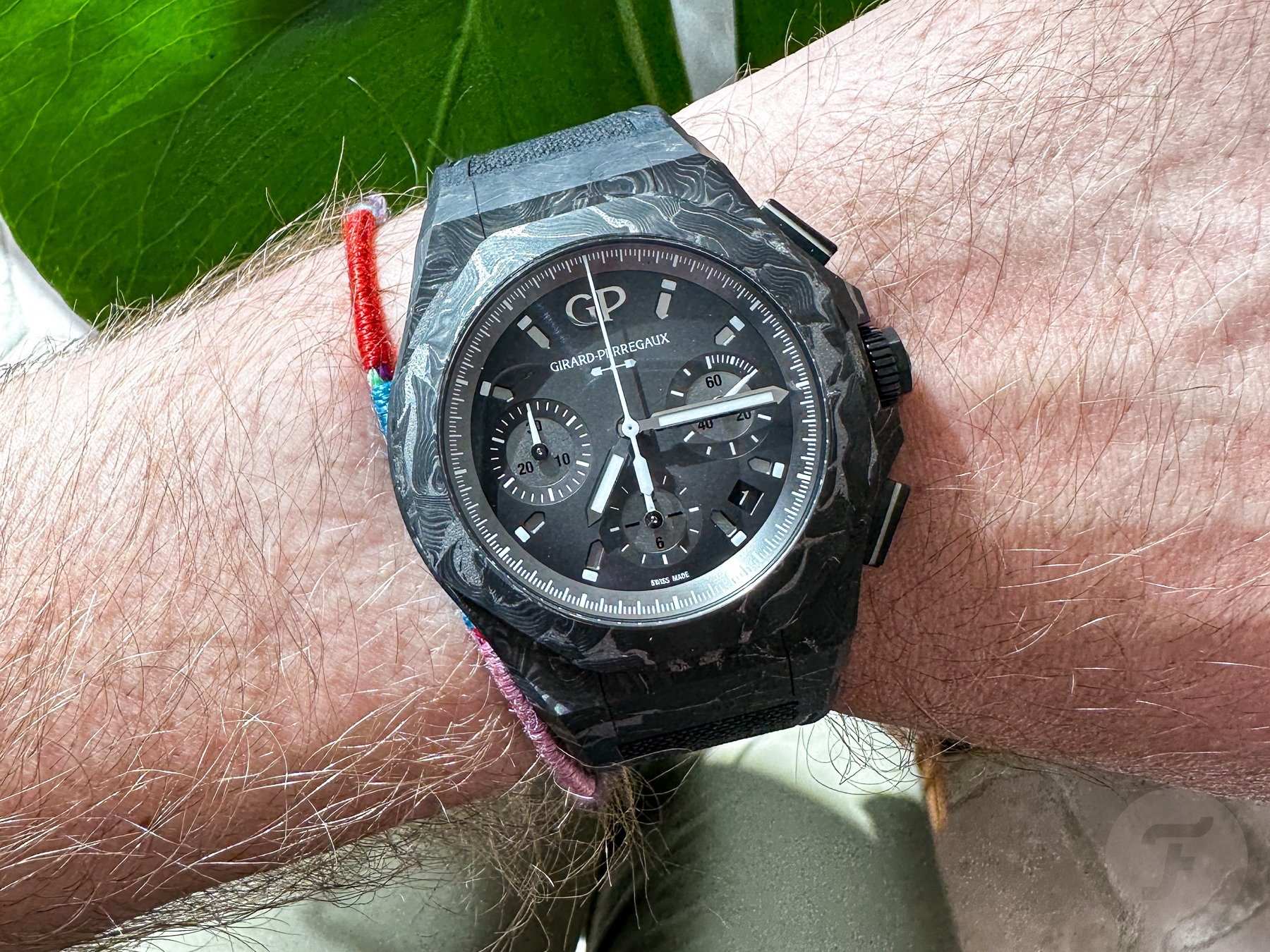 Girard Perregaux Laureato Absolute 8Tech
GP is an exciting brand, yet we tend to sleep on it. I'm not sure why, though, because Girard-Perregaux has an impressive history. The brand's vintage pieces are highly collectible, and the modern watches are often stunning, well-made time machines. This year, Girard-Perregaux presented us with the latest addition to the Laureato Absolute collection, the 8Tech. Since 2019, the Laureato Absolute collection has seen watches made of interesting materials. This latest one, however, is easily my favorite. Using the 8Tech technique, Girard-Perregaux combines impregnated carbon fiber with titanium powder to create very thin layers. These are then stacked on top of each other and cut into the unmistakable shape of the Laureato Absolute. The result is an excellent blacked-out timepiece. We have seen forged carbon before, but this is a bit different. The case is sturdy and has a beautiful black/silver marble-like effect thanks to the titanium powder.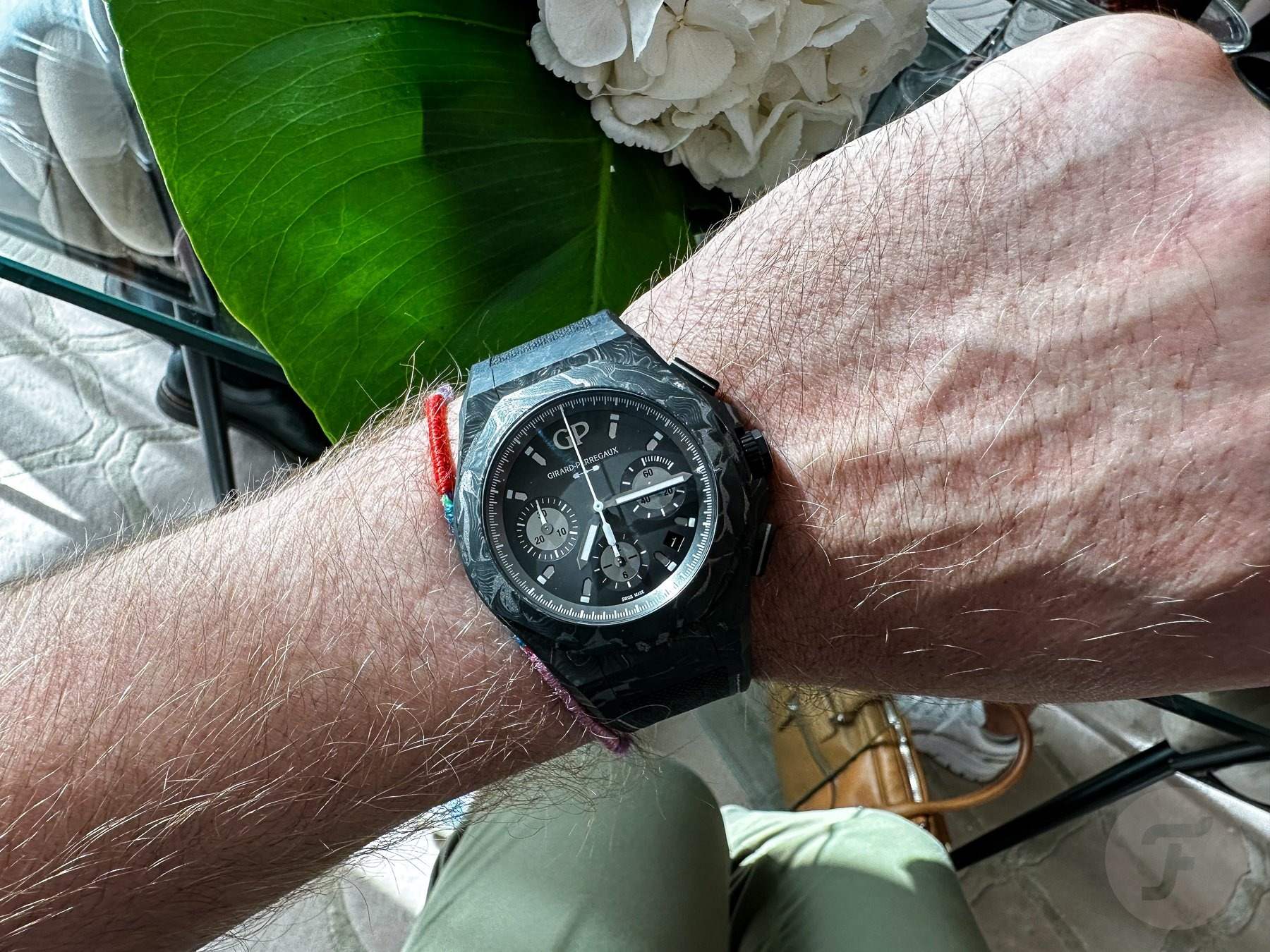 While the Laureato Absolute 8Tech is a large watch at 44mm, thanks to the titanium and carbon composite case, it feels incredibly light. We are talking about an automatic chronograph, so it has a 15.1mm thickness and comes with Girard-Perregaux's in-house caliber GP03300. The layered theme continues with the dial. Think of it as a sandwich dial where the bottom layer is the gray plate, which you can see in the sub-dials and the index cutouts. On top of that sits the black gradient dial plate with apertures for the indexes, sub-dials, and a date. The Girard-Perregaux Laureato Absolute 8Tech is the second most expensive watch on our list at €28,200, which is a substantial amount. Whether that price is justified or not, you'll have to be the judge. Regardless, the watch is still worth checking out.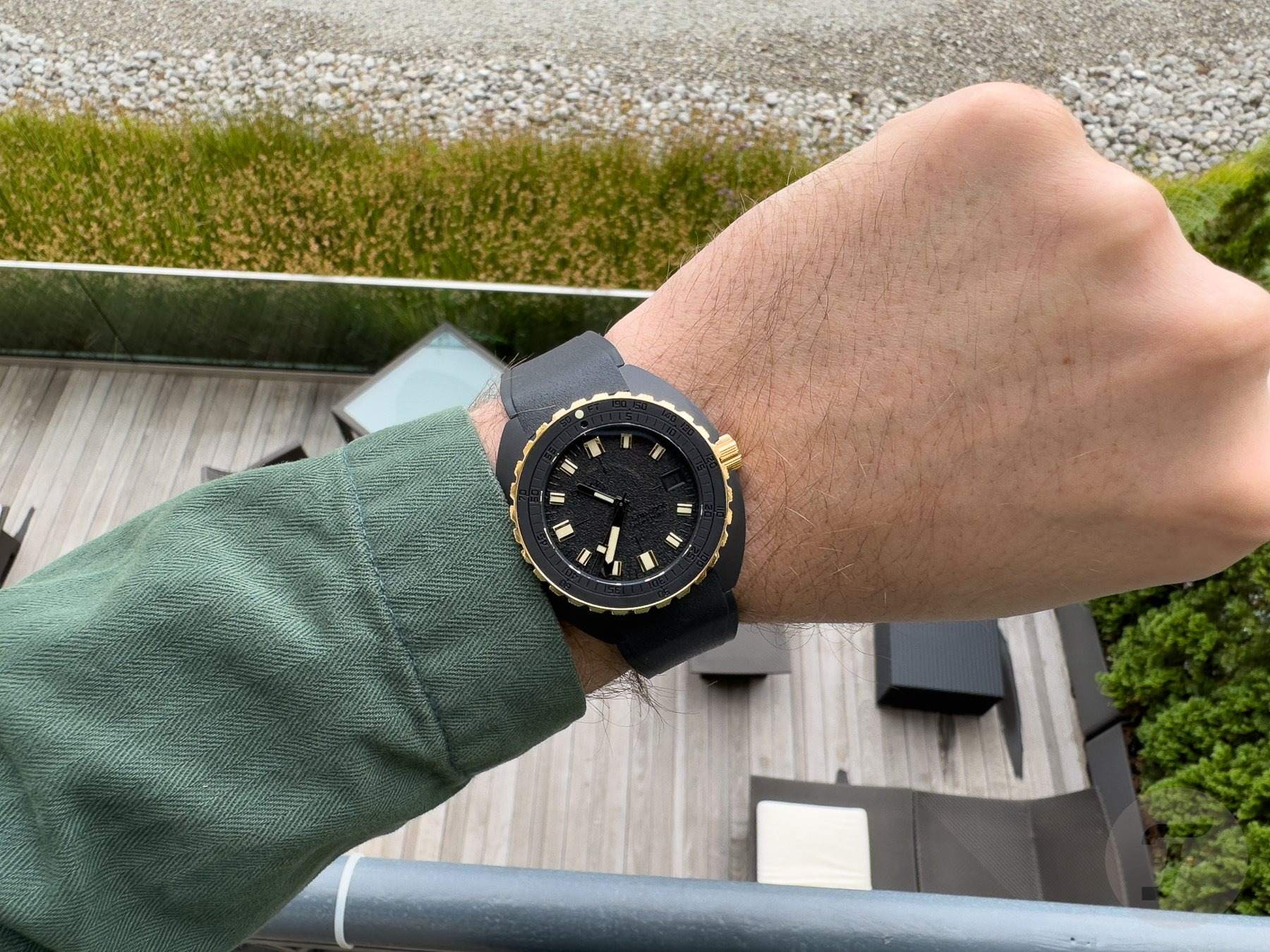 Doxa Sub 300ß Sharkhunter
Doxa's all-new Sub 300ß Sharhunter is next on my list of bangin' blacked-out timepieces. With the brand's latest two releases, Doxa is aiming at different audiences. The Sub 300T Clive Cussler was a great tribute to the man who loved the brand and helped make Doxa what it is today. The Geneva Watch Days release, the Sub 300ß Sharkhunter, on the other hand, speaks to a separate crowd. Perhaps the two overlap; you tell me. In any case, the Sub 300ß uses a black ceramic case we have all seen before. When Doxa rolled out the Army Watches Of Switzerland Edition last year, that watch utilized the same ceramic case. Soon after, the regular Army followed in a steel case with a bronze bezel. In a way, the 300ß is a visual continuation of those two previous models.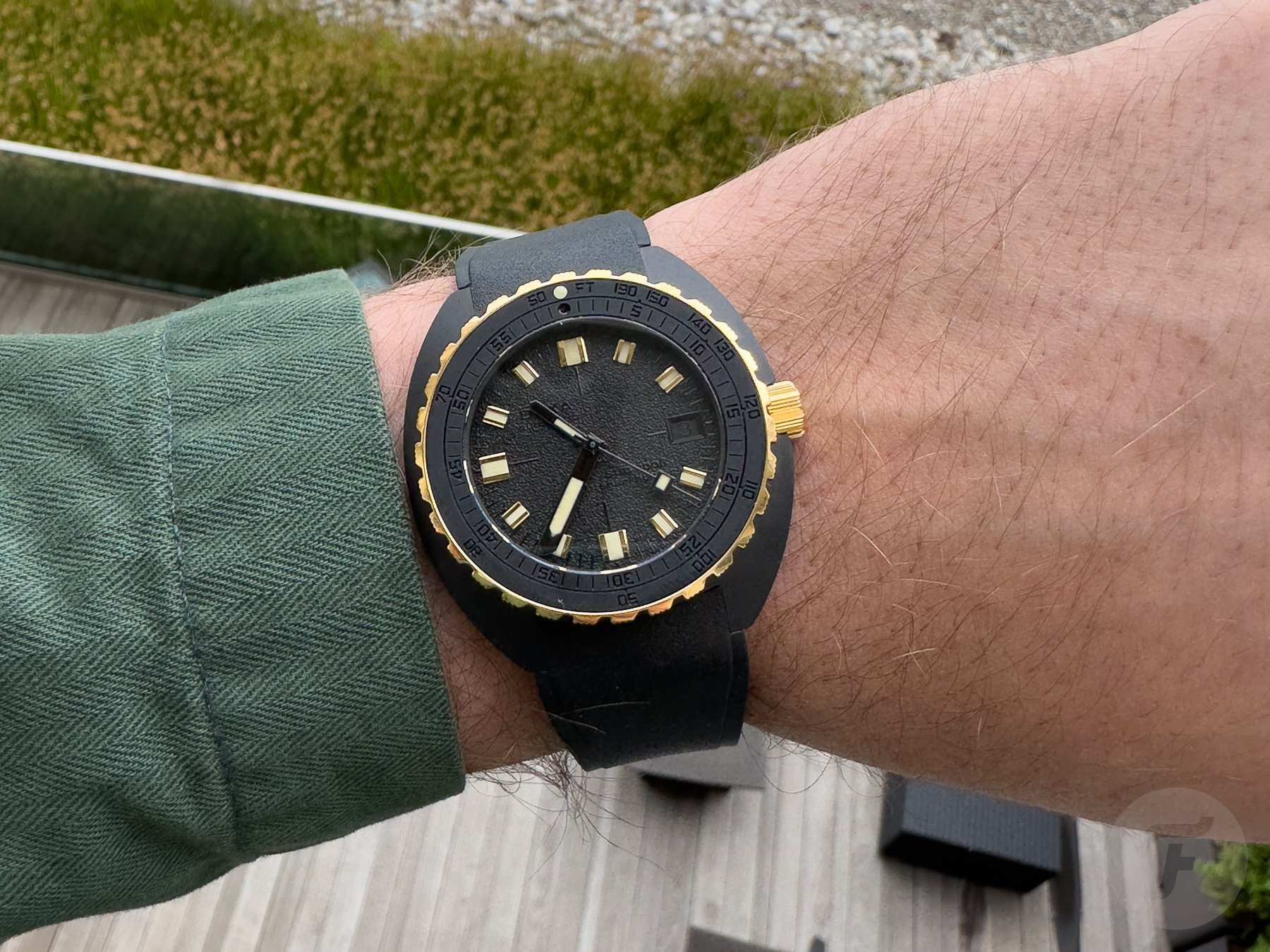 The case is the same, the bronze bezel is now gold (with a similar tone), and while it does not have immense importance, the rubber strap is identical too. Yet, the Sub 300ß is not a put-together watch but the next step in building the brand. Call it "diversification" if you will. With this new model, Doxa has a watch collection in almost all price segments. You can find a Doxa model for every wallet from the €1,000 Sub 200 up to the €7,250 Sub 300ß. That is not why I love this timepiece, though. When I asked Jan Edöcs, the CEO of Doxa, why the designers added a date window (which is completely illegible) to the watch, the answer was simple: it's part of the Doxa DNA. I love an answer like that and what it represents in the final product.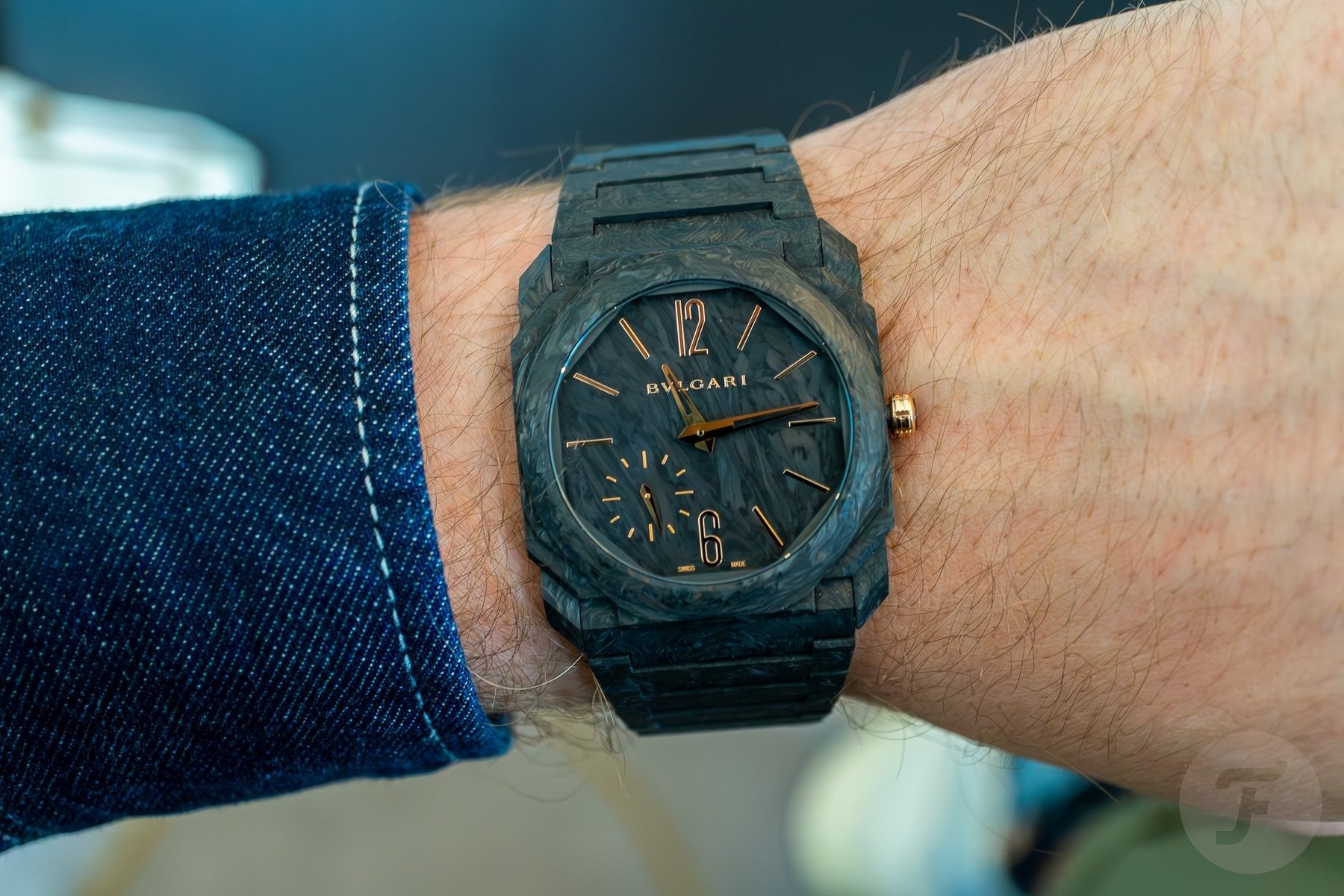 Bvlgari Octo Finissimo CarbonGold
I saved the best of the last…or did I? As far as I see it, my top three consist of an eclectic collection. I enjoyed seeing all these blacked-out watches for different reasons. One thing is for sure: at €29,000, the Bvlgari Octo Finissimo CarbonGold is the most expensive of my top three. Price, however, is not the only thing that distinguishes this model. At this point, I cannot even count how many world records the Octo Finissimo line holds (editor's note: it's eight). And while most of those watches are not necessarily common models, the R&D that goes into them will eventually be used in Bvlgari's new collections. The Octo Finissimo CarbonGold has a manufacture ultra-thin movement, leading to a staggering profile that's just 6.9mm thick. All of that is housed in a 40mm-diameter forged carbon case with a carbon dial and hands and indexes in rose gold.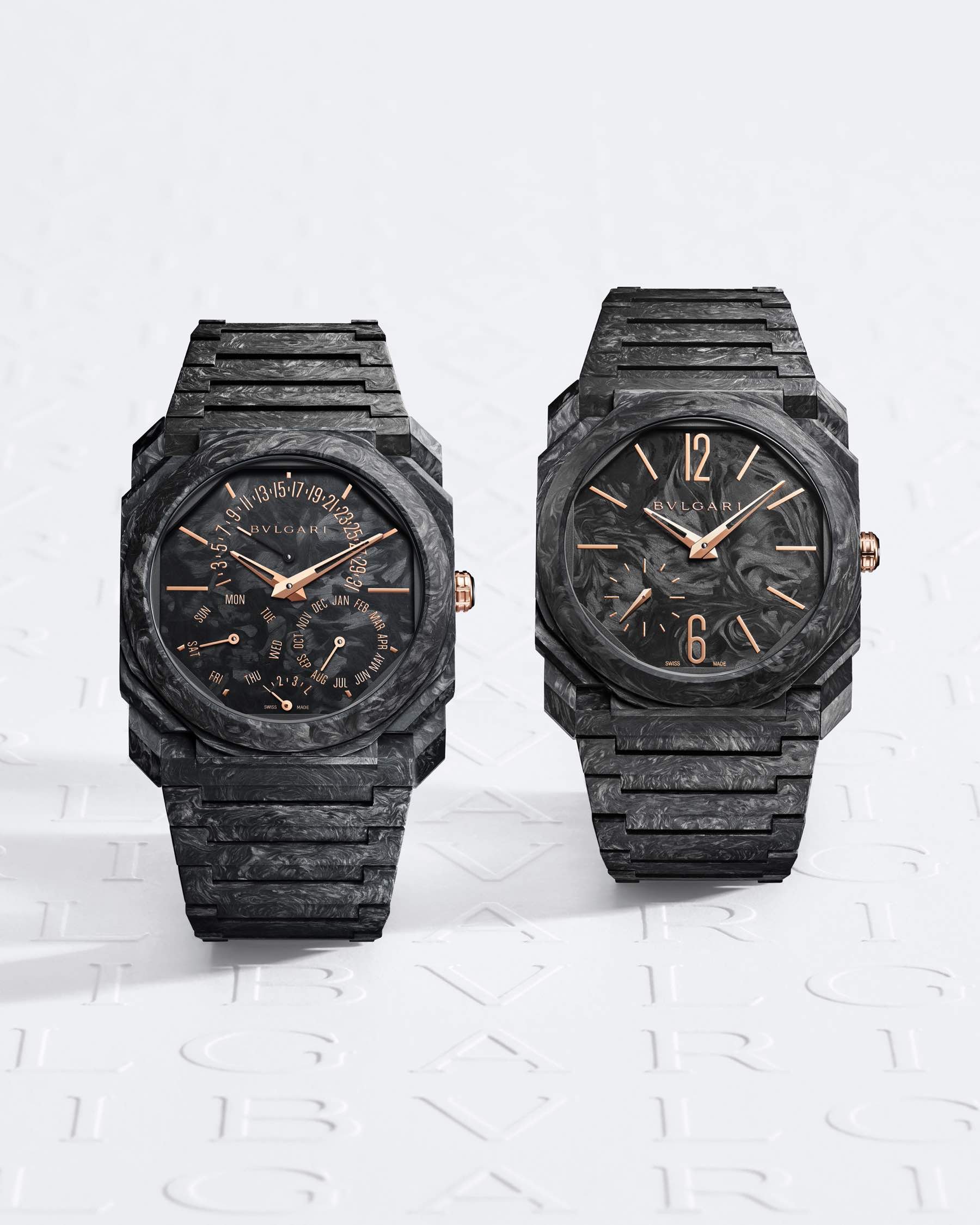 Black and gold was never my all-time favorite combination, but for whatever reason, it works here. However, I'd love to see this carbon case with white gold or steel indices and hands. For now, though, I'll settle for this combination. I'm sure many of you saw the marble-covered watch that Bvlgari created for the Only Watch auction. Granted, that's a tourbillon, but this CarbonGold model gives me similar vibes. To finish my reasoning why this is a fantastic watch, here are some specs — 100m water resistance, 60 hours of power reserve, BVL 138 caliber measuring only 2.23mm thick, and 31 jewels, all in a 40mm octagonal case. That's mind-blowing if you ask me.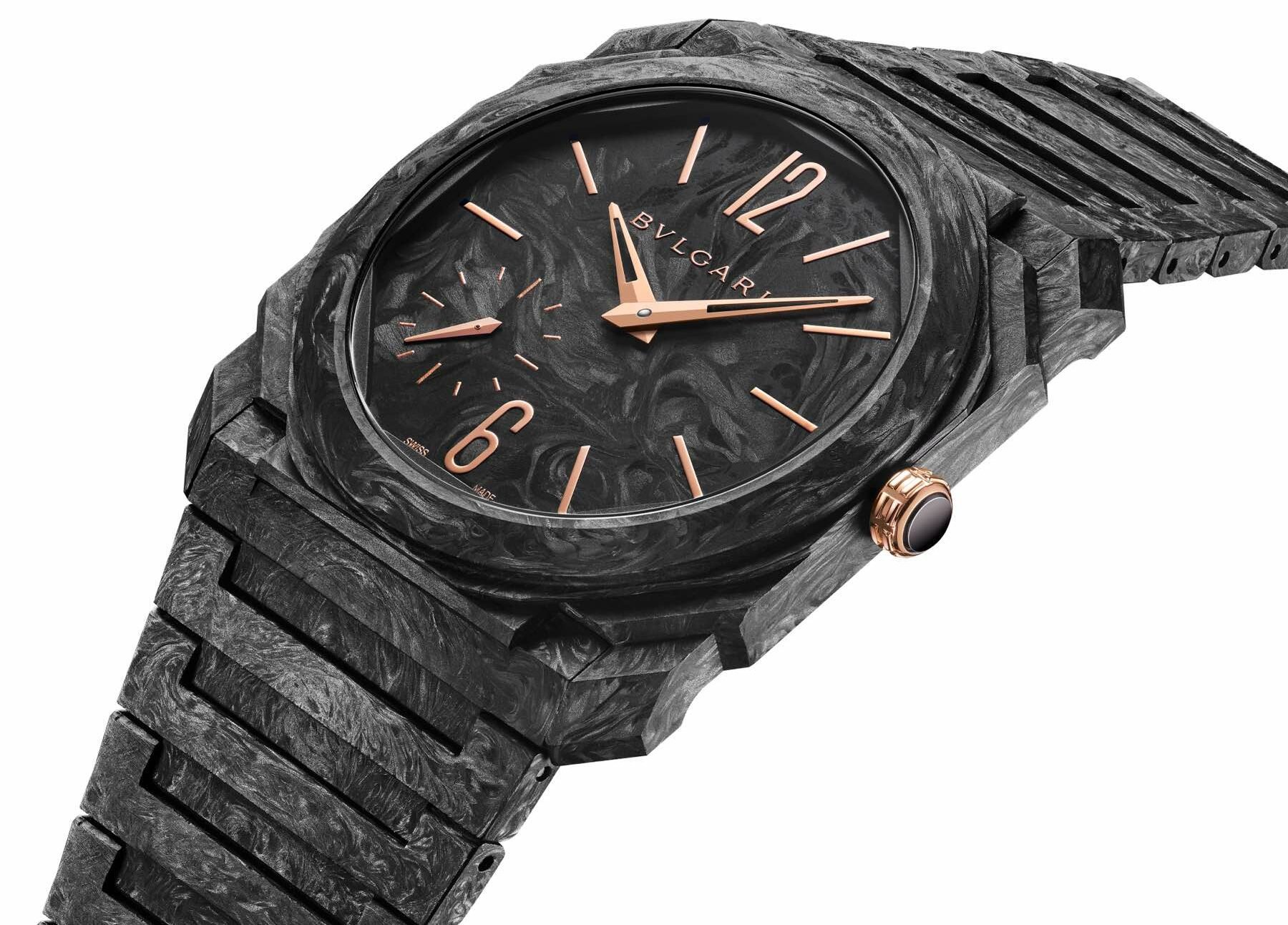 Blacked out
I'm sure there could be many more models added to this list. For example, while the case was gold, the H. Moser & Cie. Endeavour with a Vantablack dial was something to behold. Will more blacked-out watches be coming to the market? I'm sure of it. Ceramic has not been a futuristic material for many years. For a long while now, carbon has been here, not to mention PVD- and DLC-coated timepieces. Black watches look more understated and elegant. Whether we talk about a diver, a chronograph, or a time-only with an iconic design, black (and gold) seems to work fine. And I'm not mad about it at all.
How about you? Have any blacked-out watches caught your eye lately? Let me know in the comments section.