Baselworld 2013 – Hamilton Jazzmaster Face 2 Face
You probably know Hamilton for their affordable yet very interesting mechanical timepieces. We visited them yesterday and they showed us their masterpiece watch for Baselworld 2013, the Hamilton Jazzmaster Face 2 Face. A very cool oval shaped timepiece that you can reverse. This means that you can turn the watch around by this clever mechanism that Hamilton came up with. On the one side, this watch is a chronograph and on the other side it is a time-only watch. The price of the watch is almost very un-Hamilton-ish, but let's zoom in first at this piece before we get to the pricing.
In both cases, you are able to see one of the two mechanical movements. The movements are the ETA2094 for the chronograph part, and  a ETA2671 movement for the time-only version. As you can see in the second picture below, the time setting is done by a lever that need to be pulled out. The time setting and operation of the chronograph is being performed in the conventional way. A crown and two pushers.
As you can see. the black strap has a double row of blue stitching and blue lining (see below). It matches the blue accents on the dial. The Jazzmaster Face 2 Face by Hamilton is in harmony you could say. However, if you flip the case and look at the time-only side, there is only little in blue. No problem, as colored watches have the tendency some times to 'bore' you in the end (no worries, it is normal). If that's the case with the chronograph side, just flip the watch case and you are ready to go for it again.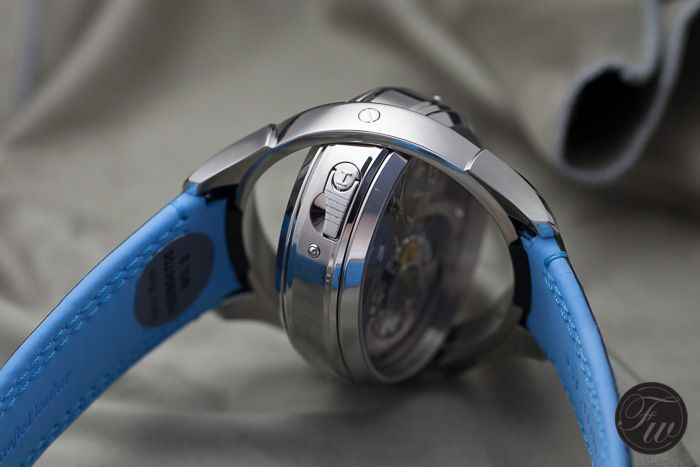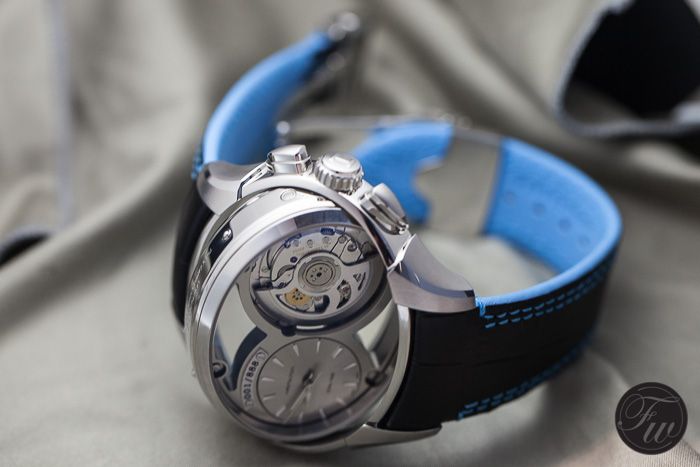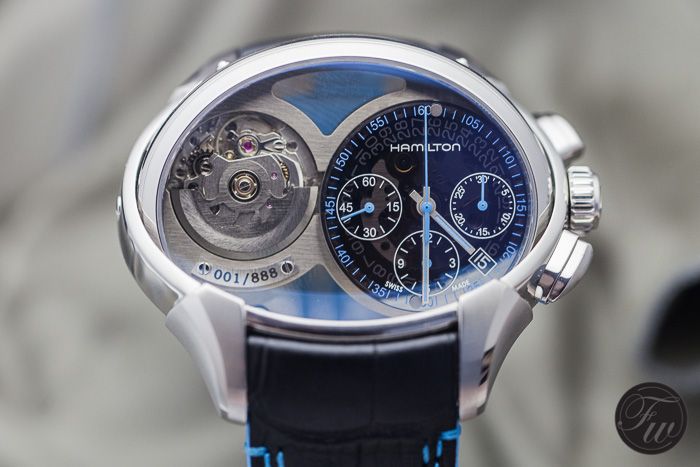 The watch appears to be a bit more blue on the pictures than it is in the flesh. This is because the transparent oval dial (sapphire crystals on both sides) showing the blue lining of the strap on our pictures.
The Hamilton Jazzmaster Face 2 Face is quite a large piece, measuring 53 x 44mm. Because it has an oval shape, it is very wearable though. The specifications make it look bigger than it is. This watch only comes in stainless steel and is limited to a production of 888 pieces, world wide. As written at the beginning of this post, the Jazzmaster is more expensive than you are used from this brand, but nevertheless not over the top. The recommended retail price is 6195 USD / 4900 Euro.
More information can be found at www.hamiltonwatch.com