Baume & Mercier Goes In-House With Their Clifton Baumatic!
Baume & Mercier excited us recently with an invitation to Geneva, where we got to see their novelty for the SIHH. Not exactly a new watch, but a new movement. Meet the Baume & Mercier caliber Baumatic BM12-1975A. An in-house movement, developed with the help of ValFleurier and the Richemont Group's innovation hub. A certified chronometer movement with 120 hours of power reserve and ensuring anti-magnetism up to 1500 gauss. Let's have a closer look at the Baume & Mercier Clifton Baumatic.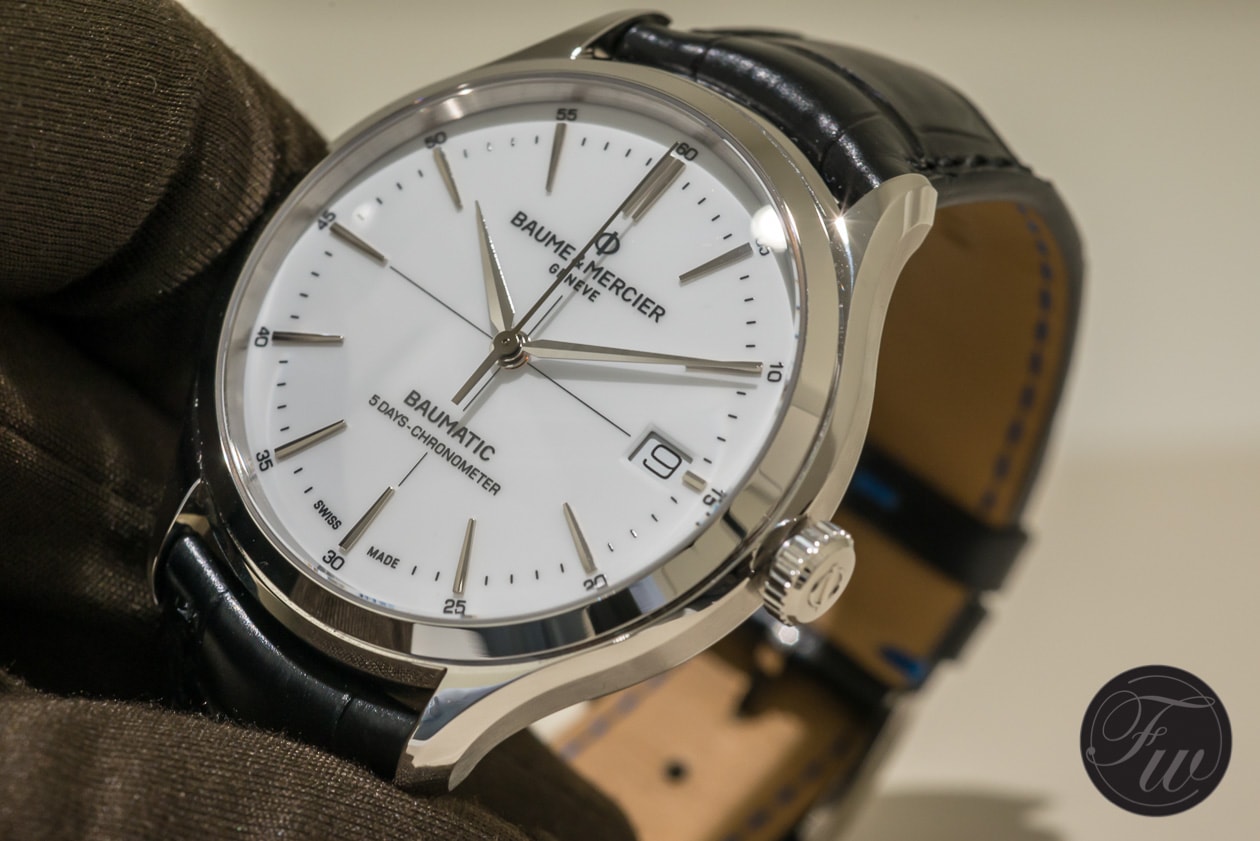 Clifton Baumatic
You are probably already familiar with the Baume & Mercier Clifton watch. If not, we reviewed it some of the Clifton collection here and here. When this watch was introduced 6 years ago, we were quite enthusiastic as it was well-designed (inspired by some past models) and in an affordable price range.
Today and next week, Baume & Mercier will make sure to show you their latest Clifton model, with the Baumatic movement. Priced at a very friendly CHF2450 Swiss Francs, for which you will buy a handsome designed watch with a manufacture movement.
Before I will discuss the movement in more detail, let's have a quick look at the watch first.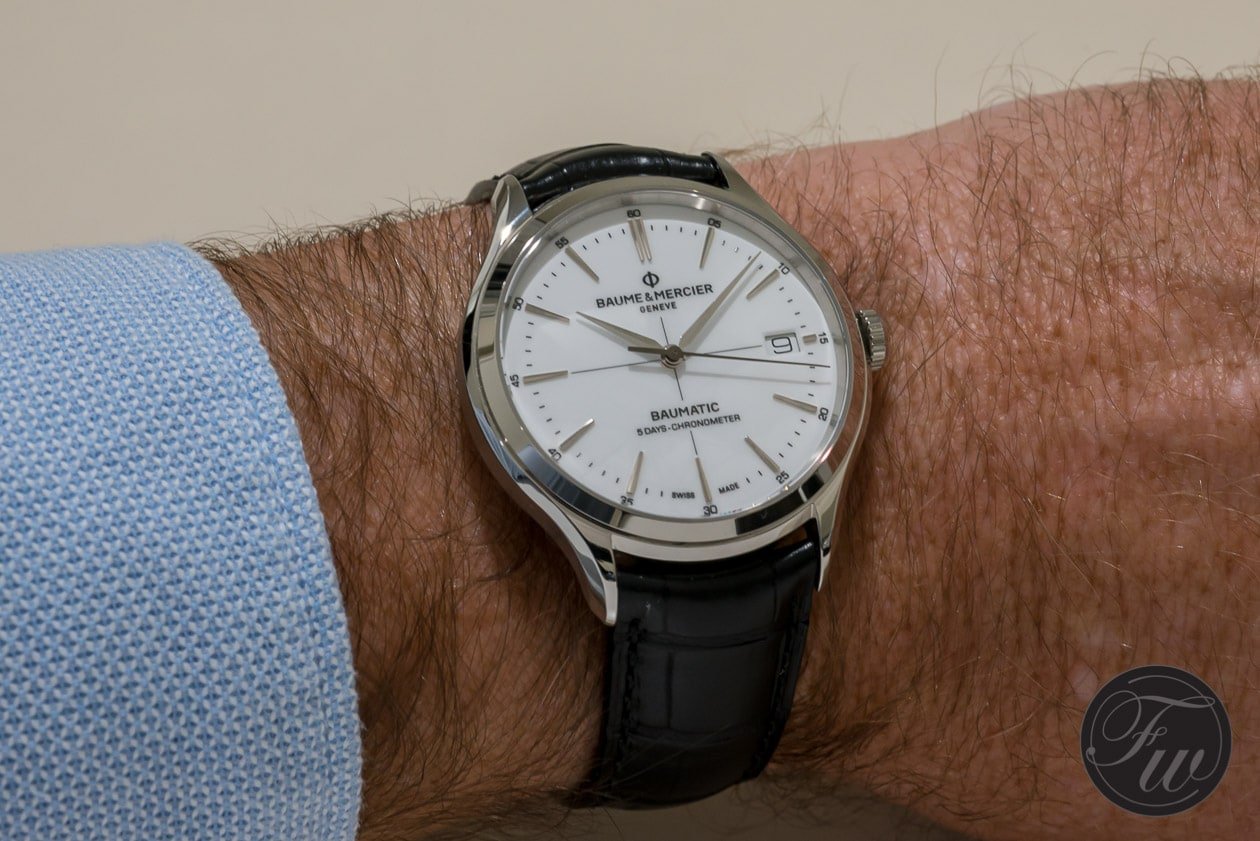 The design of the watch is a typical Clifton: inspired by the 1950s with a modern twist, long curved and beveled lugs, large crown and a domed sapphire. This Clifton Baumatic measures 40mm in diameter and has a thickness of 10.3mm. I've come to the conclusion that 39-40mm is – to me – a great size for dress watches. I am happy that Baume & Mercier didn't go 42mm or larger on this Clifton Baumatic. The case of this watch is water resistant up to 50 meters.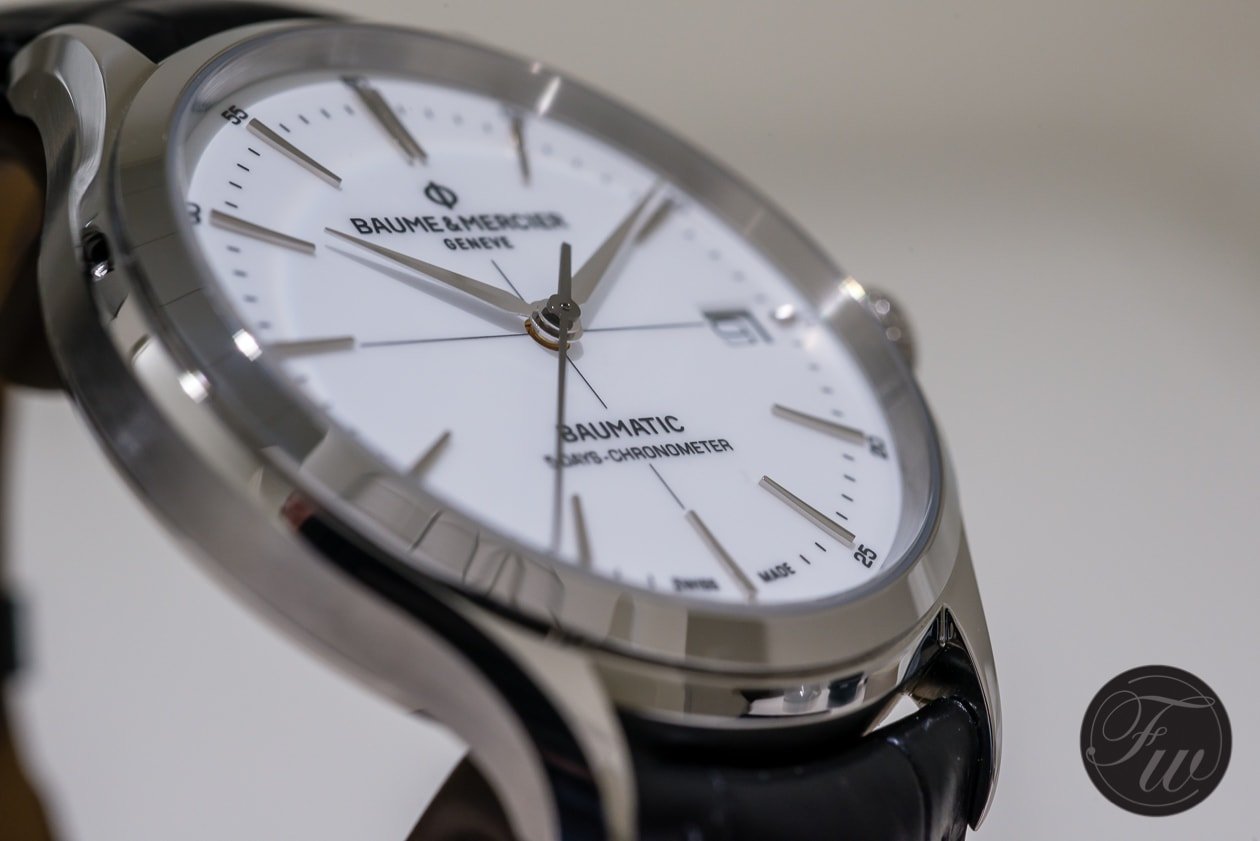 On the white dial, like porcelain, you will find beautiful applied indexes.  A rather large date aperture at 3 o'clock  and a cross in the center. The cross reminds me of watches from the 1950's and 1960's. Beautiful lancet hands and then there's also some writing on the dial. Besides the B&M logo, the Baume & Mercier writing we also find the 'Baumatic' name on the dial. It is a bit confusing, as the watch model is still Clifton and Baumatic refers to the movement. One could expect 'Clifton' to be on the dial, but instead Baume & Mercier chose to go with the movement name. Perhaps it is a bit like Omega's Co-Axial type movements, also printed on their dials, that Baume & Mercier likes to indicate that this watch is equipped with 'a' Baumatic movement. Furthermore, we find the 5-days of power reserve and chronometer indication on the dial.
In any case, I find the dial beautiful. The white porcelain-type dial is very 'dressy' without making it a boring watch or color. White is always a bit difficult, as it can be very 'hard' on the eyes, and especially on pictures (like the Rolex Explorer II white dial version). This dial has a nice shine to it, and the applied hour markers, printed minute track and wording are very balanced. The Geophysic from Jaeger-LeCoultre has this similar appeal to me. Very well done, Baume & Mercier!
BM12-1975A Movement
Large part of the novelty on the Baume & Mercier Clifton Baumatic is the movement, caliber BM12-1975A. As written on the dial, a 5-days power reserve movement that has been chronometer certified by COSC. Meaning, it has a daily average deviation of -4 to +6 seconds. Where the norm for a movement to be considered anti-magnetic is 60 gauss, the Baumatic movement is resistant to magnetism up to 1500 gauss. More than the Rolex Milgauss, for example. Although I never realized my watches were influenced by this, a demagnetizer made one of my watches run smooth again (as it was doing +2 minutes per day). Putting your watch near your iPad (with magnetic cover) can already influence its performance, as was demonstrated on one of my watches once. So I get the importance of creating a watch – or movement – that is anti-magnetic. Most manufacturers took care of this by using a soft-iron inner-case, creating a Faraday cage. However, recent innovations on this topic relate to making the movement itself anti-magnetic. This is mainly done by using certain materials for movement parts.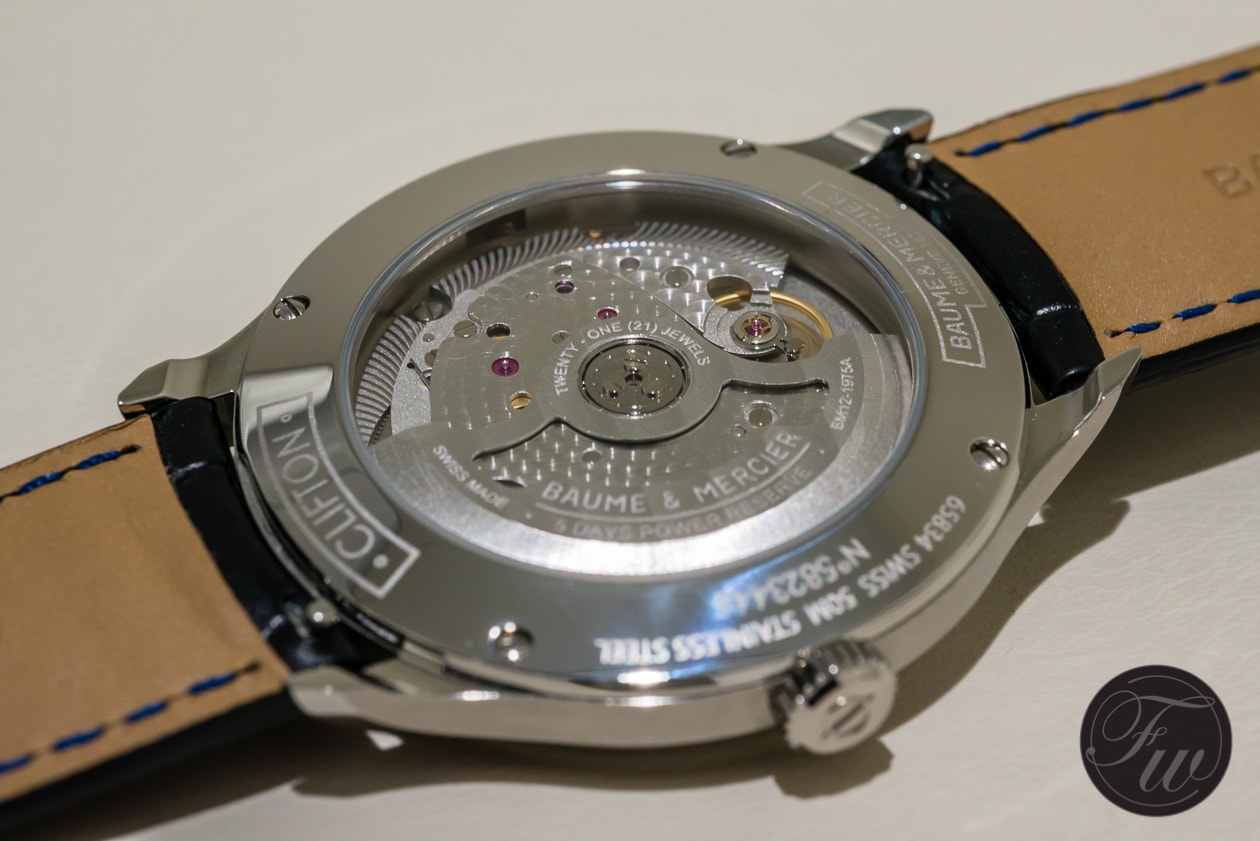 One of the measurements that Baume & Mercier took was embedding Twinspir technology. This Richemont technology is applied to a new hairspring with a composite structure, combining two cores of silicon, alternately set at a 45° angle and bound by a silicon dioxide layer that also plays a role in ensuring thermocompensation. Forget that, the only thing you need to remember is that is enhancing its anti-magnetism, has a positive effect on the accuracy of the movement and reduces the effect of small shocks and vibrations. Also interesting is the PowerScape escapement, a new (Richemont)  technology based on an unusual shape of the anchor and escape wheel. Less friction and an improved torque transmission between the components. The PowerScape and Twinspir technology are also largely responsible for achieving a 5-day power reserve. Last but not least, Baume & Mercier claims that their Clifton Baumatic is, due to the use of special lubricants, can have a larger interval concerning service maintenance. Normally, they recommend a service interval of 5 years, but with the Baumatic they claim it can do without one for a longer period. 'Considerably longer', so they claim.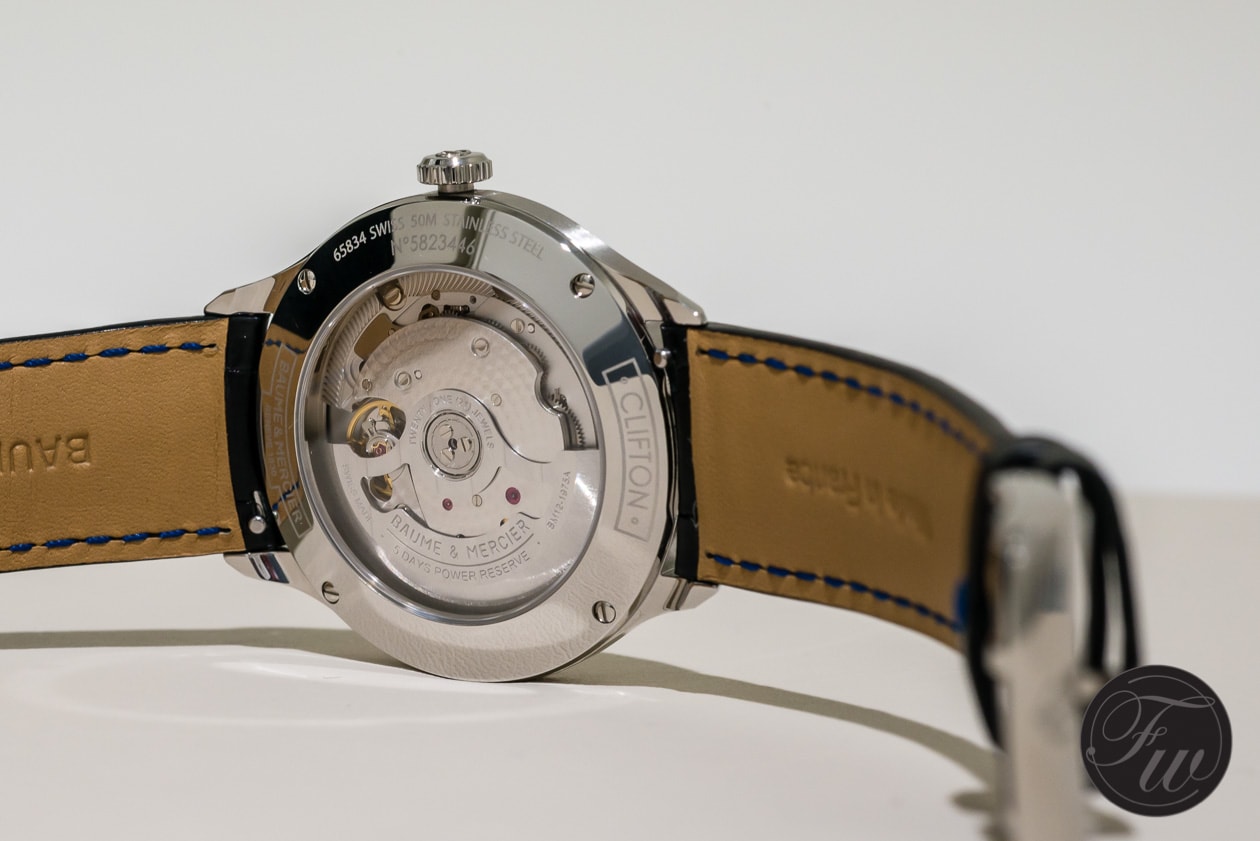 As you can see above, the movement is visible through the sapphire caseback of the watch. The Baume & Mercier Clifton Baumatic comes with a black alligator strap with pin buckle. Between the lugs of the watch, the alligator strap is slightly curved so the gap between the watch case and strap is less disturbing.
A two-years warranty is given with this watch, and the individual chronometer certification paper (by COSC) is available on demand. As written above, Baume & Mercier's Clifton Baumatic has a CHF2450 Swiss Francs price tag. I am pretty excited about this watch and can't wait till next week, during SIHH, to have some more time with it.
More information via the Baume & Mercier website here.