In Detail – Baume & Mercier Clifton Club
I have always been drawn to double brand names on a dial. Baume & Mercier, Jaeger-LeCoultre, Patek Philippe and so on. Not because of the importance of a brand or about recognition, but I just like a long written double name. The typography is of importance here of course, as well is the positioning of the name. Unfortunately, as names did became more important, brands tend to print (or apply) them in a larger – or even more bold – font than they did before. A good example is Audemars Piguet, or even Patek Philippe. I think Baume & Mercier also increased the font size a tad bit over the years. In my opinion it isn't necessary, but who am I. I assume the marketing gents and ladies gave it a good thought before they decided to do this.
Your First Mechanical Watch
Anyway, today I am looking at the Baume & Mercier Clifton Club. Not too long ago, the Clifton collection was added to the Baume & Mercier portfolio. Positioned a bit above the Classima collection, aiming at the persons who are seriously interested in mechanical watches. Very important, it still has to be (relatively) affordable. Now, where within the Swatch Group it is pretty clear how brands are positioned and 'stacked' in order not to compete with each other (Certina, Tissot, Longines, Omega, Blancpain, Breguet etc), within the Richemont Group – to which Baume & Mercier belongs – it works a bit differently.
You will find a number of brands that belong to Richemont to be positioned in the same price ranges. IWC, Panerai, Jaeger-LeCoultre. There is a lot of overlap. Entry-level watches of Montblanc compete with Baume & Mercier while the higher end watches from Montblanc (Villeret) are sometimes as costly as a complicated Jaeger-LeCoultre or even Vacheron Constantin. Why would you let your brands compete each other like this, while you also have to compete with Rolex and some of the Swatch Group brands? One explanation is that people buy a certain brand or watch anyway, they pick a certain style. A Panerai is far away from any Jaeger-LeCoultre in terms of style. However, we also see that there are some similarities between certain Montblanc models and Jaeger-LeCoultre models when it comes to aesthetics and functionality, there's only the difference in price.
To cut a long rant short, today I am discussing the Baume & Mercier Clifton Club collection. A watch that was introduced earlier this year in Geneva, where I sat down with CEO Alain Zimmermann. A very entertaining and interesting discussion arose, to which I will come later. He showed me the new Clifton Club watches and talked about being an entry level luxury brand.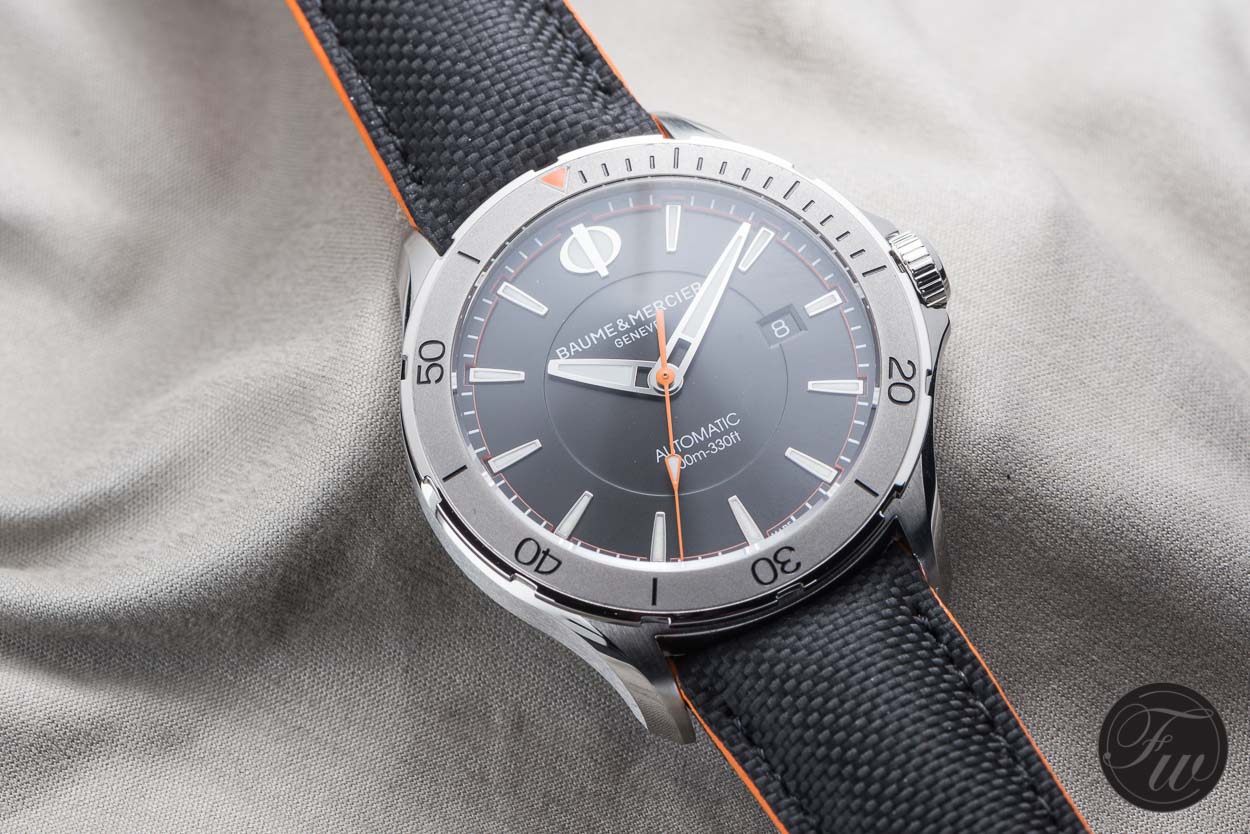 When you get your first job, getting a nice watch is perhaps not what most of you were (or are) thinking about. You need a couple of suits, you need to pay the rent, perhaps a car. There is little financial room to go all out and buy that Jaeger-LeCoultre or Rolex Daytona when you just started your professional life (there are always exceptions though). Here's where Baume & Mercier comes to the game. The Geneva company is able to offer a couple of interesting mechanical luxury watches for a relatively affordable price. Their latest addition are the Baume & Mercier Clifton Club watches.
Baume & Mercier Clifton Club
In Geneva, Baume & Mercier presented their youngest member: the Clifton Club. Loosely based on the Clifton design, this Club model is a sporty new family member. All equipped with a uni-directional diving bezel (60 minute scale) and a water resistance of 100 meters (~10 bar). I believe that the bezel is more of a style element than a tool for serious divers, as for diving 100 meters (which doesn't mean you can actually go 100 meters deep, but has to do with pressure) is a bit of a low number. Most professional diving watches are at least 200 meter but more often 300 meters water resistant.
The dial consists of a couple of sectors, layers even. In the center part, there's the Baume & Mercier writing that I wrote about at the start of this article. Quite bold, but since it is a sporty watch it isn't too distracting (or annoying). Personally I would love to have it a bit smaller. Below the center pinion, there's 'Automatic' and the indication for its water resistance. Also printed quite large. At 3 o'clock, there's a date aperture with a black disc with white printing of the numerals. Then there's the section between the center and the minute track, with the applied hour markers and the Baume & Mercier Phi logo. The dial contains some orange elements, like the rim between the outer track and hour markers, the triangle on the bezel and the central seconds hand.
The hour and minute hands have quite an uncommon shape, but fits the watch perfectly as they match with the shape of the hour markers and Phi logo. These kind of elements make it stand out from the crowd.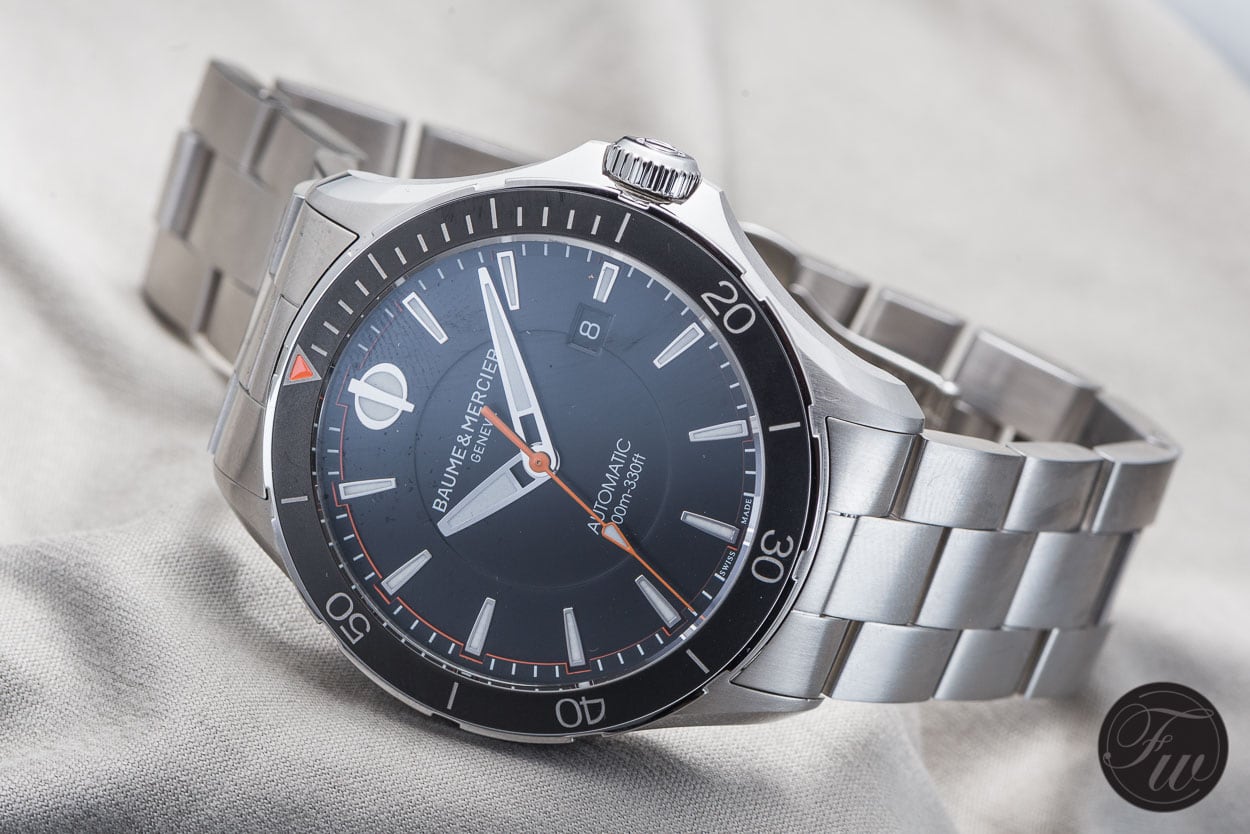 The Baume & Mercier Clifton Club is 42mm in diameter and 10.3mm in thickness. It comes in a couple of different variations. Not only different colors, but also on various straps or stainless steel bracelet. All are powered by Sellita Caliber SW200, a movement based on the ETA2824-2. A solid work-horse movement that is being used in a lot of other brands as well. The movement is not visible through the case back, instead it is engraved with 'Club'. As you can see below, it is very nicely done. However, it doesn't leave much room for a custom engraving, which might be the idea some people have when they want to gift it.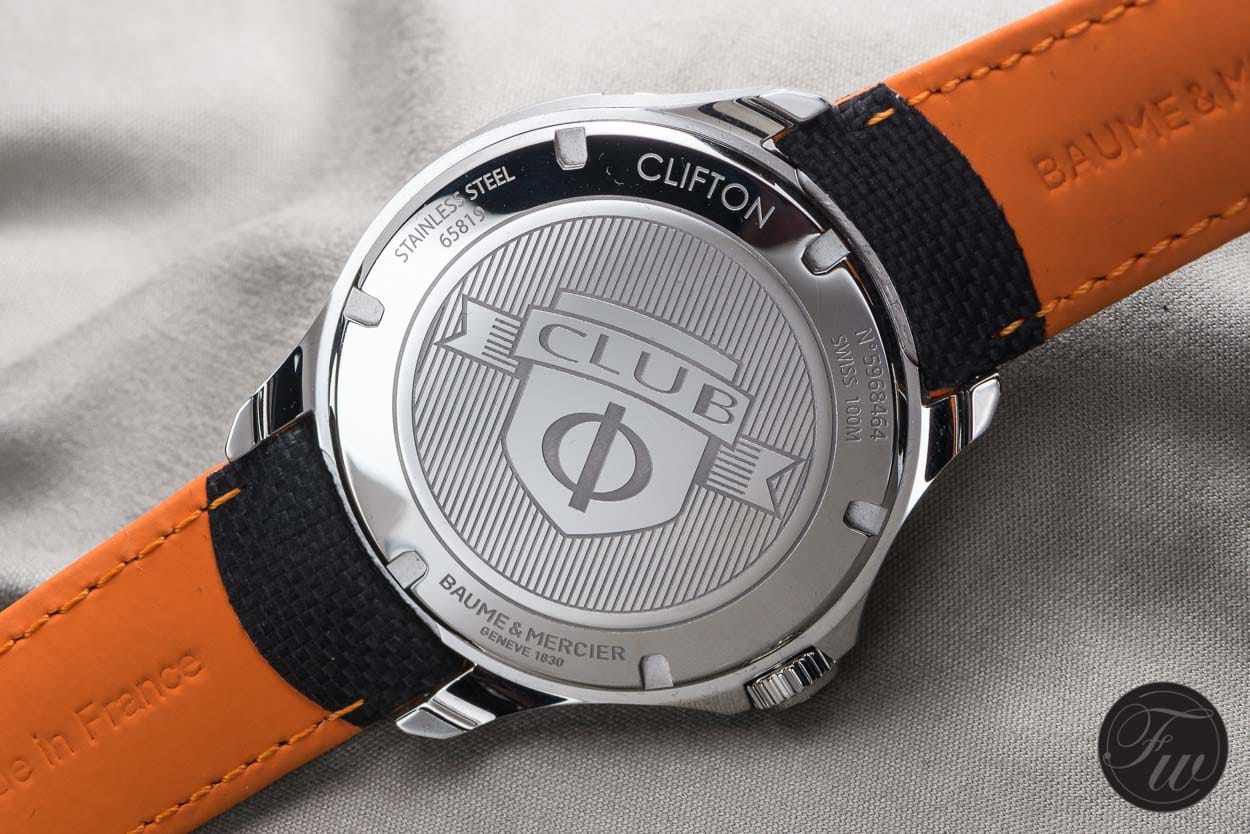 The sportiness of the Baume & Mercier Clifton Club is being underlined by the crown guards. It doesn't have a screw-down crown, which is a bit of a missed opportunity as it does have a uni-directional diving bezel (and 100 meters WR). Again, it is more about a certain design style or lifestyle, than that this watch is considered to be a diver's watch. That said, it is not too sporty so it can be worn with a nice shirt and suit during your day-time job.
As mentioned above, the Baume & Mercier Clifton Club is available with a rubber strap, a calf leather strap (with that kevlar look) and a stainless steel bracelet. The bracelet has a brushed finish and is very appealing I must say. It fits the watch perfectly, as it doesn't attract too much attention. It is just a good looking bracelet, very easy on the eyes.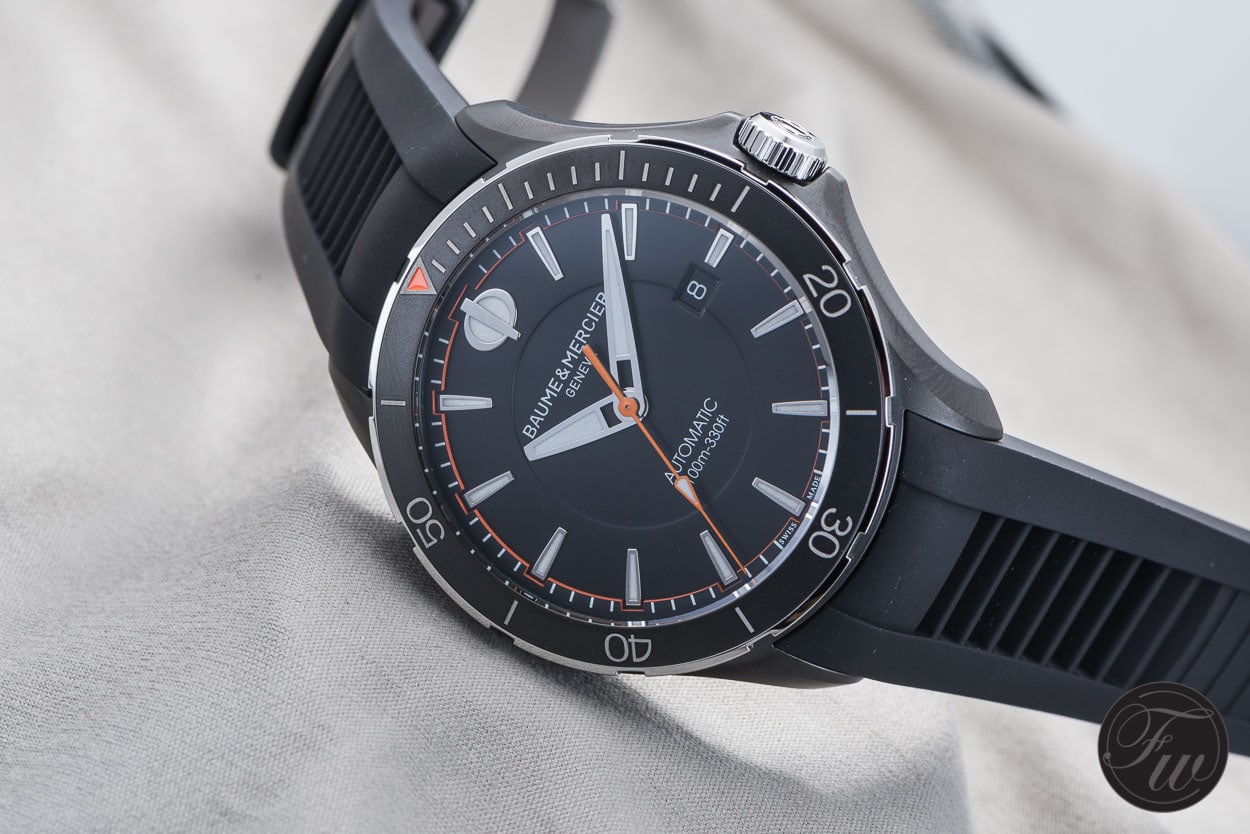 Besides stainless steel, the watch is also available in black, using this ADLC-coating. The bezel, crown and case back are in (uncoated) stainless steel though. This black version is the most expensive Baume & Mercier Clifton Club of the bunch (reference 10339) with a retail price of €2250,- (including taxes).  These watches start at €1950,- for the stainless steel models on a leather strap and €2100,- for the full stainless steel model.
What Will Be Your Next Watch?
Interesting to note is that I've never come across people that collect Baume & Mercier. Not even vintage ones. Perhaps it is not a brand for mono-brand collectors, as some vintage watch collectors might have one. However, it is a brand that you come across when asking people about there watch collection. Most of the time it is their first introduction to mechanical (or luxury) watches. I used to have a girlfriend who indeed bought a Baume & Mercier (Hampton) when she got out of university and started out at her first job. Later on, she purchased another watch (a Cartier I believe). I asked Baume & Mercier CEO Alain Zimmermann whether this is common behavior and if so, if he is bothered with that. People buy a Baume & Mercier as their first watch, but don't return for their second purchase. He acknowledged that it is indeed the case that a Baume & Mercier watch is often being bought as a first introduction to a nice watch, and that people move one to (hopefully) another Richemont brand like IWC or Panerai etc. The interesting remark he made, is that he likes Baume & Mercier to be that first watch (or brand) for someone. It made me think about it, and the fact is that most of people will remember their first (expensive) watch purchase. Not their 4th or 5th etc. So Baume & Mercier takes that special place.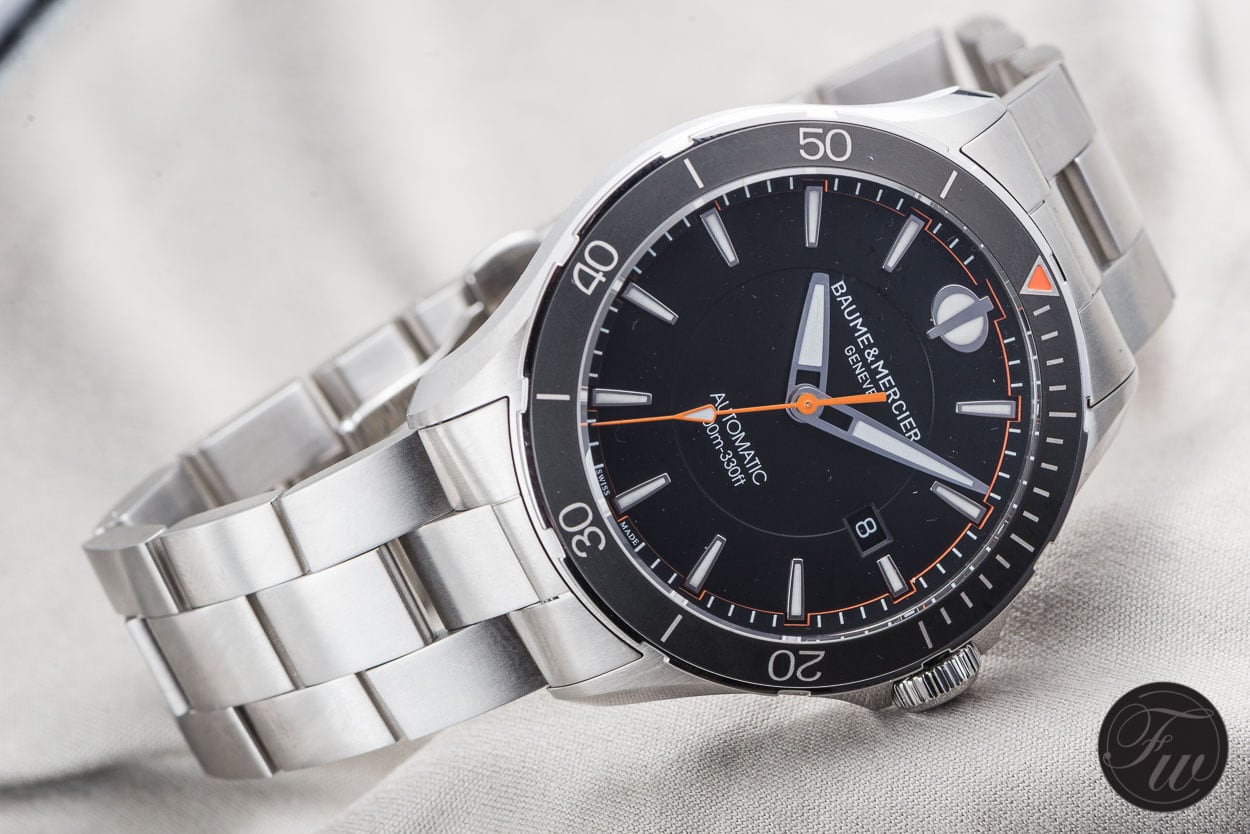 Of course there can be some exceptions, as someone who started with a Classima (also available in quartz), might be drawn to the Clifton Calendar with moon phase later on. It is an interesting position however, and it makes the Baume & Mercier Clifton Club even more important, as the first encounter with a nice watch (and brand) should be good!
More information about Baume & Mercier and the Clifton Club can be found here.