Bert's Top 10 Most Photogenic Watches
From over 10 years of shooting watches
Through the years, we've seen many incredible watches. But some of them certainly love the camera more than others do. Cases, colors, reflections, you name it. All manner of things can affect a watch's performance in front of the lens. To commemorate my favorites, I've put together this list of the Top 10 most photogenic watches.
Being able to capture them in all their beauty is always a pleasure. But not all watches photograph that easily. Needless to say, these watches were a pleasure to work with. Especially because some watches seem to been deliberately designed to make the life of a photographer extra tough.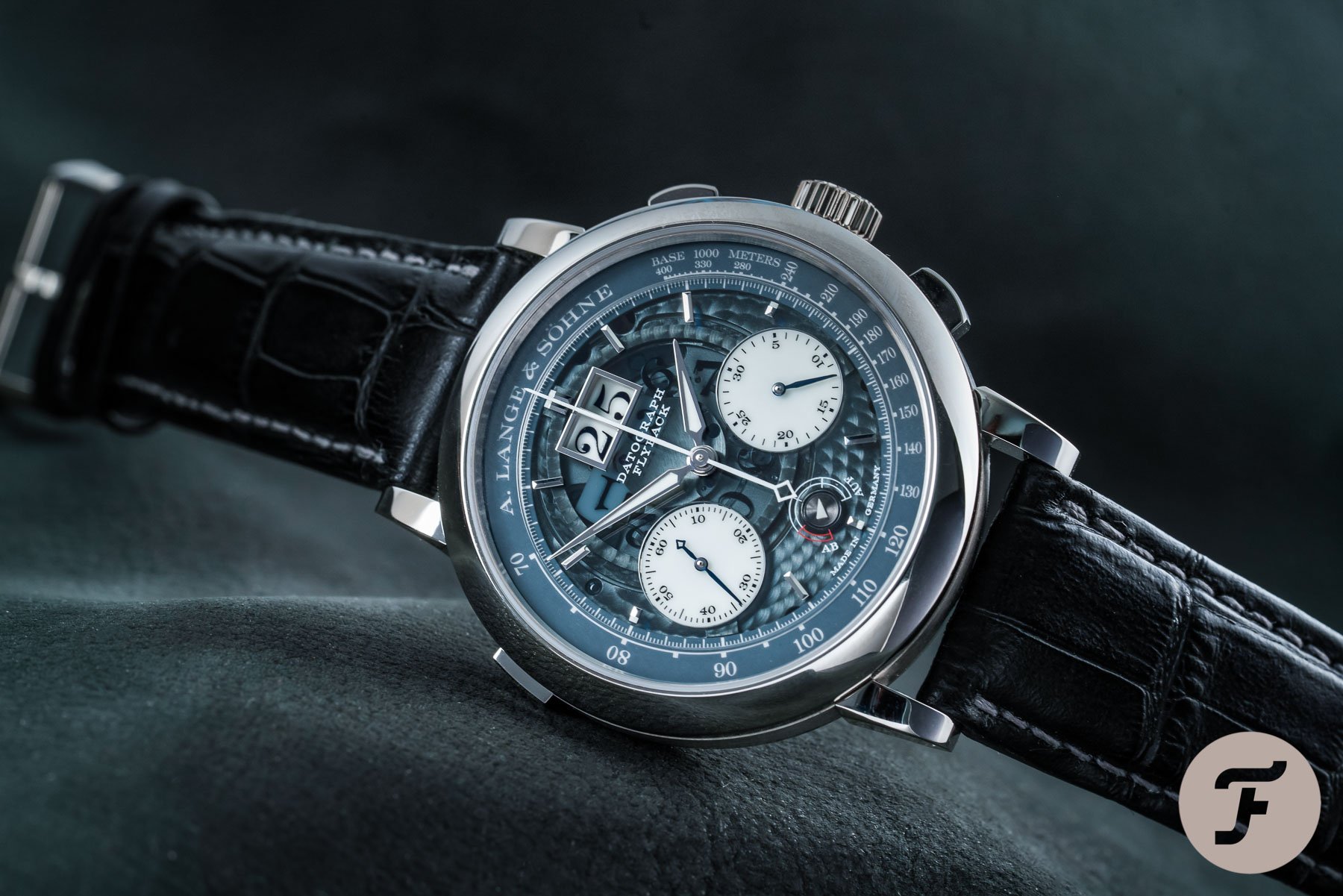 A. Lange & Söhne Datograph Lumen.
With Lange, it is really tough to select only one favorite. To me, the design of the German maestro's watches is spot-on with pretty much each model. So it's hard to pick one but looking at the images, the Datograph Lumen is a slight preference of mine.
Because of all the extra details like the translucent smoke dial and all the incorporated luminous material. These make a watch like this more interesting to photograph and, as said, all the watches in this Top 10 list capture relatively easy. And compared to some other watches in this list, the movement side is probably even more photogenic.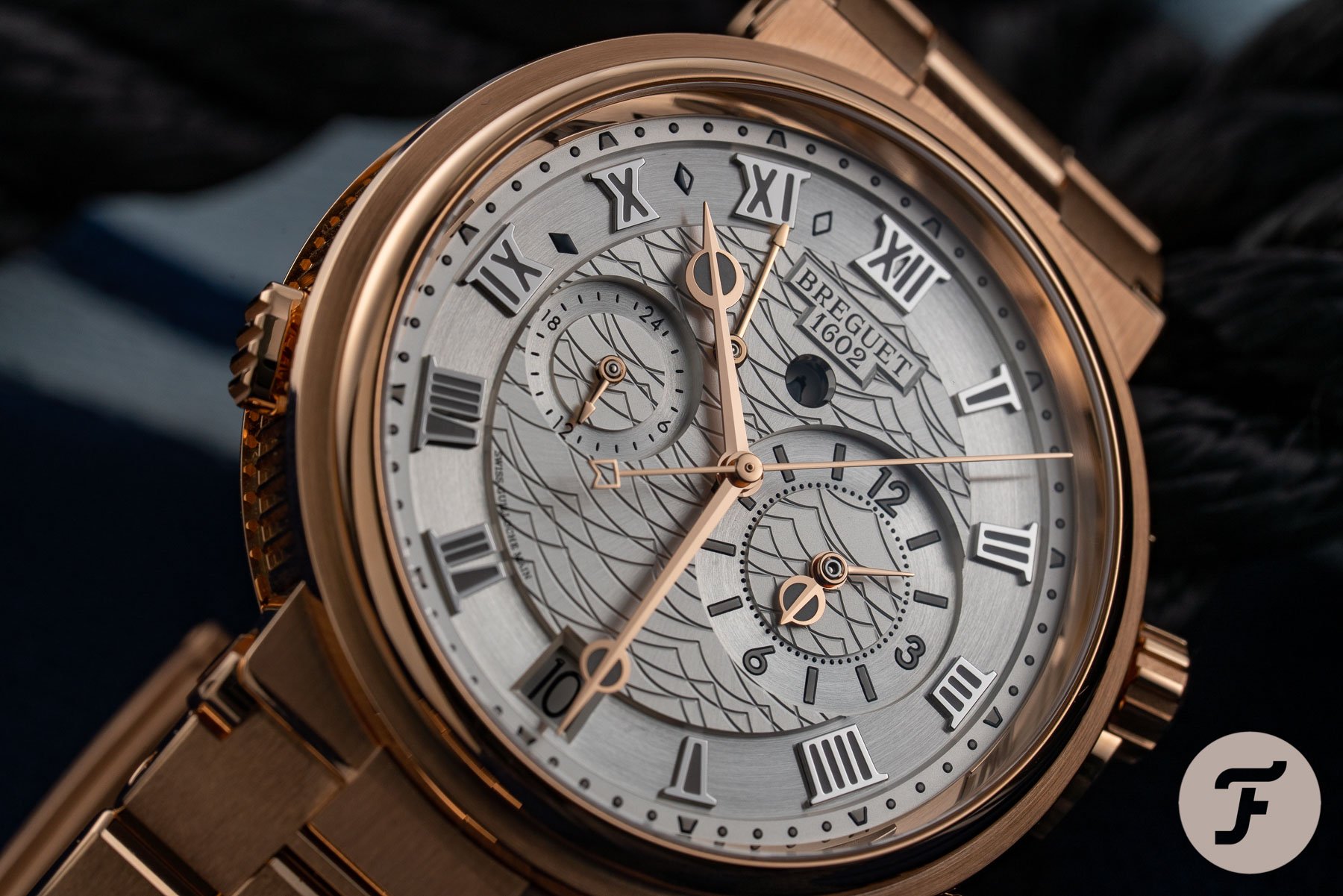 Breguet Marine Alarme Musicale 5547
What can I say? They hand you a case of watches with a value of over half a million Euro's to shoot. The first one that catches your attention was the Breguet Marine Alarme Musicale in full gold. What a stunner! It delivered stunning results from the first shot to the last.
This is also what makes my job so interesting. What some just consider a watch, can reveal itself as a true work of art when you have time and opportunity to study it closely. This Breguet is a perfect example of that. The closer you look, the more details you pick up on it. Extensive and various finishes of the bracelet and the endless details on the dial. More on this watch coming soon.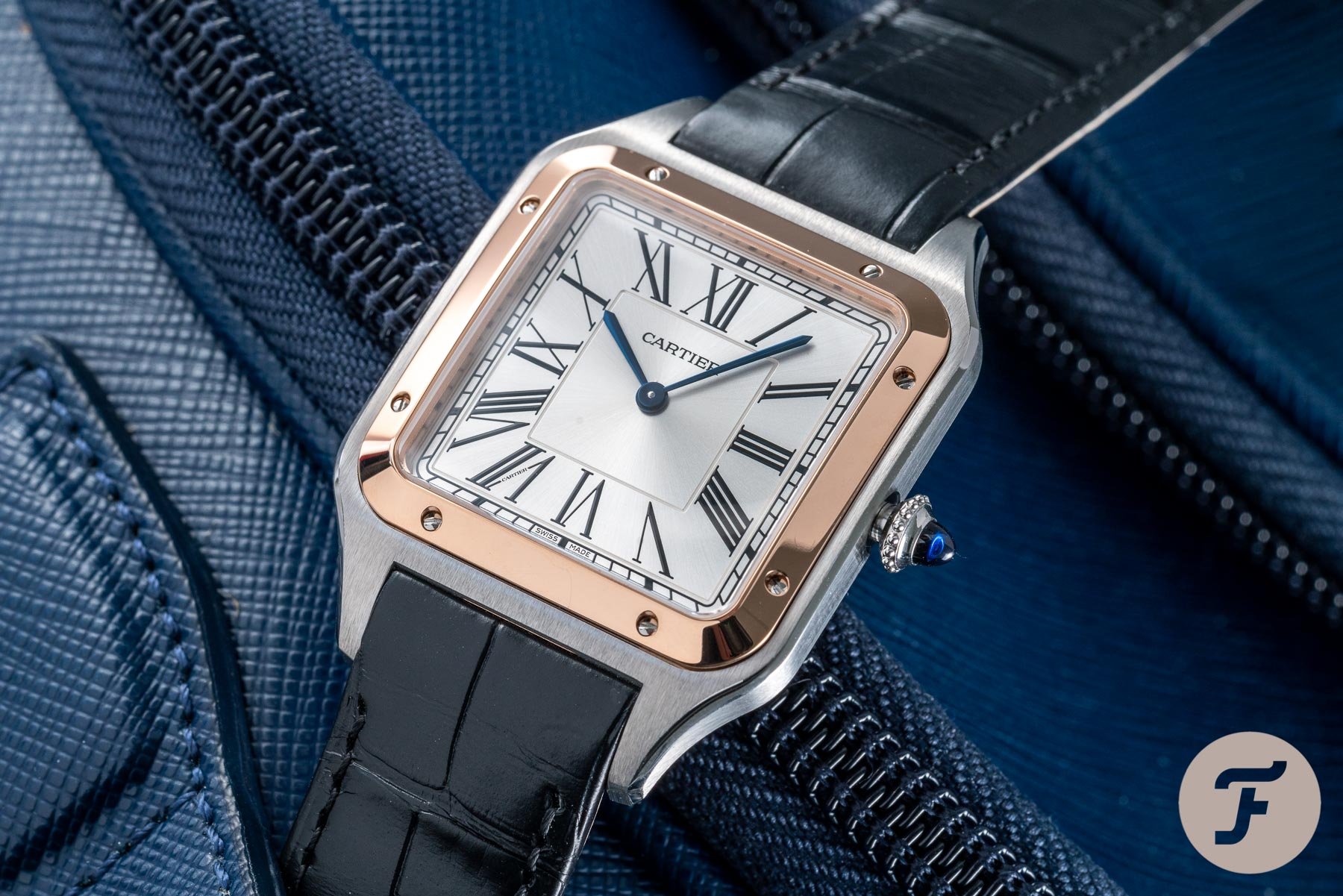 Cartier Santos Dumont
This watch proves that a watch doesn't have to be complicated to be photogenic. Timeless design simply works wonders. Thee DNA of this watch design dates back to 1904. The fact that the Santos is still in the collection and still going strong pretty much says it all. And it captures great. My favorite element? The polished bezel of the Santos Dumont always helps images of this model to stand out.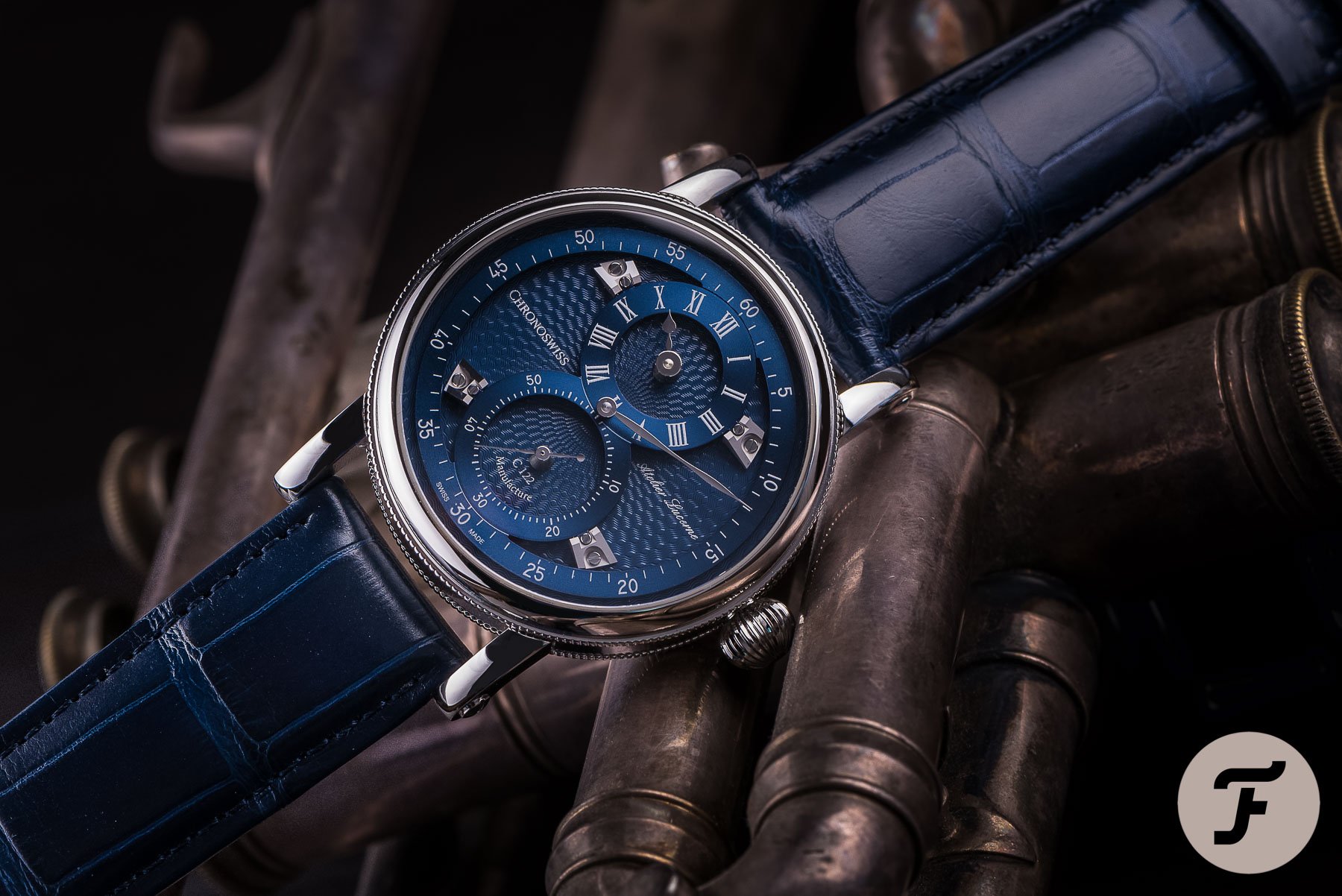 Chronoswiss Sirius Flying Regulator 
Another brand that is hard to forget when it comes to pictures. Through the years we have visited ChronoSwiss on many occasions at Baselworld. The design of this watch is clean yet it has so many delicate details. Blue somehow always works on a watch. Especially on the textured dial of the  Sirus. Combined with the two-level dial layout it makes an incredible watch to shoot. Stunning results guaranteed.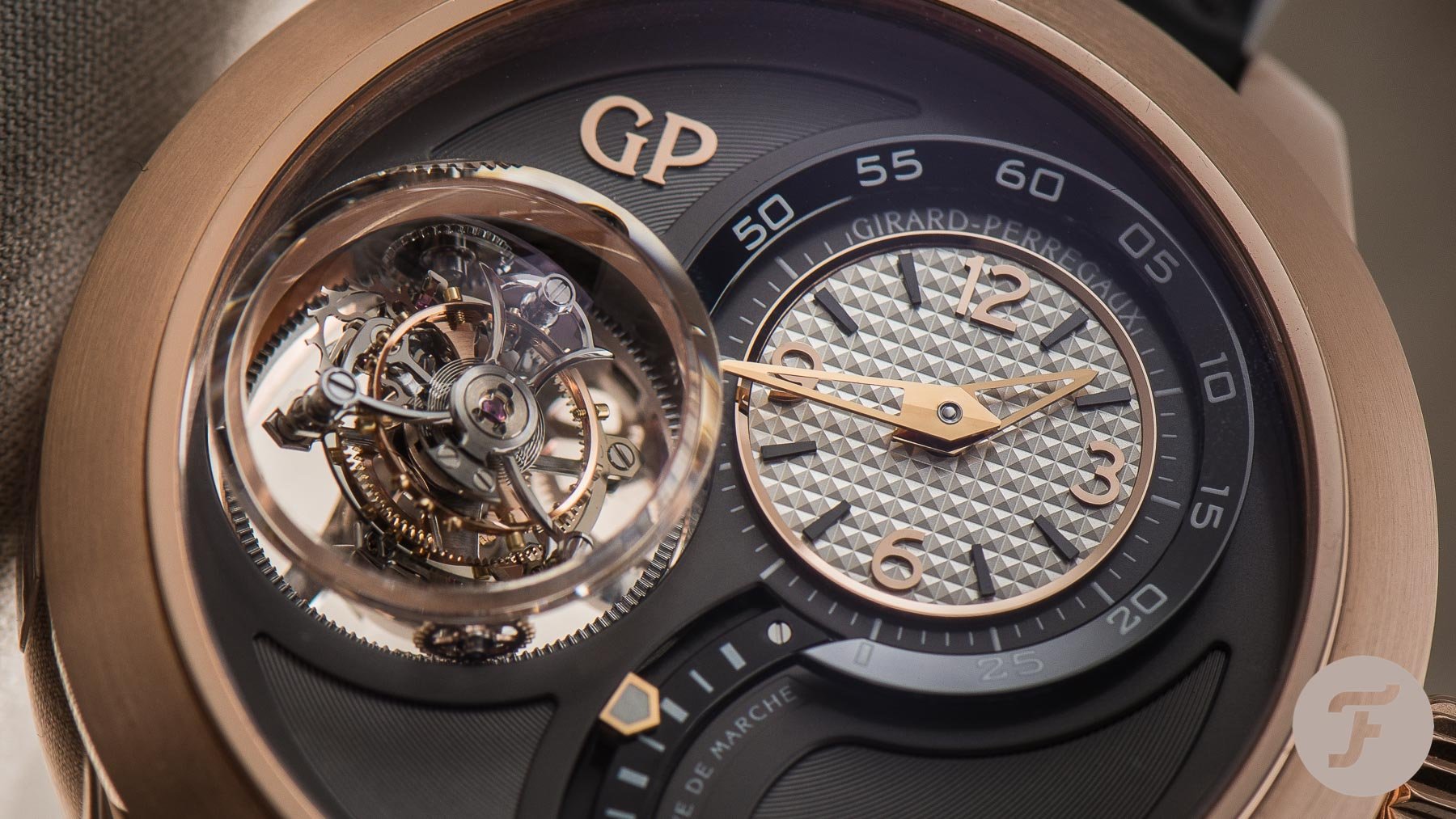 Girard Perregaus Tri-Axial Tourbillon
This watch probably delivered me my all-time fave images from any fair. Fair photography is a skill in itself. And this bad boy caused some others some serious consternation. For me, however, it became the architect of a very fond memory indeed.
We were sitting in a booth, seeing a photographer unplug a desk lamp to power up his studio lighting. Crouched in the corner and apparently swearing a lot. He was shooting this watch and had to hand it over after only a few minutes for us to shoot it. Also in minimal time. So we got to shoot the Tri-Axial Tourbillon the result brought a huge smile to my face. We managed to fork out a handful of shots in under 2 minutes and the results speak for themselves.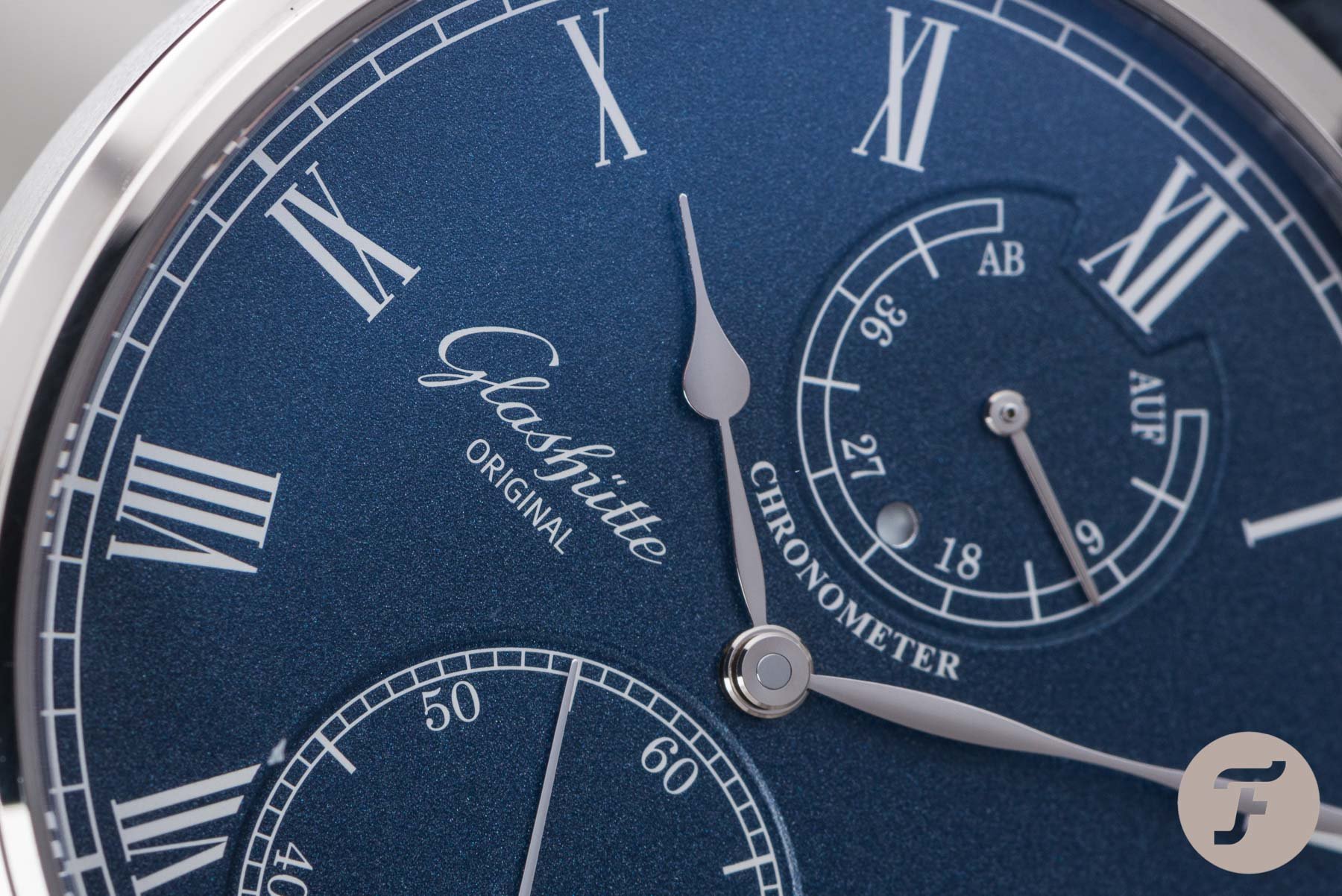 Glashütte Original Senator Chronometer
This is one of those watches that comes to mind when looking back at watch events. Relatively simple in the design but so incredibly well executed. The sizing and layout of the different elements are well balanced. And that dial just looks fantastic. Although it appears to be a simple, dark blue upon first sight, it turns out to have a very fine grain when you take a closer look.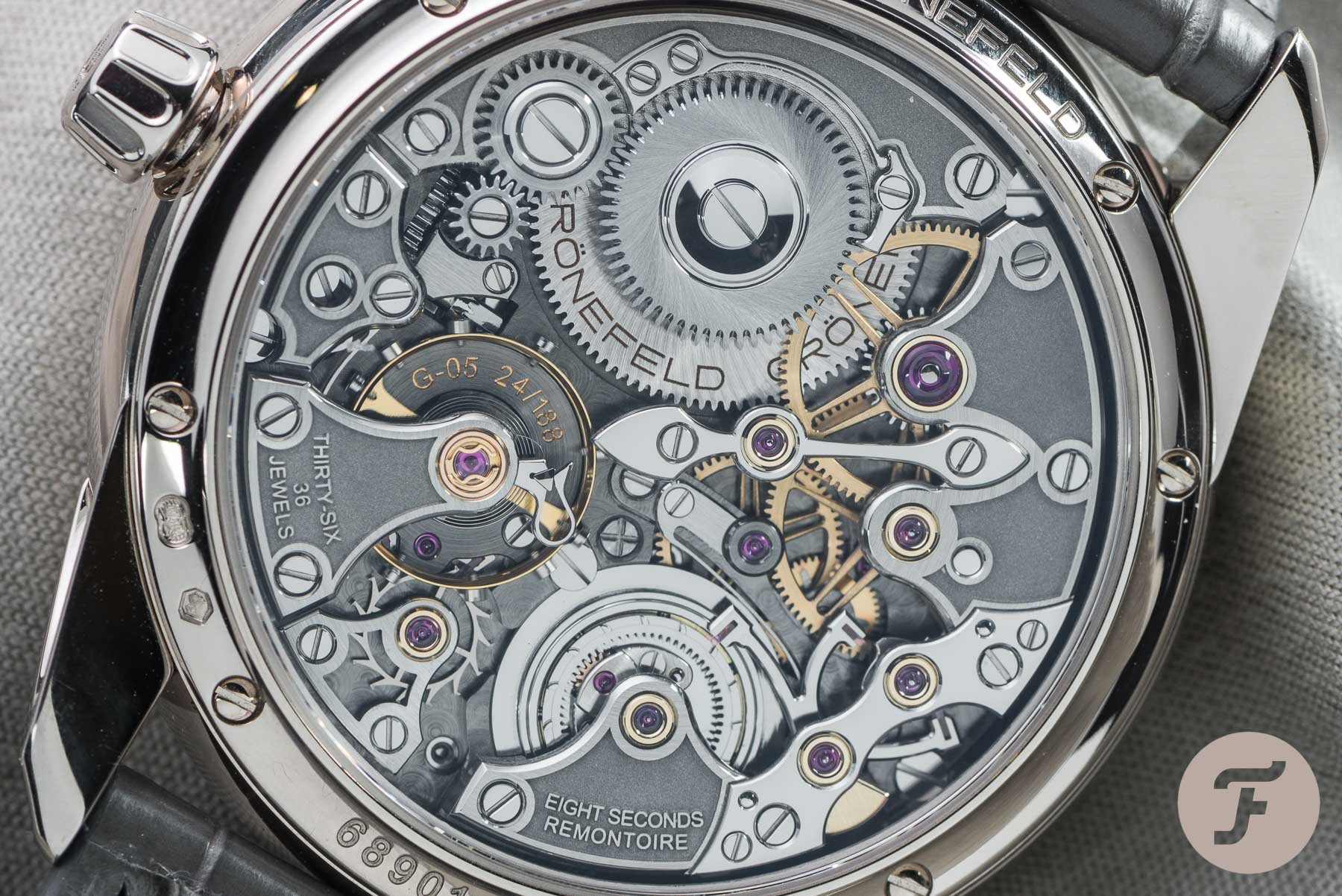 Gronefeld 1941 Remontoire
As I mentioned earlier already, some watches are photogenic for the movement alone and Gronefeld is definitely one of those. The horological brothers from Fratello's homeland spend an incredible amount of time on their movements which are largely made from stainless steel where other brands use softer materials for the base plates and bridges.
Finishing all the bridges alone is a time-consuming job. But the result is a movement which deserves all the attention it can get. And this watch is also a beauty from the front. Make sure to check all the images in the gallery at the bottom of the page to see what I'm talking about.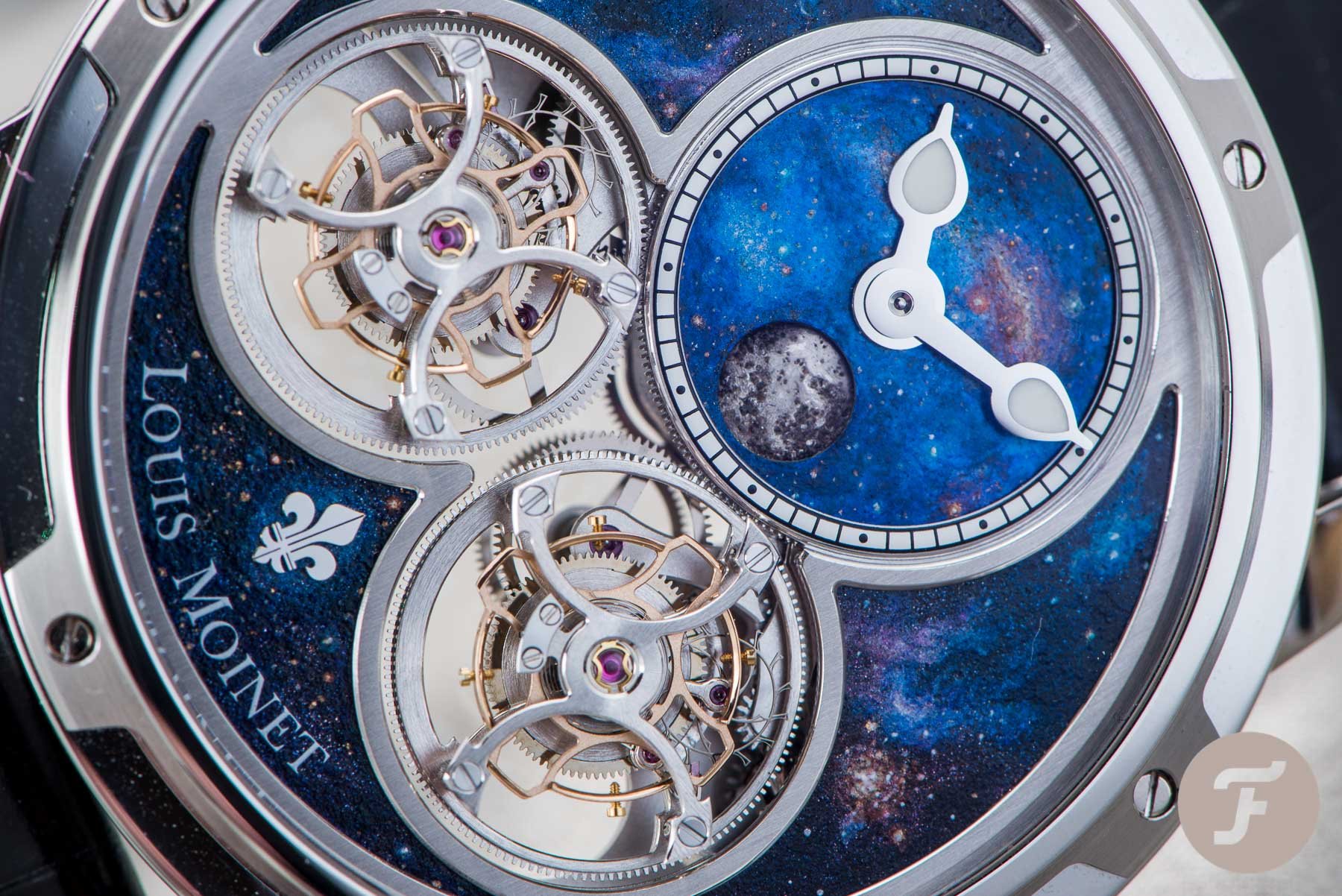 Louis Moinet Sideralis
As for this one form Louis Moinet, I don't even know where to start! Going through my archive, some watches seem to have thousands of images dedicated to them. The Sideralis is one of them. This watch has an incredible amount of details and therefore deserves a spot in the Top 10 most photogenic watches.
It combines the beauty of a double oversized tourbillon with a tiny hand-painted impression of the universe on the dial. On top of all that, it alternately shows an impression of the Moon, Mars, and Mercury. Stunner!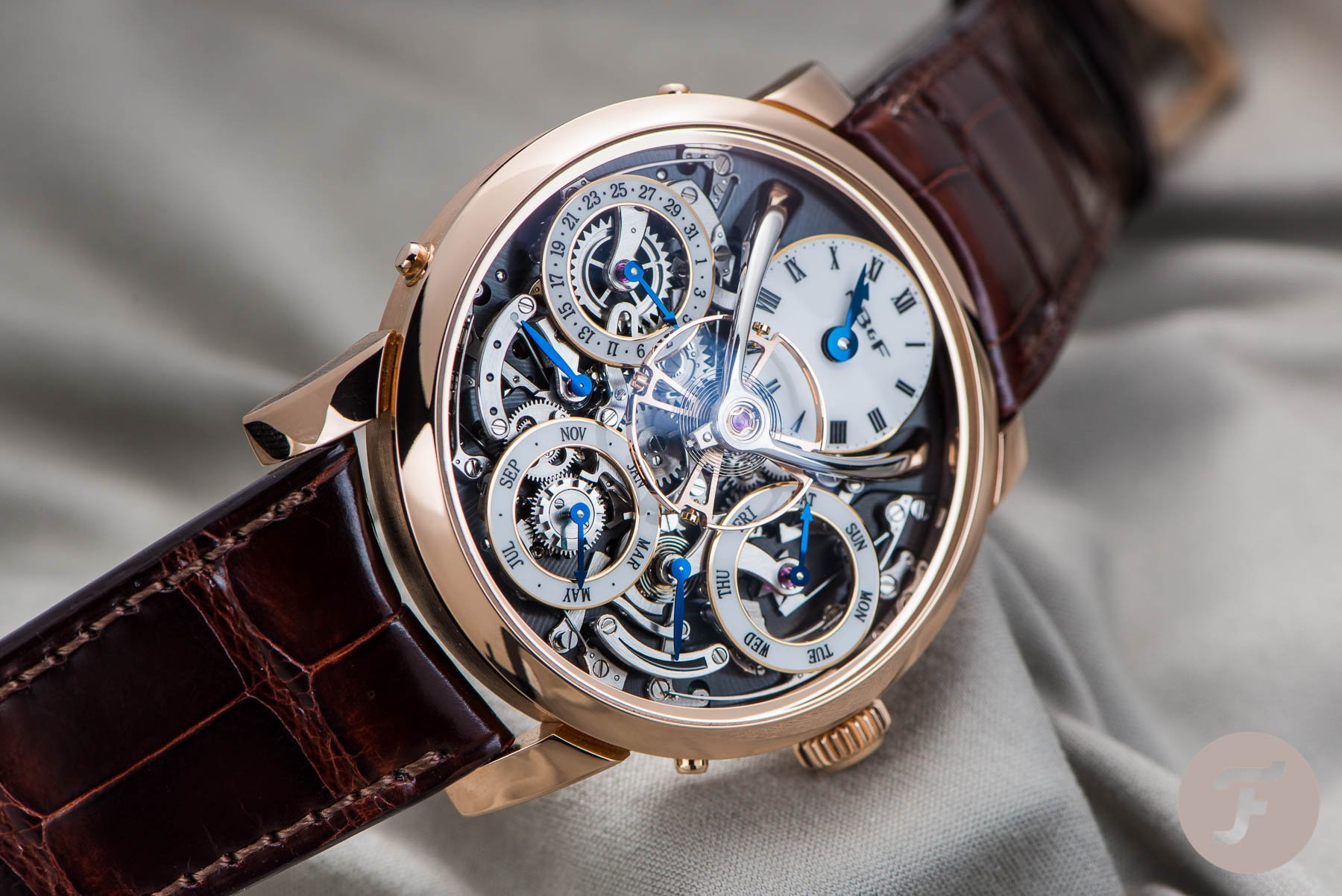 MB&F Legacy Machine Perpetual
When it comes to crazy designs, MB&F is one you can't miss. It is always a pleasure to see the team's new creations. As such, it was hard to pick a favorite out of so many showstoppers. In the end, I forsook the crazier contraptions in favor of one of the brand's most wearable pieces to date. The Legacy machine is a stunning design that captures well.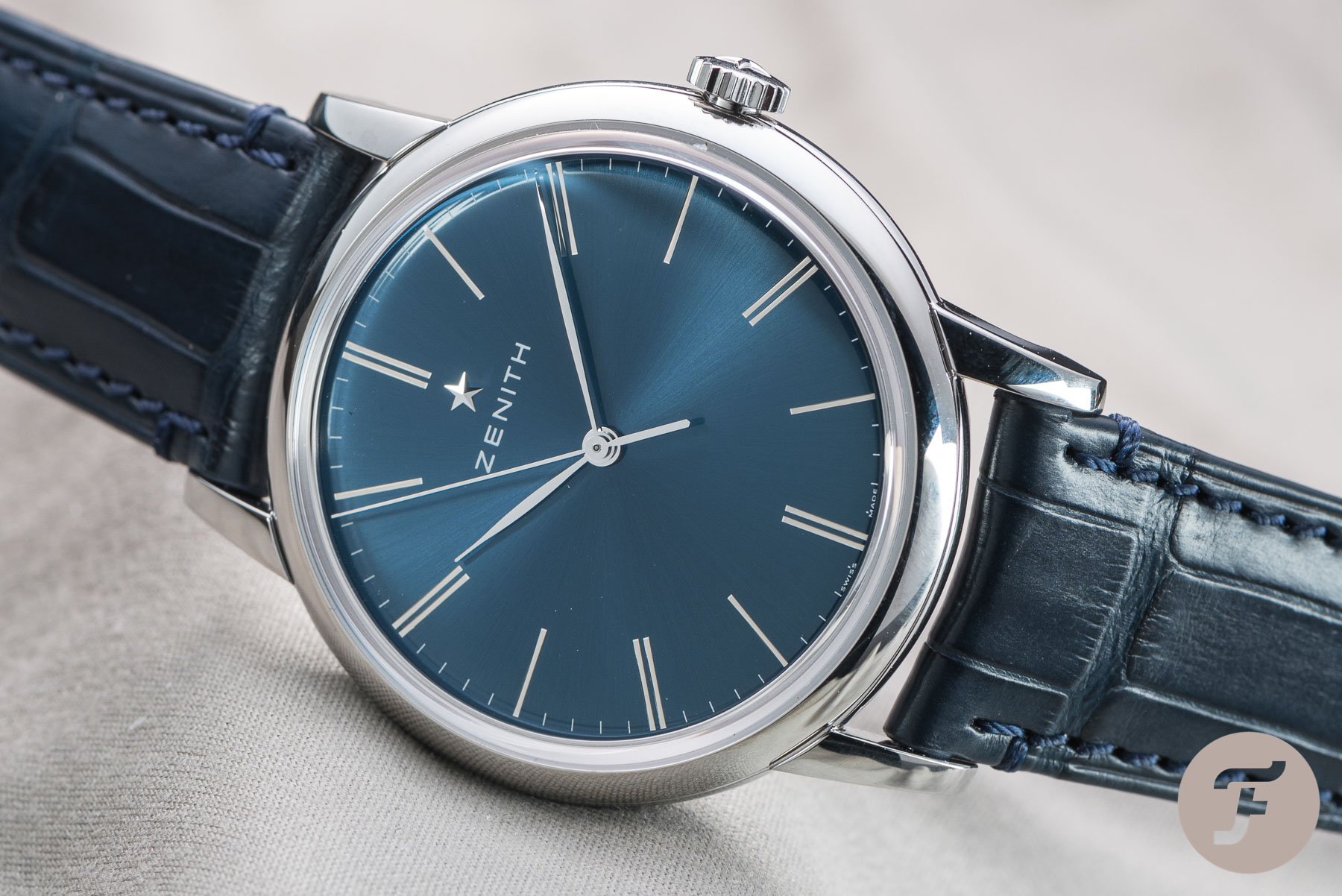 Zenith Elite 6150
Last but not least, the Zenith Elite 6150. The Zenith lands in the 10 spot for one simple reason — I arranged my Top 10 in alphabetical order. This model just caught my eye because of the cleanliness of the design. It is bold. It is blue. And it is the kind of watch that was made to be worn on a daily basis. A subtle sun-burst imbues the dial with a fantastic character. The applied logo also plays with the light and combined with the hour markers it gives the dial all the contrast it needs. Simple yet intriguing, it only took a few shots to capture its true chromatic depth.
Overall it's not easy selecting just 10 watches. As soon as I thought about this topic, a few watches came forward instantly. Just because some models just stick to my mind when it comes to shooting them. Or simply because they are my favorite images out of well over a decade of capturing watches. Looking back over these stunners brought a warm feeling to my heart. I hope it did the same for you too.
Follow me on Instagram @bybbr.