The Five Best Bvlgari Watches on The Market Right Now — Octo Finissimo, Roma, Serpenti, And More…
Find out which models slithered into my top five
I love a good list because it really makes me think. I find myself see-sawing between picks for hours, wondering whether I can include the curveball I can't take my eye off over one of the more "obvious" choices whose omission will no doubt rankle the masses. However, that is my cross to bear (talk about first-world problems). As such, I gamely tackled a question posed to me in the office the other: what are the best five Bvlgari watches on the market right now? Some of my picks may well be low-hanging fruit, but I'll wager the top five contains a couple you didn't see coming. Read on to find out…
Bvlgari is an odd brand. It has, perhaps most like Cartier, a wider reputation as a jeweler. However, its watchmaking arm has been a pretty serious player for quite some time. Its early association with the late great Gerald Genta added some design credo but it was the massive investment made since the turn of the century in in-house manufacturing and the development of genuinely new and exciting calibers that put Bvlgari on the map. In fact, I rank it as one of the very best watchmakers in the world. And yet, despite the groundbreaking achievements of the Octo Finissimo, it still struggles to get all the respect it deserves.
My top five picks address very different facets of the brand. I haven't included a ladies' model here just to pay lip service. I have done so because I absolutely adore this model line and want to see more of it… maybe even for men.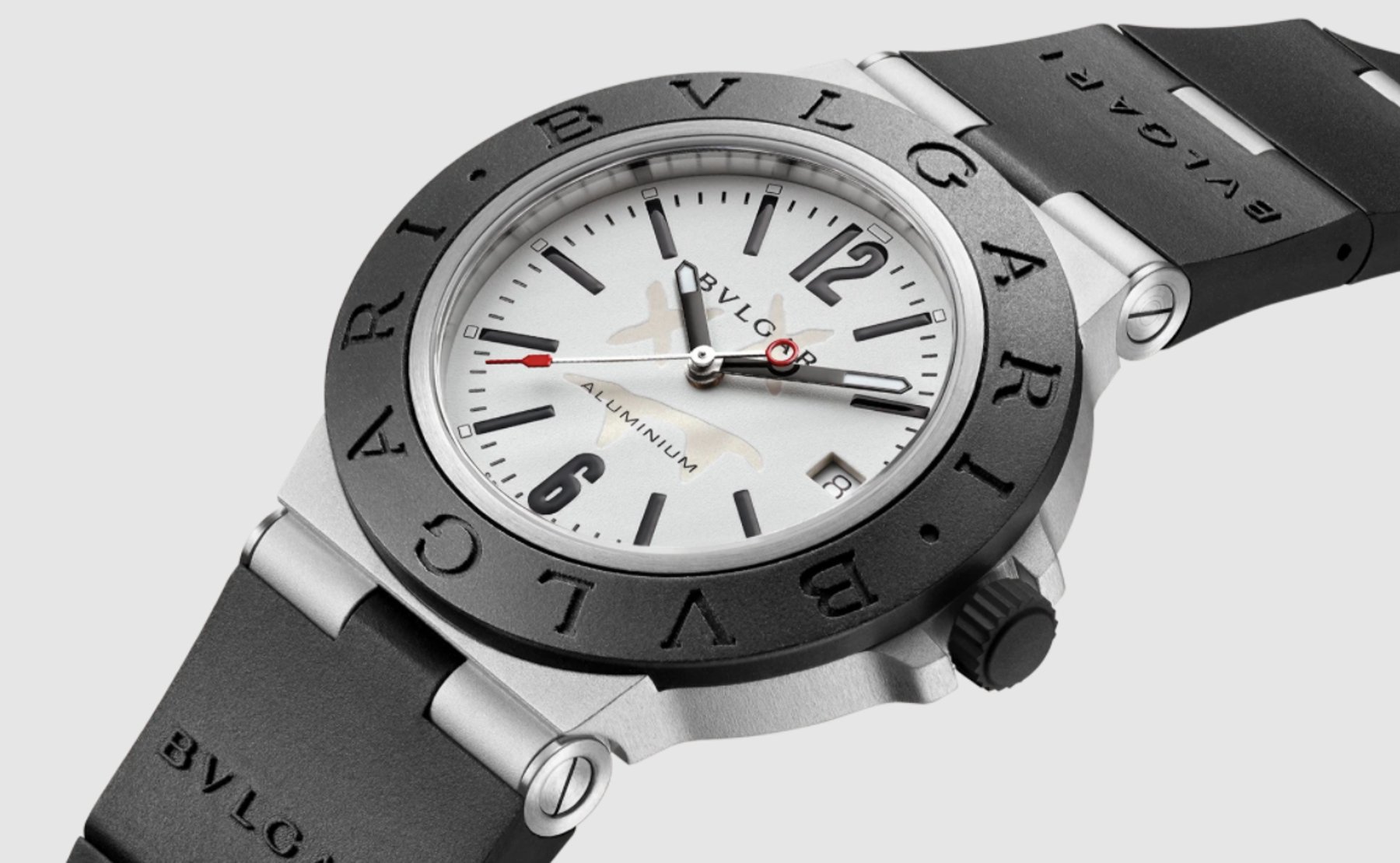 5. Bvlgari Aluminium Watch Reference 103539
I was surprised how much I liked the reborn aluminum collection from Bvlgari. I'm definitely in the time-only camp, however. I can take or leave the chronograph, but the time only is a really sharp, surprisingly versatile, amazingly comfortable model. The standard collection has just a black and a white dial option (fingers crossed Bvlgari comes out with some more colors soon — I'd like to see a deep blue and a sunflower yellow a la the old Magnesium concept watches and the sadly defunct Scuba, which the brand simply has to revive at some point…).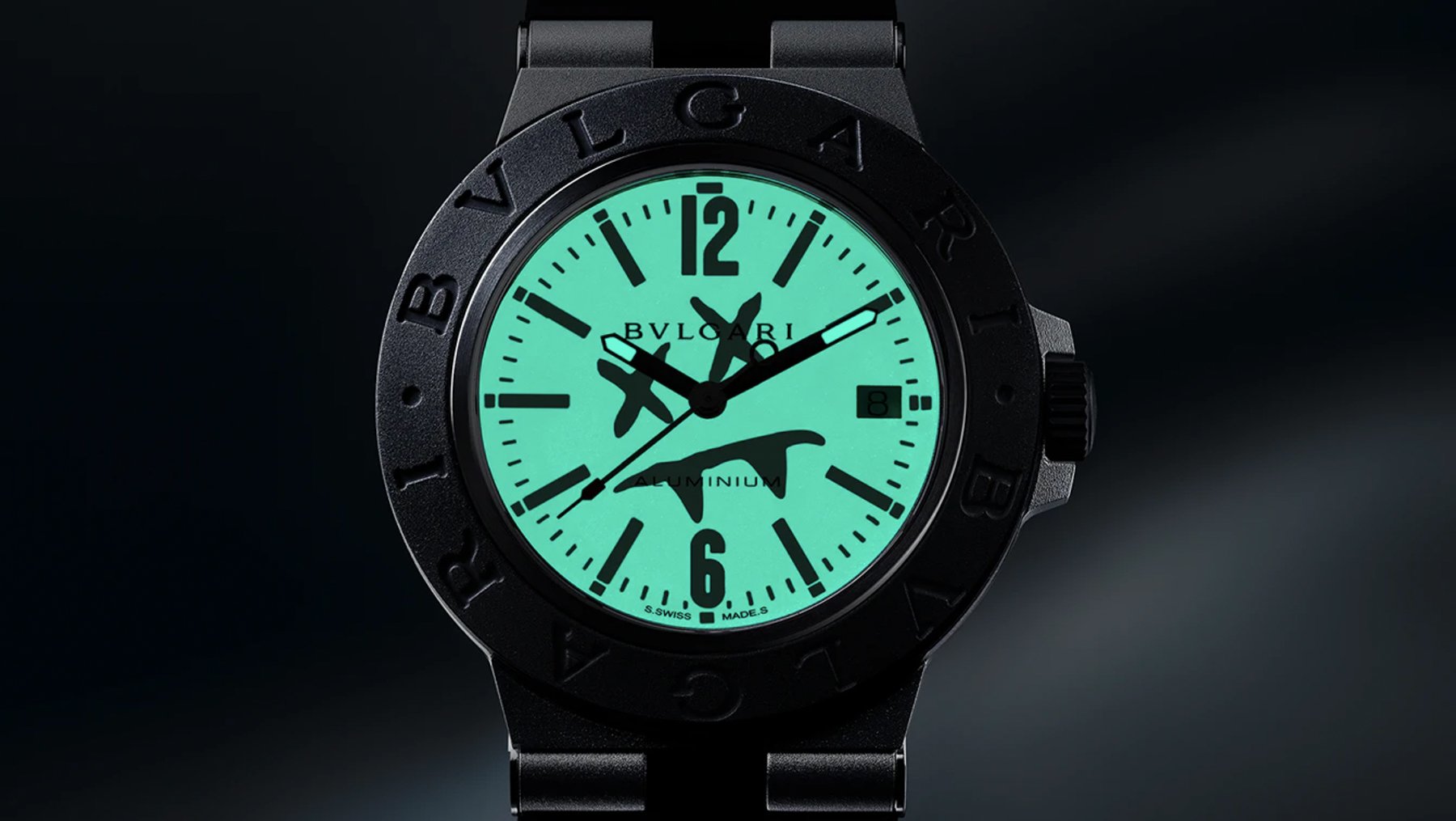 However, Bvlgari has already had a couple of limited editions variants of this piece. There was a sumptuous blue Frecce Tricolore model available for about four seconds before Italy consumed it and then there's this little weirdo: reference 103539 might well be one of the most tenuous collaborations ever, but it is also one of the coolest.
…this simple, tag-like face tickles my fancy.
DJs and luxury watchmaking? I'm not in the least bit fussed about that, but the resulting watch is flipping awesome. An almost fully-lumed dial reveals the dead-eyed, fang-toothed scrawl that DJ Steve Aoki calls his logo. I love it. I'm a fan of street art and graffiti and this simple, tag-like face tickles my fancy. It takes the clean lines of the aluminum collection and has a bit of fun with the dial. Color me impressed. Color me keen!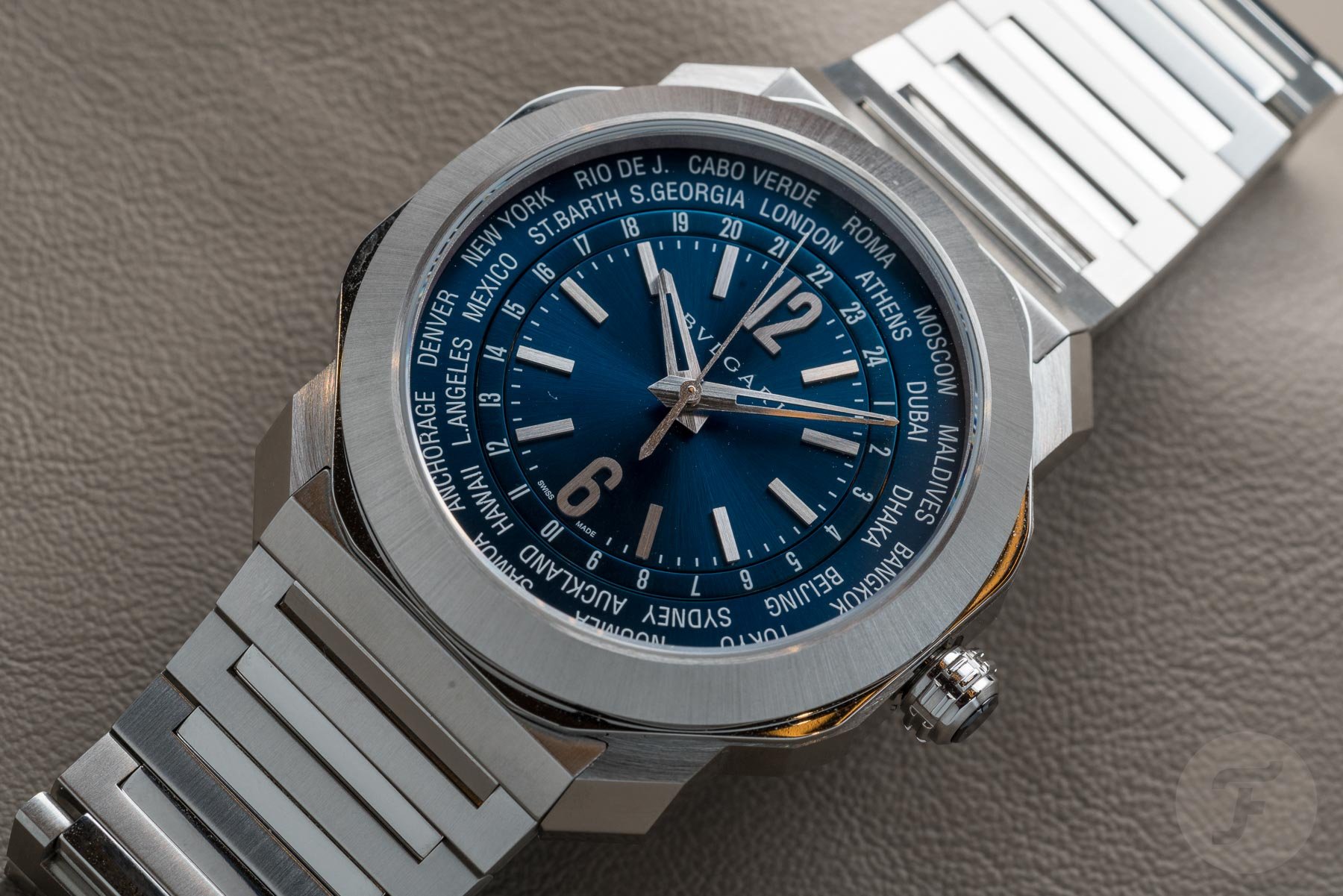 4. Bvlgari Octo Roma Watch Reference 103481
This is one of the brand's newest pieces and was one of the standout models we saw at the recent Geneva Watch Days fair. Bvlgari was very pleased to present this celebration of travel to us hen we met with them during the event. I can see why. Available in both black and blue colorways, it is the blue sunburst that, to my eye, makes the most of this otherwise simple palette. The abundance of white text needs a little bit of spice for this design to really blaze, in my opinion. The blue makes the whole thing come alive, and I'm very impressed by it.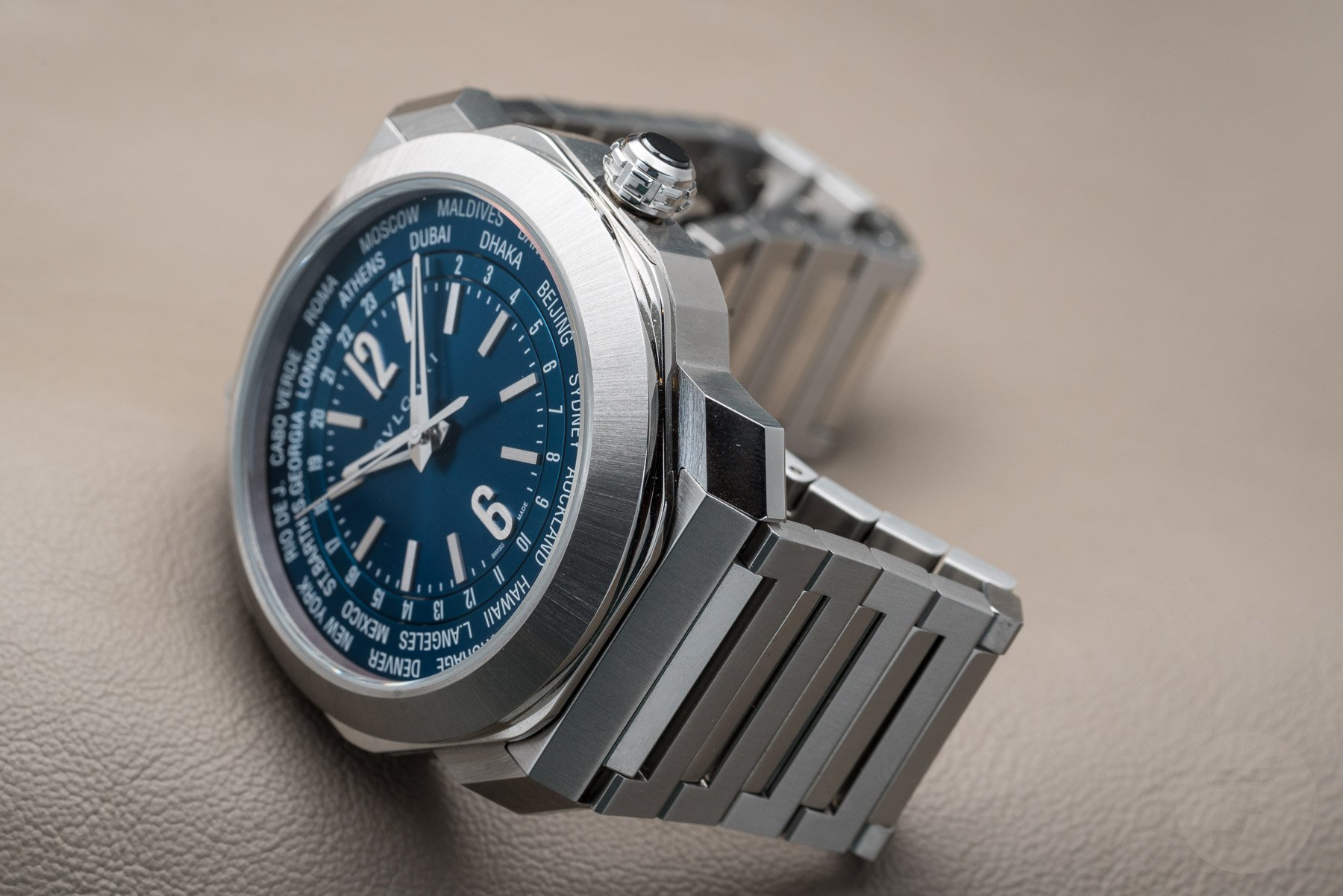 These Octo Roma models wear like bricks in comparison to their Finissimo counterparts, however, if you're new to Bvlgari and find the Octo aesthetic compelling but find yourself a bit unsure of the extreme thinness of the Octo Finissimo line, the Roma GMT is a very fine compromise. At 11.35mm thick, the 41mm wide case is hardly big. Rather, it possesses easily digestible proportions alongside the identifiable silhouette of Rome's most famous watch.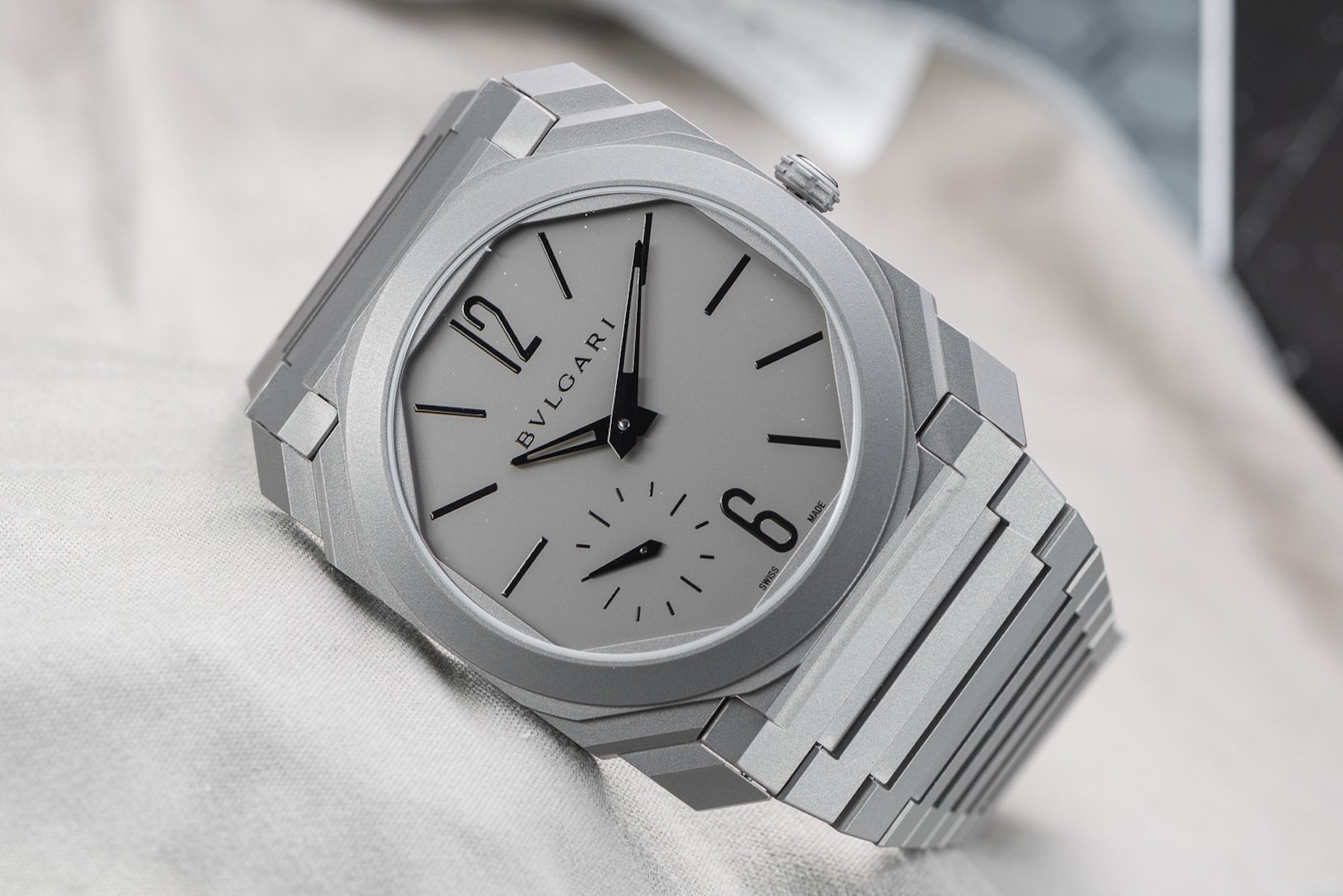 3. Bvlgari Octo Finissimo Titanium
The "original" model is the best time-only entrant in the Octo Finissimo family and is, in my oft-repeated opinion, one of the modern greats. When it comes to luxury sports watch design, I put this alongside the Czapek Antarctique and Moser Streamliner as the torchbearers of a golden age. In thirty years' time, I think we will look back on this era with a misty-eyed smile and a thankful heart that we were part of it. Flowery as it is, seeing excellence like this almost moves me to tears. Am I emotionally unstable? Perhaps. Would owning a Bvlgari Octo Finissimo help with that emotional instability? Yes. Yes it would.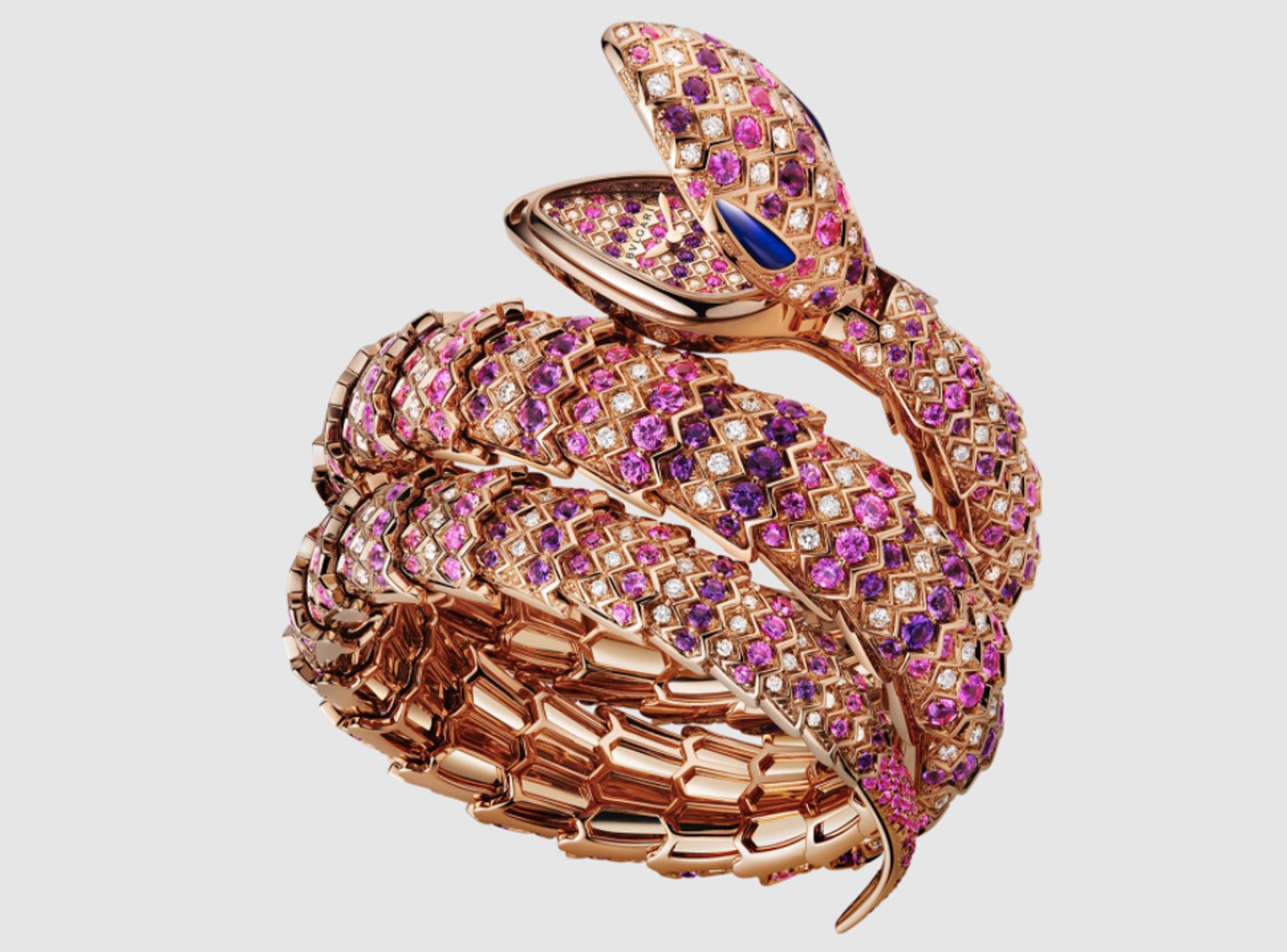 2. Bvlgari Serpenti Secret Reference 101863
Holy smokes! A ladies' watch in the number two spot? Yes, indeed. And this isn't any kind of mercy pick at all. Nor is it designed to be controversial. This is how I feel. And this is why: this Serpenti is unlike anything else when it comes to a piece of wearable art that performs both an aesthetic and practical function so simply and sublimely while doing so with inimitable character.
Whenever I see Serpenti watches, they make me think of an archaeological haul. They remind me of the kind of upper-arm cuffs I believe women in ancient Greece and Rome wore. As such, they remind me of treasure. That's a powerful feeling. I feel like I'm witnessing history in the making. Wearing a modern artefact is surely a great joy and privilege, and one I'd like to experience myself.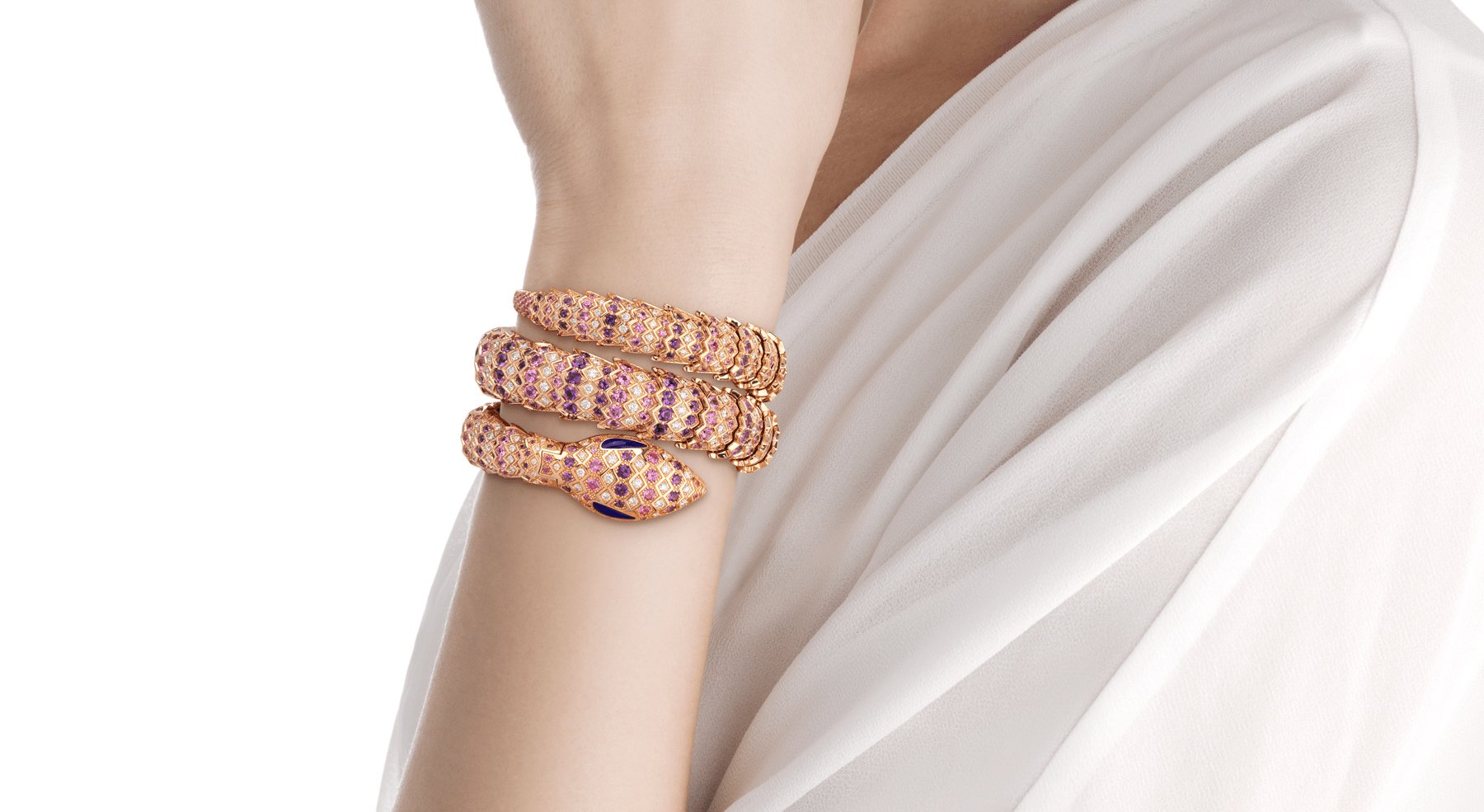 I recently recorded a soon-to-be-released Podcast with Antoine Pin of Bvlgari. During our chat he recalled the conversation we'd had in person last month at Geneva Watch Days. I'd been sitting across from him marveling at the new Serpenti releases and trying them on my wrist. I plucked up the courage to tell him I'd always wanted one… but in blasted titanium, designed for men. I thought he would forget about the conversation, but apparently, he's been churning the suggestion over ever since so maybe, just maybe we might see something like that one day. And, as Antoine pointed out, how cool (and unusual) would it be to see a men's watch derived from the design of a ladies' model? How many times has that happened before? That, my friends, is the power of the Serpenti, and exactly why it has its fangs in me.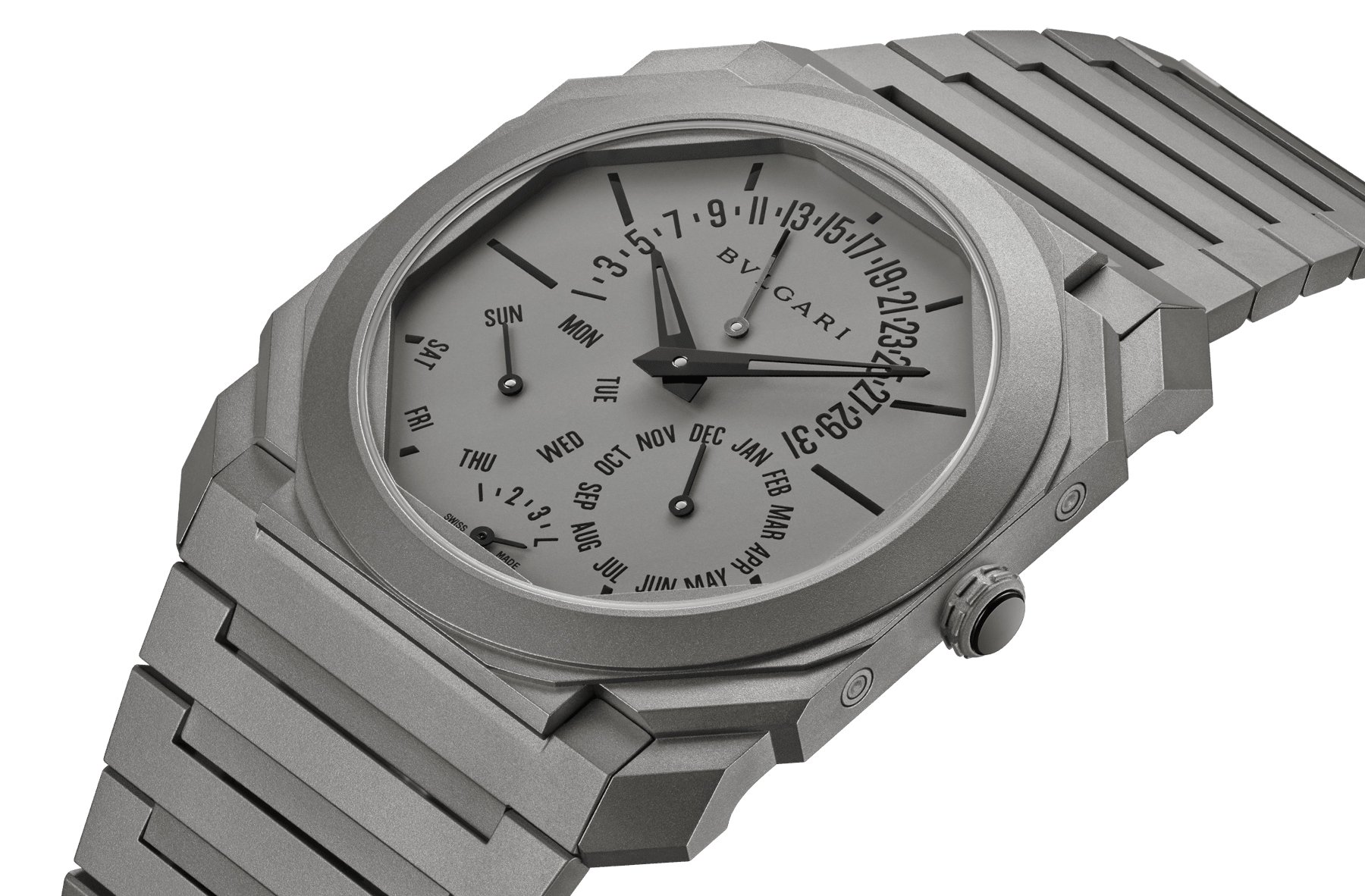 1. Bvlgari Octo Finissimo Perpetual Calendar Reference 103200
Woah! An Octo Finissimo on the top spot but it isn't the time-only titanium version? Have I gone mad? Far from it. This is my favorite Bvlgari (personally speaking) for a very simple reason: it wears like a dream. While I find the standard Octo Finissimo's 5.15mm thickness (or should that be thinness?) is stunning, I actually find it a little too thin for my taste (awkward, I know). I love the added "heft" afforded by the 5.8mm thick case of the Octo Finissimo Perpetual Calendar.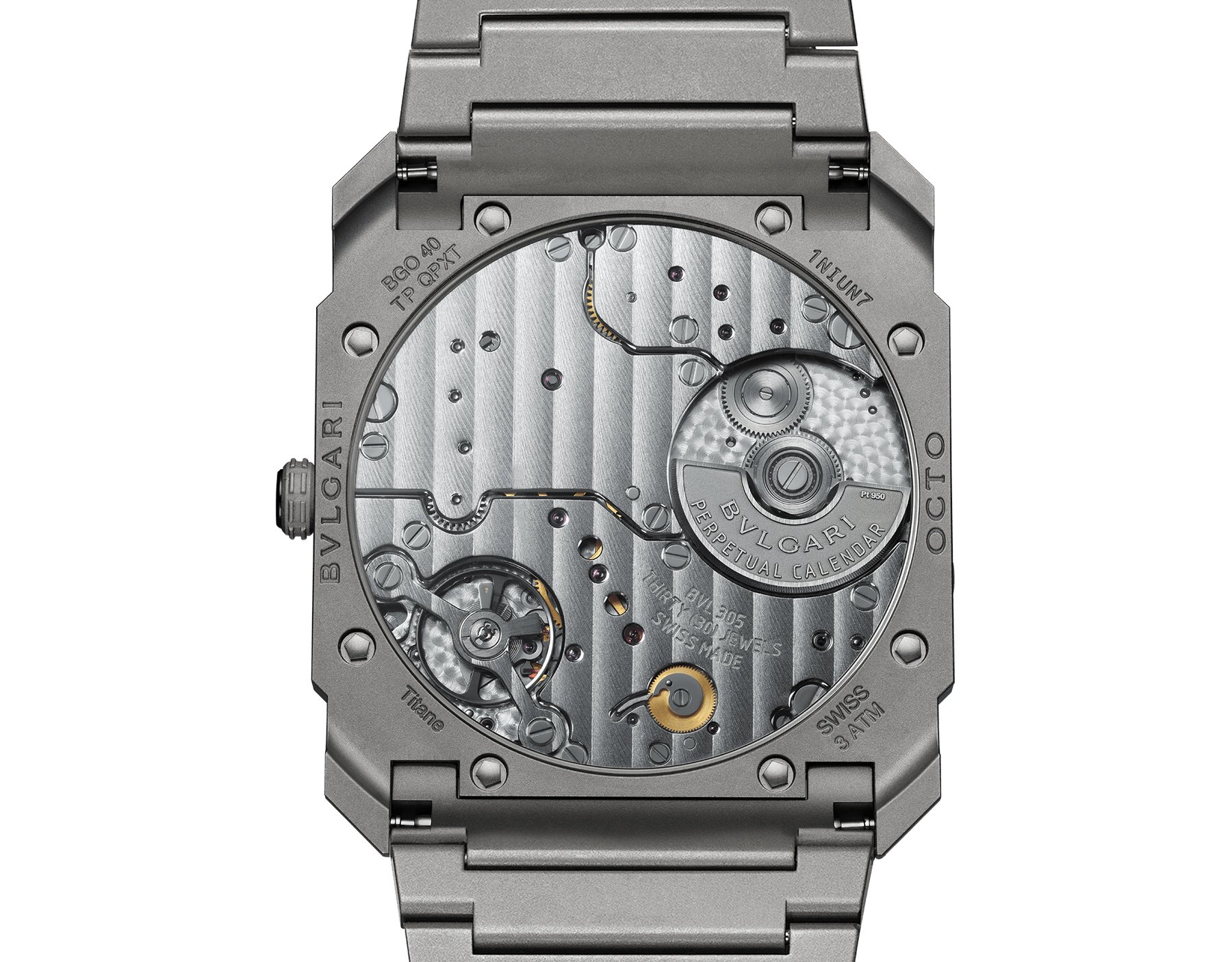 I know. It's laughable. A 5.8mm perpetual calendar cased up? The BVL 305 movement is a stunning 2.75mm thick, which I find mind-boggling. Best of all, however, is the readability of this piece. The display is entirely "on-concept" for the hyper-modern Octo Finissimo family, and the information just falls into your eyes from the wrist. I love this watch dearly and think that the real gift of the Octo Finissimo endeavor is being able to present such complicated watches in such wearable proportions. Learn more about Bvlgari here.