Tough Quartz Tool Watches: Here Are Five Of The Best From Seiko And Scurfa, To Marathon And Grand Seiko
Bullet-proof and ready for action!
My love of watches has gone through the phases many of us know all too well. A resurgence about 18 years ago involved a plethora of Fashion Watches with a smattering of vintage. After buying my first pre-owned Swiss mechanical watch, an Oris, this all changed. The last 4 quartz watches were sold off with a vow never to touch them again. Why then, is my desire for the ticking of a tough quartz watch re-awakened? 
Some days I just want to go for a run, fall over and sprain my ankle while sledding with the kids, or even just relax without a care in the world. The peace of mind of throwing on a bullet-proof quartz tough-guy of a watch is simply liberating. I might love my 37mm Grand Seiko. And I may be on the order list for a Reverso, but damn. One of the biggest joys of collecting for me is diversity. The diversity of picking a watch for the day and going for something refreshing and free from the restraints of having to be a wrist-worn status symbol. An do you know what? A Japanese quartz sports watch can have intrinsic values in the details that supersede Swiss top 5 big brands for engineering prowess.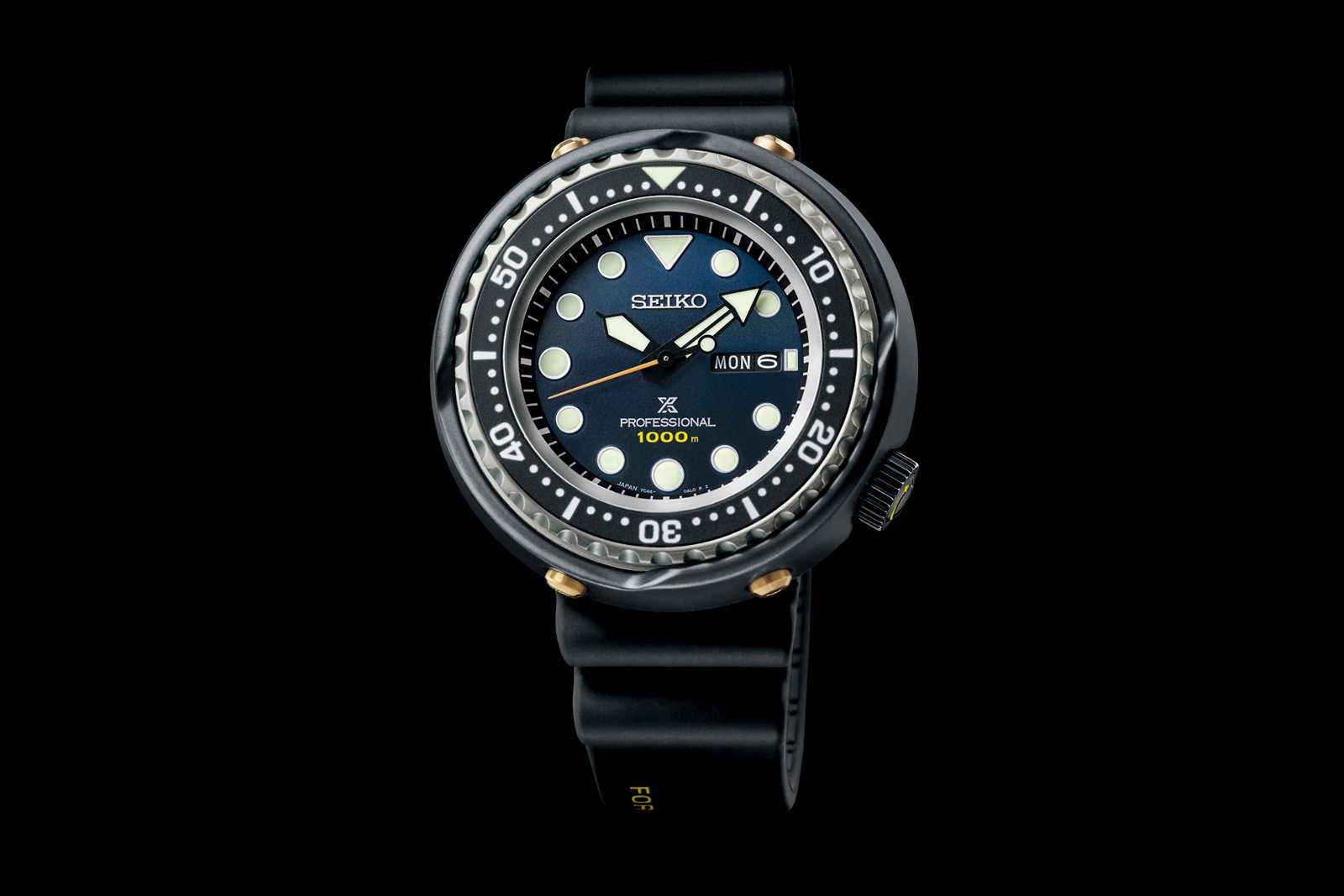 Seiko Prospex S23635 (SBBN051) «Tuna»
The Seiko "Tuna" is named after its resemblance to a can of tinned protein flakes that some would call fish. Tunas come in all shapes and sizes (even a Spring Drive version). There are enough models in the line that it could be its own brand. The Seiko Prospex 1986 Quartz Diver's 35th Anniversary Limited Edition is almost too cool to be a tool. It ticks a hell of a lot of boxes as a bona fide tin can icon and is quite unbreakable. Me, I'm feeling serious bromance vibes with this guy. A titanium inner case is protected by a scratch-proof ceramic shroud and a 1000m depth rating. With its gradient blue ocean-depth dial and gold details, this is one hell of a watch, worth every bit of the $2,600 retail price. It is huge, at 49.4mm, but who cares!? Get a wetsuit to wear it over, or alternatively wear it over the sleeve of your favorite denim shirt, this thing rocks.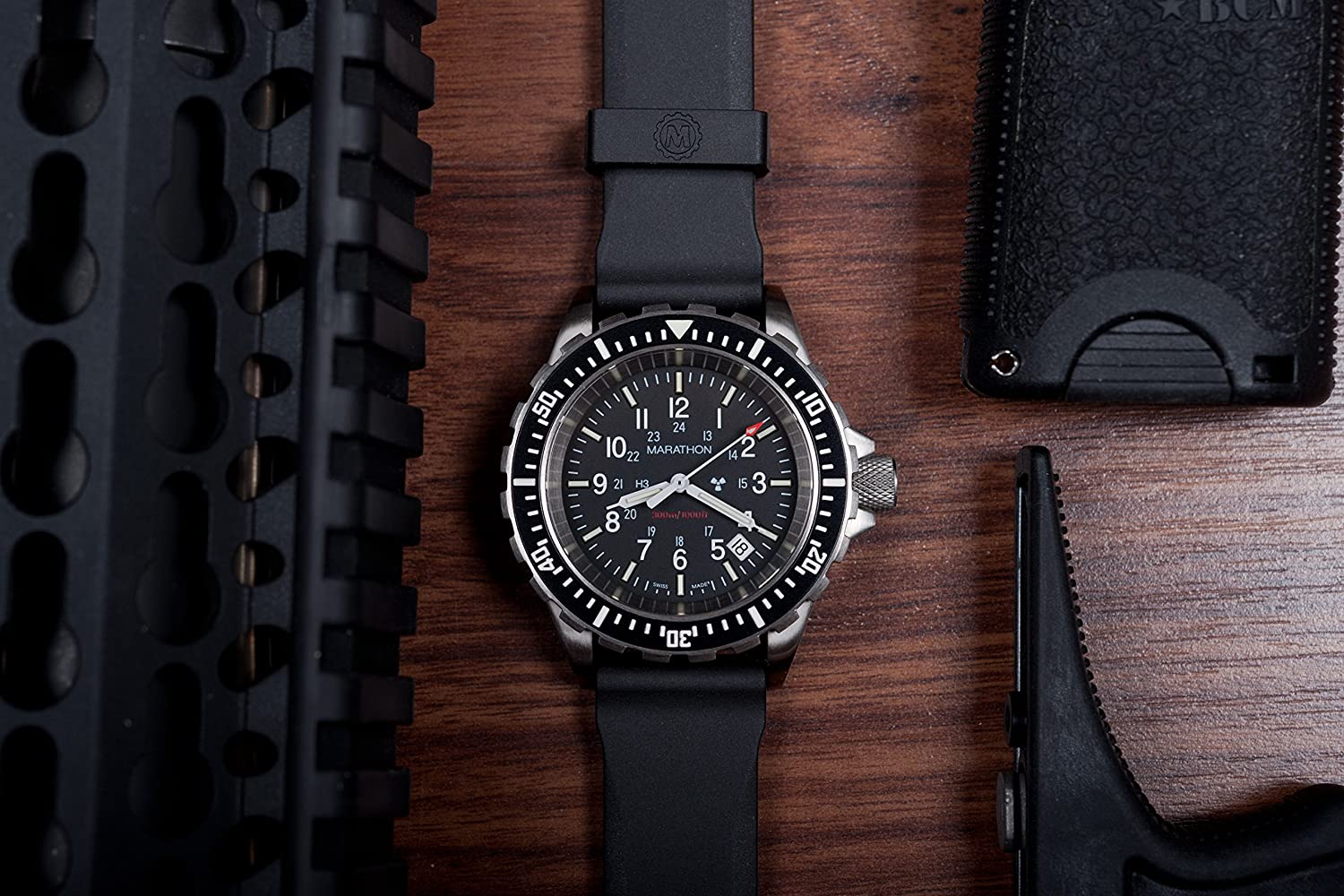 Marathon TSAR Military Diver's Watch WW194027
This quiet Canadian brand has got me intrigued. Marathon has made tool watches for the military, and unashamedly large and tough dive watches for years. Bereft of a lifestyle image, this is simply Canada's mechanical answer to the indestructible G-Shock. The ETA quartz-powered TSAR is a time-telling tool with a 300m depth rating and highly legible 12-and-24-hour numerals. How about the lume? Well, tritium gas tubes on each hour marker and hand emit a glow lasting the entire night mission. The TSAR has a 60-minute timing bezel and its image is Stealth. It is almost quietly intimidating, like the anonymous balaclava'ed Navy SEAL in a grainy video of a secret mission. I'm not sure if I am tough enough to wear one, so for now, I'm off to the gym. At €700–€930, its value is undeniable. And though you might think it to be a 44mm monster, it's actually the best value small 300m diver's watch around, at 36mm.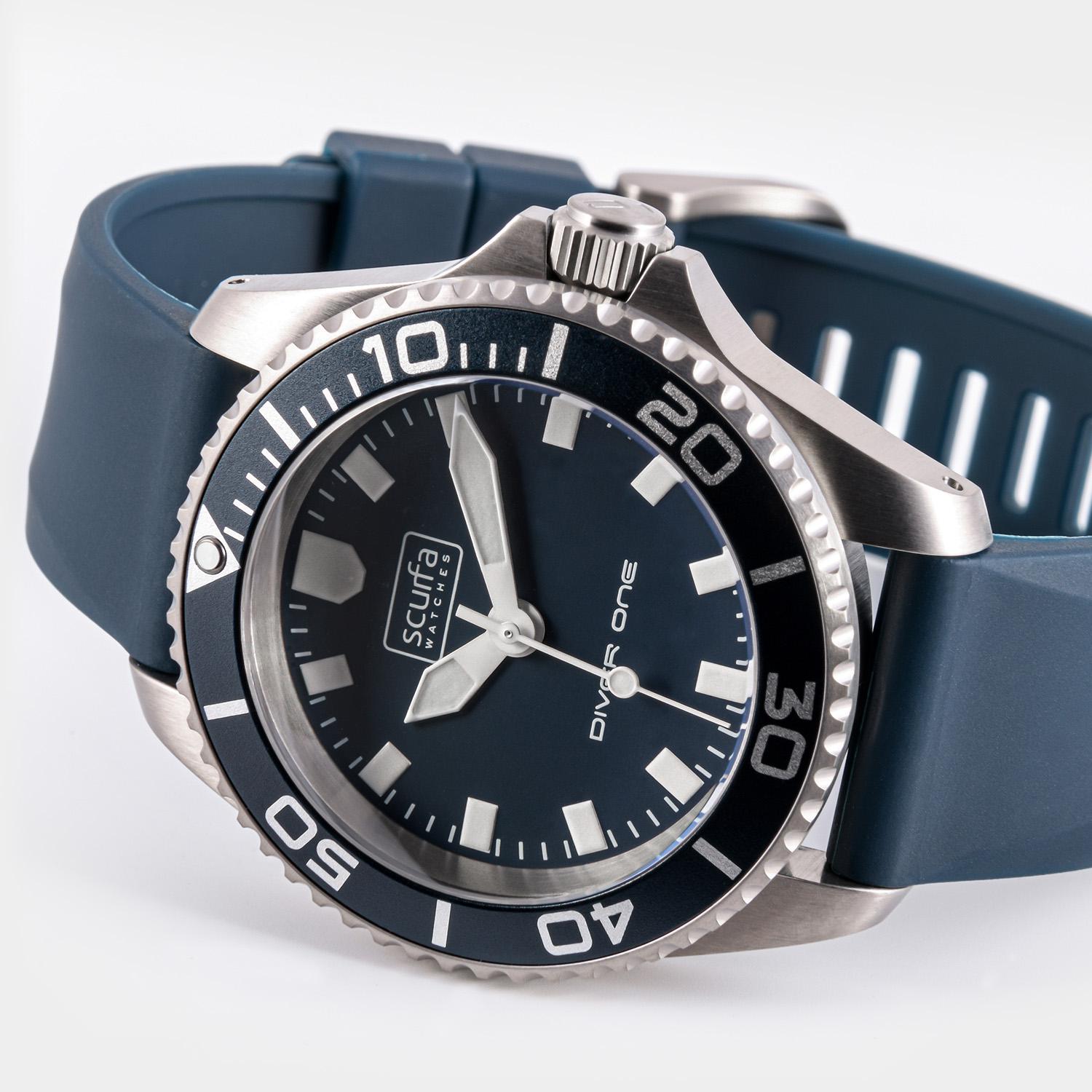 Scurfa Diver D1-500 Titanium Blue
With a reputation for no-nonsense diver's watches and general tough toolery, Scurfa is a small brand that sticks to its guns. This version of the D1-500 has an elegant grey-blue dial, par for the course for the understated brand, and a feeling of intent. With its cool blue dial, you have a suave background to fat lume squares for indexes. The blunt sword hands are a crisp arctic white and on its rubber strap it's a combination that screams "summer fresh". The gold-plated Ronda 715SM caliber is a solid Swiss micro-machine, and this light titanium case makes for a tempting buy. Paul Scurfield is a professional diver, and this shows. The watches feature a 500m depth rating, a 4-gasket crown, and a helium escape valve. This 40mm diver's tool is simply incredibly good value at £205, and that is as understated as its quiet blue dial.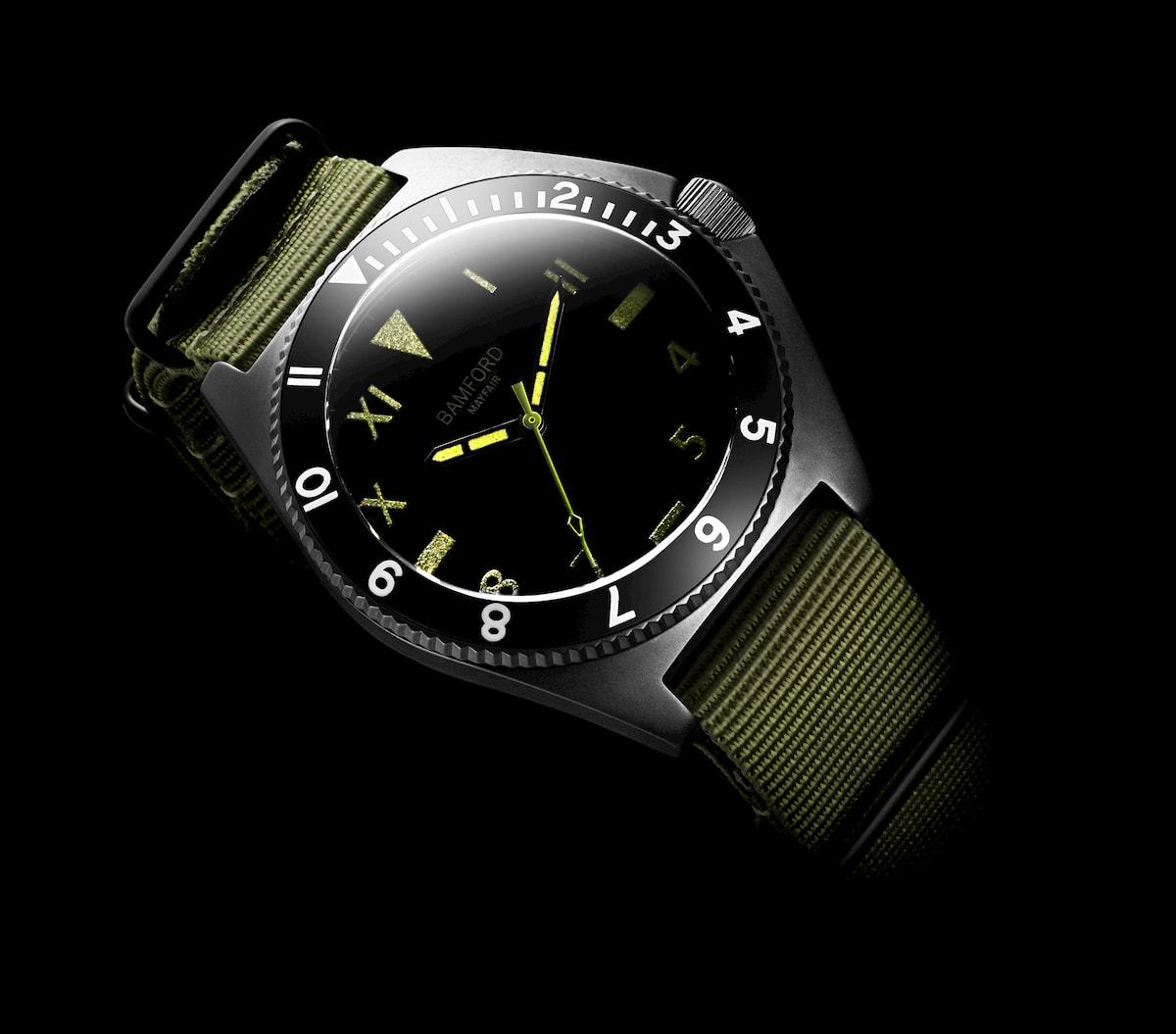 Bamford Mayfair
Like the Scurfa, the Bamford Mayfair has a Swiss quartz movement packed within a slim 40mm case and a vast array of colors in its arsenal. You might feel Bamford to be more commercially angled than pure tool watch players like Scurfa and Marathon but damn is it tough. The black case has an MGT PVD coating (Military Grade Titanium), and it is T.O.U.G.H. On a fat rubber strap or nato, you can't go wrong with the 100m depth rated Mayfair, whether you fancy a searingly bright piece of wrist-pop or pure matte black stealth. Decently priced at £354, you might spend an hour or two trying to decide which one you'll pick. There's also an online configurator to further confuse you with a baffling choice of options and details.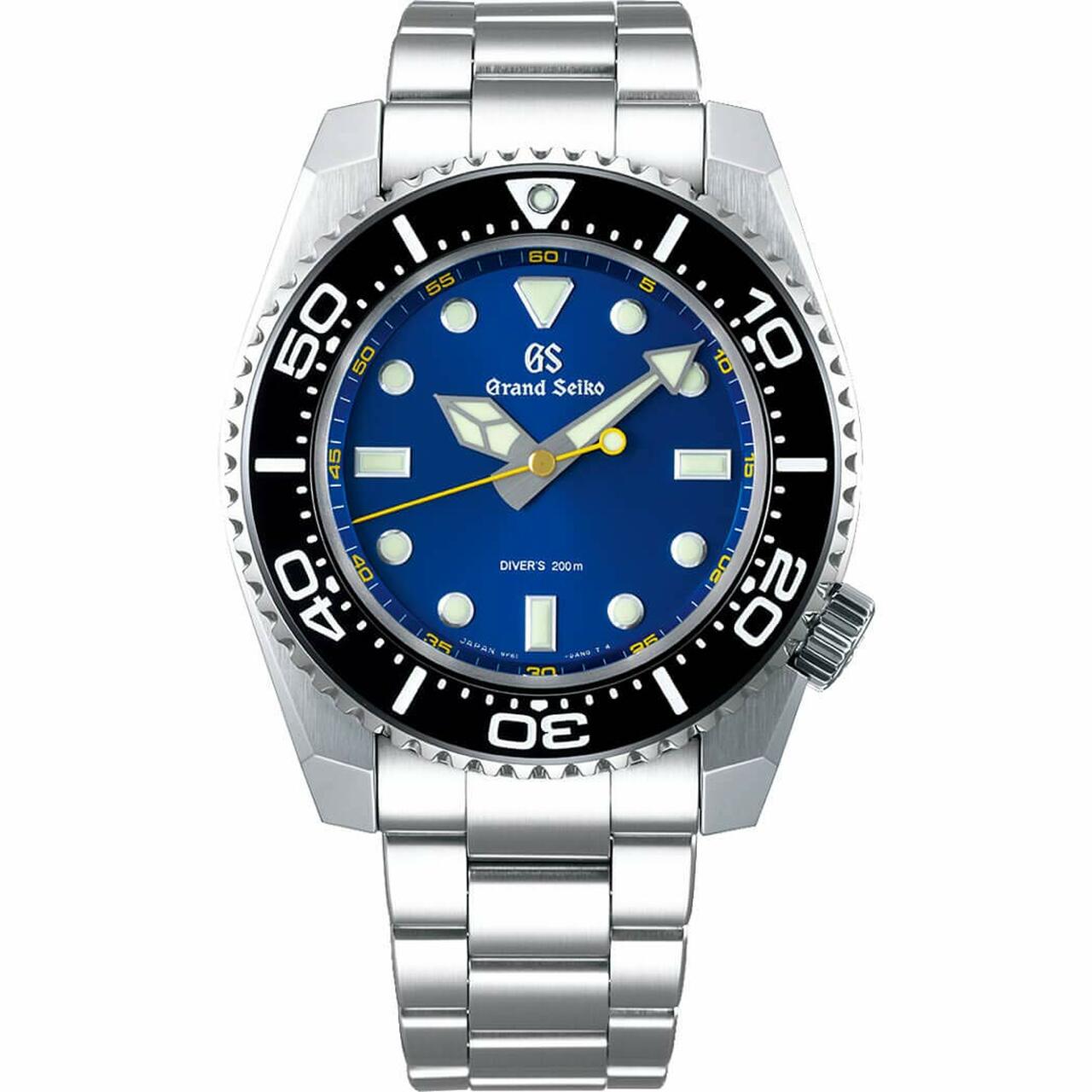 Grand Seiko SBGX337, the pinnacle of Quartz Sports
With its flash of blue and angular body, for me this Zaratsu-finished weapon from Grand Seiko is it! The pinnacle of Tough Quartz, the King of Battery-driven Diver's Watches, I've got any number of nicknames for the SBGX337. While large at 43.6mm, it is none-too thick at 13mm, and Seiko does ergonomic wizardry. It feels unfeasibly smaller than its size, with a hard coating on its sharp case. Those polished angles beat Swiss top-tier watches, and this beast will emerge unscathed from any battle you might enter. Quartz-doubts? Seiko produces even the tiniest part in-house, and the 9F Quartz movement has a yearly +/- of 10secs. Yes, yearly. One sports watch to rule them all? This might be your 200m depth rated ticket to a Japanese obsession. It's time to simply embrace it. With a price of less than $4,000, I'll happily put this beast on top of the Tough Quartz podium.
Do you have a beloved and beat-up tough quartz watch that has been through back-breaking adventures with you? Please let us know in the comments below.
Follow me at: @thorsvaboe