Seiko Prospex 1986 Quartz Diver's 35th Anniversary Limited Edition Watch
Trying on the titanium and ceramic Tuna S23635J1
A titanium Tuna wrapped in ceramic is a "dish" best served 1,000 meters underwater. In 1986 Seiko introduced the first diver's watch with a ceramic outer case and the lightweight, corrosion resistant titanium case housed a quartz movement. The 1,000 water resistance of the watch made it suitable for saturation divers. And this watch comes back to the surface with the Seiko Prospex 1986 Quartz Diver's 35th Anniversary Limited Edition watch. The S23635J1 is a reborn and tweaked Tuna.
As you might well know, Prospex is a combination of the words "professional" and "specifications". The nickname Tuna was first heard back in 1975 when Seiko introduced a large round mechanical diver's watch without lugs. The first Tuna (ref. 6159-7010, a.k.a. Grandfather Tuna) was water resistant to 600 meters and had a Hi-Beat 10Hz caliber. It didn't look like a tuna fish but like a tuna can, but the word "can" got canned, and now we know these particular lug-less watches as Tuna's.
… the watch got upgraded with a quartz movement …
In 1978 the watch got upgraded with the caliber 7549 quartz movement – yes, you read it right, upgraded, because a Japanese diver wrote a complaint to Seiko about unsatisfying accuracy of the mechanical movement. When Seiko introduced the deep-diving titanium and ceramic Tuna, the SBDS018 in 1986, it was, of course, equipped with a quartz movement, the caliber 7C46 (the same one you will find in the new S23635J1), with a battery change interval of five years to be precise. And so is the limited edition anniversary Prospex that pays homage to the famous original.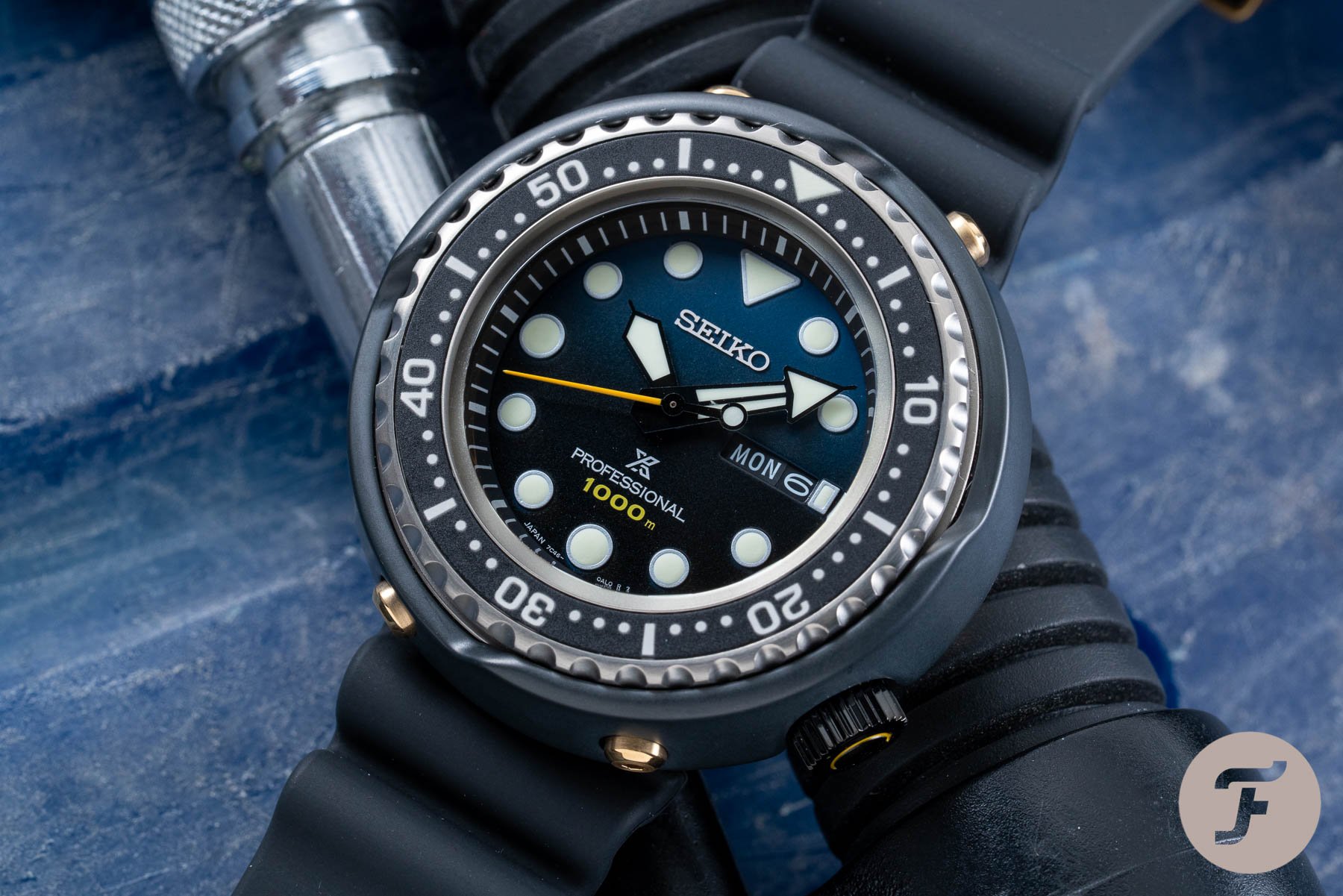 Seiko Prospex 1986 Quartz Diver's 35th Anniversary Limited Edition Watch
This watch doesn't want to play in the shallows, it belongs in the deep sea. Saturation divers use watches that can withstand the enormous pressure from the water above them and can deal with helium. Instead of a helium valve, Seiko chose another option to deal with the gas that leaks in while diving and can cause havoc when surfacing again. Instead of a valve, the Japanese engineers opted for a special L-type gasket and a one-piece case to keep the helium out. Because almost no helium can penetrate the case, the inner pressure of the case does not turn into high pressure. And as a result a helium valve is not necessary. So just like the 1986 original, the Prospex 1986 Quartz Diver's 35th Anniversary Limited Edition relies on a special case design to cope with helium.
Less gold, same functionality
Saturation divers often work in very dark circumstances so to keep legibility acceptable the Tuna has large amounts of Lumibrite on the large indexes and hands. And size also plays a part in being easy to use in murky waters – you don't want to search for your watch on your writs, you need to instantly see and read it. The case measures a whopping 49.9 × 16.3mm making the unidirectional diving bezel easy to read and operate with gloves on.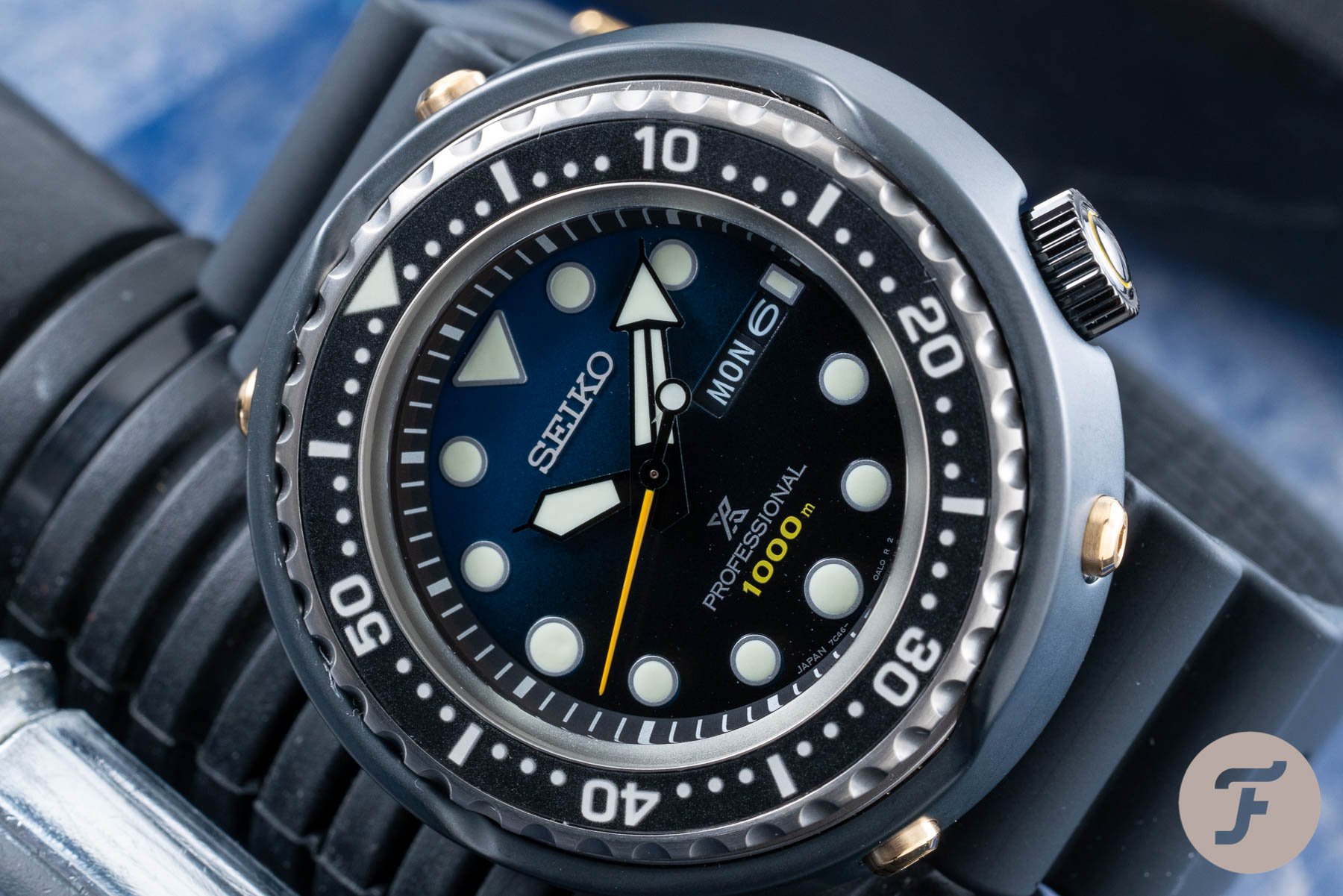 The S23635J1 doesn't have a black dial like the original, but shows a blue and black gradient dial inspired by the diver's view of the depths. The gold bezel and crown of the SBDS018 now color more introvert shades of gray. But that doesn't mean the luxurious gold tones are completely gone. The screws that hold the shroud still have a golden glow and also the buckle and keeper of the two extra-long accordion-style straps – a very clever, handy and safe Seiko invention in black and blue gray silicon, are gold-colored.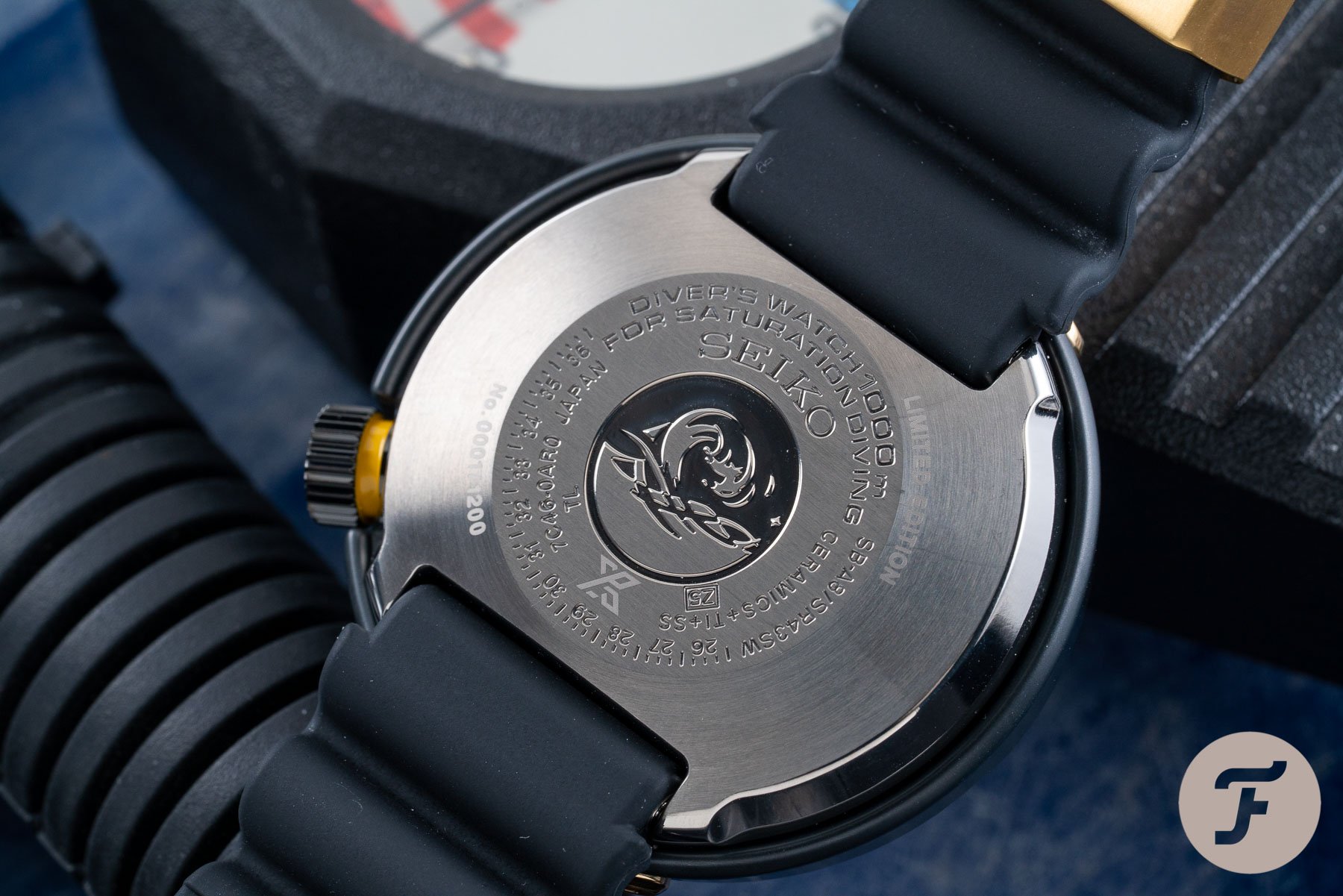 A high level of torque
It might be hard to believe, but the Tuna from 1986 has the same "heart" as the fresh Tuna. Inside the one-piece titanium case with beats the anti-magnetic, seven jewels hi-torque quartz caliber 7C46 – a high level of torque is important to move those enormous, heavy hands around. The life expectancy of the battery might be a lengthy five years, but I sincerely hope that a next generation Tuna models will have a hi-torque solar-powered, care-free quartz movement – divers spend more time on the surface than in the dark deep, don't they?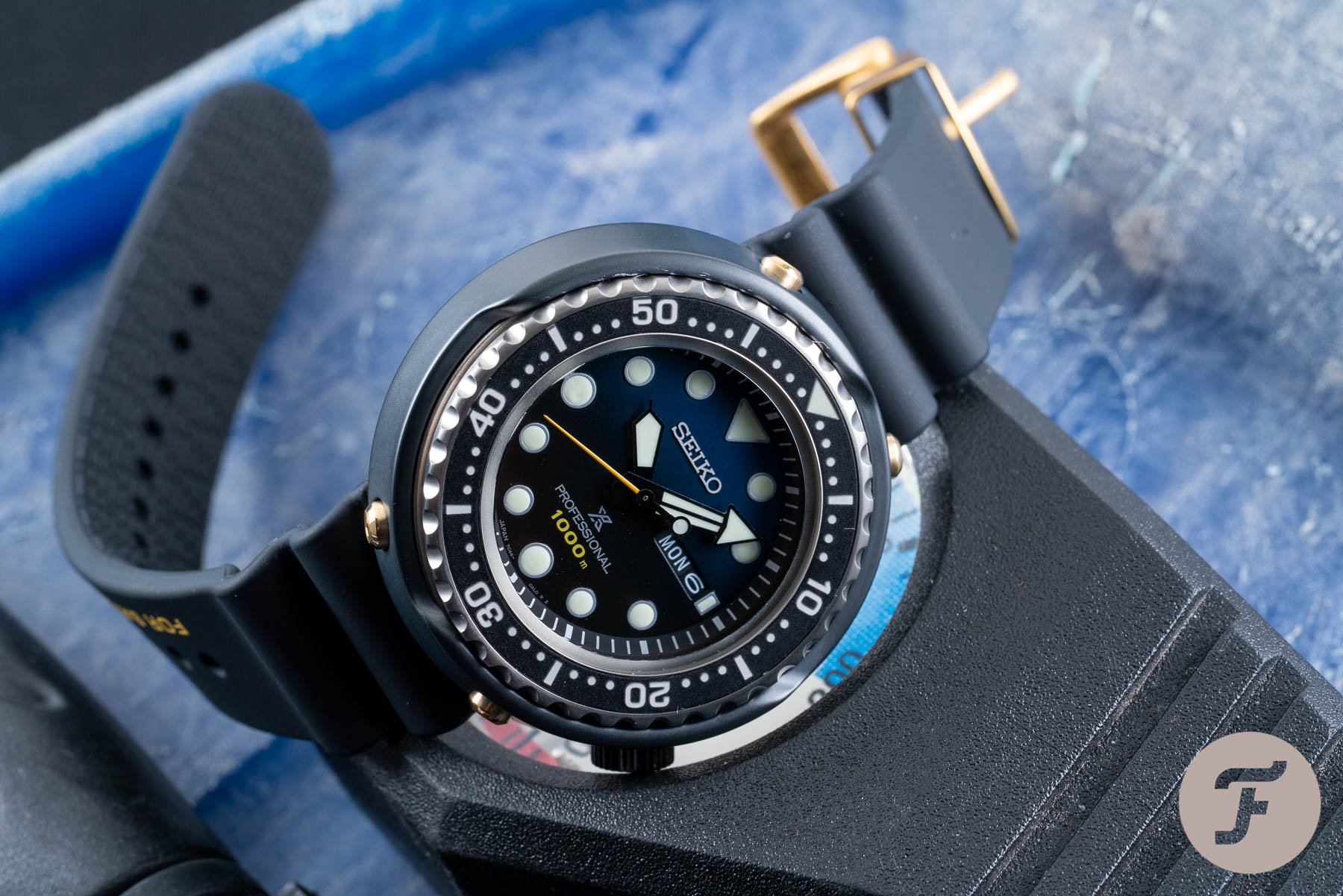 Yellow for looks and safety
On the wrist the Seiko Prospex 1986 Quartz Diver's 35th Anniversary Limited Edition watch is a true beast. But it is supposed to be a beast, so no complaints here. Aesthetically I liked the black crown at 4 'o clock with and bright yellow sign that says "Lock" and an arrow in the same color to show the winding direction. Looks good, feels safe. Also, because of the yellow winding stem, you immediately see that you need to screw down the crown before taking to the water.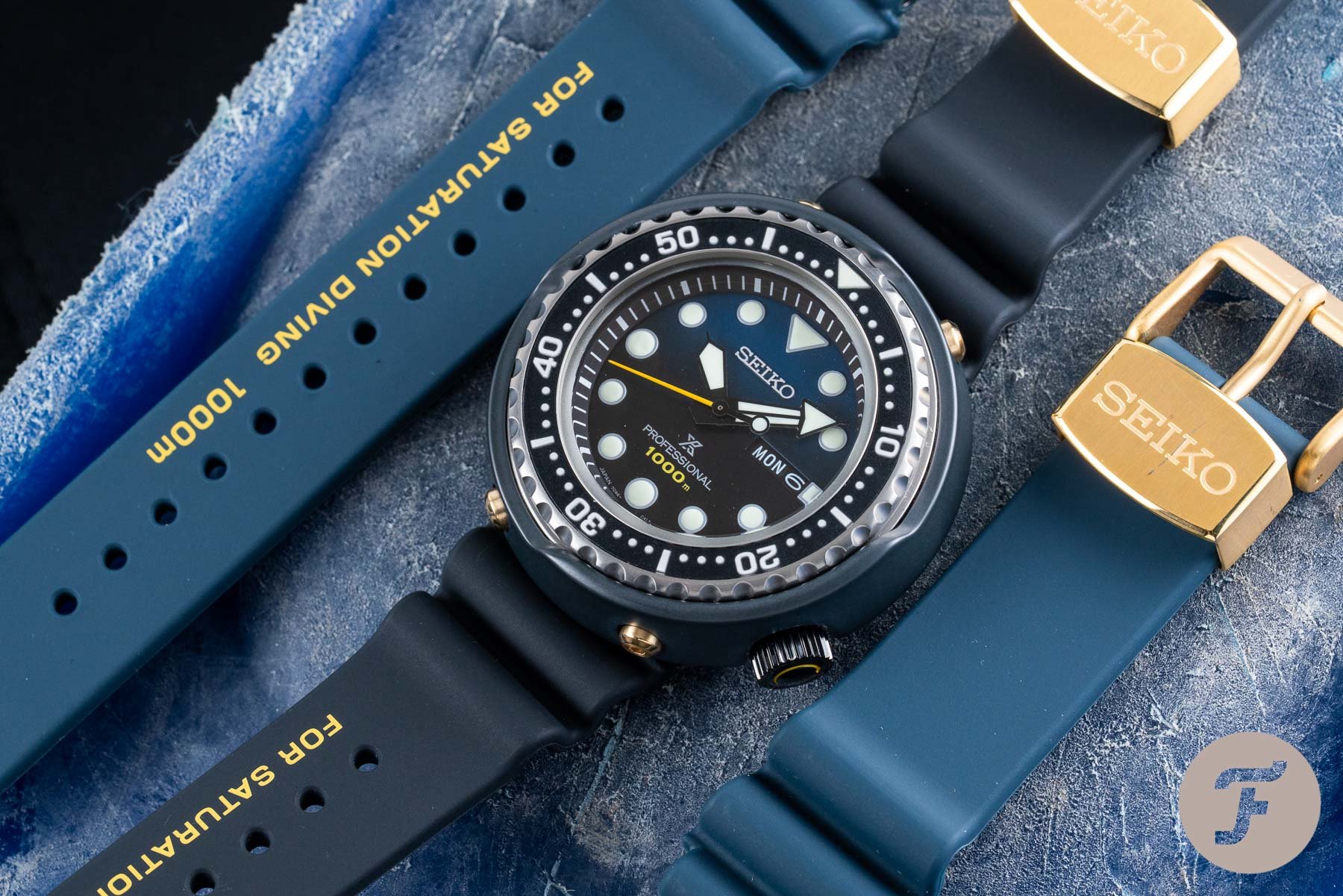 A collector's tool watch
The Prospex 1986 Quartz Diver's 35th Anniversary Limited Edition comes in a limited run of 1,200 pieces. And it is available at Seiko boutiques and worldwide dealers as of July. The price for this special Tuna is €2,700. The diver's watch will come with two silicon straps showing the text "FOR SATURATION DIVING 1000m" in yellow. This Prospex is a collector's tool watch that can also do the work it was made for 35 years ago. Since then nothing changed really. But hey, why change a proven concept? The Tuna was and remains a very impressive beast.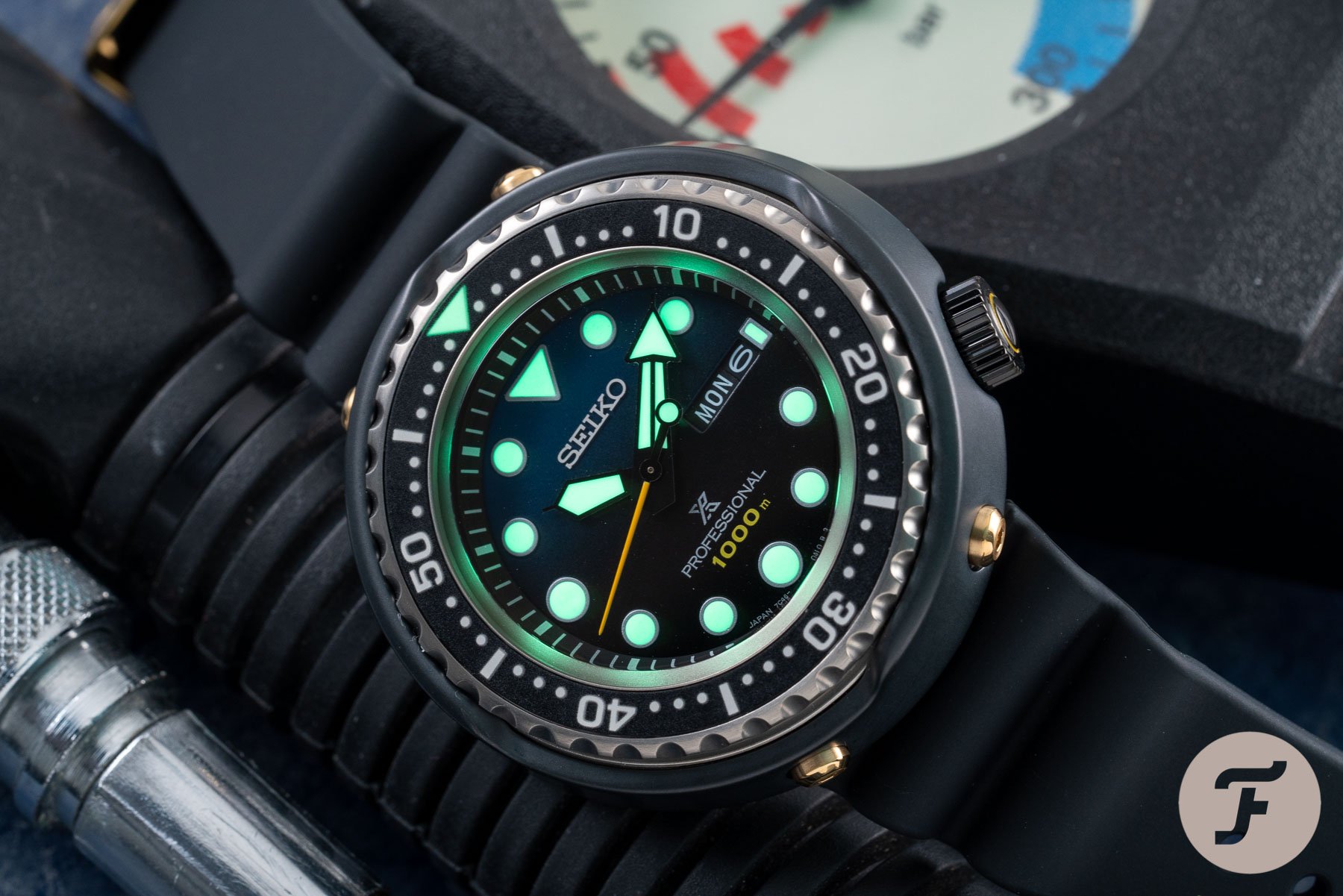 If you want to read other Tuna-related stories on Fratello you can click here, here, and also here.
For more information on the history of Prospex please visit the Seiko website.
Please find and follow me at Lex Stolk • Instagram
Watch specifications
Model
Prospex 1986 Quartz Diver's 35th Anniversary Limited Edition
Case Material
Titanium inner case and zirconia ceramic outer protection case.
Case Dimensions
49.9 × 16.3mm
Case Back
One-piece titanium
Movement
Quartz Caliber 7C46
Water Resistance
1,000 meters
Strap
Extra-strength, extra long silicon straps in black and blue gray.
Functions
Hours, minutes, central seconds, day and date indicator, unidirectional diving bezel. The watch has a magnetic resistance of 4,800 A/m.