Hands-On With Seiko Tuna SLA041 Saturation Diver's Watch
The beast in this years Seiko 55th anniversary divers watch collection
You will have noticed that this year, 2020, marks the 55th anniversary of Seiko entering the diver's watch league. In 1965, Seiko introduced its first-ever diver's watch, the 6217-8000 or 62MAS. Only a few years later, in 1968, it was followed by the first hi-beat model, 6159-7000. But things got really serious in 1975 when Seiko introduced its first watch suitable for saturation diving. The subject of this article, the SLA041, is to commemorate that very first saturation diver's watch, the 6159-7010 a.k.a Grandfather Tuna.
Did you lose track of this year's 55th anniversary commemorative Seiko diver's models a bit? Let's get that out of the way first then. So far this year, we've seen six diver's reinterpretations. Jorg showed you the SLA037 in July, while Bert covered the SLA039 in August. It appeared that with the introduction of a series of four "1965 Diver's Modern Re-Interpretations", one of them — the SPB149 — was part of the commemoration program as well.
Then, earlier this month, we were treated to two other commemorative models. Robert-Jan wrote this article about reference SLA043 and SPB183. So there's only one left to show you now, and that's the SLA041 of this article.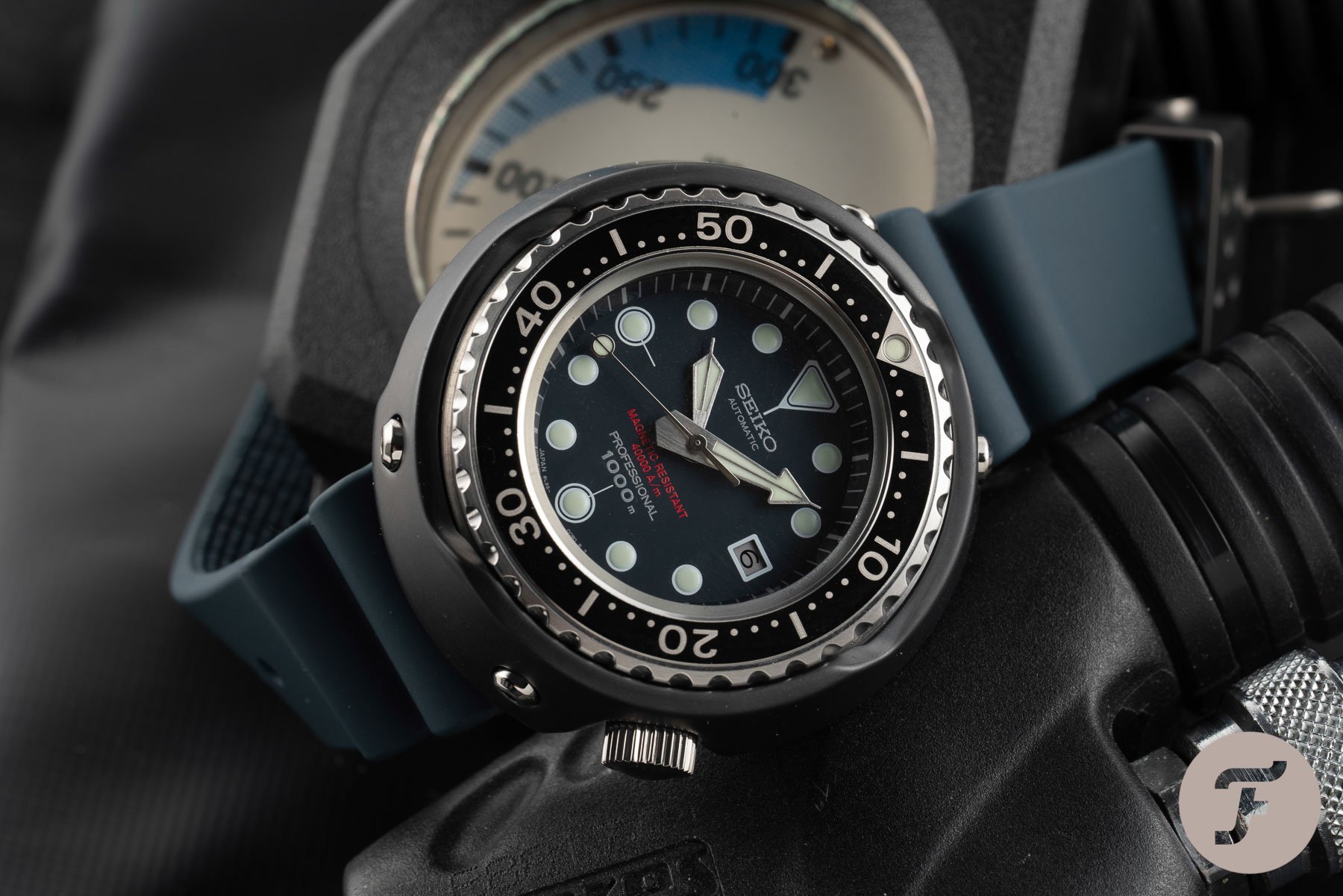 Seiko Tuna SLA041 Professional Diver's Watch
As said, the SLA041 is part of the Seiko Diver's 55th Anniversary line-up. But in fact, it's a reinterpretation of Seiko's first professional saturation diver in 1975. A 45th-anniversary commemorative edition of reference 6159-7010 so to say. The SLA041 is produced in a limited number. Just like the SLA037 and SLA039, 1,100 pieces of this watch will be made. The SLA041 has much in common with its ancestor. I'm very glad to see the original shape of the hands and indexes. The size of the watch, including its protective shroud, is pretty equal as well. And of course, we'll find a monoblock titanium case — the landmark for all professional Tuna's. But there are important differences, let's dive into those.
Different from the original
Most eye-catching will be the dial color. That's quite understandable. All of the commemorative divers this year sport blue dials — this SLA041 does as well. Even while the original Grandfather Tuna, of course, had a black dial. Further differences should be seen as technical enhancements. Seiko chose not to design a historical correct re-edition but opted for an aesthetically and spiritually faithful remake that harnesses the very best of modern technology.
That means that the SLA041 depth rating is 1,000 rather than 600 meters. The uni-directional bezel is now made in Ever-Brilliant Steel. This unusually-named material is exclusive to Seiko. It has a brilliant white hue and is more corrosion resistant than the common steel type used for the original 6159-7010 Tuna in 1975. And — a first — by employing a soft iron dial, the SLA041 has an anti-magnetic resistance of 40,000 A/m. The Hardlex crystal found on the 1975 model has been replaced by sapphire. And last but not least, the hard-rubber strap is replaced by a soft and comfortable silicone one.
Why no hi-beat caliber?
More difficult to understand, for me, is the use of the 8L35 non-hi-beat caliber in this model. The original Tuna in 1975 used a 6159 hi-beat (36,000vph) automatic movement. Seiko has a wonderful 8L55 hi-beat caliber available, and even uses it for the SLA37 and SLA039 55th-anniversary editions. So why not use it in the SLA041, whose ancestor actually sported a hi-beat? I've no explanation for you. Of course, the 8L35 is a marvelous 26-jewel automatic caliber as well. To ensure the highest standards, it is assembled specially for professional divers watches at the Shizukuishi Watch Studio.
What about comfort?
I don't think a Tuna was ever made for wearing comfort. Its a professional tool watch in which form follows function. That said, and even despite its 52.4 mm diameter, the SLA041 does fit many wrist sizes. The lack of lugs makes it far more versatile than those measurements suggest it would be. Plus, the soft silicone strap helps here as well. But even though it sits relatively comfortably on the wrist, its 17.2 mm thickness means it stands up like a redwood. The dimensions of the SLA041, are equal to regular automatic Tuna models, like the SBDX013 and 14.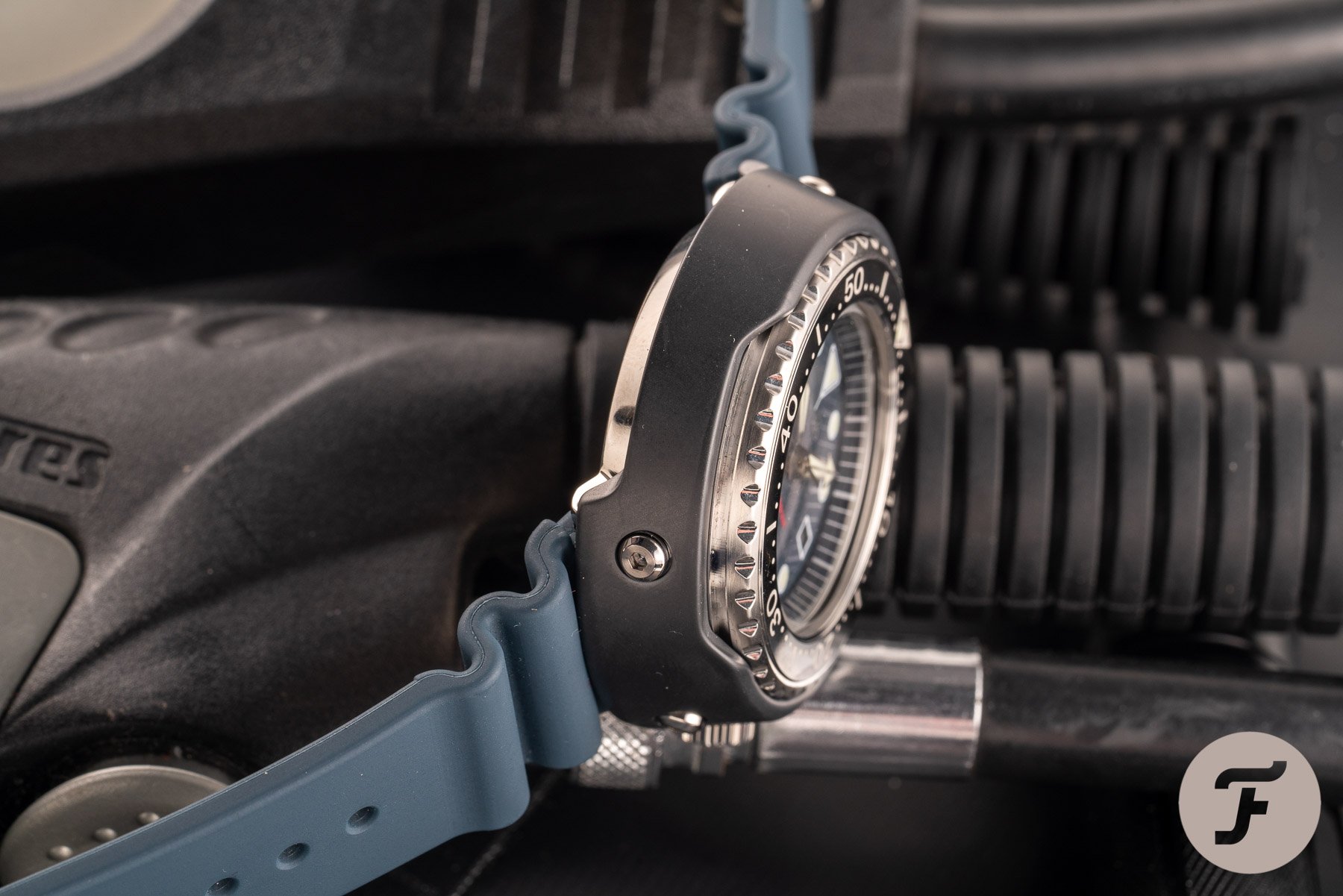 Prices, prices, prices
Seiko's current price level has been talked about a lot lately. To me, most of the discussions do not reflect a lot of knowledge. Just stating that certain Seiko watches became too expensive isn't very intelligent in my opinion. Of course, compared to the past, prices have gone up. Sometimes quite substantially, even. I can't, however, find any occasion that a price increase was done just for the sake of it. There's always a — at least technical — reason for it. And, just as importantly, Seiko always offers alternatives for people whose pockets aren't that deep.
In the case of this year's 55th-anniversary editions, the SLA-models are all top of the bill. They come limited from 1,100 to 1,700 pieces and vary in price from €4,500 to €7,000. They're sporting all Seiko's latest movement and material technology. But then there are the SPB-models as well. Probably technically less sophisticated and limited to higher numbers (5,500), but much lower in price as well (€1,350–€1,450). Many people know Seiko from its very affordable sub-€1,000 entry-level automatic watches. And while Seiko still offers these, the brand is now entering a much higher league at the same time. It seems that not everyone understands this.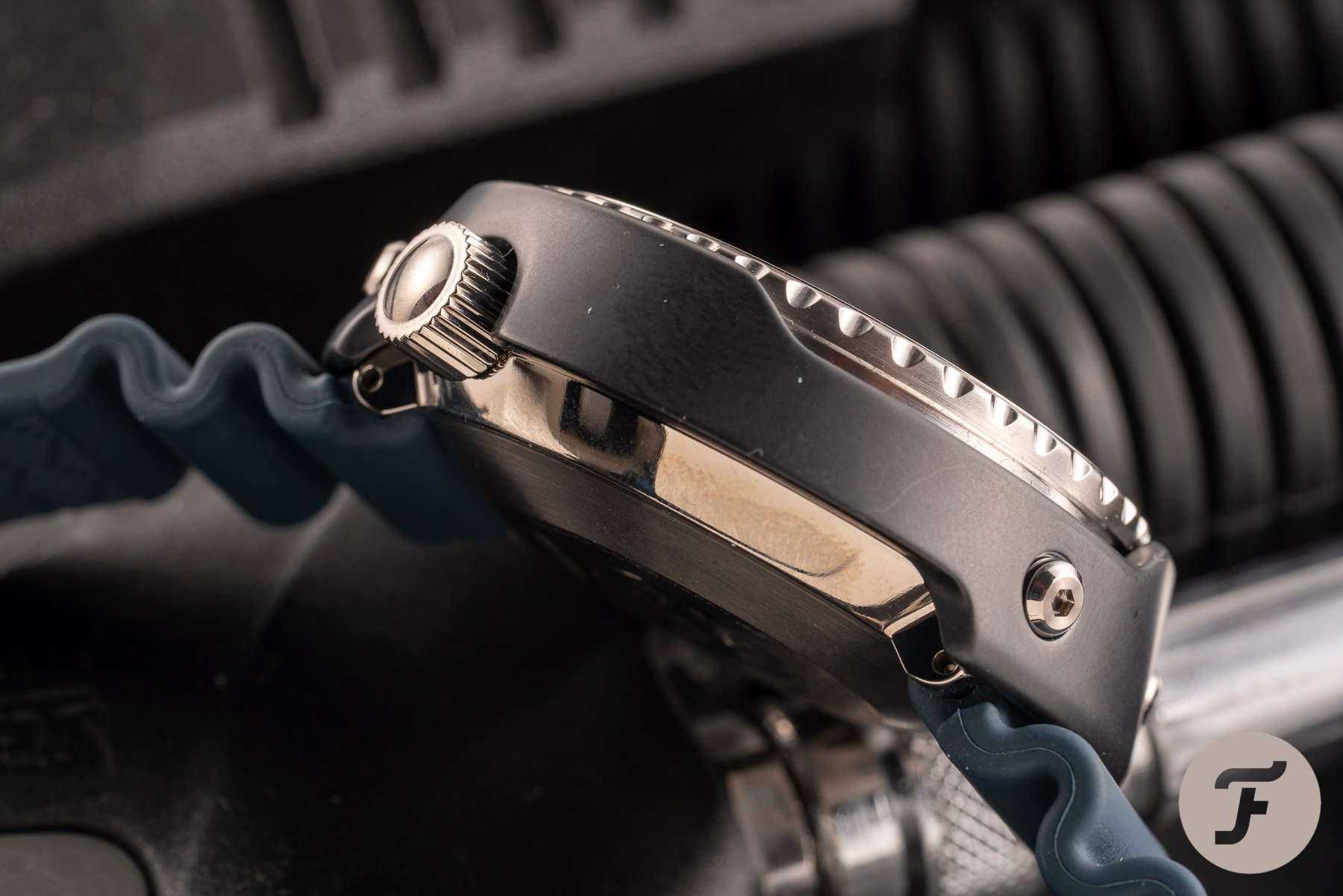 Conclusion
The Seiko Tuna SLA041 Professional Diver's watch is the lowest-priced of the high-end 55th-anniversary editions. €4,500 can by no means be labeled expensive for such an extraordinary watch. Its construction and appearance are equal to none. Specifications, build quality, and materials used can compete with watches at the highest level in this league. So do I think this watch is expensive? No, I don't. A lot of money yes, but not expensive. For those of you in the market for a watch like this, they're likely to be available from this moment onwards.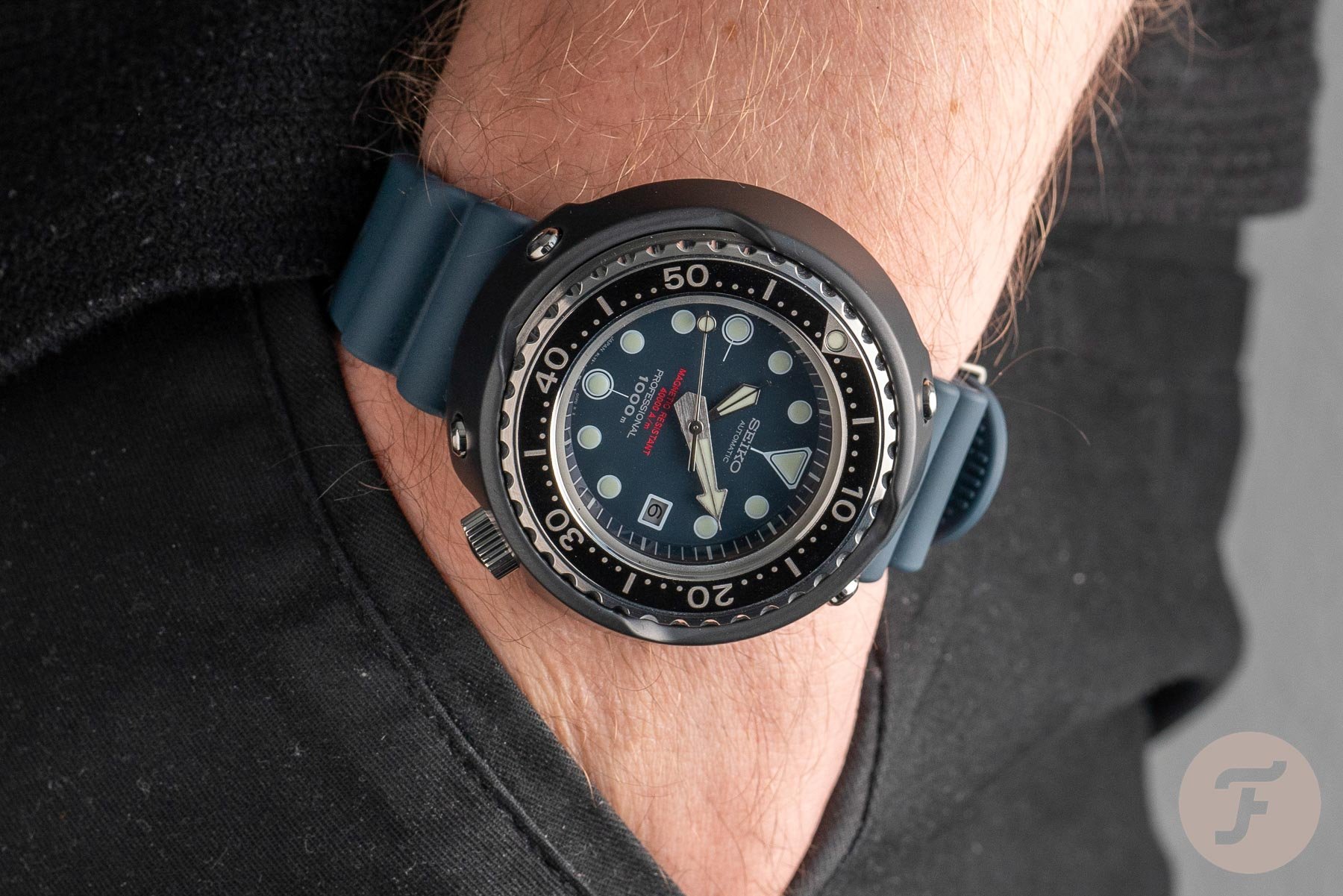 Tip
In case the SLA041 sparked your interest in Seiko Tuna models, I can highly recommend our Seiko Tuna Overview article.
Pictures by Bert Buijsrogge @bybbr
You'll find me on Instagram @gerardnijenbrinks
Watch specifications
Model
1975 Professional Diver's Watch Recreation
Dial
55th-Anniversary Blue
Case Material
Ceramic outer case, titanium monobloc inner case, Ever-Brilliant Steel bezel
Case Dimensions
52.4 x 17.2 mm
Case Back
Monoblock construction (no case back), engraved with unique serial number
Movement
Automatic, caliber 8L35, 26 jewels, 28,800 vph, 50 hr power reserve
Water Resistance
1,000 meters (3,300 feet), according to ISO standards and suitable for saturation diving
Functions
Hours, minutes, seconds, date, unidirectional elapsed minutes bezel
Special Note(s)
40,000 A/m magnetic resistance, limited edition of 1,100 pieces