Blancier Desert Wolf 'Bullhead'
Normally, my coverage on quartz driven watches is second to none, however, I'll make an exception for this special timepiece. The Blancier Desert Wolf is dedicated to the Dutch troops in Uruzgan.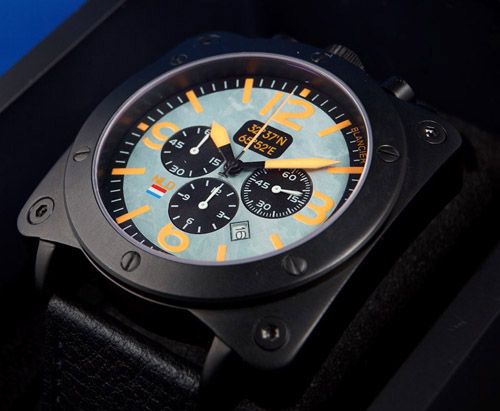 The watch case of the Desert Wolf has a 45 diameter and a hard PVD finish. The buckle of the strap also has this PVD finish. As you can see, the dial of the Blancier Desert Wolf is marked with the coordinates of the Dutch Uruzgan camp. The orange markers and hands refer to the Dutch heritage.
The crown and chronograph pushers are located on the 12 o'clock position of the watch, which makes it a 'bullhead' watch. Something we've seen in the past on Omega and Seiko watches (and a few more).?Ǭ† Other specifications of this watch are:
water resistant to 100 meters (10ATM)
sapphire crystal (double side anti-reflective coating)
1 year (limited) warranty
price tag of 345 Euro, of which 10 Euro will go to the Anjerkinderen fund (kids of veterans)
More information and photographs can be found at www.blancier.eu