This Blue Datejust 1600 Might Be The Prettiest Rolex I've Ever Seen
The blue dial and smooth bezel is a magical recipe
Today, we're back with a look at yet another Rolex and this time it's the Datejust 1600. So soon, you say? In some ways, think of this article as a prequel to my recent ode to an incredibly simple Datejust 16200. The two watches are similar for certain, but they're also very different. Sit back because it's time for another love letter to a wonderful watch.
Oh, Datejust, you wily little daily driver with your countless variants. You are a nonstop adventure that ranges from the sublime to the subdued. As an individual watch, you offer so few clues as to how you started life. What dial shipped with you decades ago when you were first purchased? Have you been polished or have years of shirtsleeves given you a new shine? Is that bracelet worth saving or did your prior owner abuse you past the point of no return with just a bit too much dangle?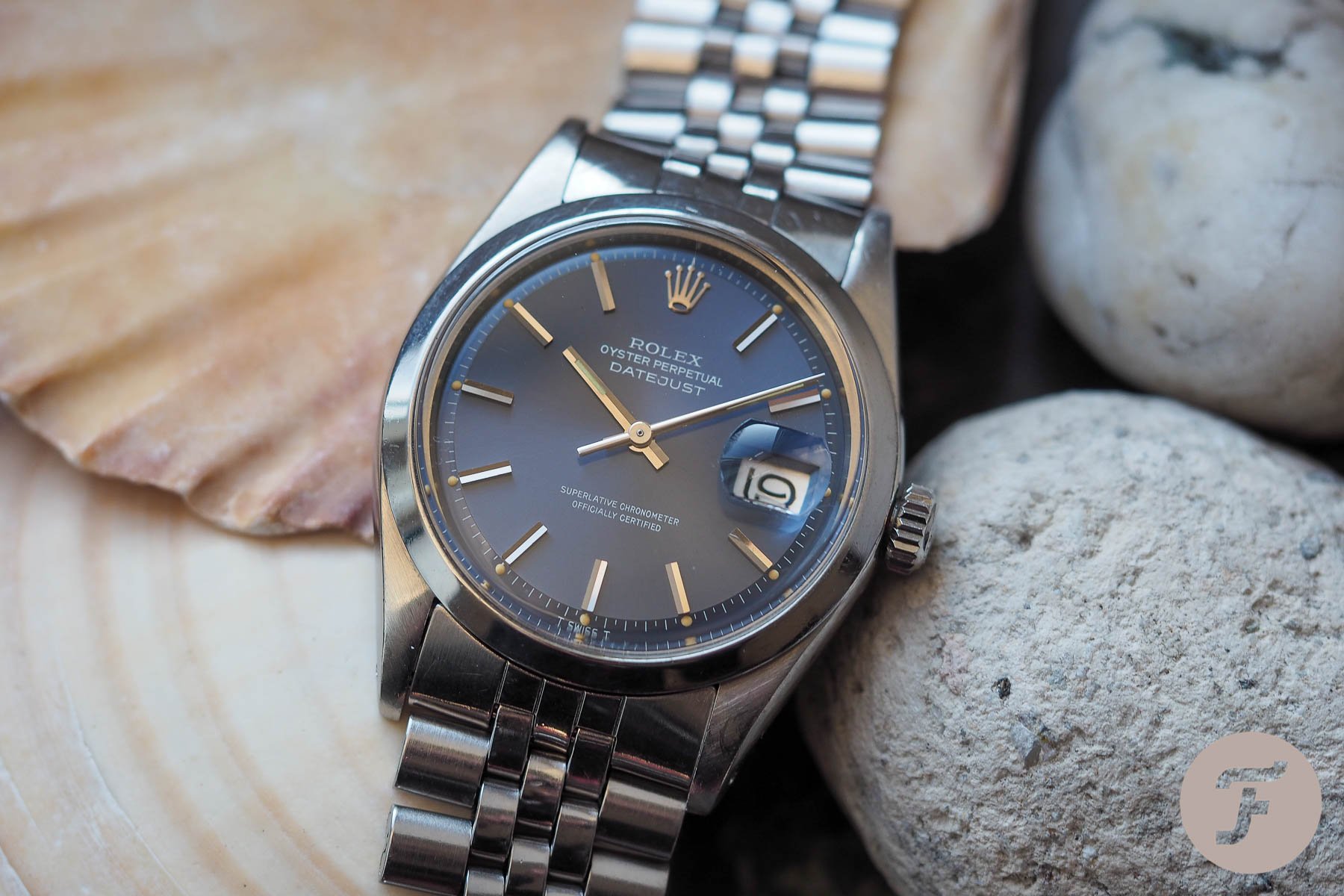 Finding a standout Datejust 1600
Questions like these enter the mind while perusing scores of these watches online with the bulk of them looking like little else but an "old watch." Used, forgotten, dirty, and stained are typical observances with this incredibly popular Rolex. But every so often, amongst all the roughage, a figurative diamond emerges. This is Rolex par excellence today, folks, and it just might be the most beautiful watch I've ever laid eyes on from the brand. Welcome to the Rolex Datejust 1600.
That's right, I've been casually looking at vintage Datejust models for the better part of two years now. I've been reading, asking questions, and playing the quiz game in my head. You know the game… It's the one where you ask, "What's wrong with this watch?" and you get to a point where you can pinpoint the problems. A wrong-era dial, missing lume dots, a bezel that doesn't belong, or a case that boasts lug holes so wide that a mole has made them its home. All the while, I've figured out what I like and what I don't prefer. Dark dials are my thing while diamonds can exit stage right. That dial rot that some euphemistically coin as "tropical"? Negatory. One thing I do most certainly love, though, is a smooth bezel. That characteristic boils it down to one key model — the Datejust 1600.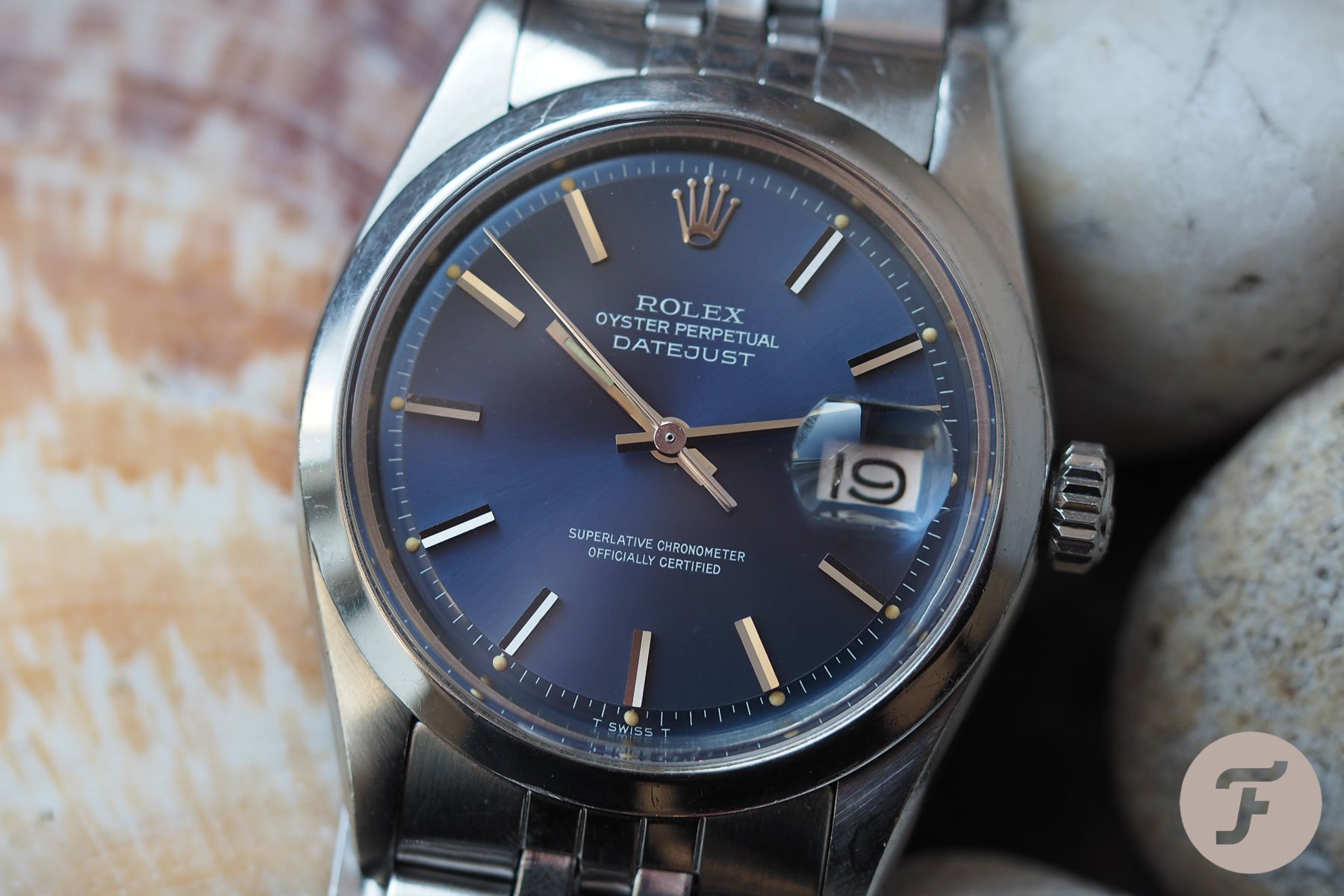 The 160x series is highly recognizable
The Datejust 1600 and its 160x brethren make up what is perhaps the most recognizable series of the model. The watch debuted in the late '50s and was made for roughly 20 years. These 36mm models were made in a wide variety of styles and that includes the dials, bezels, and case materials. The watches used the 1565 automatic until 1965 and then switched to the higher-frequency 1575 in 1965. The year 1972 brought hacking, but a quick-set date function never found its way into this series. No matter the year or the style, one thing was common, and that was a "pie-pan" dial.
Some fans of the Datejust love the stepped pie-pan dial while others don't. Maybe the fact that this dial signifies an older style movement without quick-set convenience does it. For me, I love this detail provided that the dial is in great condition. On that front, things can be a bit tricky. As mentioned, the darker dials often show extreme aging or discoloration. The edge of the "step", near those lume pips, around the date window, or the dial edge itself are typical places for deterioration. Some people love this, while I often equate it with damage.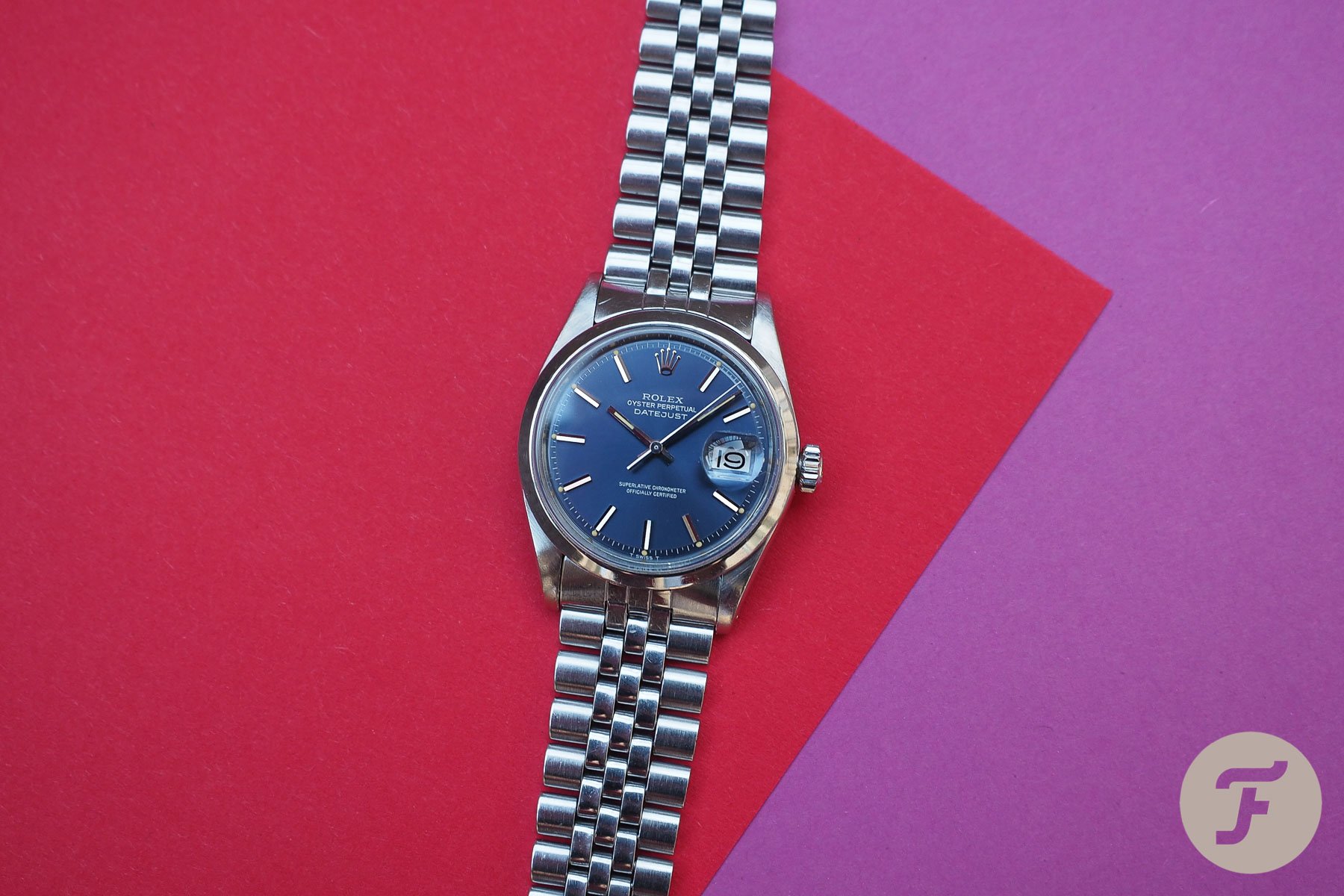 A blue dial strikes again…
During my frequent perusals of for-sale ads for pieces like the Datejust 1600, I thought I had come across just about every variant. As always, though, that type of thinking leads to a surprise. It was during a random chat when my future quarry first came to light. I was jabbering with Sacha Davidoff and asked if he had anything interesting coming to the site. In fact, he did, and he was generous enough to share some highlights from the day's upcoming "drop." I looked at an awkward distorted screenshot of a few pieces listed in Excel. Amongst all the watches, I saw "1600" and "blue." Curiosity piqued and fancy tickled…
This Datejust 1600 last lived in the USA and was apparently caked in grime when Sacha first saw it. He did mention, though, that underneath a scratched crystal (and more gunk), a pristine blue dial was lurking. As an aside, it helps to buy a watch from someone picky. Sacha explained that he must have looked at something like 100 vintage Datejust models over several days while there and ultimately bought (wait for it…) three. Yes, this is the type of fallout that comes due to 40 or 50 years of use and abuse. The lovely blue piece got a bath, a checkup, and was ready for class pictures.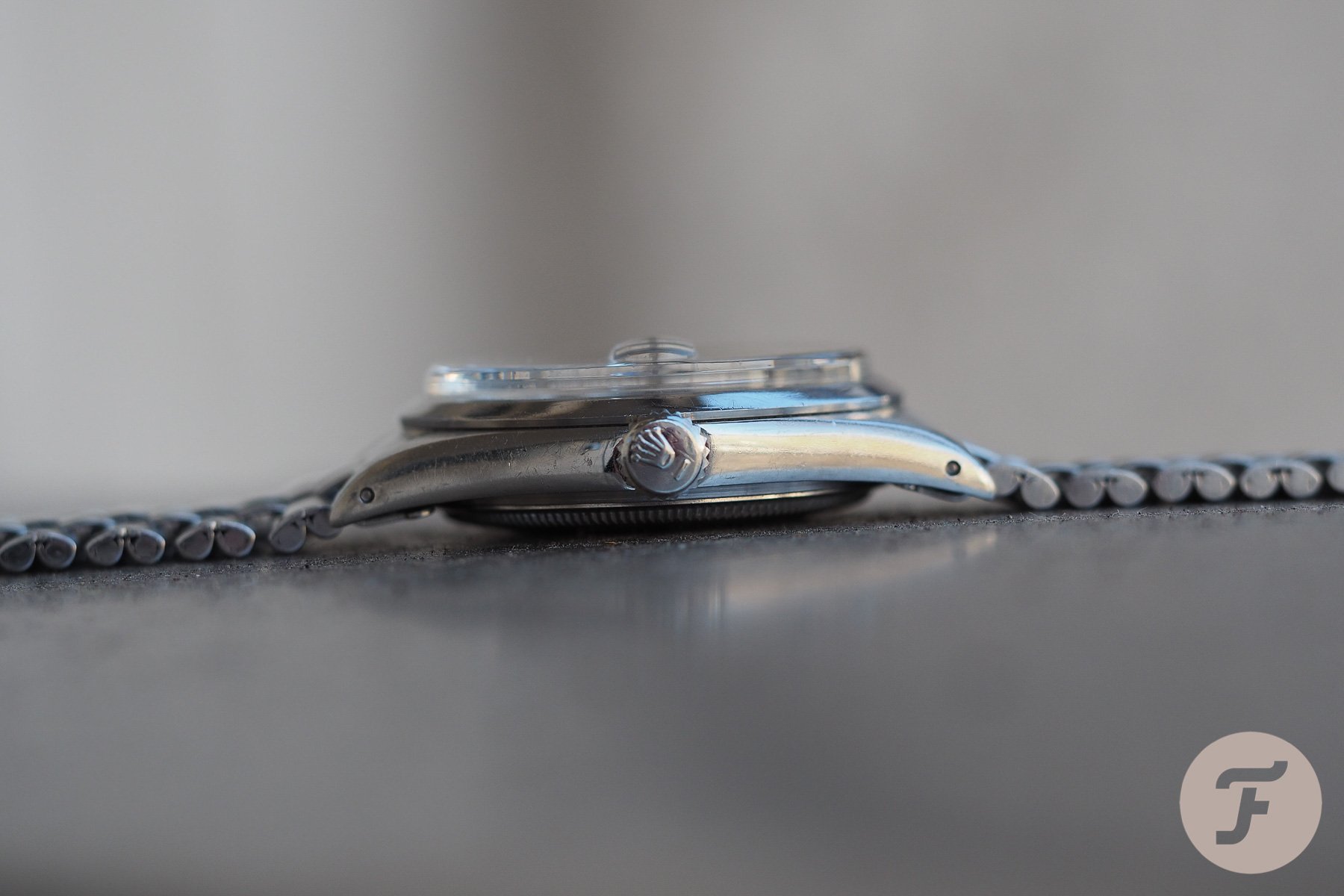 …and it is stunning, utterly stunning
Sacha sent some brightly lit phone pictures and then, a day or so later, provided site-ready images. I was floored. This dial was and is flawless. I've done my best to find something, anything, wrong with it, and I cannot. Furthermore, the case is in great condition (the lug holes are sharp) and the folded 6251 Jubilee exhibits minimal stretch. But yeesh, that dial…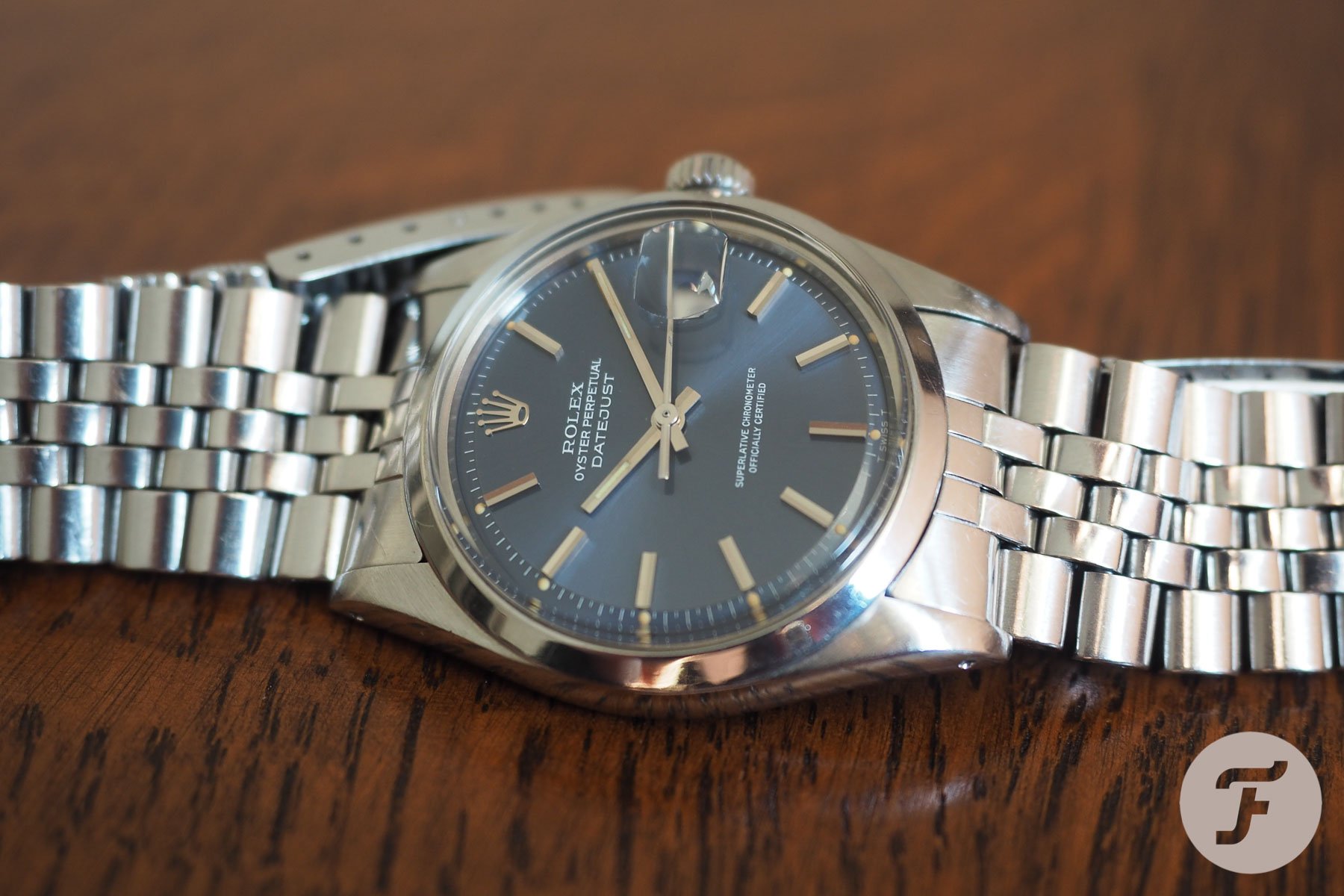 The smooth bezel makes for the perfect combination
I made a bold claim that this Datejust 1600 just might be the prettiest watch I've ever seen or held. That's such a massive statement and it's also highly unexpected because this watch is a Rolex. Let's face it, Rolex isn't known for making beautiful watches. They're purposeful, even boring at times. However, this dial is something else! It's so vivid and clear in the sun that it reminds me of sapphires or maybe even mountain streams. Silly stuff — I know! I do have other thoughts. But there's more… A 1601 (fluted white gold) or 1603 (engine-turned steel) with this dial would be lovely but would steal part of its visual (blue) thunder. Finally, the clarity issued by an acrylic crystal also adds to the entire experience. Sapphire wouldn't cut it.
Based on my affection for the Explorer 14270 and the Datejust 16200, you know that I have a real thing for smooth-bezel Rolex models. This Datejust 1600 follows in those footsteps, yet it is from an entirely different era. This watch is more svelte on the wrist, feels lighter due to the hollow bracelet links, and has slimmer proportions. The good thing, though, is that it's still a Rolex, and that equates to a general impression of substance. This feels like a watch that, even after 45 years, can still do daily battle with relative ease. In support of that, I even have a colleague who wears an heirloom 1601 as his everyday watch.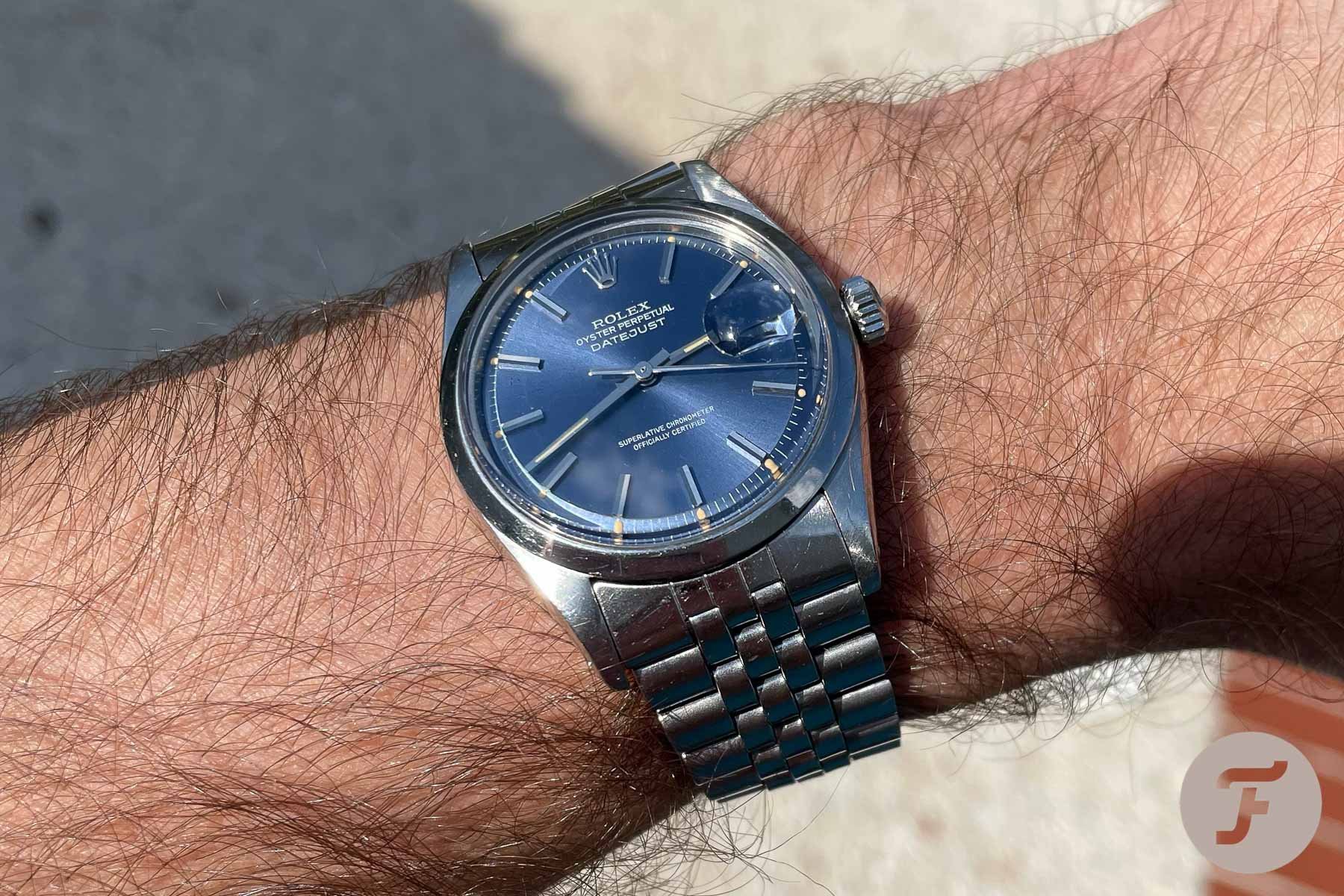 Still a great watch 45 years later
You can't go wrong with a watch like the Datejust 1600 because it works with anything. This bold blue dial bolsters that claim further. Casual or formal, black or brown — everything works with this. Would I like to see it on a period folded Oyster bracelet? Everything in my head says yes because it would make the watch even more casual, but I think that the Jubilee provides some balance. It adds the right amount of flair to what is otherwise a very clean design. Plus, there's no denying that the Jubilee is amongst the most comfortable bracelet designs in existence.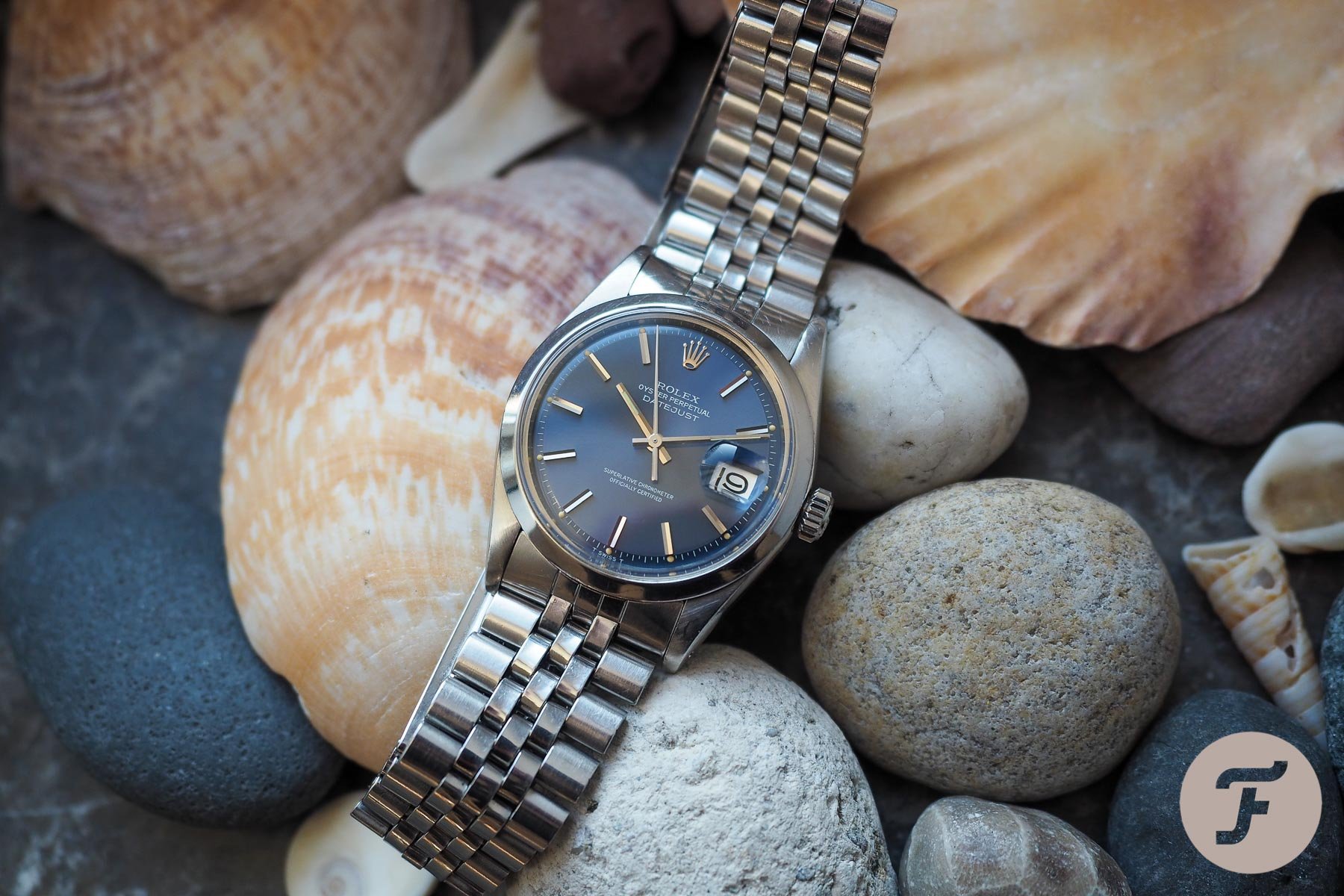 Be patient and picky
I've said it before that the Datejust is currently experiencing a minor boom. The watches are hot, hot, hot right now and good models sell with serious speed. Perhaps this is because they're still on the lower end of the pricing scale for vintage Rolex. Alternatively, maybe the smaller watch trend is putting them in focus. Who knows? But when I look for pieces like this Datejust 1600, good pieces disappear, and I see very few dark-dialed variants. I haven't seen much in the way of price differentiation at this point, though, as it relates to dial hue. Figure on somewhere in the €6,000 (or more) range for a nice example with a lovely dial. That's not cheap money, but line it up against a contemporary four-digit sports model and the contrast is shocking.
This Datejust 1600 has spent a lot of time on my wrist lately — it's the only watch I brought on a recent two-week trip. Do I like it more than the 16200 I recently reviewed? I think I do because of the lightness and the overall vintage vibe. Plus, as mentioned, it's still a great daily watch. Am I done with the Datejust genre now? Well, I'm missing a blue 16000, but those are truly difficult to find. Somehow, I think I'll be content with this one.