Bosphorus Leather Watch Case For 15 Watches In Birmingham Leather
The long hunt for a suitable storage solution hit paydirt
I have a lot of odd habits. I think it's probably normal for those with minds to which the hobby of watchmaking appeals to have a few neuroses. One thing I am particularly particular about is how I store my watches. As such, I've been on the hunt for a smart, uniform solution to house my ever-growing collection that now numbers north of 70 pieces. After much trawling, I came across the Bosphorus Leather Watch Collector Case that holds 15 watches. It was one of the two products I purchased from this relatively young company from Turkey and I couldn't be happier with it.
Everyone has different preferences when it comes to wristwatch storage. Some collectors prefer to keep their watches in their original boxes. Others like to house their collection in a safe. Many favor watch winders, or special cabinets installed with rows and rows of the things. A few guys I know like to keep their pieces in more portable packages, like watch rolls or wraps. Personally, I prefer cases and/or trunks that can hold many pieces at once.
Consequently, I store boxes and paperwork separately. This won't be something everyone feels comfortable with. Should you find yourself in the latter camp, a larger, more permanent home for your collection (perhaps a nice wooden cabinet with deep drawers capable of holding many unusually shaped and sized watch boxes) would be preferable. What I've found here, are a couple of neat storage solutions that provide me with the aesthetic uniformity and portability I desired.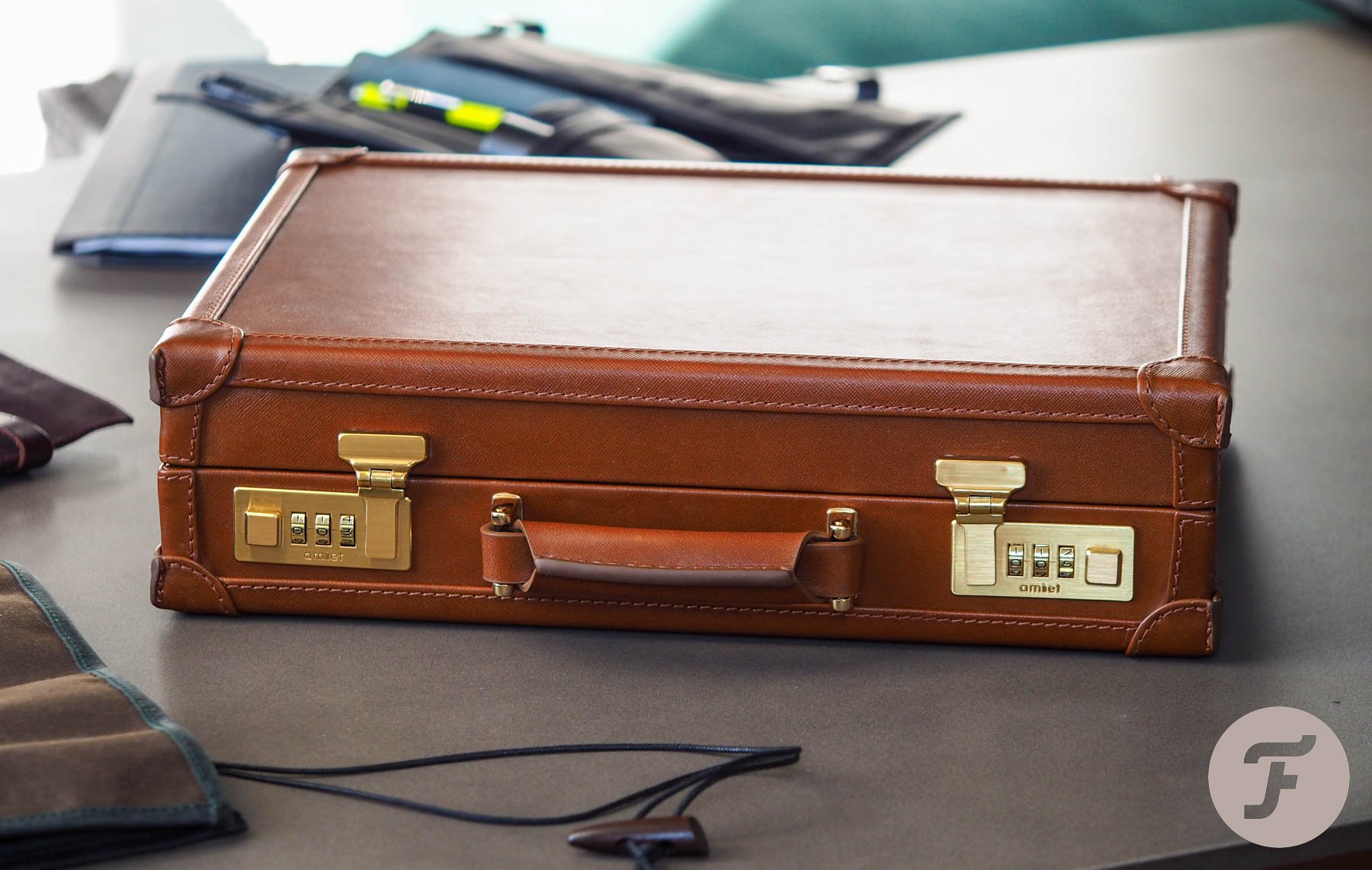 The Birmingham box
Birmingham (England's second-largest city by population) is certainly enjoying a positive run in publicity. I was brought up near Manchester. Consequently, I feel an instinctive rivalry towards any and all things originating southeast of the Black Country. But credit where credit is due: after the global recognition afforded the city since Peaky Blinders took television by storm, I've now discovered another reason to love the Midlands' biggest conurbation: this watch case.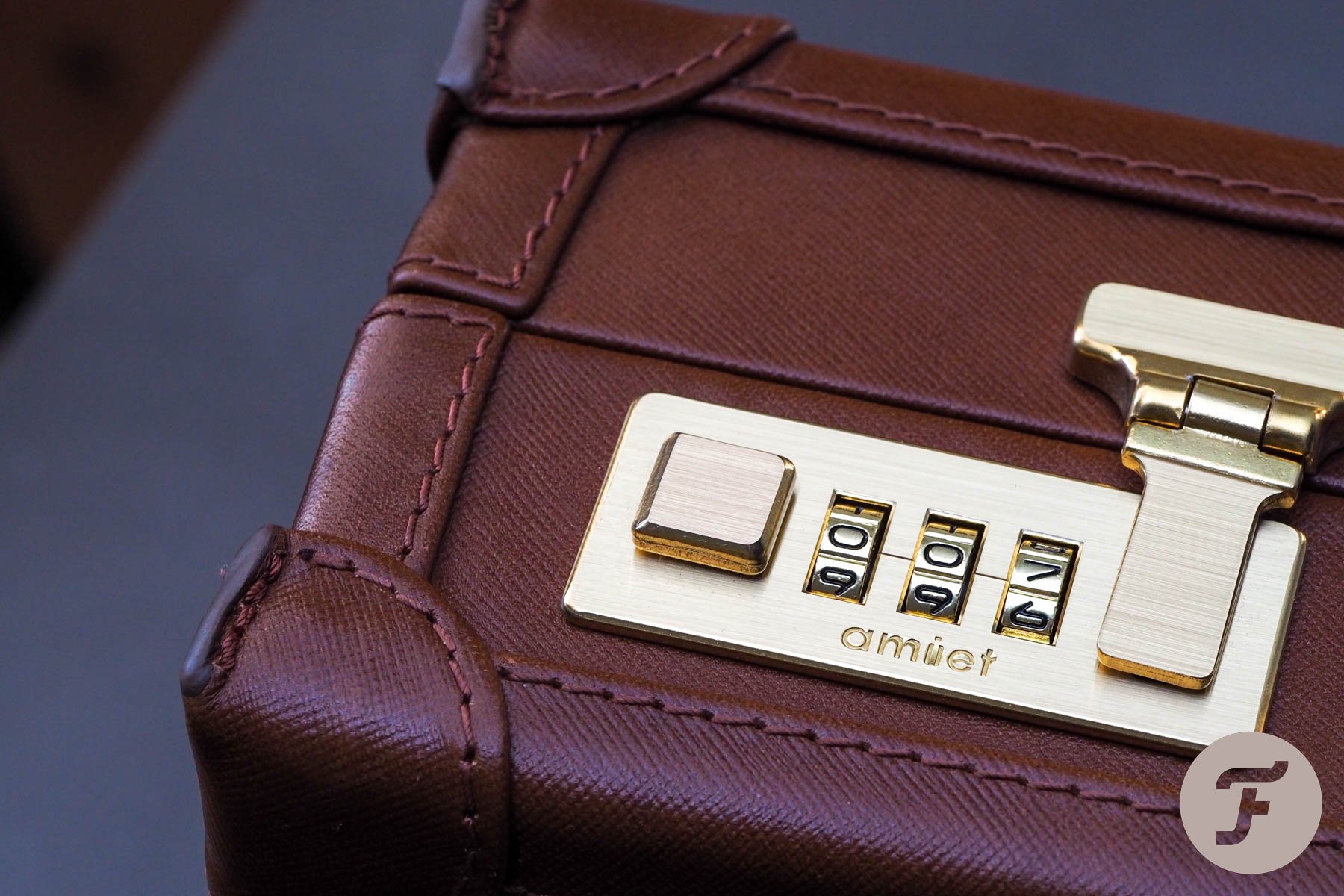 I'm not entirely sure why this particular model has been dubbed "Birmingham brown" but if this is the kind of brown that deserves association with Birmingham, then I must doff my cap to the city for its fine taste. It is a rich honey/cognac shade that looks brilliant when paired with the brass combination locks and hardware that feel robust and reliable in operation.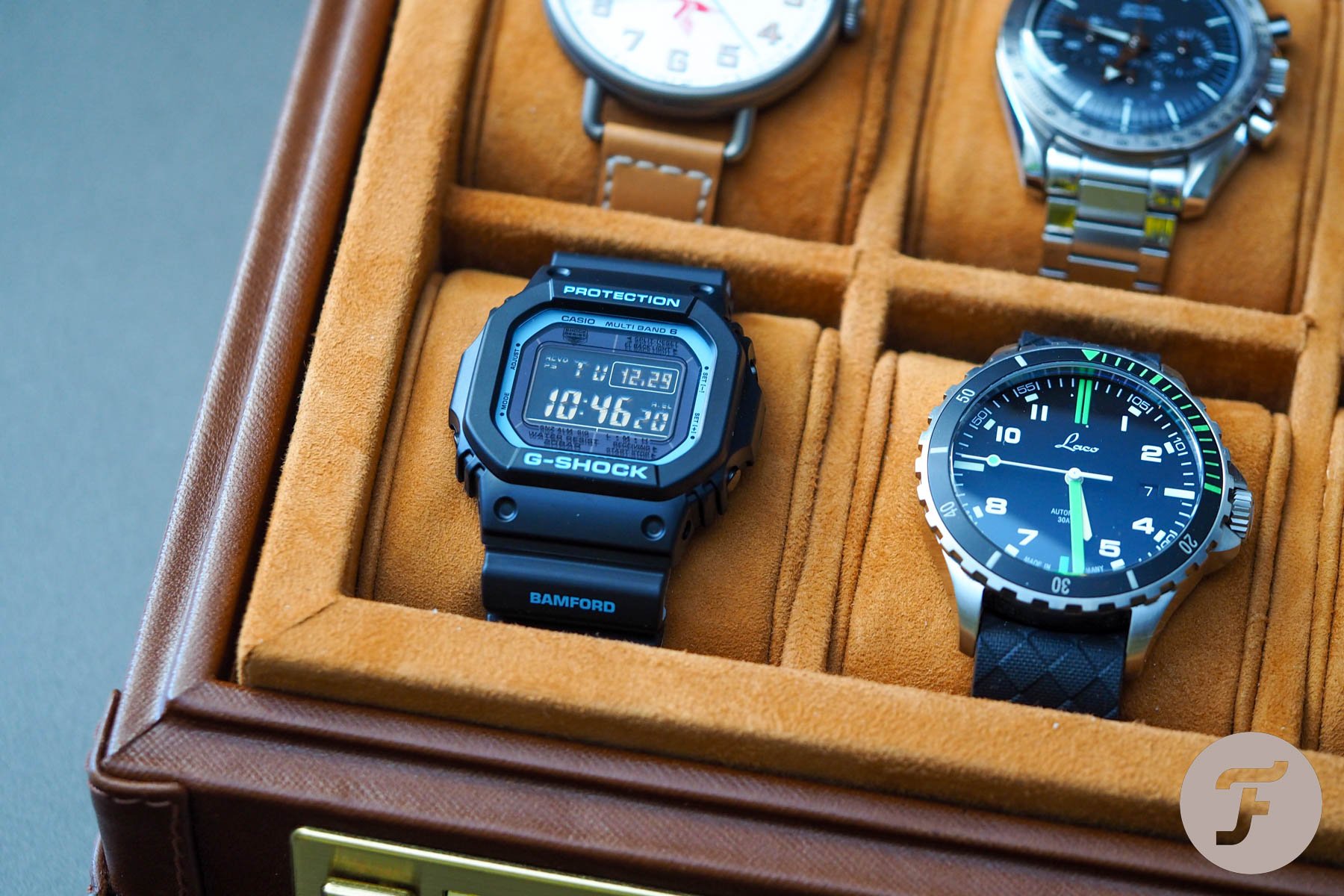 The lining of this case is a mid-brown suede which provides excellent cushioning for your collection. I love to have my watches laid out in an orderly, thematically grouped fashion. Therefore, larger volume cases are perfect for me. They allow me (and equally anal customers) to arrange their favorite pieces in a way that tells a wordless story. It may sound a bit fey, or bizarrely romantic, but I genuinely get a rush from seeing the pieces of my collection come together in one place as an expression of my lifelong pursuits. You might notice the Bamford sticking out like a sore thumb (it is currently occupying the place of the Aquadive Poseidon GMT I was wearing during the shoot).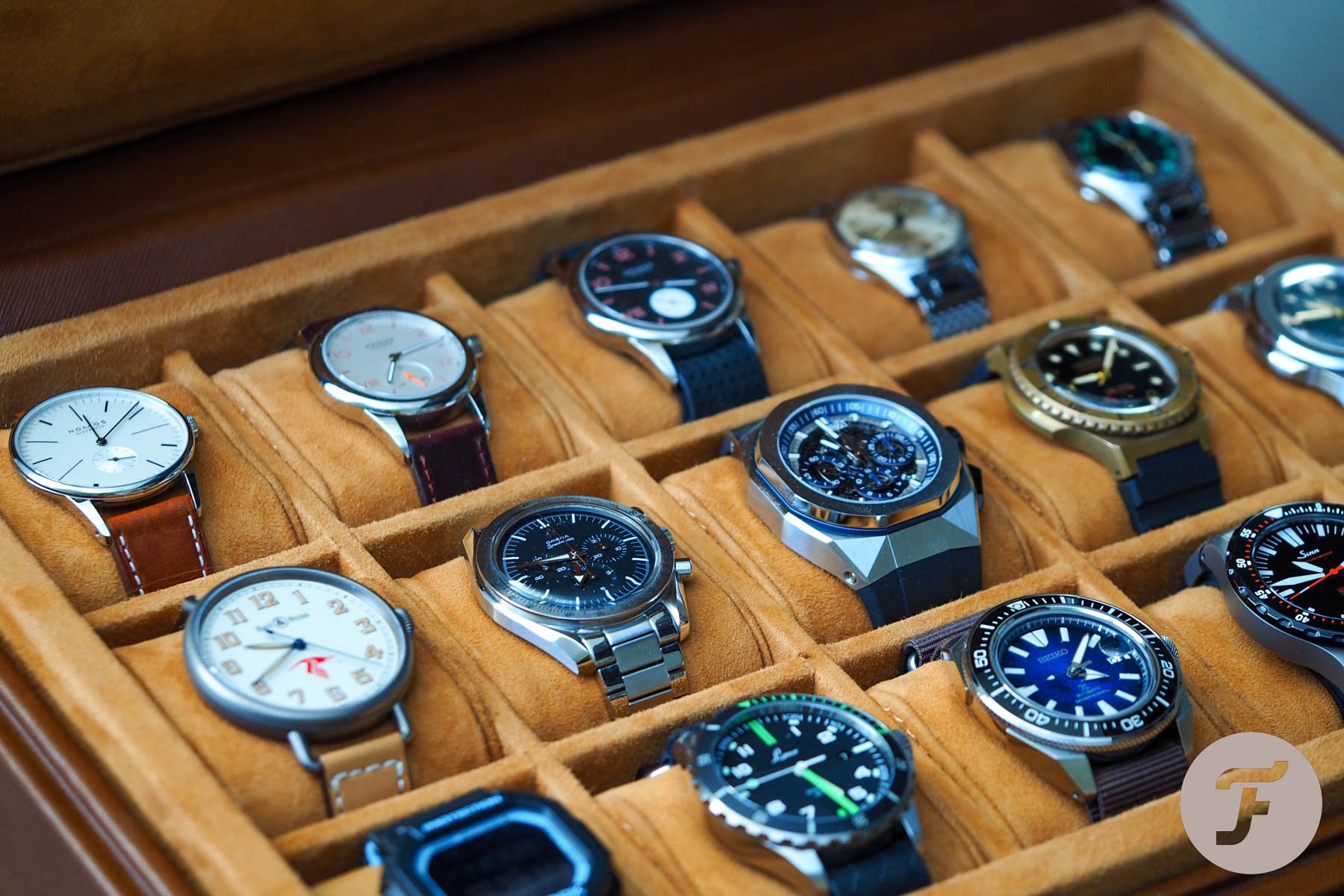 Options, options, options
There are many options available from Bosphorus leather. These very same cases can be configured differently. If you do so desire, you can swap out one row of watch pockets in favor of two lidded compartments. I also purchased a 30-watch trunk from the brand that I'll write-up in a second review; for that order, I decided to take the lidded compartments for a bit of variety, and also because I have a couple of pocket watches and nice pens/spare straps I figured I could store in there once I've sourced some properly cut foam to hold them in place.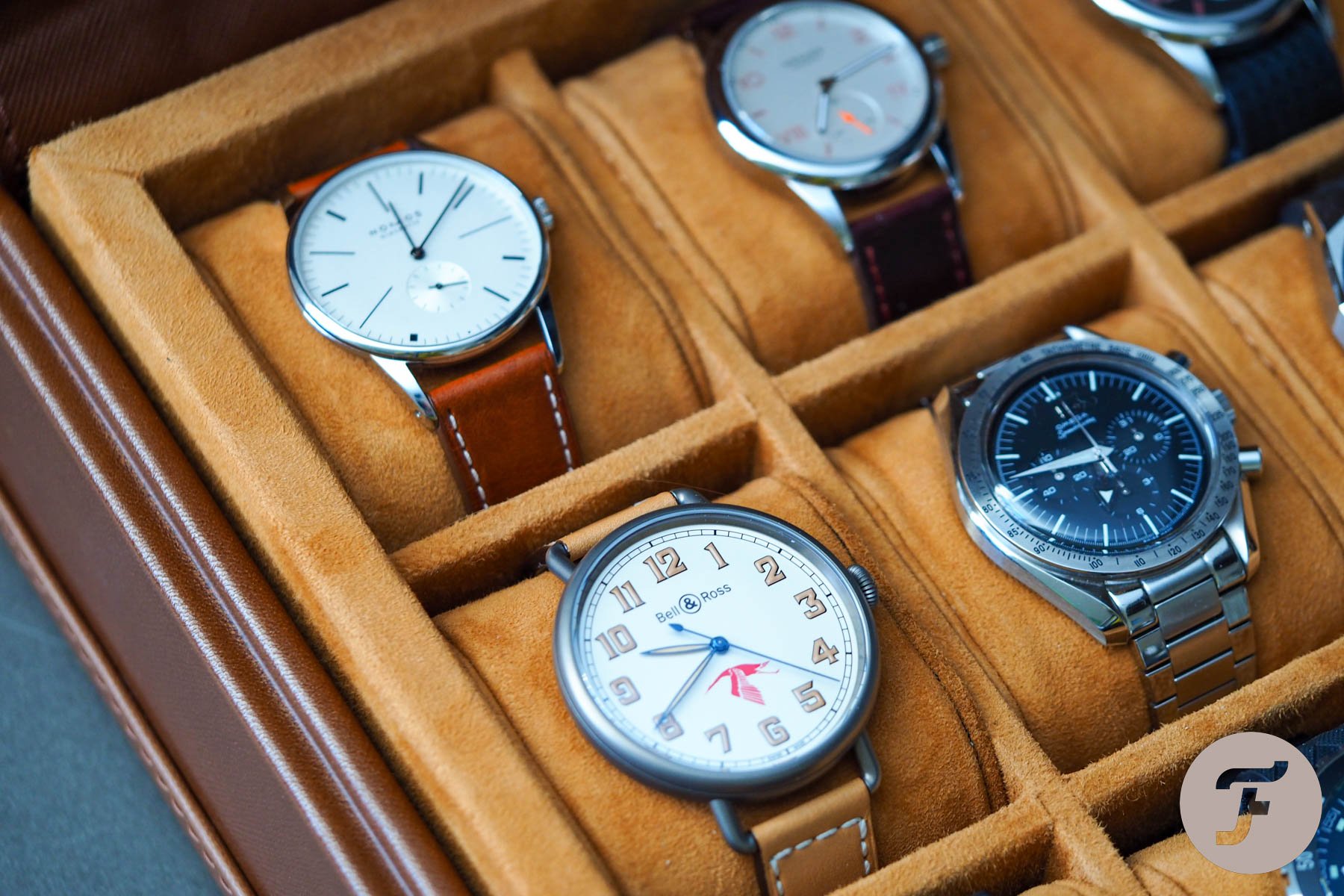 So what about the other options available to customers of Bosphorus Leather? Well, you have a ton of colors (blues, purples, greens, browns, grays, you name it) to choose from. You can opt for "script" leather if you prefer a more extravagant housing. There is also the opportunity to customize pretty much any element of the design.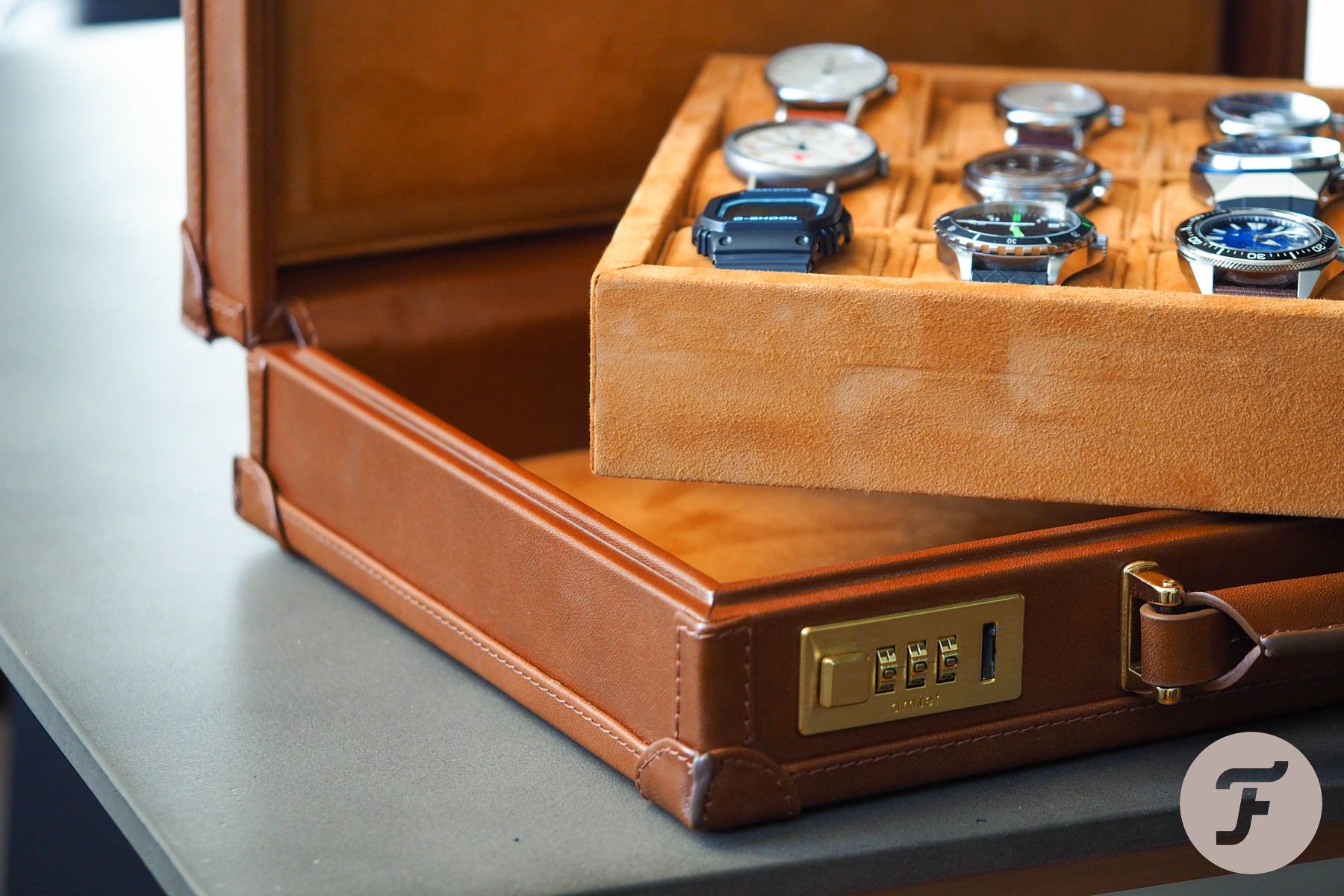 Customization and pricing
Müslüm and his team are happy to change the leathers, the linings, the hardware, and the combinations thereof as you desire. Every product is hand made after all, so there is no trouble in this regard. Simply shoot the responsive team an email and tell them what you want. Production is relatively swift. Most pieces are completed in about 6-10 days. Shipping is also prompt. The delivery of my cases (sent from Turkey to Germany) took less than a week via FedEx.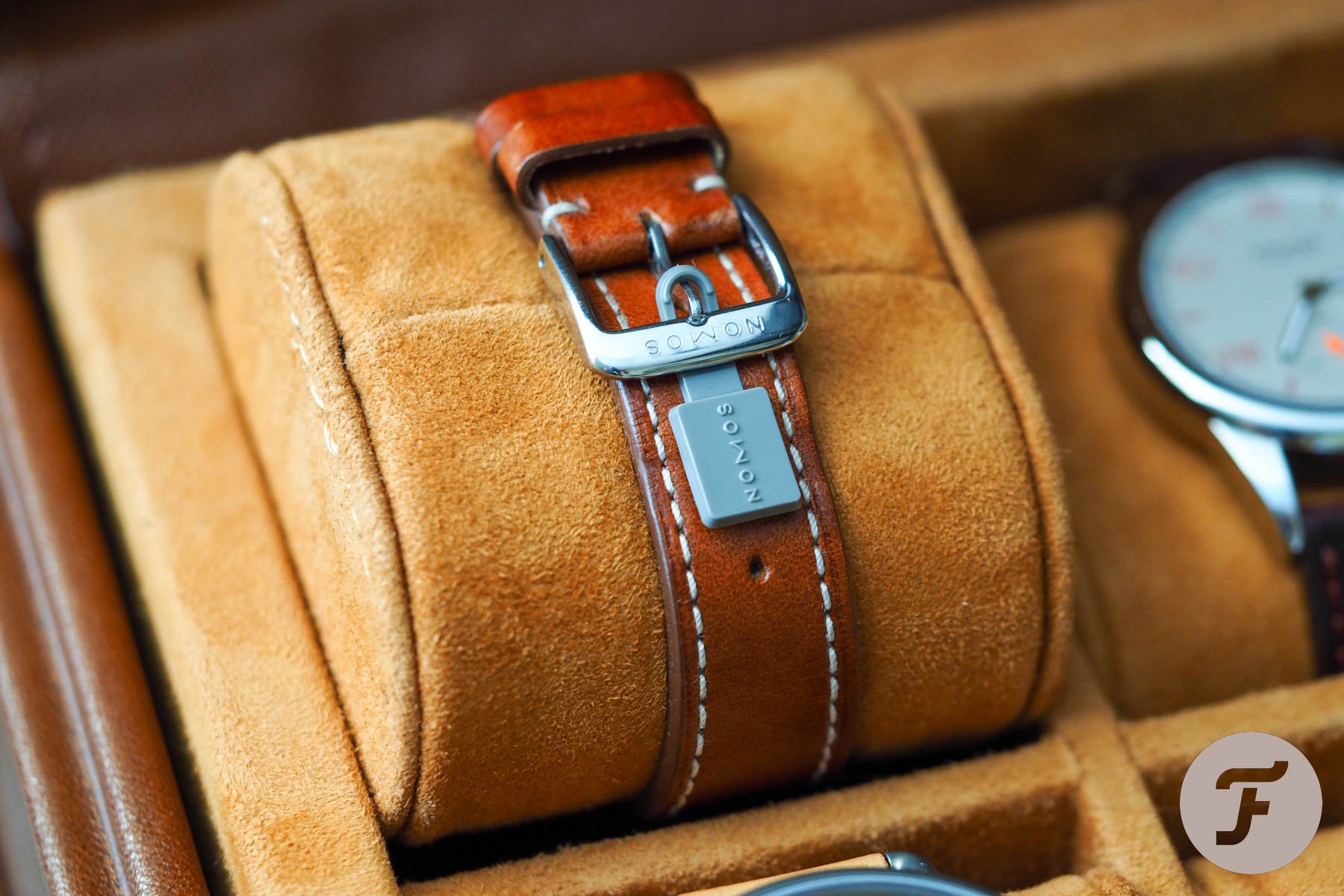 While these products certainly aren't the cheapest, they are definitely the best I've encountered in this price range. Of course, everyone's tastes are different. Some of you may find the €926,99 price tag of this case, in particular, a bit steep, but the refinement of it (and all of Bosporus Leather's products) can be seen in the details. The stitching is precise. The leather is beautifully tanned with well-selected cuts boasting an even grain. Pleasingly, the hardware is clearly good quality and not an afterthought. The branding is sympathetic and unobtrusive. And, finally, the service is excellent.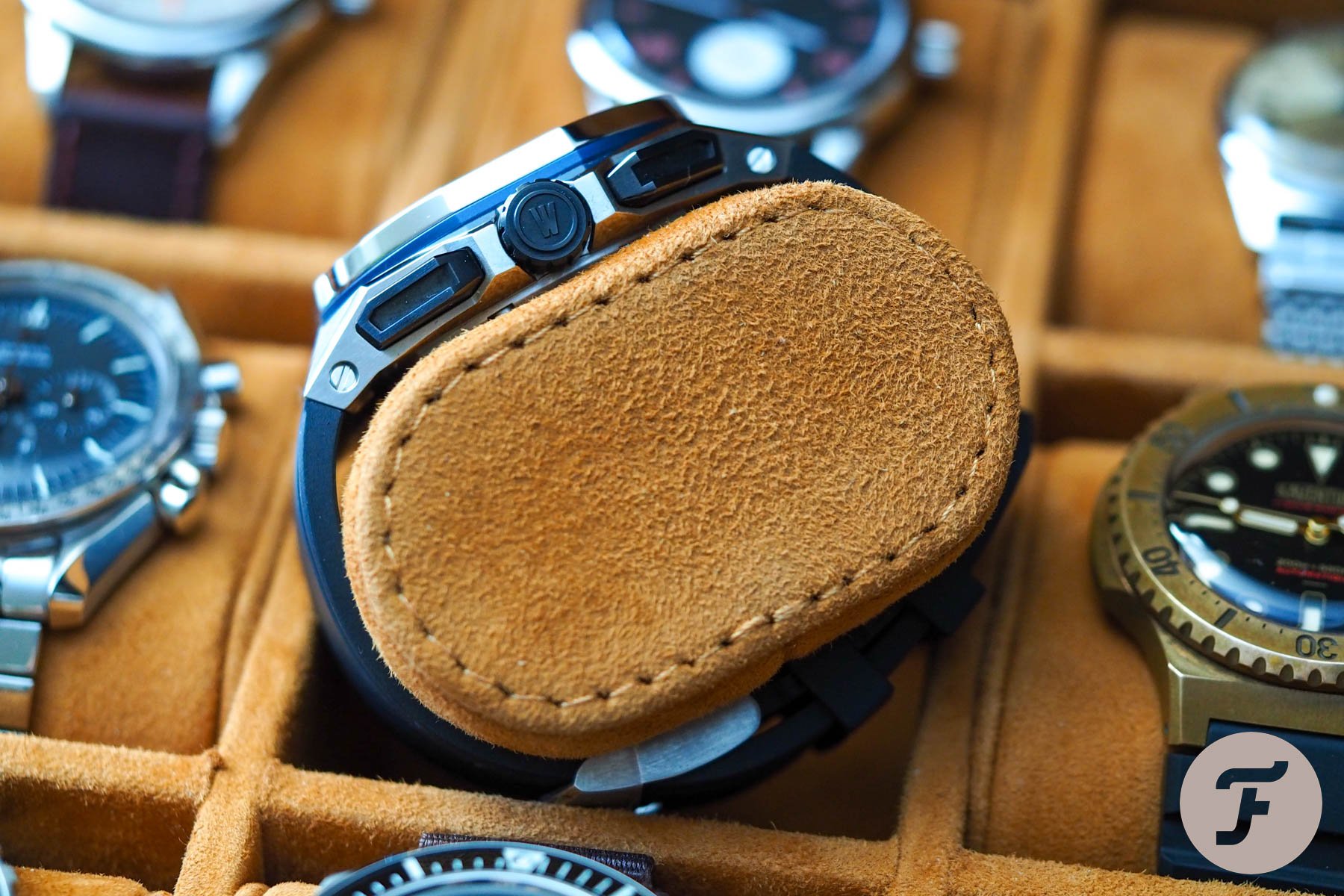 The best thing for small wrists since small straps…
I mentioned that I also ordered the 30-watch trunk from Bosphorus leather. Not only is this trunk much bigger, much heavier, and certainly grander than this case, the cushion size of the trunk is significantly larger.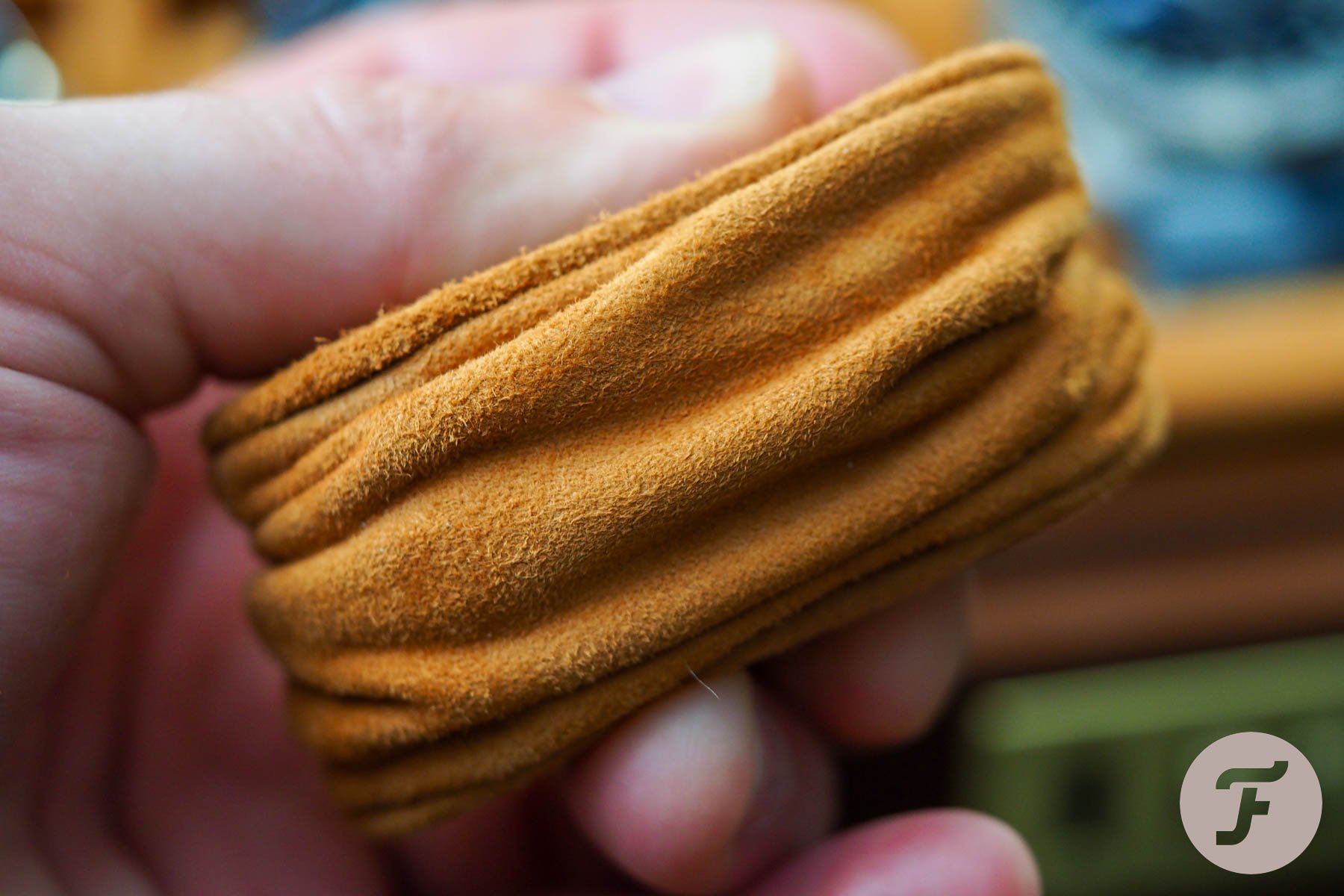 In my experience, I would say the cushions within the trunk are average and those within the Birmingham Leather box are small. I'm gauging this based on my 16.5cm wrist, which makes fastening my bracelet watches to most case cushions impossible. When it comes to the Birmingham Leather 15-watch case from Bosphorus, I had no trouble at all. In fact, the fit is absolutely perfect. Therefore, I would recommend this box to anyone who is similarly slim-wristed. Also, as you can see from the above picture, the cushions are sufficiently pliable. This means they can accommodate an even smaller wrist size. If your wrist is 17cm or above, however, I recommend the trunk.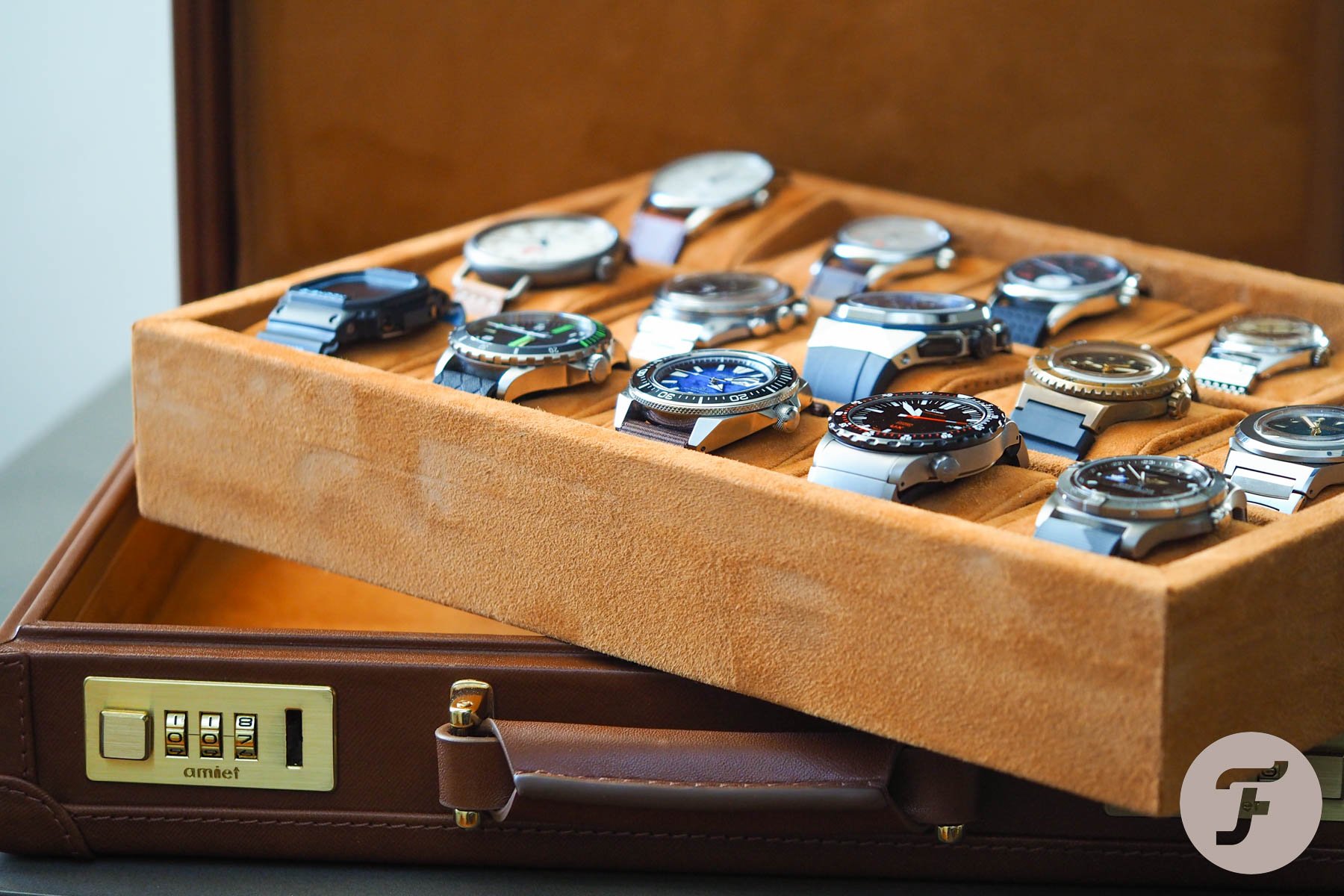 If you, like me, have been looking for an elegant, portable, forever home for your watches, I'd encourage you to check this company out. As the old adage goes, you get what you pay for. And, considering how much many of us have spent building our collections, does it not make sense to throw a little bit of extra cash at a fine way to display it? Even if it is for your eyes only… Learn more about Bosphorus Leather here. Check out other watch accessories on Fratello here.