#TBT Breitling SuperOcean ref 2005
A 60's Diver with a Modified Venus 188
"What are you going to write about a watch that so many people know?" my wife asks me this week. I told her to count all the articles written about Speedmasters.
These are my confessions
The Breitling SuperOcean ref 2005 you see here can take a break after 50 years of being ready to sink into 600 foot waters. It is not only because I do not dive, I do not swim! One would call me a perfect fit for this late 1960s diver. To be perfectly precise, I can't swim. Which means I can guarantee that this Breitling SuperOcean will never see water in the years to come. The closest it will get to the ocean will be stretching it here over the map. a map that took a few calls and a bit of driving around the city to source such a nicely patinated relic coming from the same era as the watch.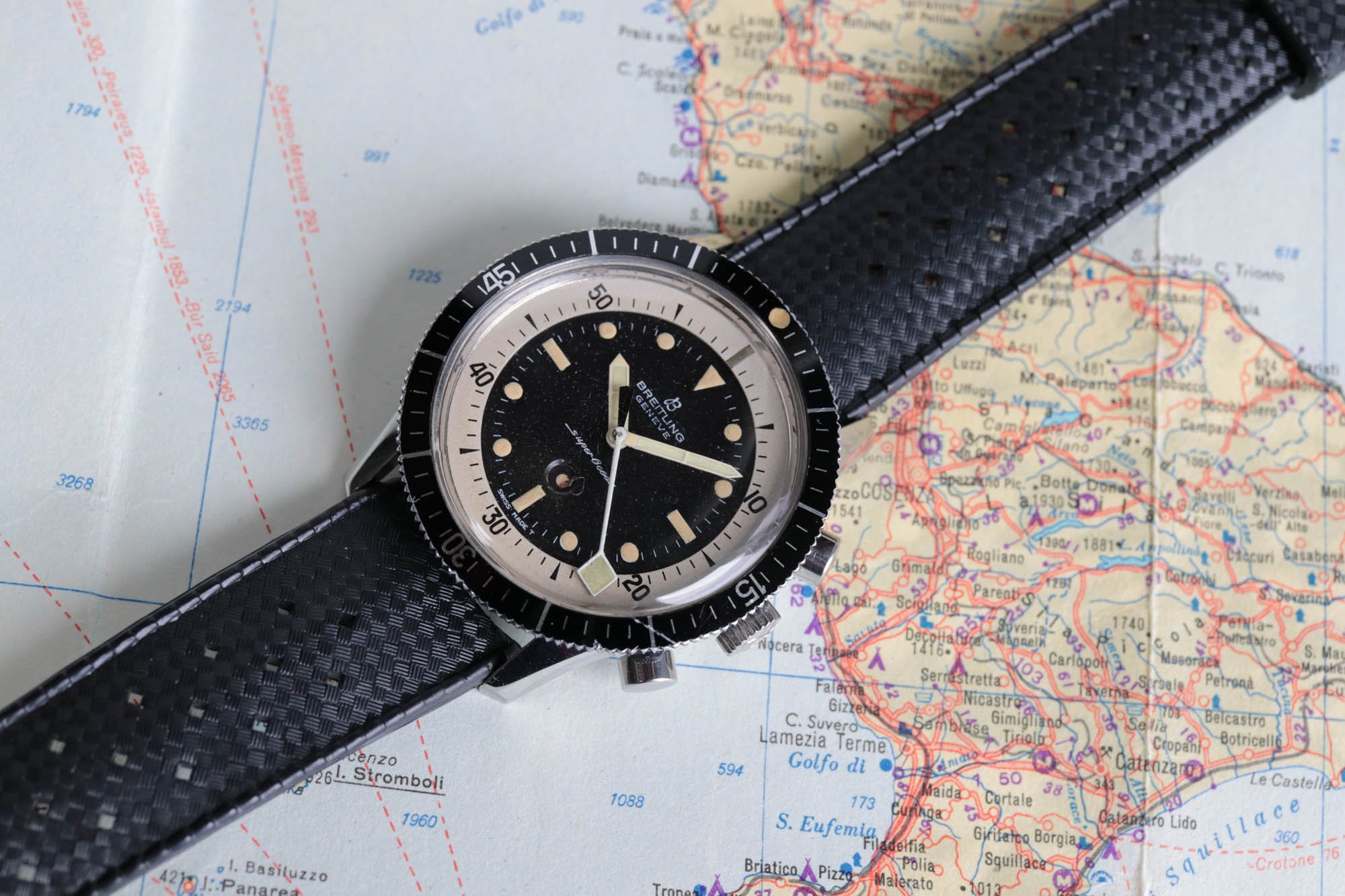 From the sky to the ocean
The first two references of the SuperOcean launched in 1957 took Breitling from the sky to unexplored waters. Unexplored, but starting to get crowded with strong characters such as the Rolex Submariner, Blancpain Fifty Fathoms or Omega Seamaster CK2913 as all were released the same year. You would need a considerable lump of cash today to get all four pioneers lined up on your watch roll. Every single model is daring in its design or construction. Today, 60 years since the release, you can clearly see that it was a period rich in creativity, with different brands coming up with ideas so bold they set trends for the next decades to come. The reverse panda, concave glass-protecting bezel and thin indexes longer than Uma Thurman's legs make the early Breitling refs. 807 and 1004 highlights of any auction.
Today's suspect ref. 2005
Seven years later, in 1964, Breitling officially introduced the new Breitling SuperOcean ref 2005 with a fat load of innovation, both constructional and functional. Forget the sublime lines or playing the under the cuff watch, let's throw in some newly thought-through machinery for a growing community of dive watch fans. If you study the SuperOcean down to its smallest details, you will realize how compact and simple it is, there's no pretending. The designer in my imagination says something like "Let's kill all the redundant bullshit such as the second hand," during a brainstorming session on the new ref 2005. Replacing the central chrono second hand with a single minute hand to measure time under the water was a surprisingly genius move.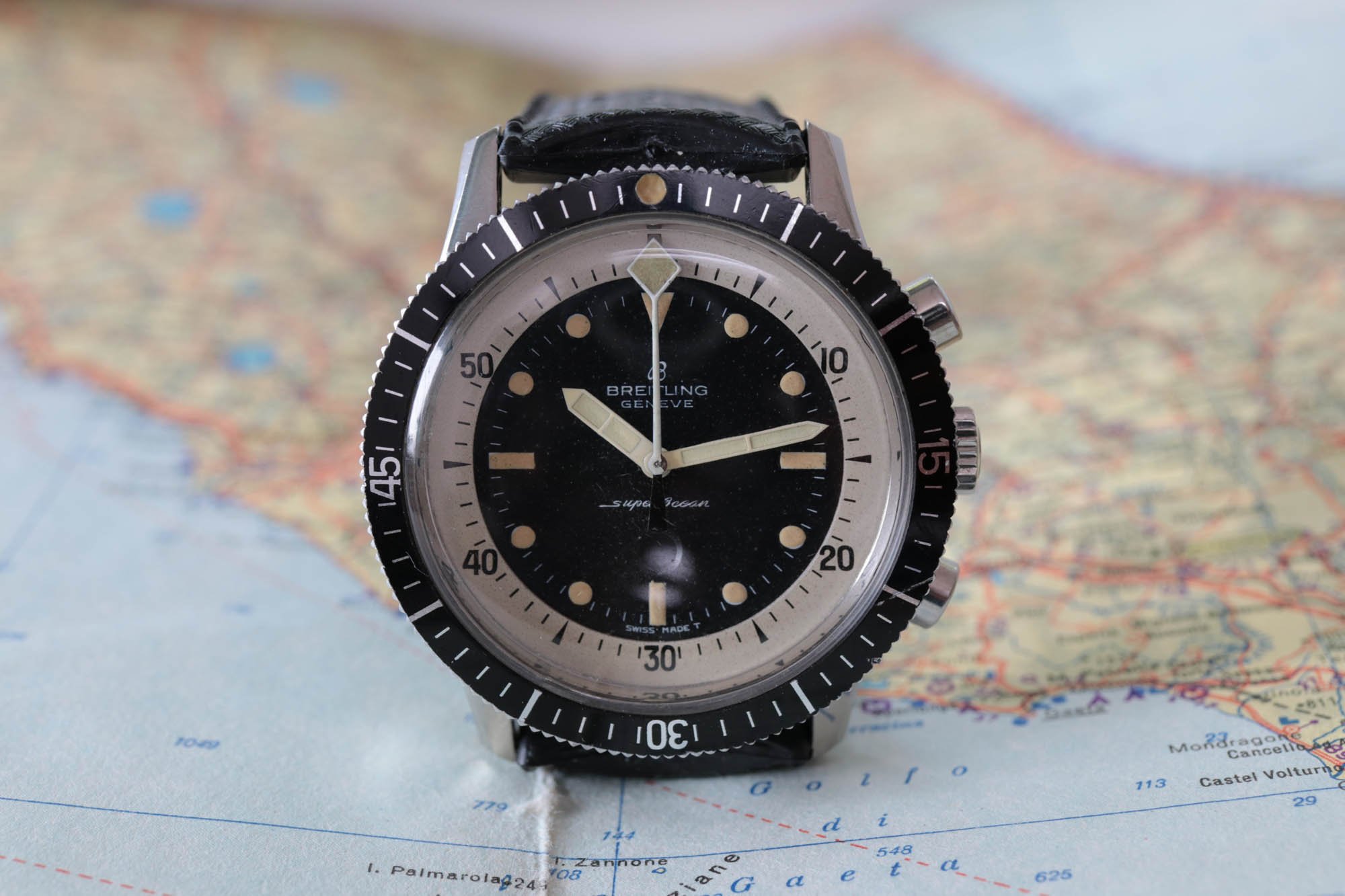 More juice to the SuperOcean
I always considered 1950-60s products being at least as designer driven as consumer driven. The variety and singularity of the divers from the late fifties confirms the creative freedom and construction originality of the time and this SuperOcean is no exception. The diamond shaped tip at the end of the minute dive counter crowns the chunky design of the Breitling SuperOcean ref 2005. It is so big you could easily flip pancakes with it. When you press the upper button, don't expect any immediate movement. I bet that before the Internet ruled the watch market and before vintage watches were cool, some of the 2005 refs ended up forgotten in drawers simply because when you tested them by pressing the upper button and resetting with lower button, the central chrono did not move at all!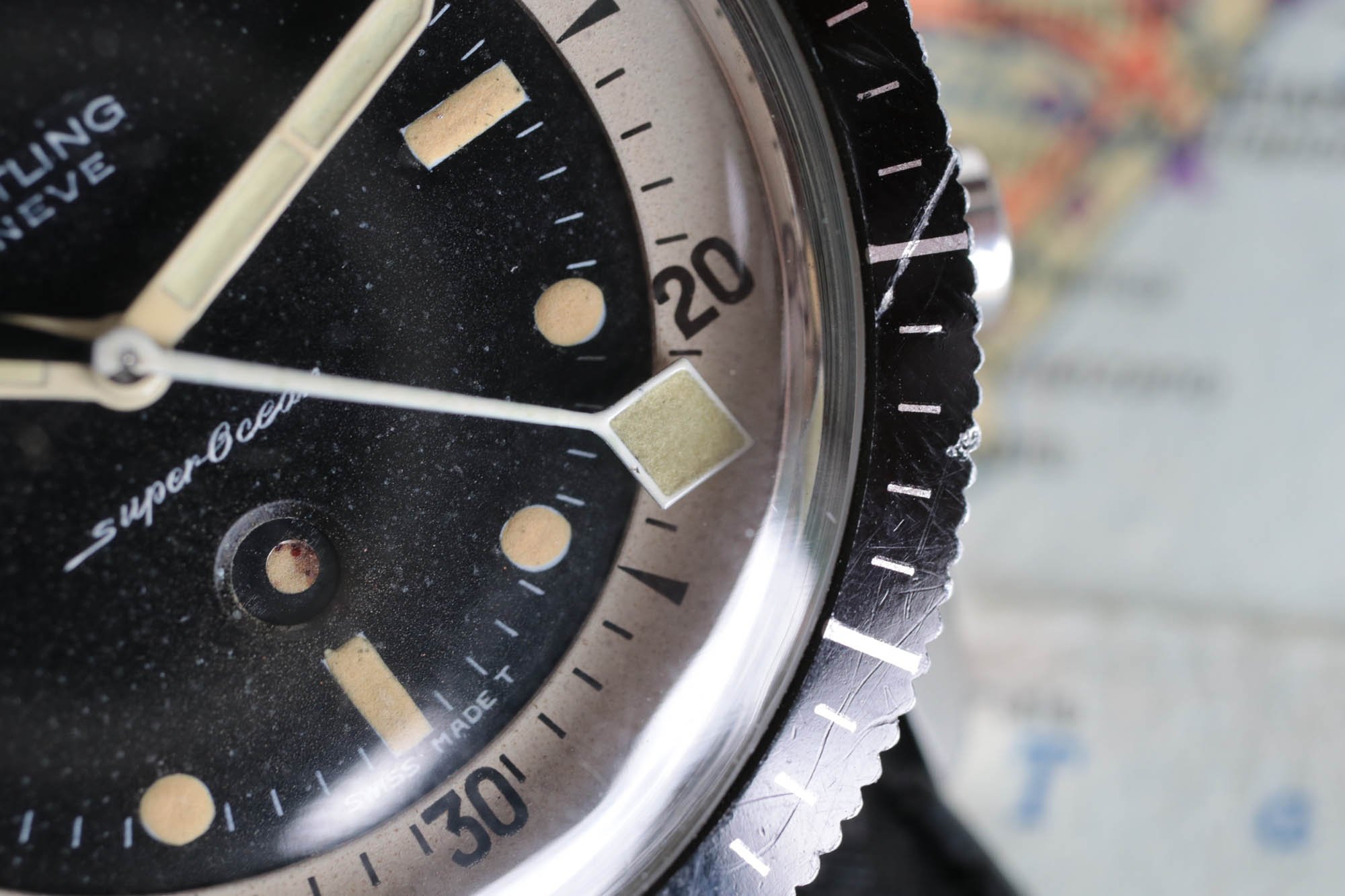 Mysterious window
Taking the second hand out gave the watchmakers a tough challenge in figuring out how to signify the activity status of the chronograph on the Breitling SuperOcean ref 2005. Everything was taken care of by an in-house modification of the Venus 188 and an additional aperture above the six. When the chronograph is disengaged this activity status window can easily be overlooked as it is filled with a flat black disc matching the dial tones perfectly. But press the upper push-button and the status indicator jumps into the second of its three positions. The large luminous dot over the whole window tells the diver that the chronograph is running. Seeing the small central luminous dot means that the central hand counting the dive time is in a frozen position. So simply joyful that you will enjoy playing with it even if you are not diving at the moment.
The only issue
So much work to get less? Less hands maybe. I don't know how much thinking went into suggesting a 42mm case for a chronograph with no sub-registers in those times. And how much courage was needed to sign off on it for real production. Jumping back to today, I always loved the design and functional ideas of the Breitling SuperOcean ref 2005, but I always thought the diameter was just too big for my not even 170 cm tall stature. I was so wrong. Steep short lugs with a space for 22mm spring bars give the watch a surprisingly comfy wear. The only objection I would raise comes to my mind every time I have to wind the ref 2005. Because of the bezel comes out of the case lines, the crown feels a bit sunk and makes winding a more academic task than usual.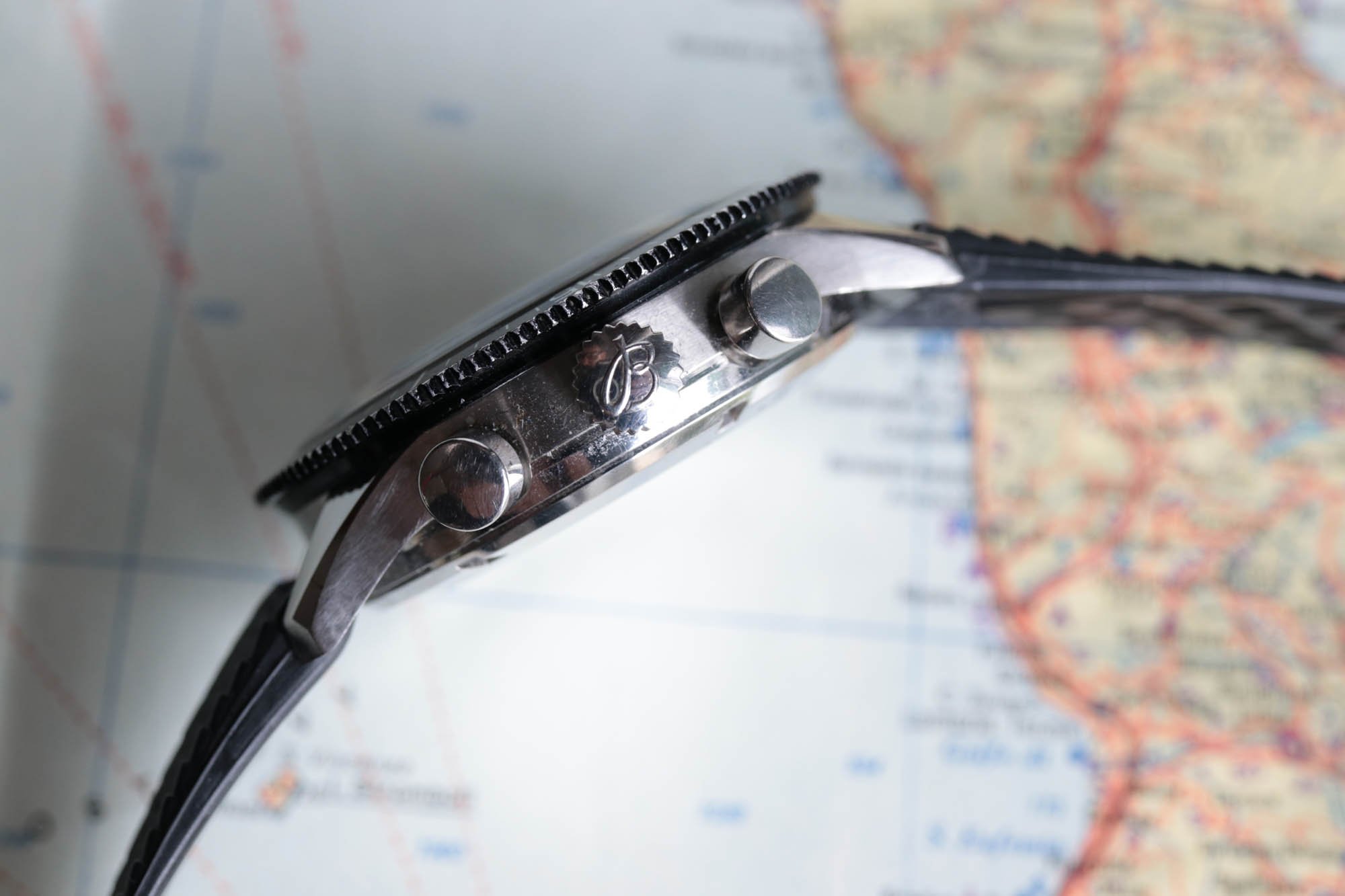 Thinking about the purchase?
I spent some quality time on WhatsApp with respected collector and traveling encyclopedia Fred Mandelbaum (@watchfred) who has owned and/or inspected many SuperOceans and was featured in our Breitling Expert Interviews article. Beware of pieces that appear to be the most intact upon first sight. Perfectly matching lume would be a relume indicator, as the color and patina differences between hands and indexes is very typical, including slight differences on the diamond tip. Yet we have to add that if you would like to explore the wildest extremes of patinated tritium and aging from green to yellow, you would hardly find better studying material than the Breitling SuperOcean ref 2005.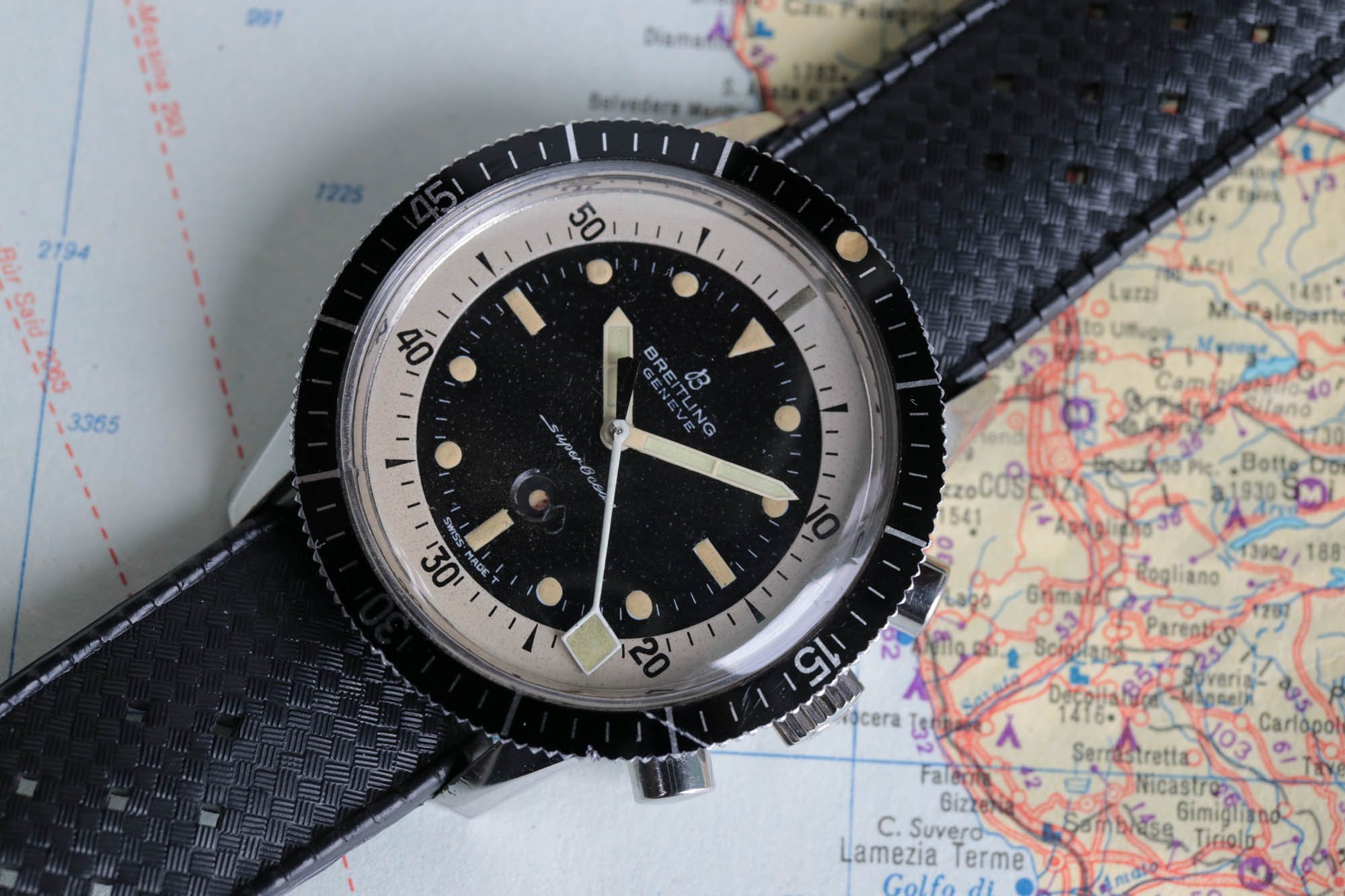 Perfectly matching lume would be a relume indicator, as the colour and patina differences between hands and indexes is very typical.
Good to know
There are three versions of the Breitling SuperOcean ref 2005. As visible on macro shots of an examined Mk1example, the movement is marked 7731 (as a result of Venus being bought over by Valjoux). If you'd find an Mk1 with 7731 markings too, you are probably holding a 1967 and later model, not the early 1964 – 1966 Mk1. As Fred highlights, do not forget that the case serial does not imply the assembly date. The Mk2 that came around 1970 had a sweep second at 9, different hands style and for me it represents a slightly different story.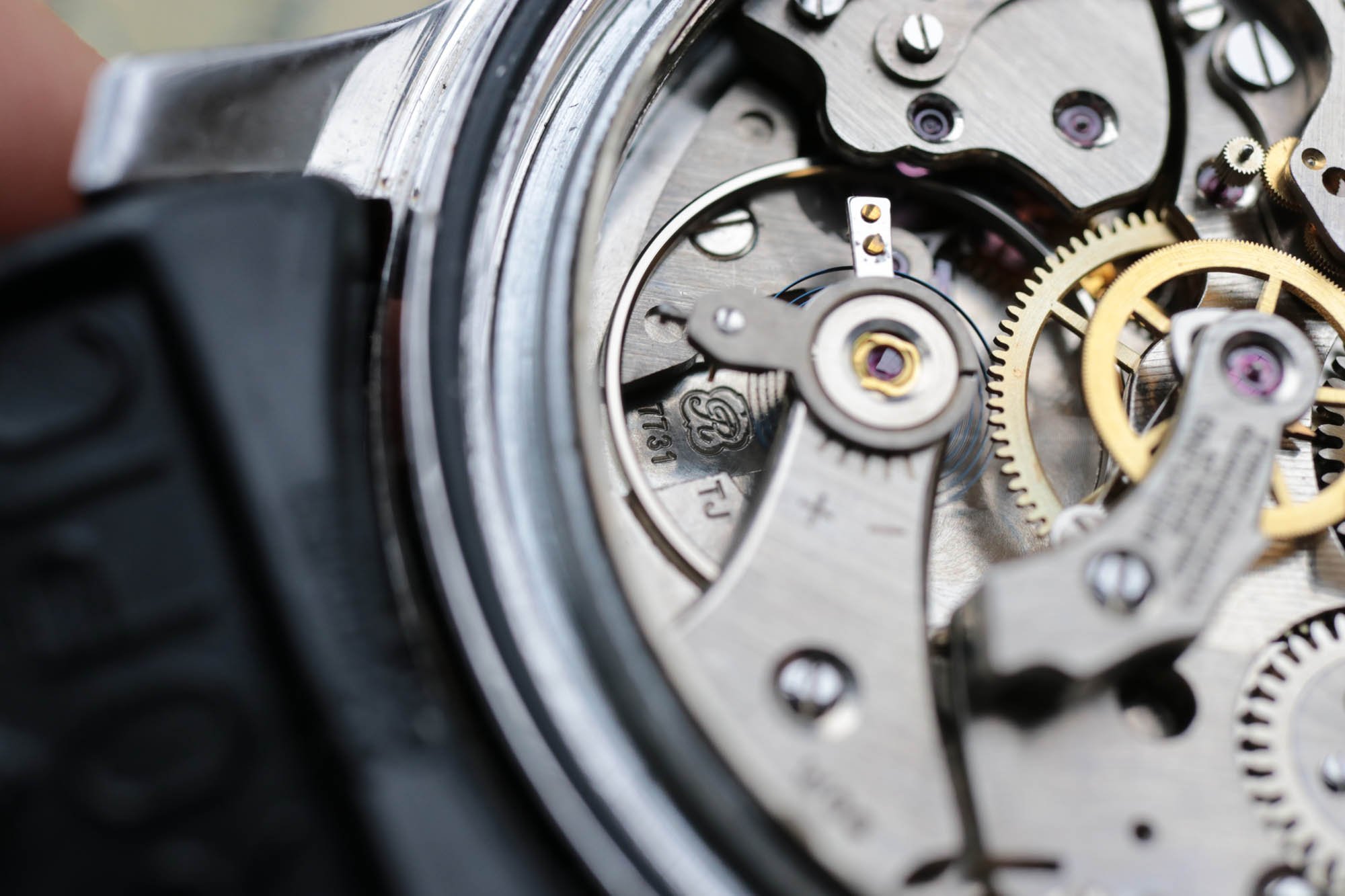 Bezel type fights
I do mention Mk2 here as it brings some firing disputes to particular Mk1s sold in the past or being sold now. As you can see on the picture below, my SuperOcean Mk1 came with a yachting bezel. A lot of sellers selling Mk1 claim that yachting bezels are original to the Mk1 Breitling SuperOcean ref 2005, but there is no catalogue shot proving that. Mk1 originally came a diving bezel only. Full stop. All other explanations are just hypothetical workarounds for yachting bezel self-justification on the Mk1. The milder of those explanations count on market overlaps as the Mk1 and Mk2 might have been available at the same time at the same shop. Those workaround stories suggest seeing a picky customer insisting on bezel swaps (as the Mk2 bezel fits the Mk1 perfectly and vice versa). A simpler explanation would be that bezels were changed with later yachting replacements during regular service.
Your options
Diver or yachting bezel, you can enjoy the watch on whatever bezel. I liked the diver bezel more and wanted to have it as a factory setting, so I asked Fred to help me source an original one. Once he did, we just made a swap and I do enjoy having the SuperOcean on its original bezel as it is seen in catalogues.
SuperQuestion
Speaking of catalogues here, there is one old SuperOcean 2005 manual available online that might give you unease. Or confusion at least. It shows the Breitling SuperOcean ref 2005 with a thick crown, thin hands and no diamond tip. When I asked Fred about this one, he said he knew I would ask that question. No big deal – this has never been seen in reality, so they probably worked with some prototype pictures and it got out.
SuperOcean in a Bond movie?
I also asked Fred to pull some unknown stories about the SuperOcean. It was heard that the Breitling SuperOcean ref 2005 was used in a James Bond movie by some smaller character. If you would you like to help the research, feel free to plan some movie nights and try to spot the SuperOcean on actors' wrists. It will be just another refreshing fun fact to be added to the already spicy story of this watch.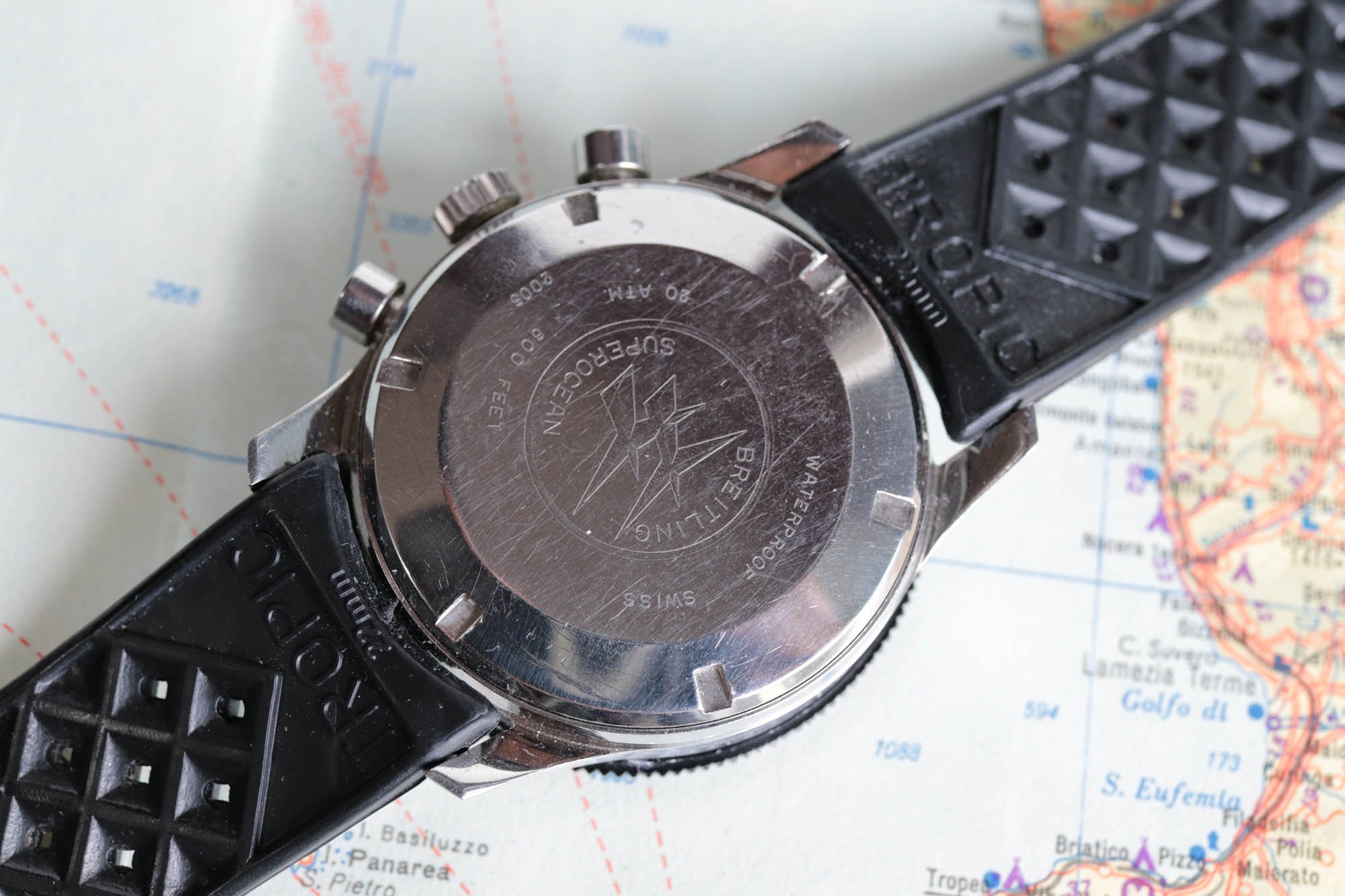 Verdict
I would give 10 euros to every rare voice that would shout Breitling after being asked to name their top-shelf vintage diver because there wouldn't be that many. It's all a bit unfair after judging the uniqueness of the Breitling SuperOcean ref 2005. Despite the fact that the SuperOcean ref 2005 hasn't had huge propaganda, it is becoming a more sought-after timepiece that grows on value and isn't easy to source in honest condition.
Watch specifications
Dial
Black with Tritium lume and a white outer minutes ring
Case Material
Stainless Steel
Case Dimensions
42mm Diameter, 22mm lug width
Case Back
Stainless Steel Screw-Down
Movement
Venus 188, Manual Wind with Central Hand minutes counter. Aperture above 6:00 shows if timer function is off, running, or frozen.
Water Resistance
600 feet
Strap
Rubber, Tropic strap
Functions
Time, 60-minute counter and bi-directional rotating dive bezel