Bremont ALT1-WT World Timer Review
Besides a chronograph complication, I tend to have a weak spot for watches that can indicate additional time zones. Having travelled quite a bit through different time zones in my previous field of work, I understand the importance of being able to see the actual time in other parts of the world in a glance. It was with great pleasure that I've reviewed World Timer watches before here on Fratello Watches and basically asked Bremont if they could provide me with their ALT1-WT World Timer watch. And so they did. In this article I will share my experiences with the Bremont ALT1-WT World Timer accompanied with the photos that Fratello Watches' Bert took in his studio.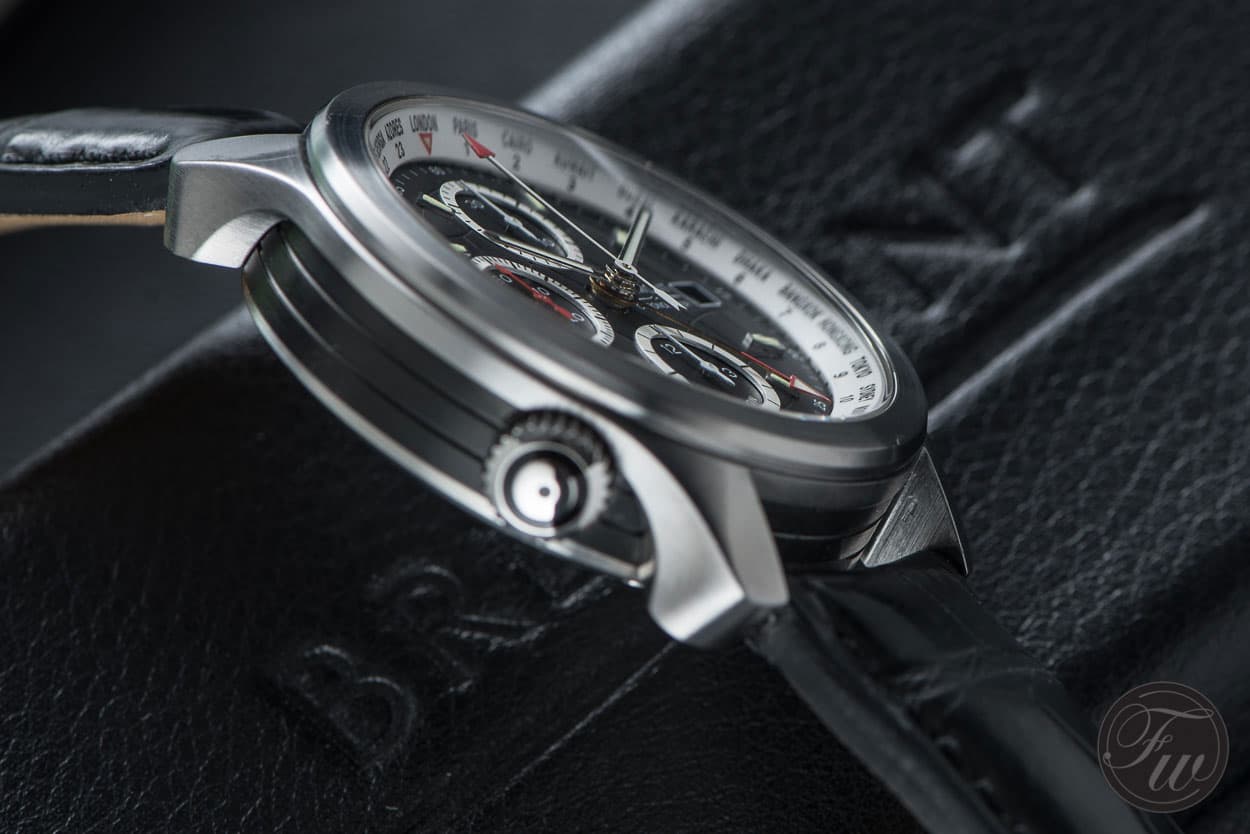 Bremont ALT1-WT World Timer
The ALT1-WT World Timer is the best of (my) both worlds. A world timer watch with a chronograph. Besides the date feature, the chronograph is in my opinion the most useful complication for normal / daily use. I seem to use a chronograph for all sorts of purposes. When my daughter was still drinking milk bottles, the drinking time was essential so a chronograph came in useful. However, I also use the chronograph when I am in the kitchen or some times when I want to know how long it takes me to get somewhere so I can use this for scheduling future visits. My apologies that my use of the chronograph does not include space crafts that need to go back to Earth or timing lapses on race tracks. My life as a watch blogger is probably less extravagant as you might think.
Starting with the most essentials things when it comes to a watch, the size and general specifications. The Bremont ALT1-WT World Timer chronograph has a 43mm diameter and measures 16mm in height. I consider 43mm to be a very wearable size these days. Certainly no small watch but hardly an oversized watch either. Of course it depends on the size of your wrists, so I always recommend you to try a watch before you buy it.
The case is made out of steel and has the specific Bremont Trip-Tick construction which I explained to you a while ago (here), it means that that the watch case consists of three parts. A central body section for which several different metals can be used (e.g titanium) to alter the watch's weight, a hardened stainless steel bezel with sapphire crystal and a sapphire crystal case back. The barrel of the case has received a DLC treatment to make it even more scratch resistant.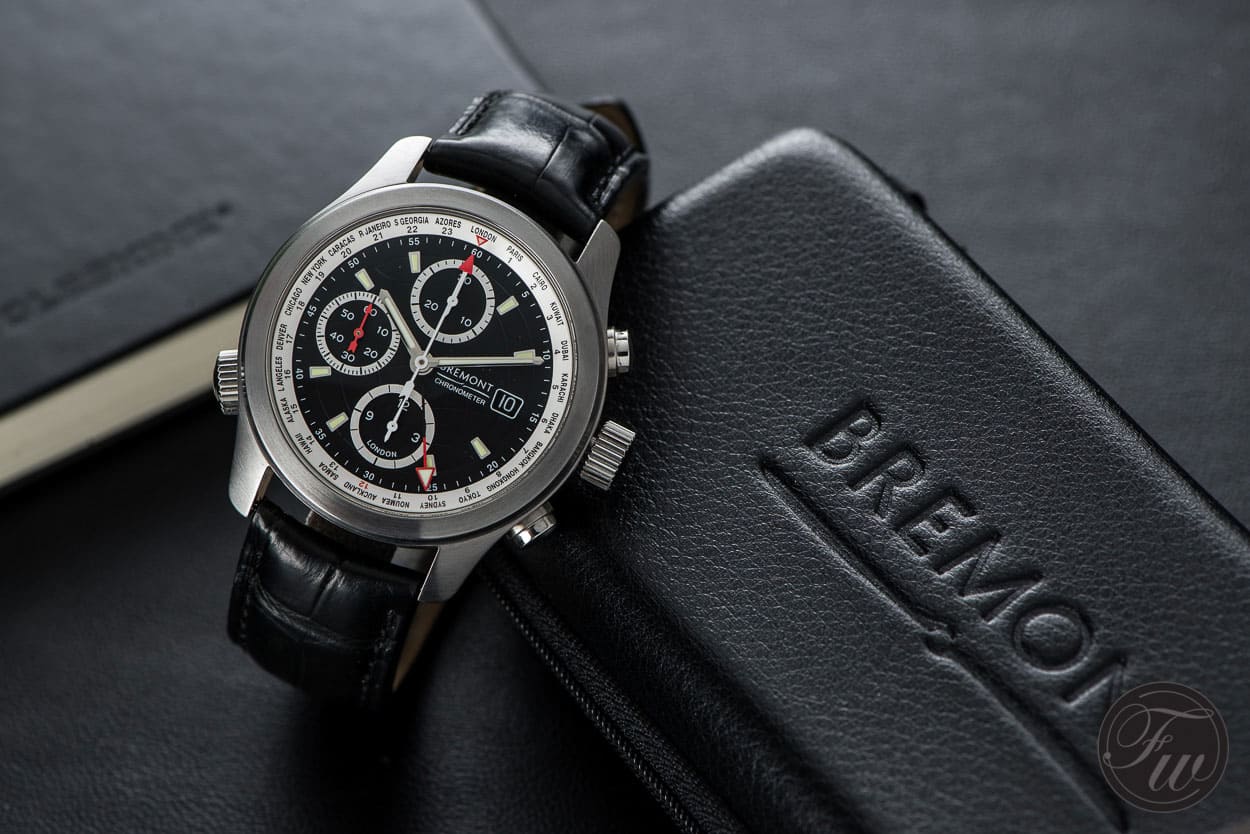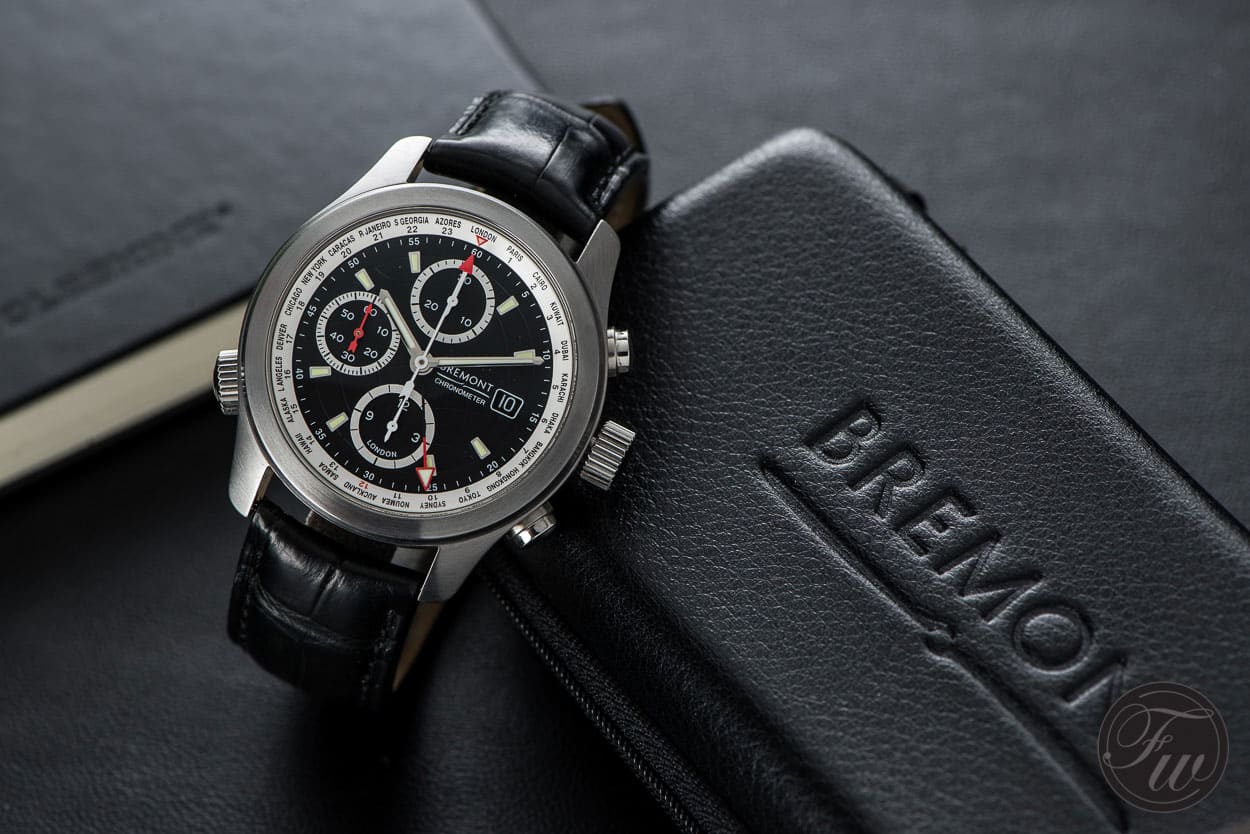 As you can see, the watch has 2 pushers and 2 crowns. The two pushers need to further explanation, but the crowns probably do. The crown at 8 o'clock is used to set the internal bezel with all the different time zones. Of course not all time zones there are, as some of them have a 15 minute or 30 minute difference. The bezel turns very smoothly and every minute generates a 'click' for your convenience and pleasure. It sounds a bit nerdy, but feeling and hearing the clicks is a rather important feature with turning bezels in my humble opinion. I've owned my share of modern sports Rolex watches with turning bezels (with clicks) and am now down to one Rolex GMT-Master 1675 which has no clicks during operation, it's really less convenient.
The watch is really easy to operate, just use the crown at 8 o'clock to rotate until the city of your choice is located at 12 o'clock and the GMT hand will indicate the time (hour) in that particular time zone. A very convenient complication, especially when you are often in different time zones. Or dealing with family or business relations who are located in other time zones than your own.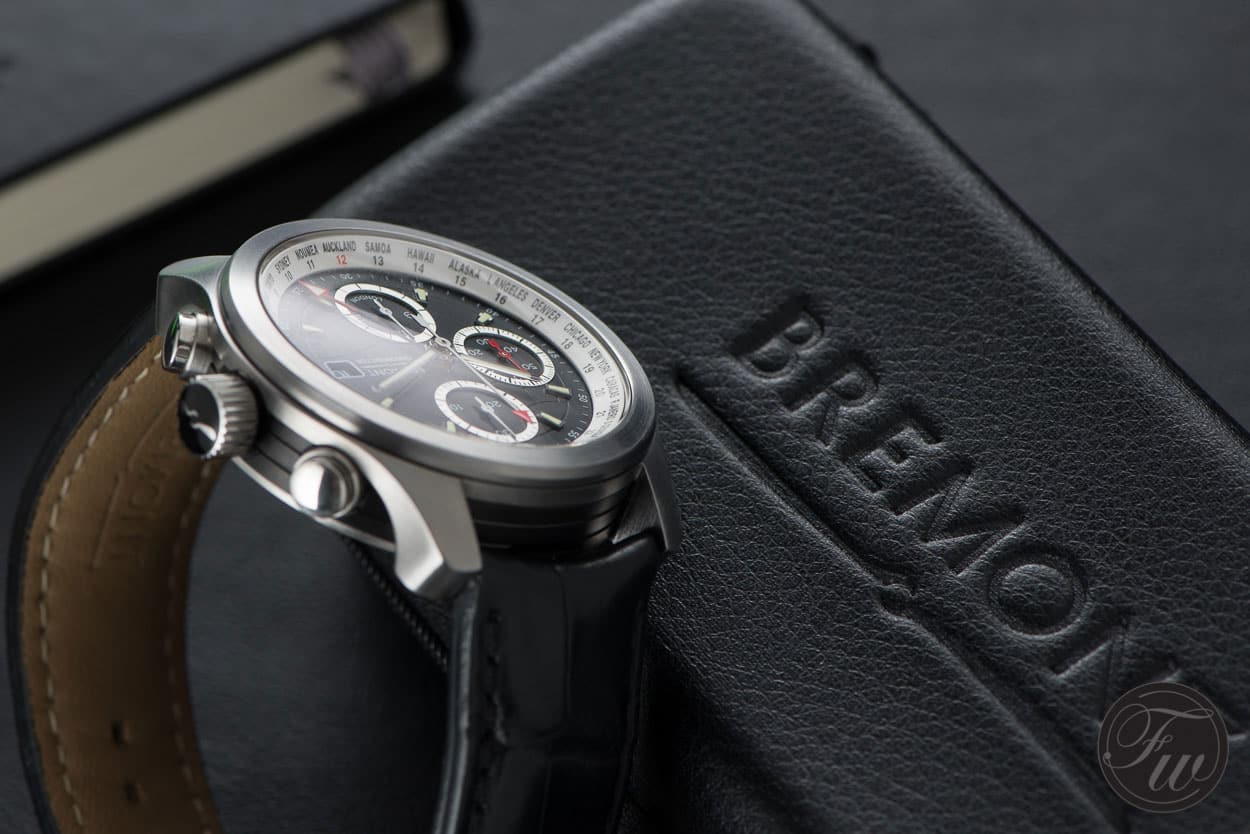 Bremont's ALT1-WT World Timer uses a fairly standardized movement as a basis. Their caliber BE-54AE is based on a movement that perhaps has one of the most proven track records ever; the ETA/Valjoux 7750. Used in many other watches from different brands, also as a basis for much more complicated watches. Bremont has added a module to make it a world timer as well. As you can see, Bremont has decorated and skeletonised the winding mass (or rotor). The movement has a nice finish and features blued screws. A very nice optical effect. As noted on the dial and case back, the movement is rated 'chronometer'.
Did you know: The Contrôle Officiel Suisse des Chronomètres (in short COSC), the Official Swiss Chronometer Testing Institute, is the institute responsible for certifying the accuracy and precision of wristwatches in Switzerland. There is a different framework for mechanical watches than for quartz watches (of course), where the mechanical watches have to perform between -4 and +6 seconds deviation per day, quartz watches have only a 0.07 seconds per day margin. The use of 'chronometer' on a dial is only allowed when the movement has been tested and certified by the COSC. A full overview of the COSC framework can be found here. The brands with most chronometer certified watches is Rolex. A common newbie mistake is that a chronograph is referred to as chronometer and vice versa. Now you know.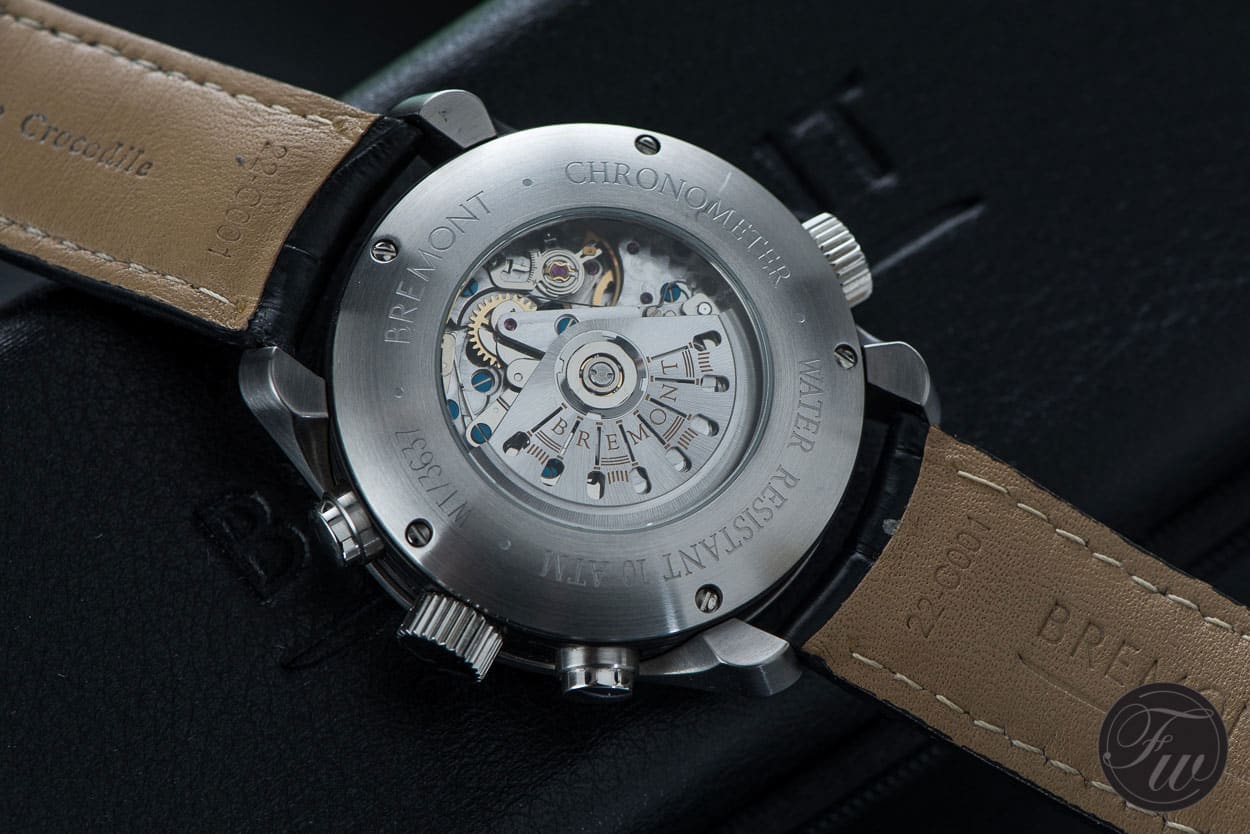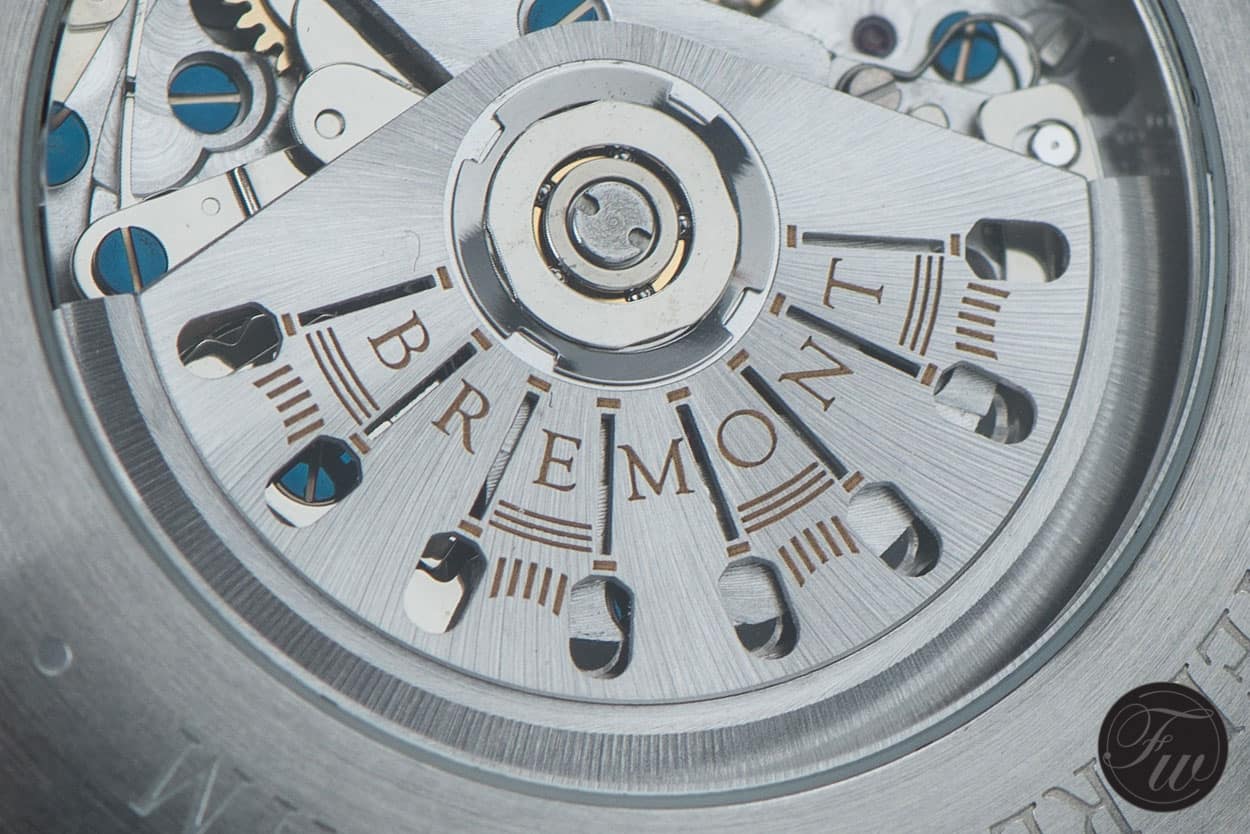 When it comes to wearing the Bremont ALT1-WT watch, I've to say that the size is very easy to adjust to. Even though I wear smaller watches most of the time. The dial is very legible (important!) and although it appears to be a bit cluttered at first – mainly due to the city disc – it is actually very easy to read from. The chronograph second hand has a red arrow as well as the GMT hand, but the GMT hand is filled with SuperLuminova within the triangular shape where the chronograph second hand has a solid red triangle. The confusion will never happen again after you realized this. Another reason why the dial is very readable, is the use of silver white rings around the sub dials. It makes it easy to focus on each of them. The dial has this wonderful line-drawing of our precious globe as a background, which is not disturbing at all. Great work. The date aperture is located at 3 o'clock and has an odd looking frame, but somehow it does look quite good.
The pushers of the chronograph are very nicely done and easy to operate. A firm click will start, stop and reset the chronograph. Although I love the silky feel of a column wheel chronograph pusher, this one really will let you know it works.
We received a version on a black alligator strap but the watch is also available on a calf strap. The calf strap has nicely curved ends that will match the case of the watch. The alligator strap also has curved ends, but there is still a bit of room between the strap and the case. Personally, I don't mind this but I know that some of you out there want a strap that actually closes the gap. Up to you. The buckle is a very nicely crafted stainless steel model, with 'Bremont' engraved in it as well as the propellor logo. The strap itself is thick and solid and feels very nice. There is a lot of difference in (alligator) straps out there unfortunately. Some will feel like carton from a shoe box and others have this soft and padded feel to them. Bremont definitely uses the right supplier when it comes to these alligator straps. We will feature a recurring strap topic soon on Fratello Watches, to help you finding the right strap for your watch. More soon.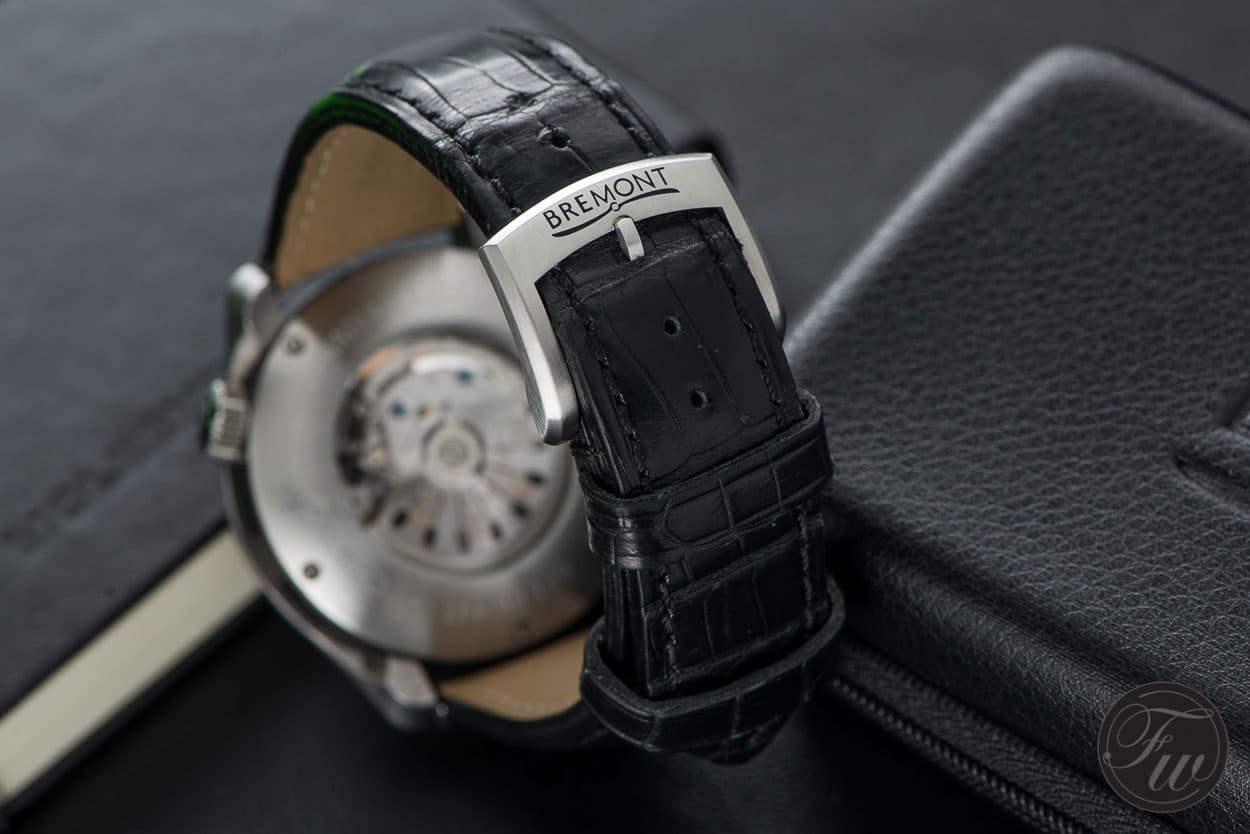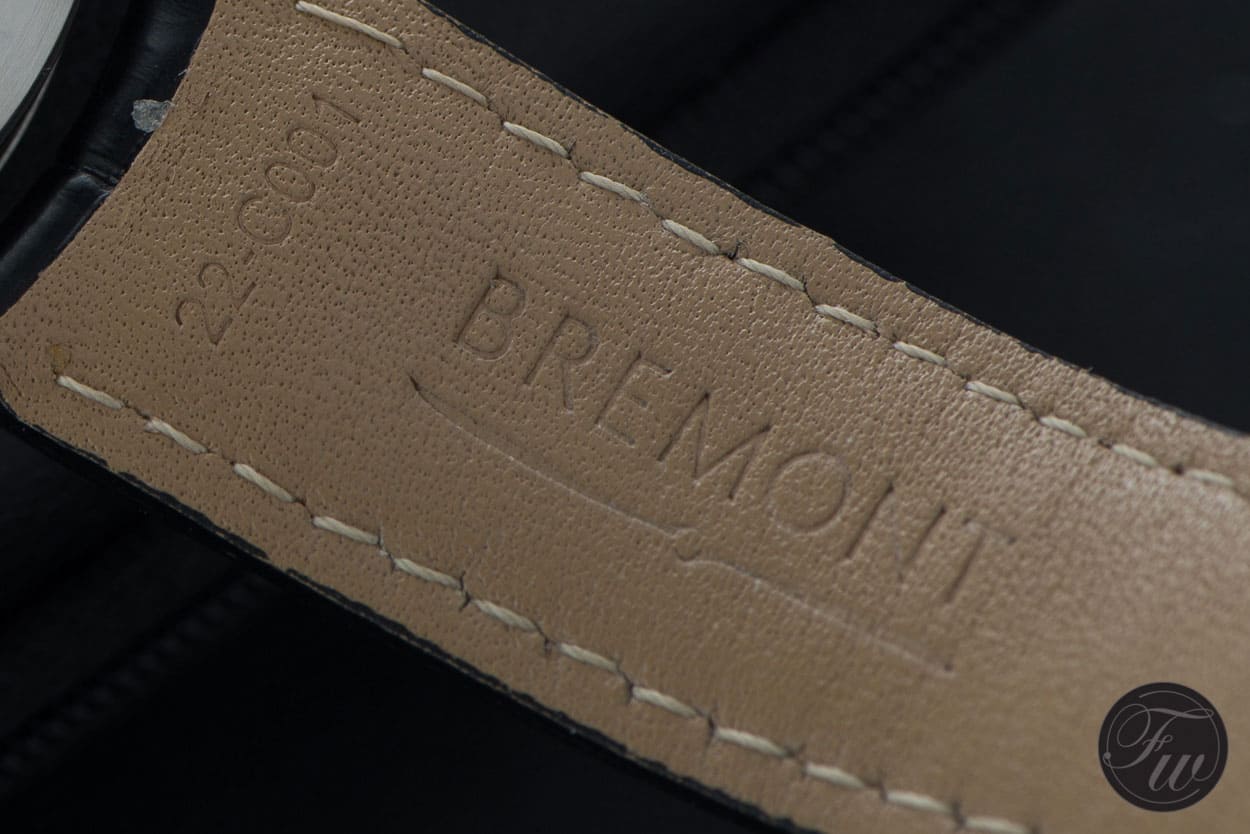 Note that the watch is water resistant to 10ATM or 100 meters. However, never go swimming with a watch on a leather strap. Just don't. Take the 100 meters for granted and be reassured that if you fall into a pool or whatever, your watch will survive. The only thing that probably don't survive the water is the strap. However, you can replace it through a Bremont dealer or boutique.
A very important aspect of a watch is the price, of course. I was happily surprised to learn that this Bremont ALT1-WT World Timer has a friendly price tag of € 5035 Euro including VAT (approx $6700 USD according to today's conversion rate). Compared to other world timer watches from other brands, it is an attractive watch. A Girard-Perregaux WW.TC, Jaeger-LeCoultre Master Geographique and of course the Patek Philippe World Time have (much) higher price tags (and in-house movements) and admitted are different watches, but there aren't that many around in this price range. In this price range, you will find quite a bit of GMT watches like the Rolex GMT-Master 116710, a Sinn Finanzplatzuhr, Omega Seamaster Planet Ocean GMT and so on. A few exceptions are the Nomos Weltzeit Uhr and the Baume & Mercier Capeland World Timer who are in a similar price category and offer a true World Timer complication.
There are three variations of the ALT1-WT World Timer watch. You've now seen the black dial version, but there are also a blue dial and a white dial version. The black and the white version has red accents while the blue dial version has yellow accents. An interesting combination that certainly is interesting to investigate if you are in the market for the World Timer watch.
In the end, the Bremont ALT1-WT World Timer is a great piece for those who want a watch with a nice complication. In fact, you get two complications (three if you include the date) for a very reasonable price of € 5035 Euro. What's more is that you will receive a watch that you won't see as often as other usual suspects in this price range. So you will also buy a bit of exclusivity when you decide to go for a Bremont.
Specifications of the Bremont ALT1-WT World Timer can be found on the official Bremont website.