Meet The Bvlgari Octo Finissimo Perpetual Calendar In Two Different Materials
Available in titanium and platinum
Let's forget about the 60 international awards (and 7 world records) for the Octo Finissimo watches for a brief moment. That's important, especially for marketing purposes, but, in the end, it's the watch itself that counts. Today, we bring you the latest iteration of this new icon: the Octo Finissimo Perpetual Calendar.
Bvlgari's Octo Finissimo has grown up to become emblematic of the brand in an incredibly short period. That is a true accomplishment, especially today in an era in which many brands claim to have an "icon" (some brands even going as far as to name their product line "Aikon"). But icons are special. Icons are not simply anointed as such by marketing execs drunk on wishful thinking. Their design must be unique. Their silhouettes recognizable from across a crowded room. Simply put, an Icon must be like nothing else in soul, style, and execution.
Examples of iconic watches are the Cartier Tank, Rolex Submariner, Omega Speedmaster, JLC Reverso, Patek Philippe Nautilus, and the  Audemars Piguet Royal. I think it is already safe to add the Octo Finissimo to that line-up. This week, Bvlgari has added to the watch's legacy. Two new perpetual calendar watches make their bow. One in titanium, and one in platinum.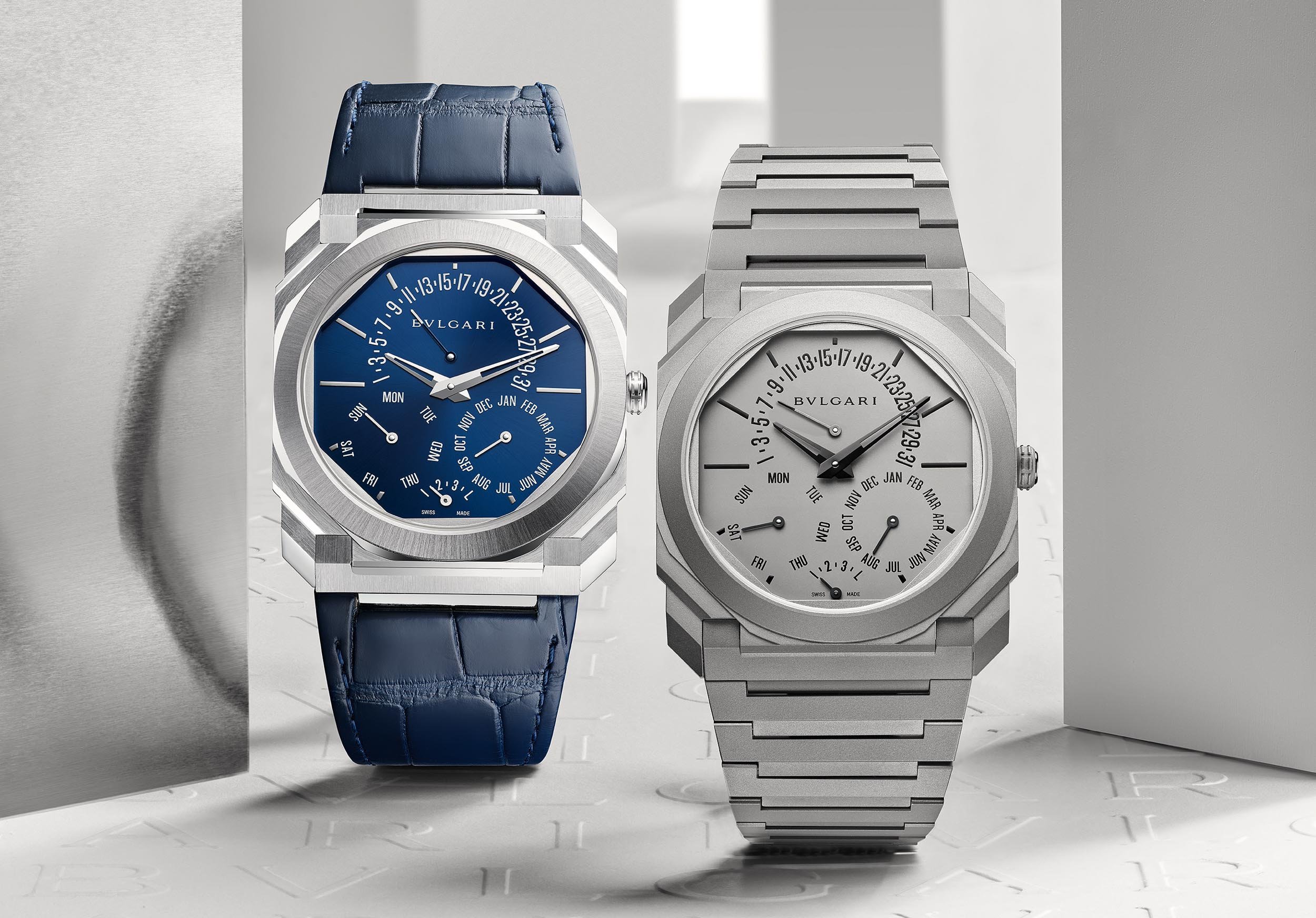 Bvlgari Octo Finissimo Perpetual Calendar
We know the drill, I think. These watches have a case that is just 5.80mm thick (or thin) with a diameter of 40mm. For such a thin case, the movement needs to be even thinner. Bvlgari developed a self-winding movement that measures just 2.75mm in height, with a perpetual calendar complication on board. That means there's an indication of hours, minutes, retrograde date, day, month, and retrograde leap year. Oh, and there is a 60-hour power reserve. In total, the movement of the Octo Finissimo Perpetual Calendar consists of 480 parts.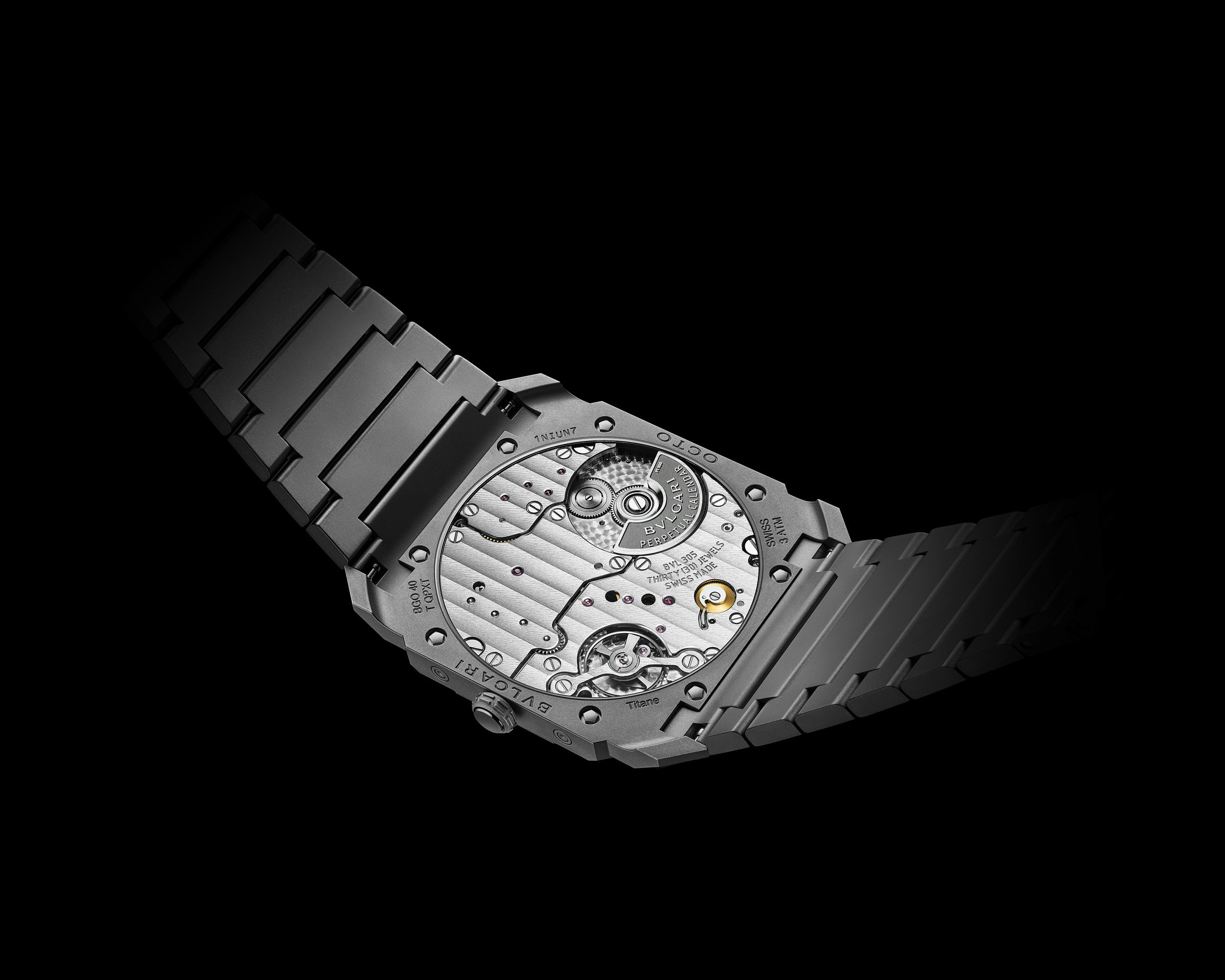 Platinum and Titanium
The dimensions, complications, and specifications are the same for the Bvlgari Octo Finissimo Perpetual Calendar, whether it is in titanium or platinum. There are quite a lot of aesthetic differences, however. The blue lacquered dial and the stark sandblasted titanium dial stand in opposite corners of the ring. Bvlgari's platinum edition of the Octo Finissimo Perpetual Calendar comes on a blue alligator strap. Meanwhile, the titanium model is delivered on the comfortable titanium bracelet.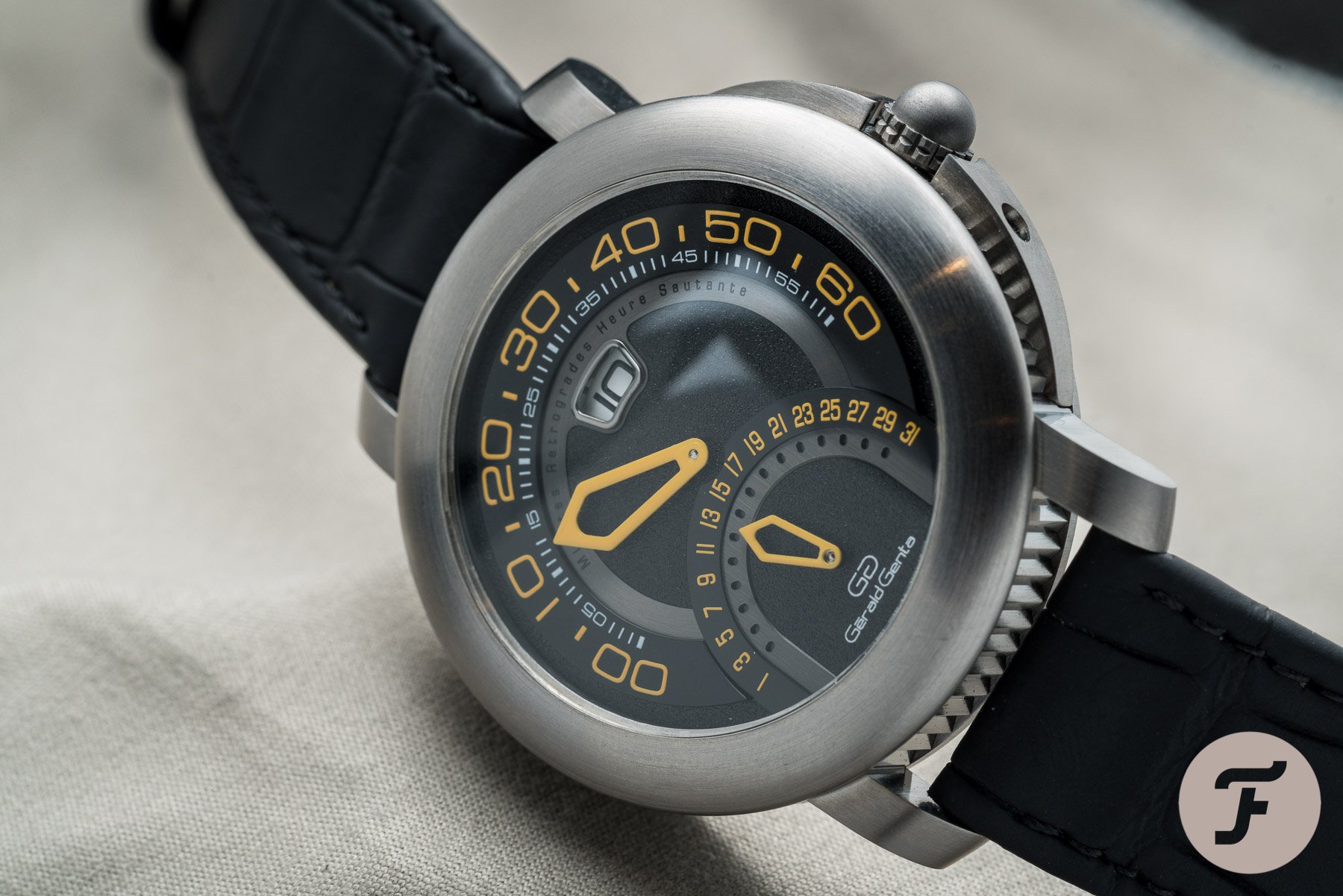 A nod to Gérald Genta
With the retrograde functions, I see similarities to the Genta pieces like the Gefica and Bi-Retro we saw from Bvlgari. Genta was closely connected to the brand, of course. Consequently, fans of this great watch designer are often in Bvlgari's camp. Although I love those designs, I am more enthusiastic about the Octo Finissimo. I am especially thrilled with this Perpetual Calendar model. I love the perpetual calendar complication. It is one of my all-time favorites. Seeing it here, so crisply executed is a real treat. It was clearly not so easy to integrate this complication without disturbing the iconic look of the Octo Finissimo. Hats off to the designers at Bvlgari. They did it with aplomb.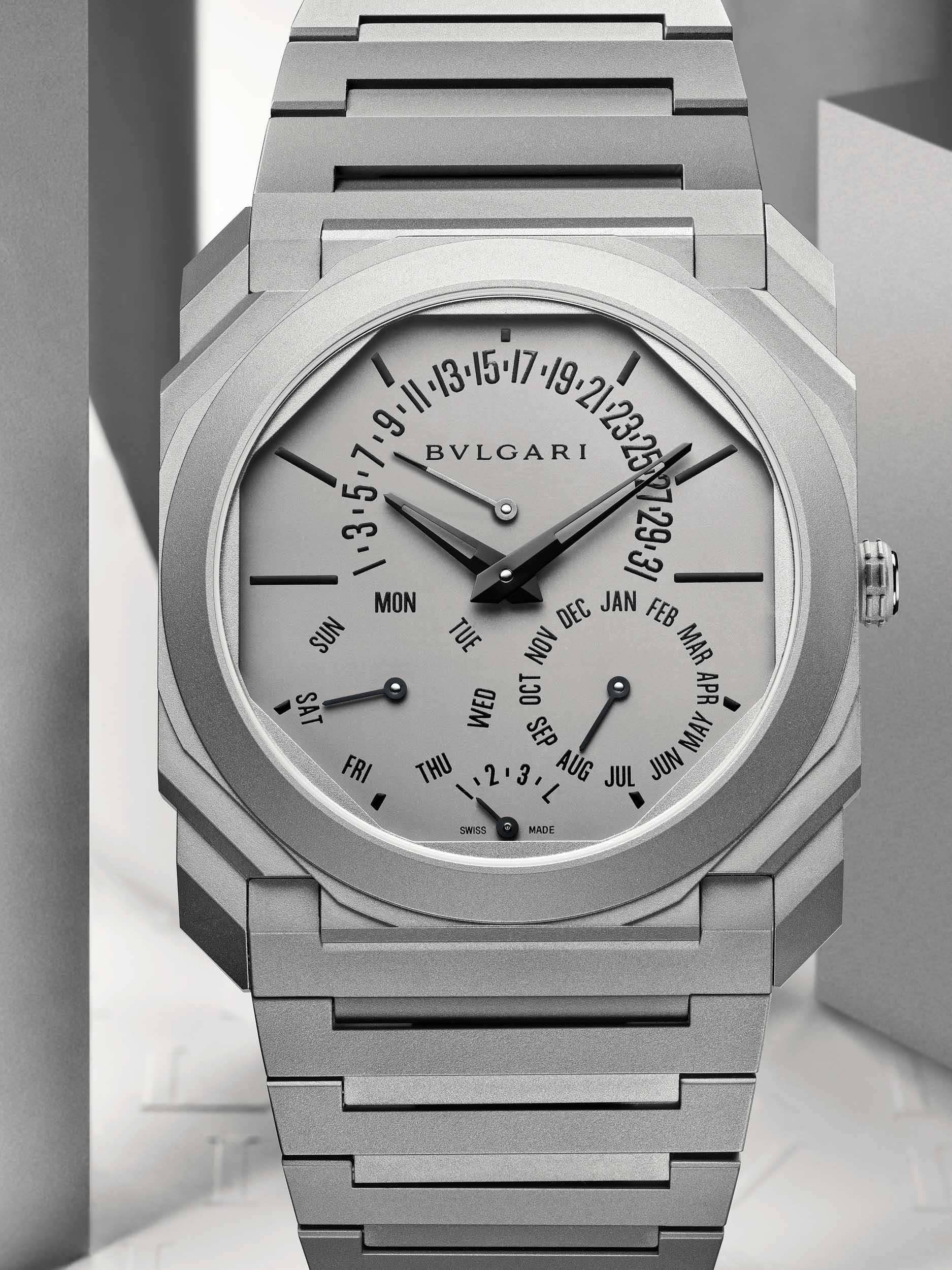 This particular calendar will be on point till the year 2100. That means that on every first day of the month, including March, you don't need to worry about correcting the date. Every single month till the year 2100 will be good! Your mission, if you choose to accept it? Keep the watch running till then. Good luck…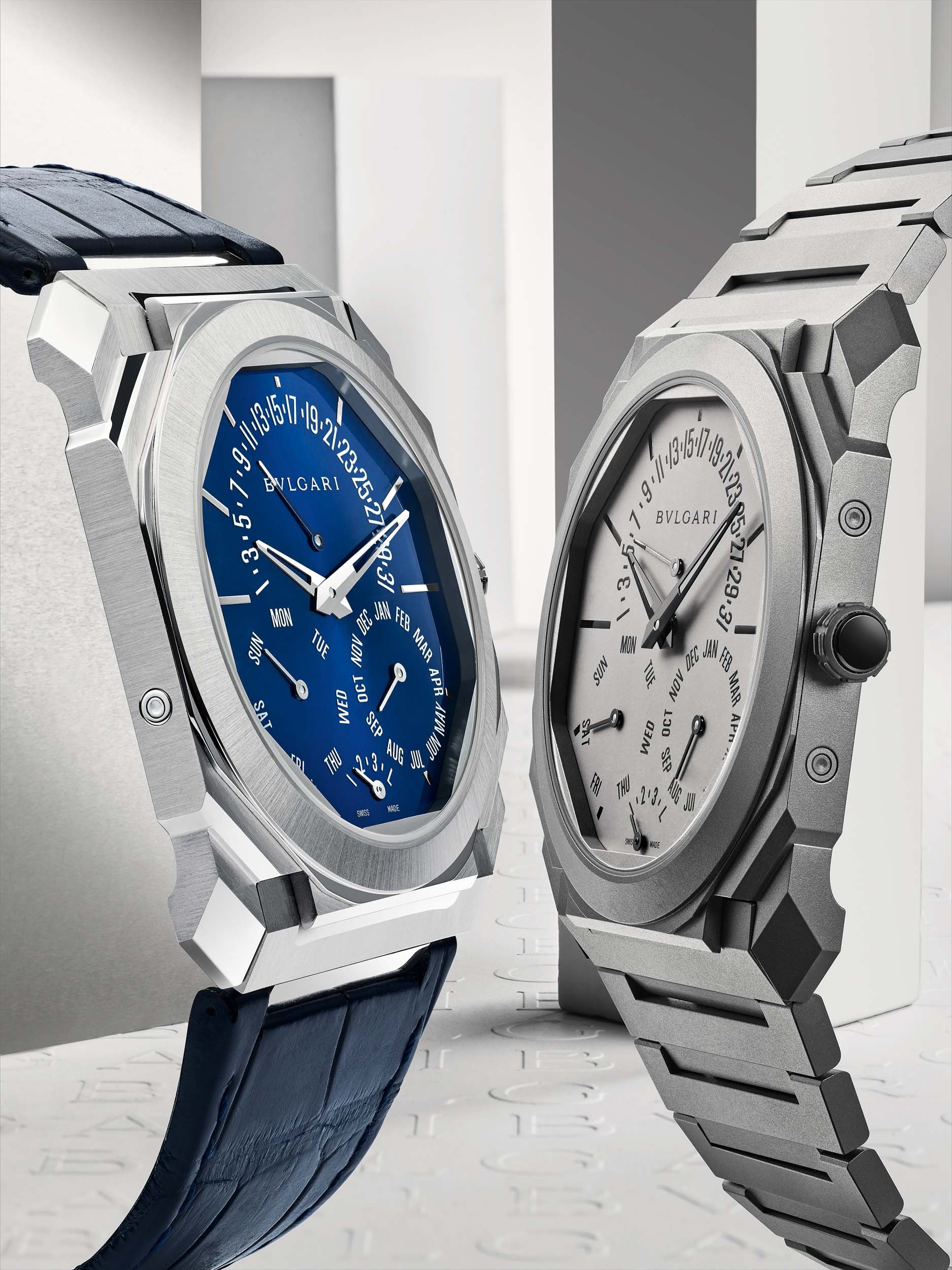 Caliber BVL305
This movement uses a micro-rotor, to be as space-efficient as possible. You can set the watch using the three correctors set into the case band. There is one for the retrograde-display date at 2 o'clock. You will find the month corrector at 4 o'clock. Located at 8:30 is the day indicator. As you can see, the dial has a big retrograde hand for the date at 12 o'clock. The day is similarly indicated at 7:30, while the month has its scale at 4:30, and the small leap year retrograde hand calls 6 o'clock home.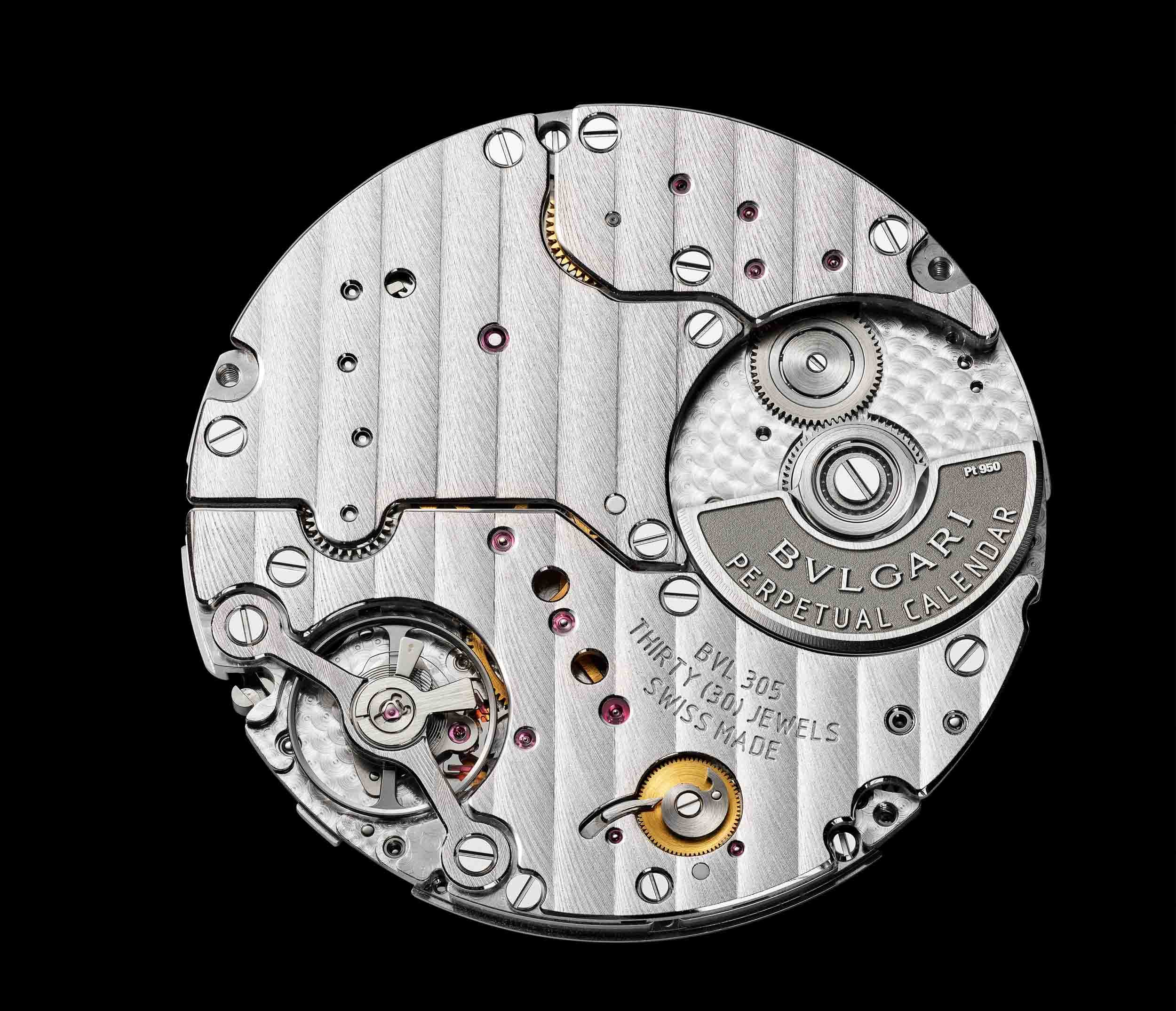 You will find Côtes de Genève on the main plate, perlage underneath the micro-rotor, and decoration in positive relief on the rotor itself. Some beautiful beveled angles are on display in this movement. It is certainly a joy to behold. The movement ticks at 21,600vph and provides 60 hours of power reserve.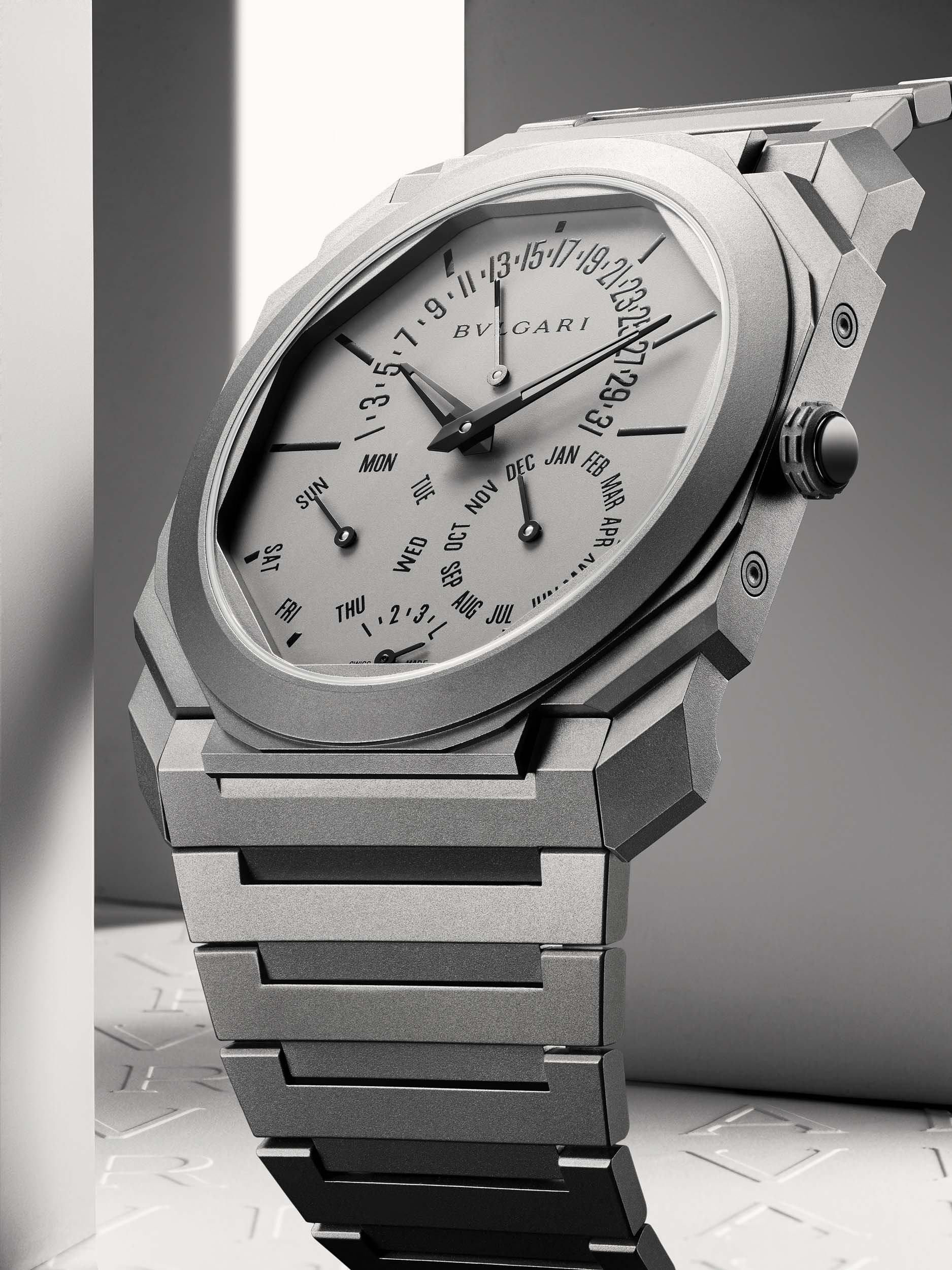 Prices and Availability
The Bvlgari Octo Finissimo Perpetual Calendar in titanium (reference 103200) will retail at €60,000. The platinum version (reference 103463) commands a 50% premium at €90,000. The watch has a water resistance of 30 meters, but we don't advise you to go near water with the platinum version due to the alligator strap. More information via Bvlgari online.