#TBT Seiko 7549 Golden Tuna – In Love With a Quartz Diver
When given the choice, I'd choose a mechanical watch over quartz every time. For readers of a site like Fratello Watches, my opinion rests within the majority, but it's most certainly in the minority when viewed from almost any other lens. The advent of the quartz movement was so disruptive and, let's be honest, so superior from a timekeeping perspective versus anything else before it that actually deserved to win out when compared to most of its competition. Of course, the "problem" with quartz movements is that they're often machine made, lack soul, and are almost too good. What I've come to realize though, and granted this is still infrequent for me, is that a quartz watch can be a nice thing (see our recent Seiko Golgo 13 Tuna article). I'll complain on a very high level, but there are early mornings where winding and setting (particularly the date) a watch is annoying. It's here that a quartz watch is like throwing on a pair of loafers: easy and ready to go. Of course, any quartz watch would work but some character is still preferred. Today's #TBT focuses on such a watch, the Seiko 7549 Golden Tuna.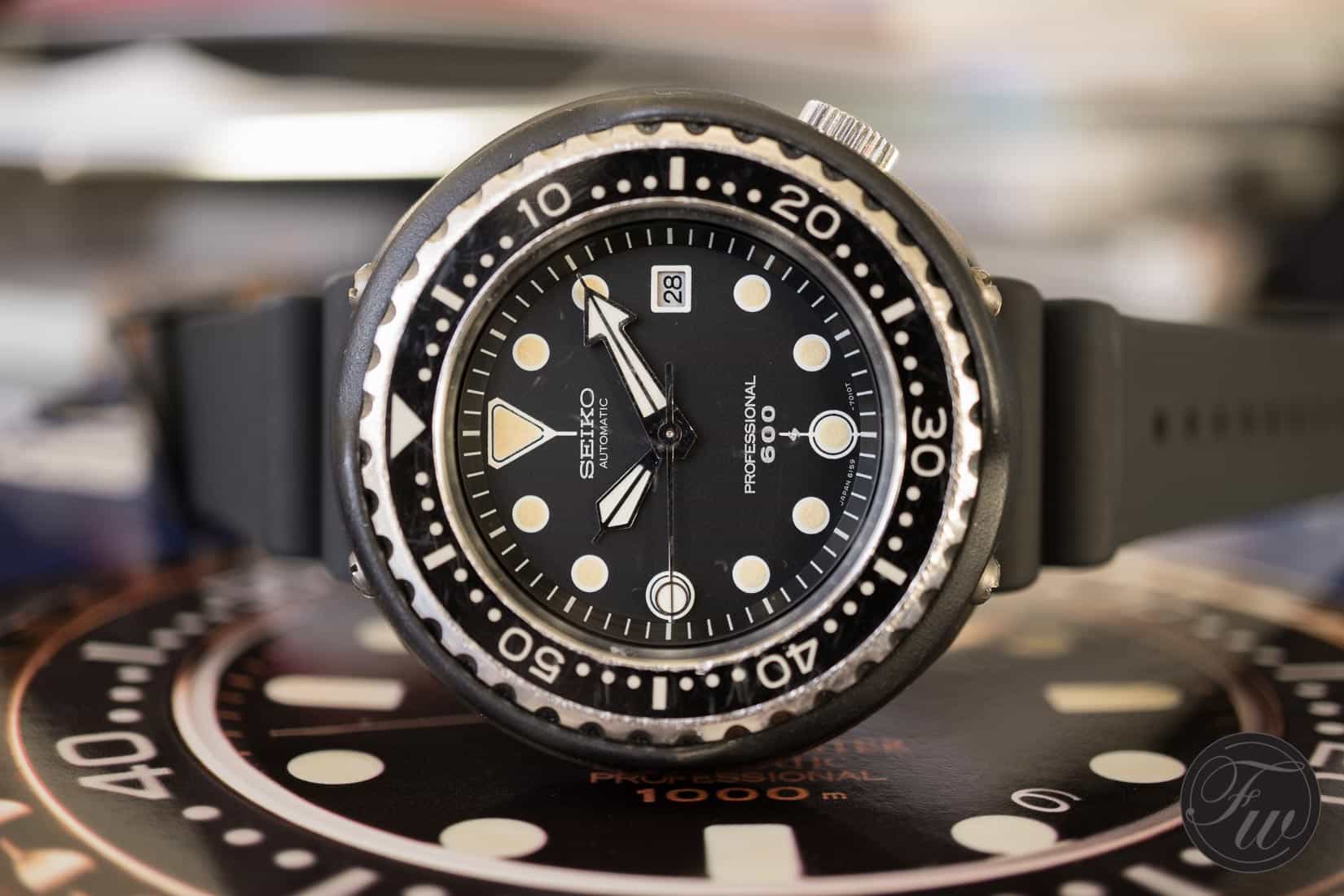 The Seiko 7549 Golden Tuna is a watch that I've avoided for a long time. After all, with a mechanical 6159 Grandfather Tuna in hand, why spend the money on a quartz version? First, and as always, it's important to provide some history. We've spoken at length that the 6159 Tuna was Seiko's first true saturation diver, the first titanium watch, and was released back in 1975. It's a fantastic piece that we've covered in serious depth here on Fratello Watches and it's also one that has recently jumped in interest and value. It seems those curmudgeonly Swiss-only collectors have either awoken or have purchased everything else made on the Continent!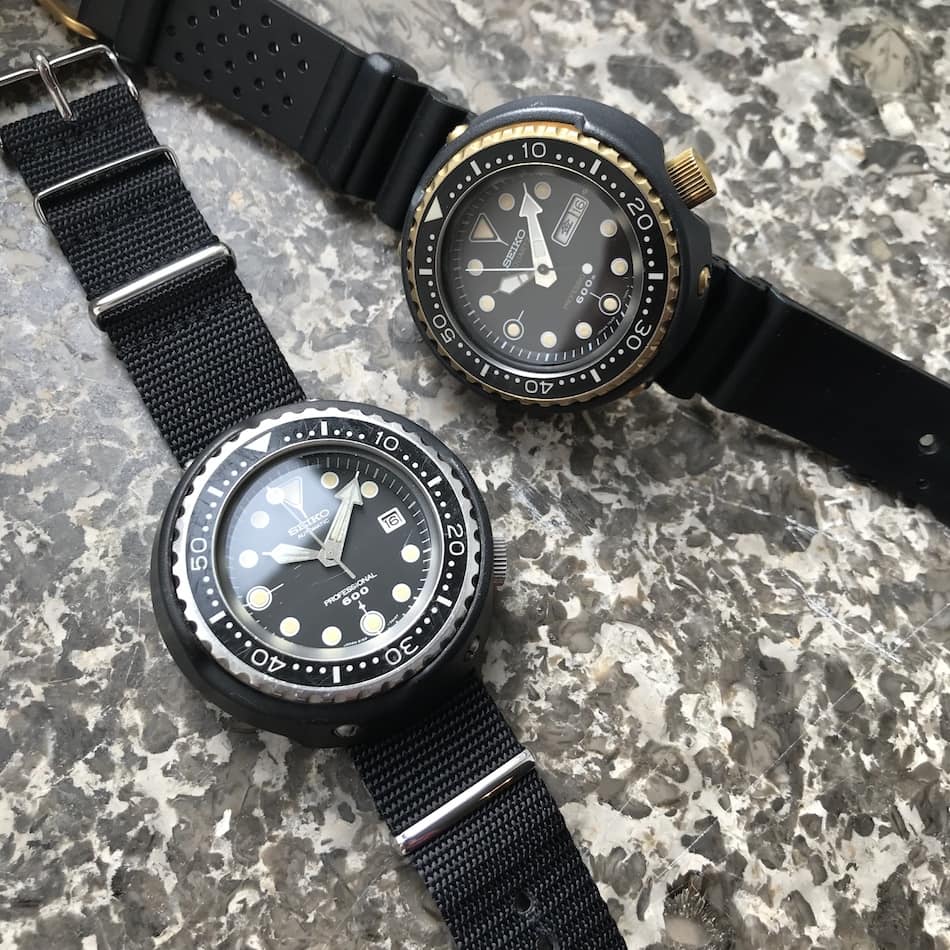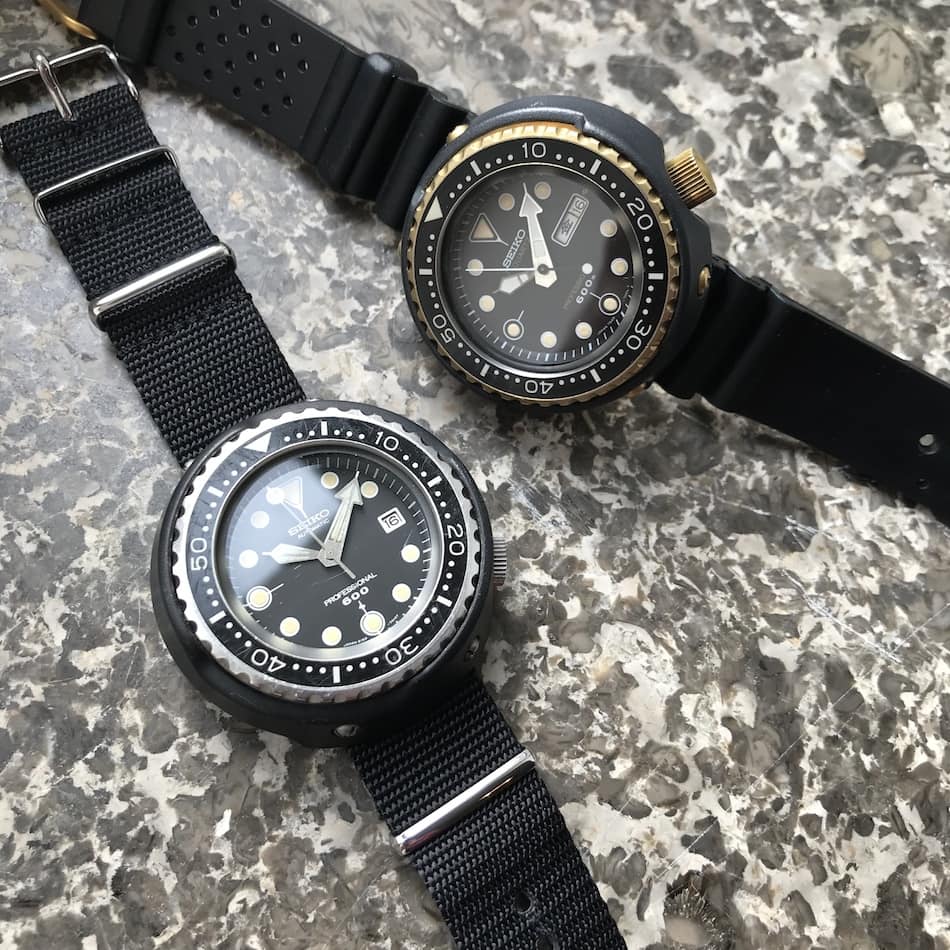 Of course, we know Seiko as the creator of the quartz wristwatch and, most would say, the doomsday provider for many of the traditional Swiss watchmakers back in the 1970's. Whatever your take is on that (I tend to think progress results in everyone having to collectively up their game), it makes sense that Seiko thought to put a quartz movement into a professional dive watch. They chose to do this in 1978 with the introduction of the Seiko 7549 Golden Tuna. The price when announced? A whopping 120,000 JPY. For reference, a 6159 retailed for 80,000 JPY (have a look on the SCWF forum here for some catalog shots – page 50), so this clearly stems from a time when quartz watches were rare and extremely expensive.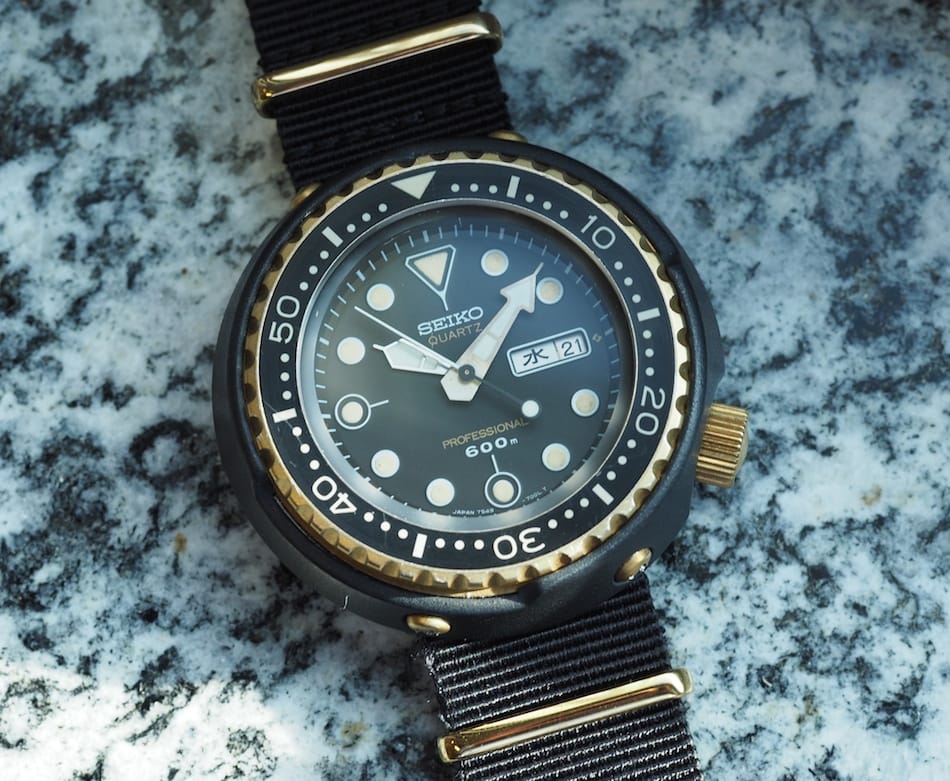 Lest you think that slapping a battery-powered movement into a dive watchcase was an easy thing to do, think again.   The Seiko 7549 Golden Tuna, at time of introduction, became the world's first professional saturation diver. It features the same 600m of water resistance as its predecessor, and contemporary, the 6159. Inside, Seiko threw in a quartz movement (cal 7549A) that's actually based on the mechanical 6309 found in the Turtle. It's a 5-jewel movement with quick set day (a 2 language wheel) and date, hacking, and functionality that signals a low battery (normally 3 years) with 2 second jumps. It's known to be highly robust and the movements rarely fail unless a battery leaks or the coil is damaged during repair. Accuracy is, well, quartz perfect in this nearly 40-year-old beast.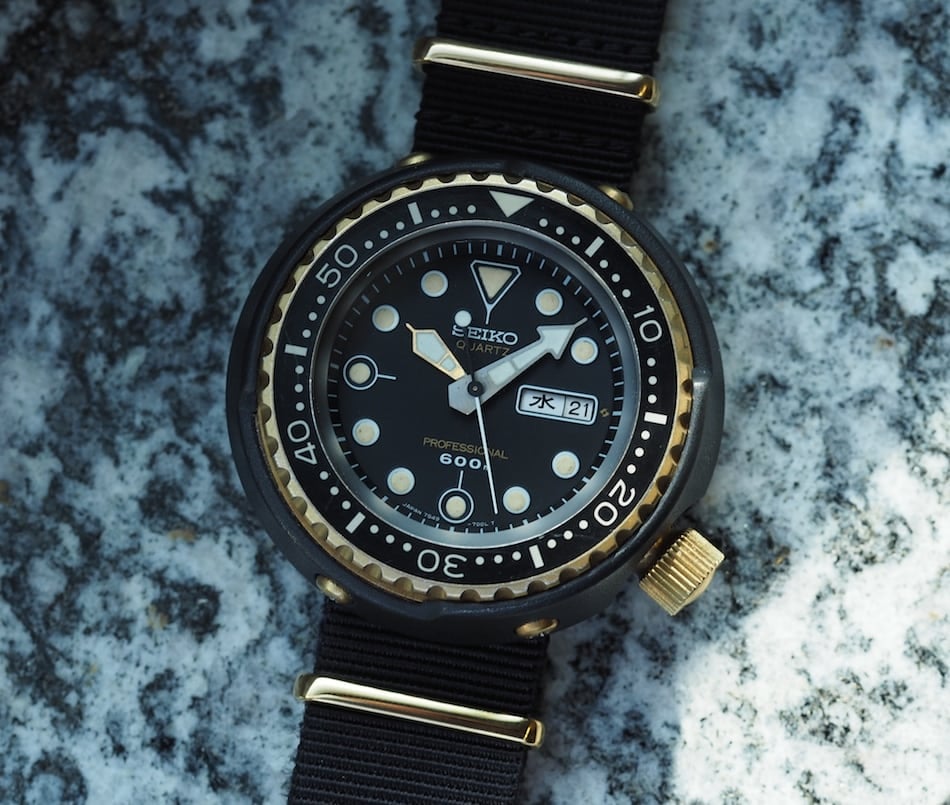 Looks-wise, the Seiko 7549 Golden Tuna brought back the use of gold hues formerly found on Seiko's original professional divers, the 6159-7000/1 and the 6215. I can only guess that Seiko chose not to outfit the 6159 Tuna with the stuff that glitters in order to highlight the use of titanium, but that's purely speculation. With the 7549, though, we get titanium and we get gold nitride to provide the hue on the bezel, case and crown and it looks – awesome. Look, I love the 6159 for what it brings to the table: a unique design, usage of a then space-age material, and a mechanical movement. But, this original tuna is a very functional looking beast on its best day. The 7549, meanwhile, may not fool anyone into thinking it's a Cartier, but it does add some serious panache to a watch with highly serious intentions. Yes, I was silly to ignore the Golden Tuna, a watch that many Seiko aficionados often list as the only Tuna they'd consider owning. I kind of see their point now.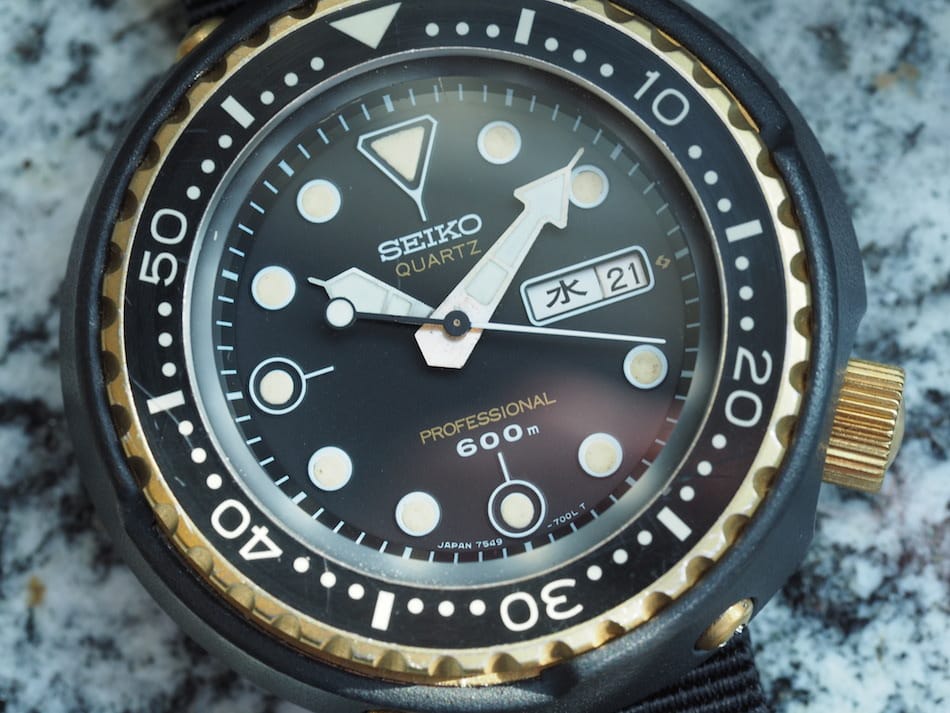 Dial-wise, the Seiko 7549 Golden Tuna shares a strong link to the 6159 with similar, but not the same, round printed hour markers, and hands. Everything is just a touch different (both models use hardlex mineral glass), but you wouldn't recognize the watch as anything but a Tuna. Some cool details are of note such as the golden-colored "Suwa" symbol to the right of the day/date window. You'll also note that this watch ushers in the use of a second's hand with a lumed lollipop on its tail versus its head. For the hands, Seiko chose to bisect the lume vertically versus along the length and oddly chose steel instead of gold plated for their construction. As this is a JDM market version, there's simply a water resistance indicator at 6:00; international market versions also add the "SQ" logo, which stands for Seiko Quartz.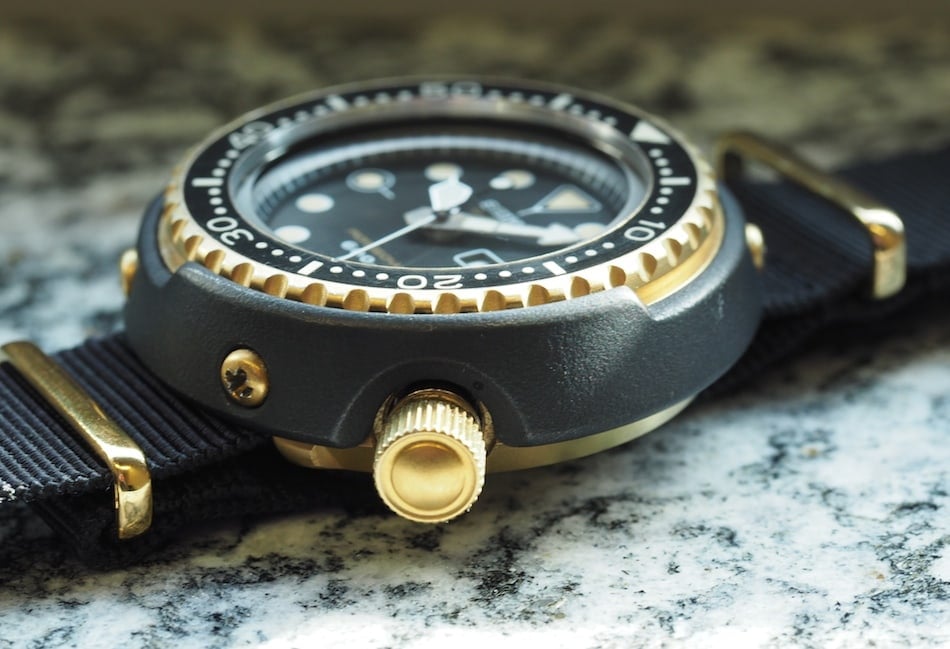 On the construction front, the 49mm case design mimics the 6159 (it's nearly 2mm larger) with a titanium case. However, the case is slightly different (thickness is 16.3mm versus 16.5mm) and the shroud moves from the oft-chipping ceramic on the 6159 to powder-coated titanium. The four screws on the shroud are nitride coated and the watch is a front loader. Yes, the Seiko 7549 Golden Tuna is certainly more of a head-turner, but the colors just work on something of this size.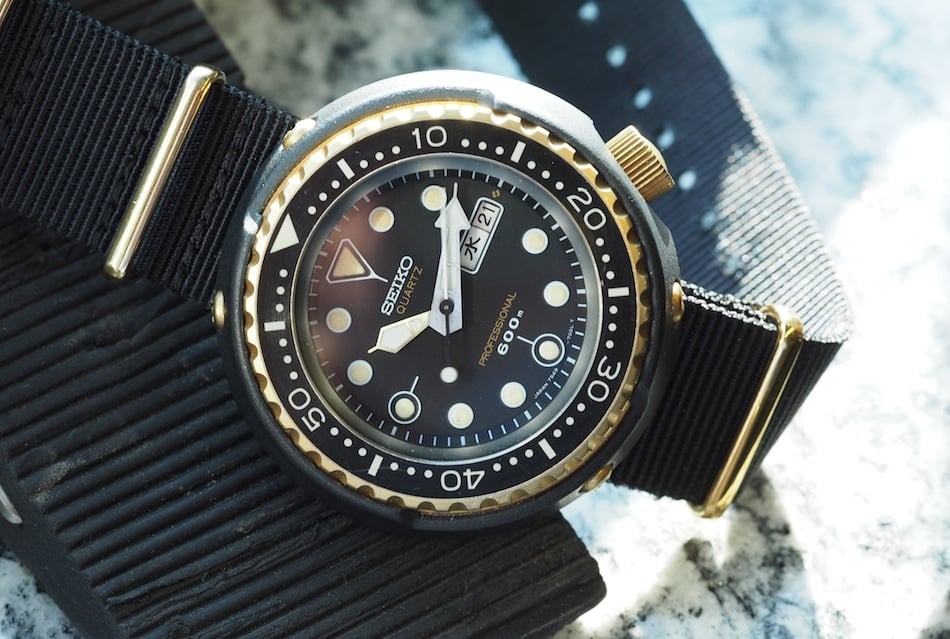 As you can see, I've traded the typical rubber strap on the Seiko 7549 Golden Tuna for a 22mm NATO with gold hardware. It's more comfortable and I like the look, but I may purchase one of Seiko's newer silicone straps. While the watch didn't come with its original strap, the previous owner was kind enough to send the original gold nitride-plated titanium buckle. It's a cool touch and something to look out for if you're a stickler for originality.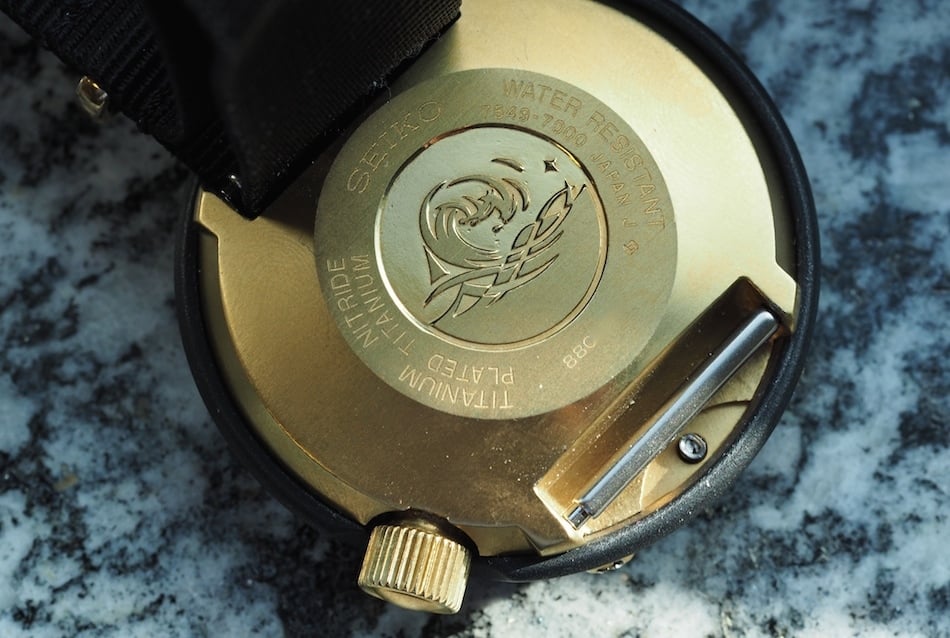 This Seiko 7549 Golden Tuna came from the Land of the Rising Sun, aka Japan. As mentioned, this example comes from 1978. That makes it a first year model during an 8 year run until 1985 when the 1000M 7C46 Golden Tuna replaced the watch. 7549's are very popular amongst collectors and, therefore, they move quickly if priced right.  Furthermore, it wasn't so long ago that good pieces could be found in the $900 range – those days are over.  Prices seem to hover in the $1,500 range but they can be found for less, but are often listed for more. Condition of these watches tend to vary greatly and it's very easy to find a bad one listed at a high price. As always, the cosmetic pieces are key, but I'd also steer clear of a movement destroyed by battery acid or water. Yes, these movements, which have a mechanical backbone, can be serviced, but I think that patience can pay off when finding a good piece. As you can see, this example is barely used, and it was definitely on the more affordable side.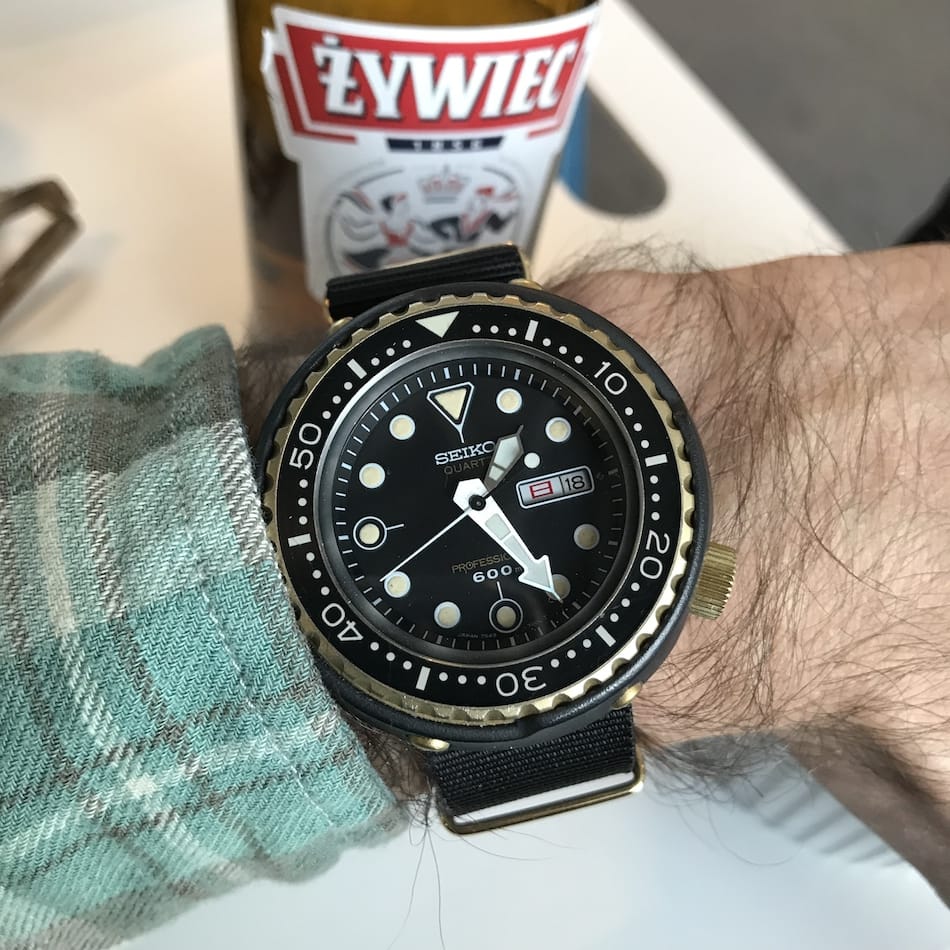 We've covered many of the Tunas here on Fratello Watches, and the Seiko 7549 Golden Tuna is one more cog in the wheel. It may be quartz, but its looks and significance within dive watch and Seiko history has quickly made it one of my favorite and most distinctive pieces.  Oh, and since 2018 is the 40th birthday of the 7549, might we see a celebration of this at Baselworld 2018?  Let's hope…