Hands-On With The RADO Captain Cook High-Tech Ceramic
Making waves steampunk style
Captain Cook? No, it's Captain Nemo I'm thinking of when I look at the black, shiny, and semi-transparent aquatic watch on my wrist. Let's go hands-on with the RADO Captain Cook High-Tech Ceramic as we welcome a little steampunk to our lives…
According to Wikipedia steampunk is "a retro-futuristic subgenre of science fiction that incorporates technology and aesthetic designs inspired by 19th-century industrial steam-powered machinery." I couldn't have said it better myself. One look at the black RADO Captain Cook High-Tech Ceramic and  I think of Jules Verne's Captain Nemo aboard his futuristic submarine "Nautilus" — a vessel both incredibly luxurious and technically advanced. It must be the mix of smooth-looking and glossy state-of-the-art ceramics and the hard-working "engine" you see beating below deck. The watch would feel right at home in Verne's novel from 1869 "Twenty Thousand Leagues under the Seas: A World Tour Under Water" and on Nemo's wrist.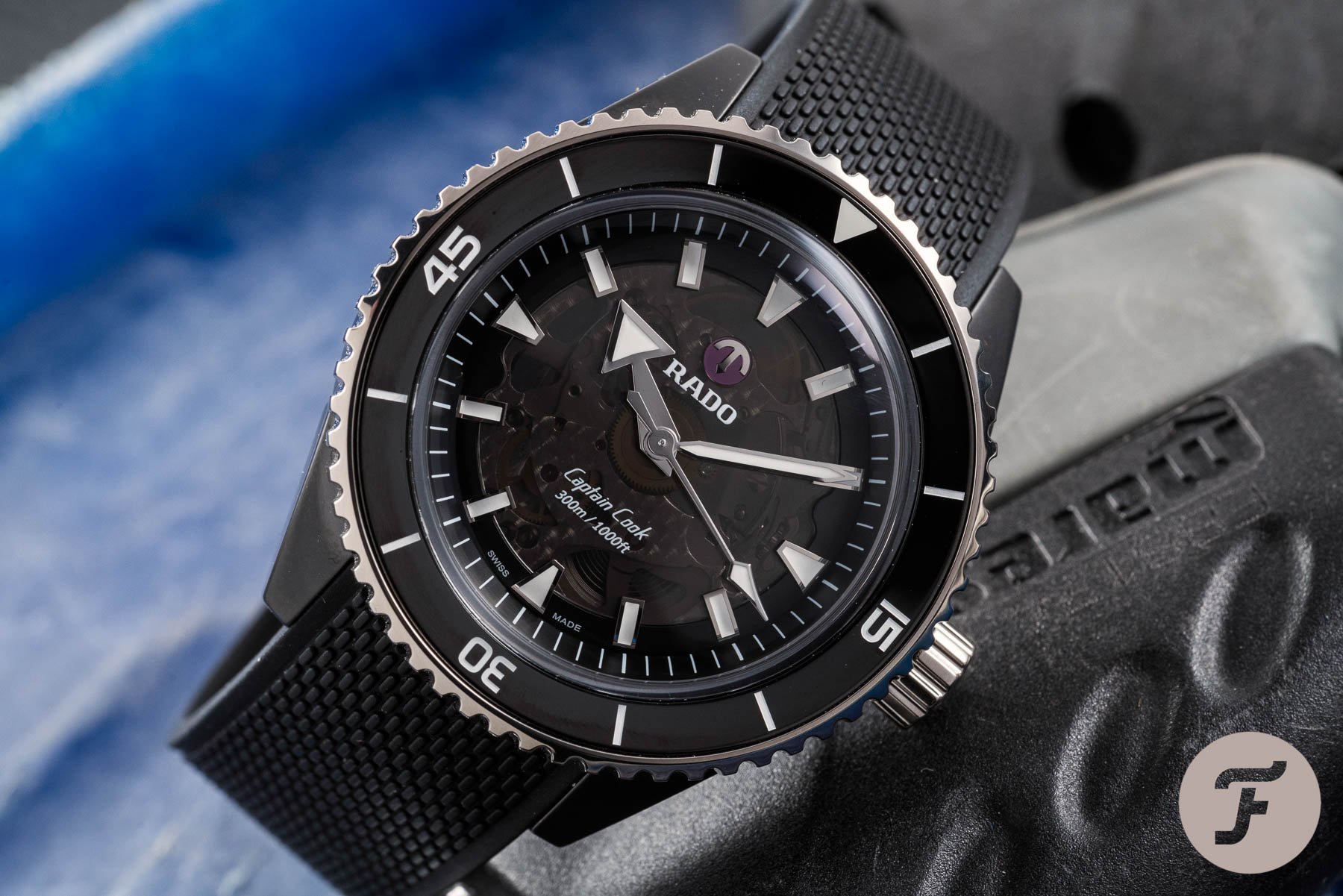 RADO Captain Cook High-Tech Ceramic
If it works for Nemo, it works for me. The RADO Captain Cook High-Tech Ceramic Watch comes in three other variations, but I picked out the RS32127156 with its sporty rubber strap (€3,400). Comfort is what this watch is all about. Although 43mm is by no means small, it doesn't wear like a typical steel watch in this size. And that's because of the ceramic case that adapts almost immediately to your body temperature.
The rubber strap makes you forget you have Captain Cook on your wrist
Pairing the ceramic case with a rubber strap with a slightly retro look makes you forget you're wearing a Captain Cook. And although I prefer a pin buckle over a folding clasp on a sporty or retro-rubber strap, it felt good on the wrist. To stay within the terminology of the ancient British seafarer the watch was named after, it gets lost on your wrist only to be discovered when you want to know the time.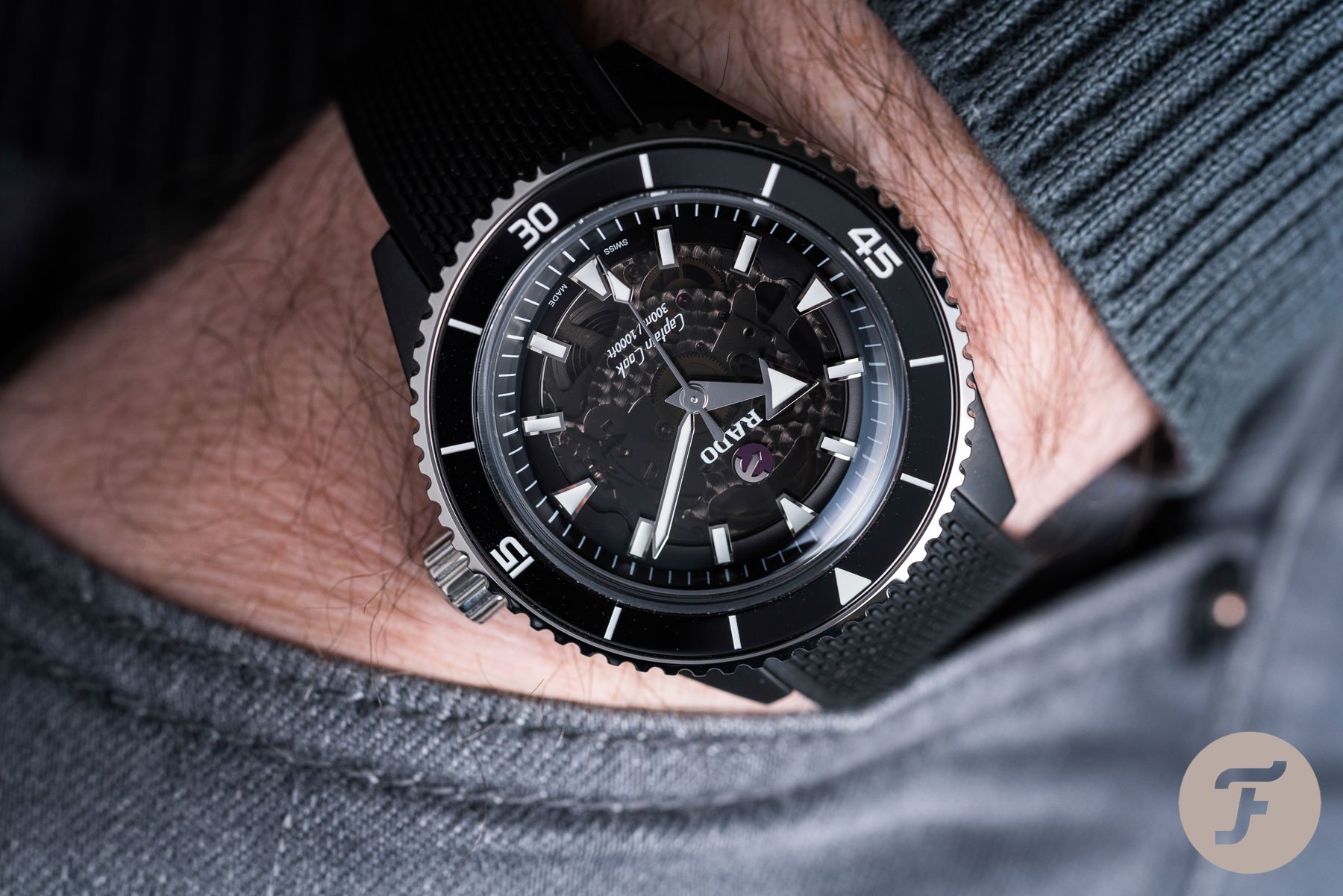 Plain sailing with Captain Cook
There are two things that stand out. The aforementioned "wear-and-forget" way it behaves on the wrist, and the case shape, box-shaped sapphire crystal, and the diving bezel. It has the timeless appearance of the more traditional Captain Cook, but with a contemporary twist. It's black, it's sinister, and it's definitely high-tech. It's evolution on the wrist.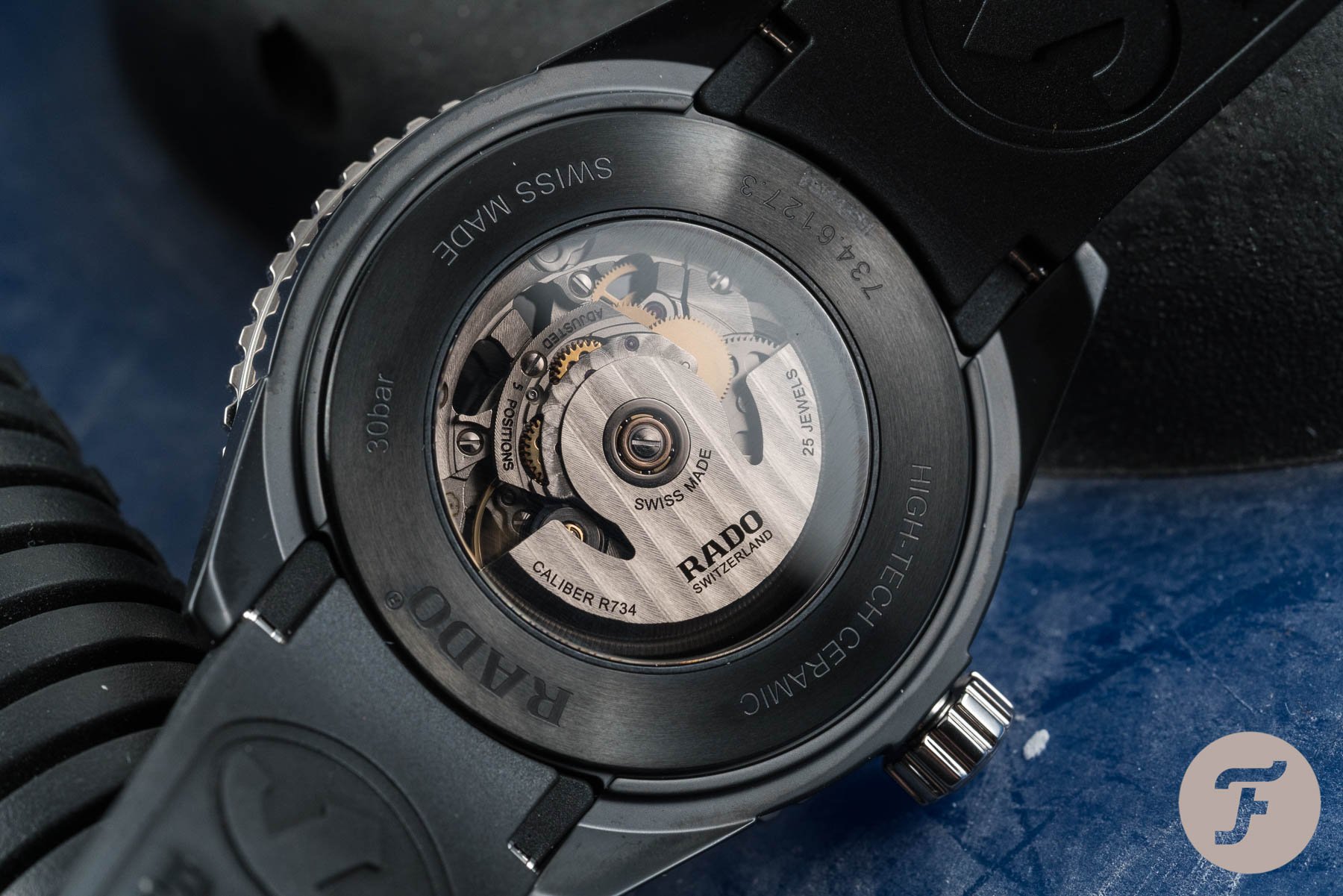 Through the smoke
Last but not least I come to the movement that beats beneath the smokey sapphire dial. There's absolutely nothing wrong with the skeletonized caliber R734. It's a modern movement that offers 80 hours of power reserve, is outfitted with an anti-magnetic hairspring (Nivachron), and has been adjusted in five positions for better accuracy. Simply put, this is trusted ETA tech. It's just that I don't want to look at the engine room all the time. I prefer looking at it every once in a while by turning the watch on its back.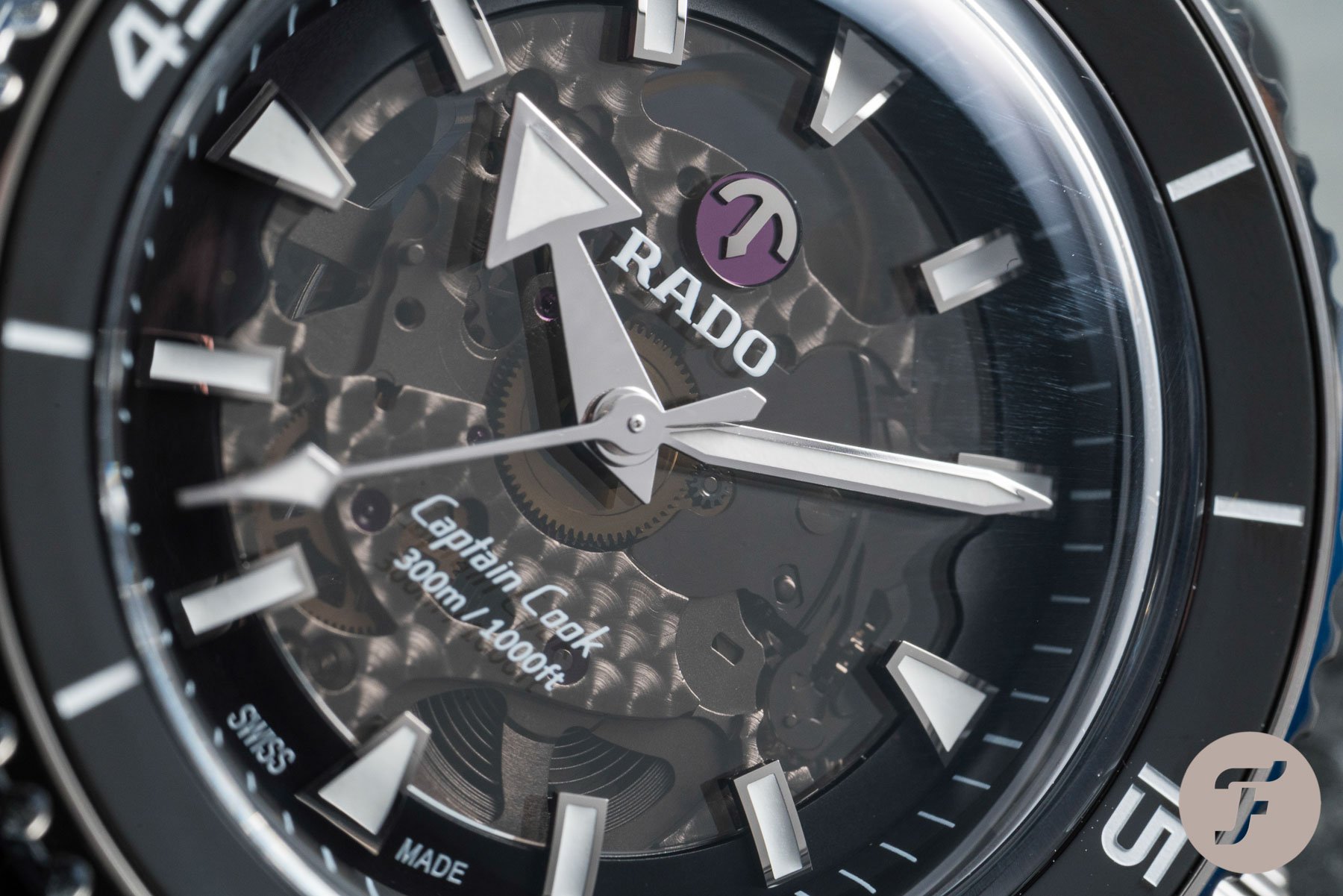 I'm more captain Haddock than captain Nemo I guess
In the case of the ceramic Captain Cook there's a smokey black-tinted sapphire to let you take a filtered peek. But with the movement shimmering through the dial you notice it every time you want to know the time. Okay, the characteristic rotating anchor also draws attention, but that's a signature of the brand you don't want to miss. In an ideal world I'd wear a black Captain Cook High-Tech Ceramic with a solid black dial. I'm more captain Haddock than captain Nemo I guess.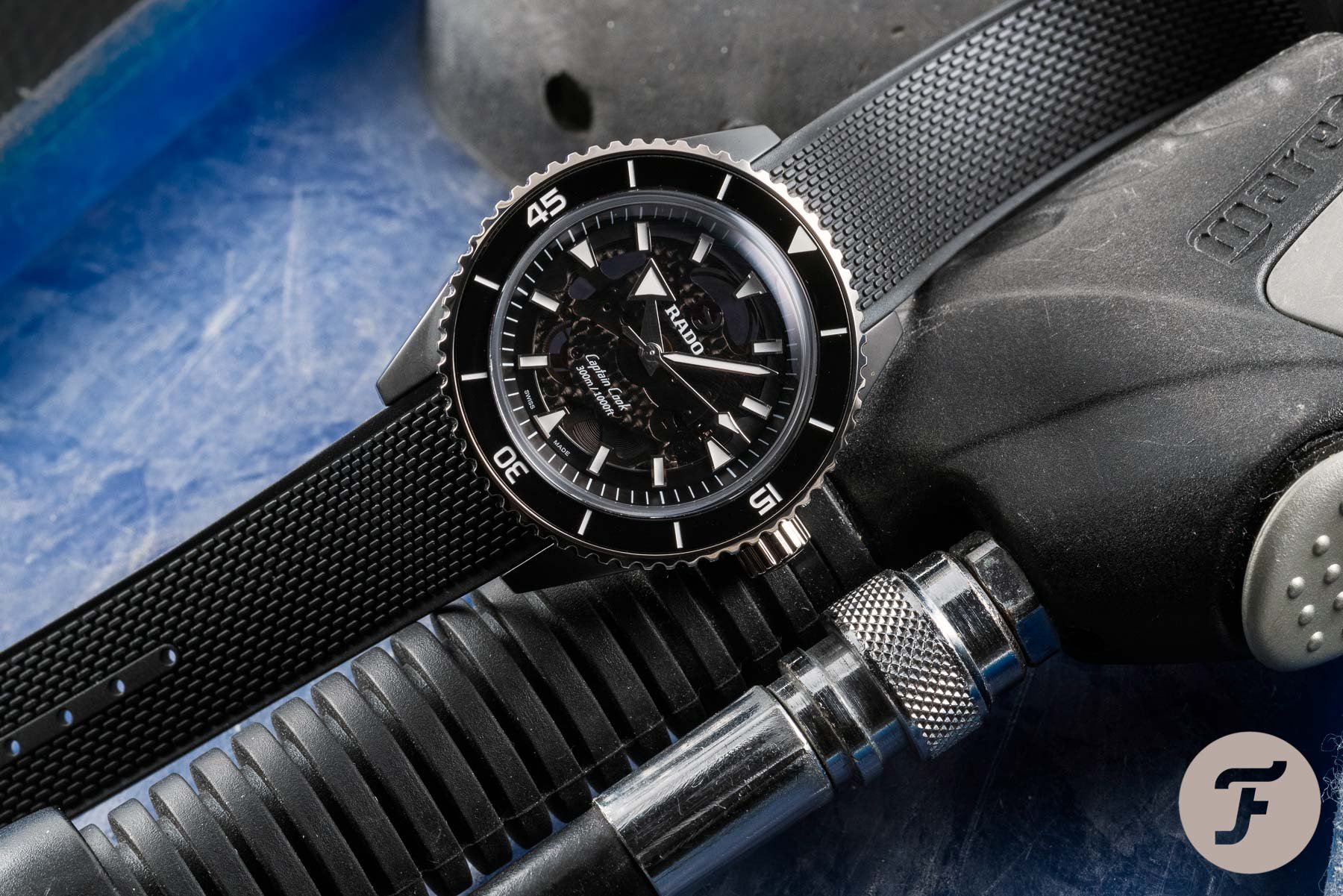 Ships that pass in the night
After a short on my wrist it was time for the RADO Captain Cook High-Tech Ceramic to plot a course to new horizons. Yes, a courier came to pick it up to get it back to RADO but that doesn't sound very poetic. I liked the smooth-to-the-touch, shiny High-Tech Ceramic watch that is named after an 18th-century explorer that kinda looks like the timing device of a 19th-century submariner and feels at home on the wrist of a 21st-century landlubber like me. The semi-clear view of the movement is the only feature I'm not overly fond of. I can't blame the Captain for that because open-worked dials and skeletonized movements never seem to get my heart racing. But black ceramic sure does. More information about all versions of the Captain Cook High-Tech Ceramic can be found on RADO's website.
Please find and follow me on Lex Stolk • Instagram
Watch specifications
Model
Captain Cook High-Tech Ceramic
Reference
R32127156 | 01.734.6127.3.215
Case Dimensions
43 x 14.6mm
Case Back
Smoked sapphire
Functions
Hours, minutes, central seconds