Cartier Adds More Color To The Santos And Santos-Dumont
From full dials to accents in precious gemstones, blue, green, gray, red, and gold are all here!
Cartier watches are known for their characteristic dial designs. The most eye-catching feature must be those black lacquered Roman numerals on a stark white or silver background. But that doesn't mean the designers at Cartier don't know how to incorporate color into their watches. Look, for example, at the red, green, and blue Tank Must designs that were introduced at Watches and Wonders in 2021. Well, this year, Cartier gives the Santos and Santos-Dumont models a colorful treatment.
When I think of Cartier, the first things that come to mind are those glorious Roman numerals. But in terms of full watches, the Santos is always the model at the forefront of my consciousness. I guess that's because I own one and because it's one of my favorite watches in my collection. I love how the model combines the signature square dial with a sporty case while remaining so very elegant. A lot of the time, color can take away some of that elegance, and it can make a watch look less serious. But that's certainly not the case with the watches we're looking at today. On the contrary, even, the touches of color on the new Santos and Santos-Dumont models take their elegance to a whole new level.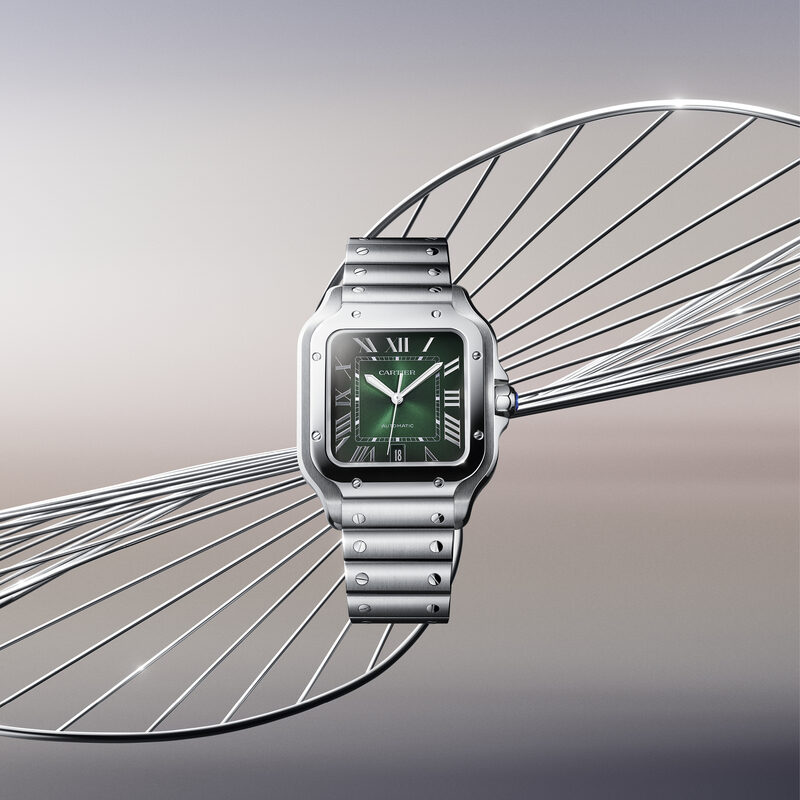 Santos de Cartier
Let's start with the more sporty Santos de Cartier, simply because that's the one I'm more familiar with. I'd almost call it the "regular" Santos, but that kind of sounds like an insult because there's nothing regular about it. First of all, there is its square case design and that very pronounced bezel on top. Then there are the seven-sided crown, the numerous screws all over the bezel, and the extremely comfortable bracelet. It's almost like Cartier is screaming at you, "This is a tool watch!" But of course, Cartier isn't because, when you look at the watch on your wrist, it's such a nice combination between sportiness and elegance.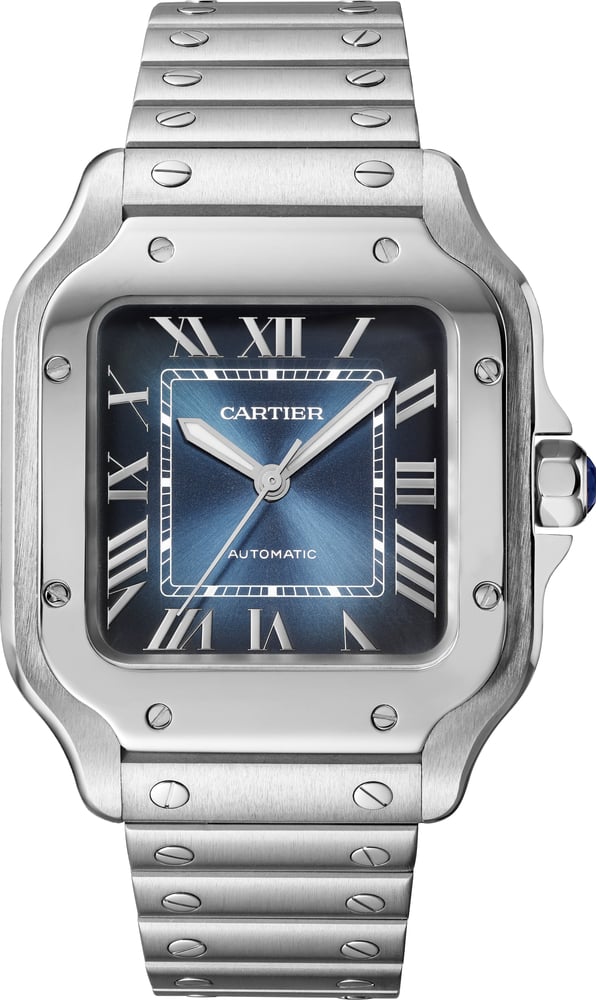 The Large version (39.8mm wide) of the Santos de Cartier was already available with a deep blue sunburst dial. And this year, La Maison is offering you the opportunity to also order it in the Medium size (35.1mm wide). In addition, versions of the Santos with a green sunburst dial will also be available in both sizes. Both the blue and green dials are covered with a tinted lacquer, which is applied by hand. This makes the colors look very classy rather than too loud. Both sizes are powered by the 1847 MC automatic movement, a 23-jewel caliber with 4Hz frequency and a 42-hour power reserve.
Santos-Dumont
The overall design of the Santos-Dumont is also one we already know very well. Last year, Cartier launched the large Santos-Dumont in steel, rose gold, and platinum versions, each with a thin layer of black, cream, or red lacquer on top. This year, the colorful treatment is only applied to the Extra Large size (33.9mm wide) of the Santos-Dumont. But it's not another layer of lacquer this time around. Instead, it's the Roman numerals that get dressed in green, red, or blue on top of a guilloché dial.
The Santos-Dumont in rose gold is combined with green jade, while the platinum version is fitted with red jasper, and the yellow gold version has blue dumortierite Roman numerals. Of course, they all come on a matching alligator strap. The apple-style hands on this colorful series are powered by the hand-wound ultra-thin caliber 430 MC. Each version will be limited to 200 pieces, which will all be individually numbered. But if you prefer the Large version (31.4mm wide) of the Santos-Dumont, there's also good news.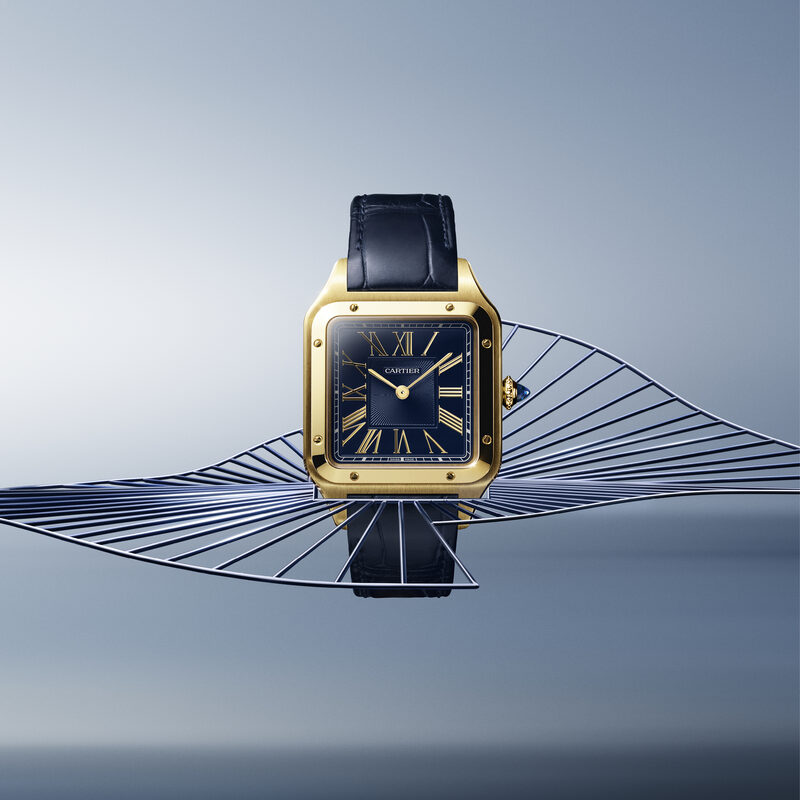 Cartier is releasing two new versions in that size in both two-tone (steel and gold) and full yellow gold. The first one features a sunburst gray dial, and the other has a sunburst dial in a very deep blue. Both tell you the time with beautifully polished gold hands that move over the matching gold Roman numerals. The movement inside these two watches is one of Cartier's high-autonomy quartz calibers.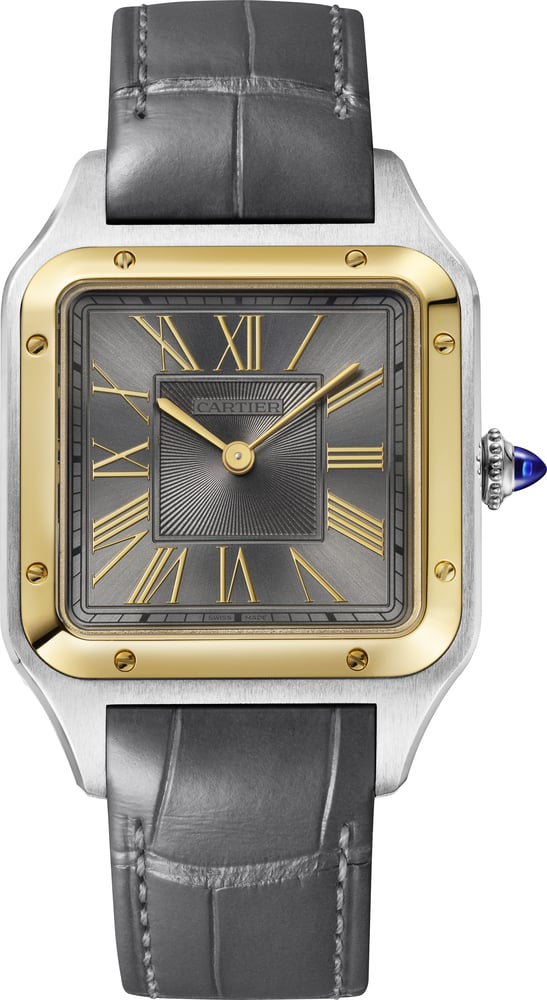 Final words
Most of the Santos-Dumont watches above will probably be out of my league budget-wise. But I do really like the way they look, especially the ones with the colored Roman numerals and guilloché dials. It's not as if Cartier simply added some color to existing references. The designers have put a lot of thought into the combination between the case material and the color of the numerals and the cabochon. As for the Santos de Cartier, I think the black-on-silver dial will always be my favorite. That said, I'm very much looking forward to trying on that green version.
Unfortunately, Cartier hasn't given us any pricing information just yet. We will update you as soon as we have more on that. But the blue-dialed Santos de Cartier in Large is already for sale for €7,950, so I'm sure the new green version and Medium size won't be too far from that price. For more information on the watches above, please check the official Cartier website.
You can also find and follow me on Instagram: @fliptheparrot