Winter Is Coming And That's Why You Need A Casio G-Shock MTG-B2000XMG
A multilayer, multicolor carbon bezel to light(en) up your life
I don't know about you, but I'm not a fan of dark autumn and winter days. The darkness darkens my mood. I need light and lightness, and also a bit of color would help lift my spirit when way over fifty shades of gray surround me. It's Casio to the rescue with a new G-Shock that cuts through darkness like a samurai sword through a nashi (a type of Japanese pear) with a watch that boasts a multilayer, multicolor carbon bezel that will light(en) up your life for sure. The dark days of winter are coming and that's precisely why you need a Casio G-Shock MTG-B2000XMG.
Doing things randomly is usually not a proven way towards success. But it does work in the case of the Casio G-Shock MTG-B2000XMG. The bezel for this newly released MTG-B2000XMG was created by using a new process for randomly laminating carbon and colored glass fibers. The result is a multicolor bezel with a multilayered pattern. Casio found inspiration in nature for the bezel. "Of course they did" I hear you say, "a rainbow over Mount Fuji or something." Well, there's a mountain involved, but it's not in Japan. The watch is linked to Vinicunca, nicknamed Rainbow Mountain, a multicolored mountain in Peru. The colors come from the oxidation of minerals built up over time from volcanic activity and tectonic movement.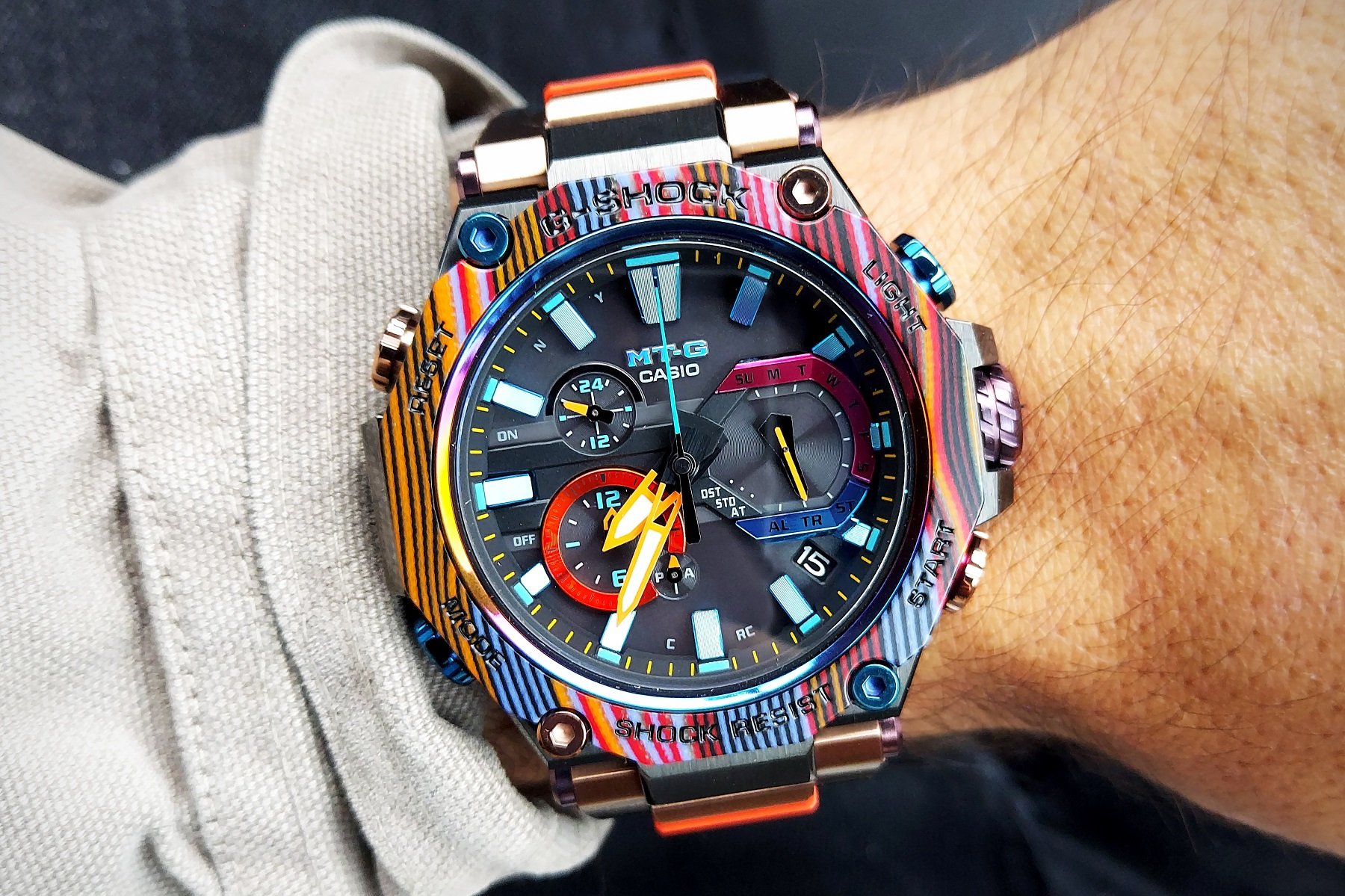 Casio G-Shock MTG-B2000XMG: the Japanese-Peruvian connection
The fact that Casio found inspiration in Peru is somewhat logical. Peru was the first Latin American country to establish diplomatic relations with Japan, in June 1873. And Peru was also the first Latin American country to accept Japanese immigration. Peru's former president, Alberto Fujimori, who held the presidency between 1990 and 2000, is a son of Japanese immigrants. Anyway, back to the Rainbow Mountain on the wrist.
To accompany the exuberant bezel, Casio uses colorful ion plating (IP) on different components.
Every Casio G-Shock MTG-B2000XMG has a unique multilayered bezel because of the way the watch is produced. To accompany the exuberant bezel, Casio uses colorful ion plating (IP) on different components. You can see it on the inner edge of the bezel, the rose gold-colored buckle and band loop, and the light blue and purple front screws, buttons, and crown.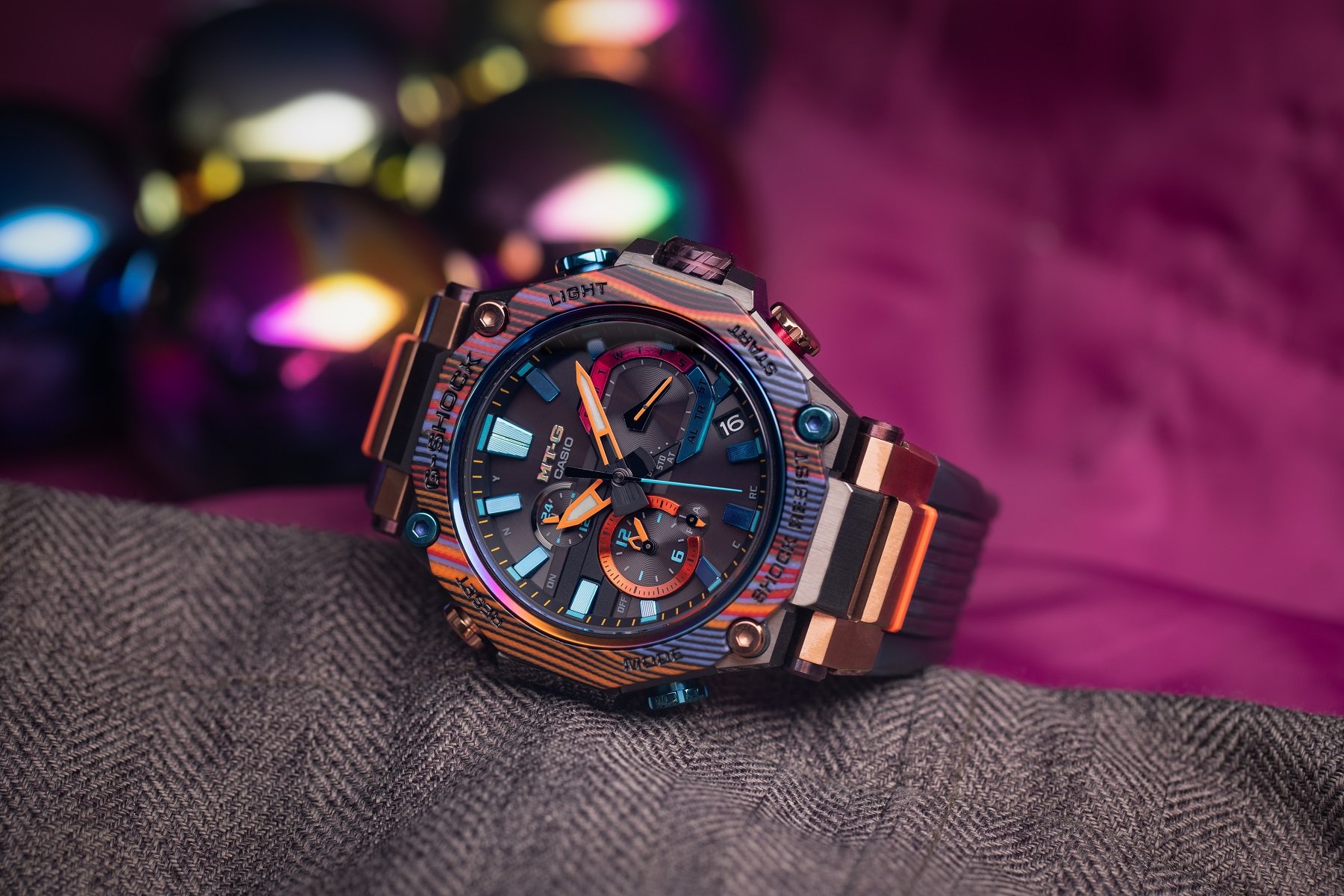 "Blue Phoenix" vs. "Rainbow Mountain"
If you like the MTG-B2000PH2A "Blue Phoenix", the MTG-B2000XMG "Rainbow Mountain" is something you will appreciate as well. The carbon bezel of the "Rainbow Mountain" sheds some weight, making it (probably unnoticeably) lighter than the "Blue Phoenix" without sacrificing colorful radiance.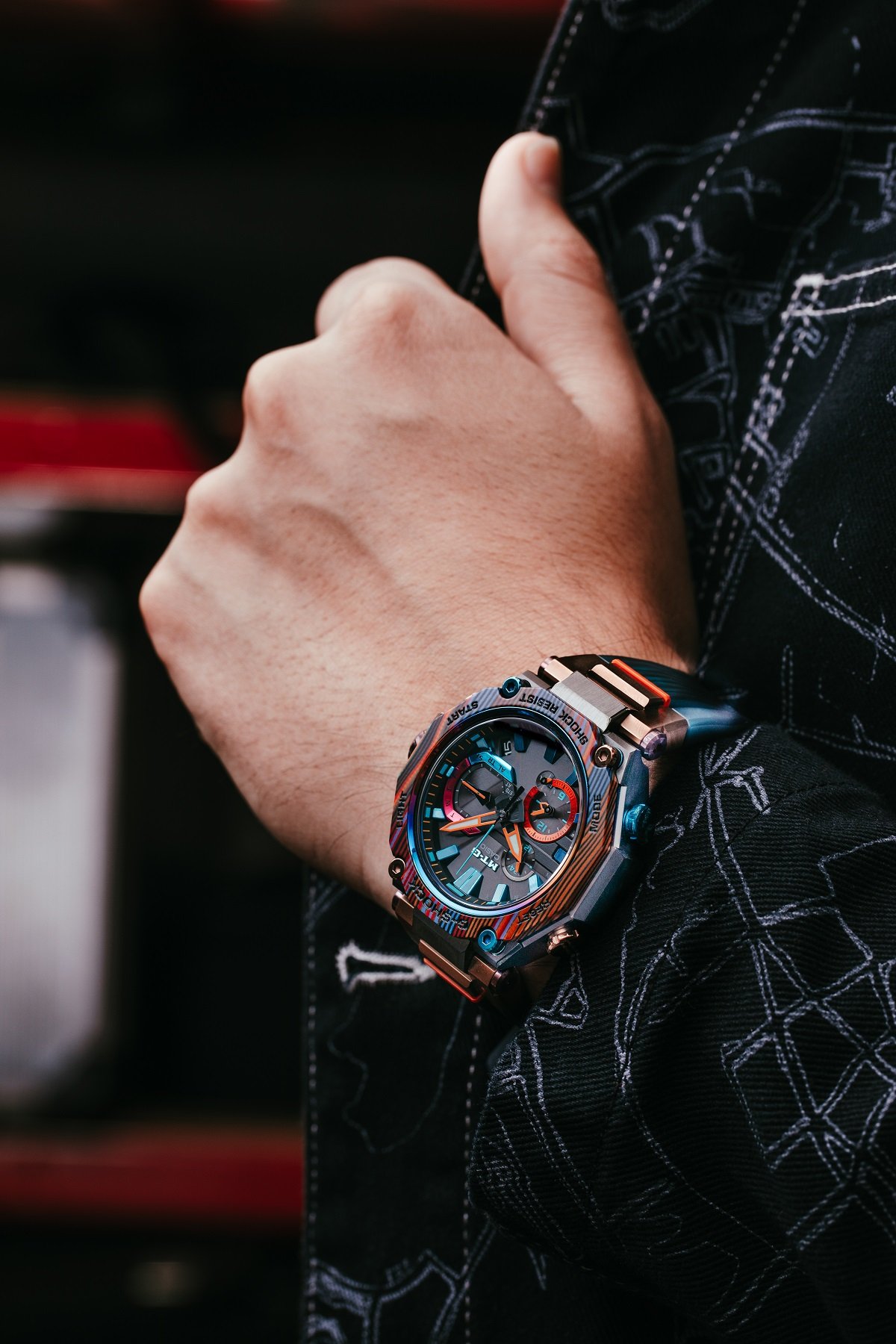 The power of color and light
Just like every high-end G-Shock, the MTG-B2000XMG is a super accurate, multi-functional timing tool. It uses radio wave time-calibration signals, and the Smartphone Link functionality ensures that the watch automatically stays up to date with time zone and daylight savings time (DST). The special app is what makes operating and using the complex MTG-B2000XMG a breeze. The solar charging and a high-brightness LED also add to the usability of the watch.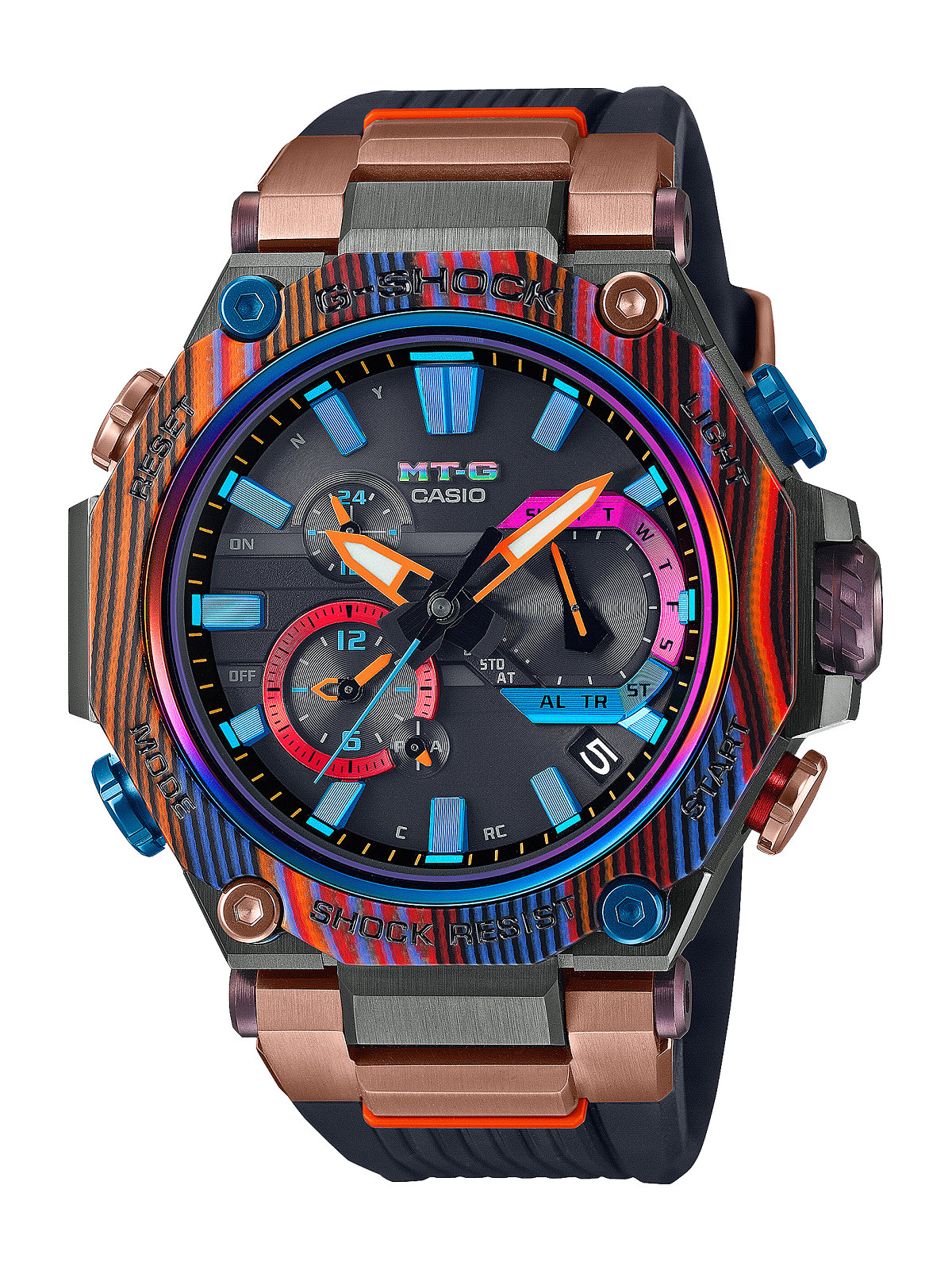 Triple G Resist takes care of every possible threat
What else do you need to know about the Casio G-Shock MTG-B2000XMG? Maybe that is has a Dual-Core Guard monocoque case, a steel frame, and a sapphire crystal. And that the resin strap is gray and translucent — please take my word for it, since that is very difficult to catch on camera. Furthermore, the watch is Triple G Resist rated meaning it can handle against shocks, centrifugal forces, and heavy vibration, and it's 200-meter water-resistant to boot.
This G-shock shows a multicolor, multilayered pattern, and so does the box it comes in. The watch will be launched on November 27th and the price is set at £999. If you want to secure some extra light and color to get through the winter months, you can sign up for the Casio G-Shock MTG-B2000XMG via this link.
Please find and follow me at Lex Stolk • Instagram