Casio: Master Of G For Land, Air, And Sea: Mudmaster, Gravitymaster, And Frogman
No matter your field, Casio's got you covered.
Here at Fratello, we love GADA (Go Anywhere, Do Anything) watches. For those of us collecting on a budget, having something hardy and reliable to take the knocks life throws at it is high on the list of purchasing priorities. While the watches from Casio in question today are about as far removed from a dress watch as you could imagine (and thus cannot go literally anywhere or do literally anything), they are, in the spirit of the term, exactly the kind of value proposition quartz behemoths our team covets.
While I'm firmly in the Mudmaster camp (as a long-time lover of both the modern reference GG-B100-1A3ER and its forerunning range mate, reference GWG-1000-1A3ER), I've recently found myself warming up to the Frogman also. You, like me, might have read Lex's recent piece on the new models, which welcome a few new features to the family and bring the styling up to date.
My first encounter with the Gravitymaster predated that of the Frogman but was no less intriguing. For today's article, I decided to use the three British Armed Forces Limited Editions (and my own trusty GWG-1000-1A3ER) for the photos, because they are seriously cool, collectible, and all recently spent time on my wrist personally.
What is the Master of G series?
Casio also refers to this enclave of its catalog as the "Professional Series" and you need not spend too long with these pieces to realize why. While these are, in my opinion, incredibly handsome watches, their looks really do play second fiddle to their functions. These pieces are absolutely loaded with handy features to help you navigate, survive, and prosper in a number of environments. Obviously, each collection is specially tailored to either the land, the air, or the sea, but there is a fair bit of crossover when it comes to functionality, which is a good thing in my opinion. I find it really annoying when two watches that are mostly very similar omit certain "basic" features for what seems as if it is solely for the purpose of differentiation.
It started with the "Mudman"
This hard-nosed corner of the collection began life in 1985 with the release of the DW-5500C "Mudman". The first Frogman followed in 1993. It was Casio's attempt at a modern ISO-rated 200m dive watch. Casio really experimented with the early Frogman and threw a lot of money at its research and development. The result was a complicated, asymmetrical watch, with a broad double-tang strap (as you'd expect to see on all watches in the "Mater" series that aren't fitted with bracelets today), and a screw-in titanium case back. The Frogman has been through many changes throughout the years, but the "retro-classic" ana-digi styling of the current range is my personal favorite yet.
In 2006 the "Mudman" collection was reborn after the professional series spent a few years on hiatus. The Gulfman followed in 2007 before the Rangemaster, which was fitted with a Compass, Barometer, and Altimeter debuted in 2013. That marked a turning point for the Master of G series and this high-end line became a forum of experimentation for the brand.
Live your life with your eyes turned skyward
The Gravitymaster series is, for me, the least distinguished of the three I'm focusing on in this article simply because I always found the stealthier, pilot-inspired colorways a bit less exciting. But when it comes to pared-back cool, the model is unbeatable. Of all the pieces featured here (and I've made a particular effort to focus on the British Forces Limited Editions because, well, they are all super cool and collectible) the RAF Gravitymaster is the most clinical. It is, as a result, also the most versatile.
The British Army Mudmaster and the Royal Navy Frogman pictured further down in this article are much more in-your-face. Meanwhile, the Gravitymaster with its carbon core guard slides under the radar (pun intended), dragging with it unbelievable functionality.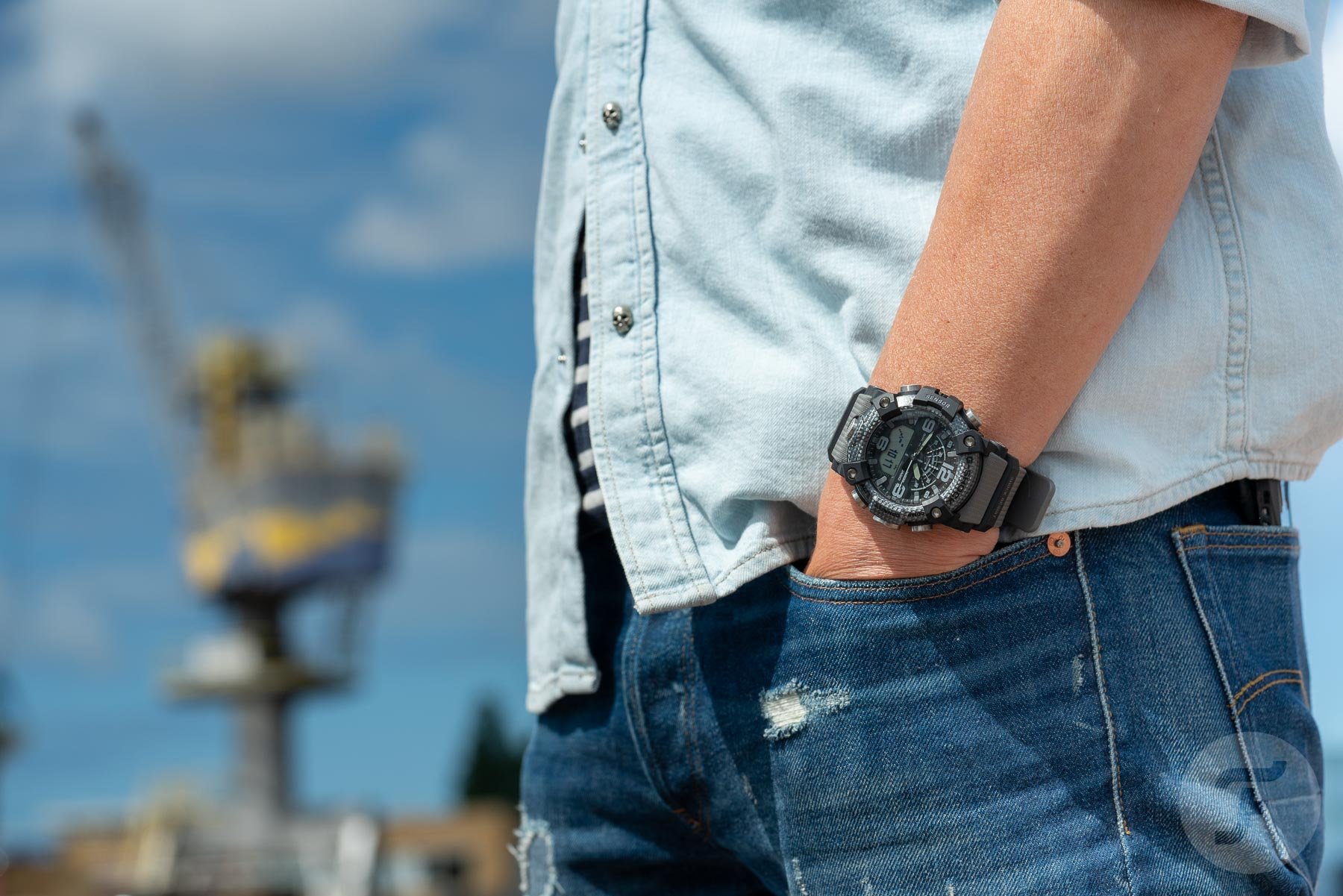 Get a load of this: it is water-resistant to 200m. Its accuracy is slated at +/- 15 seconds per month. There is an alarm function, capable of ringing five times per day. An altimeter, a barometer, and a compass come as standard. An automatic calendar will always display the right date once set. If you need to know the temperature, the thermometer on this baby will see you right. And if you find yourself in cold temperatures, no worries: the Gravitymaster can function at -10 °C/ 14°F. We have a stopwatch and a countdown timer. There is a light to illuminate the display (along with useful lume at the essential points) to keep you going after dark,
The band is resin and the case is carbon-reinforced with Casio's famous carbon core guard structure. It measures 54.1mm across, 63mm lug-to-lug, and 18.3mm thick. The case is topped with scratch-resistant spherical mineral glass, which offers high resistance to impact. The patented Hollow Core Guard Structure protects against impact and vibration. There's Bluetooth functionality and a step counter, as well as a world time function. And all this will cost you less than €400. Not. Too. Shabby.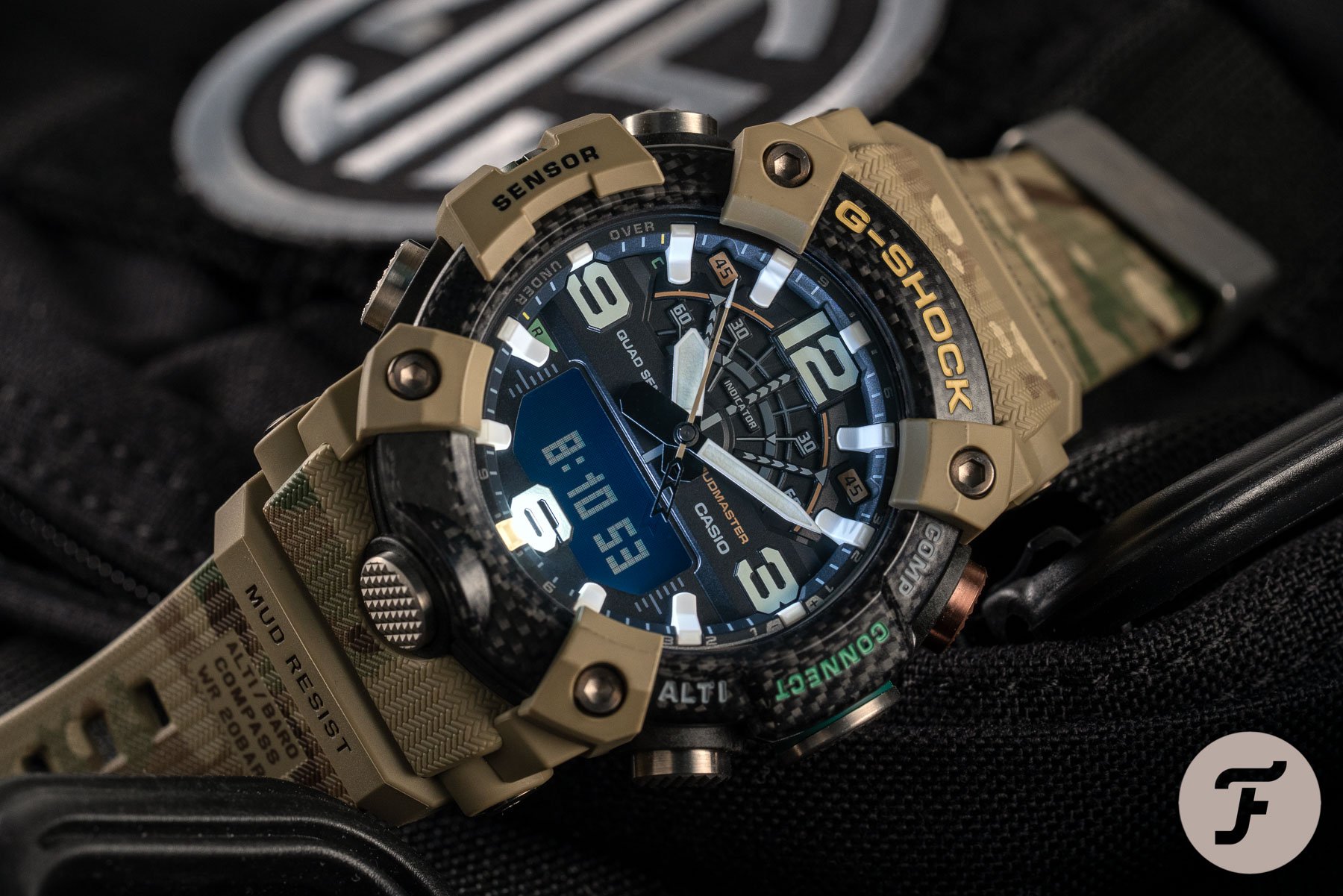 Down and dirty in the mud
The moment I saw the GWG-1000-1A3ER it was love. My friend and former colleague Zach Pina reviewed the watch on aBlogtoWatch and I instantly got in touch with him to gush over the new model and the photos he'd included in the article. I was a little perturbed by its north-of-$700 retail at the time, but it was a moot point. I needed one and I didn't hesitate to pull the trigger a couple of weeks later when I rocked up to a dealer in London that had one in stock.
I thought that watch would stand the test of time incredibly well, and while it has done so aesthetically in my eyes, I'm not blind to the fact I'm almost certainly looking at it through rose-tinted glasses. When I take a step back and analyze it in comparison to the GG-B100-1A3ER, the GWG-1000-1A3ER has actually aged really badly.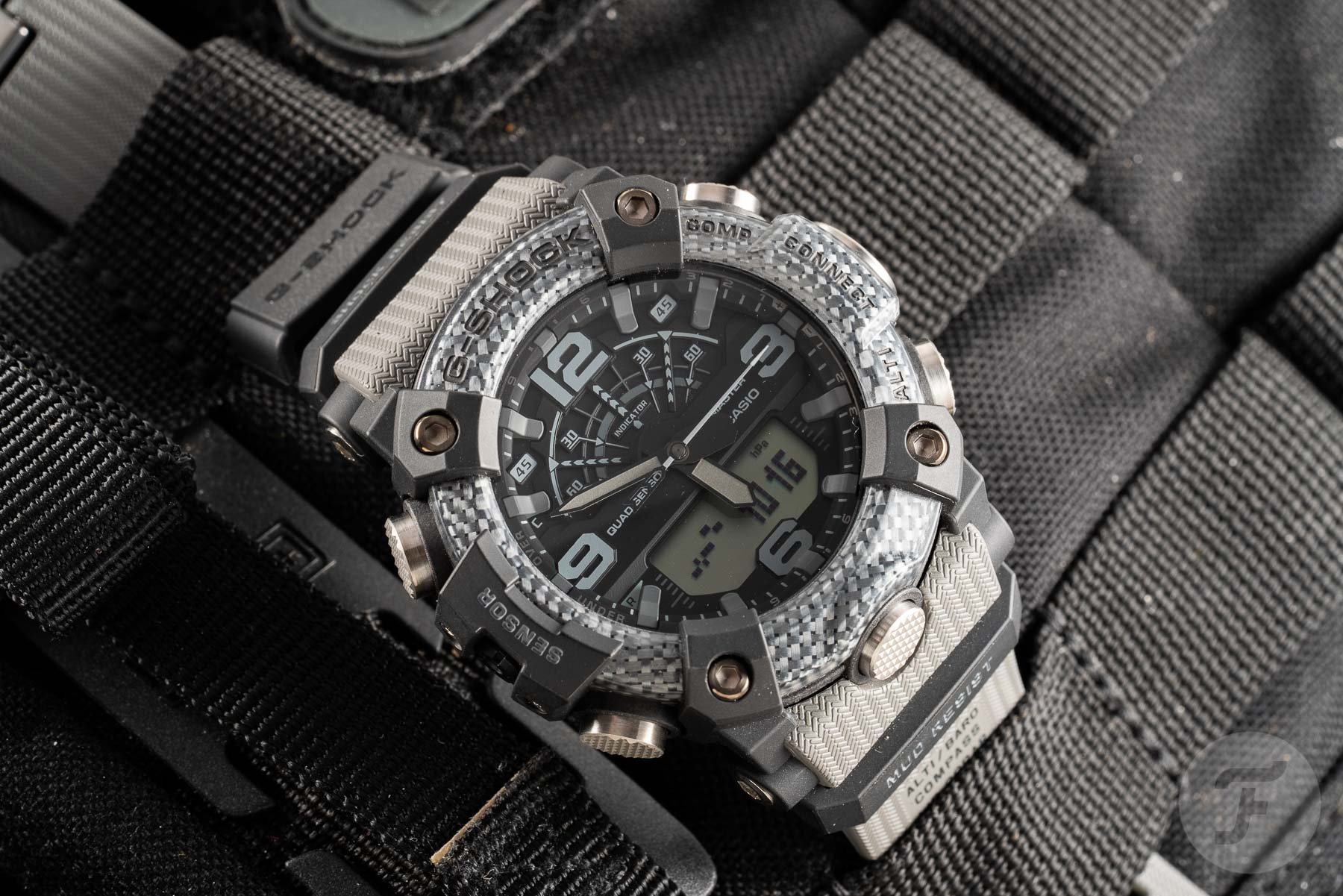 The GG-B100-1A3ER is not only a much more modern watch, but it also features the carbon core guard structure, a slightly domed crystal, and, most noticeably, Bluetooth functionality. Wait, wait, wait; I made a mistake: the most notable difference between these two models is the price. The follow-up to the glorious Mudmaster of 2015 is half of its precursor. That's right, the GG-B100-8AER is €349. Seriously.
Diving deep for novelty
The Frogman was always weird. Its bold, asymmetrical case is the kind of thing that keeps watch designers up at night. Why? Well, for a couple of reasons… Firstly, it is amazing for all the wrong reasons. It really works when it shouldn't. Many great watch designers have tried their hand at asymmetry in watchmaking and while some have succeeded, it's basically unheard of to see such structural ambition at this price point executed with such aplomb.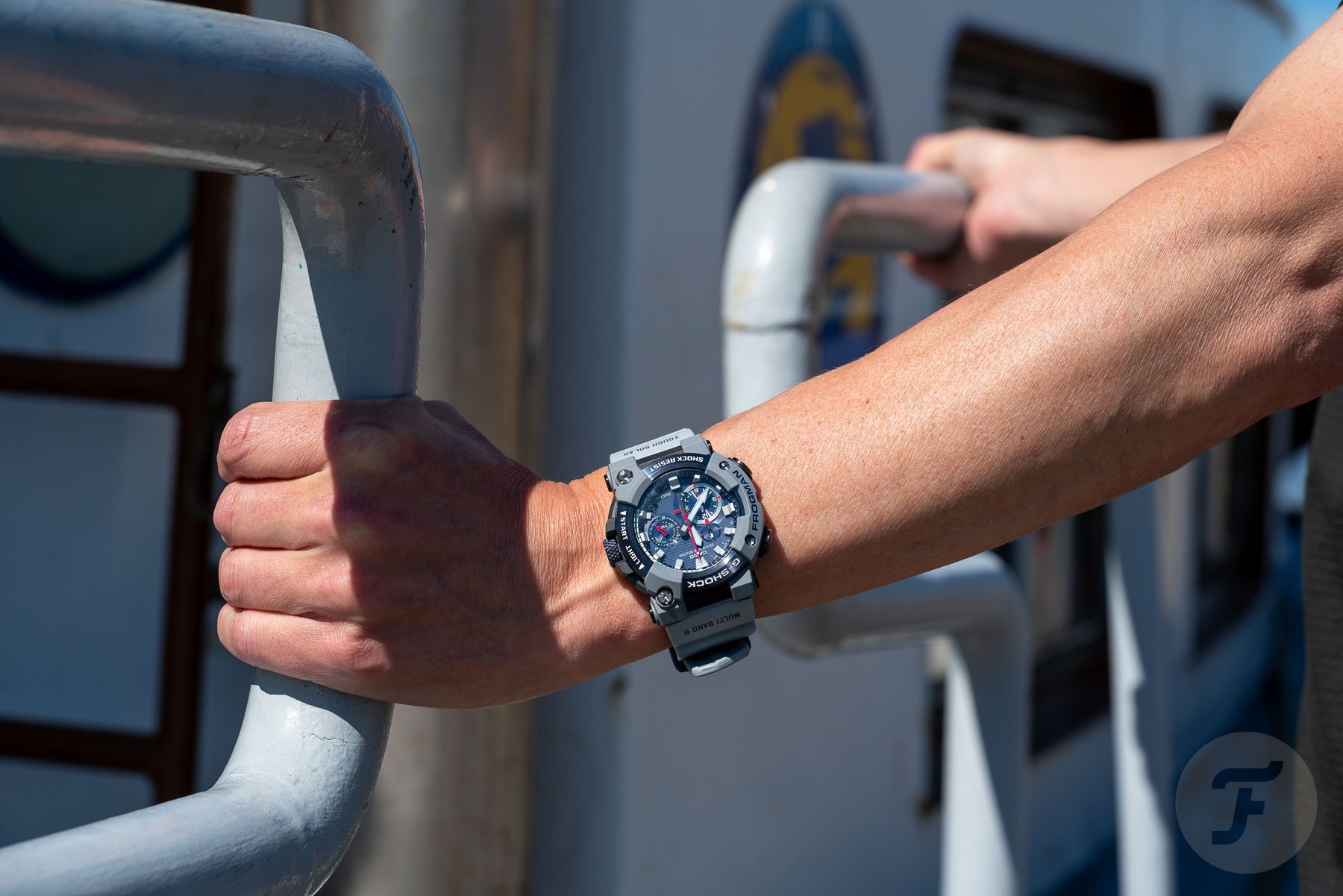 Visually, it is the maddest and the baddest of the three. It also commands the highest retail at close to €900. Is it worth it? Well, in a word, yes. If this is what you're looking for, there is no corollary in the industry. It's divisive and it's bold, but it is brilliant. Of the three, would it be my choice if I were only allowed to own one? No, I'd probably stick with my Mudmasters. But the more time I spend with this one and the Gravitymaster, the more I feel my watch box needs the trio to feel complete. Let us know your favorite of the three in the comments below. And better still, if you have any of the earlier models, share them with us! Learn more about Casio here.