Speedy Tuesday – Christmas Shopping Guide: Speedmaster Accessories
The first Holiday Seasons wishes came in today in the office, so perhaps it is about time that we give some Speedmaster accessories shopping tips before Christmas really starts. Some of you probably know what to buy and what you would like to have, but now you can forward this article to your wife, girlfriend, partner for inspiration.
As a Speedmaster fan, there are a couple of things, besides the watch, that you 'need'. At least, I found myself buying most of the items on this list in recent years in addition to my Speedmaster watches. This week, Speedy Tuesday is about Speedmaster accessories! I tried to keep it budget friendly, so there should be something in there for each and anyone of you.
Shopping Guide – Speedmaster Accessories
Whether you are seeking a present for a die-hard Speedmaster collector (yourself?), or someone who just has one Speedmaster (yourself?), the Speedmaster Accessories in this list will surely make them happy. Some are perhaps for the more advanced collectors or fans, others are truly for anyone who loves his (or her) Speedmaster.
1. Vintage Speedmaster Advertisements
Nothing beats a cool vintage item, such as a classic advertisement that you can put up the wall. Be it at home or in the office. Omega advertised a lot in the 1960s-1980s in magazines like National Geographic with their watches. Before you go out and buy a random stack of old magazines and go through them page-by-page (I actually did this when I was a student), you can also buy a (vintage) Speedmaster advertisement via eBay. The one below for example, is a scan of the last one that I bought. It was approx $10USD. Make sure to have it framed before you give it, only then it is really suitable as a present in my opinion. Frames can be found anywhere, just make sure you get the right size.
It will be especially nice to find one that is similar to the watch of the the receiver of the present. If that's impossible or difficult to find out, go with anything vintage about the Moonlanding.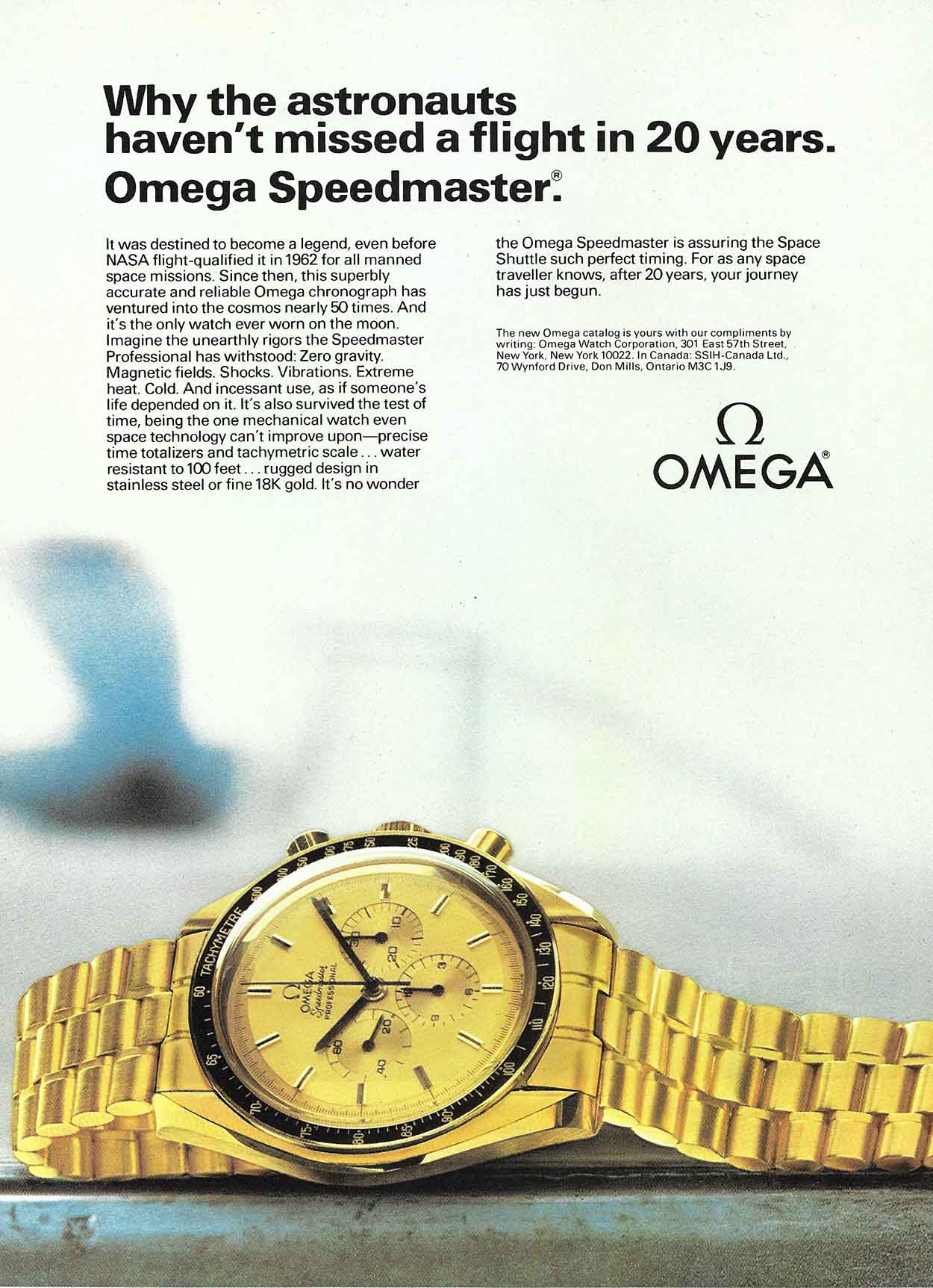 2. Speedmaster Art
To stick to items you can put on the wall for a bit longer, there are also a couple of artists out there that have been inspired by the Speedmaster Moonwatch. There's of course our own Teun van Heerebeek who made a couple of really nice cartoons that will look lovely on the wall. He sells a couple of really nice prints that are Speedmaster related, such as the 'Moonwatch astronaut', 'Moonwatch only', 'Omega Speedmaster NASA test' and 'Moonwatch landing with Apollo 11'. The last one can be seen below. Prices start at €36 and depending on the size go up to €45. A passe-partout is not needed because as all prints come with this white edge. You can find his prints here.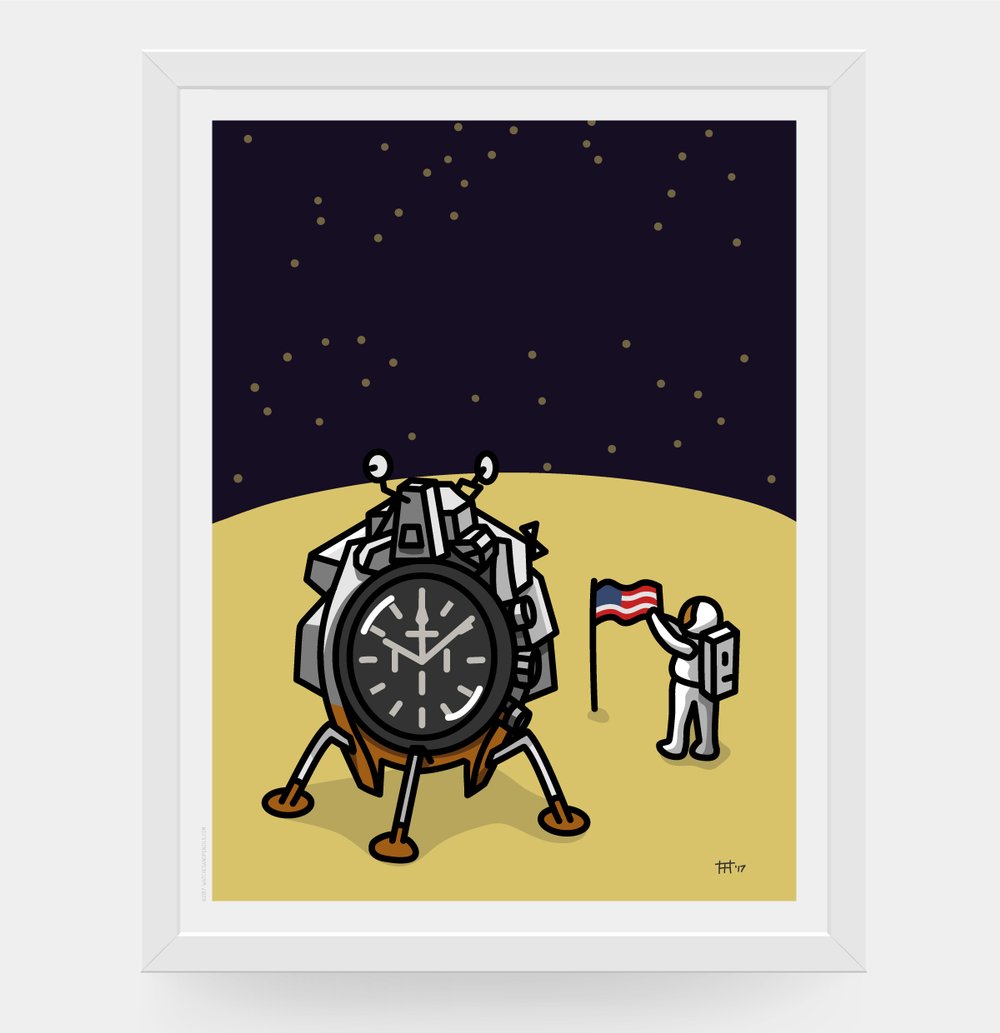 If you are not that much into the cartoon style, or you know the receiver of the gift isn't, may I suggest to have a look at the art work done by Cay Broendum. His work can be bought on aluminum and on canvas. Prices start around €380. You can find his work here.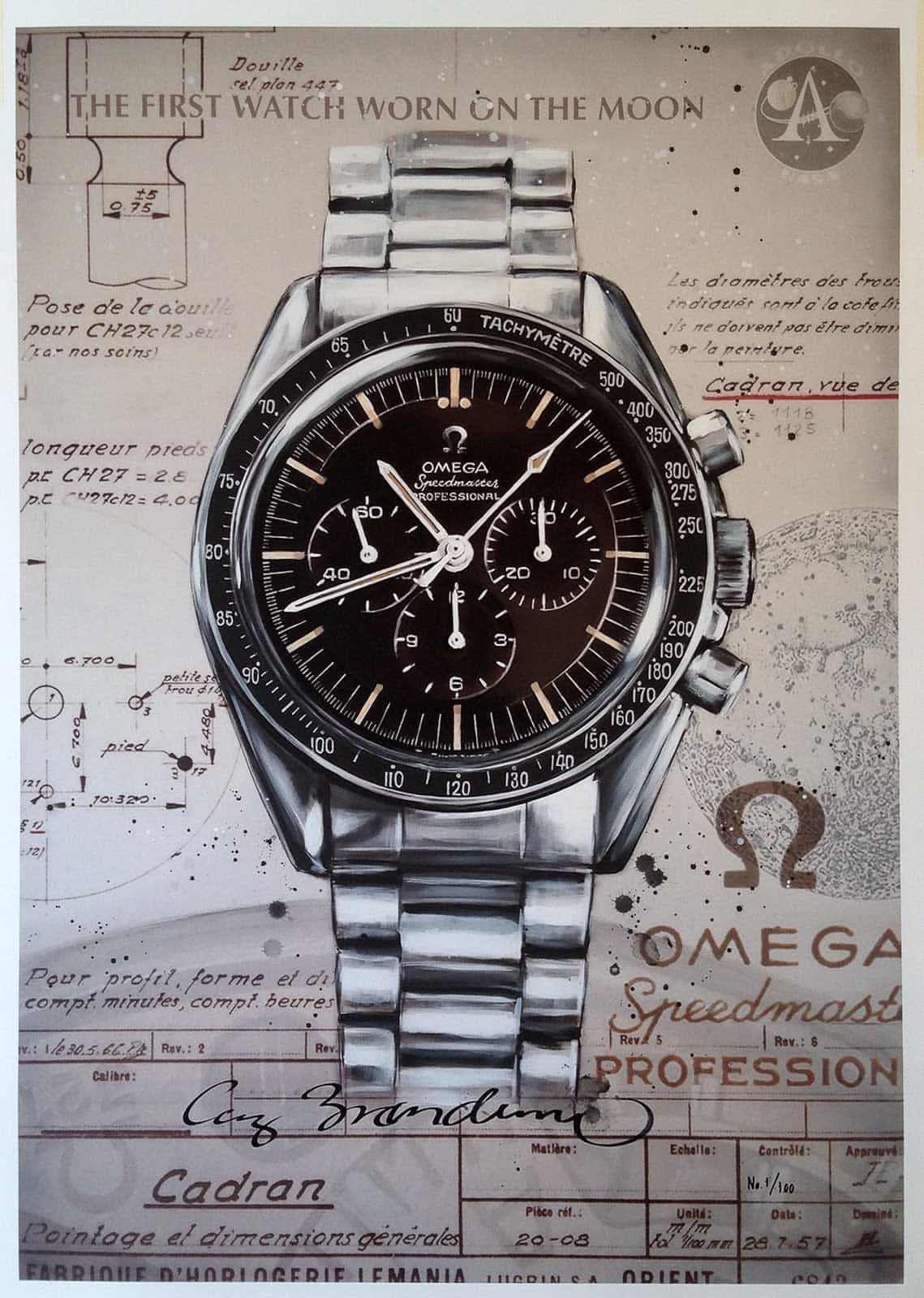 3. Speedmaster Straps
Very important these days is the strap game. Since years, people try to make their Speedmaster more personal by adding a custom strap. You can try an official Omega strap for a Speedmaster, but there are also plenty of nice alternatives out there. A NATO strap from a third party like Cheapest NATO straps can start as low as €8 while the official Omega NATO straps can easily set you back €180 or more. Their collection is shown on the official Omega website, but unfortunately it does not disclose prices in all countries (like The Netherlands, very annoying). For those with similar issues, visit the Ace Jewelers on-line boutique who has a nice collection of official Omega NATO straps.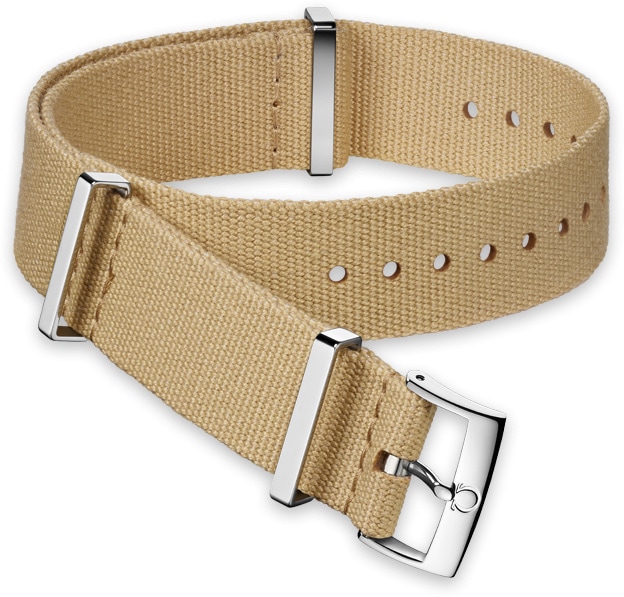 You can also opt for a normal strap, as NATO straps are not for everyone. There is a wide selection available for Speedmaster watches (remember a Moonwatch needs a 20mm strap). Below, the Speedmaster Speey Tuesday on a brown racing strap from Straps By Fleur. In our recurring Watch Strap Review item on Fratello, you can find some others as well. Straps like the one below are €70, but you can find cheaper ones (and more expensive ones) as well.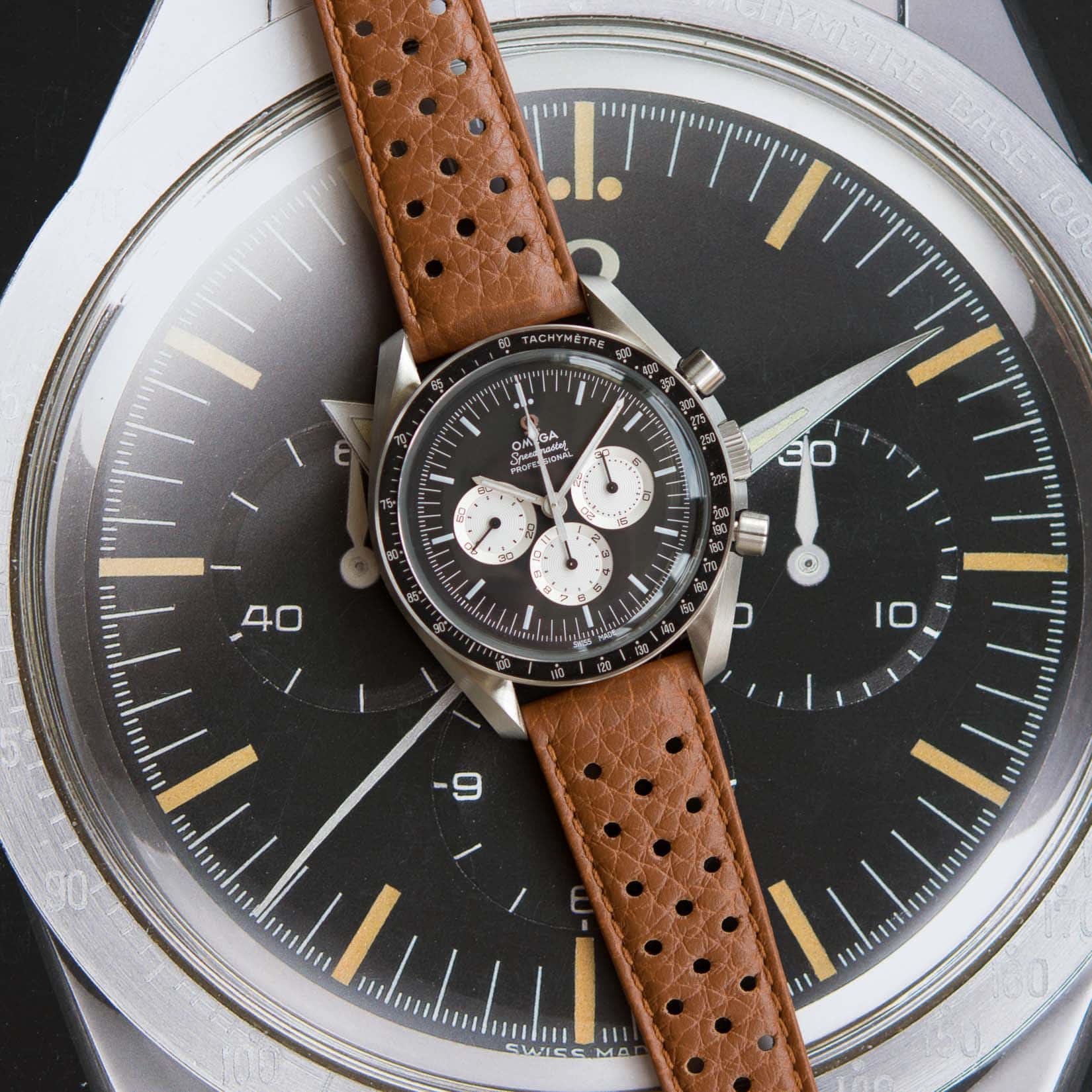 4. Fischer Space Pen
Writing up-side down and in zero gravity, there are days I don't do these things, but at least my Fischer Space Pen is up to it. Their astronaut pen, the AG7, was carried on the Apollo missions and part of NASA's astronaut equipment. You can purchase an astronaut pen (always go for the AG7 model) via the Fischer Space Pen website or on sites like Amazon. It might be wise to check if there's a local supplier in your country (or eBay), as prices vary quite a bit. Expect to pay around €50 for an AG7 Space Pen. There are also some special editions, with astronaut's signatures or commemorative editions for the Apollo 11 Moonlanding (I have one of those). But you will also find them linked to the later Space Shuttle missions. The original model is the silver colored AG7, on top of the product catalog on the official Fischer Space Pen website. If you order there, you can also have a custom engraving done on the pen.

5. Moonwatch Only book
For Speedmaster fans there is a bible, this bible goes by the name of Moonwatch Only. Authors Rossier and Marquié did a helluvajob and I feel it is the best book out there on the topic. It can (and will) be used as a reference guide but you can also find a couple of interesting background stories in there. It doesn't come cheap, but it will prevent even the best Speedmaster experts out there to make mistakes when buying a (vintage) Speedmaster watches. Mistakes that can easily be more expensive than a couple of these books together. If you – or the person you want to give it to – don't have this book already, this is really a no-brainer if the budget allows it. This book can be purchased from a number of sources, including via the WatchPrint website. An in-depth review on this book can be found here.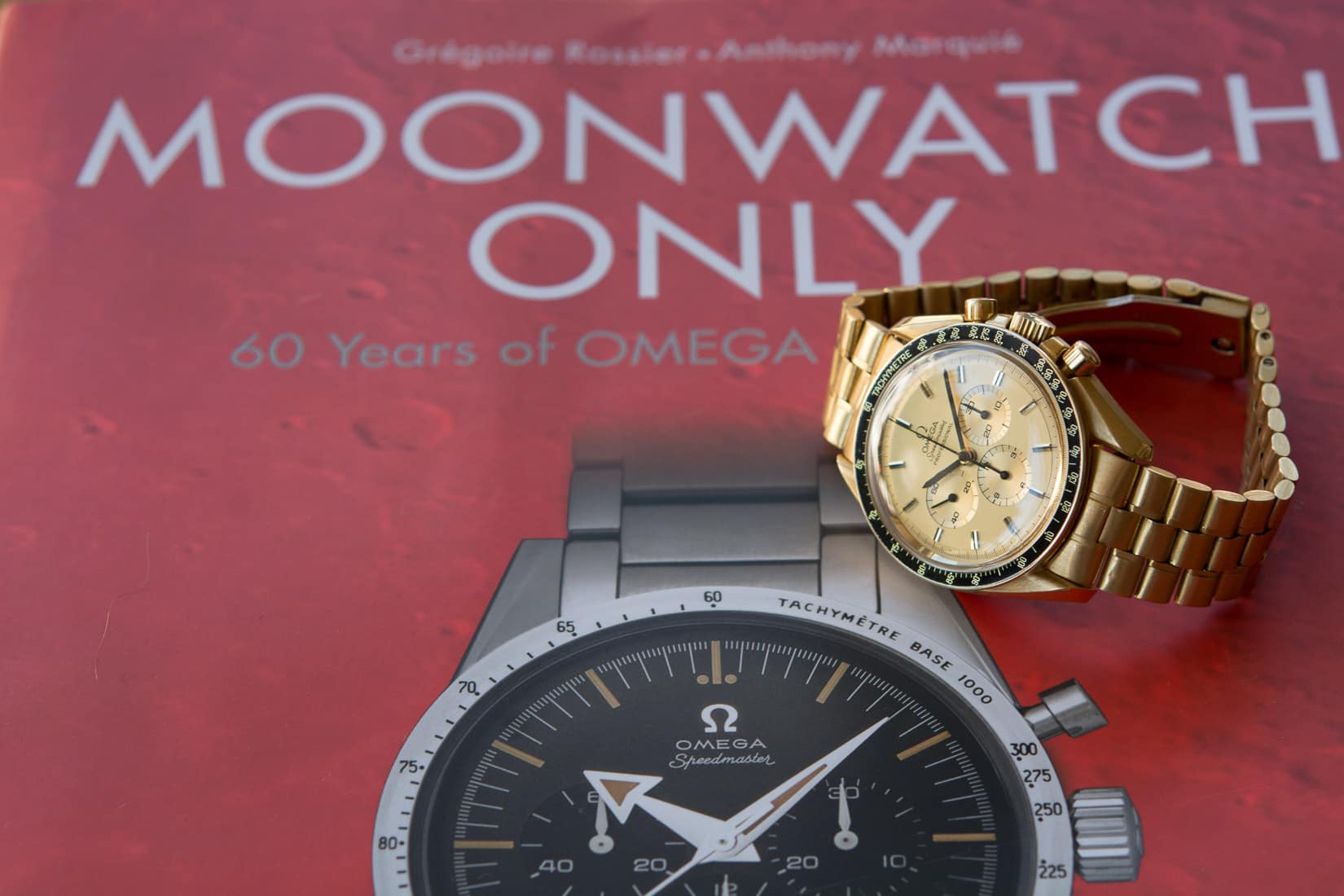 There is also a Moonwatch Only iBooks version available for €30, which is more like a useful go-to e-book.
6. LEGO Ideas Saturn V
After being sold out for a while, it is back in stock: the LEGO Ideas Saturn V rocket. 1969 pieces – corresponding with the year of the Moonlanding – and a lot of fun to put together. I built mine with my daughter, took a couple of evenings, but it is great fun. This 100cm tall Saturn V will be an awesome gift for kids AND grown-ups who also love the Speedmaster for being the Moonwatch. This LEGO Saturn V rocket is part of the 'Ideas' department, where LEGO-nerds can come up with a project-case. After receiving enough (>10,000) votes from other LEGO fans, the Danish company takes a product into consideration. That's the short version of it, but in fact it is quite a lengthy process. This Saturn V made it to the shops, and it is simply stunning. Even my wife thinks it is cool, and allows me to have it 'exposed' somewhere in our living. Official price is $119 / €129 (depending on which European country), beware of sharks out there who try to sell it for more due to the high demand. Click here to order it directly from LEGO.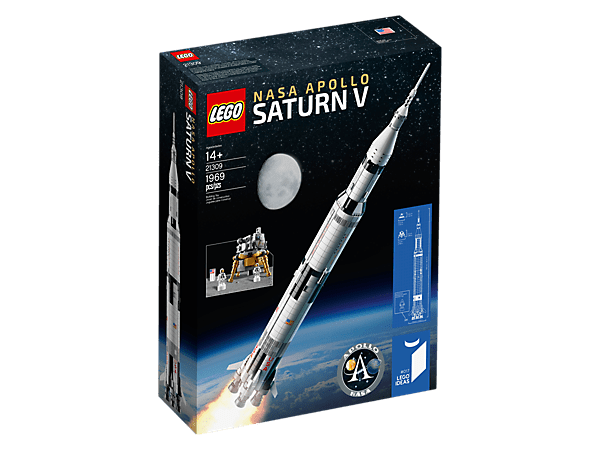 7. Bergeon 6767-F
This actually has to do with item #3 in this list. If you want to swap straps, you probably want to be able to do it yourself. As your dad probably always told you: use proper tools! Bergeon is a top of the bill equipment maker for the watch industry, so why not buy this spring bar tool from the best? You will need reference 6767-F, and that can be found everywhere on-line (including Amazon here). Price is about €15. No-brainer! There is also a 6767-S (S = standard, F = fine) which refers to the small bit mounted to the tool. Any of the two will do, but I am using F since a long time.

8. Astronaut Bed Linen
You.need.this. Available in both single and double variants. Have a look at the dimensions before you order, of course. Double is 200 x 200cm. Click here for more (ordering) information. With this bed linen, it is allowed to keep your Omega Speedmaster Professional on at night.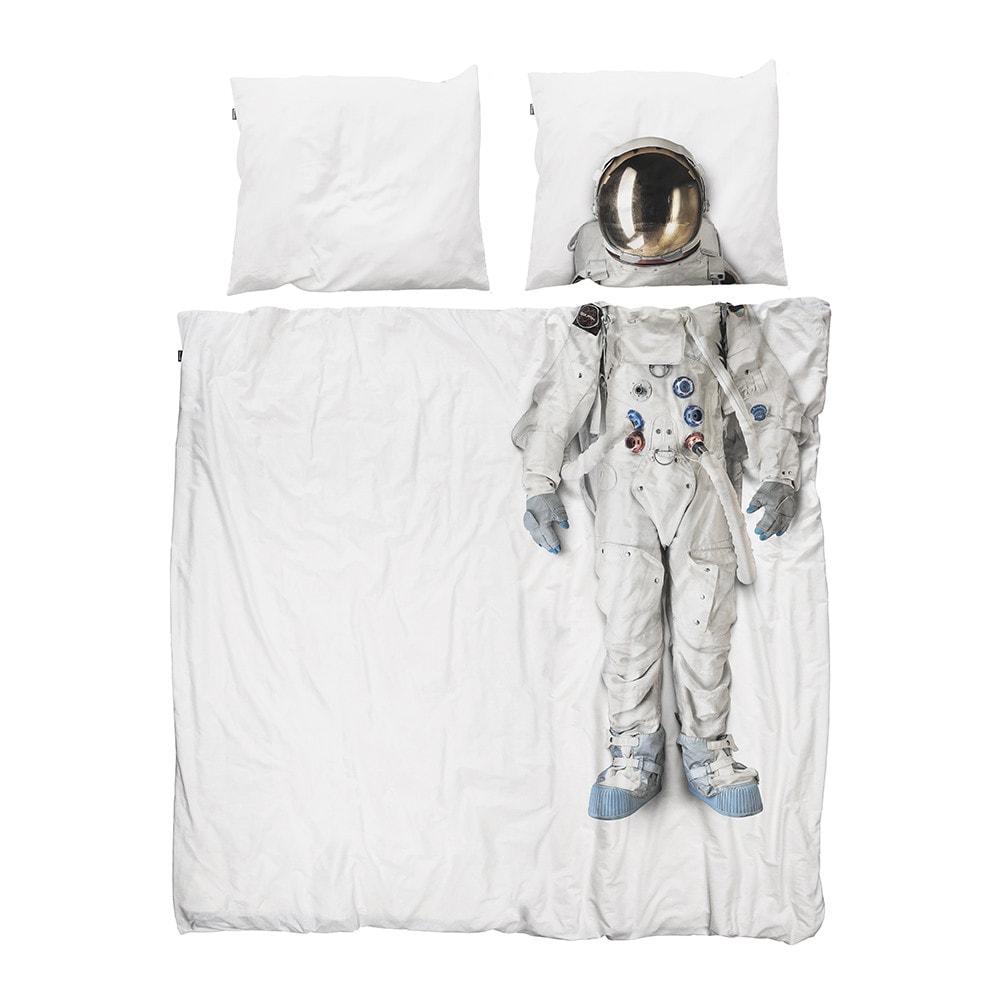 9. Trip To The Omega Museum
Not really one of the Speedmaster accessories you would think of, but you definitely should consider taking a trip to the Omega Museum when you are into Speedmaster watches. You can fly to Zurich in Switzerland from about any big hub and from there, you take the train to Bienne. This will take you approximately one hour – enjoying some of the Swiss scenery). Close to the station there's one of the few hotels there, called Hotel Elite, with a great restaurant on the top floor. Next day, you can spend a lot of time in the very impressive Omega museum. You will find some of the flown Speedmasters in there, as well as some really awkward prototype models. And of course the gold Speedmaster that was offered in 1969 to Richard Nixon, then president of the USA. A trip you will never forget. More information via the Omega Museum website.
10. A 1:6 Scale Figure of Apollo 17's Gene Cernan
I bought this not too long ago. It is a scale model of an astronaut, Apollo 17's Gene Cernan to be precise. It has a lot of details, including the (Speedmaster) watch that is worn over his suit on a long velcro. In front of him, there's the Hasselblad camera that they used during the missions. It comes with a couple of little accessories you can use on this figure. It is far from a toy, more like a professional model. It doesn't come cheap (I think I paid around €200) but it is a very cool item to have if you are fan of Speedmasters and the Moon program era. Also, if you or the person you want to surprise, has a Speedmaster Professional 'Apollo 17' limited edition (there are three variations, from 2002, 2012 and 2017) this might be the perfect gift. They are being offered on eBay and Amazon, but for high prices. I got mine via a local shop in The Netherlands that sells trains, RC stuff, models etc. Here is one in the US for example. This model is made by Hobby Masters and part of their Legend Series. If you want to search properly, use the official product code "HM-HF0003".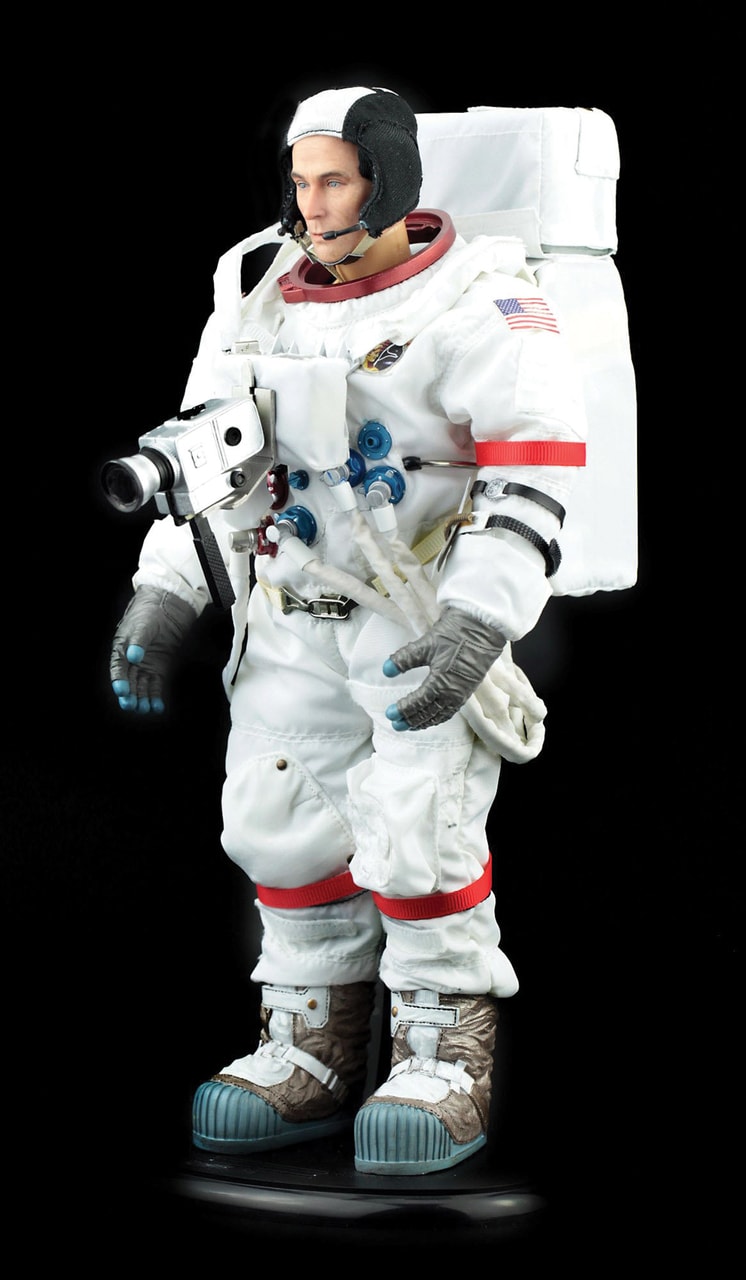 Do you have more or other interesting Speedmaster accessory suggestions? Leave them in the comments below!