You Asked Us: Why do my Chronographs Change the Date at 01:00 hr?
This week Eddie sent us an interesting question. It seems that his chronographs don't change their date at midnight. Here's the whole text of his question:
"Has anyone noticed the common phenomenon when it draws near midnight for most mechanical chronograph watches? The date change does not usually occur! With simpler movements, manufacturers of brands usually set the date change fairly close to the dot but most chronograph watches I have come across, including half a dozen I own: Omega, Longines, Ventura, Sinn, Schwartz Etienne etc, tend to have the date change only after 1 am. Is there a reason, technical, conventional or even habitual, for this delay?"
You Asked Us: Why do my Chronographs Change the Date at 01:00 hr?
A nice one. Something I'd never noticed myself, so this seems worth investigating. First, I noted that the chronograph's Eddie mentioned, are most probably all equipped with a Valjoux 7750 caliber. As well I noted that he explicitly talks about the date-change, not day-change, while often Valjoux 7750 calibers are equipped with day and date indication.
Beginning the investigation
So next thing to do for me was having a look at chronographs in my own collection. I found a Sinn 103.St, which has a Valjoux 7750 caliber, a Sinn 142.St, using a Lemania 5100, an Omega Speedmaster Moonphase with a Lemania 1866 caliber, and a TAG-Heuer Monaco which has an ETA 2894-2 caliber. The latter being, in fact, an ETA 2892-2 with a chronograph plate on top of it, hence a modular design.
Guess what? All movements finished the change of date, more or less, exactly at 00:00 hr. To be extra sure – and because my assumption that Eddie's watches use Valjoux 7750 movement – I took another watch with a Valjoux 7750 based movement, an Omega Speedmaster Automatic. This one as well had changed its date at 00:00 hr.
On to the next step
Hmmm. So that leaves me puzzled. Why are Eddie's half a dozen chronographs changing their dates around 01:00 hr, and five of my chronographs finish changing at 00:00 hr..?
Something I noticed with my own chronographs is that the actual changing of the date took quite some time. I could see the changing starts before 23:00 hr already, and then finishes mostly spot-on with a click to the next date at 00:00 hr. I wonder why that was, so had to learn about the construction enabling the date indicator to change.
What does the actual date changing construction look like?
This kind of information can be found for instance on the ETA website. This has a very comprehensive technical section on their chronographs. You'll find a direct link to that section here. From different calibers, like the Valjoux 7750, all kind of technical documents are available. Much of the content is copyrighted, however, I'm sure ETA allows us to use one of their drawings to explain the date setting construction of their caliber. For the explanation, I'll use another picture as well though, and that's of the identically constructed Sellita SW500 chronograph caliber. Here we go.
To advance the date disc, we see a little wheel containing a triangular notch. That's the number 66 in the drawing below, the date indicator driving wheel. There's another more or less equal one, number 65, but that's the wheel driving the day indication; let's focus on the date indication here, as that's where Eddie's question is about.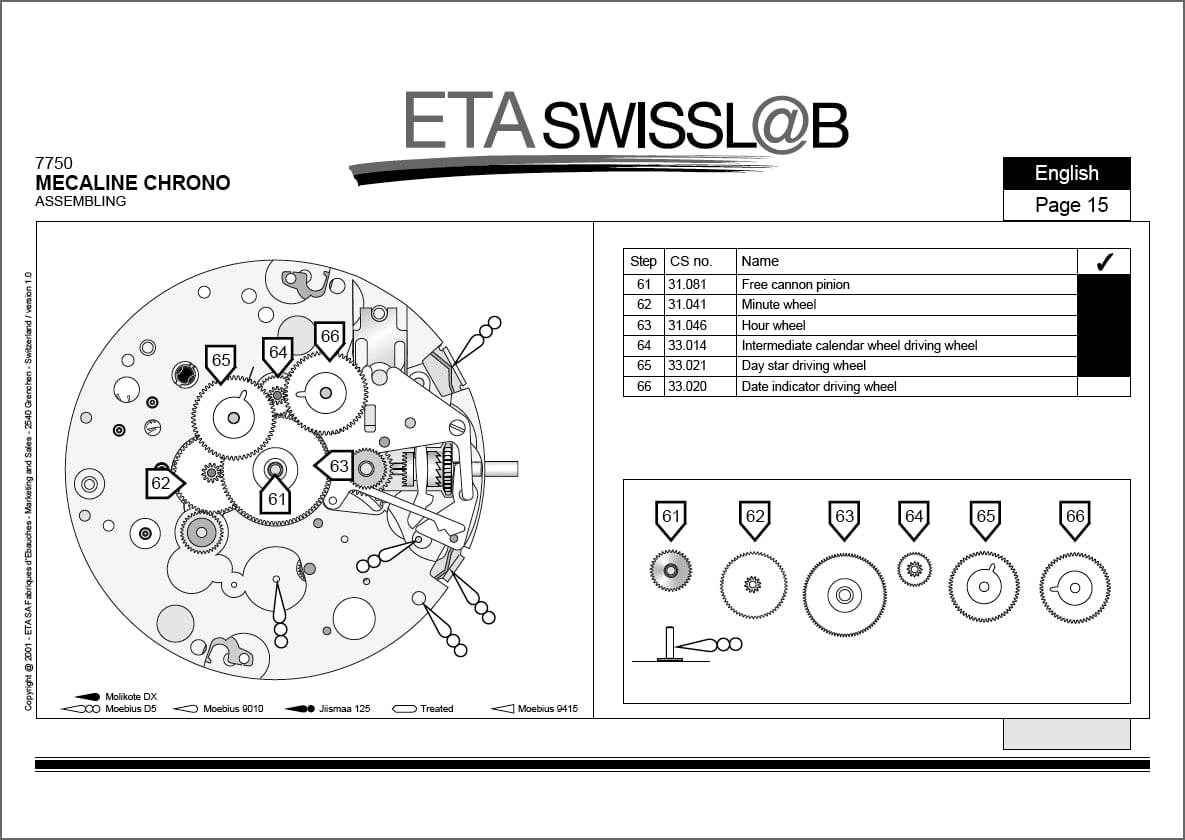 And how does it work?
This number 66 date indicator driving wheel is operated by a little intermediate calendar driving wheel, number 64. This little wheel is driven again by respectively the hour- and minute-wheel. I'll stop here, as we're ever drifting further away from the date changing construction now. It can be best seen best on the Sellita SW500 drawing. There seems to be a line on the main plate for the day indication. Indicating the position of the notch on the day indicator driving wheel. Sellita mentions for the sake of synchronising the date drive wheel, so that it switches at the same time with the day: The notch of the date indicator driving wheel should point towards the center of the intermediate calendar driving wheel, and then off-set one tooth clockwise.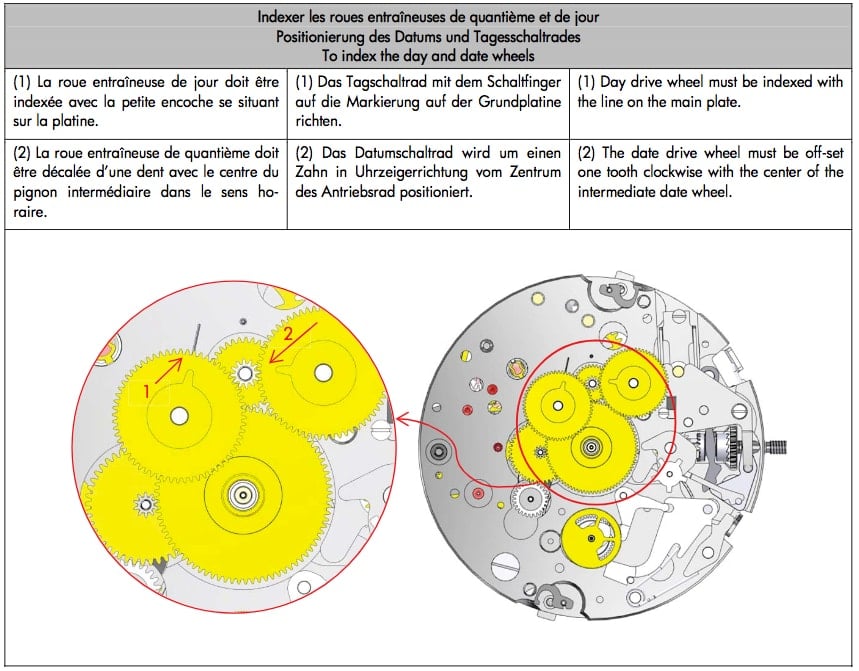 At what time the day and date will actually change is totally dependent on how the hands are placed however. They determine in the end at what time the date changes.
Watchmaker Paul
To be sure that I understood the things right which I had looked up, I decided to double check with Fratello Watches' house-watchmaker, Paul. Although on holiday, he confirmed that it all functioned how I thought it did and confirmed as well that it takes quite some time to change the date. As per the recommendations from various watch brands, he installs the hands in a way that the changing of the date starts before 23:00 hr and is finished at 00:00 hr. However. However, he knows that not all watchmakers, and even brands, install the hands like this. He told me about a factory new Hamilton chronograph which he got on his bench lately, and which had the hands installed in a way that it finished only after 01:00 hr at night. Other watchmakers might do the same as well because of personal preference.
Are all Eddie's chronographs wrong?
So why all of Eddie's chronographs end the date change at 01:00 and my chronographs do at exactly 00:00 hr is not quite clear. The only thing I can think of is that Eddie has all his chronographs serviced at the same watchmaker, who prefers to set the date changing like this. I know that the chronographs I used for the investigation have been serviced at different sources. Anyhow, it seems not to be something which is right or wrong, it might be a random preference as well.
Bonus: information on quick setting the date at a Valjoux 7750
We all (should) have learned that quick setting the (day and) date on a Valjoux powered chronograph movement shouldn't be done between, let's say 22:00 and 02:00 hr. And now, from the picture below, we can understand why as well. At around midnight the date indicator driving wheel notch stands in between or against one of the notches of the date disc. The notch of the date disc, or the notch of the date indicator driving wheel, will be damaged if the date disc will be rotated directly by hand in that situation. And then it looks like this:
The picture was taken from The WatchGuy in the UK, who wrote a nice article on how easy it is to damage the date construction on a Valjoux 7750 movement. Meanwhile, a solution is available, but it's not totally clear in which watches this solution is already used.
Do you have a question for us as well? Don't hesitate to drop us a line via this form.