Coffee Corner Watch Talk: Business Edition With Two Rolex Air-King References On The Side
Sales of luxury watches are on the rise, but some brands are slipping
Face it, summer's over, and it's time to get back to business. And what better way to restart your work rhythm than with Fratello's Coffee Corner Watch Talk: Business Edition? It's Monday morning, and we're ready to crunch some numbers and have a look at the world's watch market. On top of that, there are two different Rolex Air-King references to talk about — one to wear and one to have. So grab a coffee, have a read, and also have a look.
According to Mercury Project, a Swiss-based consulting company focusing on the watch and jewelry retail industry, the first half of 2022 has been a superb watch year. Groups like LVMH (Bvlgari, Zenith, TAG Heuer, Hublot), Richemont (Cartier, IWC, Panerai, Vacheron Constantin, Jaeger-LeCoultre, among others) and Hermès recently announced quite spectacular half-year or last-quarter results for their watch and jewelry divisions. LVMH saw worldwide sales rise by 22%, Richemont by 19%, and Hermès by a staggering 65%.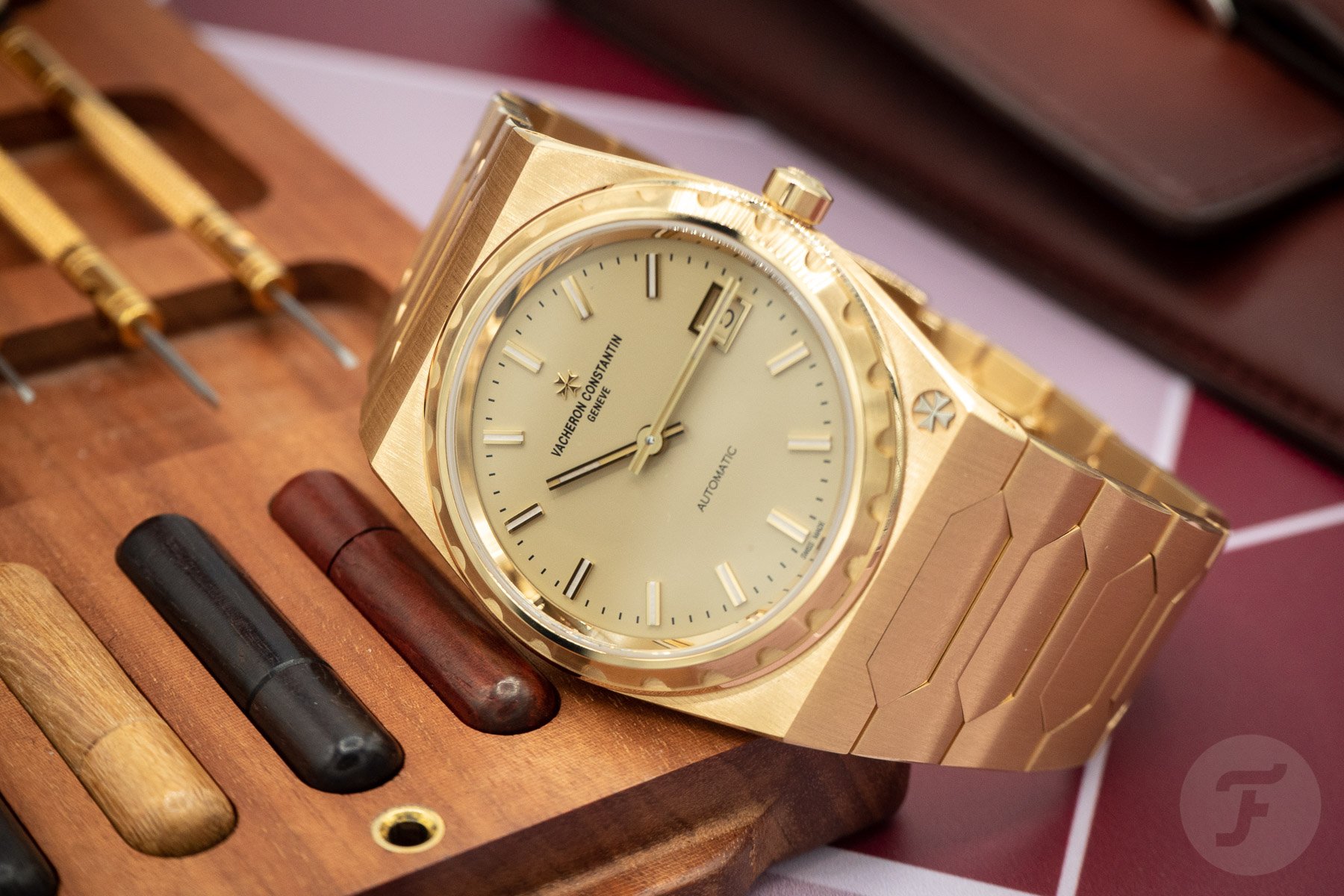 Coffee Corner Watch Talk: Business Edition — 2022 outperforms 2021 by 13%
Although the world seems to be a volatile place — I don't want to mention the war, climate change, political tension between the West and the Far East, the threat of another COVID outbreak coming this autumn, or skyrocketing inflation rates; I really don't, but they're happening — there seems to be a continued demand for premium and luxury products. According to Mercury Project's Sell-Out Index (SOI), which uses monthly sales data surveyed by national statistical offices to measure aggregated sales performance of specialized watch and jewelry retailers in selected markets, sales in 2022 are up 13% in comparison to last year. Furthermore, if you compare this year to 2020, sales are up by 66%.
What's behind the numbers?
Judging by the numbers, the world is a happy place. But numbers don't tell the full story. The increase in sales happened thanks to a group of people who, during the pandemic years, were able to build up substantial savings. That group consists of middle- and high-income households. Even with rising interest rates and record inflation hitting, affluent consumers keep spending. Even middle-income groups that are facing the current financial challenges have greater flexibility to continue spending than their lower-income counterparts.
Signs of continued demand for premium watches are reflected in shortages and waiting lists for certain watch models. Additionally, the watch-auction market is still on the rise. The first half of 2022 saw sales up by 47.0%.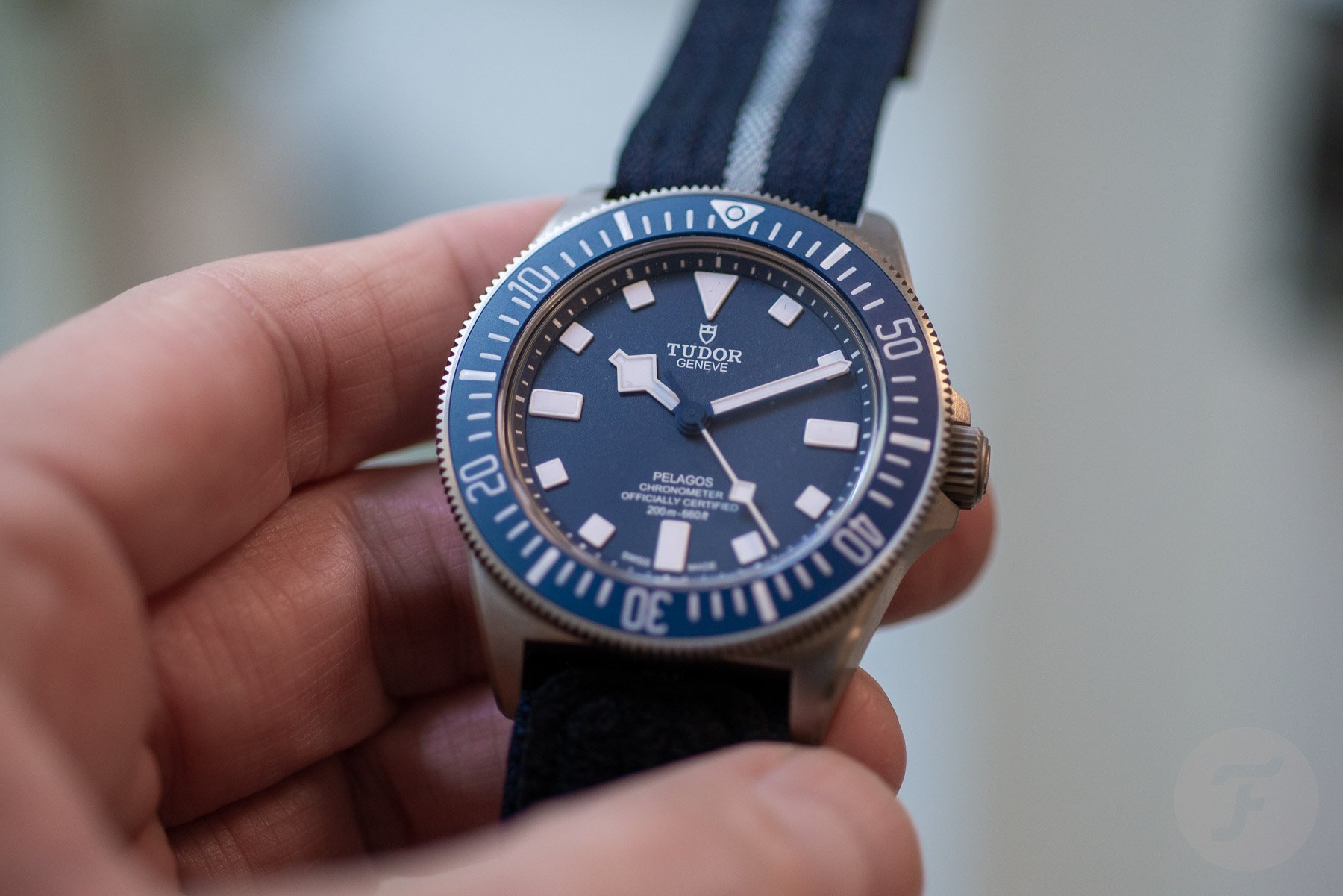 Gut feelings and solid numbers
What's most important, however, is retail activity — which watches are selling to end customers and ending up on their wrists. Regarding that, Richemont, for instance, reported a 26% increase in sales through its own retail channel for the first quarter. Direct sales now account for 58% of group sales. And then there are the authorized dealers. The Watches of Switzerland Group saw sales rise by 31%. Unfortunately, there are no figures available from competitors like Bucherer and Wempe, but even without those figures, the numbers are a good indicator of non-group brands. The Watches of Switzerland numbers indicate that luxury brands like Rolex, Patek Phillipe, Tudor, and Breitling are doing really well. In the case of Rolex, Tudor, and Patek Philippe, that's hardly a surprise. Nevertheless, it's always good to see a gut feeling confirmed by a solid number.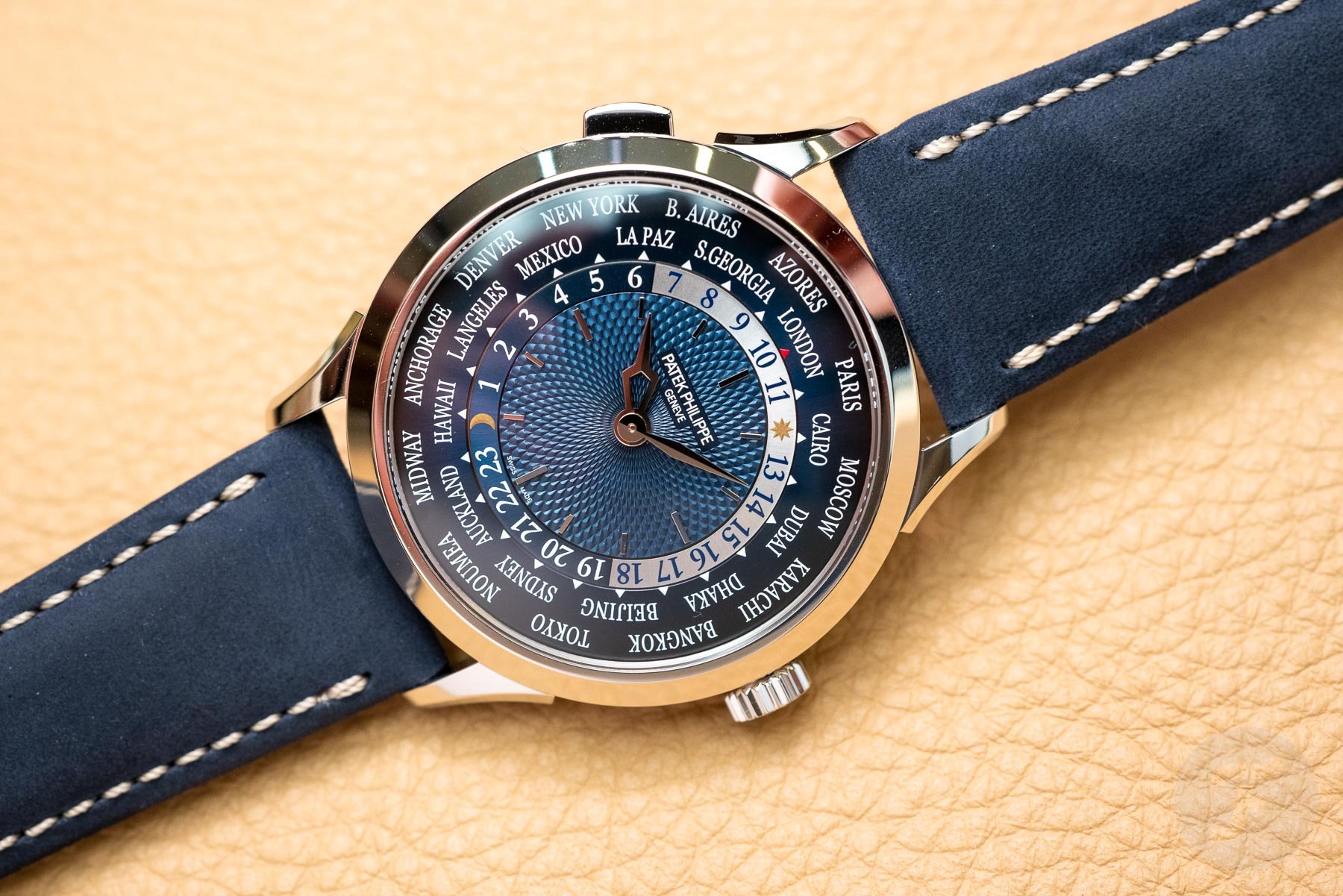 It's not all roses, though. Watch brands operating in the entry- and mid-level price segments are struggling — "less dynamic" is the euphemism used by groups, brands, and retailers. The target audience for this price category feels the consequences of high interest rates and soaring inflation directly. You don't act on your appetite for jewelry or watches when you worry about the monthly energy bill reaching the levels of a Hamilton field watch. Leading US jeweler Signets Jewelers confirms that jewelry price points below $1,000 are seeing a negative impact.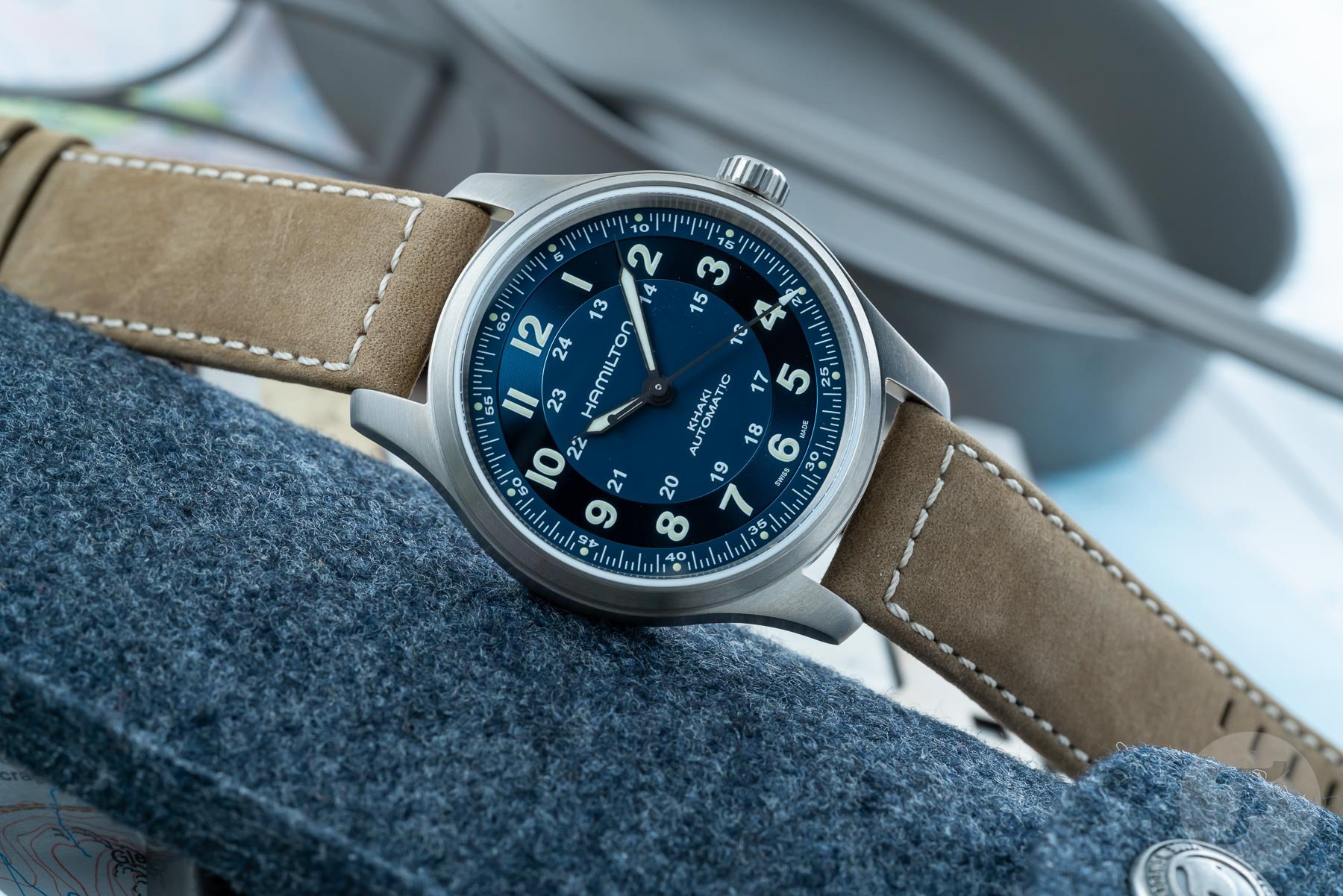 Ending the Business Edition on a high
Something also worth noting is that Swatch Group, with the entry- and mid-priced brands in its portfolio, didn't produce the impressive growth numbers that Richemont and LVMH are happy to share with the world. However, it's not only the entry-level products that resulted in a modest 4 .8% growth in sales. It's also that the Chinese market is underperforming. One major factor is the country's zero-COVID policy, leading to consumers becoming less positive due to confinement and other restrictions. And negative consumers are cautious consumers who don't see the need for an emotional luxury product.
However, experts say that change is on the horizon. Morgan Stanley Research expects the world's second-largest economy to open more broadly by the end of 2022. Once restrictions are lifted, consumer confidence will rise again. And with it, sales of luxury watches will rise as well. So, with that insight, we end this CCWT Business Edition on a high.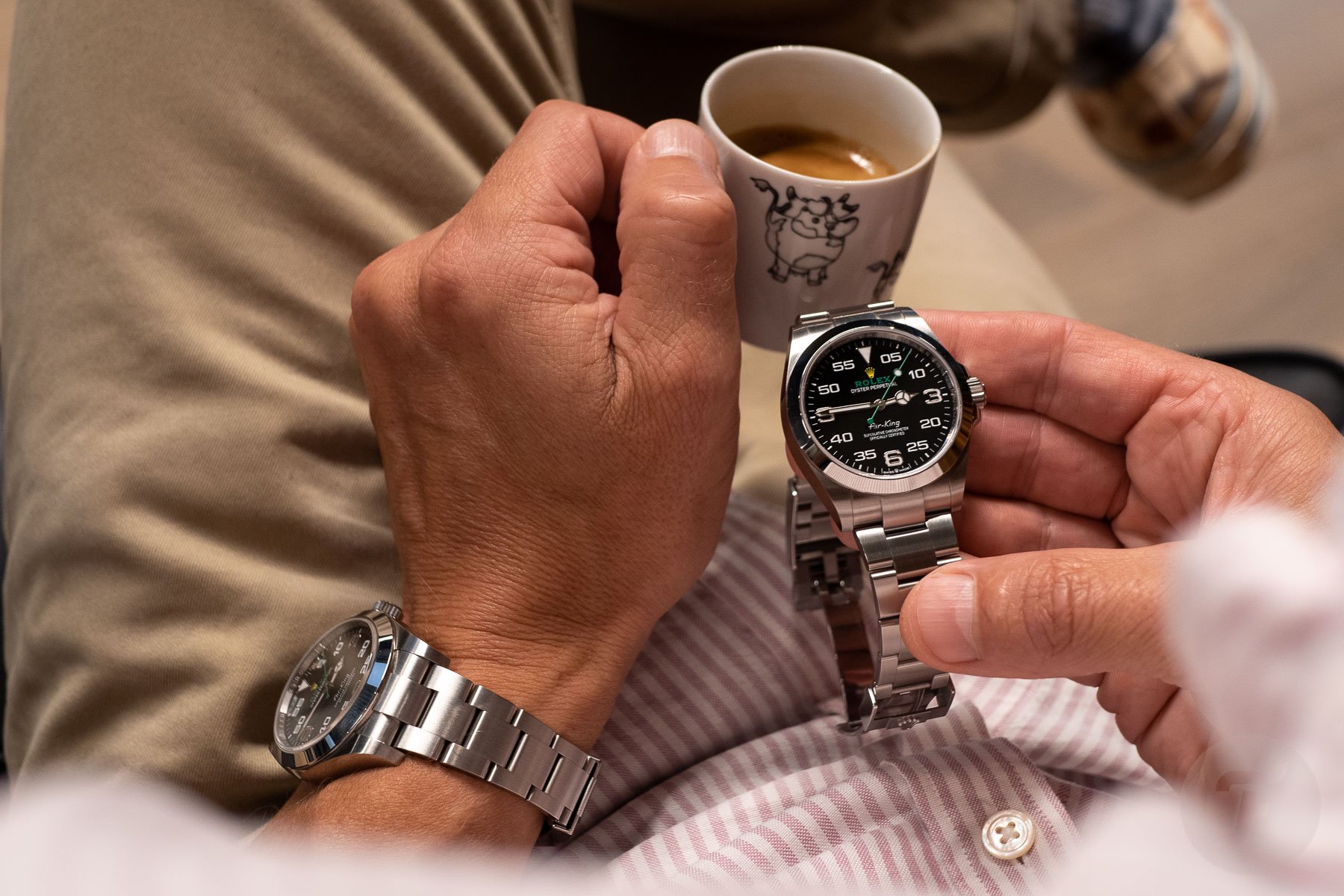 About those two Rolex Air-King watches
Not too long ago, I wrote about my unexpected lust for the new Air-King. Now, two of my Fratello teammates own an Air-King. One of them has the new one, reference 126900, and the other one the previous model, reference 116900. And since both watches are close by, we decided to do a video version of the story. It's about how Rolex managed to turn a watch that initially looked like a court jester into a proper king of the air.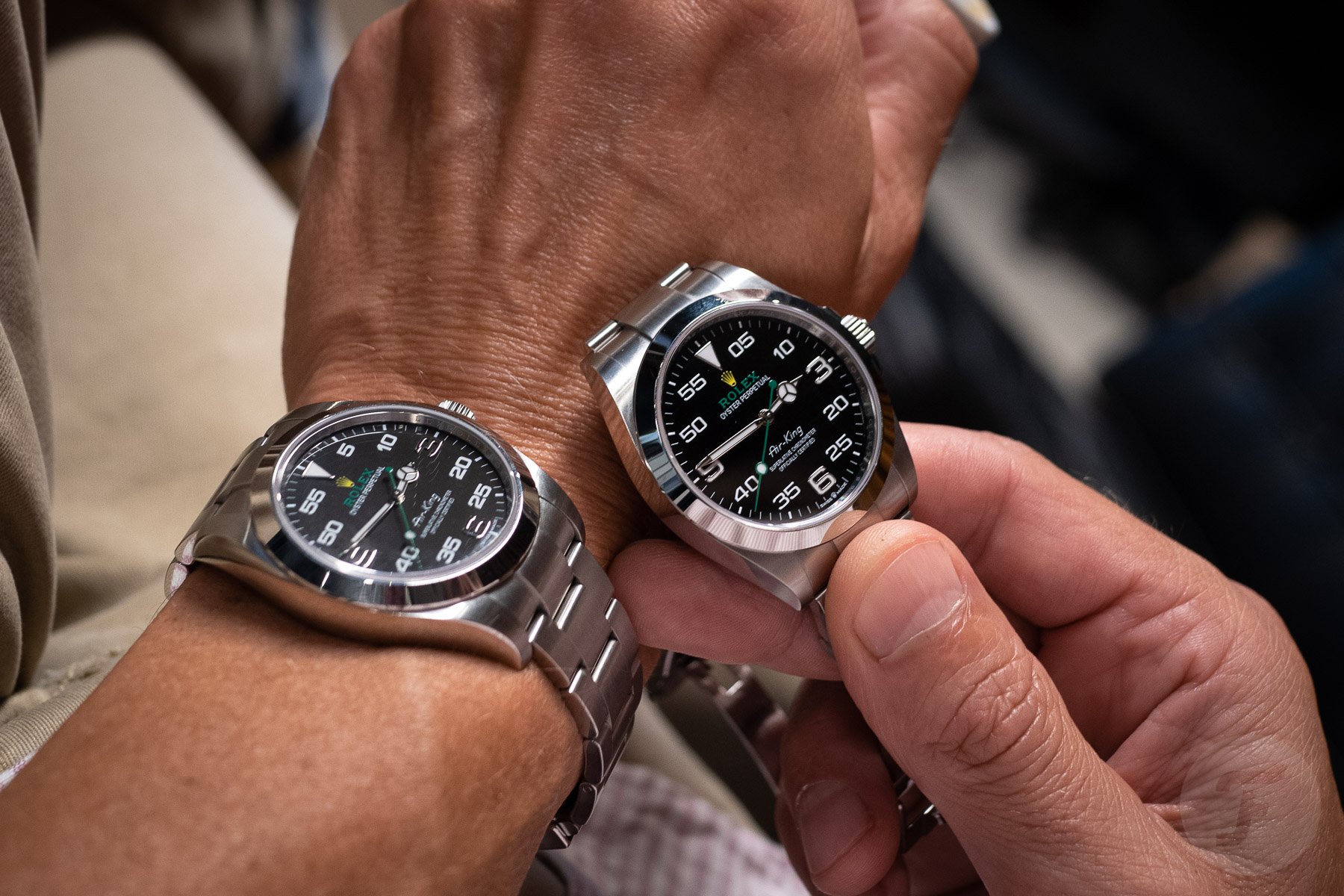 While handling both watches, I realized that the new Air-King is the one to wear while the previous reference is the one to have. And that's because the odd one, the one that needed improvement, was only in production for six years. The current one looks like it could live on for the next 37 years — that's how long the Air-King reference 5500 was produced. Collectors want the ones that were only made for a short while — the special ones, the flawed ones, even.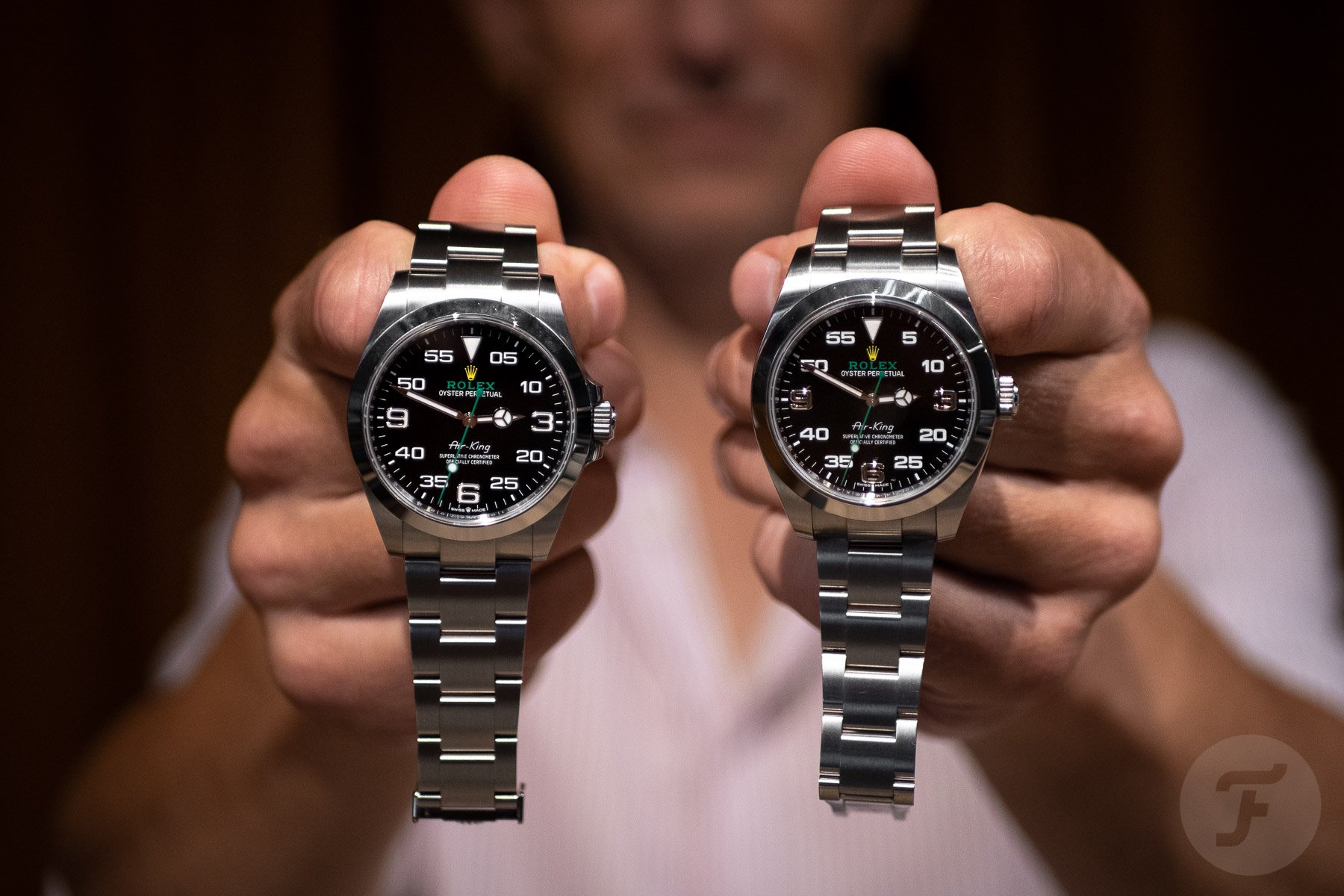 Upcoming Milgauss alert
Thinking about the Air-King reference 116900 with its rounded case, absent crown guards, and older-generation caliber 3131 with its soft iron inner shell led me to the current Milgauss 116400. That antimagnetic engineer's watch, which comes in two dial varitions, uses the same caliber 3131 as the discontinued Air-King. What is strange is that the new, state-of-the-art Air-King has a price of €7,000 while the outdated Milgauss costs €8,700.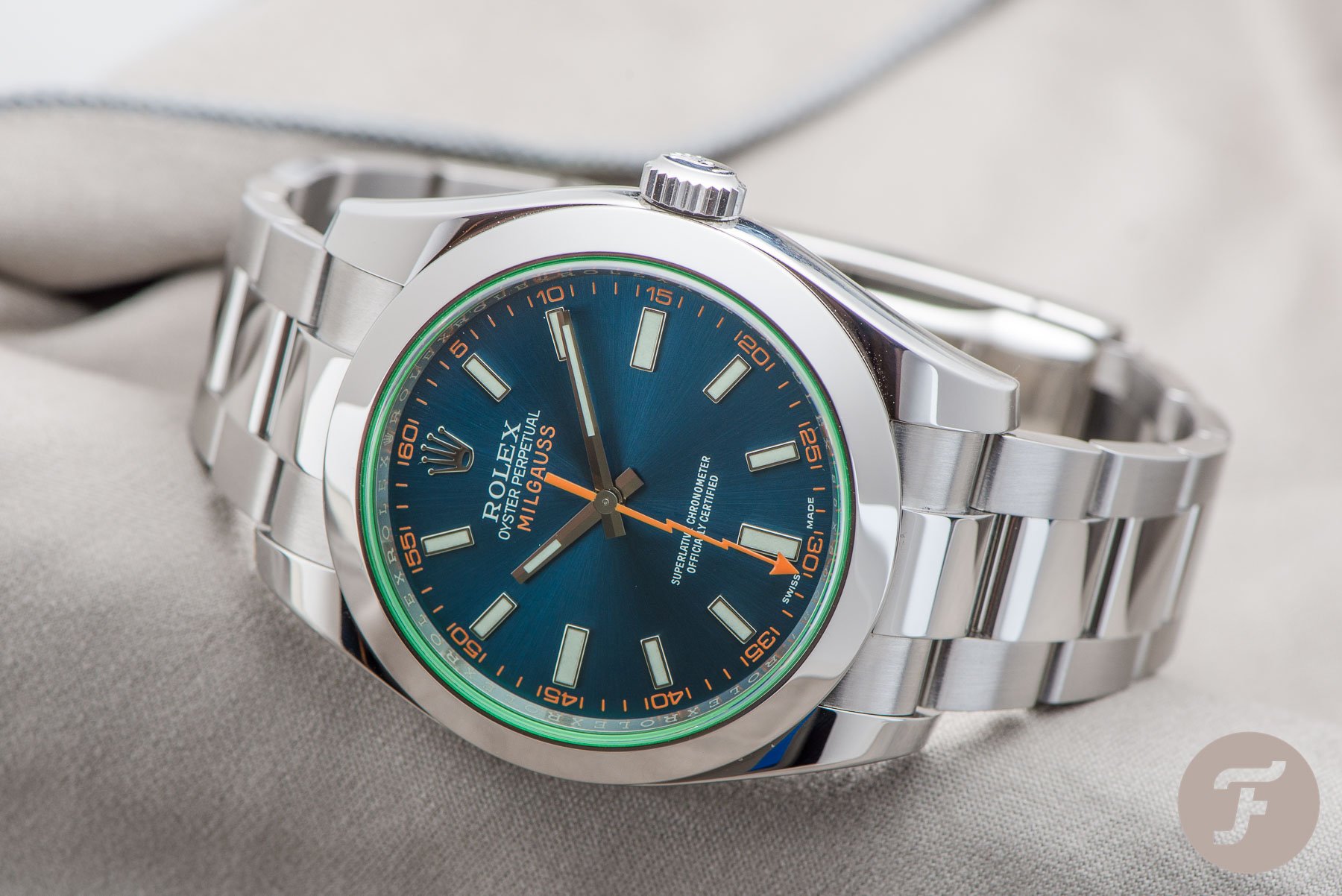 Anyway, judging by the evolution of the modern Air-King, the Milgauss 116400 will soon be updated with the same 40mm steel case. I bet the new Milgauss will get the reference number 126400 and also that it will get the caliber 3230 like the new Air-King. That's the movement with a Chronergy escapement and Parachrom hairspring that doesn't need a Faraday cage to withstand magnetic fields.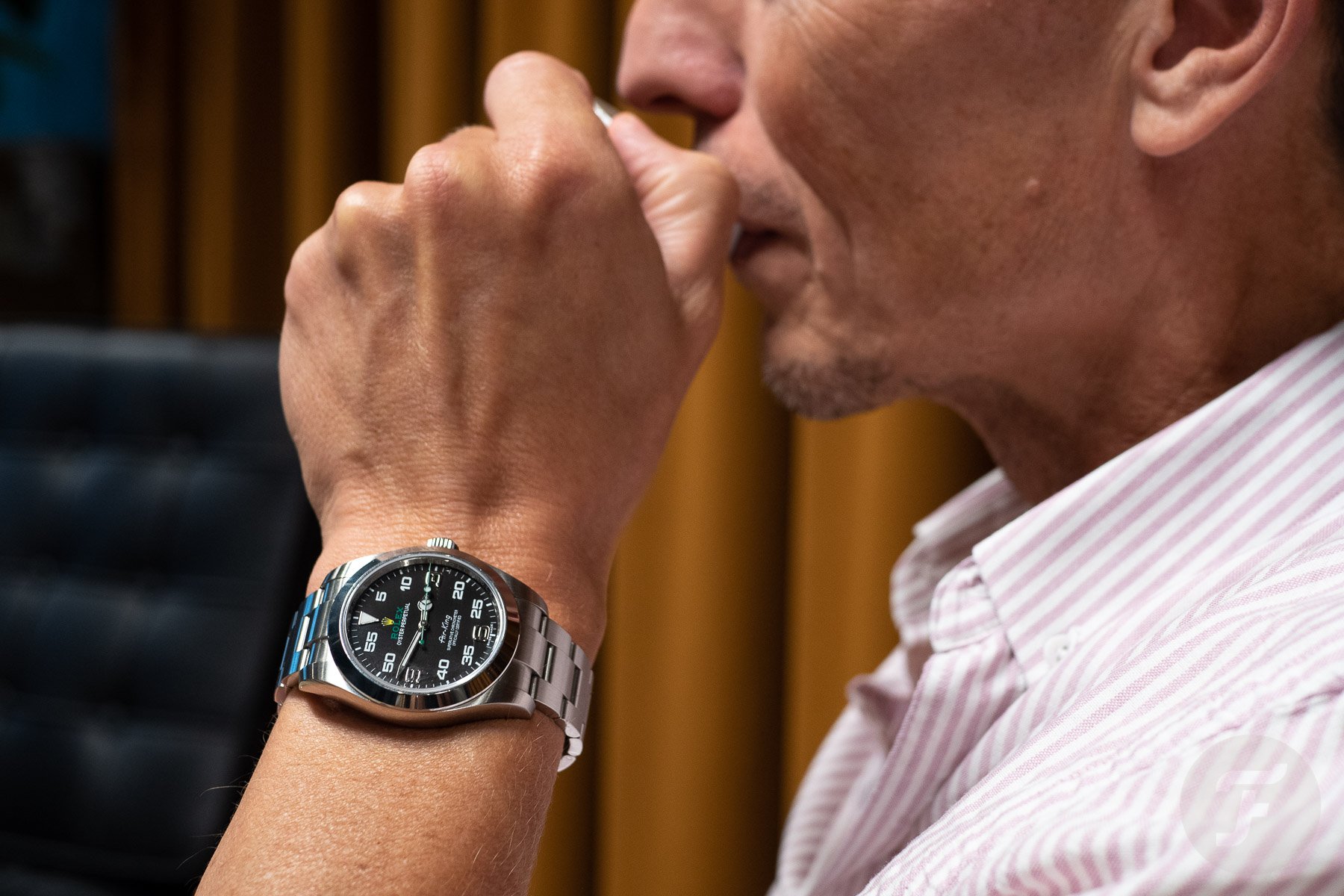 Funky flawed future collector's pieces
Just one thing that could prevent the Milgauss 116400 from becoming a future collector's favorite is the fact that production started in 2007. The six-year lifespan of the Air-King 116900 certainly makes it more interesting than a veteran model with a 15-year service record. But apart from that, based on appearances, the Milgauss and the Air-King are the two rebels in the Rolex collection and are therefore worth a look. In other words, get your funky flawed Air-Kings and Milgausses while you still can — they might be future collector's watches. You could use your next coffee break to discuss it or do some research.
And by the way, this week is Fratello Collector's Week, so get ready for more tricks, tips, and inside stories regarding the ins and outs of collecting timepieces.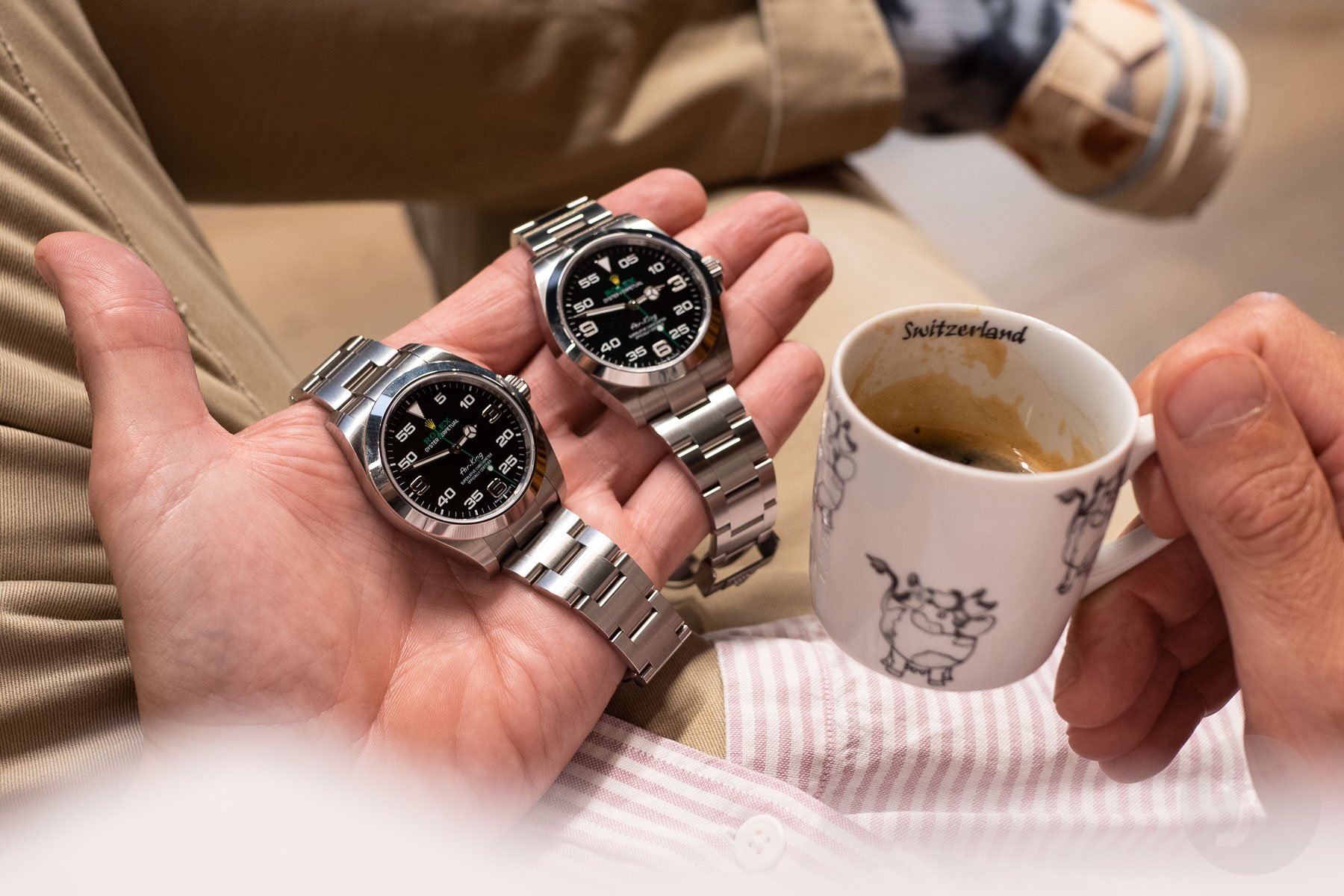 For now, I hope you enjoyed today's Business Edition with a Rolex bonus. Enjoy a great work week and watch week, and we'll see you next time!
Find and follow me at Lex Stolk • Instagram.