Collector's Corner: Koen Simon And His IWC Caliber 61 Watch In A Hermet Case
Koen Simon is a 26-year old reader of Fratello, and he has been a fan of watches from an early age. When he was 12 years old, he noticed his uncle wearing a mechanical watch, an IWC from the 1960s. The smooth sweep of the second hand fascinated Koen and triggered him to learn more about watches.
Just recently, Koen Simon came to the Fratello office to show some of his collection. One of these watches he brought is an IWC caliber 61 in a Hermet case. Truth to be told, I had never previously heard of this watch, but Koen explained to me in detail what it was all about. We decided that it would be fun to have him feature his story on the IWC Hermet case with caliber 61 on Fratello, so we're here to do so today. Both Koen and I hope you'll enjoy reading all about it.
A Special Trip
When Koen graduated from high school, his father surprised him with a road trip together to Switzerland. For the sole purpose of visiting watch museums, watch stores, and watch ateliers. According to Koen, to this day that is still the best gift he has ever received. During this road trip, they also visited the IWC museum. He absolutely loved seeing all the vintage pieces and particularly loved the long elegant looking signature logo on the vintage watches.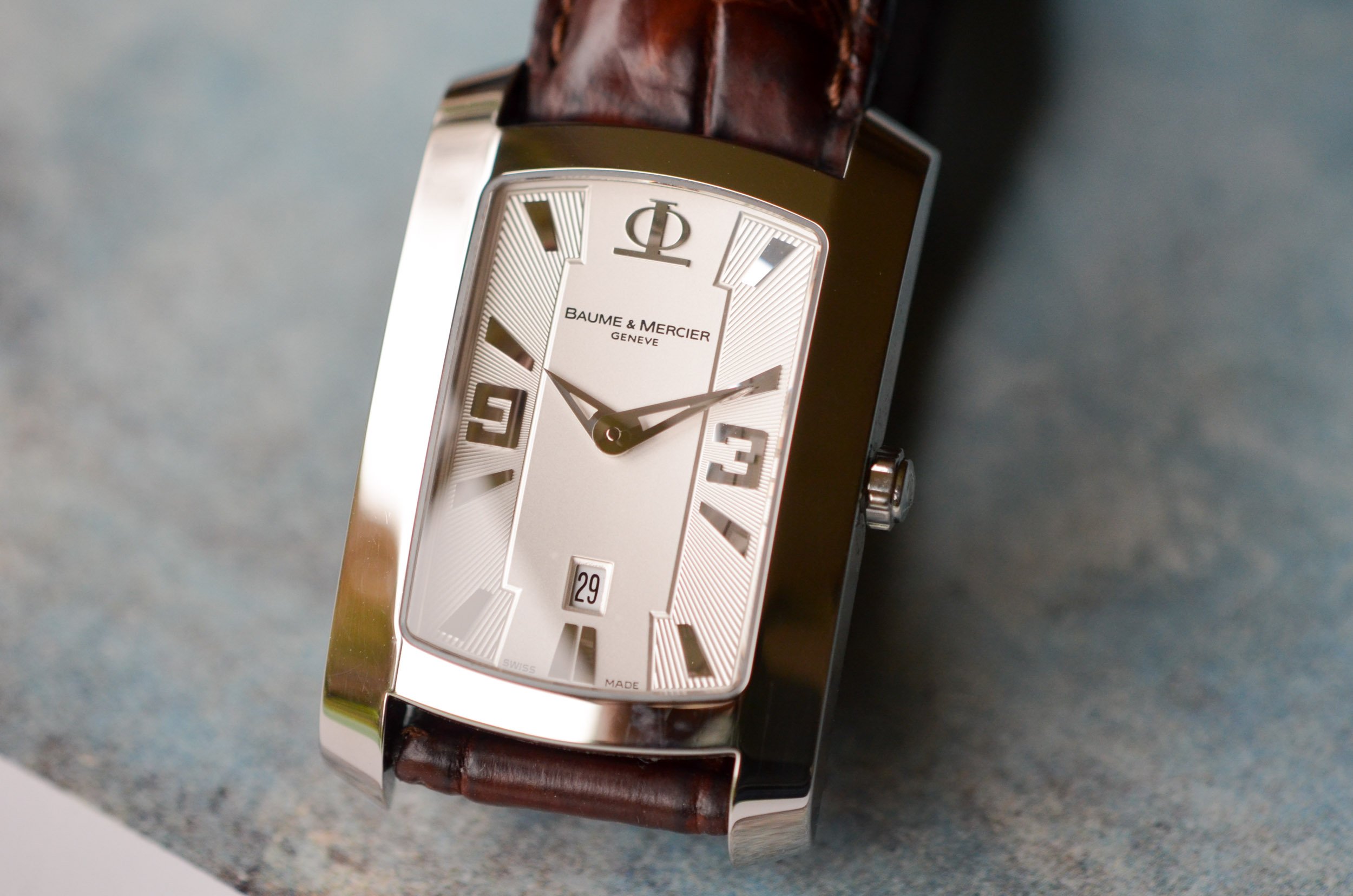 Eventually, Koen's first luxury watch turned out to be a Baume & Mercier. But after that, he first bought an IWC Portofino and later added an Ingenieur, which he both still owns. After these purchases, he joined the IWC forum and most of the forum members have become dear friends of his. Even though Koen's collecting journey has widened to other brands (mainly vintage Vacheron Constantin), he has always kept a weak spot for vintage IWC watches. This leads him to his latest purchase and the subject of his article: the IWC Caliber 61 in a Hermet case.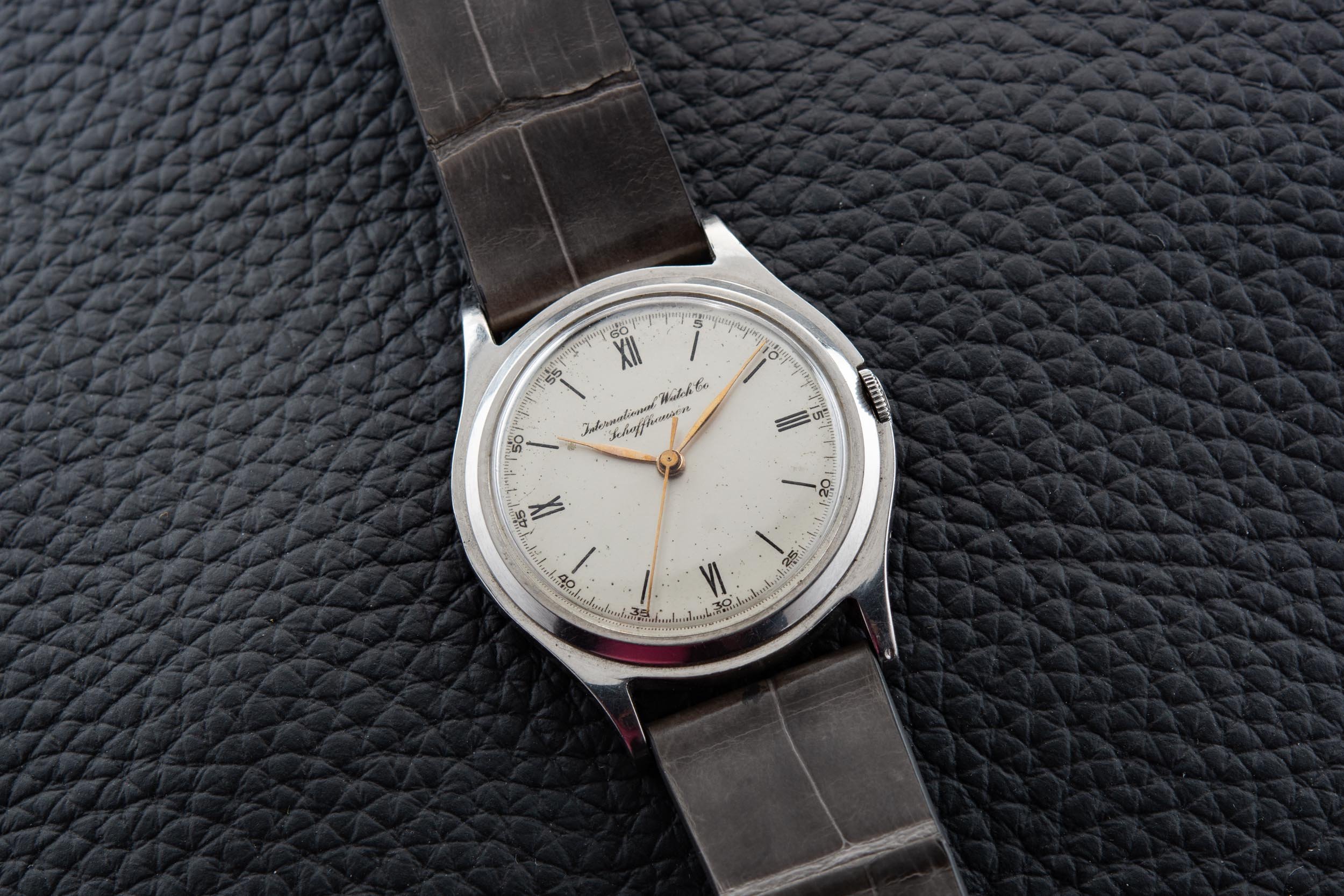 IWC's developments around 1939
In order to understand the importance of the caliber, it is important to elaborate on two specific developments at IWC at that time.
Around 1939 IWC developed two new types of wristwatches. The first development is what later would become known as the reference 325. In 1939 the Portuguese wholesaler Rodrigues and Antonio Teixeira commissioned IWC to make a wristwatch with marine chronometer precision. For this purpose, IWC developed a wristwatch with the (existing) pocket watch movement caliber 74 (and later the calibers 98 and 982). Initially, the watch did not have a reference number. Some of the earliest examples are stamped "Mod. 228" on the inside of the case back. The cases for this wristwatch were produced by Wyss & Cie, a case maker from Biel, Switzerland.
All the pocket watch calibers used for the reference 325 measure 37.8 mm, resulting in a 41.5mm wristwatch and as such classify as oversized wristwatches. IWC's reference 325 is known as being the first reference of the Portugueser collection. A fun fact is that of the 690 pieces made through all series, only 141 examples were actually delivered to Portugal.
There are two great articles regarding the history of the reference 325. One is written by David Seyffer and Michael Friedberg and the other is written by Arthur Touchot.
IWC Caliber 61
The second development is the IWC caliber 61 (and later the caliber 60). This caliber is much smaller (23.15 mm) and it is credited as the first IWC wristwatch caliber with a central seconds hand. The 60/61 calibers were produced in relatively small volumes. Of the IWC caliber 61, approximately 15,000 pieces were made between 1938 and 1942. On average less than 1700 watches were produced annually. Of the caliber 60, approximately 13,680 (more or less 20% of the amount of caliber 83: 68,400 pieces between 1930 and 1947) units were made between 1943 and 1947. Please note that the IWC caliber 60 was also made as a smalls second caliber. I do not know the exact split between caliber 60 with central seconds and those with small seconds. Both IWC caliber 61 and caliber 60 wristwatches are rare pieces that are hard to come across today.
In 1944 Albert Pellaton became the new technical director at IWC. Under his leadership, the caliber 60 was gradually discontinued. This happened eventually in 1947. IWC Caliber 61 was already discontinued in 1942.  Prior to Albert Pellaton becoming a technical director. Instead, he developed an alternative wristwatch with a central seconds hand: the caliber 89. This was the first movement that Pellaton developed under his leadership as technical director.
IWC caliber 89 was based on the caliber 83, which had been introduced in 1930 and was more robustly designed. The Mark XI watch, which IWC introduced in 1948, was equipped with the caliber 89. The Mark XI was the first production piece to house caliber 89. In its entire production span from 1946 until 1979 a total of 223,800 pieces of caliber 89 were made. Proving the popularity of this movement.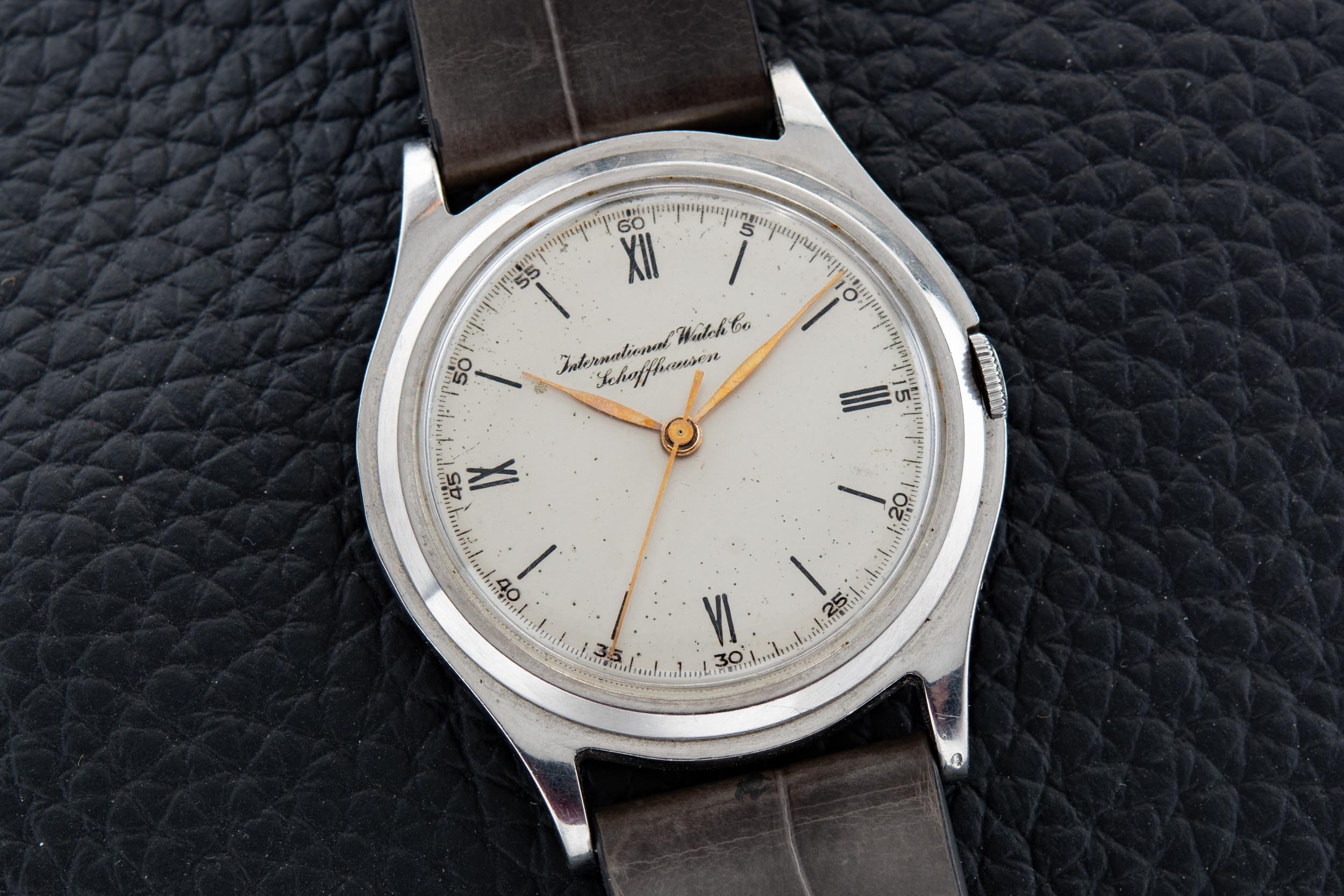 My IWC caliber 61 watch
My IWC caliber 61 classifies as an oversized wristwatch at 38mm. The case is an early version of what's known as a Hermet case. It features an integrated crown, meaning that it sits within the lines of the case when not pulled out for time setting. Looking at the records, I don't know of any 38mm Hermet cases with an integrated crown featured by IWC prior to 1939. Oversized Hermet cases with an integrated crown were both made with IWC caliber 61 and caliber 83 inside. These watches share the same reference, i.e. ref. 308. The same applies to caliber 60. IWC also used the same reference for Hermet cases which housed either caliber 60 or caliber 83. These watches were much smaller, approximately 30.5mm to 33mm (for this reference). The shared reference is ref. 304.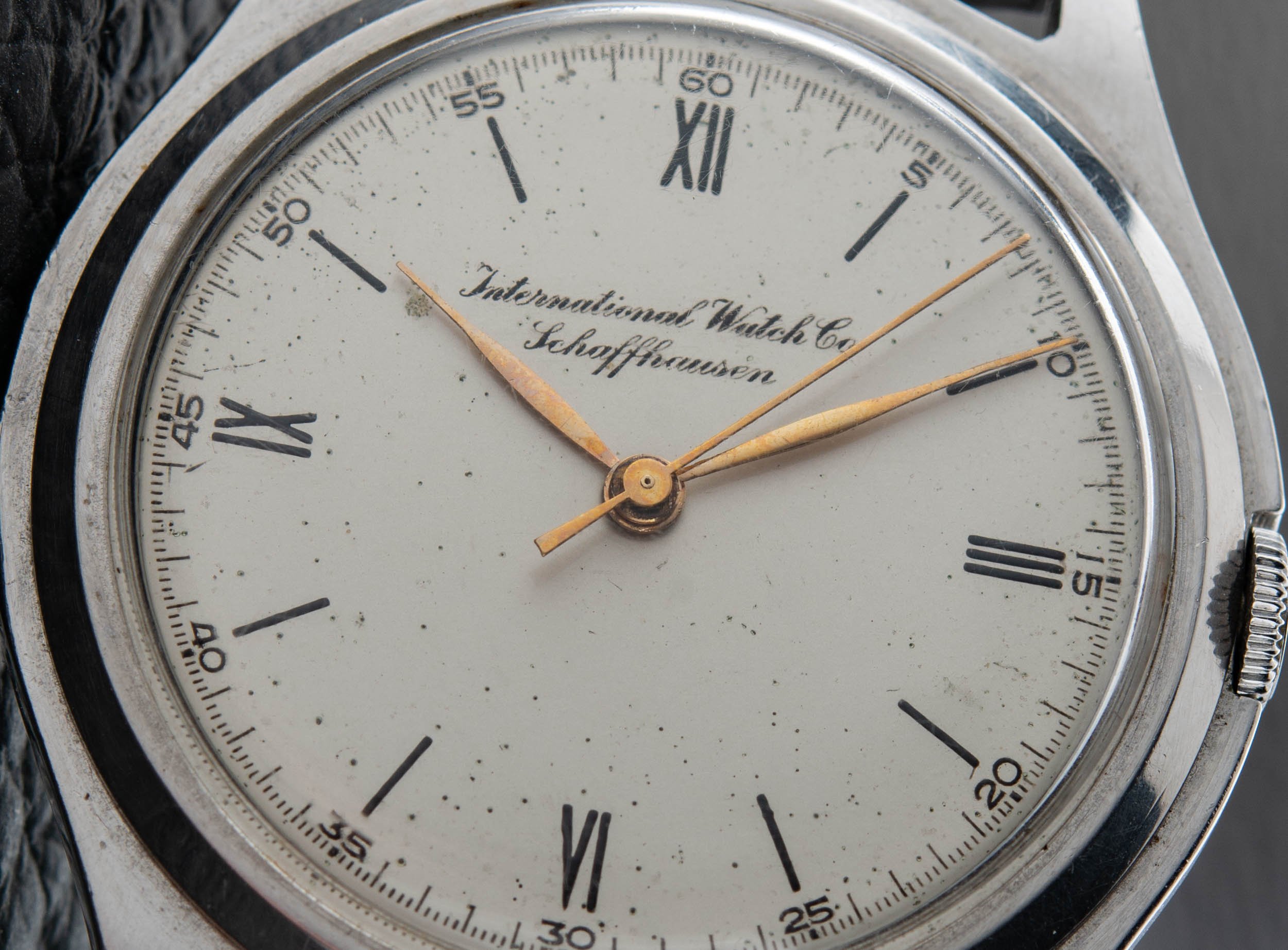 A special font
The dial of my IWC Caliber 61 is a unique design and the logo has a unique font for this period, which  I have only seen once before in an early reference 325. I believe, this watch was also delivered to Portugal and most likely to the retailer Rodrigues & Gonçalves. The typography of the IWC logo matches that of an early IWC reference 325 that I found. It is a very specific font, that later became a characteristic of the third series of IWC's reference 325. The production of this third series started much later, in 1977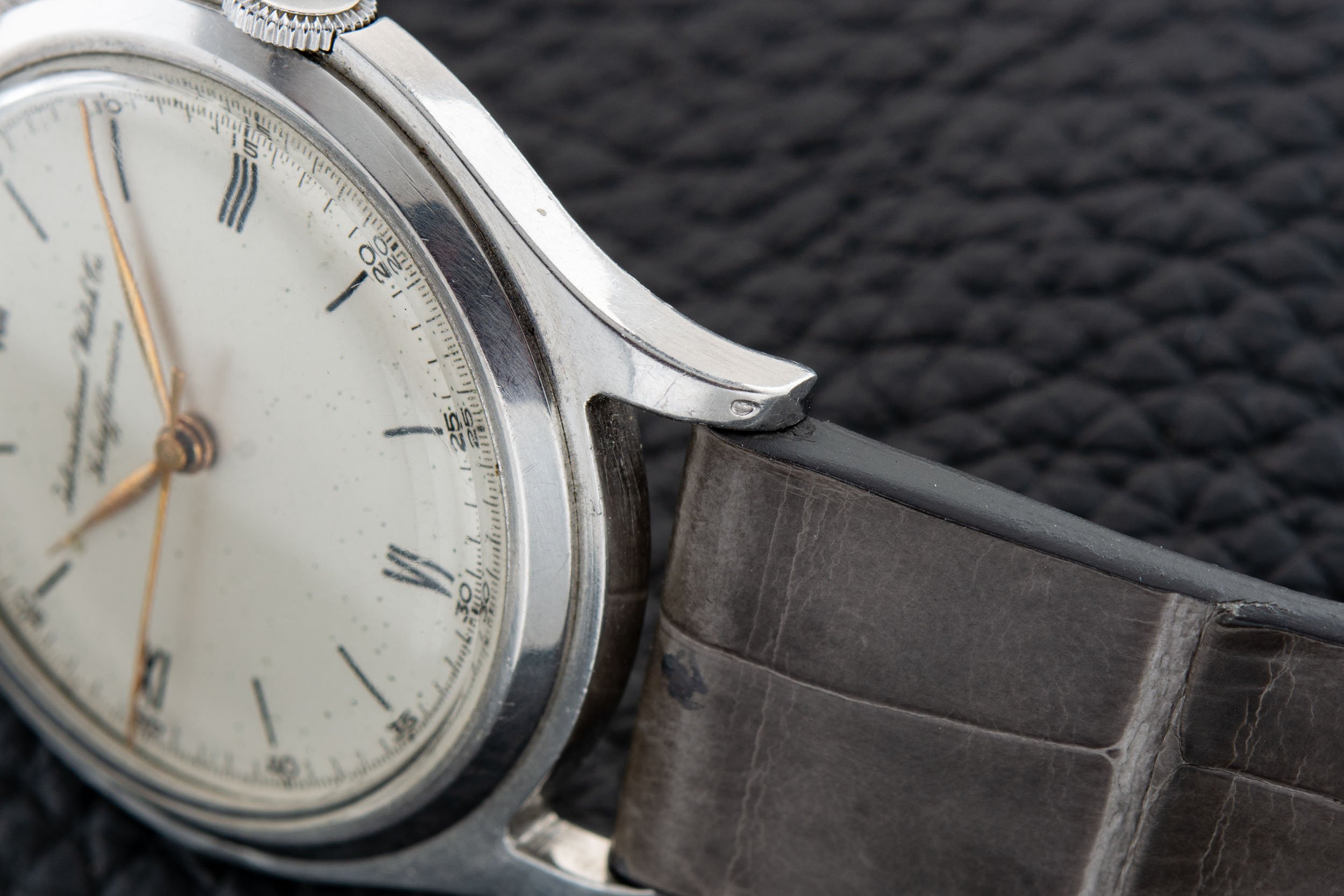 A special stamp in the lug
Finally, my IW Caliber 61 has a punçao stamp, which I will elaborate on below. What makes this watch extra special is its provenance. As mentioned before, wholesalers Rodrigues and Antonio Teixeira commissioned wristwatches with marine chronometer precision in 1939. However, due to the outbreak of World War II, the earliest watches were not delivered to Portugal. Instead, they were delivered to L. Schwarcz in Odessa, Ukraine, and also to Zipper in Lemberg/Lviv.
L.Schwarcz  took delivery on the 22nd of February 1939 and Zipper on June 16th, 1939. Most of the earliest examples of the reference 325 went to dealers in Eastern Europe. Most notably Kuchar & Wittmann and to Weinstabel, both in Bratislava. The earliest examples of reference 325 were delivered to Portugal on the 2nd of February 1942 (based on the research by Arthur Touchot, David Seyffer, and Michael Friedberg).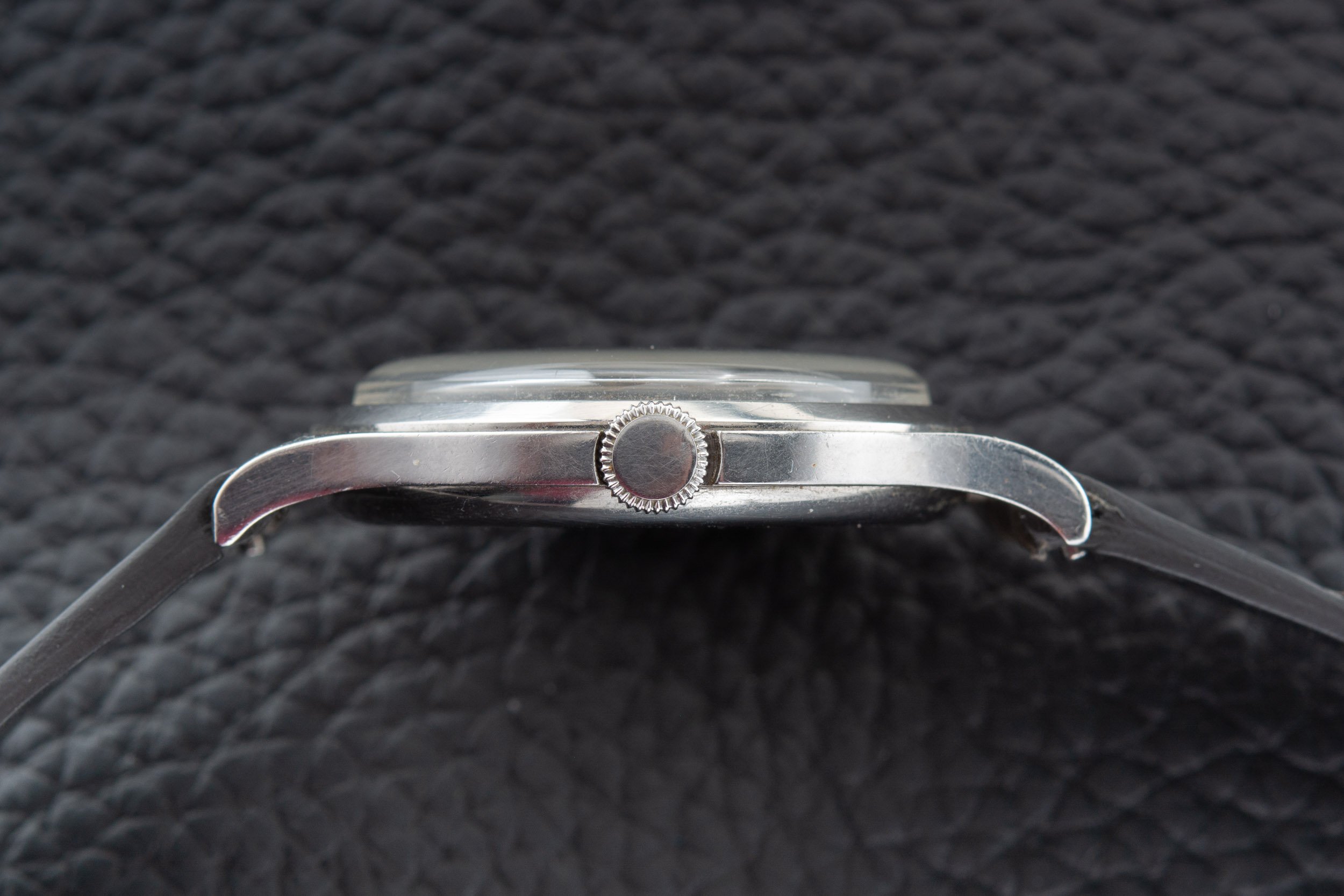 A well-traveled timepiece
My IWC caliber 61 however did find its way to Portugal in 1940. This is registered by IWC in the brand archives. Another bit of proof of this watch being delivered to Portugal is the punçao stamp I mentioned before. This tiny stamp in the shape of an armadillo was stamped into all watches which were delivered to Portugal. It was the proof that import duties had been paid. Normally the punçao is stamped on the left upper lug. In my case, it is stamped on the right lower lug (see the pictures above).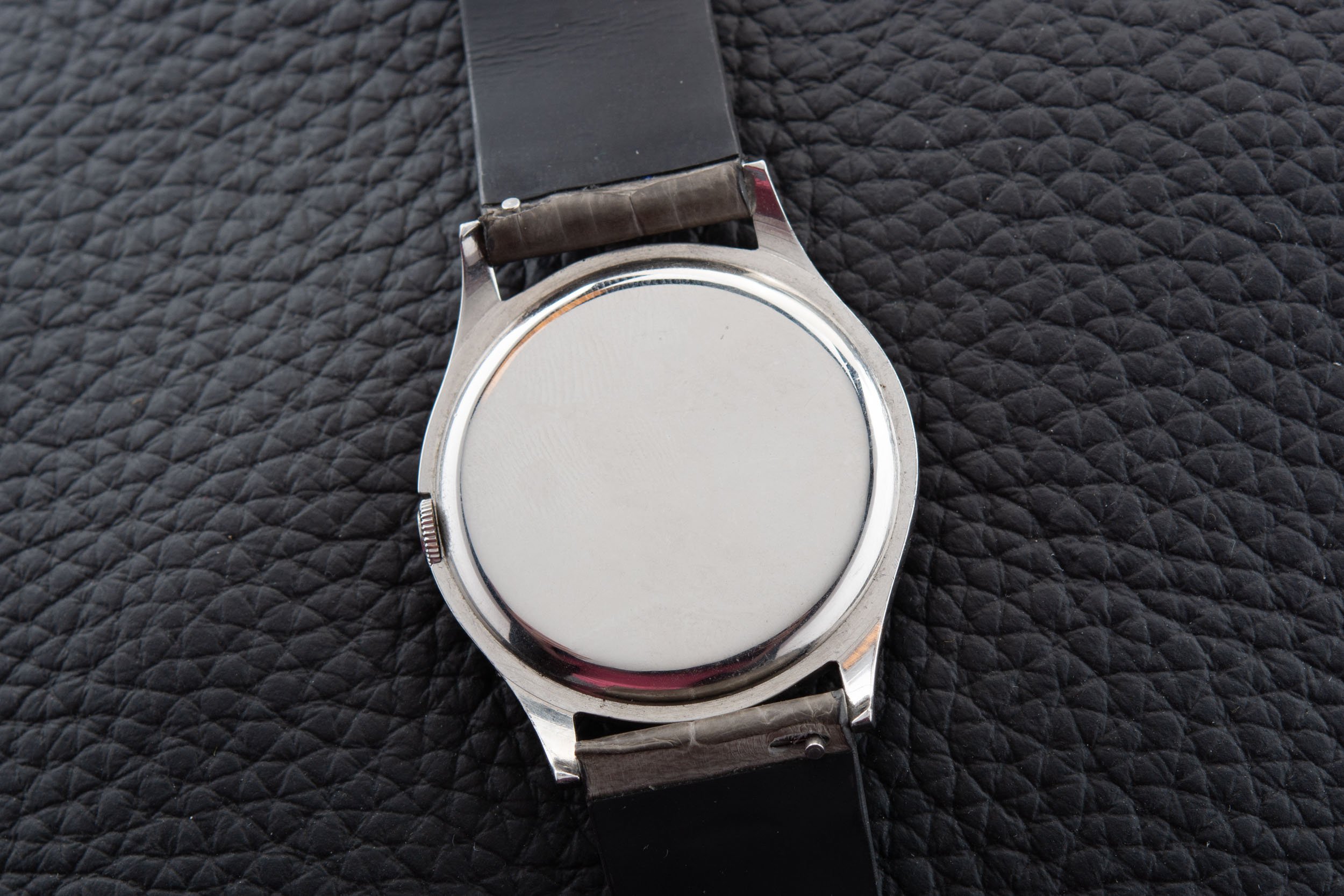 Last but not least, the watch has been documented in a book written by J. Michael Mehltretter. The book, titled "Die Noblen aus der Schweiz" was first printed in 2006. My IWC Caliber 61 watch is pictured on page 89. In 2010, this watch was bought at an auction held by Helmut Crott (lot 122) by the author of the book. From what I know, the person who sold the IWC Caliber 61 to me, bought it from the author of the book.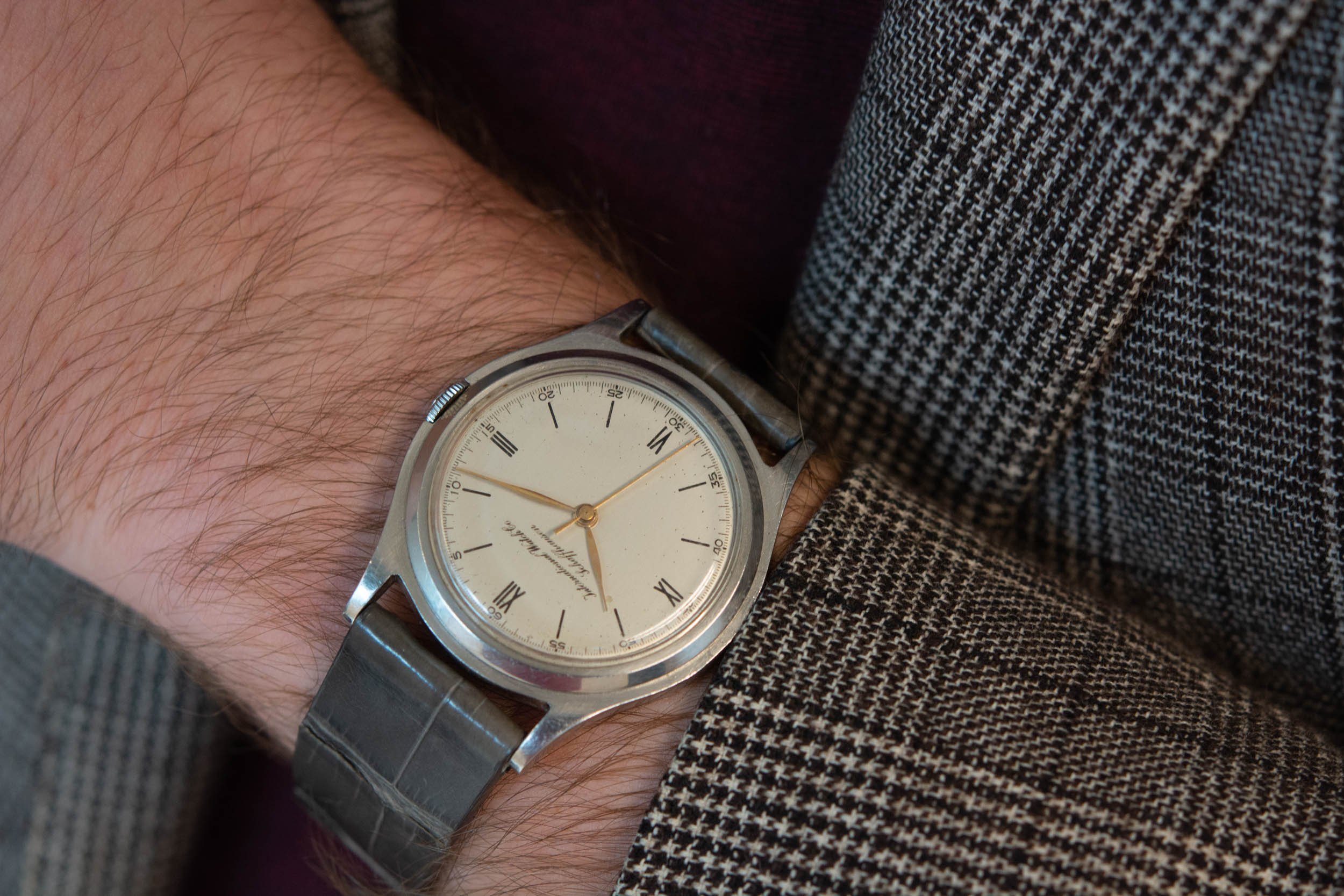 To sum it up, I believe that my IWC caliber 61 is of historical importance. It is credited to be the first IWC caliber wristwatch with a center seconds hand. Also, it was delivered to Portugal before reference 325, which was the wristwatch with marine chronometer precision which Rodrigues and Antonio Teixeira commissioned IWC to develop. For me personally, I love the Hermet case with an integrated crown, the special dial, the used typography, and its original condition. I am proud that the previous owner entrusted me with the ownership of this very special watch.
We would like to thank Koen Simon for showing this beautiful watch to us in the office and for sharing his story on Fratello.