Collector's Story: Aashdin And His Omega Speedmaster Professional 145.022-76
The thrill of finding a full set
We like to talk to watch collectors and enthusiasts about their watches, and as you know, we've got a small thing for Speedmasters here as well. We're happy to publish your story about your Speedmaster, the connection you have with the watch, or simply why you love it. Whether you have one Speedmaster or 100, you're all welcome to share your stories with us and the Speedy Tuesday community.
We'd like to introduce Aashdin Billimoria from Bombay, a watch collector, author, and archivist for over 30 years. He's currently working on a book on vintage watches, but today, we talk to him about his Omega Speedmaster Professional 145.022-76. Aashdin started collecting watches at the age of nine. His father gifted him two Swiss watches, and his journey began there. He actually still owns those watches, including their original hang tags.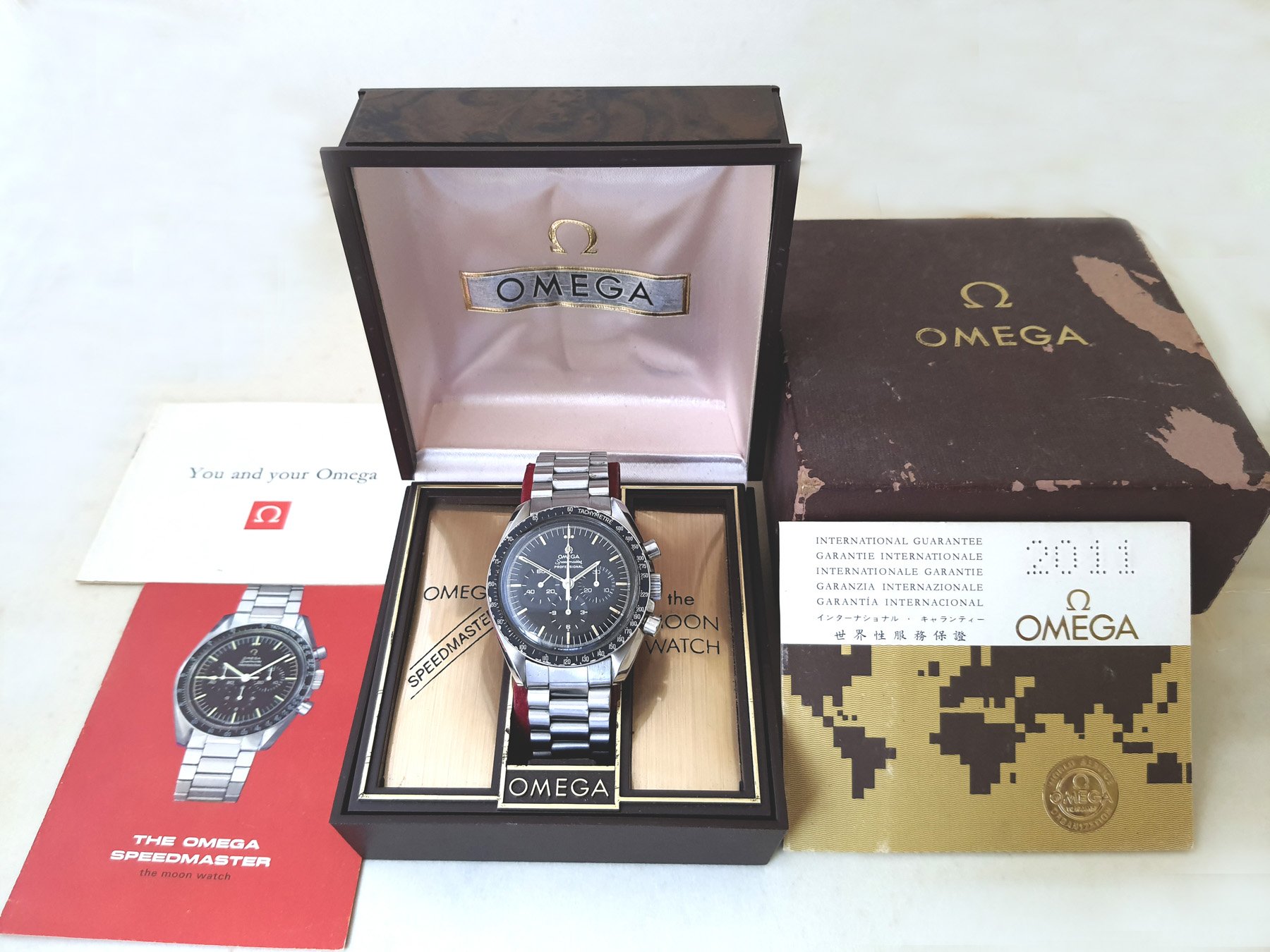 Collector's interview with Aashdin Billimoria
We asked him about his Speedmaster, his collecting journey, and what he loves about the Speedmaster in particular. So without further ado, here is Aashdin's story.
Fratello: What do you like about the Omega Speedmaster?
Aashdin: To me, the Speedmaster is the most important watch in the history of horology which has gracefully evolved over a period of time.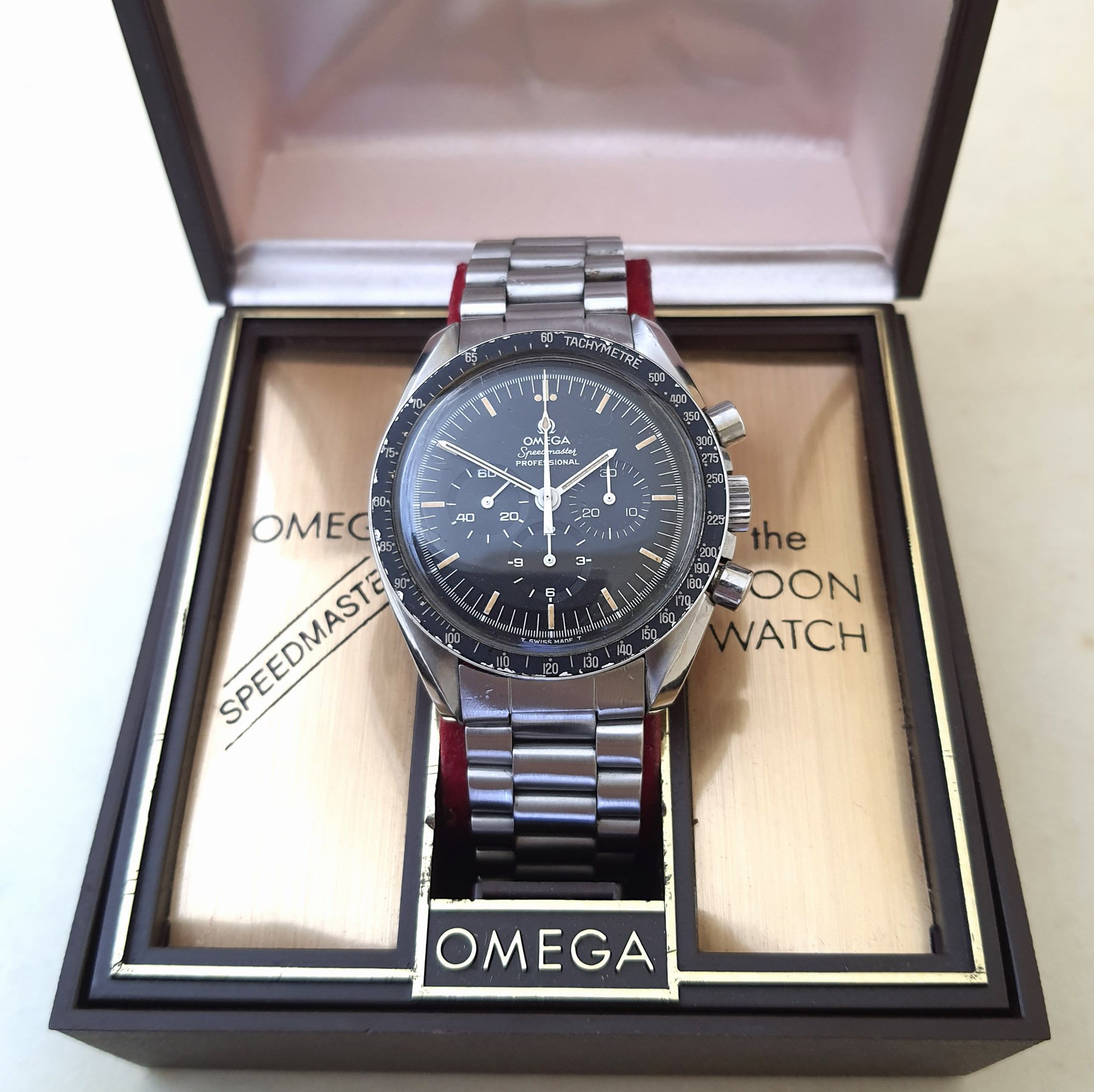 You have a beautiful full-set 1970s Speedmaster. How did you find it, and can you tell us something about the journey?
I picked up my watch from the Daytona watch fair over a decade ago. The fair was like an Aladdin's cave for watch collectors where various vendors used to come to sell their watches. I was specifically on the lookout for a good vintage Speedy. Quite a few were available in better aesthetic condition than mine, but when inspected closely, you could tell that they had been buffed up or that some minute anomaly could be seen. I wanted an honest one — a watch that had built its character over a period of time. Lying in the corner of one of the vendor's stands was this cardboard box. Since it was pretty worn out, it didn't attract much attention. But I was pretty eager to see what was inside it.
I asked the vendor to show me the box. When I lifted the cover, I knew I'd found something pretty valuable for a collector like me, someone who loves a full set. I lifted the Moonwatch box out, and there was an added bonus tucked below — the original warranty card with a 2011 US country code, along with a user manual and a booklet! The 1976 Speedy which proudly sat inside was just what I was looking for. It had minor scratches, which added to the character of the watch. At that moment, I knew that this was the watch for me.
When I bought it, I just couldn't take the smile off my face. Today, you can walk into a shop and buy a new Speedy with all of the above. But no amount of money can buy the thrill of getting a vintage one with the entire set.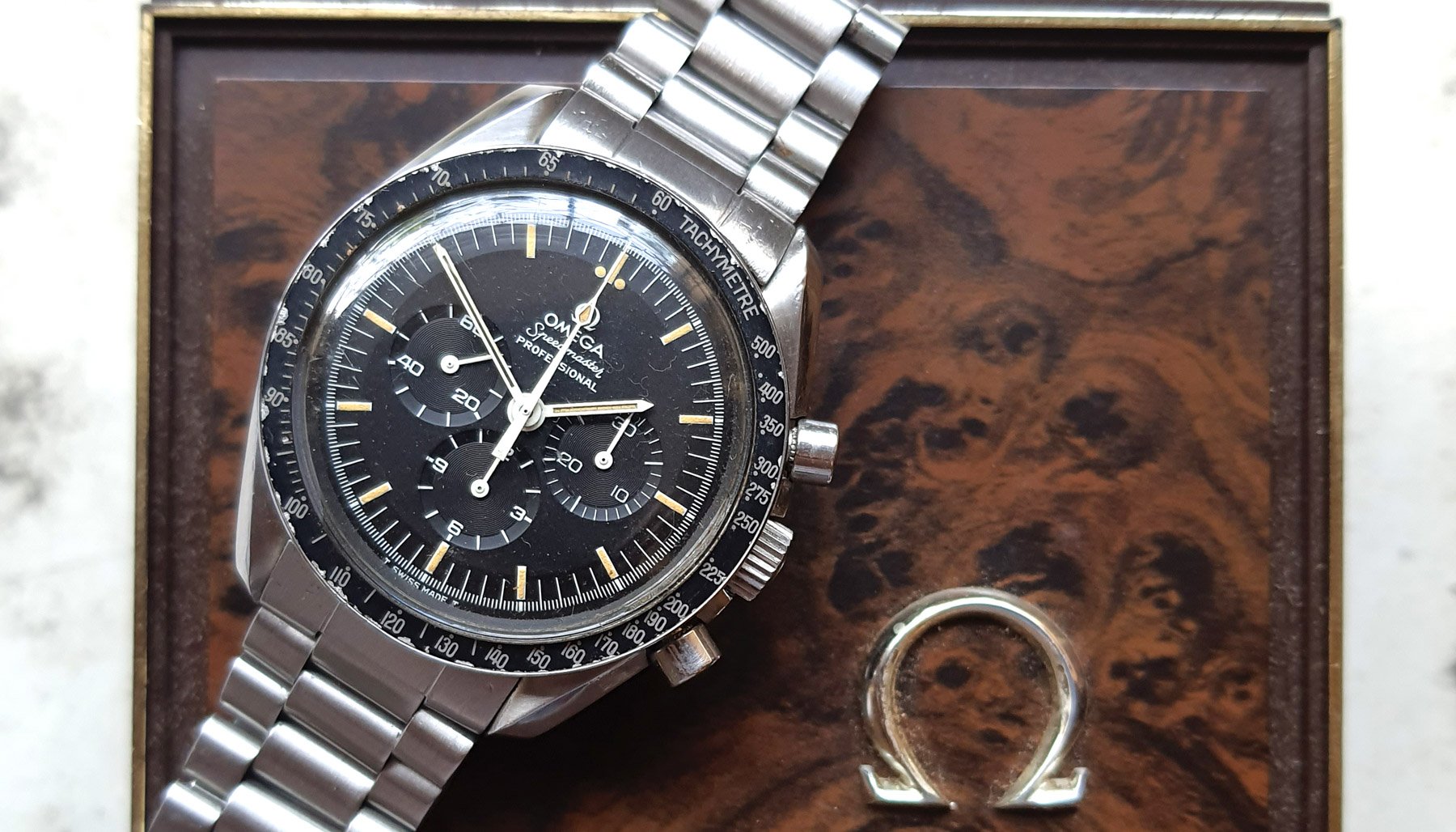 What's important to Aashdin
How important are the box and papers to you when buying watches?
To me, getting a vintage watch with the correct box and papers is pretty important. It's also a challenge in this day and age, which increases the thrill of the hunt.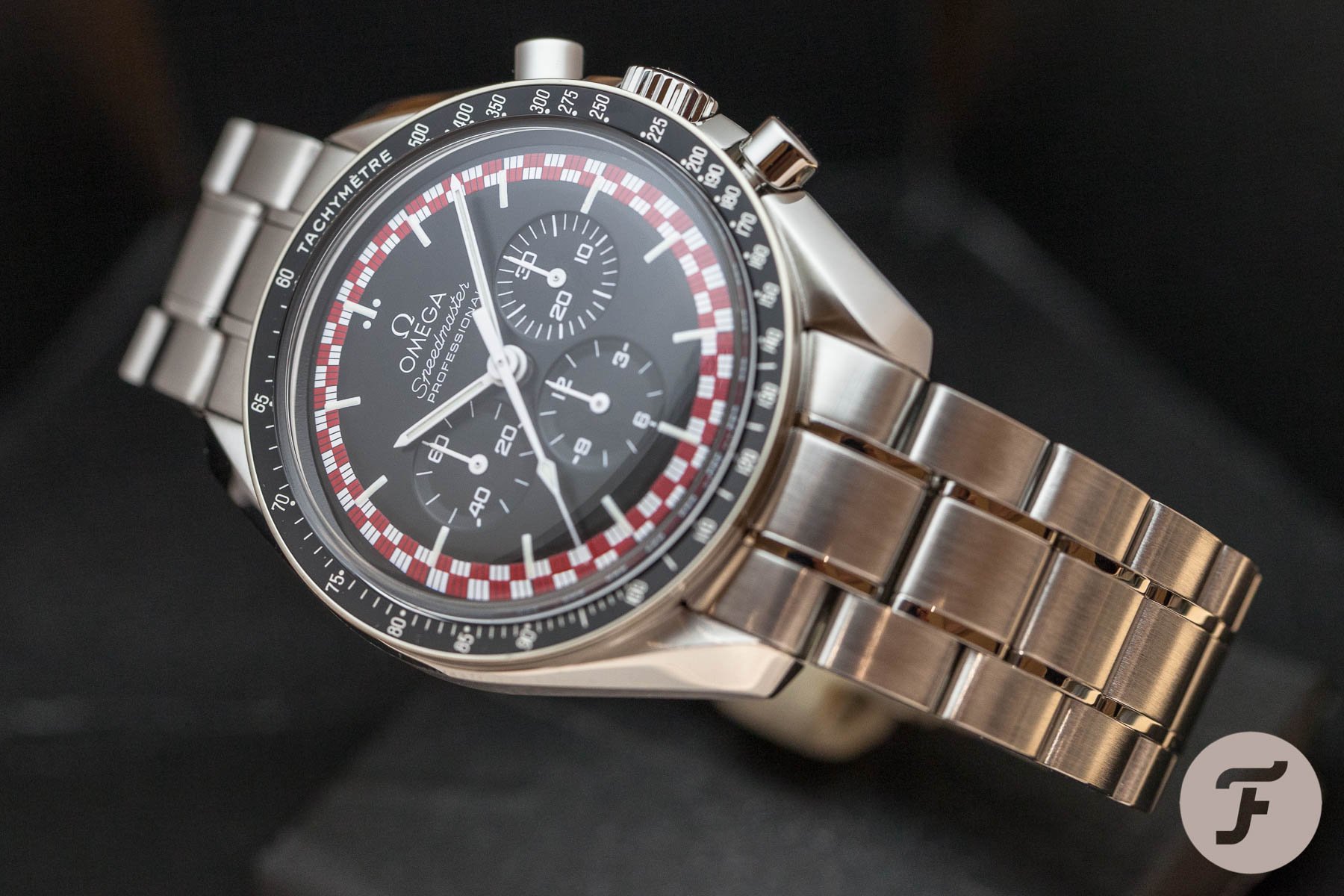 Do you own any other Speedmasters?
Besides this Speedmaster 145.022-87, I own a Speedmaster Professional "Tintin", which was introduced in 2013 and only in production till 2016.
Do you think a Speedmaster is a must-have (or must-try) for any watch collector?
For any serious watch collector, a Speedmaster is an integral part of a collection. It's a must-have watch. A horological milestone. In my opinion, a good collection is incomplete without a Speedmaster.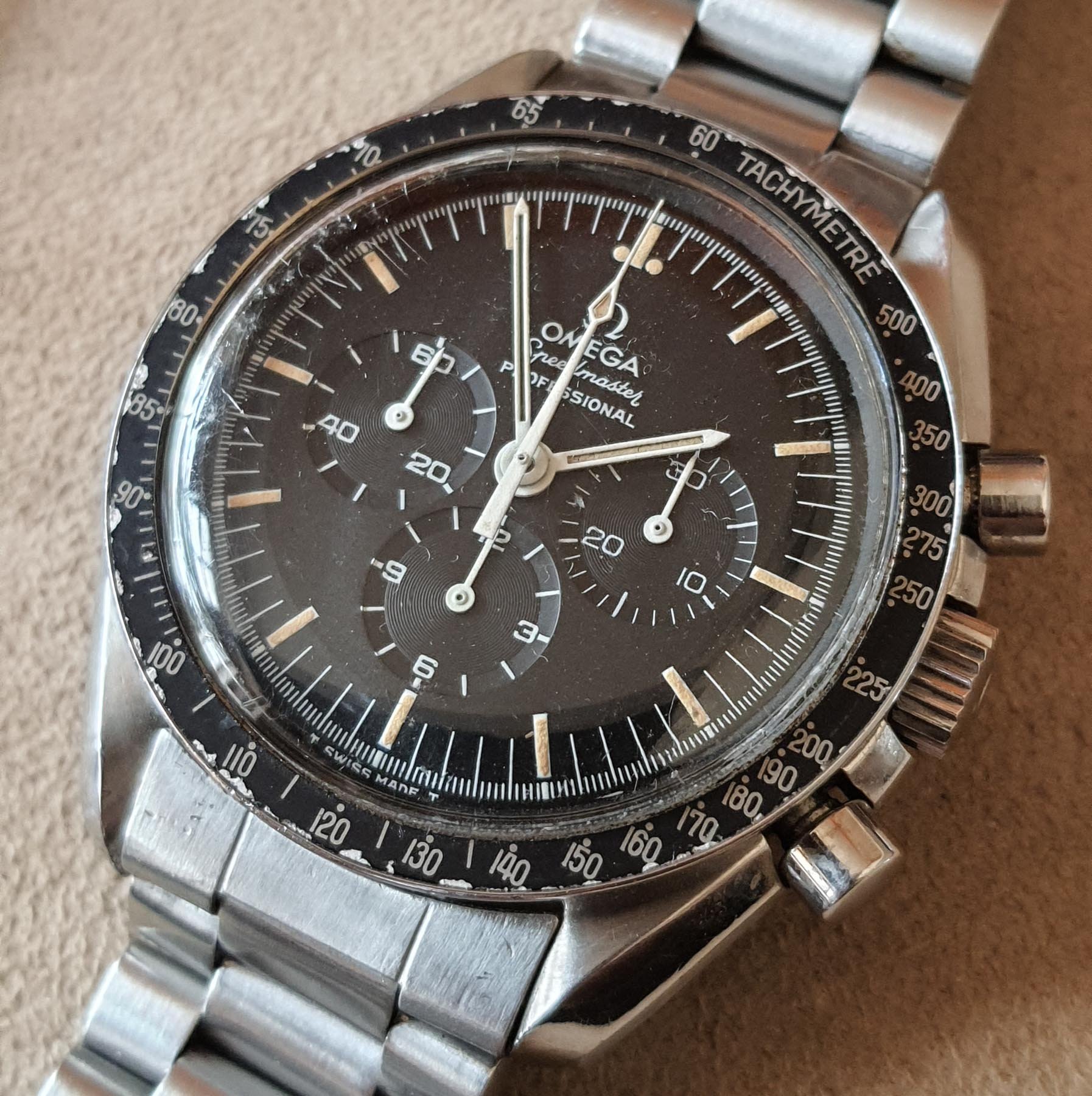 This or that?
What's more important to you — a watch's aesthetics or technical perfection?
There has to be a balancing act between the aesthetics and the technical perfection of a watch. Both are equally important. I would never buy a watch that looks great but is technically not up to its mark, or vice versa.
Vintage or modern? Or can you love both?
I am more inclined towards collecting vintage watches, but there are a few exceptions in my collections. I pick up new watches which are technologically improved reissues and sometimes limited editions, as well as ones with complications that were not available in vintage timepieces.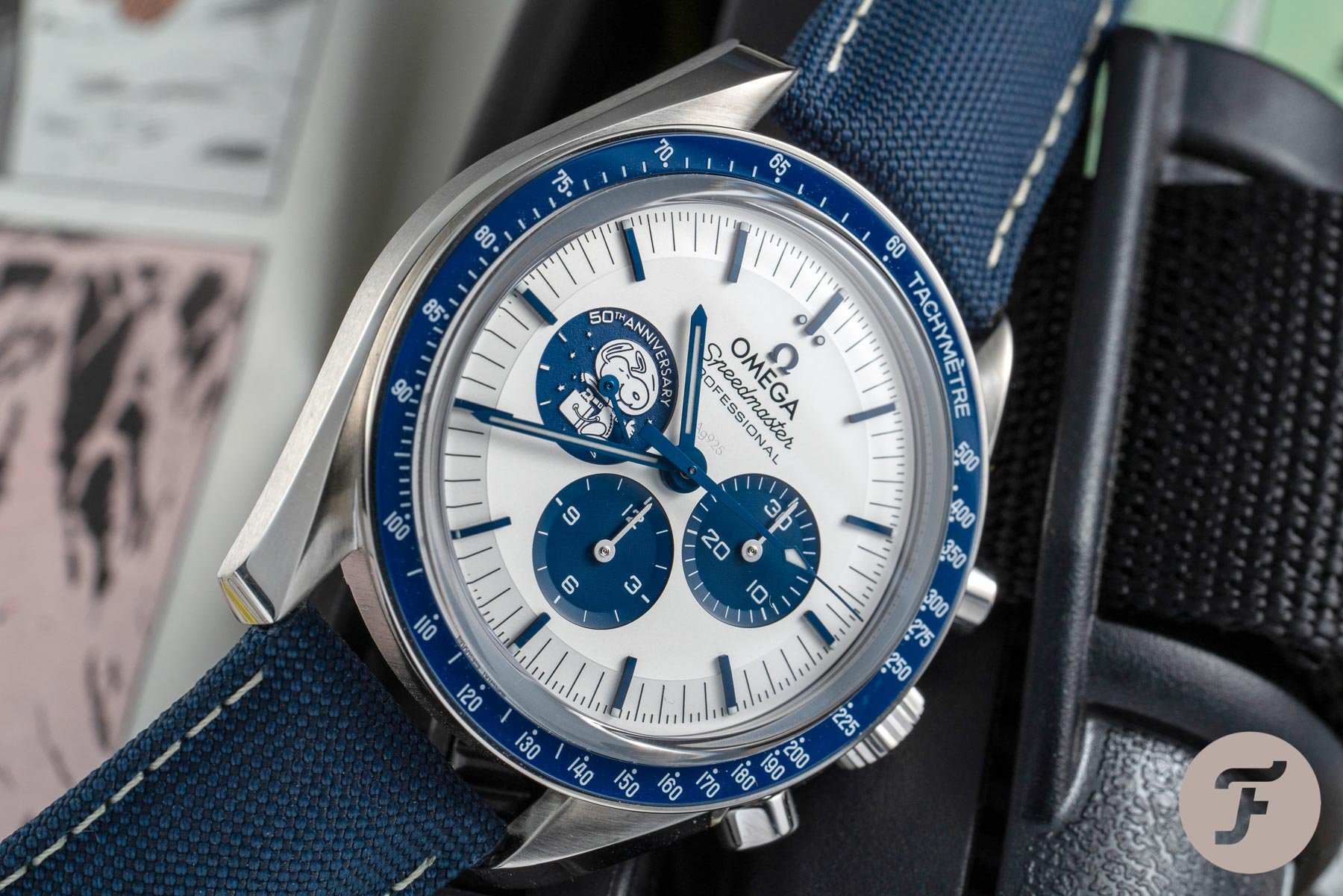 Aashdin's grail and collection
What would be your grail Speedmaster?
My grail Speedmaster is the recent Speedmaster Silver Snoopy Award 50th Anniversary with the silver dial, blue sub-dials, and automaton on the case back.
What other watches do you collect?
With over 450 watches in my collection, I buy watches that sing to me. From something as simple as a vintage character watch to an Omega Speedmaster Profesional 145.022-76, a Rolex, a JLC, and everything in between. I'm an avid fan of watches that are horological milestones. I also have an affinity for quirky watches, engraved case backs, presentation watches, military and trench watches, Olympic-edition watches, and chronographs.
HSNY
Can you tell us something about the Horological Society of New York and why you are a member?
In my opinion, the Horological Society of New York (HSNY) is one of the most respected horological societies in the world. Being a member comes with many benefits, such as informative seminars, complimentary subscriptions, and simple watchmaking programs.
Thanks for this talk!