Czapek Antarctique Passage De Drake Adds Depth To A Stunning Dial
If you thought the Terre Adélie was good, you're going to love this...
Earlier this year, the watch world was pleasantly surprised to see Czapek's sportiest model to date arrive. the Czapek Antarctique Terre Adélie was, to many (including this writer) a revelation. It took an already strong brand in a new direction. The case, hands, dial, markers, and integrated bracelet established Czapek as a major player in the luxury sports watch sphere. Now, with the follow-up release of the Czapek & Cie Antarctique Passage d Drake, we get another look at this remarkable addition with a brand new dial…
As you might imagine, I review a lot of watches. While I would say I'm quite easily excited by any brand doing anything good, I am also prone to persnickety criticism. Why? Well, that's the point of this job: to pick out the details that either make or break a design. Universal praise for a watch rarely comes from my mouth. And while pricing gripes will always dominate discussions of watches in the five-figure realm, affordability is not the goal here. The excellent execution of creative concepts is what makes watches of this caliber worth the significant chunk of change they command. And so when I got the Czapek Antarctique Terre Adélie on my wrist, I was quick to nail my colors to its mast.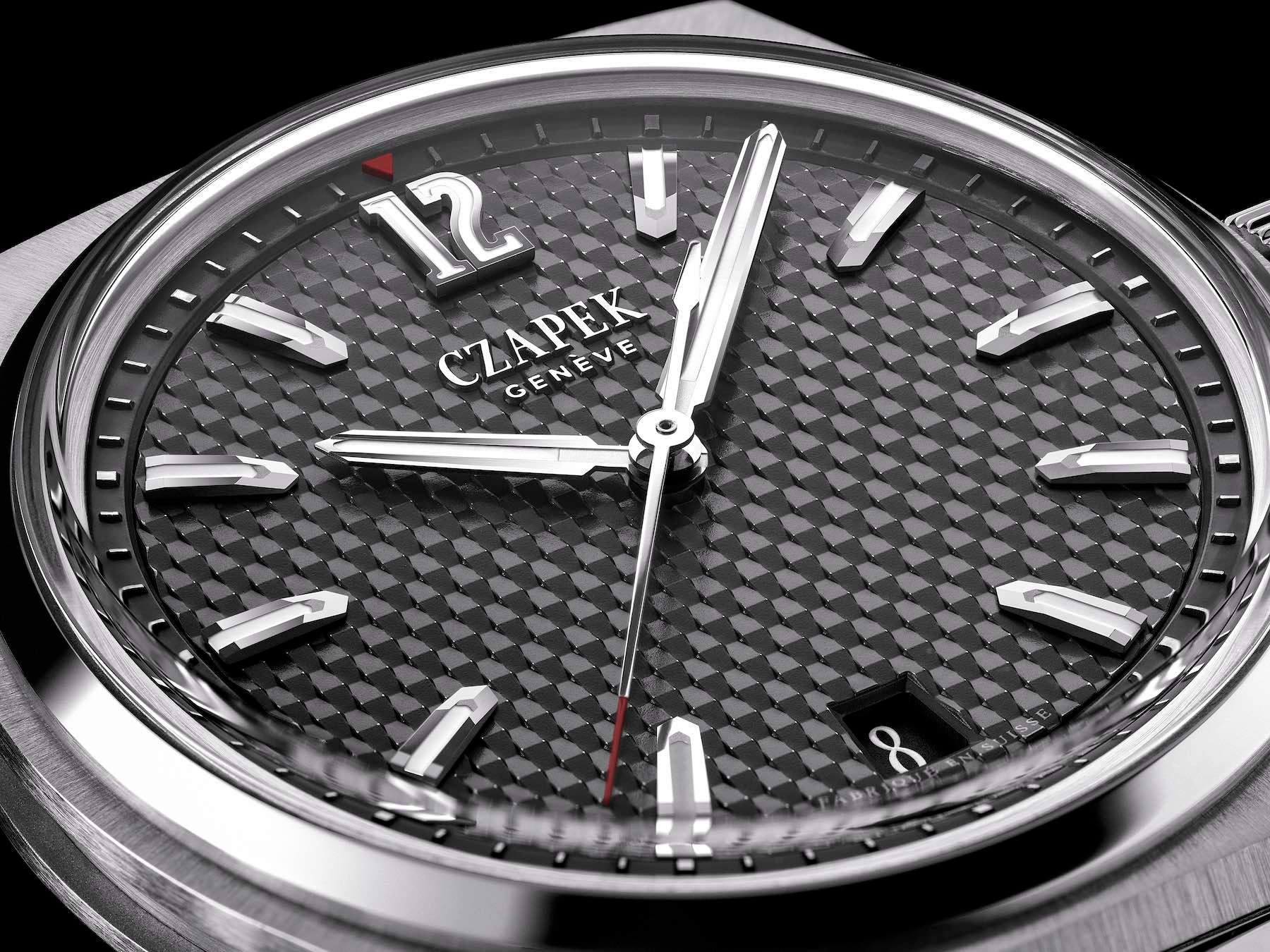 An exceptional line
This is an exceptional line from a rapidly developing brand. Czapek caught my eye in its early days, but while I respected the Quai des Bergues models and Faubourg de Cracovie I did not race to my piggy bank, hoping I would be able to scrape together enough of my jealously guarded coppers to buy one. That is not a criticism of those products. I really believe they are top drawer and would bring much joy to their owners. They simply didn't resonate with me in the same way as the Antarctique line does.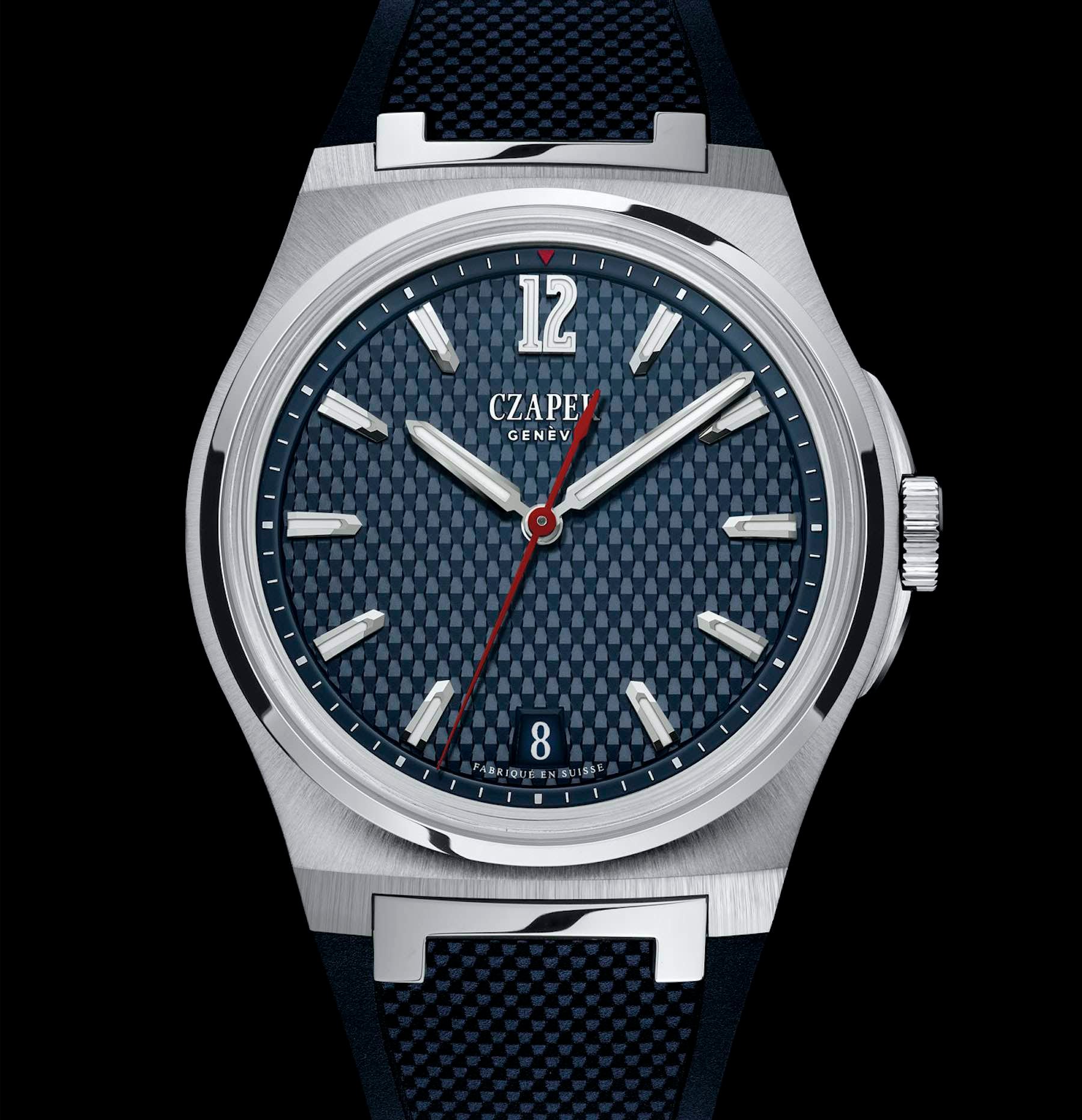 Being first in line
For many of us in the watchmaking game, being ahead of the curve is the goal. I can't tell you how many conversations I've had with like-minded people who wish they'd either been around or daring enough to jump on the Royal Oak, Overseas, or Nautilus hype train before they left the station. We look back on those golden days of watch design and shake our collective head. Oh, the vision! Oh, the opportunity! If only we'd known… How different it could all be now…
…we're living through a second golden age.
In my opinion, the industry went many decades without seeing the release of models that could hold a torch to those holy grails. Of course, the quartz crisis and a shift toward the bombastic put good, luxury steel sports watch design on de facto hold until relatively recently. I said it over the summer and I will say it again: with the Bvlgari Octo Finissimo, H. Moser & Cie Streamliner, and Czapek & Cie Antarctique, we're living through a second golden age.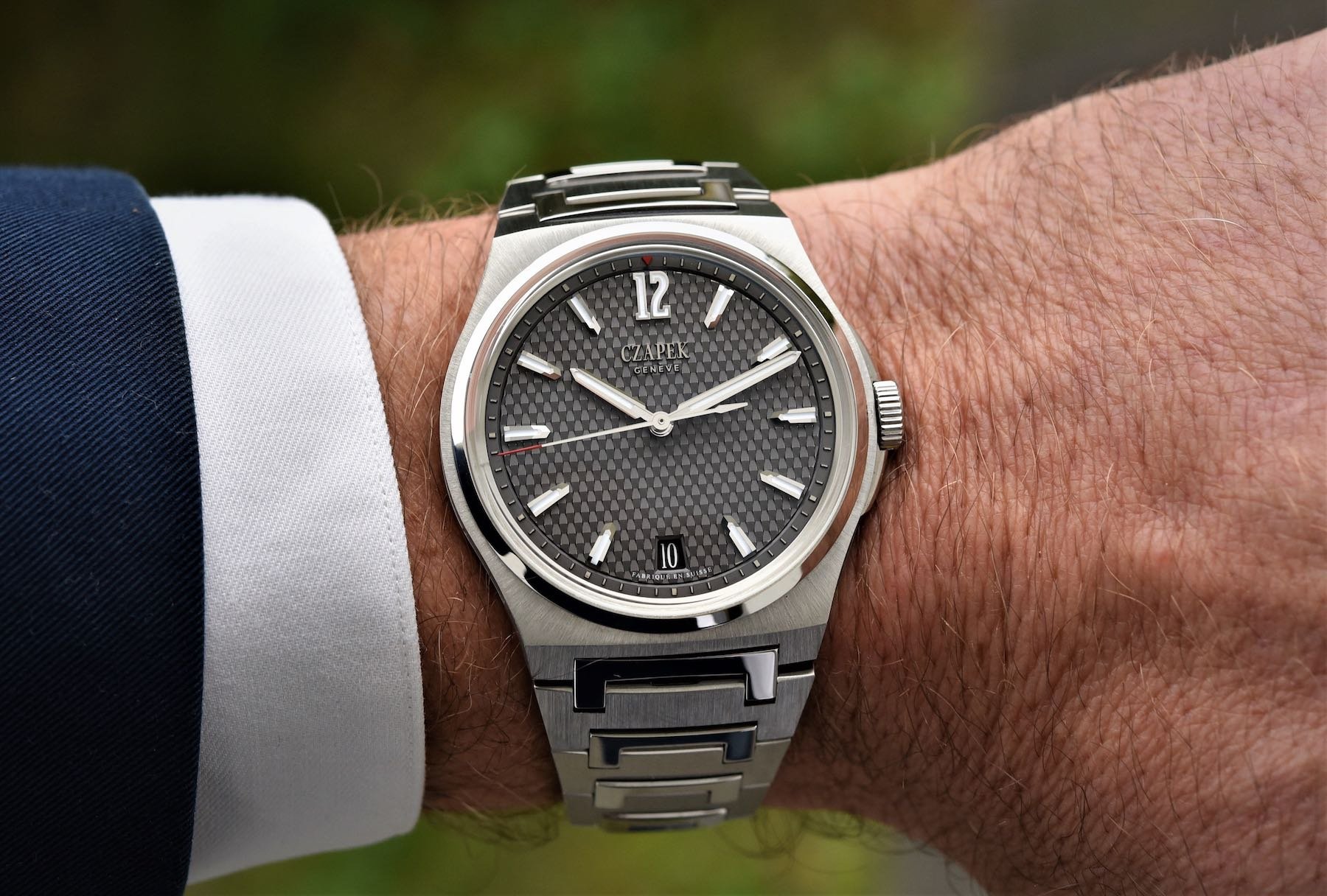 Future classics
As a watch lover, it is exhilarating. We wait and wait and wait for these moments to come along with no guarantee they will. It was impossible to know whether our generation would ever see the release of "future classics". Being on the ground level of the industry as I am, I am thrilled to see our patience rewarded.
My colleagues think I'm mad. And in some ways, they're right.
You may like one, two, or any of the three "modern icons" I've anointed here, but that's not the point. I, for one, don't like the Overseas but that doesn't stop me from being able to appreciate its elevated design language. I'm able to see and appreciate that it is good without wanting one. In fact, I feel similarly about the Streamliner. My colleagues think I'm mad. And in some ways, they're right. But watch collecting is intensely personal. For me, it is all about the Antarctique. And I'm ecstatic we've got a new one to share with you so soon.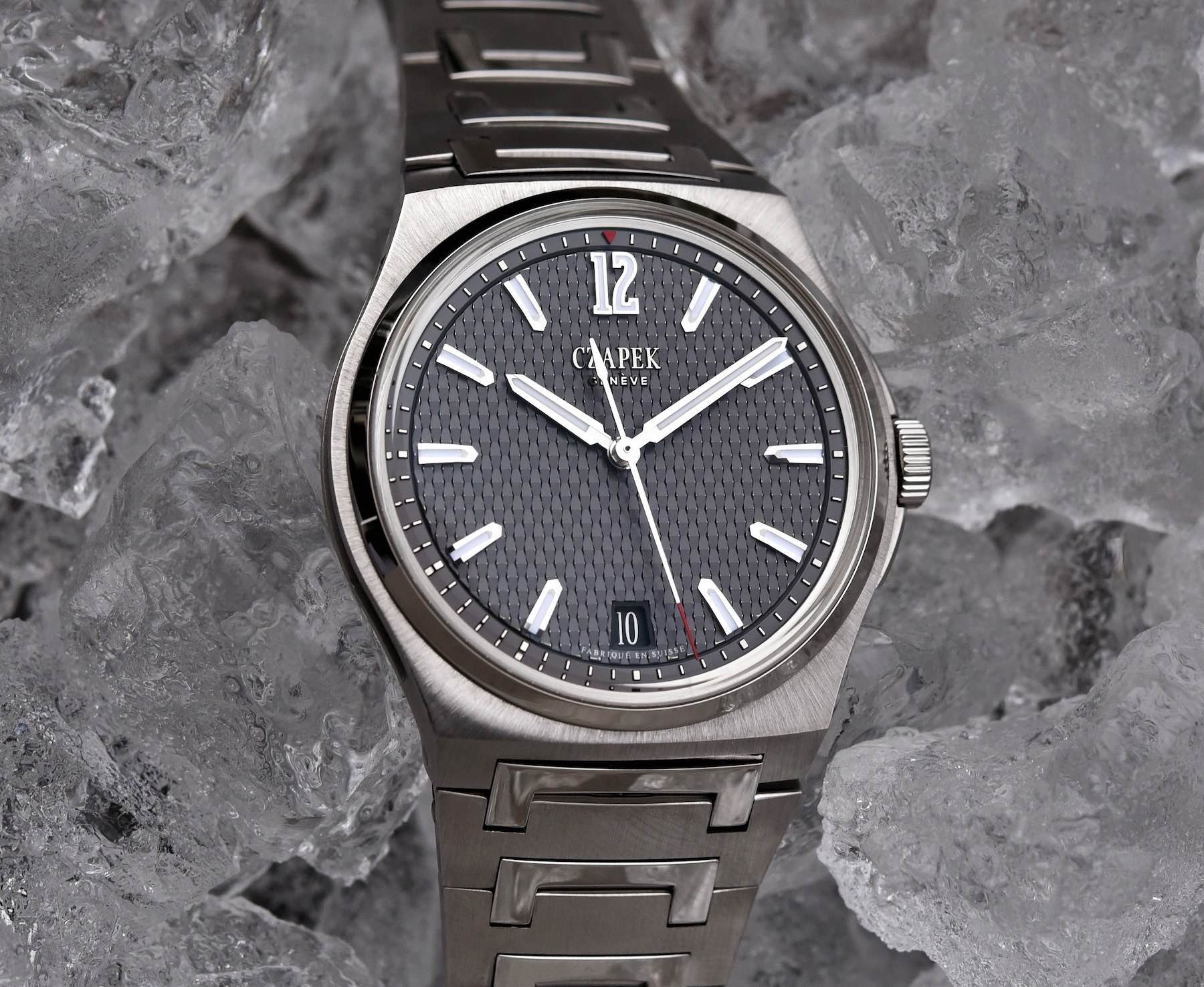 A funny thing
Design is a funny thing. I think the conversation about "good" and "bad" design is often polluted by the issue of taste. The two aren't really linked at all. Design has rules; taste does not. Some watches can deliberately flout design "rules" to create something intentionally jarring. And, clearly, those watches can still be popular. Some people specifically want that kind of controversy on their wrists. Similarly, to some eyes and minds, "good" design is boring.
Case in point: one of my colleagues recently described the design of the NOMOS Lambda as "meh". Props to him for using one of the dictionary's newest words to express his feelings, but beyond the amusement that his phrasing elicited, I was horrified.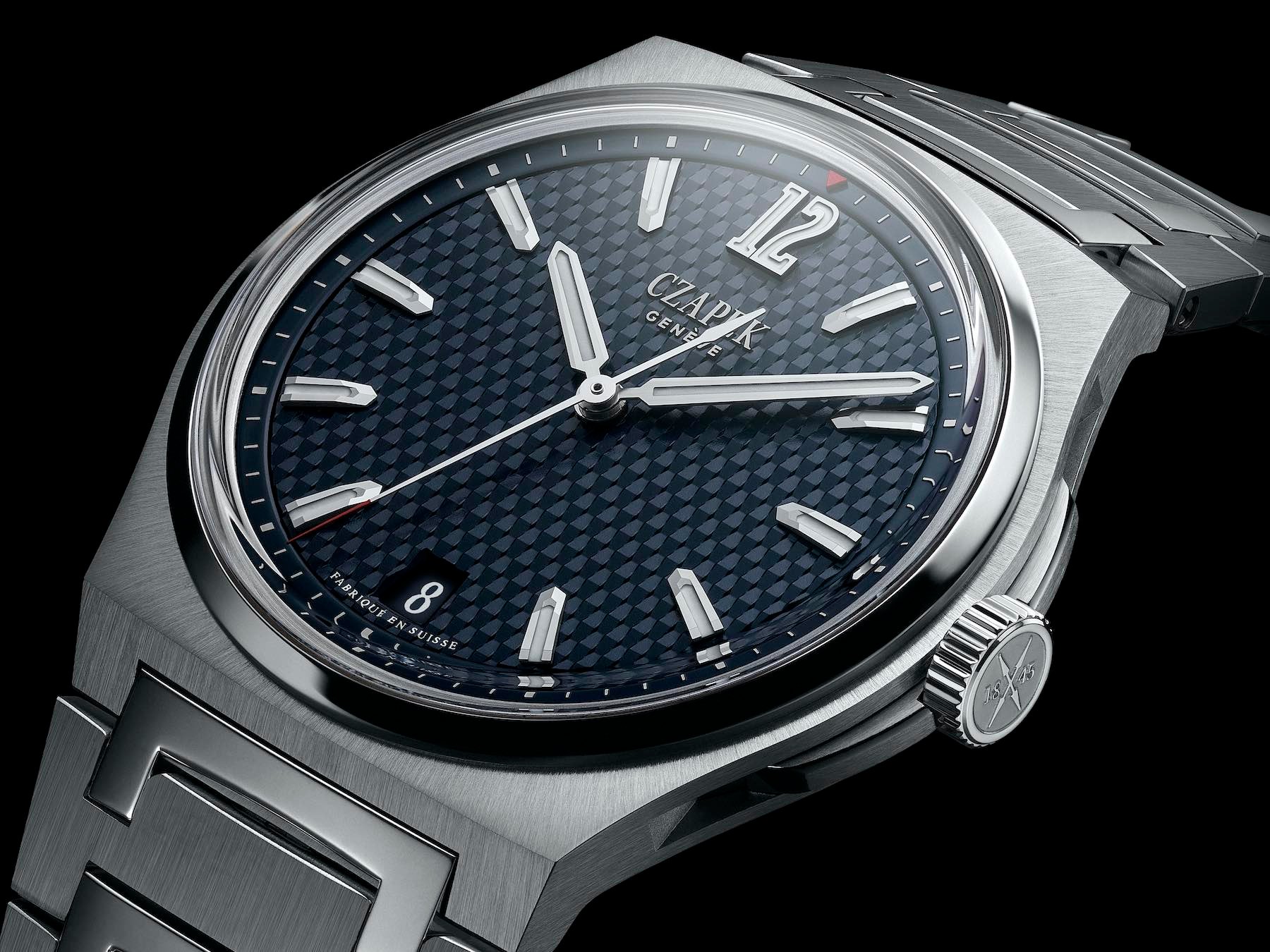 No one has to like anything. I am certainly not the arbiter of taste. However, I really do think it is important to understand what we're looking at when we're presented with something that is proportionally masterful. This shines a light on my own feelings when it comes to the Streamliner. It is an ambitious, gloriously well-realized idea. It is different. In ways few other modern watches do, it pushes an envelope that desperately needs to be pushed. A few months back, Tomas wrote an article lamenting the state of modern watch design on the back of his frustration regarding the relentless reissuing of "old" pieces. And while he may have a point in the majority, we are seeing novelty. And true novelty is hard to come by.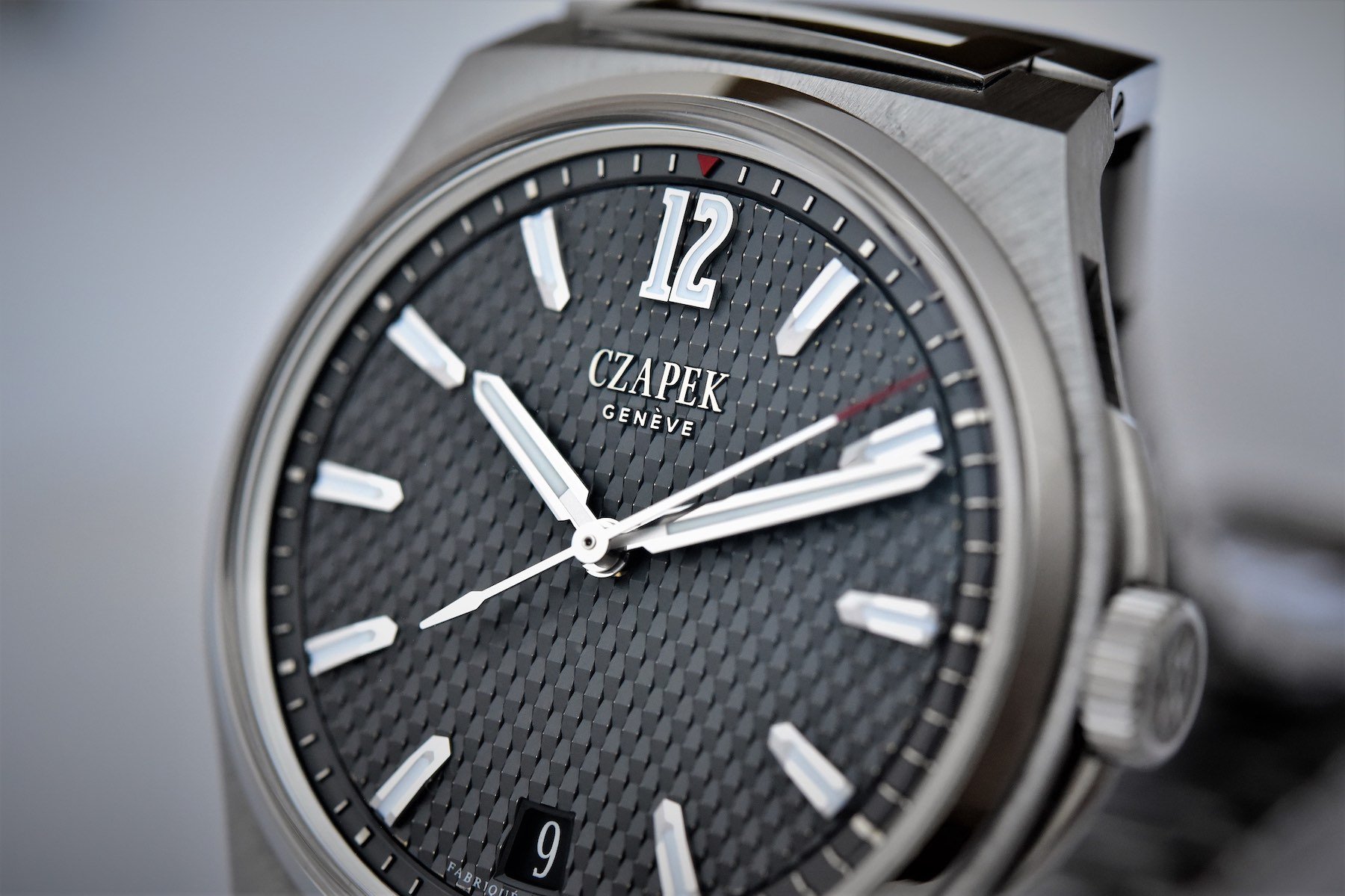 What's so good about the new Antarctique?
Well, having had the original on my wrist for a wonderful few days, I can say that pretty much everything is good. I heard some criticism directed towards the polished center links of the bracelet. I get it. It's not for everyone. Even I was skeptical at first. But, I must say, after seeing how it interacts with light while on the wrist, those polished links make more sense. They vibe with the polished bezel and the light-catching markers on the dial. Together, the appearance is one of harmony.
The brand simply had to change something significantly…
The Czapek Passage de Drake uses the same (gorgeous) SHX5 movement as the Terre Adélie. The change here is all to do with the dial. Czapek found itself in an unexpected position with the rapid sell-out of the 99 Terre Adélie pieces released in May. The brand simply had to change something significantly to avoid rankling the buyers of a strictly limited model. The dial was the obvious choice, but what the design team did to it wasn't obvious at all…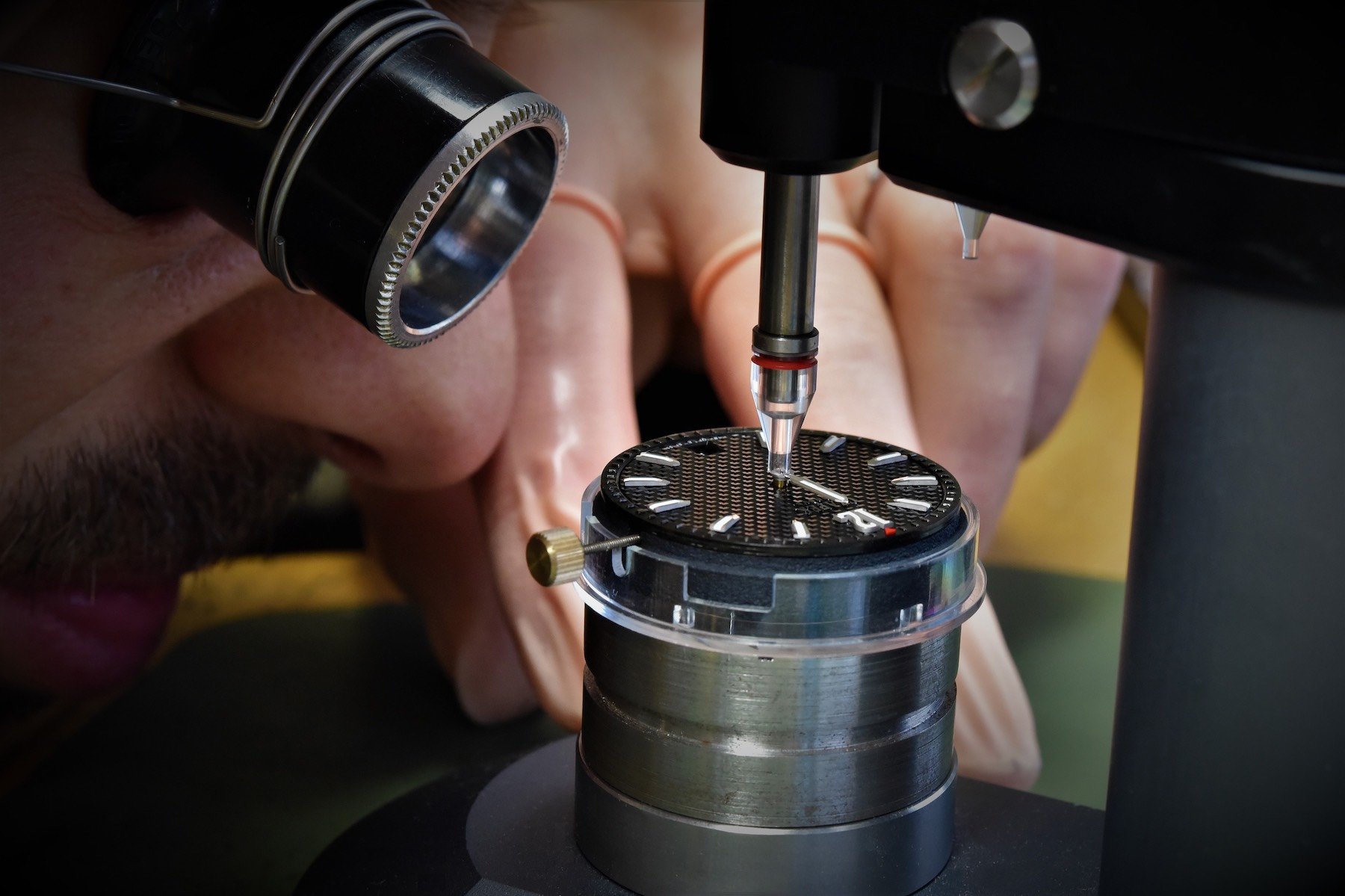 The "lamé" finish of the original is gone. Instead, we have a three-dimensional "fliqué" pattern. The immediate impression is far more industrial than the artful dial of the Terre Adélie. The hour markers have reduced in length and start further away from the rehaut, allowing the minute markers themselves to be raised and polished. In place of the "double claw" at 12 o'clock, we now have an Arabic "12". The dial is actually two pieces. The minuterie is a separate ring with a chamfered inner edge. It gives the whole thing a more overengineered appearance. These updates amount to an overall edgier character that is now available in four colors.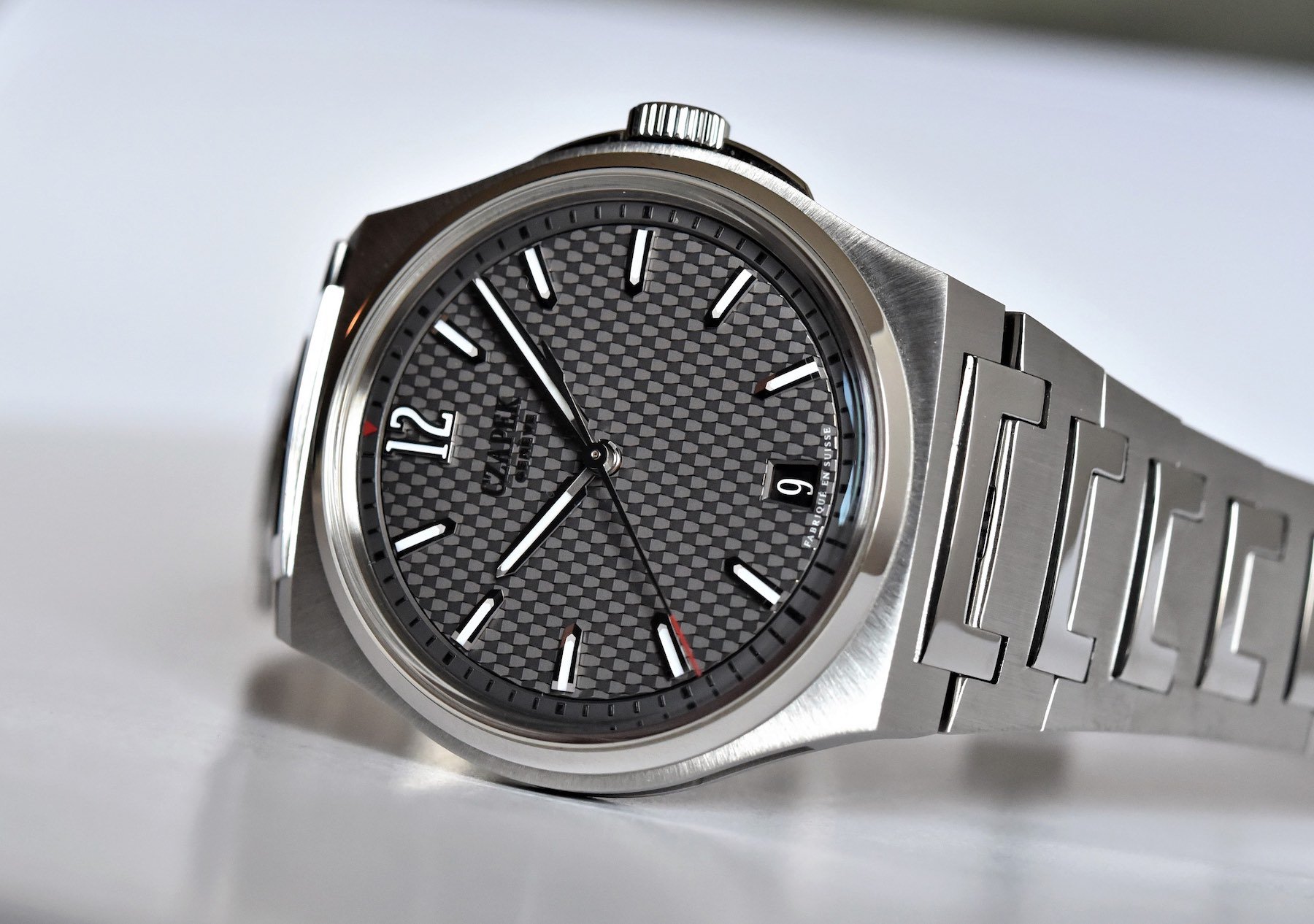 Is it better, worse, or just different?
I think it is definitely different. I was unconvinced when I saw sketches of this dial pattern a few months back but totally bowled over when I saw it in the metal in Geneva back in August. Keeping my mouth shut about it since has been a real struggle. The dial plays with light in an entirely different way from the Terre Adélie. It is moodier, apparently more uniform, but oddly even more intriguing as a result of its bold pattern.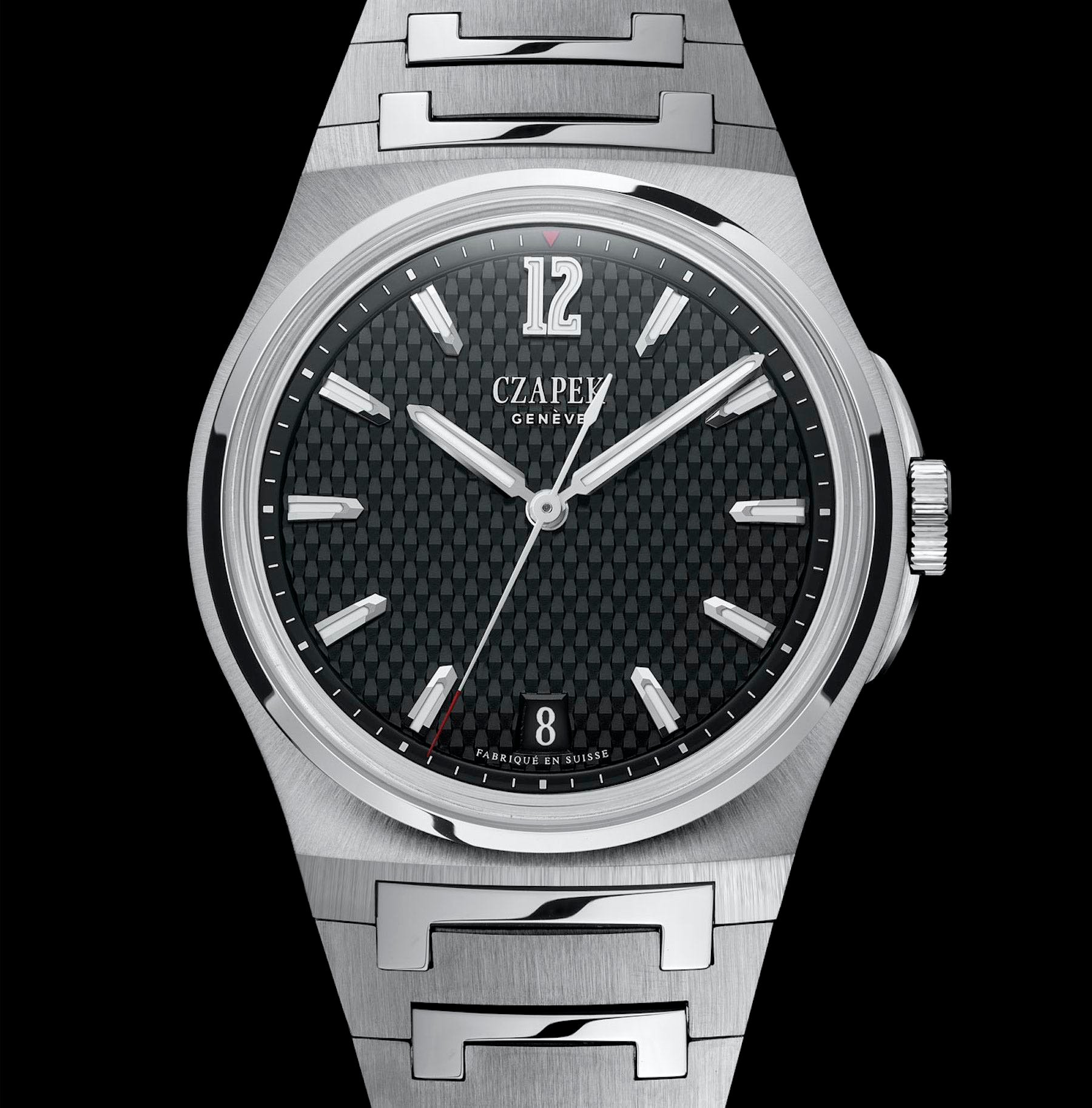 Sign-up for our newsletter
When I first saw the classic tapisserie dials of the Royal Oak, I was apathetic toward them. I felt the same way about the bold ridging of the Nautilus dials. So too did the notched bezel of the Overseas leave me cold. All three of these elements wowed me when I saw them in real life. I "got" it. Of course, "getting it" may well require you, as it did me, having the chance to see these pieces in person. That isn't always easy with smaller, newer brands like Czapek, but I'm working on something behind the scenes that might make that a little easier for our Dutch-based readers, so make sure to sign-up for our newsletter to be kept in the loop of what's coming in 2021…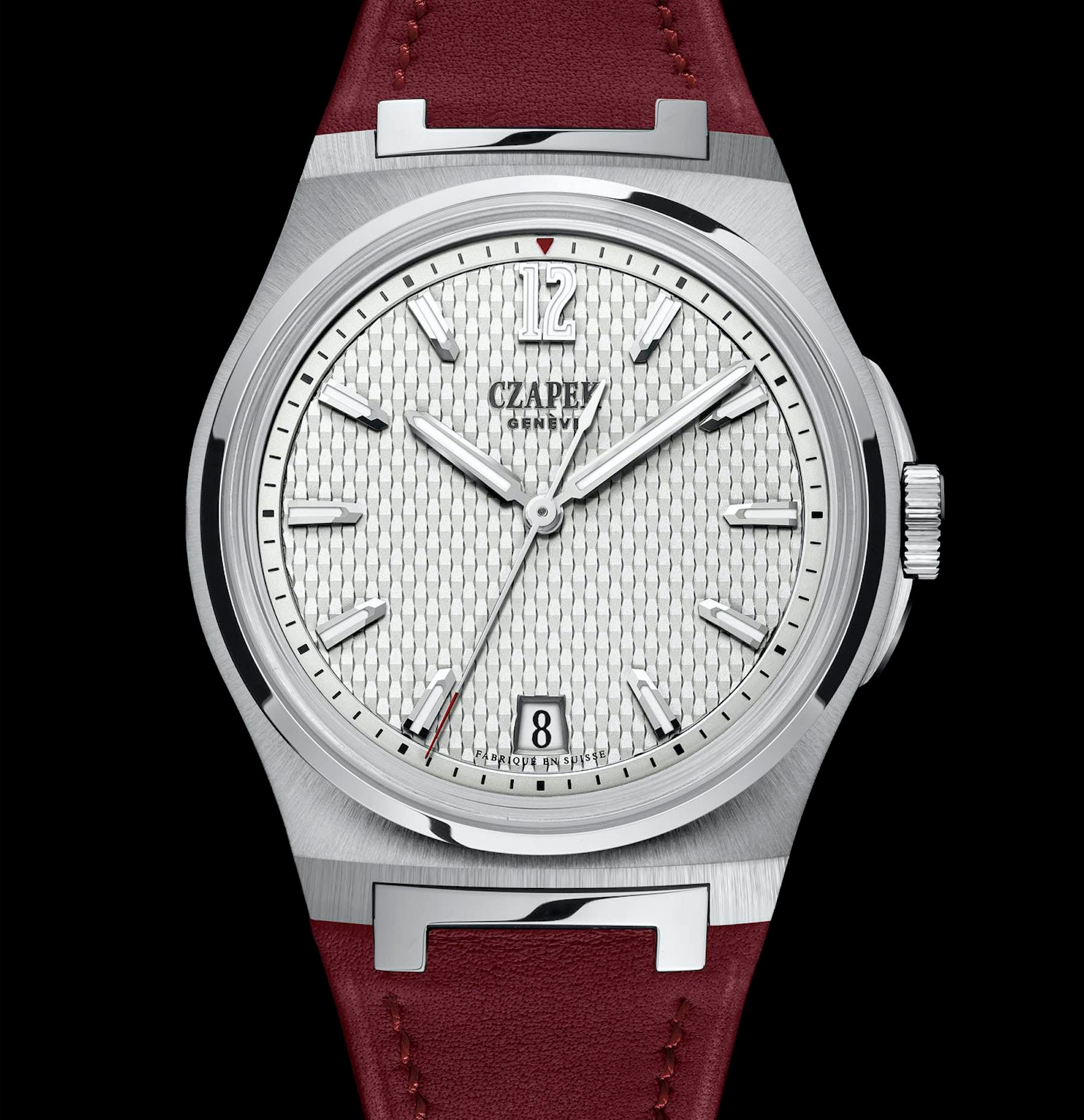 To summarize, the new dial pattern is really new. That's a big deal in 2020. So much has been done before, it's really tough to create something that feels simultaneously familiar, immediately palatable, and intensely original. I'm a fan, obviously. And if you want my opinion, the blue is where this pattern works best. The nuanced shade is easily the most interesting on the wrist and has the most variable character in natural light.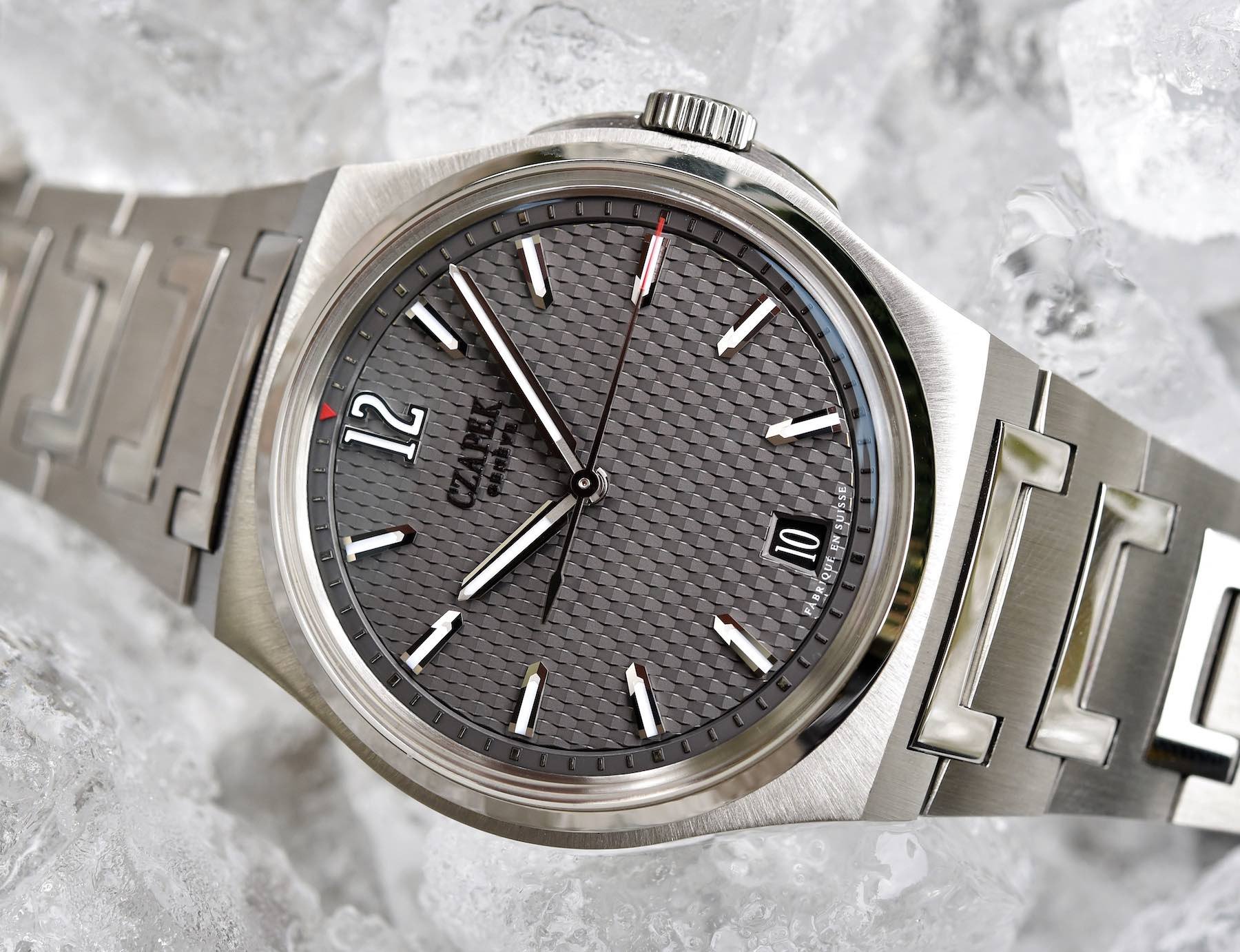 Other options
But don't worry if you hate blue. You have other options. There is a "black ink" dial, which is super classy and very versatile. It looks particularly awesome on the rubber strap that has a pattern that complements the dial. The ice white dial is certainly sharp but is my least favorite of the bunch. It just doesn't scream "sports watch" to me like the other three do, but I know a couple of my colleagues think this one's the pick of the bunch.
…the "Roaring Forties".
The fourth and final color available this go-around is a charcoal gray nicknamed the "Roaring Forties". This one is limited to just 40 pieces. Pleasingly for those that missed out the first time around, the other models are not limited.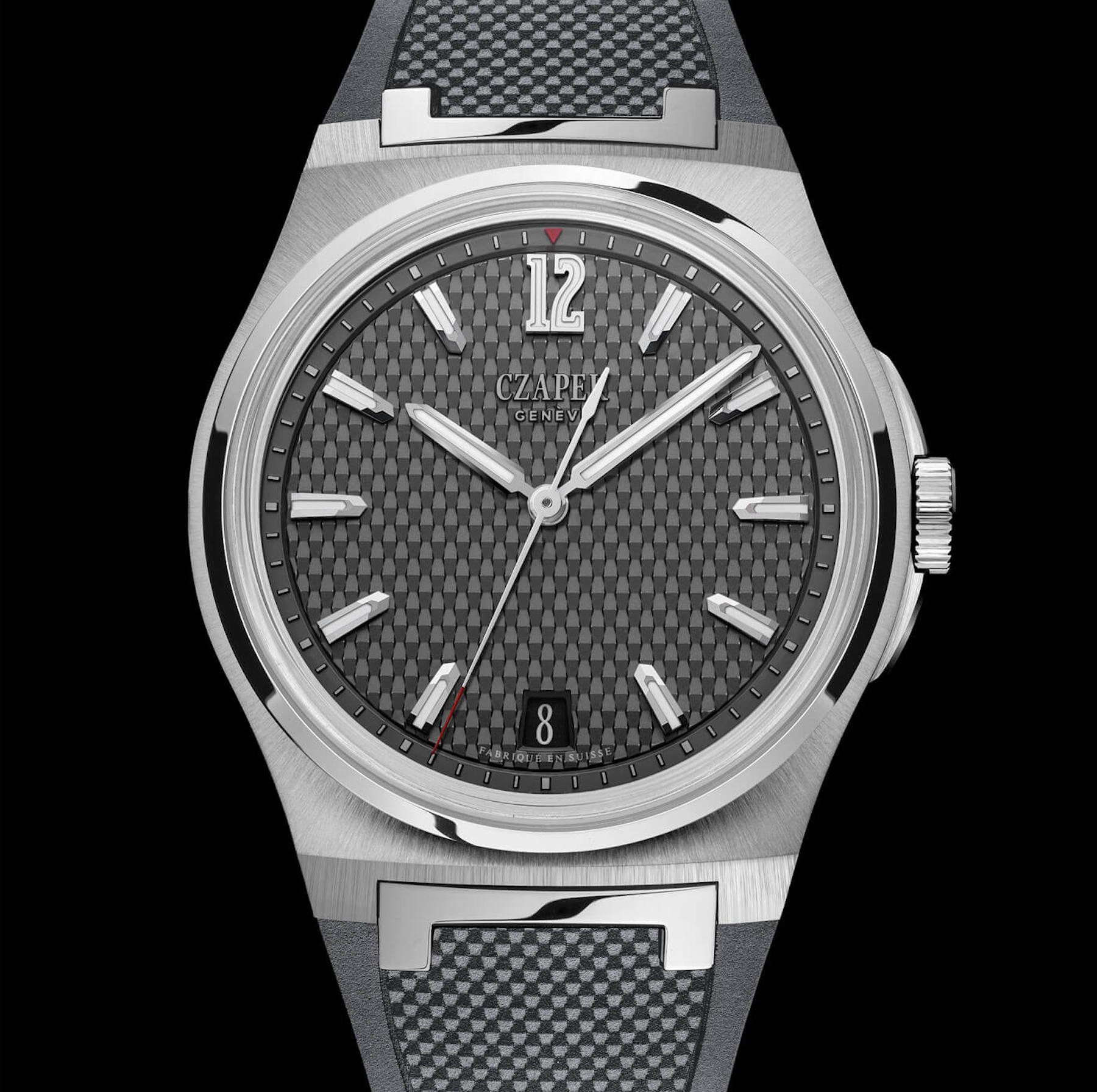 Another nice touch here is the option of an entirely red seconds hand. I much prefer the red-tipped option (as I find the reflective surface of the seconds hand's counterpoise to be one of the most satisfying elements overall), but it is cool to have the variety within the collection. It works particularly well on the ice white dial, in my opinion, and pops next to the leather straps with red stitching.
If leather and colored stitching on the tapering band isn't your thing, you can either stick with the Antarctique bracelet, or take a tone-on-tone leather strap, or the textured rubber option. There is an all-red leather strap, which looks cool (again) on the ice white. It makes for a more feminine appearance, which, given the watch's 40.5mm diameter and comfortable 10.6mm thickness, might appeal to some women too.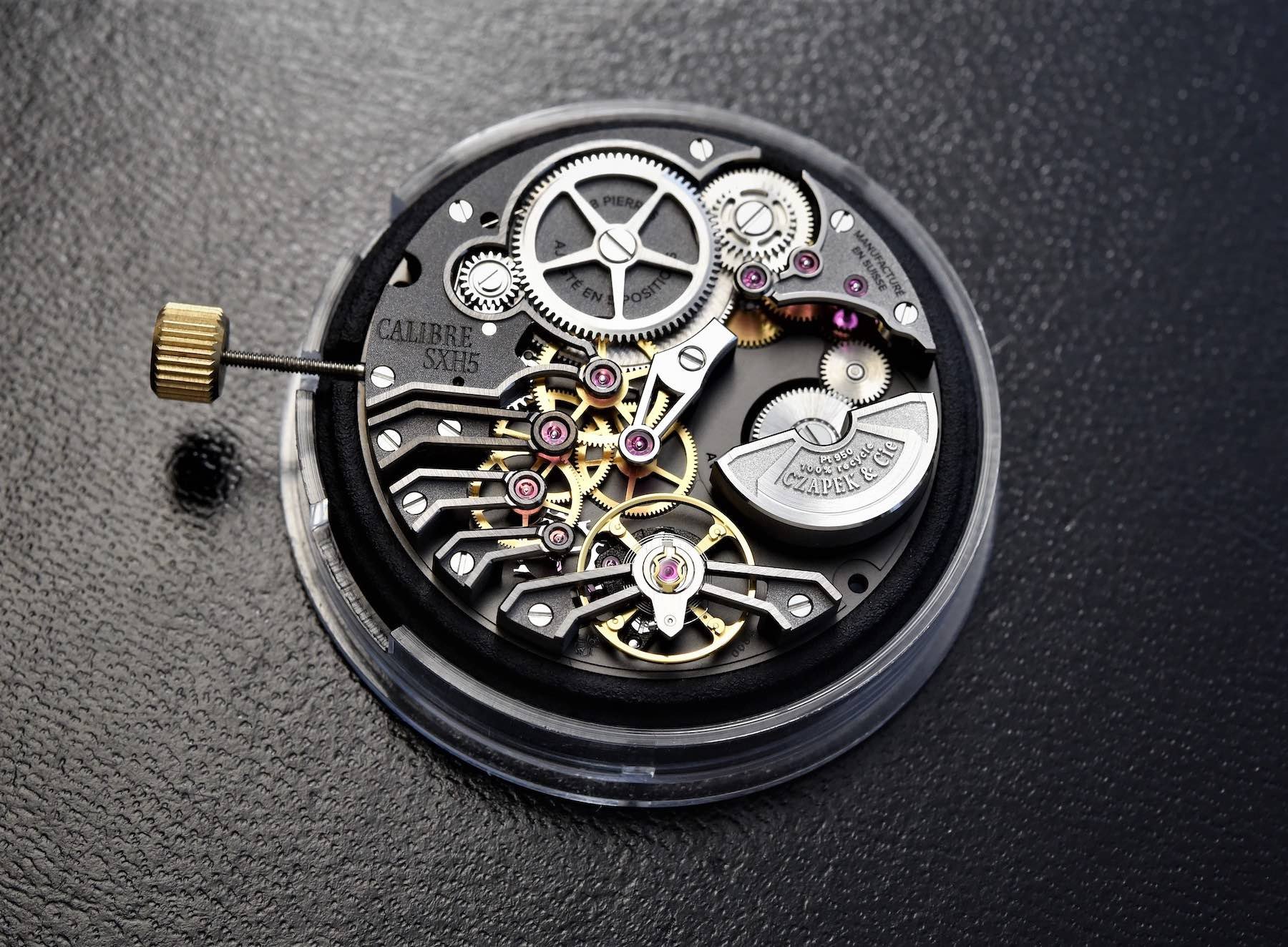 The movement and the price
The SHX5 is a really nice looking movement. Its black plates and bridges fly in the face of traditional, but it is an aesthetic that works very well alongside the angular, scalloped case. The recycled gold/platinum eccentric winding weight is another treat to behold. The movement offers a 56-hour power reserve, beats at 4Hz, and comprises 193 parts.
…it wouldn't surprise me to hear Czapek's name mentioned alongside those masters in years to come.
And what about the price of these beauties? The Czapek Antarctique Passage de Drake models retail for CHF 18,000 or €17,000. Considering the long legacy of this reborn brand, the remarkable ingenuity of the design, and the quality of its production, I think it's about right. It may not have the name power of Patek Philippe, Audemars Piguet, or Vacheron Constantin, but with releases like this bolstering an already strong start to its new life, it wouldn't surprise me to hear Czapek's name mentioned alongside those masters in years to come. Learn more here.
Watch specifications
Model
Antarctique Passage de Drake
Dial
Fliqué pattern in either black, white, blue, or a limited edition gray
Case Material
Stainless steel
Case Dimensions
40.5mm wide, 10.6mm thick
Crystal
Sapphire box with AR coating
Case Back
Sapphire display with AR coating on the underside
Movement
In-house SHX5 micro-rotor movement
Strap
Either integrated bracelet, integrated rubber, or integrated leather with a choice of stitching colors.
Special Note(s)
Roaring Forties edition (gray dial) limited to 40 pieces