The Czapek Antarctique Rattrapante "Core" Model Is The Best Thing Of 2021 So Far
While technically limited to 77 pieces, the one-off concept "seen" at Only Watch 2021 gets a proper roll-out...
Okay, okay: this isn't a "core" collection model, because it (like most Antarctique models) is limited. However, in comparison to the piece unique Czapek entered into the Only Watch Auction 2022, this piece is readily available. There will be 77 units of this appetite-whetting prince among men. Smash your piggy banks. Raid your savings accounts. The Czapek Antarctique Rattrapante is the best thing of 2021 so far.
Alright, maybe it's the second-best thing after our very own Czapek Antarctique Viridian Green Limited Edition. I didn't want to lean too heavily into that because, well, as you know I'm somewhat biased. So let's remove my verdant baby from the equation and say this: the Czapek Antarctique Rattrapante limited run of 77 pieces is the most inspired thing any brand has done this year without the intervention of Fratello (for all other brands reading this, take note; just look at what working with us can do to your release calendar — astounding).
…the most inspired thing any brand has done this year without the intervention of Fratello…
We had nothing to do with the Rattrapante. This idea has been in the works for half a decade. In fact, the idea began in 2012, which saw a small run of chronographs fitted with vintage Valjoux 7753 movements released to raise funds for the fledgling company. One buyer, bewitched by the chronograph mechanism visible through the back of his watch, took to showing it to anyone who cared look. The mutual wonderment of onlookers told him one thing: bringing that kind of mechanical interest to the dial would be a hoot…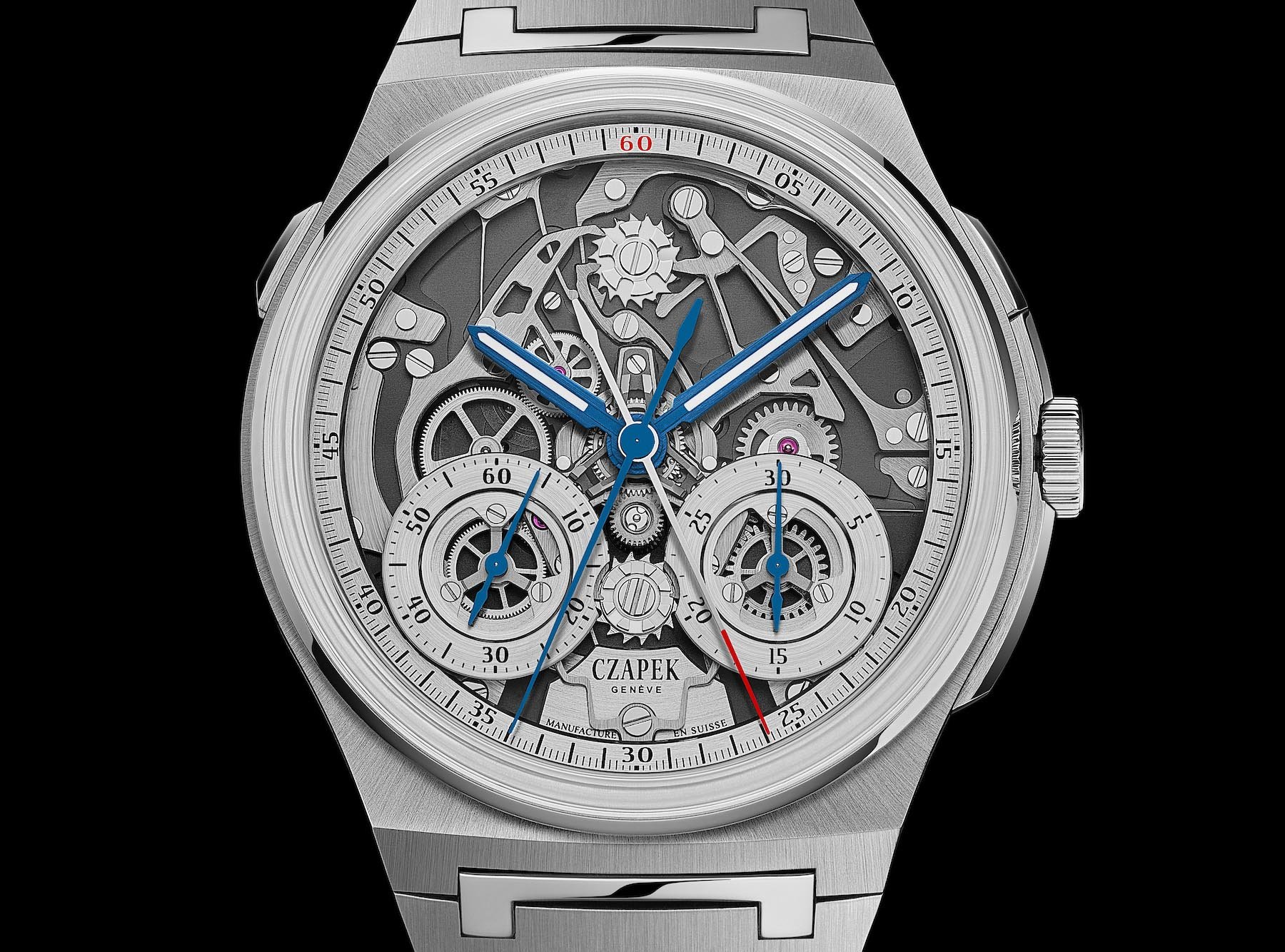 A welcome first
A Rattrapante is a complication added to a chronograph complication that allows a "split time" to be taken. You start the chronograph as normal and two, centrally-mounted and perfectly overlaid hands begin to traverse the dial. When you press the Rattrapante button at 10 o'clock, the lower of the two hands stops dead, while the upper hand continues to travel, never missing a beat. This means two times with the same starting point can be recorded.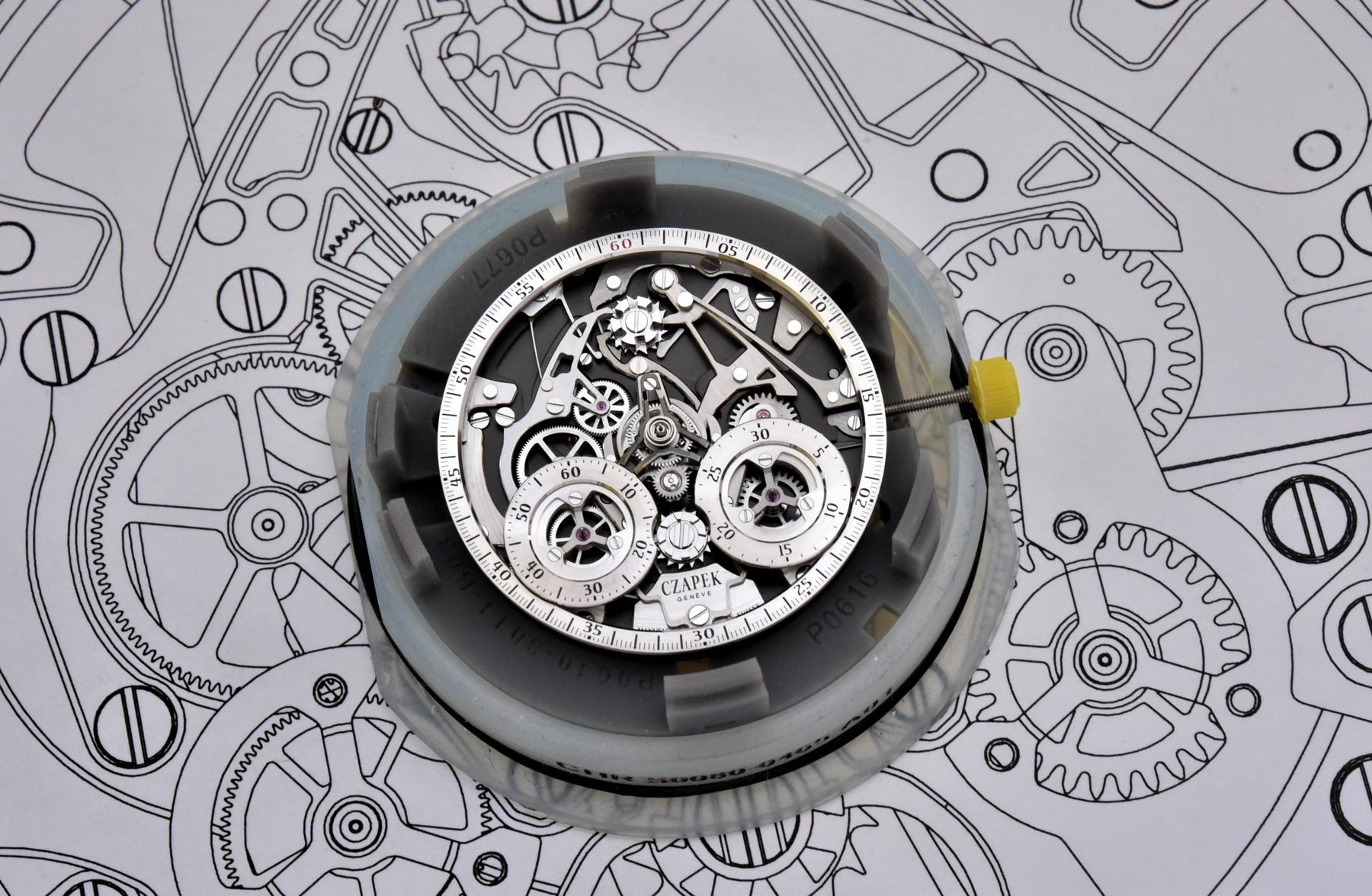 According to Czapek, "the Antarctique Rattrapante is the first split-second chronograph whose fascinating mechanism is visible from the dial side." That's really cool and all, but, to me, this is not a watch that needs explanation or justification. Unlike so many high-end timepieces, it is immediately obvious that this is something special. And as super-duper as the movement is (and it really is), there is something even more heartening about this model in my mind: it serves to underpin just how outstanding the regular Antartique's form is.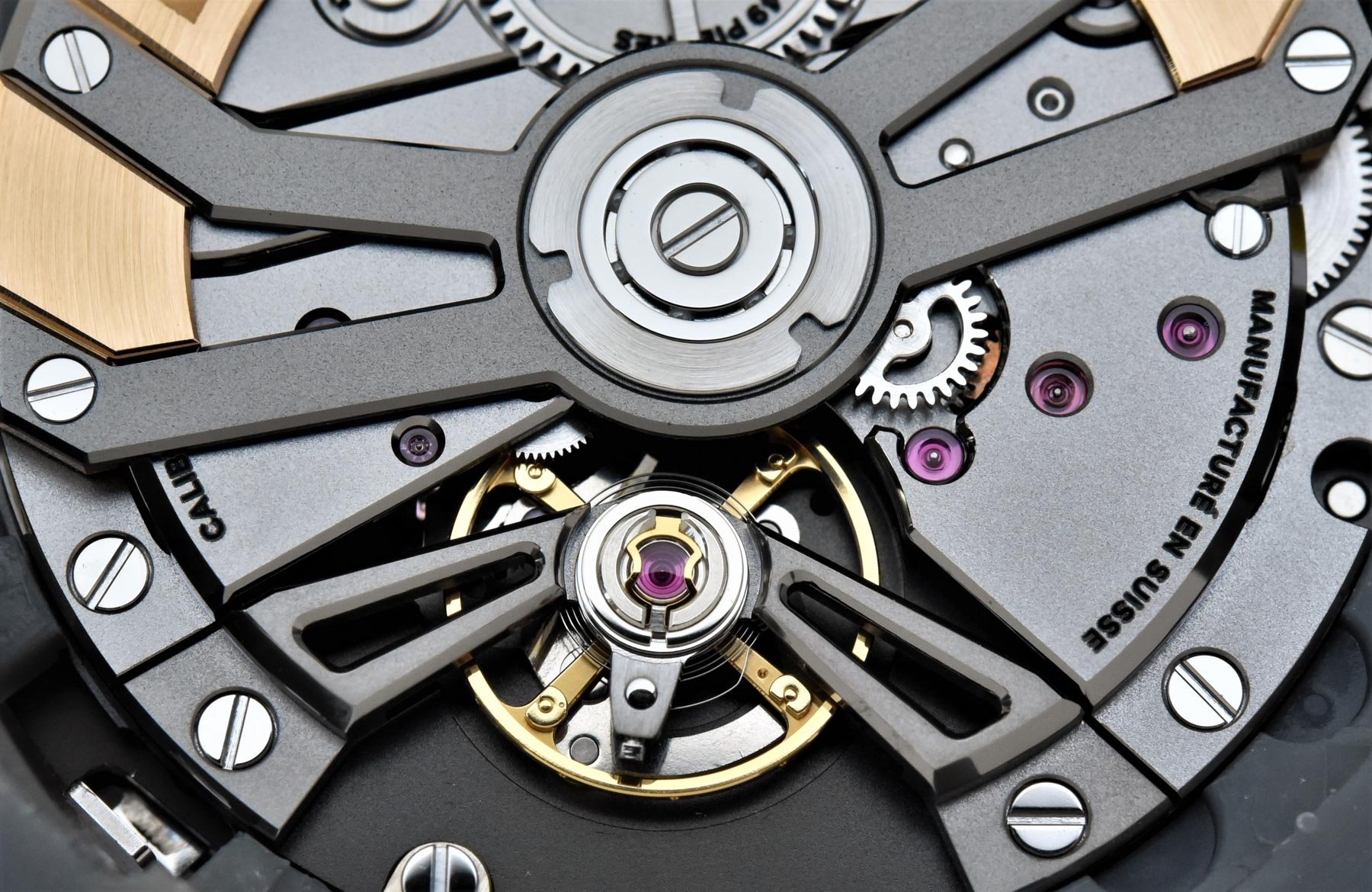 You know some watch cases work very well with one or two dial configurations. It takes a very special kind of case to apply itself handily across vastly different genres. I would say that in this regard, the Audemars Piguet Royal Oak kicks the trousers off the Patek Philippe Nautilus (which I personally prefer to the Royal Oak). The Nautilus is a stunning form in its most basic execution but, to me, loses a lot of that design purity when the dial gets more complicated. I find myself confused. I don't know where to look. When it comes to this latest Antarctique entry, I know exactly what to do with it — snatch from Xavier's hands during our appointment this evening and RUN!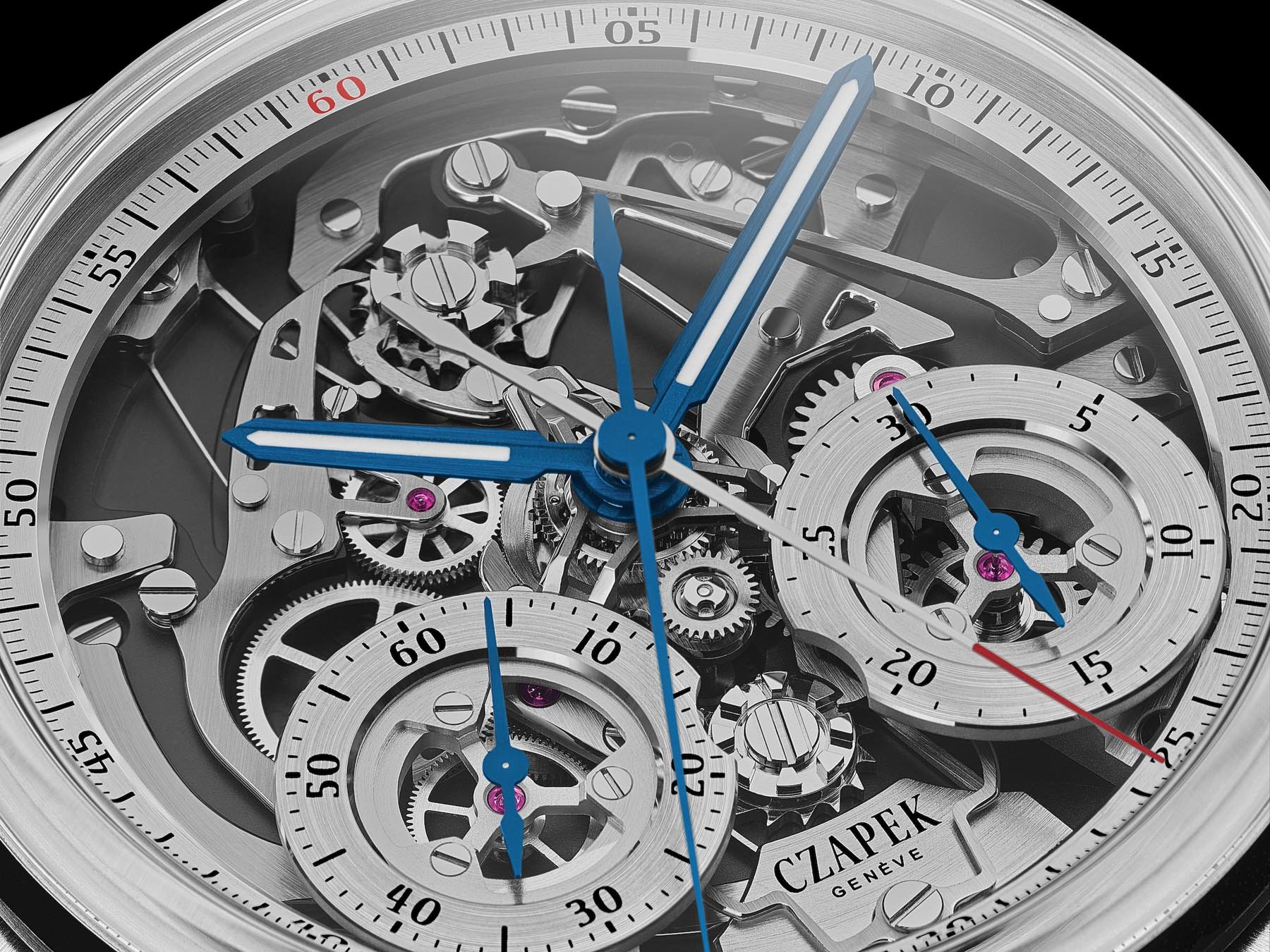 The Antarctique Rattrapante is an instant classic
I'm kidding. I've seen that guy barrel through a crowd of onrushing tourists on Oxford Street as if he were an elephant charging through a kaleidoscope of butterflies. Seriously, if the luxury sphere hadn't called Xavier de Roquemaurel to it, I'm sure he could have been putting up some Hall of Fame numbers in the backfield of any NFL franchise.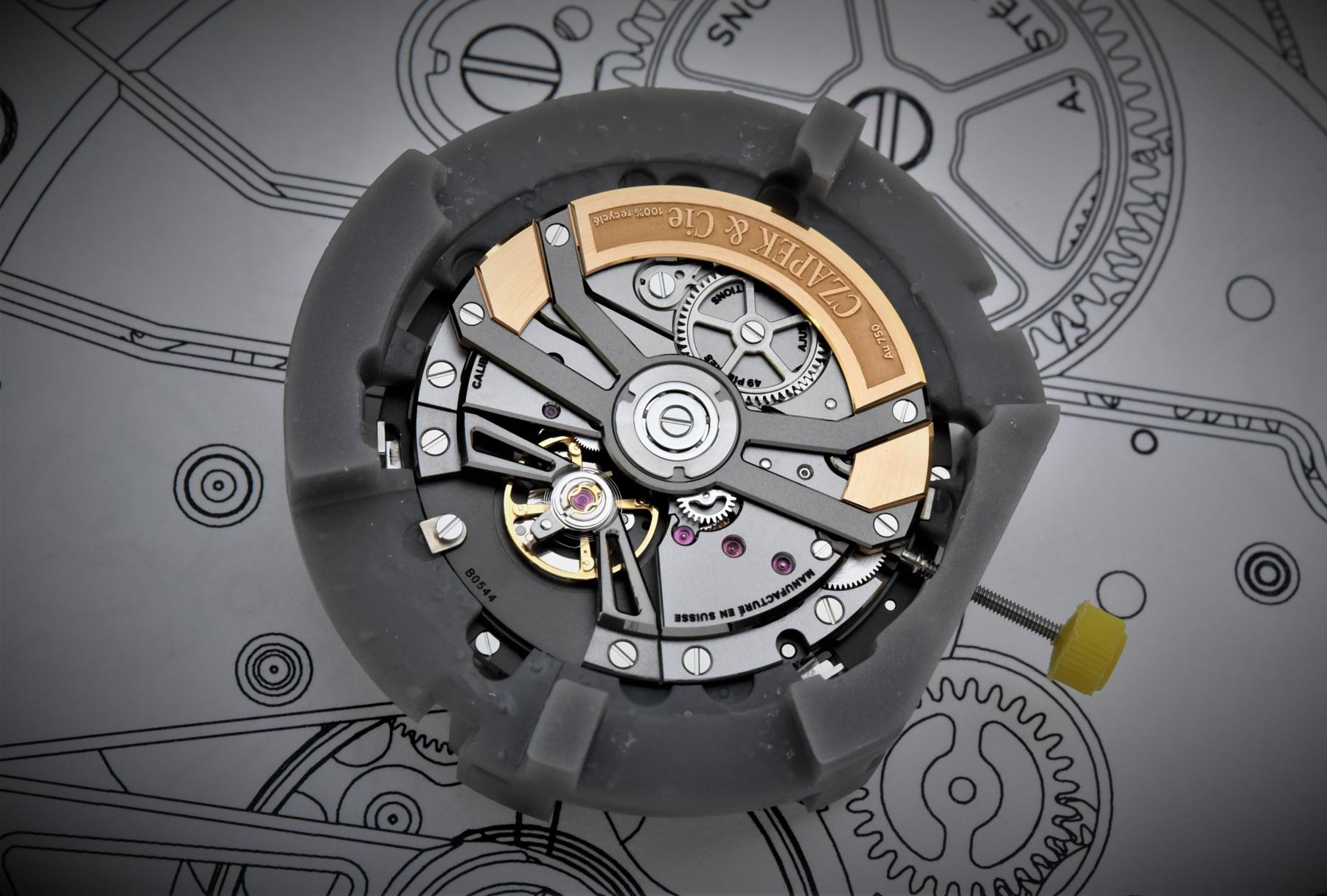 Jokes aside, the energy that sparks from Xavier is not only the reason I wouldn't consider trying to outrun him. It is also the reason why this brand seems to be on the most remarkable trajectory. The closest competitor to Czapek right now is, in my opinion, H. Moser & Cie. That brand's big reveal is coming tomorrow (don't forget to join us for the Moser Webinar at 17:00 CET tomorrow), and while I am not at liberty to reveal much about it, I can say this: the competition between these two modern giants of design is keeping them both honest.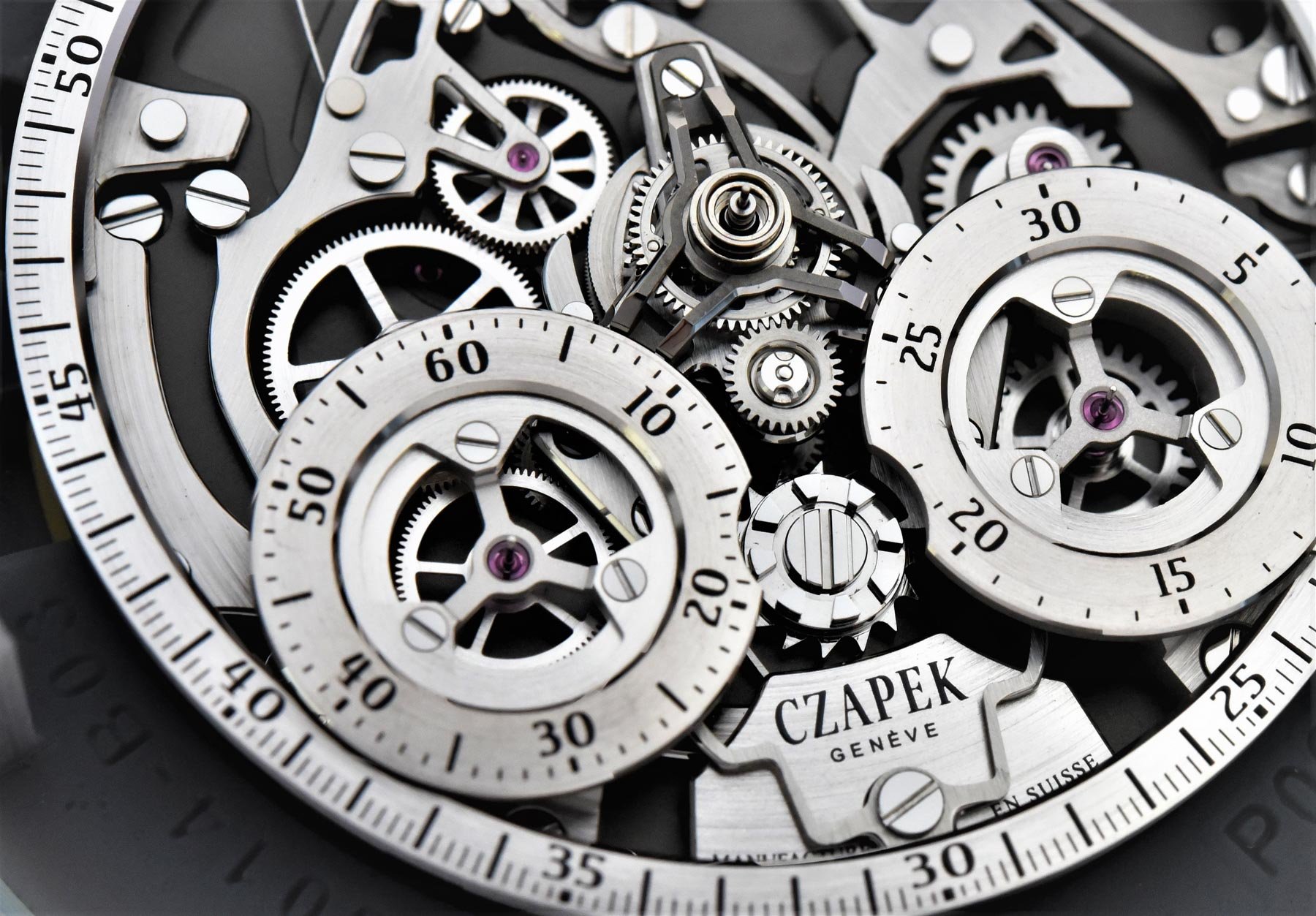 There is good work being done here. Classics come across very seldom in this industry. False dawns are plentiful, but the real McCoy takes some finding. Czapek has found something very special. The Antarctique case has, with this vastly different release, been proven to be a sustainable silhouette. Now, more than ever, I am convinced: this case will propel the brand to ever-higher heights. I'm proud to have watched this journey from up close. And, I must say, I can't wait to see what's next.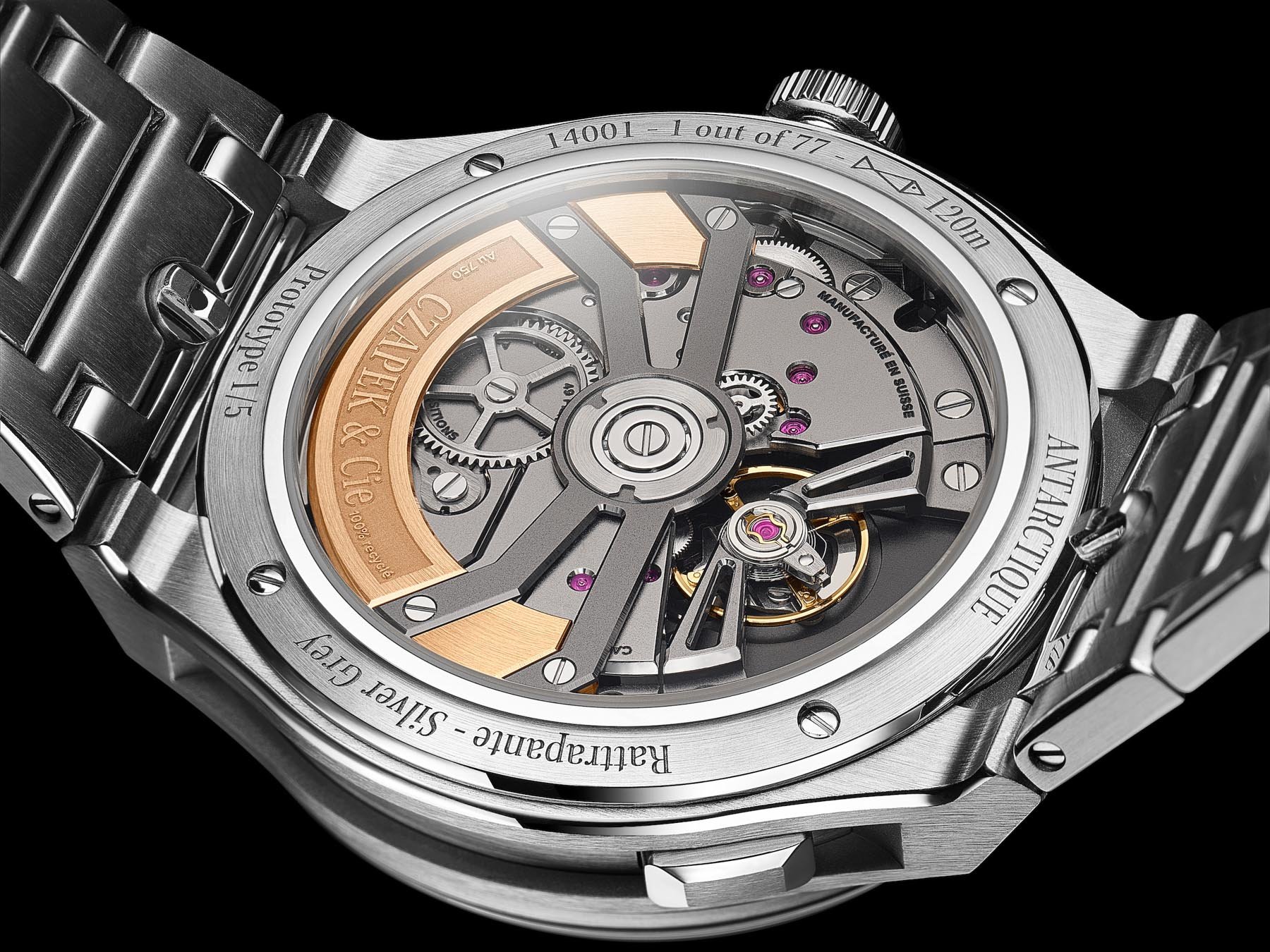 But wait! What about the specs?
In the Czapek Antarctique that I'm wearing on my wrist right now (check Instagram Live if you don't believe me), there beats an SXH5 caliber. The one we see inside this Antarctique has a very similar reference, despite being very different. The SHX6 is made in conjunction with Chronode. The movement specialist managed to slim down a lot of the necessary components for a Rattrapante complication so the movement could fit inside a 42.5mm case, which is slightly up on the standard 40mm we're used to with the Antarctique models thus far.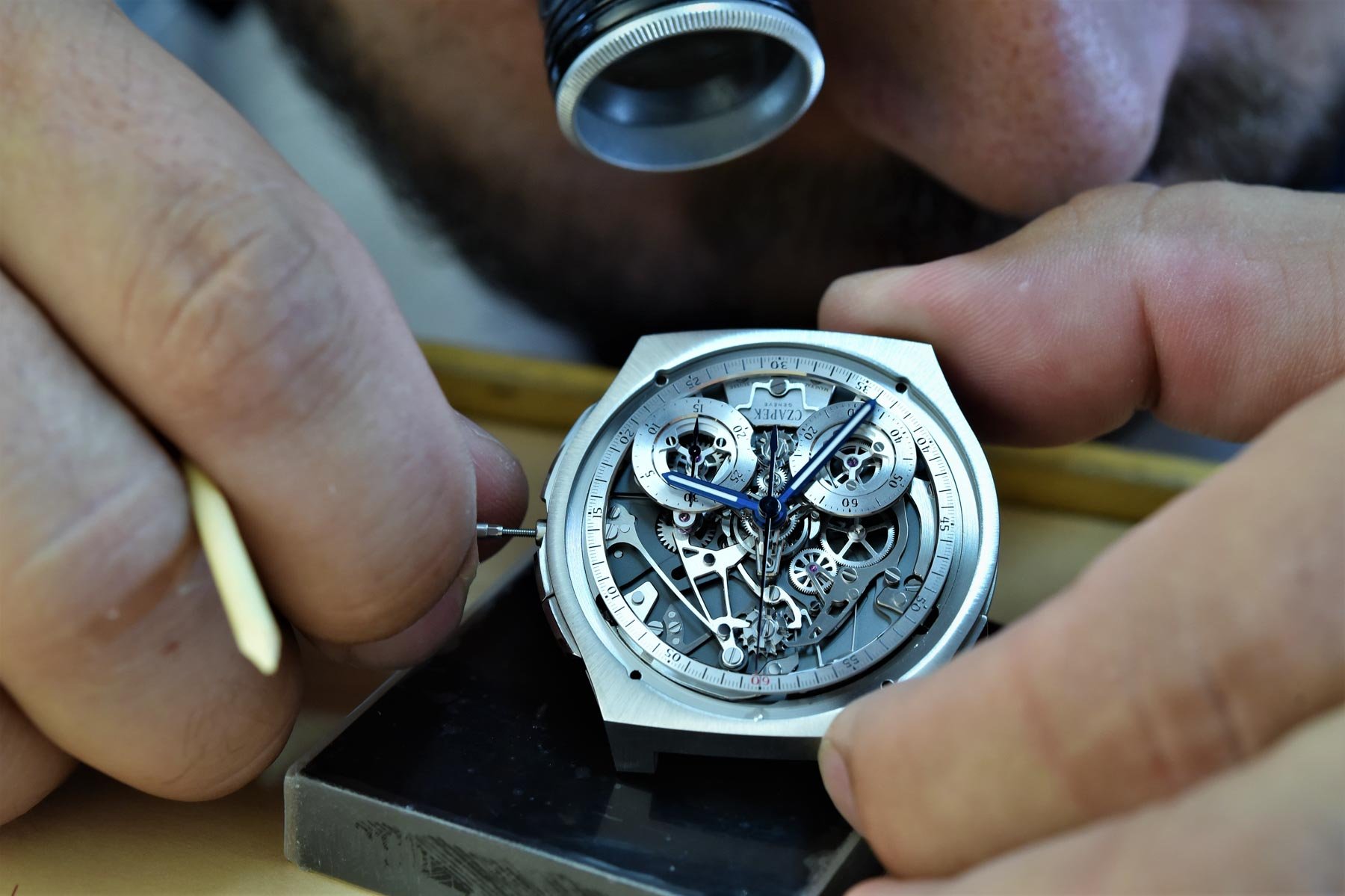 In the center of the movement sits a "tripod" bridge. It holds down a patented satellite minute train and the patent-pending split-second mechanism. There are two column wheels (one for the chronograph and one for the split-seconds mechanism). The sub-dials show the elapsed minutes (at 4 o'clock) and the running seconds (at 7). Most significantly when it comes to the architecture of the SHX6 is the decision to go with a horizontal rather than a vertical clutch. According to Czapek, this, "highlights the aesthetics of transmission."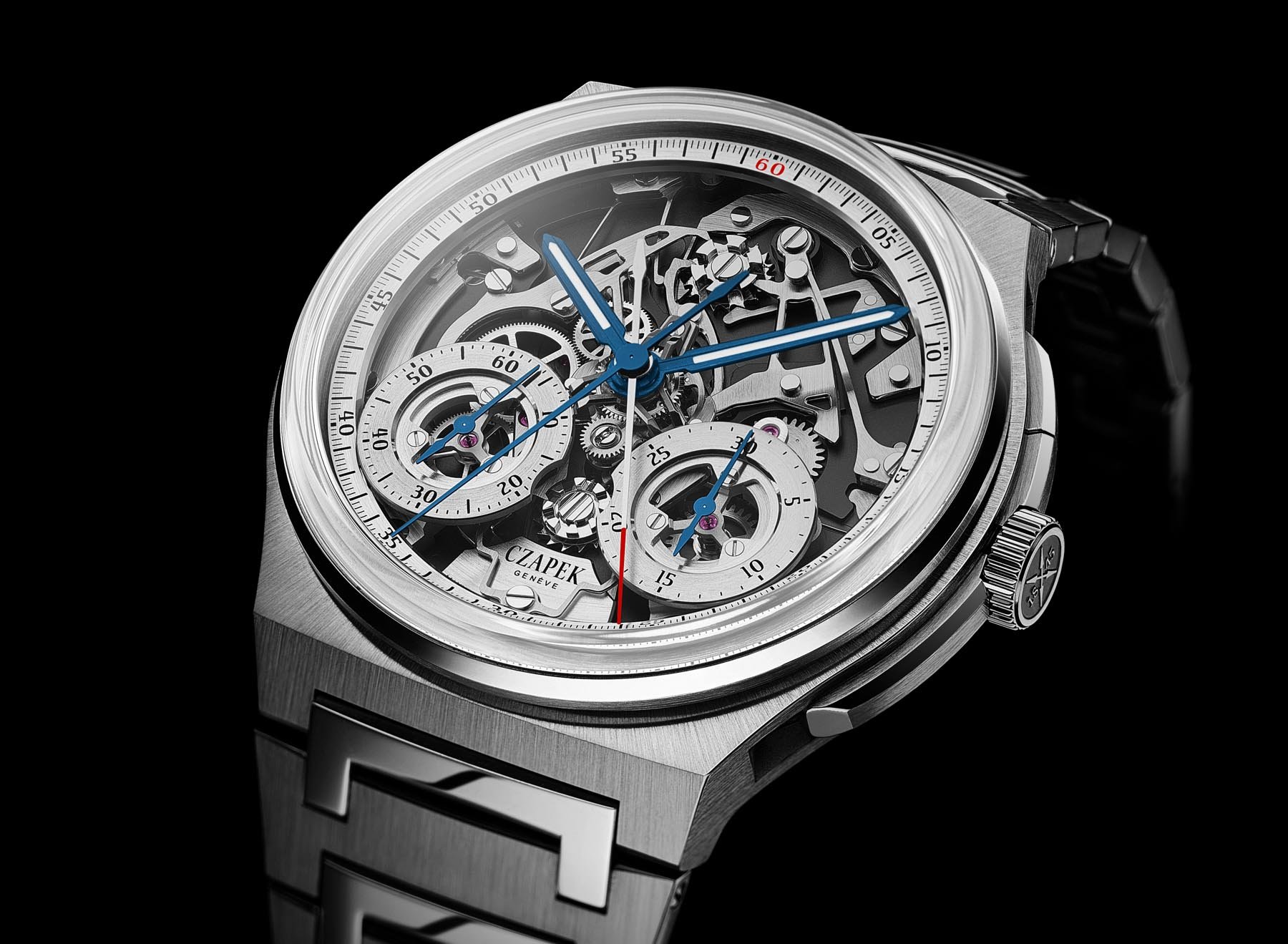 You'll notice that the crown guards have been usurped by the chronograph pushers. This is such a seamless integration. I find it impossible to imagine the designers of the original Antarctique didn't foresee a chronograph. I'd go as far as to bet this design has been sketched before the basic model hit the shelves. Whether there's any truth in that or not matters not. One thing's for sure: i's great to see it in metal at last. The price will be €43,400 excluding taxes. It will be available at the brand's boutique in Geneva, official retailers, and online at Czapek.com.