Czapek Quai Des Bergues Gets An Update With The Sapphire Blue L And Emerald Green L
In absence of new Antarctiques, we go back to the beginning again
As the watch world descends upon Switzerland once more for this year's edition of Geneva Watch Days, each visitor to the fair will have their favorite brands in mind. Unsurprisingly, given my long history with the brand, Czapek is always at the very top of my list. While I, like many, would love to be anticipating the unveiling of new additions to the Antarctique collection (perhaps even the sneaky announcement of a second Fratello edition — one can dream), we know that won't be the case as Czapek dutifully tends to its bulging order book before relisting that model for sale. Instead, the brand is revisiting its first caliber and bringing us two new editions of the Quai Des Bergues, one in sapphire blue, and another in emerald green.
These flinqué enamel dials steal the show. Both are decorated with the brand's unique "ricochet" pattern, giving them impressive visual depth. For me, the green is the clear winner here simply for its boldness. Nevertheless, the enamel-coated pattern works exceptionally well with this shade of blue, and this watch could easily operate as a low-key daily wearer. It would be fair to say the green, for its vibrancy, might not be able to pull off that roll quite as well, but it's nice that each model, despite being otherwise identical, has such a strong character. Then again, imbuing dials with personality is the specialty of Czapek's dial-making partner Donzé Cadrans.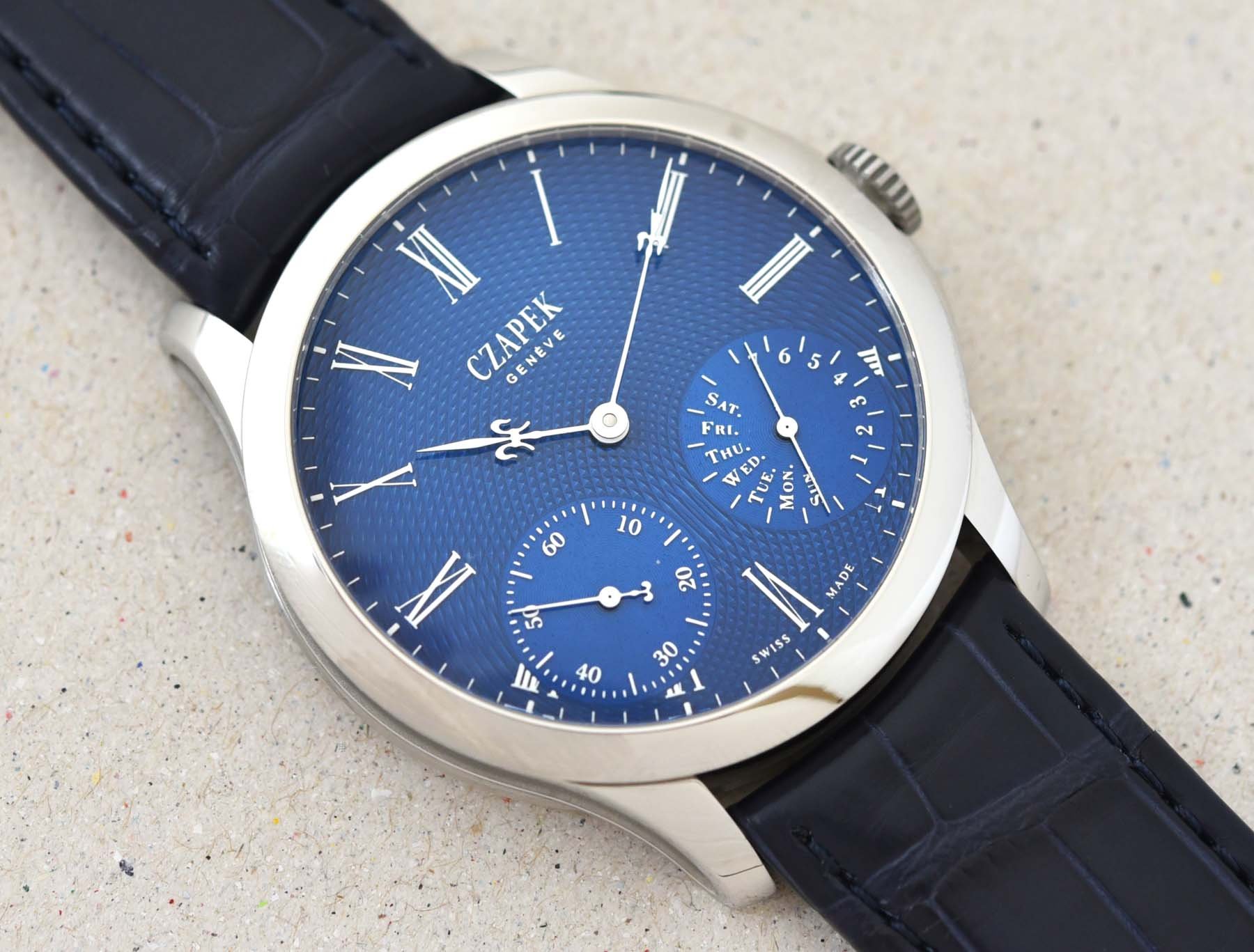 More beef
The Sapphire Blue L actually uses the same shade of blue as seen before in the brand's Sapphire Blue S. The only difference — surprise, surprise — is the size. These models measure 42.5mm in diameter, which is a whopping 4mm increase from the 38.5mm of the "S" series. Whether a 4mm step up is what consumers demanded or whether Czapek was simply looking to create a notable separation between the pieces, I don't know. Personally, I think an "M" series with a 40.5mm diameter would be a nice addition to the line. Let's wait and see if that drops any time soon.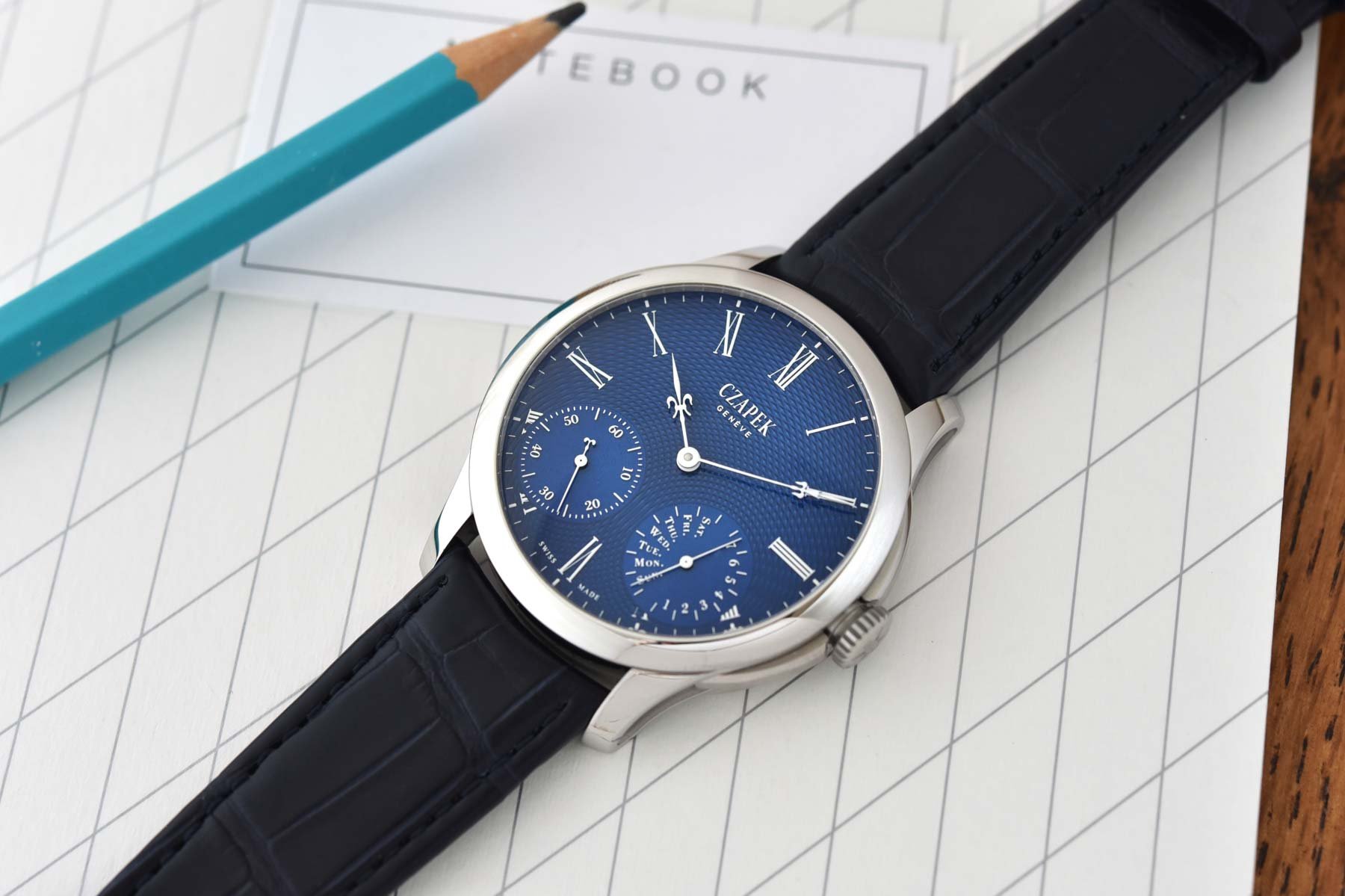 What's new?
As pretty as the held-over blue is and as envy-inducing as that rich green may be, the big updates to this line have occurred under the hood. When the Quai Des Bergues first debuted, it was powered by the SXH1 movement. Personally, I always liked its pared-back, no-nonsense approach to styling, but, as Czapek CAE Xavier de Roquemaurel says, it was a little "sober".
"When we released the Antarctique with its lacy bridges and complex architecture, people were amazed," says de Roquemaurel. "So, we realized we had to harmonize all of our movements along those lines."
Since the debut of the Czapek Antarctique and its special proprietary SXH5 movement, the brand's internal aesthetic has changed. The SXH5 was incredibly popular for its skeletonized cocks and blackened bridges. It was a marker point for the brand. The SXH5 broke new ground and set a new standard. It is perhaps only natural that de Roquemaurel wanted to bring the rest of his brand's movements into line.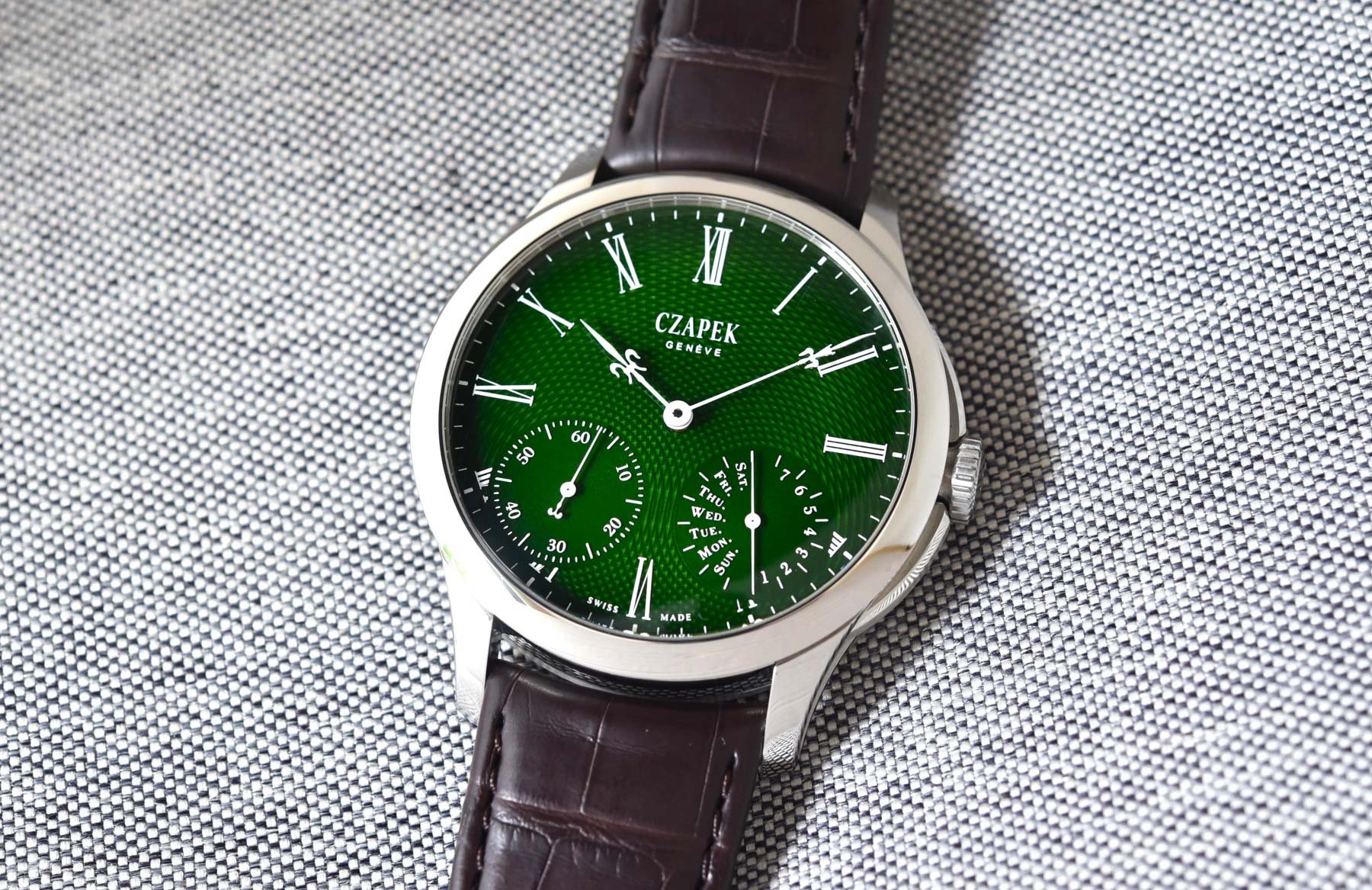 Transparency has always been key
In watchmaking, modifying existing components is often trickier than manufacturing entirely new ones. Everything in watchmaking is finely balanced. Simply cutting away portions of a movement can reduce the stability of the bridges, which could wreak havoc on the end-shake (the amount of up-and-down play the wheels have between their jeweled bearings). This could affect the timekeeping or, in extreme cases, even stop the watch.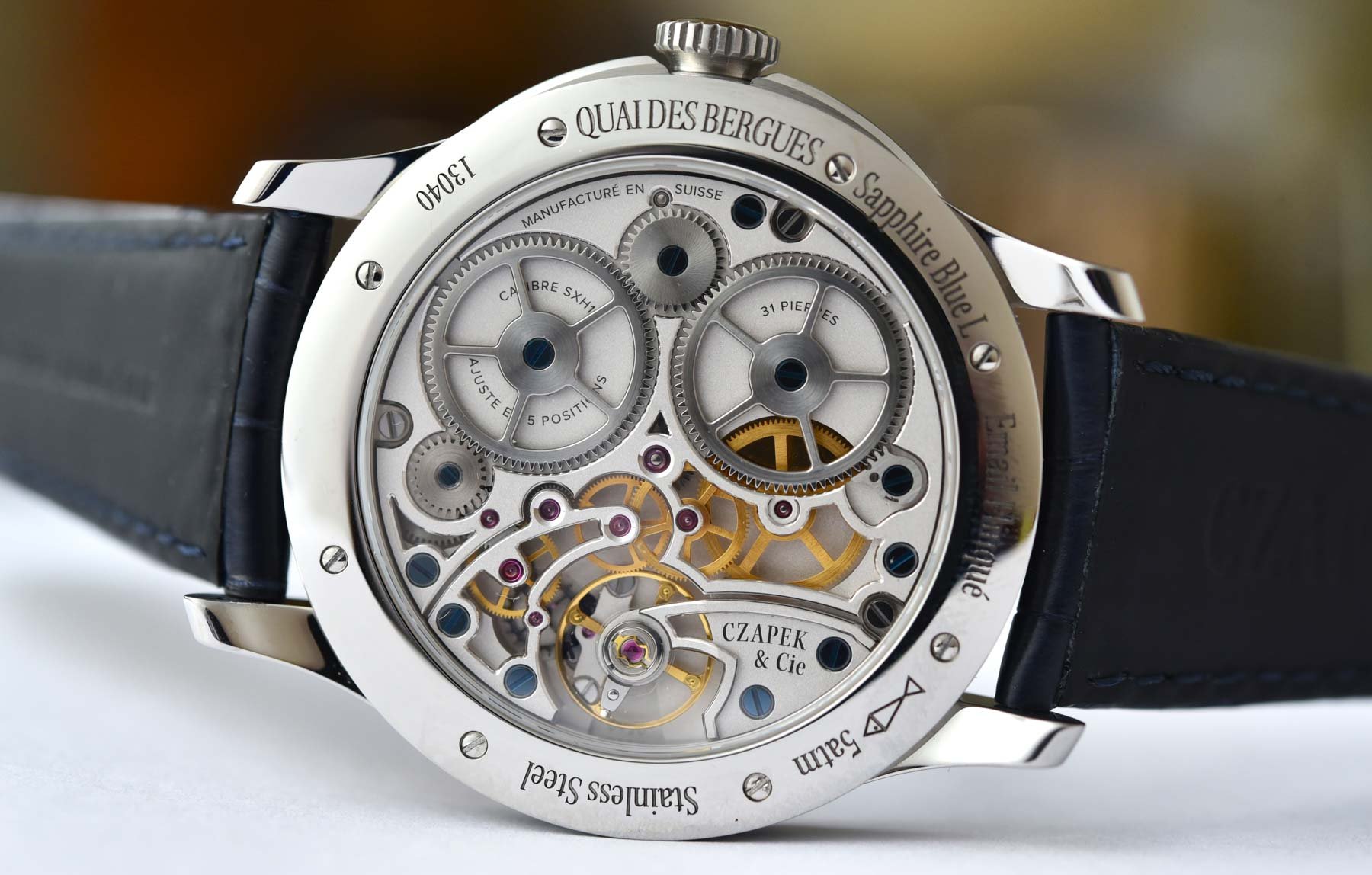 As such, the modifications done to the SXH1 have been painstakingly applied after a long R&D process. The result is a much more open-worked movement that feels more at home within the brand's current stable of calibers. One of the best changes, in my opinion, has been to the balance wheel. The old SXH1 used a classic rack-and-index system, whereas this updated engine boasts a weight-controlled variable-inertia balance and a Breguet overcoil hairspring. The balance cock has also been cut away to give a better view of this impressively updated component.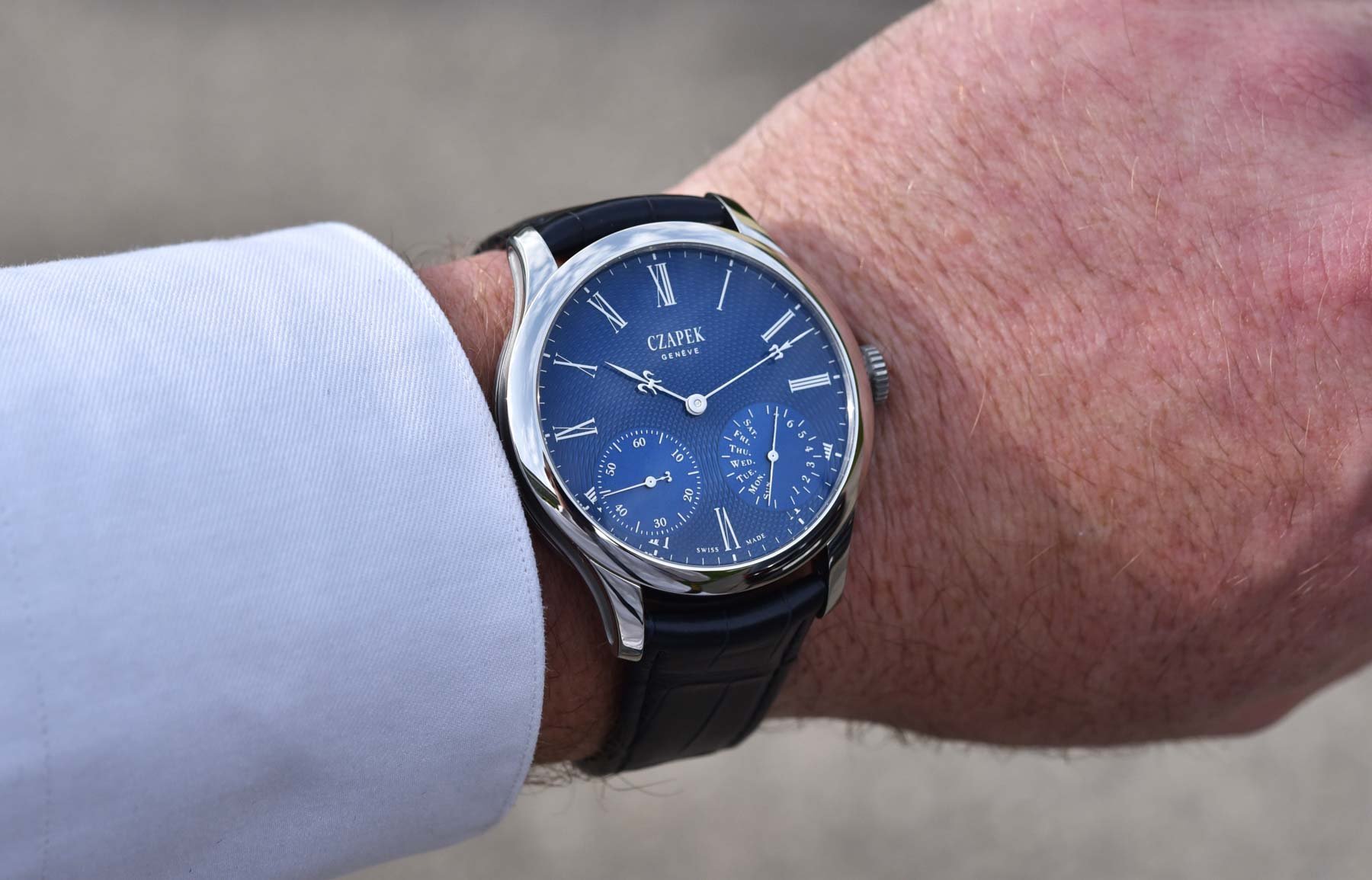 Available now
The new diameter is sure to please plenty of would-be buyers who demand that their watches sit in the +40mm range. The thickness of 11.9mm is also very manageable for a watch of this size. Visually, the new movement is very impressive, but I'm still more enamored with its 168-hour power reserve (that's seven days), courtesy of two powerful mainsprings. I'm glad to see Czapek is still able to produce new watches while tending to the backlog of orders for the Antarctique. This gives us die-hard fans something to discuss until the industry's superstar returns for another round of eagerly anticipated releases. Both of these new Czapek Quai Des Bergues pieces are available now, priced at CHF 18,000.
For more information, visit the official Czapek website.