Czapek Quai Des Bergues No 33 Review
Czapek & Cie
Czapek might sound very familiar to you. Watchmaker François Czapek had a partnership with Antoni Patek (yes, that Patek) between 1839 and 1846. Right before Patek hit it off with Adrien Philippe in 1851. Czapek started his own horological adventure and was at the time quite successful in doing so. Our friends from aBlogtoWatch did a more detailed write-up on the history of Czapek & Cie, if you are interested.
Revived
Taking a brand name from the past and use it for a new company is tricky business in my humble opinion. Especially when the original company was known for its high standards in fine watchmaking. Like the original Czapek & Cie company. A successful relaunch requires dedication, skills and a big fat wallet.
The new Czapek & Cie used a number of codes to guarantee to be a worthy successor. These codes include both aesthetics and fine watchmaking skills. The management of Czapek decided they want to create watches in the spirit as if François Czapek was alive today. A great basis to revive an old watch manufacturer, but between ideas and the result can be a big gap. We received the Czapek Quai Des Bergues No. 33 timepieces and had a thorough look at it. Without further ado, here we go.
Czapek Quai Des Bergues
Quai des Bergues refers to the streetname where François Czapek had his workshop. Czapek started the revival of the watch brand with this model name, for men and ladies. The red gold Czapek Quai des Bergues No.33 we have here is one of 188 pieces that will be made to celebrate the comeback of the brand.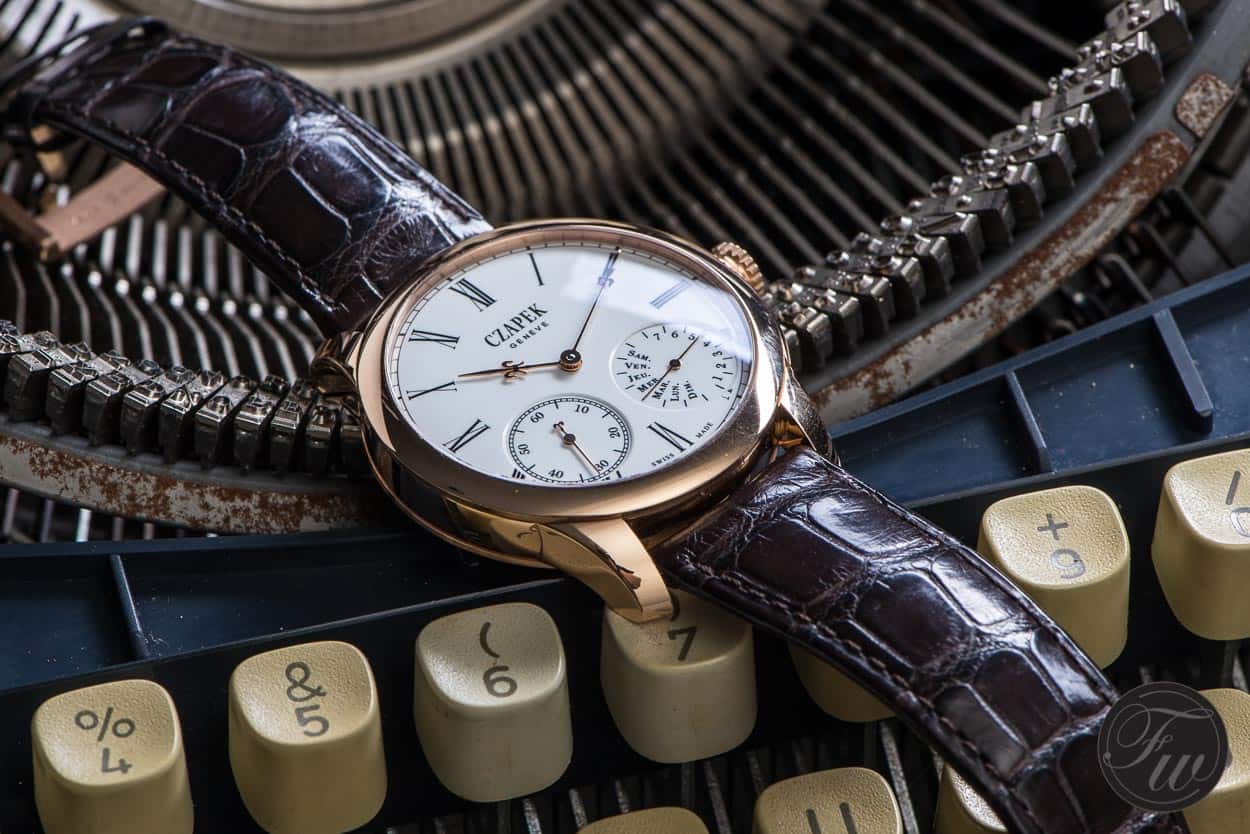 Aesthetics
Czapek takes their heritage very seriously. Two sub dials, at 4:30 and 7:30, correspond to the original designs from Czapek, long time ago. The Czapek Quai des Bergues has a small running seconds at 7:30 and a power reserve indicator at 4:30. Although the watch appears to be bigger on some images, it measures a 42.5mm in diameter. That's considered a normal size these days, even for dress watches. The No.33 we received has a red gold case (5N), which definitely strikes me as chique.
What makes this particular watch a very classic looking piece are the "Fleur de Lys" hands, in red gold. Together with the enamel dial, this gives the watch a classic, conservative almost, appearance.
There is little that I don't like about the Czapek Quai des Bergues No.33 watch. The smooth case shape, the crown and enamel dial with Roman numerals, it all fits. Perhaps, the only thing I would have to comment on here is the size of the Czapek logo. I would prefer to have the logo a bit smaller. But I might be alone on this, as the logos of Patek Philippe and Audemars Piguet also grew substantially over the last few years. Perhaps a brand name has become more important today.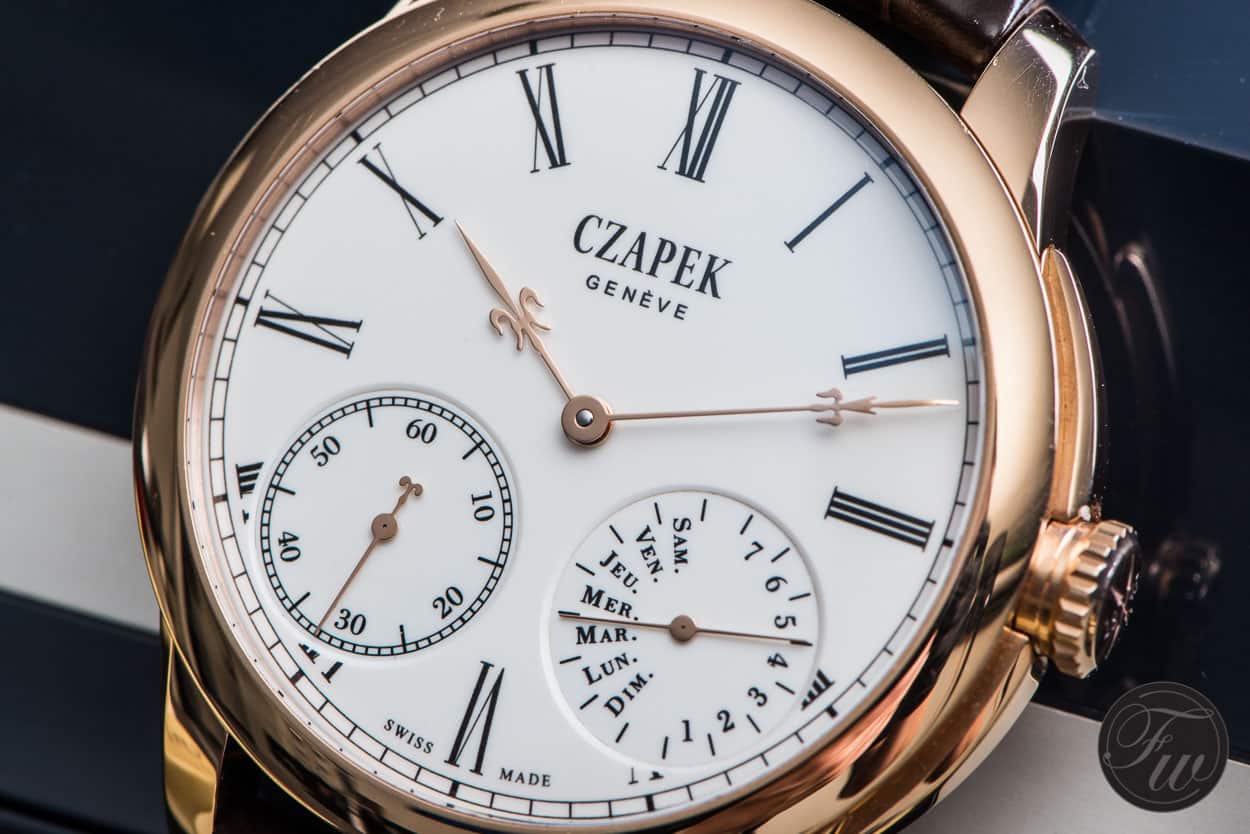 Movement
Inside the Czapek Quai des Bergues is a movement that has been custom made for this watch, in close cooperation with Jean-François Mojon from Chronode. The calibre SHX1 movement has the same open ratchets as the original 1850's pocket watches had. This hand-wound movement has a power reserve of 168 hours (one full week), using two barrel springs. I can imagine this isn't your daily watch, so a big power reserve comes in very handy. It will probably still run next time you pick up the watch. Besides the open ratchets, Czapek caliber SHX1 has blued screws, bevelled edges and sand-blasted bridges.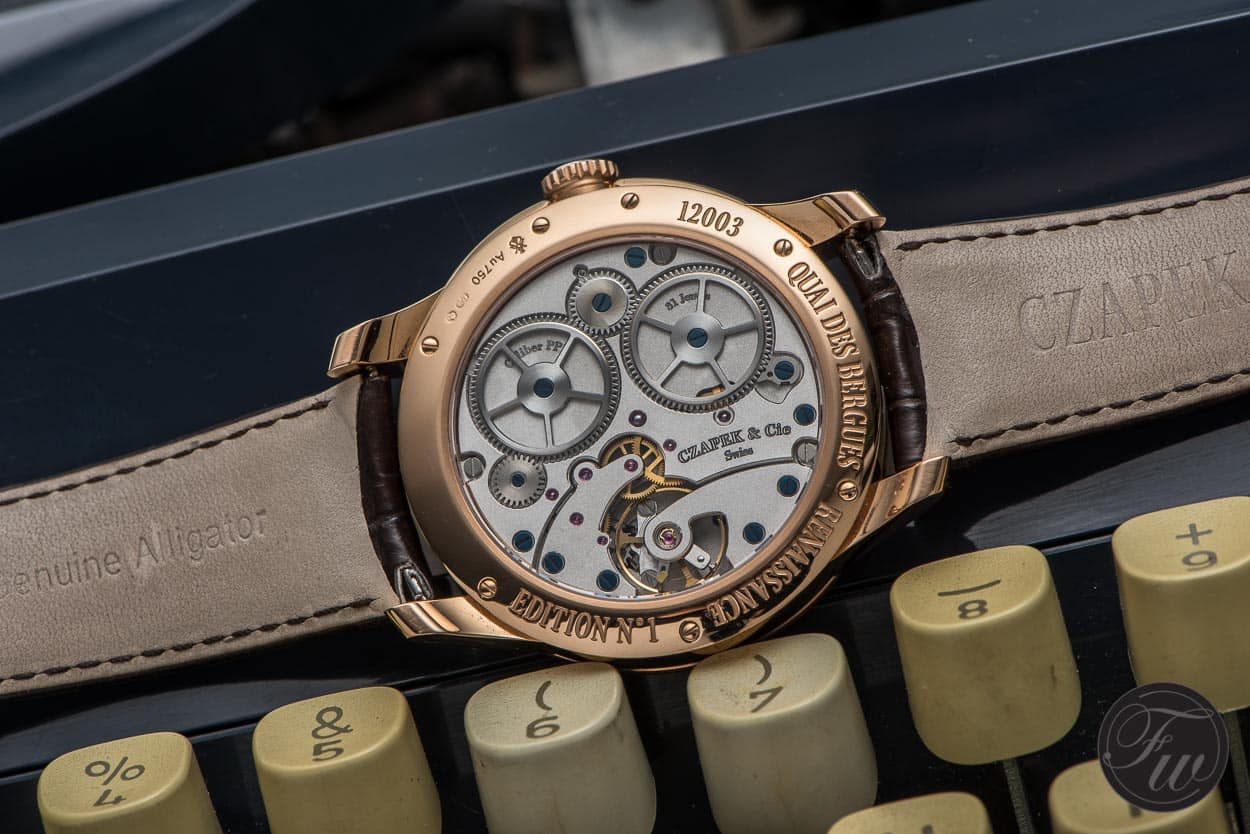 Strap and Buckle
No cost cutting when it comes to the strap and buckle either. Czapek made sure that you won't need to 'break-in' this alligator strap. It is soft and comfortable. To close the strap, you get a red gold (5N) buckle that perfectly matches the case and other gold accents on the watch. The Czapek logo is engraved in the slightly curved buckle.
I prefer to have a buckle like this over a folding clasp. In most cases, folding clasps feel a bit too thick on the wrist to be really comfortable. There are exceptions of course, but to be on the safe side, I always go with buckles instead.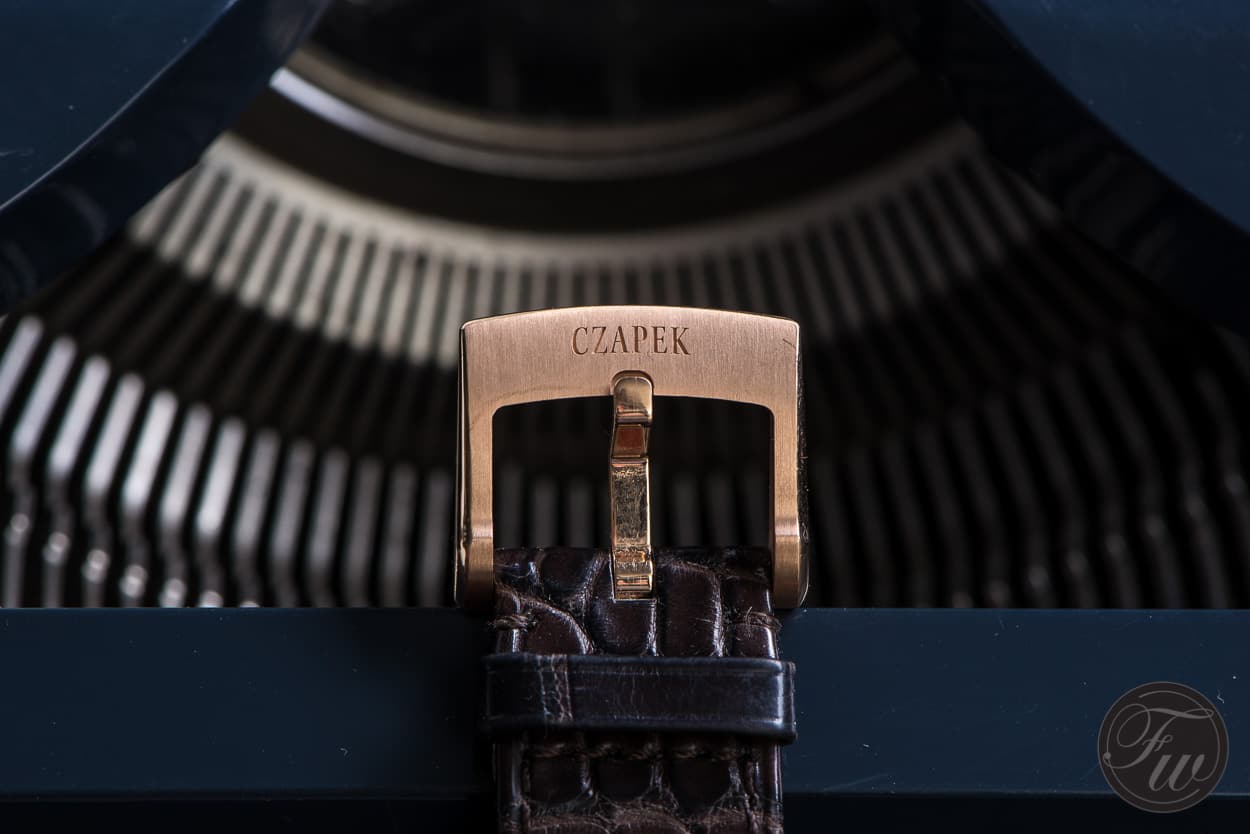 Configuration
Czapek allows you to do little tweaks on your watch. When ordering a Czapek Quai des Bergues, you will be asked to make some choices. You can select the language of the power reserve indicator (English or French) or simple have one without words. You can also ask for a custom language.
Also, our test watch came with this brown alligator strap, but during the ordering process you can choose from quite a few different options. From a high shiny white to black and with quite a few colors and finishes in between.
Then, you can further personalize your Czapek Quai des Bergues by choosing an available serial number (on the website) and custom engravings. They even allow you to have a 33 character message or sentence on the enamel dial. It will only be visible when the Sun bounces on the enamel dial from a certain angle. Therefor, Czapek calls this the 'secret signature'. This is not available for all models, but it is for our No.33.
Wearing the Czapek Quai des Bergues
I only have a few dress watches in my personal collection. And one gold watch, but that's a sports watch. However, I do feel that it is time for me to start thinking about getting a somewhat more formal (dress) watch in gold in the future. I will turn 40 years old next year, and although 40 today isn't the same as in 1845, I need to start taking things more seriously. A gold dress watch would definitely help.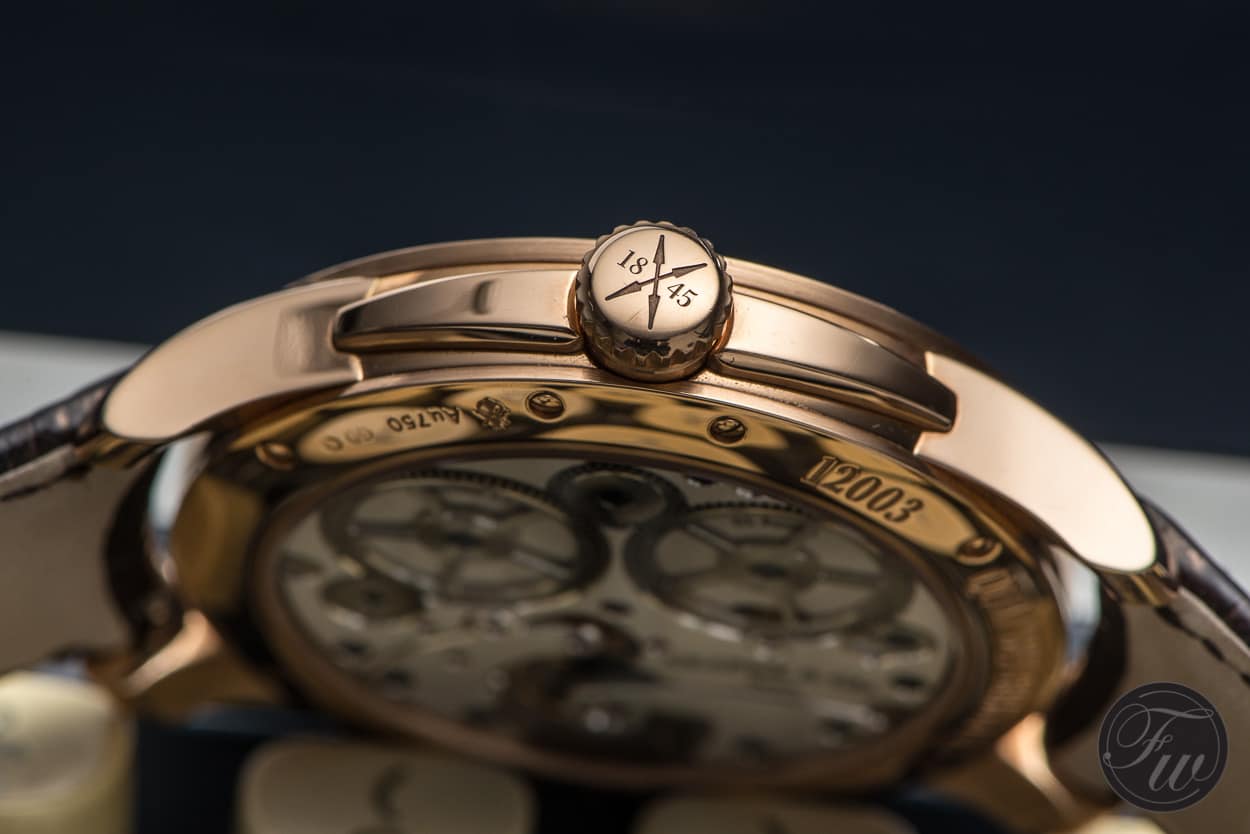 On the wrist
The red gold is a nice and warm tone on my rather pale skin. The dark brown shiny alligator strap goes very well with it. The diameter of 42.5mm is something I can easily handle, and is perhaps the perfect size for me. Even though I am a tall guy, I prefer my watches not to be too large. Like anything over 45mm. There are a couple of exceptions I have and could wear with those XL sizes, but especially for a dress watch I prefer them smaller.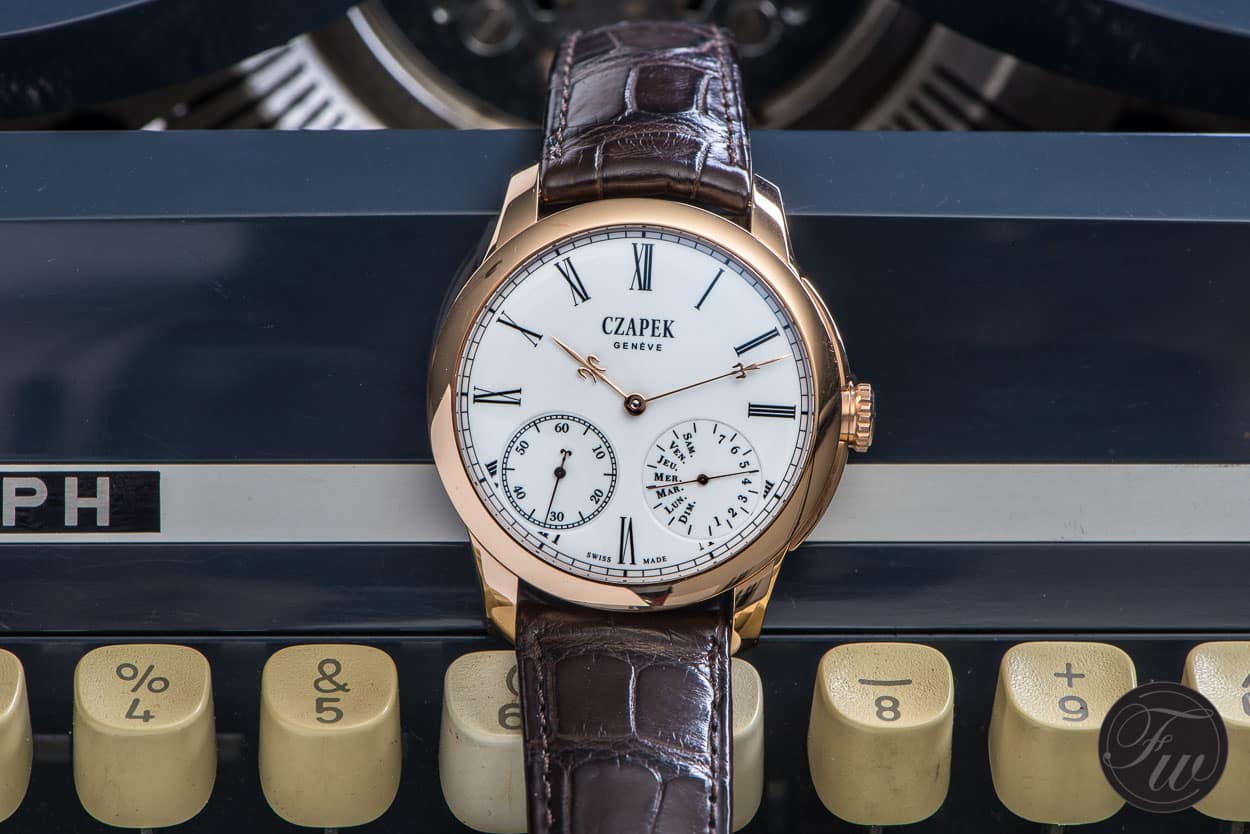 Responses
When wearing this Czapek Quai des Bergues, I received quite some comments. From "nice watch" to some questions about the name on the dial. If things are unknown, and don't have the typical German or French sounding name on there, people seem to be turned off very quickly. That is not always deserved.
Once observed from up close, there was little to comment on it basically. You can easily see how well made these watches are, how finely finished they are and that the movement is not your everyday caliber made by a third party.
Pricing and Availability
In any case, I am not easy to disturb with comments about an unknown name. I rather look at the watch itself and then form an opinion. Even when the pricing is serious. This watch will set you back CHF 25,900 Swiss Francs. That's Patek Philippe Calatrava money. But styles can't be compared and the 168 power reserve (and indicator) is a great addition to this watch. Playing safe and buy a Patek or be out of the ordinary and buy that Czapek. Czapek is applauded by me for their courage and final result of building or re-building a new high-end watch brand.
When you order the Czapek Quai des Bergues No 33 as reviewed here now, it will take until November for final delivery. That includes ticking some of the customization boxes on their website.
More information via Czapek & Cie on-line.