Delma Klondike Moonphase with Distinctive Day-and-Night Indicator
Delma enhances design and precision of signature Klondike Collection by introducing Klondike Moonphase with distinctive day-and-night indicator.
For centuries, celestial guidance has been a fundamental skill of all great navigators and a delight of impassioned stargazers. Born out of a tradition of design excellence and precision craftsmanship spanning almost a century of Swiss watchmaking, Delma today introduces the Klondike Moonphase automatic chronograph with full calendar, moon phase, and day-and-night indicator. The most complex and elegant timepiece in the Klondike Collection to date, the Klondike Moonphase celebrates the vitality of life with unparalleled precision, style and durability.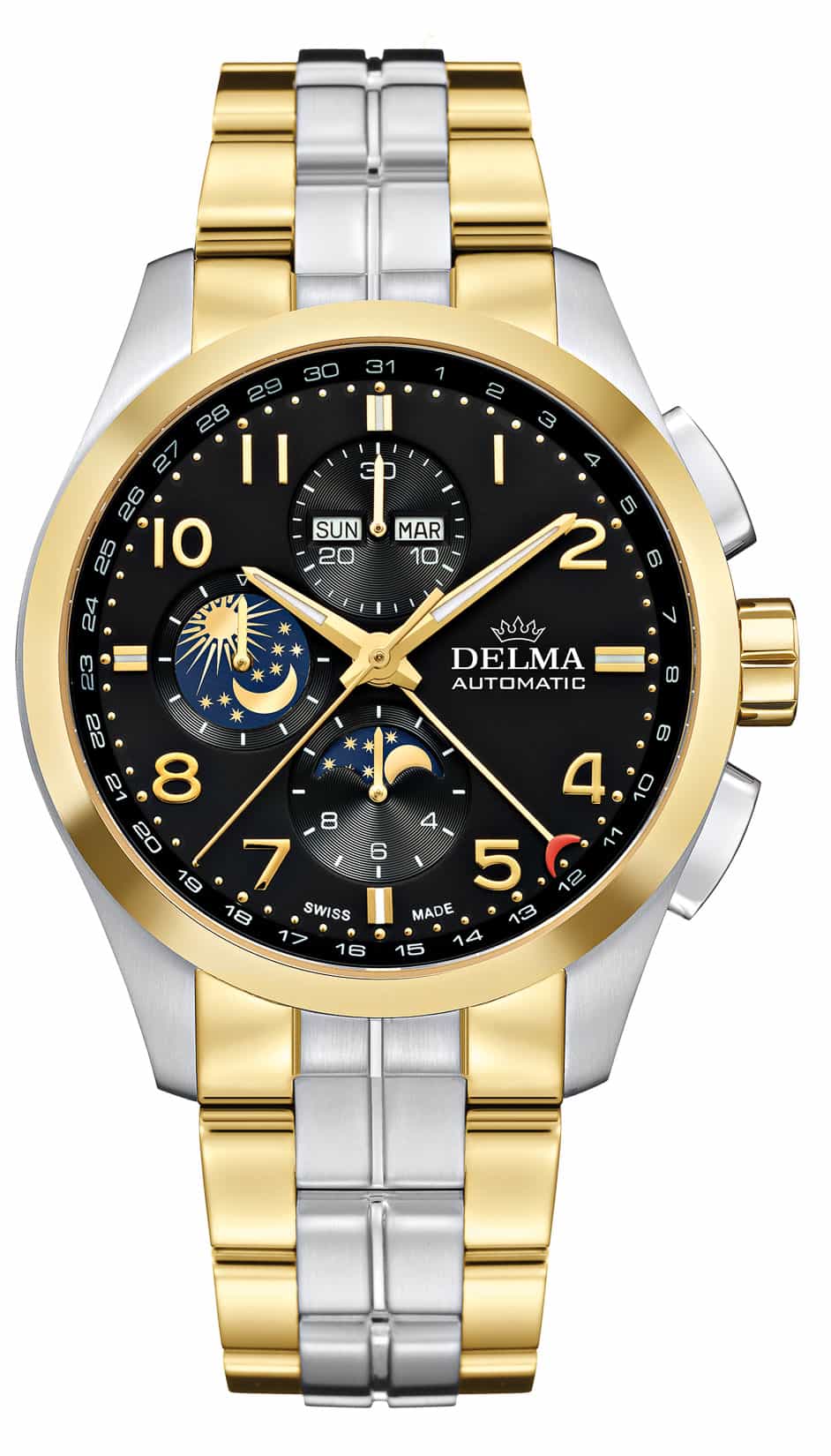 In this latest model, an innovative and striking day-and-night indicator at 9 o'clock replaces the usual small 24-hour hand, enhancing both functionality and visual appeal. As time progresses, a radiant depiction of a golden sun transforms into a night sky scattered with stars on a rotating disc, illustrating the 24-hour rhythm of day and night. Other new elements include the romantic moon phase indicator beneath the hour counter at 6 o'clock, as well as a central date hand with a small red half-moon.

Introduced in 1991, the Klondike Collection sprung to life with a yearly limited edition mechanical watch in gold and platinum. Later, inspired by a long legacy of building elegant divers' watches designed to withstand extreme conditions, water resistance to 200 m (660 ft.) was introduced. With watch crystals comprised of transparent sapphire, a substance nearly as hard as diamond, Klondike watches also offer a high level of resistance to scratches. A redesign in 2004 brought about a transition to 316L stainless steel, delivering even greater resistance to scratches and corrosion. With full control over design and manufacturing processes in our own workshops, the concerted effort between a single dedicated watchmaker and a paired testing team ensures the ultimate in quality and durability.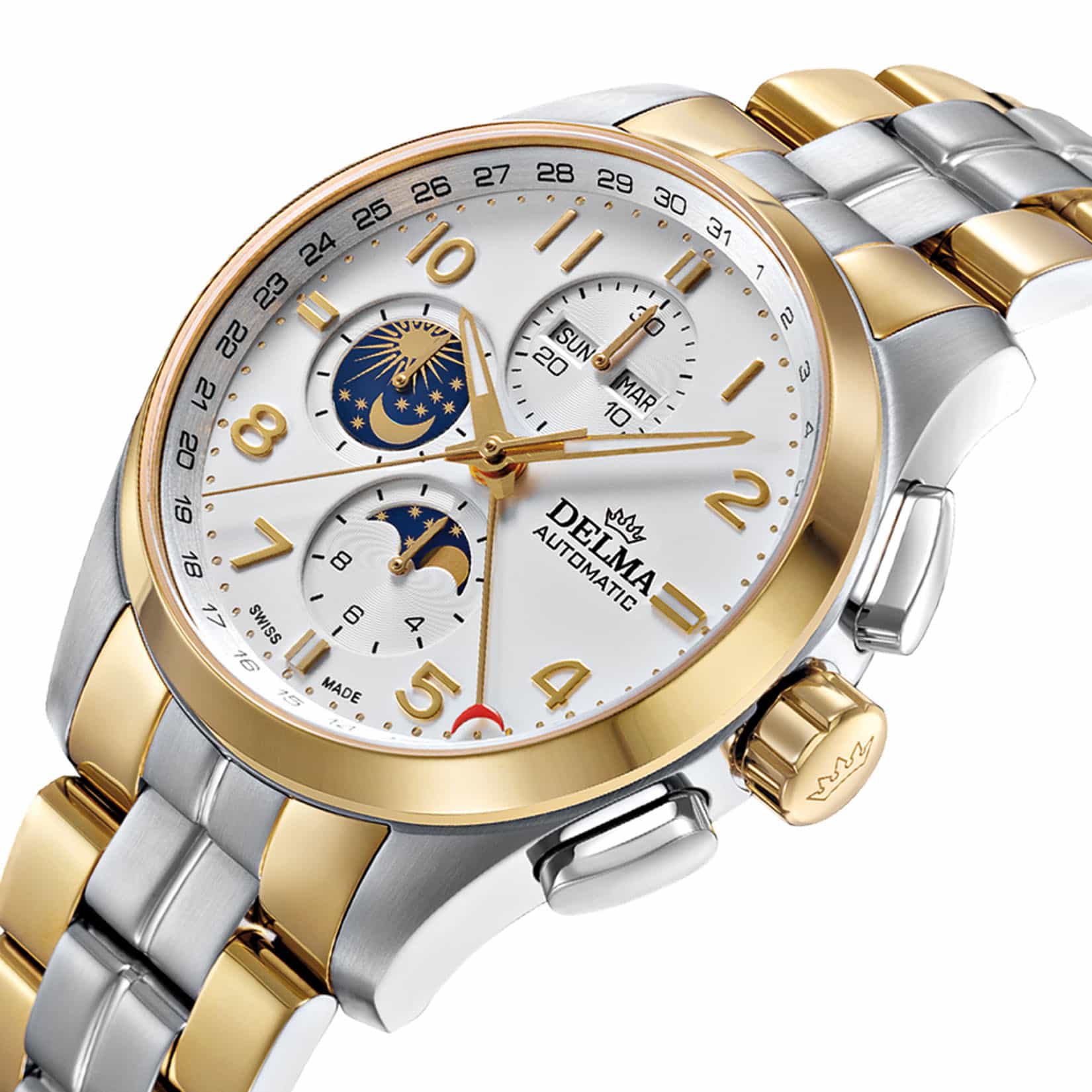 The Klondike Moonphase is available in 44 mm stainless steel and two-tone yellow gold PVD with a matching bracelet or genuine leather strap for CHF 3550 to 3750. The see-through case back showcases the decorated, Delma-customized automatic movement to let you witness the pulsating balance wheel and the actions of the oscillating mass of the self-winding movement.
Designed for a lifetime of steady reliance, the Klondike Moonphase will be your constant companion throughout fulfilling days pursuing your passions and rewarding nights celebrating your successes. With its new attractive and practical day-and-night indicator, the Klondike Moonphase will help keep your life on track by subtly indicating when it's time to perform and when it's time to play.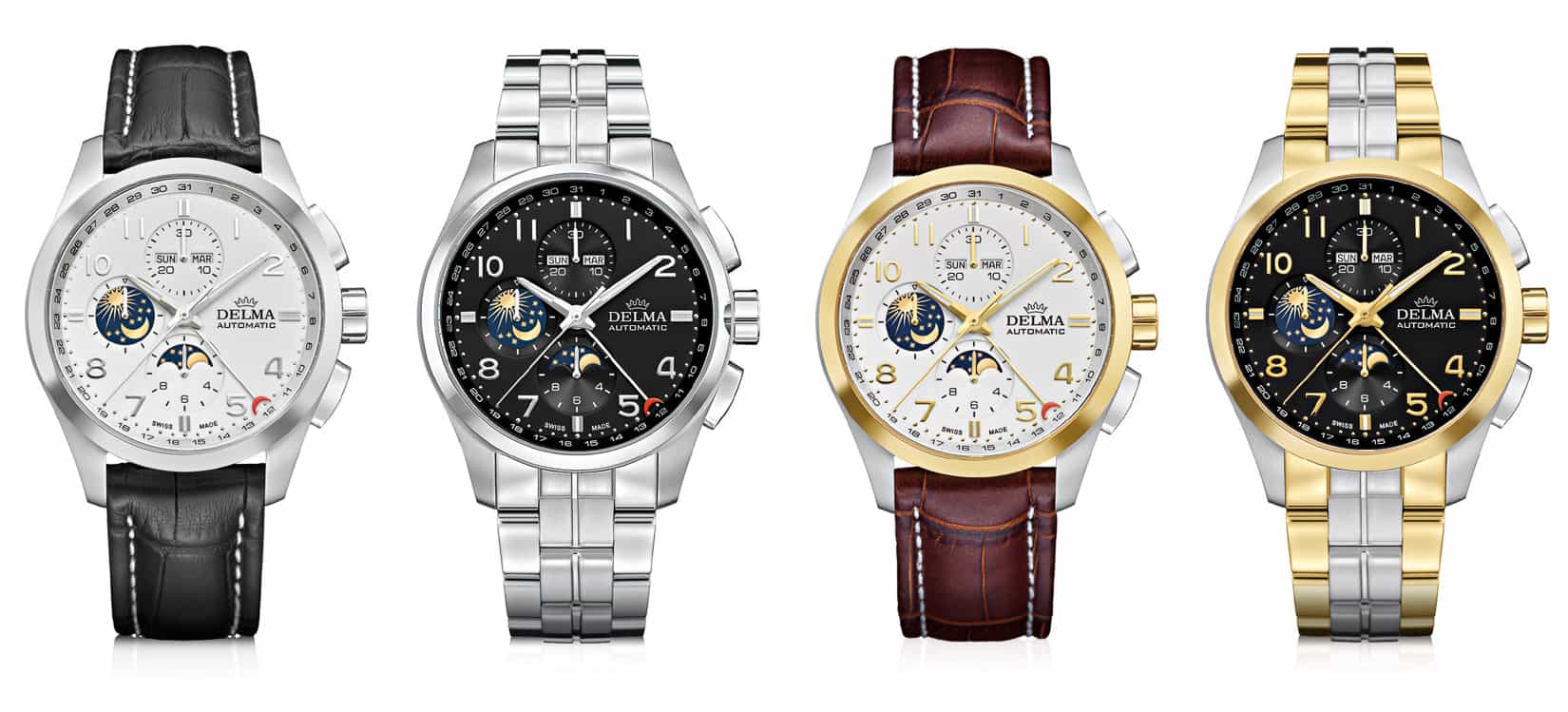 About Delma
Delma has been designing and building Swiss watches for almost a century. Our long history as a family-owned watchmaking enterprise since 1924 inspires and fuels our future innovation. Staying faithful to our roots, we produce all our watches with the same passion and devotion that we have for the craft of watchmaking as we have for everything that we pursue together as a company. Our commitment to operating at the forefront of progress means we embrace our heritage alongside industry advancements to design timepieces that embody elegance coupled with functionality. Purposeful design and exceptional craftsmanship remain core tenets of both our legacy and our future.
For further information, please visit www.delma.ch