Is Meca The New Black? The New Depancel Serie-A Stradale States Its Case For Hybrid Power
Persuading me with a motor-racing vibe might just work; I can almost smell the burning rubber!
Is the watch market flooded with retro cool? Yes. Am I dissatisfied with this? No, absolutely not. I'm not that old, but I did grow up in the late '70s. I'm not a futurist or a techie, and I have a deep affinity for the style of the '60s and '70s. I love mechanical watches, but meca-quartz has turned my preconceptions around. It's a very good base for reliable chronographs. Yes, it comes with a somewhat superfluous 24-hour scale at 3 o'clock, but that's not enough to put me off its value-driven pros.
Depancel is a cool small brand from France that is rather good at tapping into the vintage zeitgeist, and this time, the watch community has helped in the creation of its new model, the Serie-A Stradale. Based on what Depancel's fans wanted, it looks like they have rather colorful taste and a penchant for motorsports.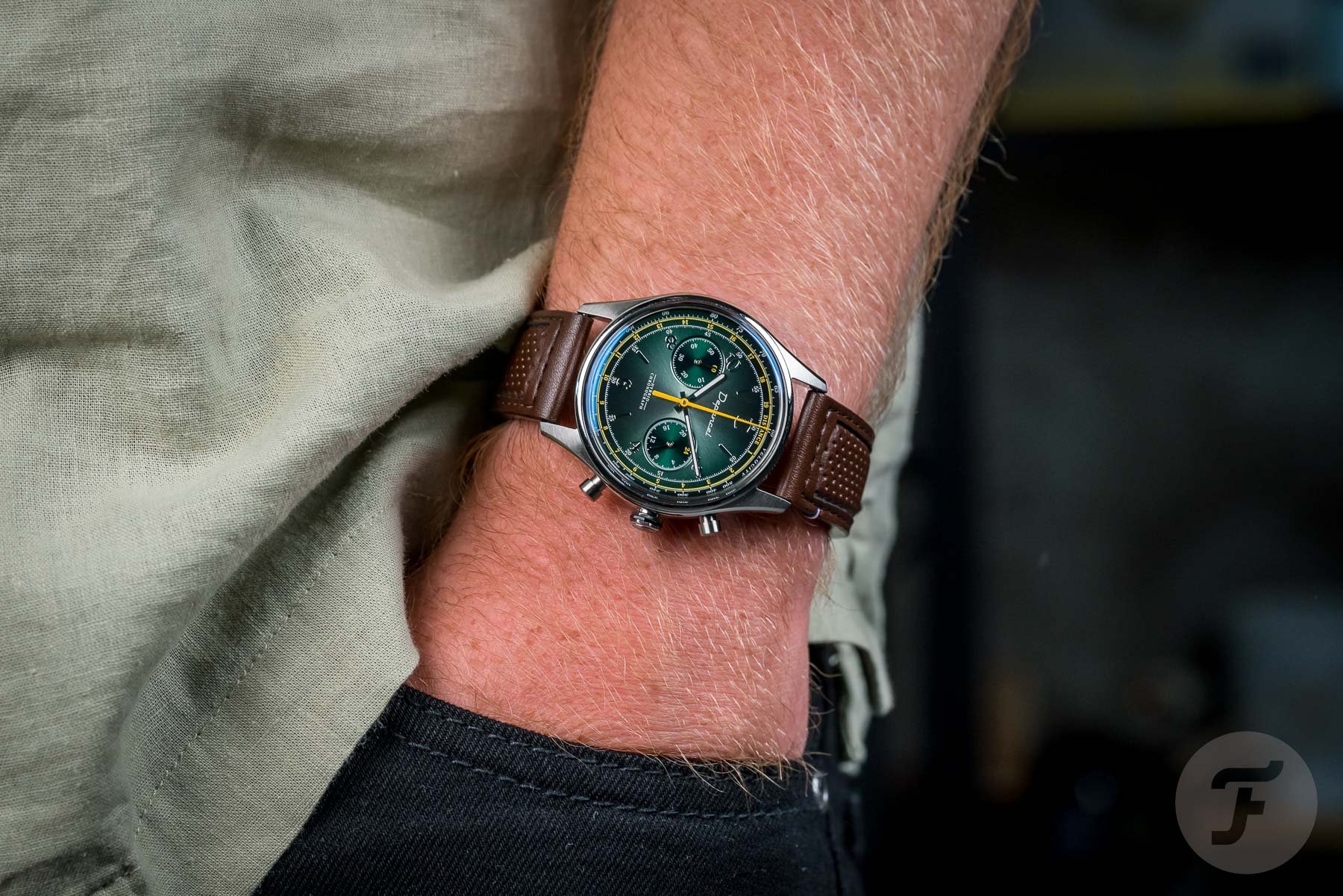 Is meca-quartz better than just good enough?
I'm a convert, that's for sure. I swapped into a cool Chopard Mille Miglia last year, only to find it needing an €800 overhaul, and I sold it because of this. I know, it's a foolish thing to do after spending the money, but it scared me. Furlan Marri does great dressy chronographs based on the Seiko VK64, Unimatic has its minimalist cool, and Nezumi has a similar motorsports vibe as this Serie-A. The uniting trait is the 24-hour scale at 3 o'clock and a 60-minute register at 9. You might find the 24-hour scale unnecessary as it cannot be set separately (it's not a second timezone).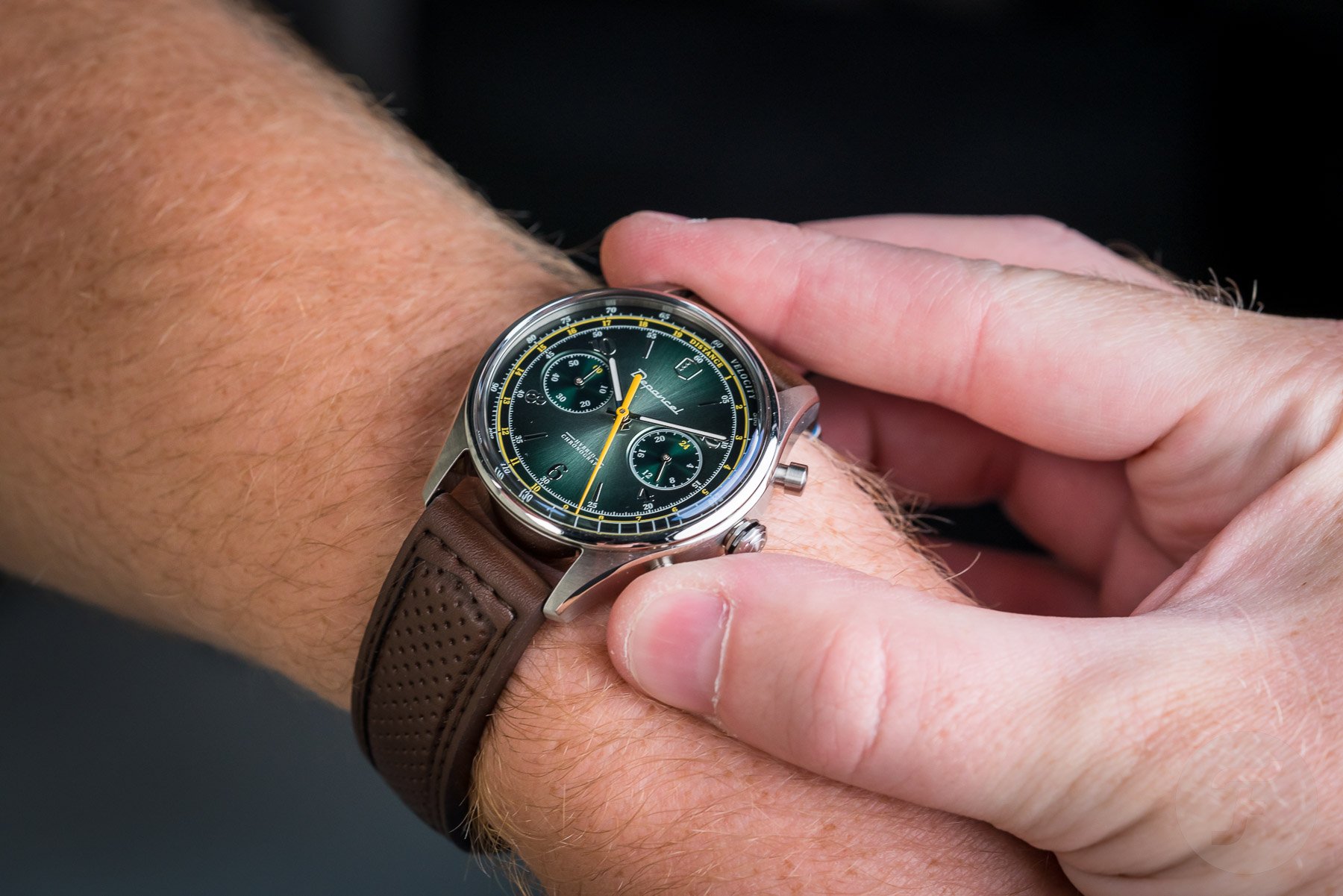 Why, then, is this setup so good? Well, it means that there is no disturbing seconds hand ticking away to reveal the quartz heart, and the chronograph seconds hand is mechanically driven, with the soft sweep associated with a classic '60s chrono.
The Depancel Serie-A Stradale
The name itself leaves no doubt that this is fueled by a love of motorsports, as are many chronographs. With the procession-like driving in F1 and the anesthetized feeling of Formula E, the halcyon days and petrol smell are decades behind us. But fear not! The deep dial colors and recessed registers of the new Depancel Serie-A Stradale do something good. The motor-racing is in more than just the name and can be a mid-century daydream maker. The three different dials are rich in their gradient sunburst finish, with blue, green (pictured here), and black outer edges. What gets you is how much this treatment does for the life in the dial. The registers remain in the darker color of the rehaut, giving the black-dialed Nero version a proper '70s-panda vibe.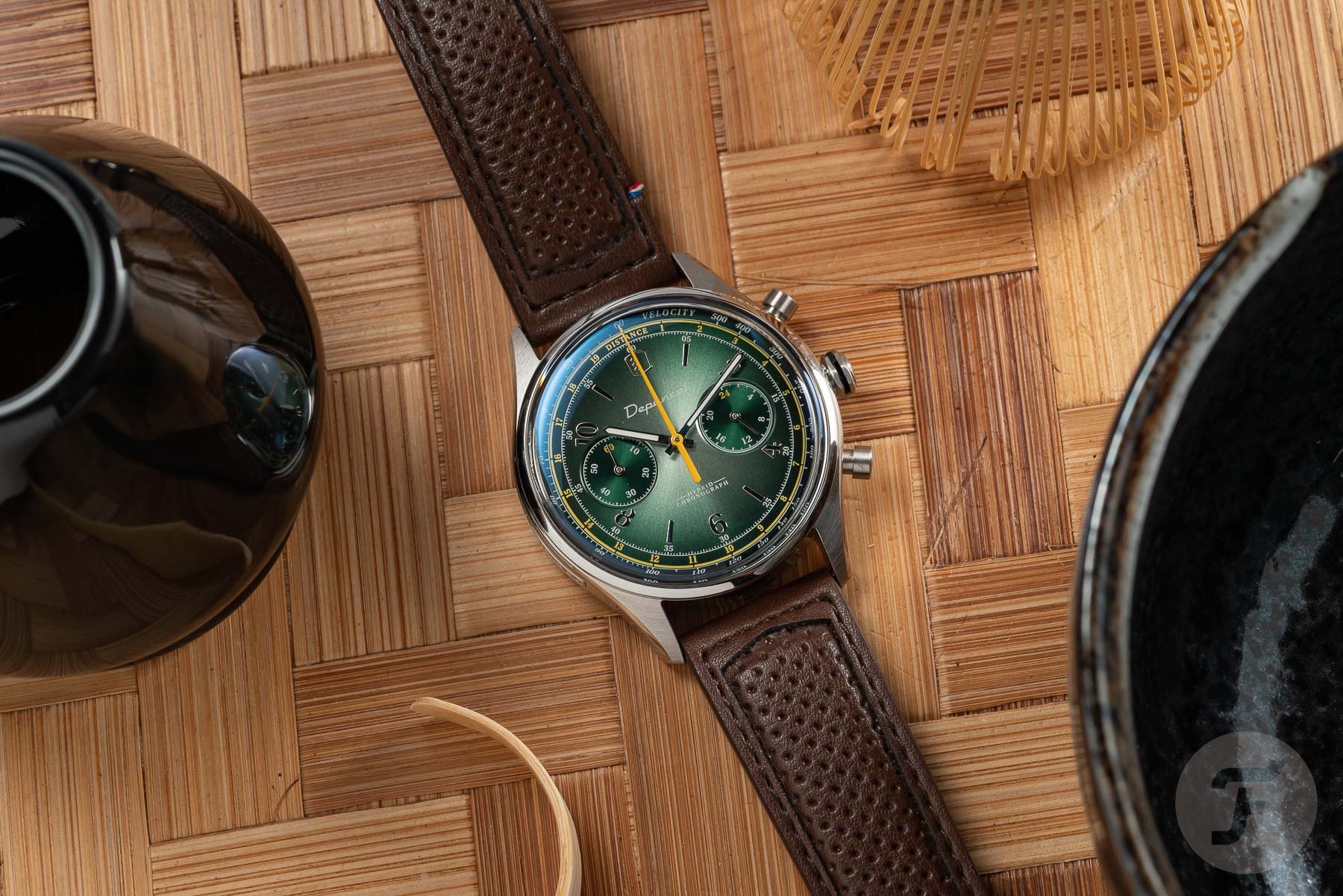 Close to tropical with a dash of citrus
The Verde dial we have here almost takes on a desirable tropical vibe, punching above flat-printed monochrome. Balanced with the colorful contrast of the seconds hand, applied numerals up the quality. There is a lot to be said for clean-cut tool watches, but I'm a sucker for colors, and Depancel knows it. On classic rally-style leather straps, the brushed 39mm cases of the Serie-A Stradale models are period-perfect, as are the tall crystals.
The Depancel Serie-A Stradale tickles my accelerator foot, and from tachymeter to car-like logo, it spells speed.
Another big benefit of meca-quartz is plainly obvious when trying this on, and that is the slim feel. Most mechanical chronographs in the low-to-mid price range will have cases between 14 and 17mm thick. This is an 11.5mm sweetie, a direct and wearable result of the meca-quartz heart. The Depancel Serie-A Stradale tickles my accelerator foot, and from tachymeter to car-like logo, it spells speed. Available from Depancel starting on September 13th, 2022 for a very decent €395, this is a solid everyday wearer with intense retro vibes.
Are you ready to race, Fratelli, or are you still wary of the meca-quartz revolution? Let us know if the new Depancel Serie-A Stradale sways you in the comments below.
Find me and follow me at @thorsvaboe