Do You Travel A Lot? Have A Look At The CSC M1 Leather Watch Roll
I travel around quite a bit for this watch thing. When I am not in a plane to Switzerland, I might be driving around to visit a retailer, brand or meet with (other) watch enthusiasts and collectors. Although I think I still have a life besides watches, my wife has different thoughts on this topic. Anyway, I don't want to bore you with the regular recurring discussions on traveling that I have with my loved ones.
When I travel, my aluminum Rimowa Topas Cabin Trolley is my reliable companion that keeps my laptop, camera, toothbrush and watches safe. Depending on the duration of the trip, I'd like to take at least two watches with me when traveling. Having them inside an aluminum trolley is already the first line of defense when it comes to safety and security. However, the inside of such a trolley is not really made for carrying around vulnerable things like a camera, Macbook and watches. The toothbrush is fine. For my Macbook and camera, I have padded pouches/bags to put them in and keep them safe in the trolley. For watches, you will need something similar. There are a couple of solutions on the market to keep your watches safe when traveling of course. We discuss them every once in a while in our Accessories section. Although I have a couple of watch boxes myself, I do prefer the use of these watch rolls. And that is basically what I will be talking about in this article, the leather watch roll from the Curio Supply Company, called the M1.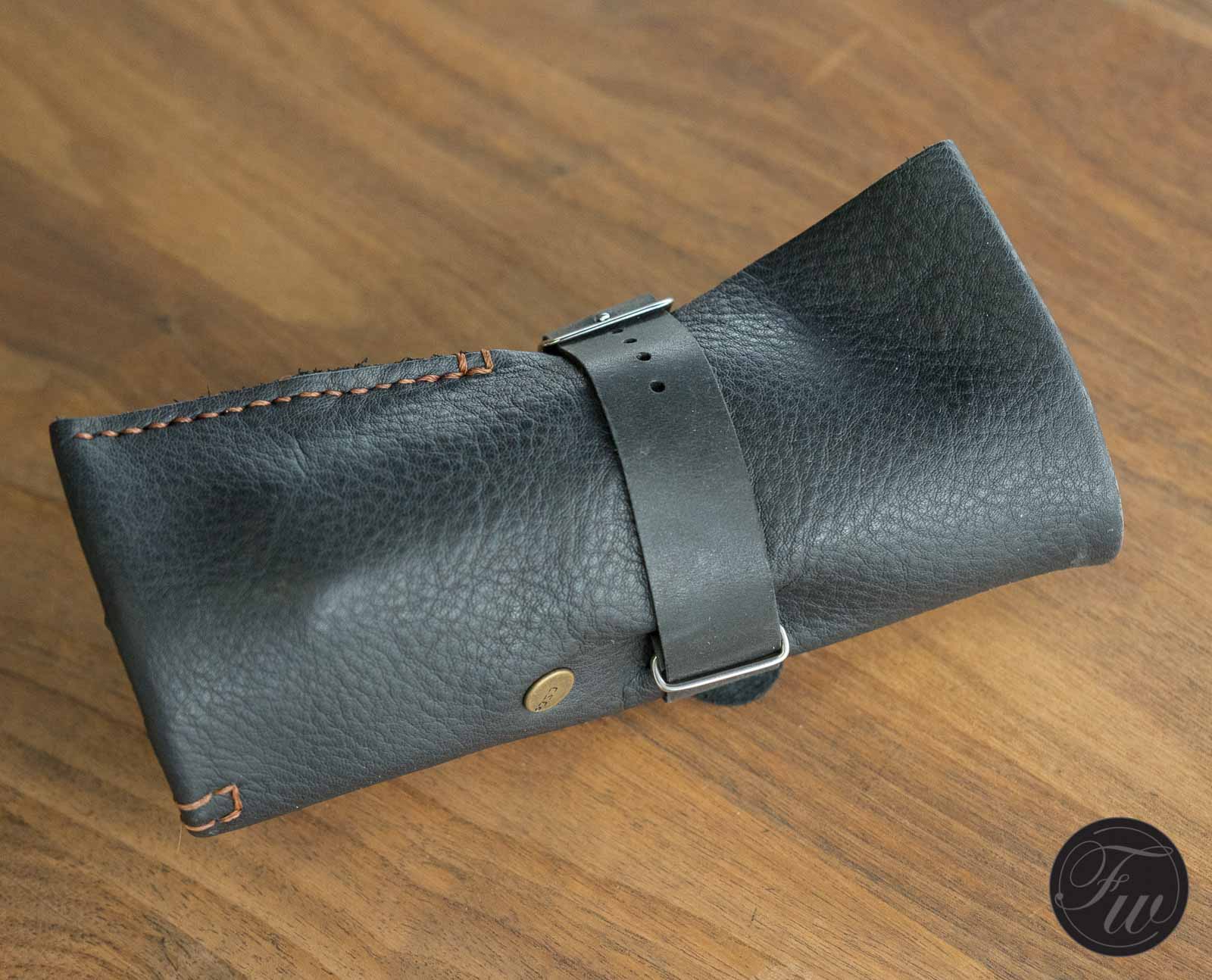 CSC M1 Leather Watch Roll
To be honest I am quite happy with the watch rolls that I have, so I don't go out on the web looking for additional ones. This goes for a lot of watch accessories (except straps), but we do get a lot of e-mails from companies who are developing and producing these accessories. Normally, we only respond to a few of them if we think the quality is so amazing that we need to give it a try or when the consumer price is very attractive. With the M1 leather watch roll from the Curio Supply Company, it was the first bit, the quality. Although it is difficult to tell from images some times, I was convinced that their leather watch roll must be of great quality. It all looked fantastic on their website. Furthermore, their founder contacted me and introduced himself as a fellow Speedmaster enthusiast and compulsive reader of our website. Truth to be told, that did help.
Curio Supply Company was founded by Alex Chan, who is a former architect who left his day time job and decided to start a business in high quality products based on his passion for design and watches. As always, it is all in the details, and I will show you that the M1 leather watch roll has quite a few of them. His love for watches started with a Pac-Man watch he received for his 8th birthday and even though I didn't have one, I can relate to that as I was also a kid in the 1980s crazy for Casio and other digital watches.
When I fetched the package from the post office (delivery always takes place at times I am not there) I already started unwrapping the package as soon as I walked out. Inside, I found a cloth wrapped in a nice piece of protective paper (although you throw this paper away after 5 seconds, the color and nice feel to it did drew my attention). Inside this cloth, there was the leather watch roll. It doesn't need a genius to qualify this leather watch roll as a high quality accessory, it seems that the founder's remark about being a Speedmaster enthusiast and compulsive reader of Fratello Watches wasn't necessary.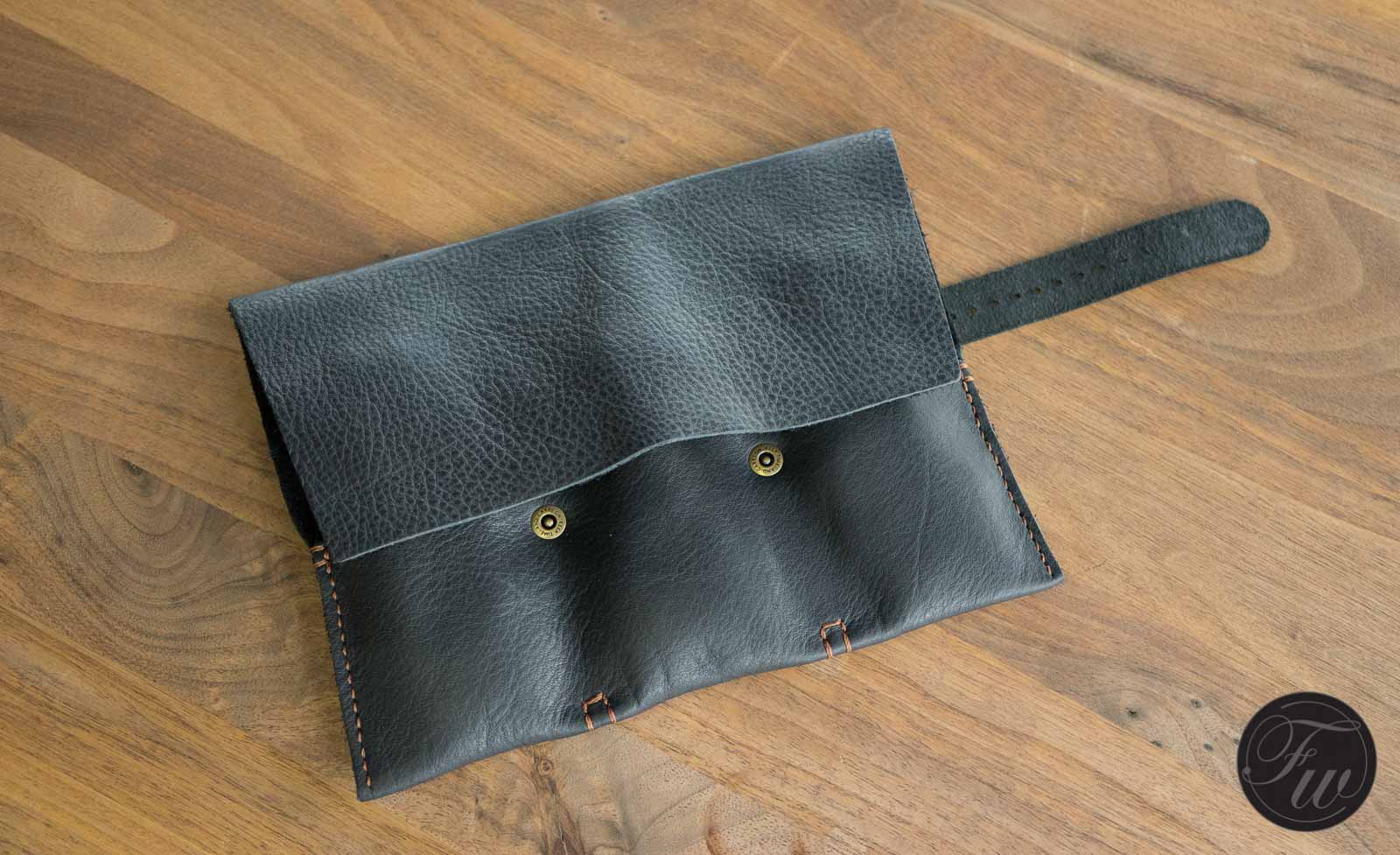 What I held in my hands was the black M1 leather watch roll with brown stitching. The brown stitching gives a nice contrast to the black leather, which really feels  soft. Unfolded, the leather watch roll measures 6.25″ x 8.25″. It has room for three watches, up to 44mm in diameter. Since I travel with at least two watches, this watch roll gives me the opportunity to take three with me (and one on the wrist) in a very compact and stylish manner. The leather is thick enough to offer protection for the watches but small enough to make me comfortable enough traveling with it. Everything up to 3 days, I try to do with cabin luggage only, so compactness is important in my book.
About the details. The brown stitching is done – according to Curio Supply Company – using the same technique that is also employed by Hermès leather craftsmen for their leather products. I am not a leather specialist (or Hermès connoisseur) but it looks like some kind of double stitching technique, there is probably a fancy name for that. A video on how it's done at Hermès can be found here. Where other watch rolls uses stitching to separate the watch slots, this M1 leather watch roll uses a rivet divider. On the rivet divider, there is a small line of text, saying "keep time and carry on". A nice little detail that doesn't add much to the quality of the M1 leather watch roll, but does show the effort they've put into this product. Another very cool feature is the way to close this leather watch roll. Around the watch roll, a leather NATO strap is attached that is being used to close it and keep your watches firmly together. This NATO strap can be detached from the roll and used on your favorite watch. The NATO strap is a 20mm version and can be picked in various colors (if you don't want the corresponding color to the leather watch roll) and different materials/colors of the keepers and buckles. Well thought-through by this company.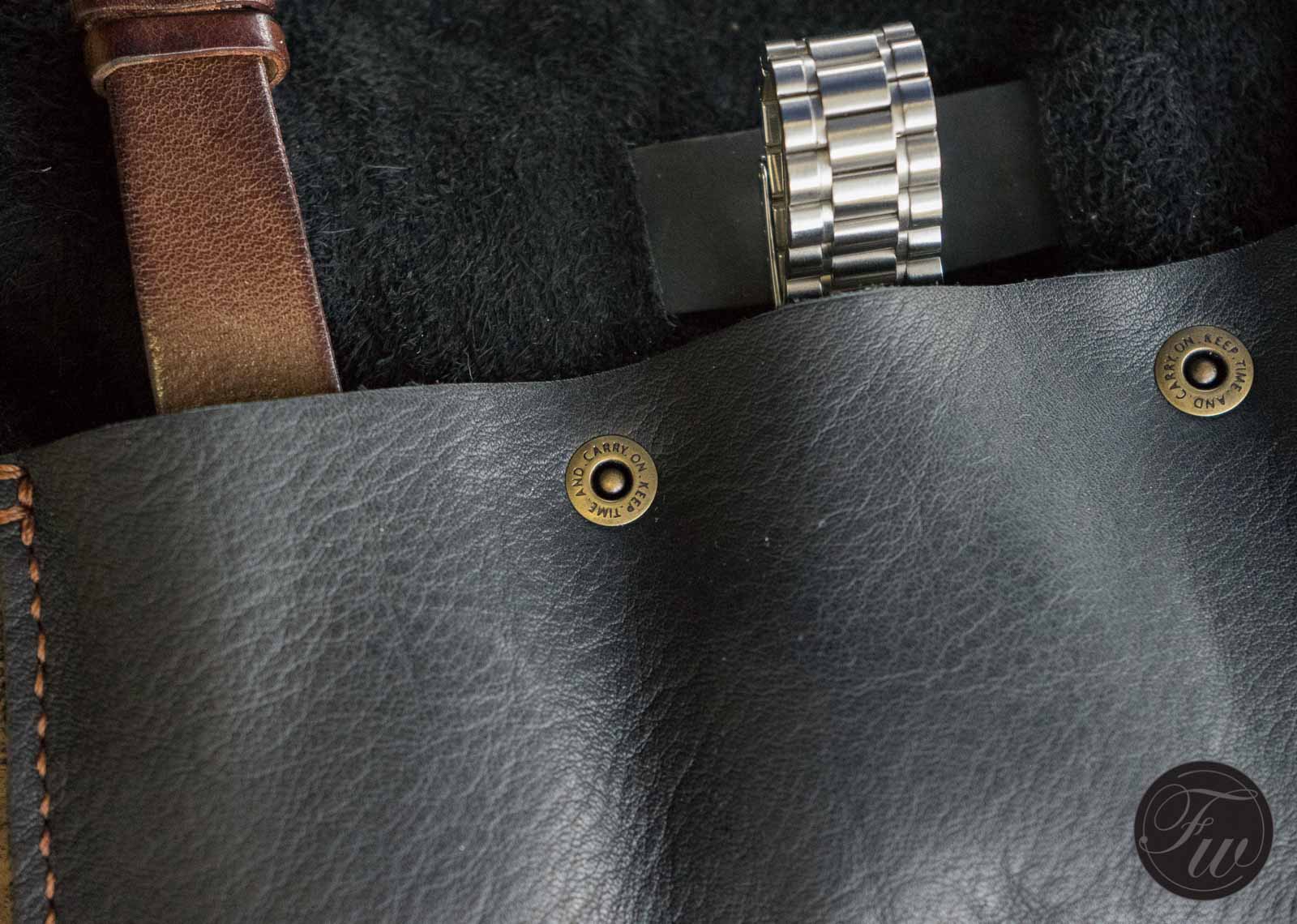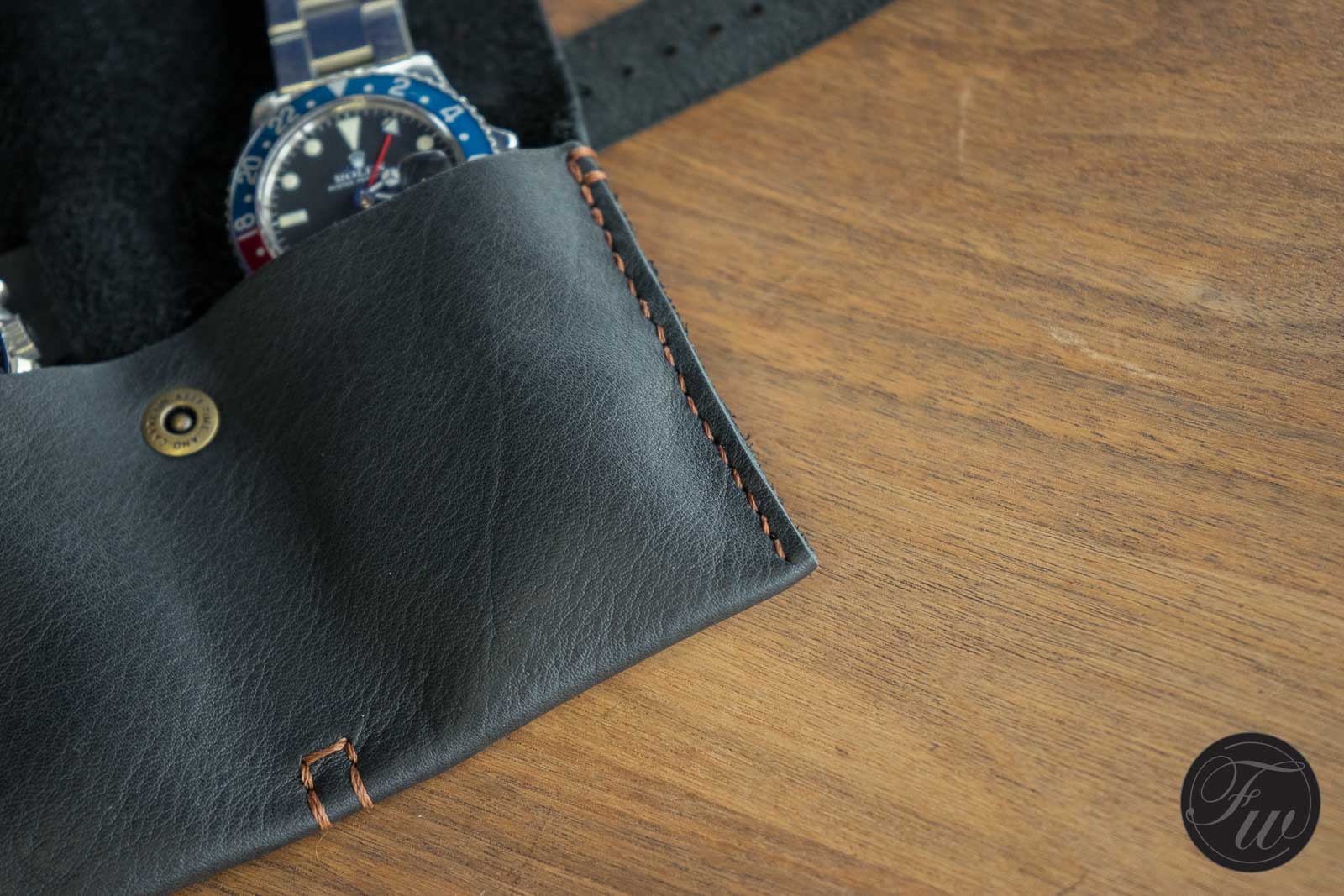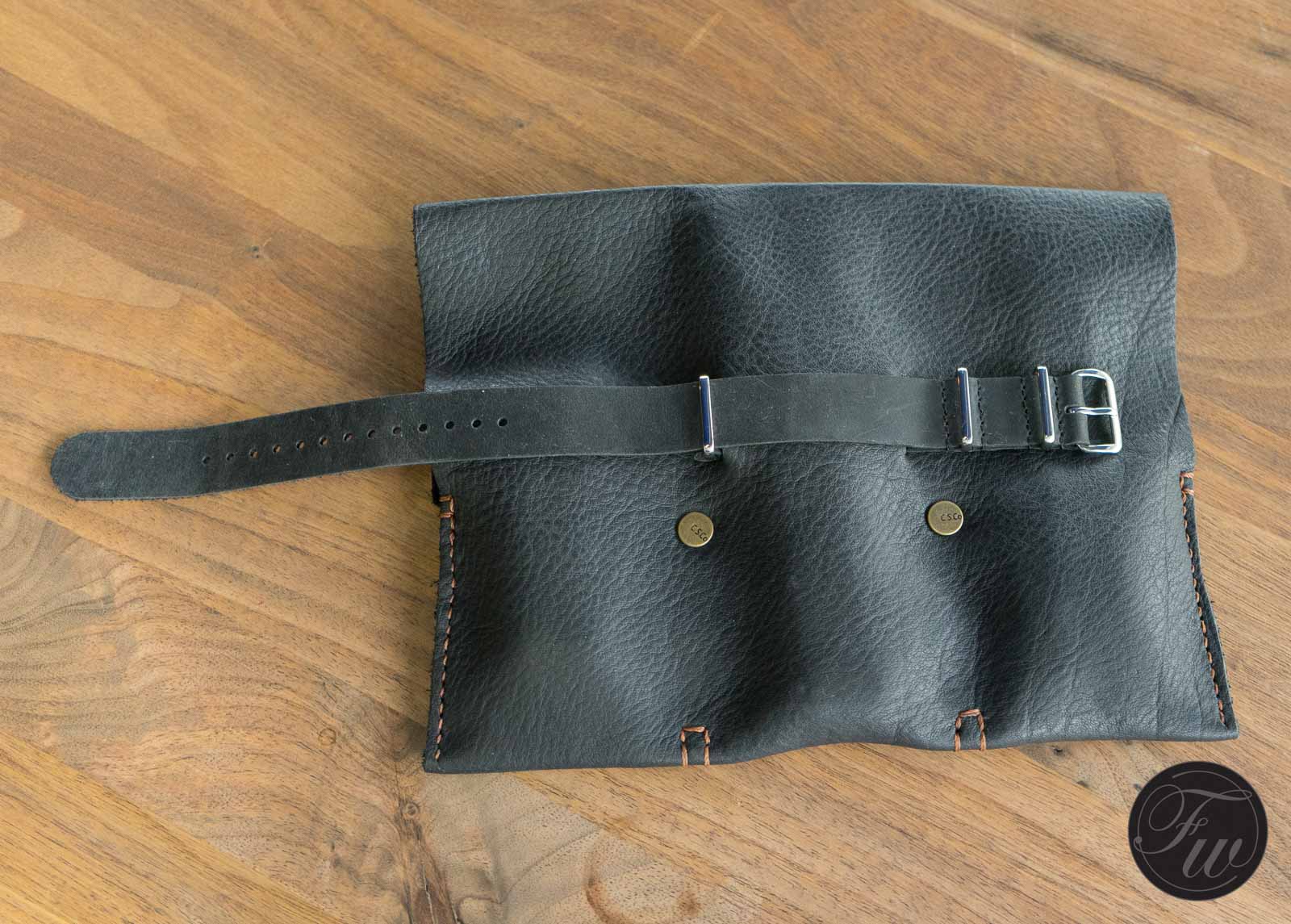 Enough talk. I took three watches from my safe and put them into the watch roll. One with a leather strap, one with an Oyster bracelet and another one with a stainless steel bracelet (one that doesn't completely folds flat). Close the leather flap (partially over the watches) and just roll it up to a small package. Now, you can use the NATO strap to close it as firm as you want (depending on the thickness/sizes of the watches). What's left is a very compact piece of leather that feels solid yet soft due to the quality of the leather. It can easily be tucked away in your cabin luggage without risking your watches to get scratched, dented or damaged.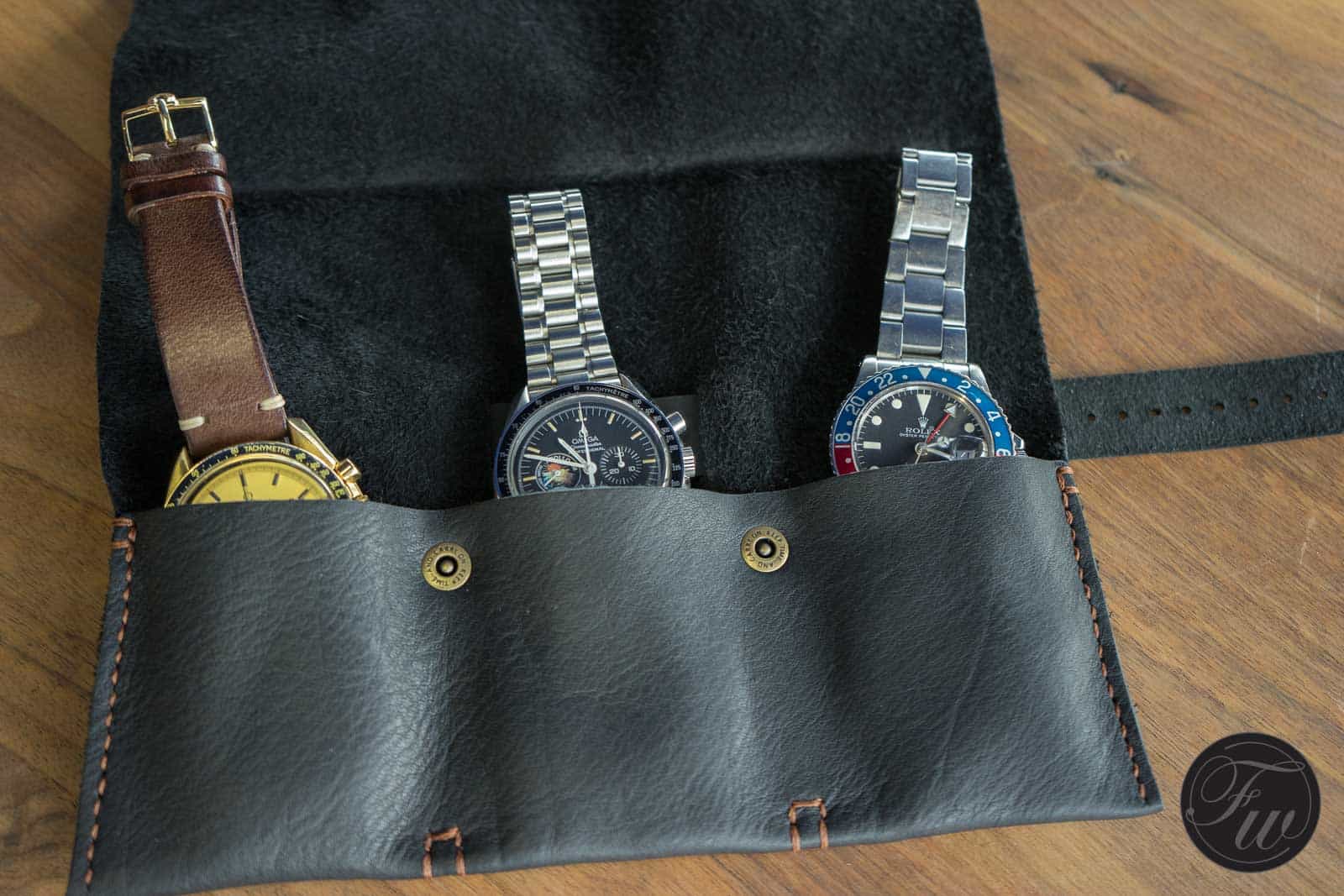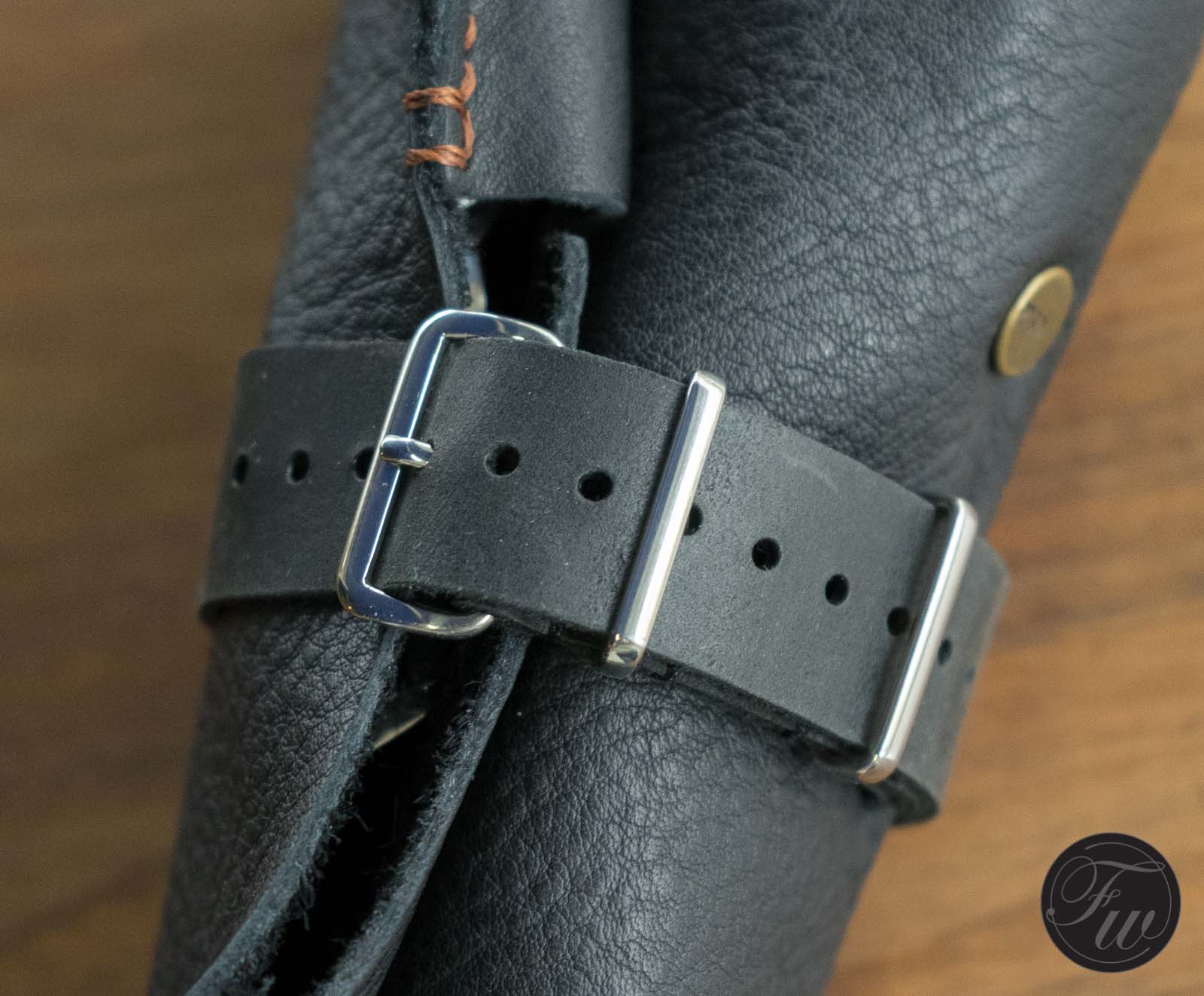 Now, the M1 leather watch roll by Curio Supply Company doesn't come cheap at $200 USD but I've found myself spending more on just one leather watch strap in the past. So for the product, it isn't that expensive and also keep in mind you do get a high quality leather NATO strap as well. The M1 leather watch roll is a great companion, looks stylish and is being crafted by hand in NYC. The quality is absolutely there, by using awesome materials and nice little details. Perhaps an idea for a Christmas present for yourself if you find it too expensive as an impulse purchase?
The M1 leather watch roll can be found in the on-line shop of Curio Supply Company. The one I reviewed and showed in this article is this one.