Doxa Sub 300 Carbon Divingstar Hands-On Review
One of my favorite summer watches so far.
When Doxa released a new Sub 300 line earlier this year, I was immediately intrigued by them. First of all, these new models came in forged carbon cases. The brand had introduced this concept to us last year with the Sub 300 Carbon Aqua Lung US Divers. But this release was something different. These new Sub 300s have an array of colors to choose from. I got the Sub 300 Carbon Divingstar, and I must say the watch did not disappoint me at all.
Aside from the "classic" Doxa colors like orange (Professional), yellow (Divingstar), black (Sharkhunter), and gray (Searambler), the lucky owners can now choose from turquoise or navy blue. While I would have loved to wear one of those for a while, I was delighted with the Divingstar.
The background
If you are a fan of Doxa, you probably know that this is not a new concept. The original Doxa Sub 300, which came to the market back in the 1960s, had a slimmer case profile, domed crystal, and the unidirectional, patented unique bezel. A few years ago, the brand brought this look back with a couple of limited editions, all in steel. Eventually, these watches made way for the new Sub 300, again based on these special releases.
Then, in 2020, the company shocked us with the Sub 300 Carbon Aqua Lung US Divers release. It looked virtually the same as the steel watches, but Doxa used forged carbon for the case. It is a durable and sturdy material that also looks awesome. Needless to say, the watch became a hit, and, from that point on, it was only a matter of time before the forged carbon case Sub 300s made it to general production.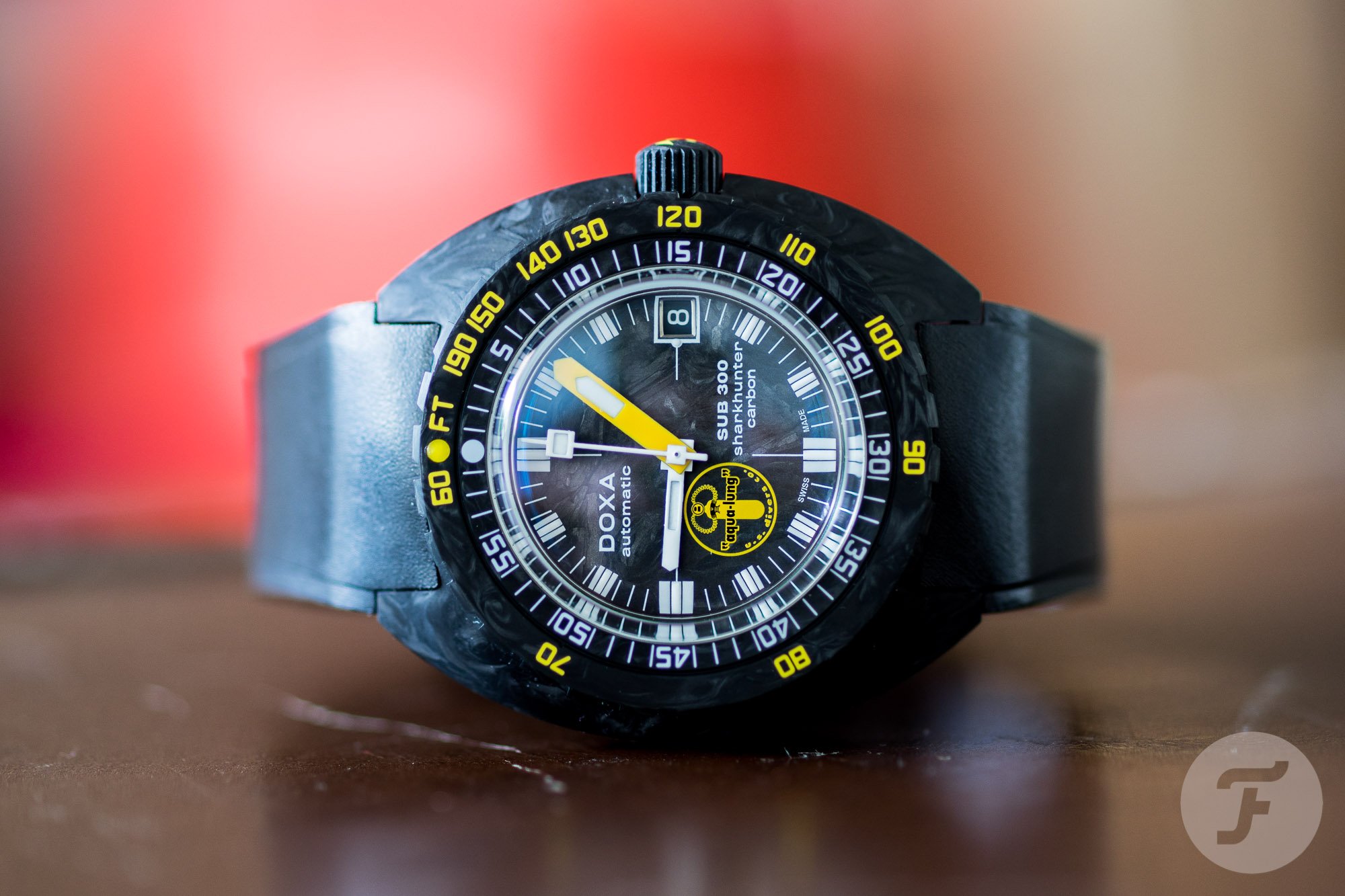 The Sub 300 Divingstar
The Doxa Sub 300 Divingstar is not a small watch. 42mm+ wide and over 13mm thick, thanks to the domed crystal. Yet, compared to later divers from the brand, it feels slim. The black case appears smaller on the wrist than the steel one. Additionally, thanks to carbon being super light, it barely weights anything. In one of our earlier Fratello On Air podcast episodes, I was talking about this very watch. On that show, I told Mike and Jorg that the Sub 300 Divingstar on the wrist feels like wearing a rubber bracelet. You barely notice that it's there.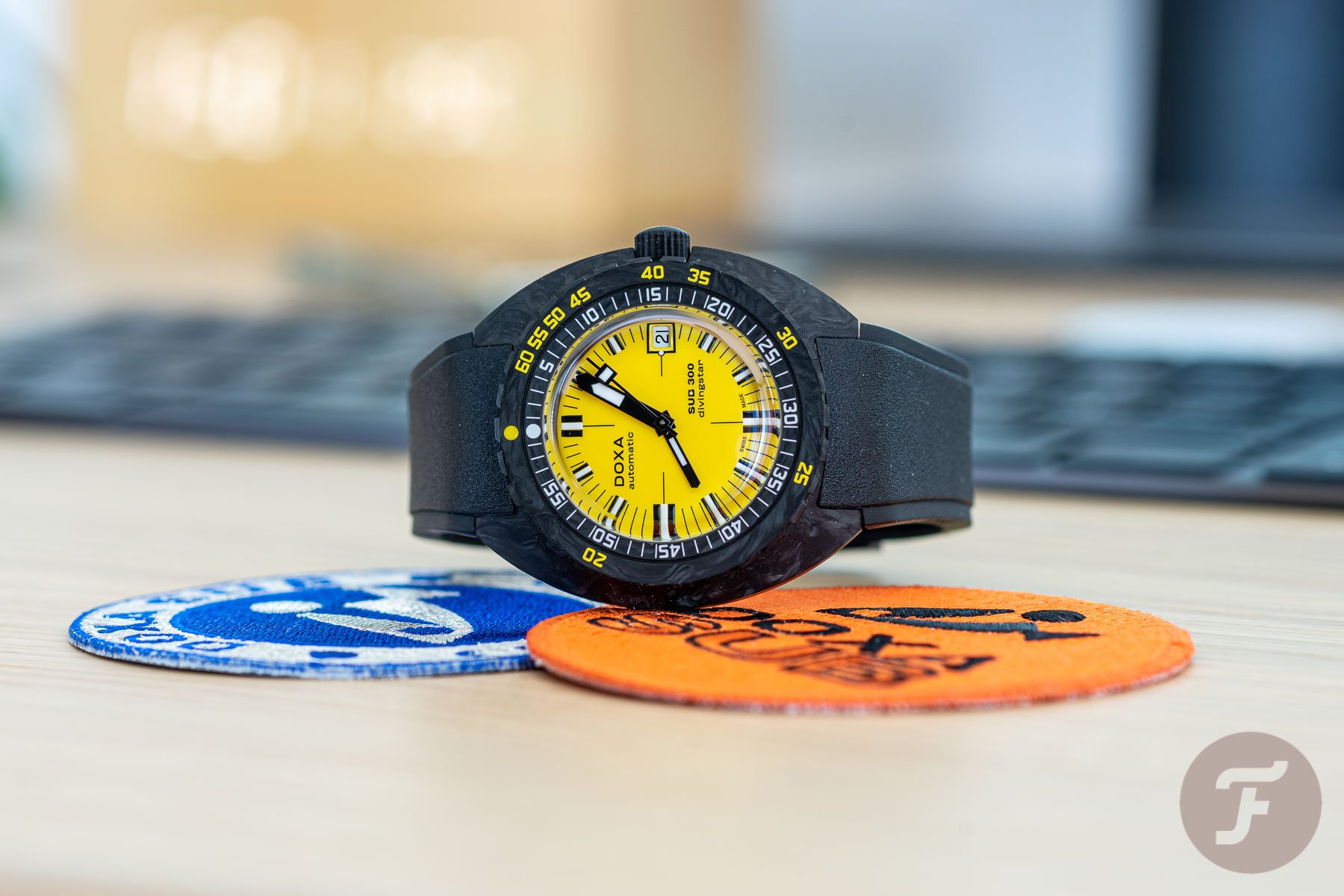 The feel
For an extensive amount of time, I wore this piece, traveled with it (yes, during corona), and I could not have chosen a better watch for that. I used to take my vintage Sharkhunter with me whenever I was traveling. That watch is enormous, heavy, built like a tank, and indestructible. The Sub 300 Divingstar is the perfect travel watch for precisely the same reasons, aside from the heft. This is an excellent option due to its weight. It just never gets tiring to have it on your wrist.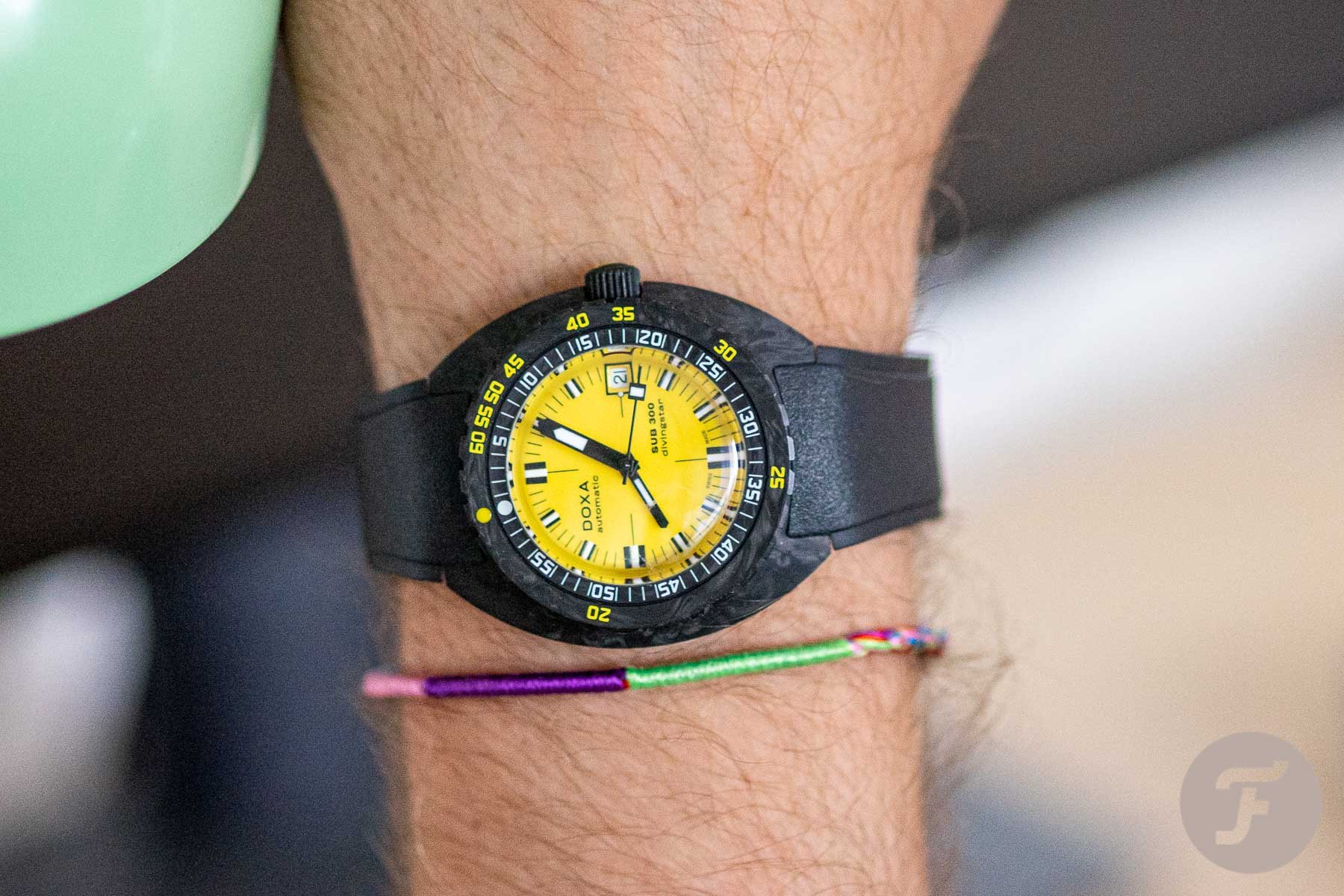 The yellow dial works exceptionally well with the black indexes and hands. I must admit that although I have quite a few divers in my collection, I'll probably never use them for their intended purpose. As such, I rarely used the bezel on the watch either, but yellow and white are perfectly visible with the black forged carbon backdrop that is the bezel. Also, yellow stands out and takes the edge off the watch's serious look, but it still does not appear overly gimmicky. While I adore the look of the Sub 300 Aquamarine with its turquoise dial (and optionally turquoise rubber strap), I might not have the same opinion about that watch. Although, I should mention that I have not seen that model in real life yet.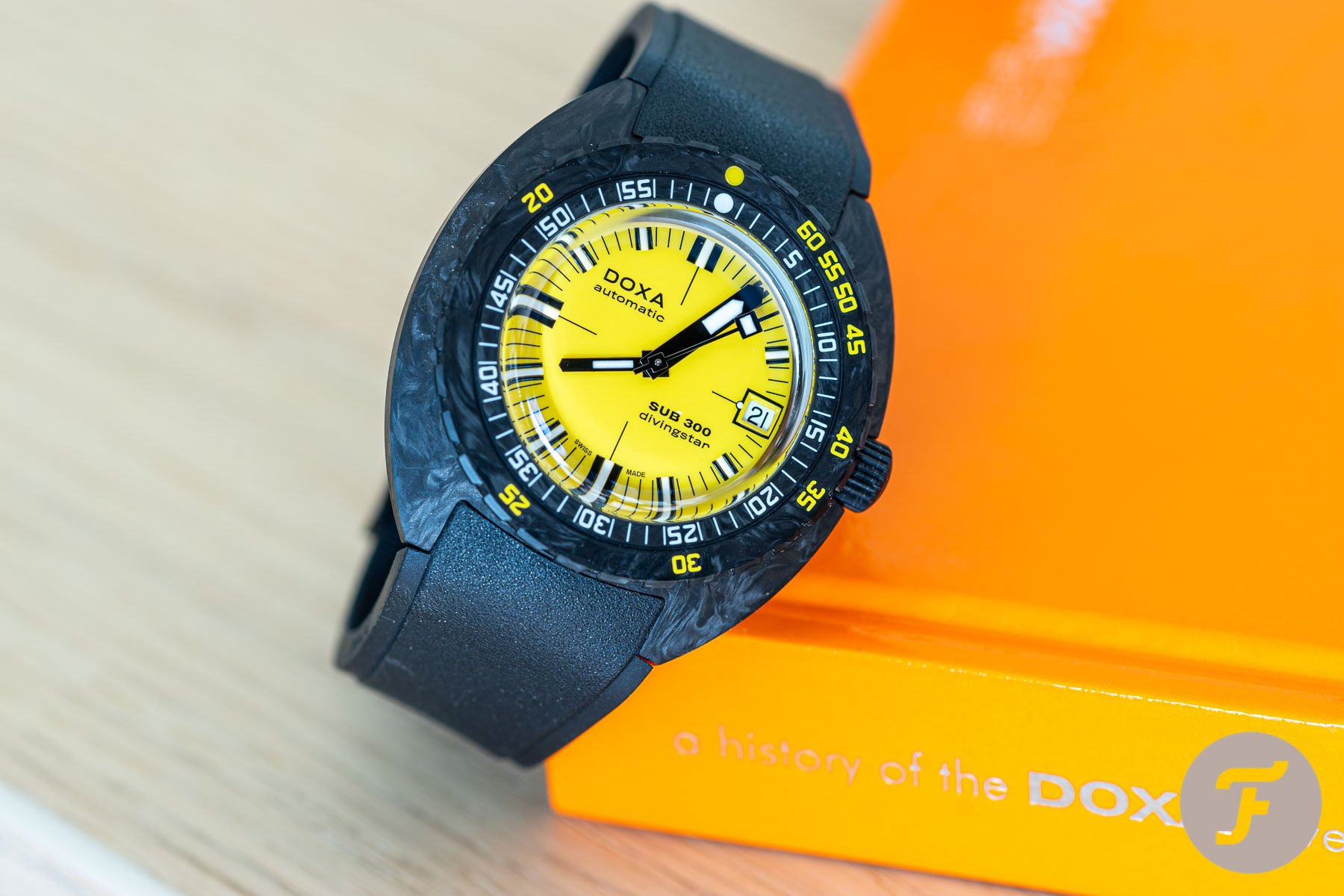 The movement
However, a watch is more than just good looks. Granted, we do not expect divers to be super complicated timepieces with Haute Horlogerie movements, but a trusty caliber never hurts. Since the beginning of the Sub 300's history, Doxa's movements have always been automatic with a date. The date window is at the 3 o'clock position. This is precisely the case with the Sub 300 Divingstar. Inside, the forged carbon case beats a swiss, mechanical, self-winding movement with COSC certification. We have a great sports watch that is water-resistant to 300 meters, has a date and a precise automatic caliber. The power reserve is 38 hours, and the frequency is 28,800vph (4 Hz).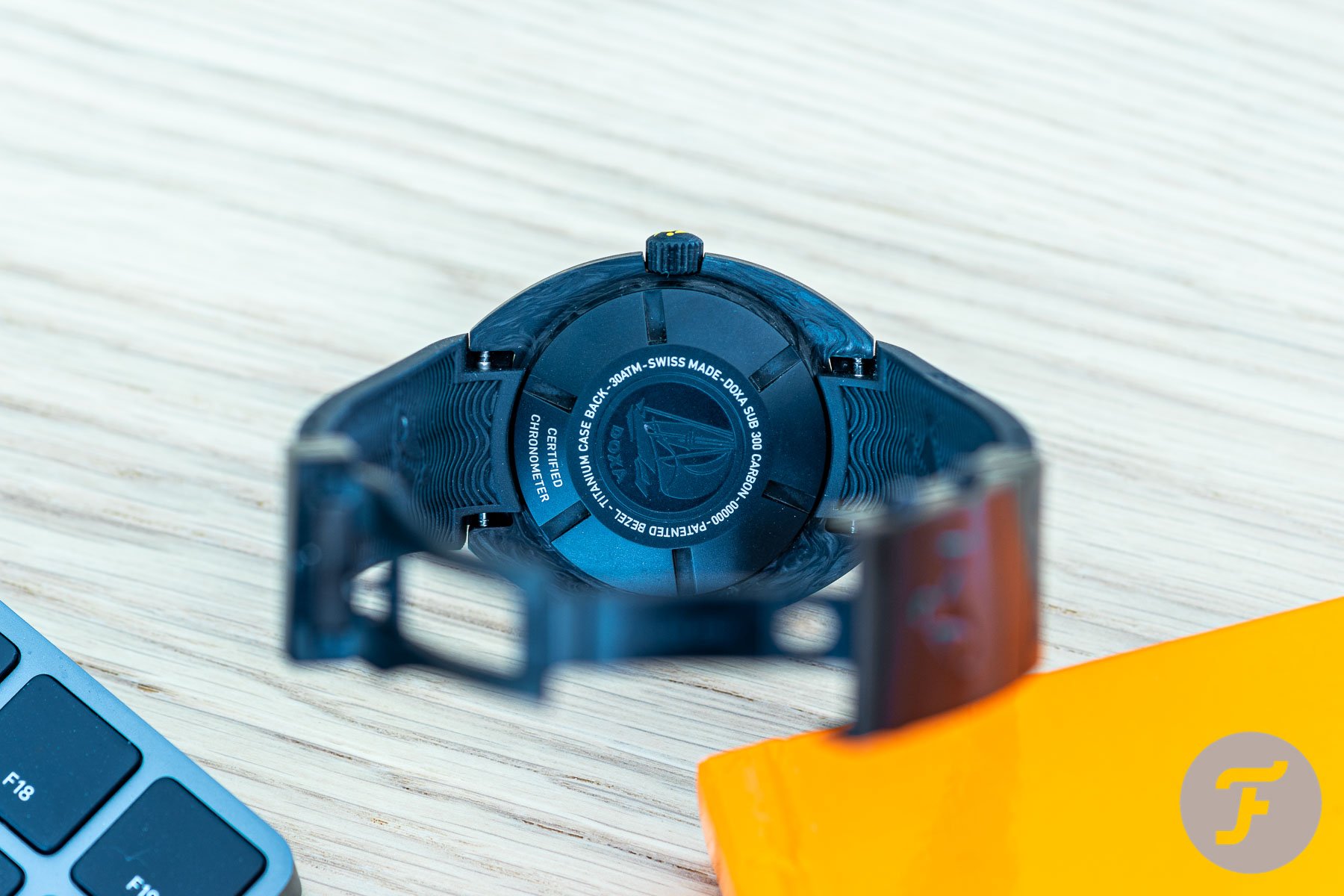 The strap, price, and whatnot
I mentioned already that the Doxa Sub 300 Divingstar Carbon comes on a rubber strap. The only strap option for the black and gray dial versions is the black rubber with PVD-coated folding clasp and diving extension. I have to say; this is the Achilles' heel for many diver straps, but not for the Doxa. The buckle and the extension worked well while I had the watch. The lucky owner can choose between a regular black rubber strap or one with a matching color to the dial for every other dial color.
As you can see, I got the yellow dial with black rubber, and I don't mind it. On a yellow rubber, it might've been a bit too much. But if that's your thing or you want a second option, go for it.
The price is the same regardless of what color strap you are opting for. The Doxa Sub 300 Carbon models are €3,790, which might seem a bit expensive (and I agree it is not a budget diver price), but it's also not a regular steel model. Those are around €2,500 depending on your strap/bracelet choice, so the forged carbon is not that much more. I cannot emphasize enough how important it is to try these watches on before you buy them. You need to see and feel it on your wrist. And as one brand manager once told me during his Baselworld presentation: I warn you, if you put it on, you might not take it off. Make sure to check out Doxa's website by following this link.