Dutch Made Showcase And Meet Revolo, a New Dutch Brand
A bit of horological news from The Netherlands. The Netherlands? Yes, the country that brought you Christiaan van der Klaauw, Grönefeld and some more. Watchmaking and The Netherlands go way back, to the 17th century actually, when Christiaan Huygens invented the pendulum clock in 1656 and a few years later, the balance and spiral spring in watches. In 1673 Huygens published his book "Horologium Oscillatorium", his major work on pendulums and horology.
Now, I happen to live in the exact same street as where Huygens lived and worked and every day I am surrounded by statues and buildings that remind me of watchmaking. However, only few people outside The Netherlands know of have heard about him, except those who work in the watch industry (I hope).
Today however, we have several watchmaking companies in The Netherlands, or companies who act as supplier to watch manufacturers.
Dutch Made Showcase
Organized by Kalle Slaap, a Dutch watchmaker (Chronoglide) and teacher at the (only) watchmaking school in The Netherlands (Schoonhoven), the Dutch Made Showcase exhibition will take place this coming Sunday on the 5th of June.
15 Dutch watch brands will present their new models and prototypes during this one-day event. Not only watches, but also innovations like 3D printed stainless steel cases in exceptional shapes will be shown during this day. Unfortunately Grönefeld can't be there, as they have an exhibition in Luxemburg (which was planned earlier), but there will be other exciting brands that are eager to show you their skills and watches.
Entrance is free of charge and the Dutch Made Showcase will be held on Sunday June 5th (from 11am – 4pm) at:
Het Genot van Grootschermer
Noordeinde 12
1843 JH Grootschermer
If you collect watches or have an interest in watchmaking, make sure to visit this Dutch Made Showcase this coming Sunday. You will be surprised by the creativity and number of innovations by these Dutch watchmaking entrepreneurs.
Revolo
Other Dutch news is the birth of a new brand, Revolo. A while ago one of the founders visited our office and showed us the first prototypes. The neat thing about these watches is that the customer can design one from scratch, by choosing the case shape, material of the case, the bezel, insert of the bezel, dial, hands, crown, strap or bracelet and finally, the type of movement: either a Swiss quartz movement, a Miyota automatic movement or a Swiss automatic movement (STP, from the Fossil Group). In total, these combinations will give you over 100 million different options.
Each watch will be assembled and finalized by one of the Revolo watchmakers in Amsterdam. Watches will start at €199 Euro but will go up in price when you select a mechanical movement and rose gold parts for example.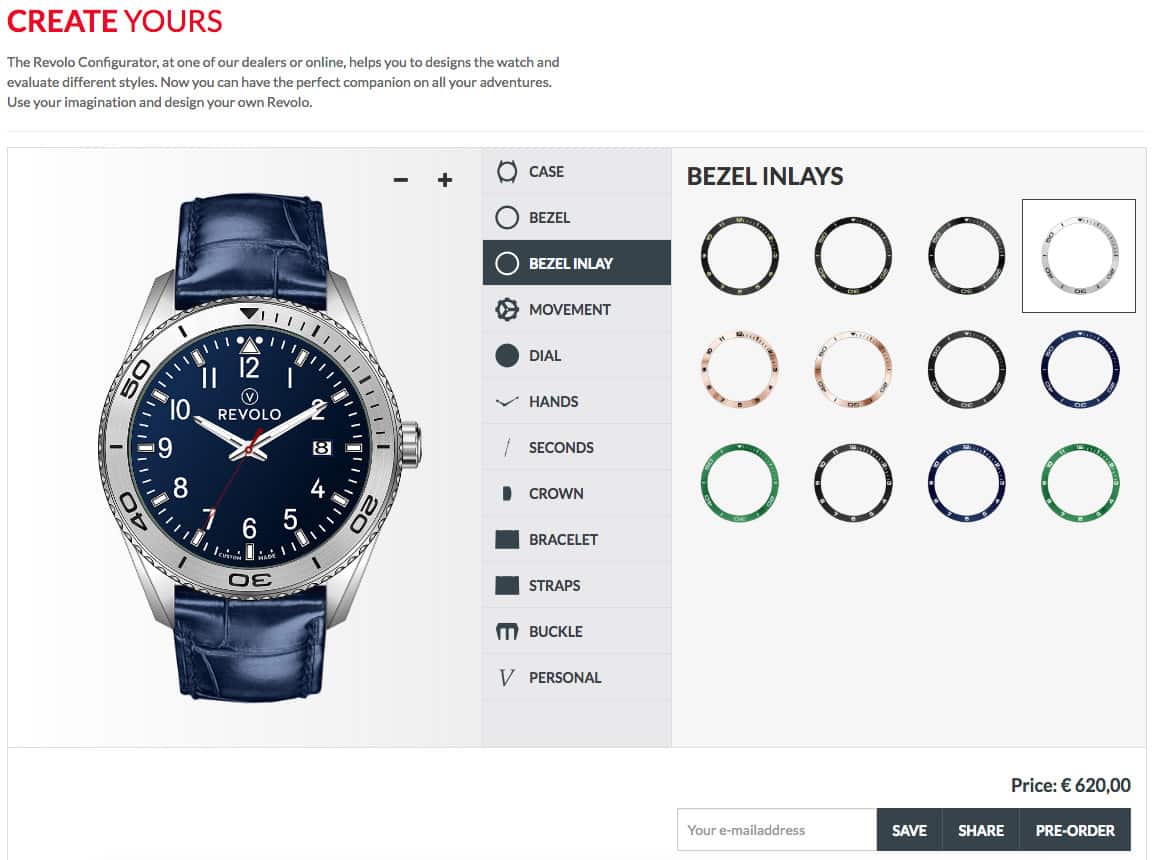 The Revolo brand is financed by their owners for the large part but is also dependent on some funding via Kickstarter. In the meanwhile, the necessary funds have been allocated. So we can assume there is a final go! However, you will have a few more days to still back this project by Kickstarter, so you can enjoy a 40% discount on your Revolo watch. Be quick though, as the different backing options are closing as they are all limited to a certain amount of backers. Click here to have a look at the options.
There will be a configurator tool to design and customize your Revolo watch, a clever application that lets you pick from many different dials, hands, materials, case designs etc with a simple mouse click. The result will shown to you on screen and once done, it will take approximately 10 days before the watch will be delivered to you.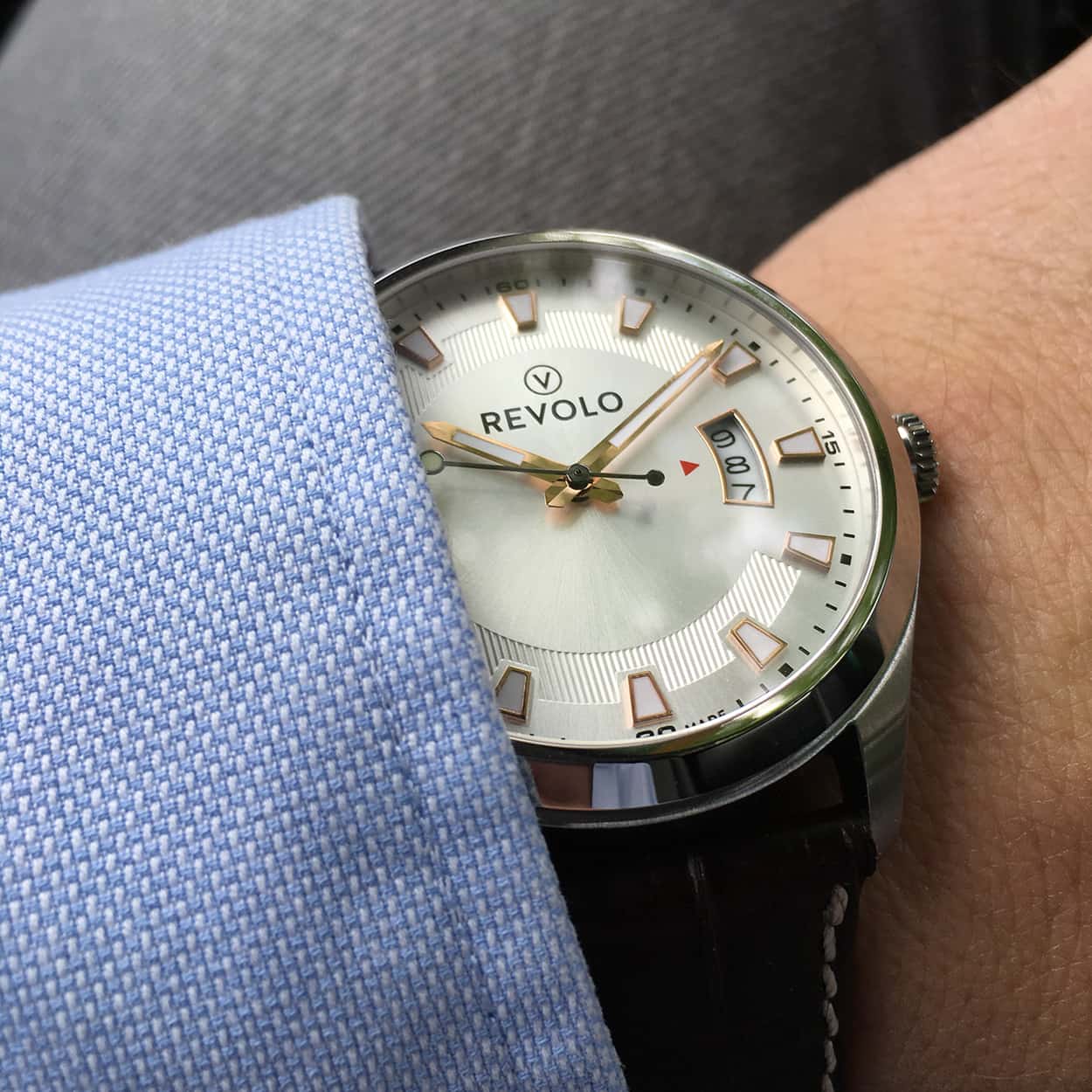 Revolo will also be available at 25 dealers, where you can configure your own watch and have it delivered to them to pick it up. All watches come with a two year warranty. Early birds that used the Kickstarter program will have their custom made watches shipped to them in July 2016.
Do you want to start designing your own Revolo watch right now? Go to their on-line configurator right now: www.revolo-watches.com/create-yours