E.C.A Denise – A very Scandinavian dive watch
After the success with the Calypso watch, E.C.Andersson Watch Co. is back with a completely new design, their first professional diver and heavy-duty tool watch, made the Scandinavian way.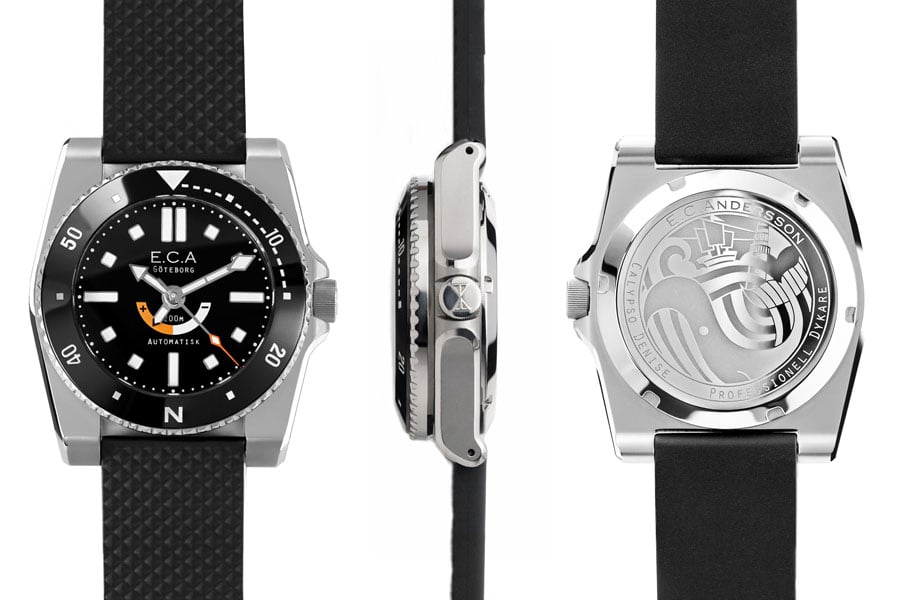 Mentioning "heavy-duty" often makes us think of massive steel blocks, the E.C.A Denise is quite the opposite, sophisticated and refined, yet optimized for an active lifestyle.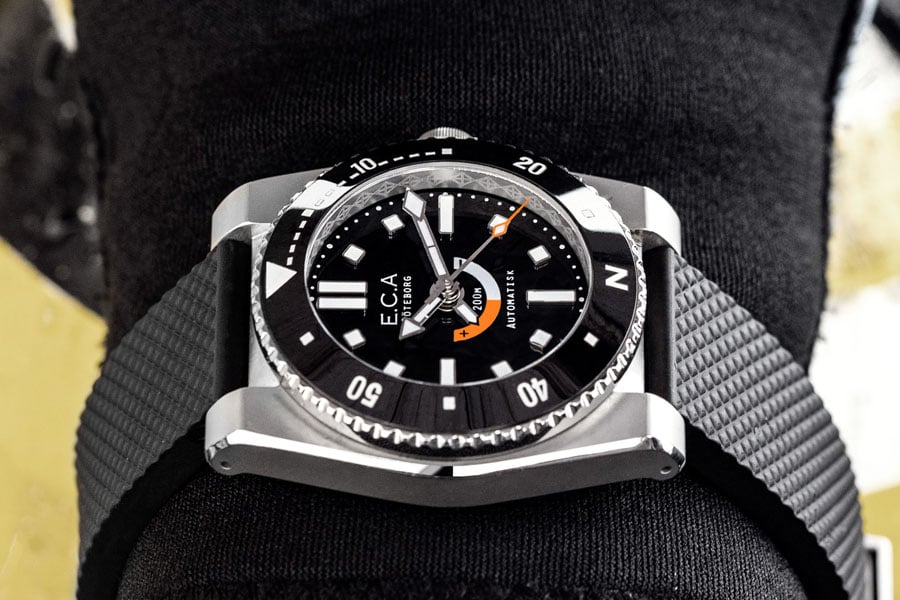 Designed to be a four-season tool watch, the Denise is as usable during ocean diving in summer as winter navigation in the Alps where visual landmarks are abundant. Primarily being a 200m dive watch, the ceramic bezel can apart from being used to measure time with the second, minute and hour hand, be utilized as a reliable compass.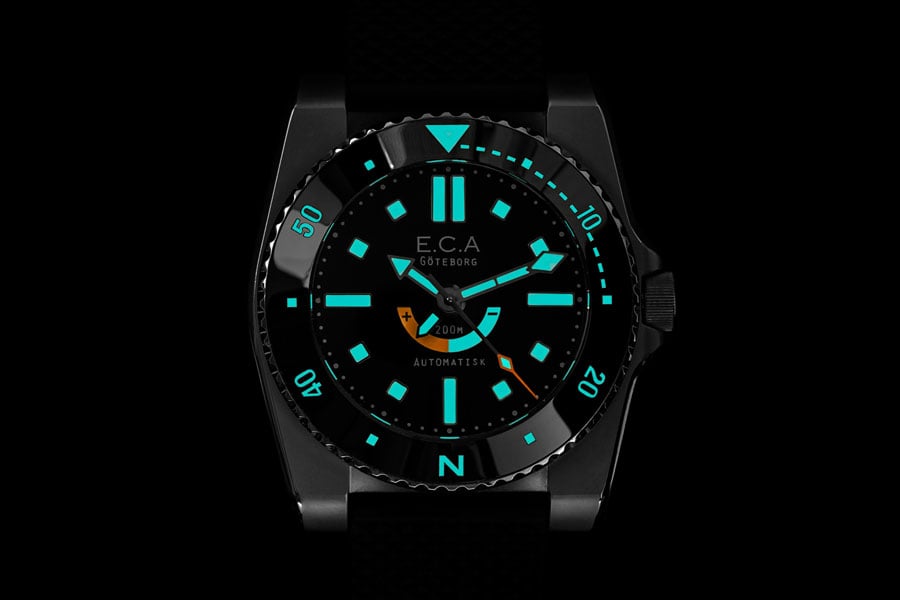 A centrally positioned power reserve indicator let you know exactly how much energy is stored within the watch if you ever need to put it down, knowing how long the movement will keep running. When fully wound, the movement runs for 50+ hours and is calibrated by hand in E.C.Andersson's Performance Center to assure outstanding accuracy. Since the watch features a rubber bracelet, it will most commonly lay on its side when not in use, E.C.Andersson thus optimized the calibration to a crown-up resting position.
The E.C.A Denise can be ordered at a limited discount at their website starting today.
The Denise's rubber bracelet is designed to take a beating while being comfortable to wear. With the new dive buckle, you can adjust the length of the bracelet an extra 8.5mm without removing the watch from your wrist, made to quickly expand the bracelet when wearing the Denise over a wet-suit or a ski-jacket. The lugs are drilled to fit single-shoulder spring bars, securing the bracelet from being accidentally torn off the case.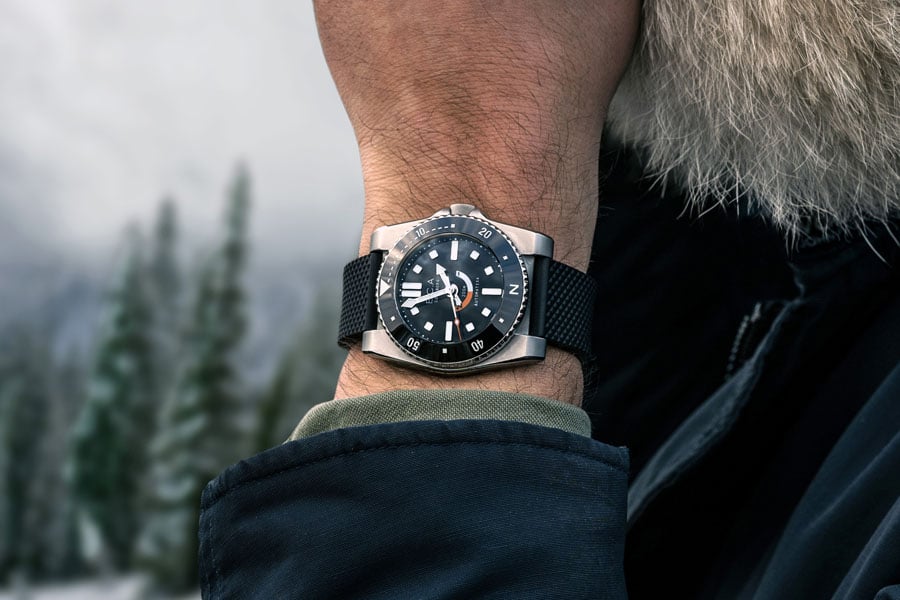 The case is a continuation of E.C.Andersson's Calypso design, sturdy but sophisticated, with broad shoulders and clear-cut bevels swirling around the watch from lug-to-lug. Denise is shorter than the Calypso by 2mm while remaining 40mm in diameter. It is 14mm in height and features finely applied angles to achieve a sleek look, suitable for all-occasion wear. The gap between strap and case is covered, making any 20mm accessory integrated to the watch.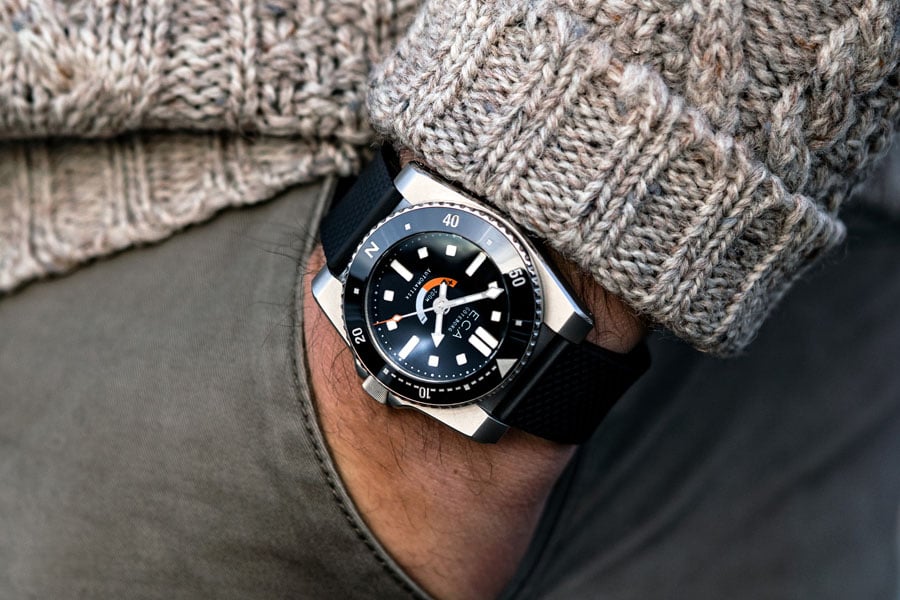 Limited
As always with E.C.Andersson Watch Co, the Denise is limited and marks the last model to be released through pre-order before the company moves on to stocked pieces on listing price. E.C.Andersson Watch Co. offers a heavy discount, starting at 860 EUR, which is approximately 25% off listing price. VAT is of course also deducted for customers outside the EU. Their last models sold out during pre-order, so make sure to secure yours now.
Visit the Denise product page here.