Eza Watches Announces A New Model – The Eza AirFighter
I just ordered a watch. No really, just now. The Eza AirFighter. After seeing the press release, I made sure to secure one for myself. That doesn't happen very often I might add. But first, let's have a look at the new Eza AirFighter.
Eza AirFighter
Without trying and meaning to be nasty, this watch somehow reminded me of the Glashütte Original Navigator. That's nothing to be ashamed of, and the founders of Eza had to google it when I mentioned this (at least, I hear some typing on the background when I was on the phone with them). And to be honest, I liked that watch a lot. It is certainly not a copy or even homage, but the hands in combination with the fat case reminded me of that particular piece. There's also the fact that military or "Flieger" inspired watches all have a couple of things in common of course.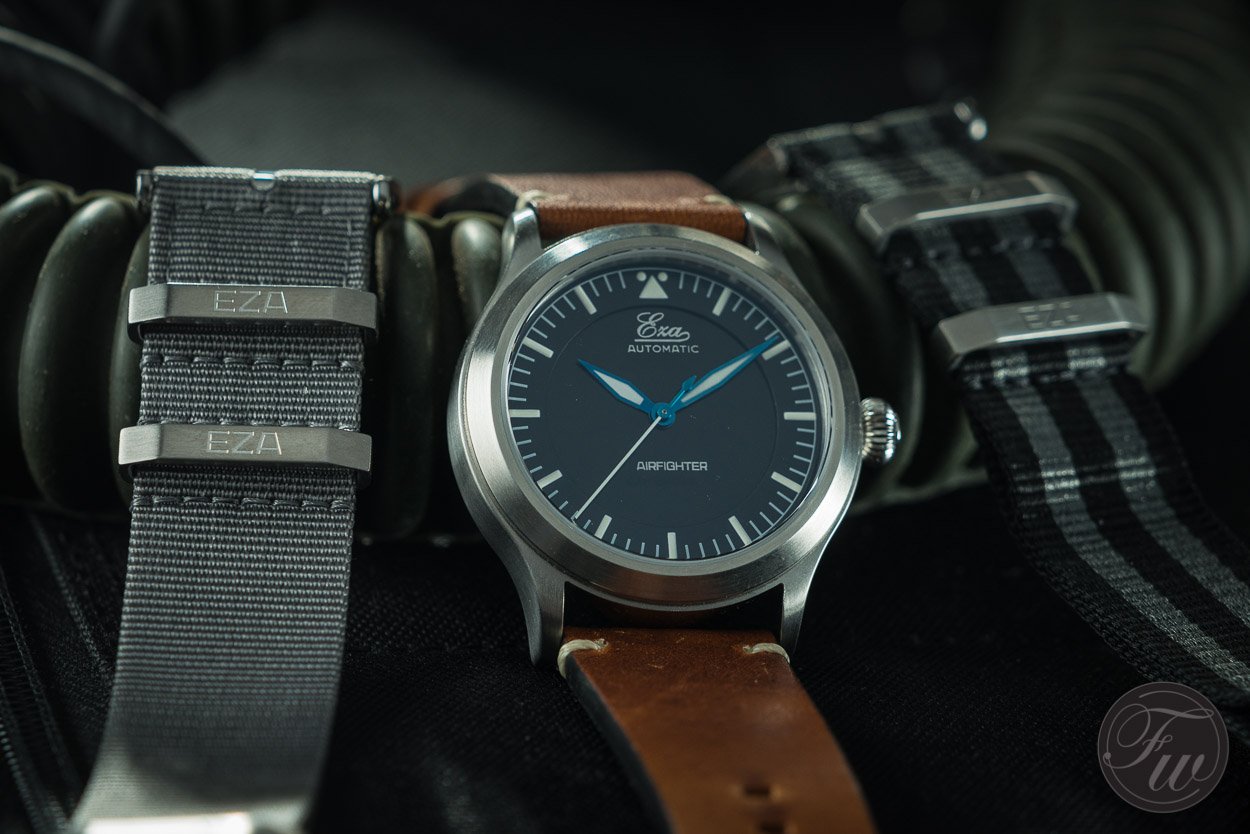 Eza Watches is an old brand name, but revived in 2016 by Adriaan Trampe (who has a watchmaking background) and Diederik van Golen. Their first watch was the Eza Sealander, a nice three-hander diving watch. A successful model as well and was picked-up by a lot of watch media. Now, they are introducing the Eza AirFighter, a 40.5mm stainless steel watch inspired by those WWII observer watches.
The Eza AirFighter has some very attractive features, such as a case with both brushed finish and a high gloss finish on a small part of the case giving a very nice contrast. The black dial consists of two layers and the hour markers are filled with Super-LumiNova. Unlike many other observer watches, there are no Arabic numerals on the dial. The blue hands are typical for these type of watches as well and are also filled with Super-LumiNova. The case has a sapphire crystal which has the brand and model name laser-etched (not really well visible on the images).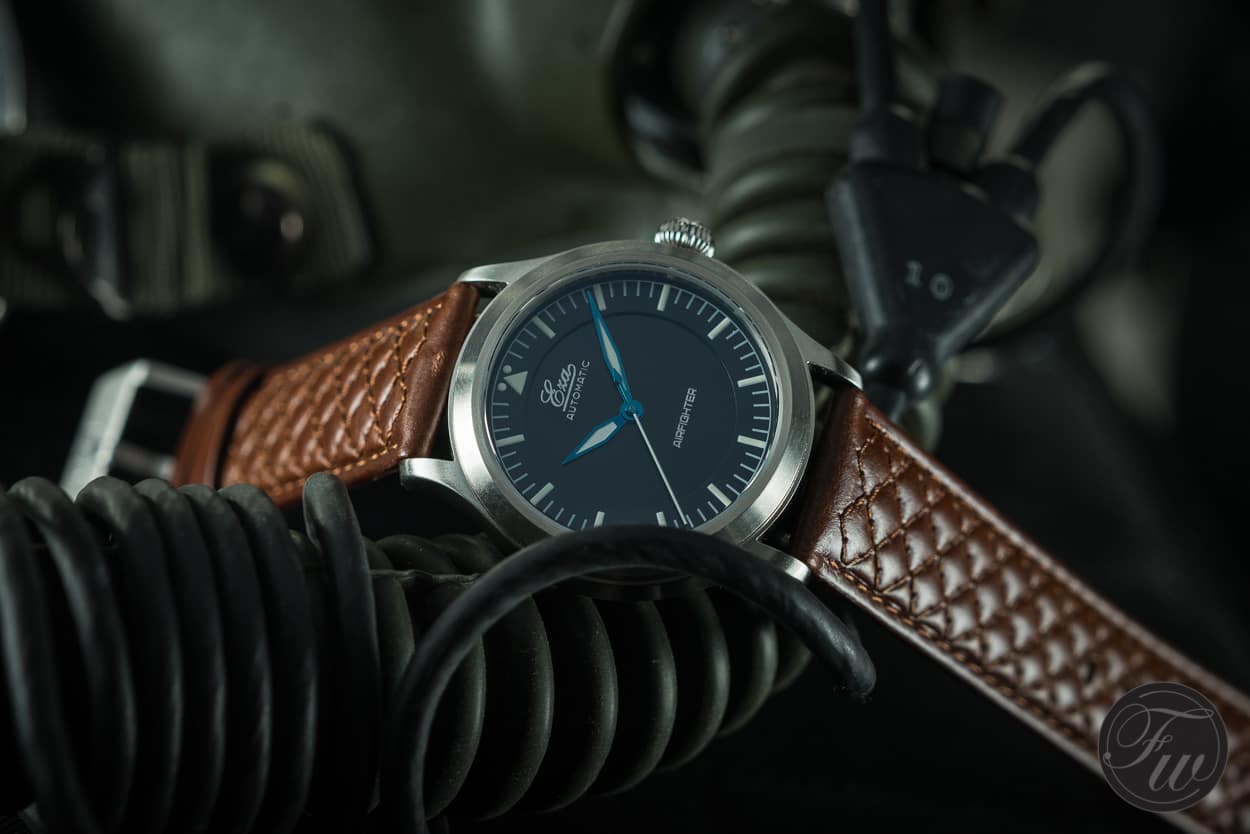 Inside you will find ETA's caliber 2824-2 movement. Eza decided not to use a display back for this watch, instead, they did something very cool (and I have never seen this before, but correct me if I am wrong) and engraved the movement design in the case back. The watch is being assembled and adjusted (to six positions, for better accuracy) at their watchmaking facility in The Netherlands.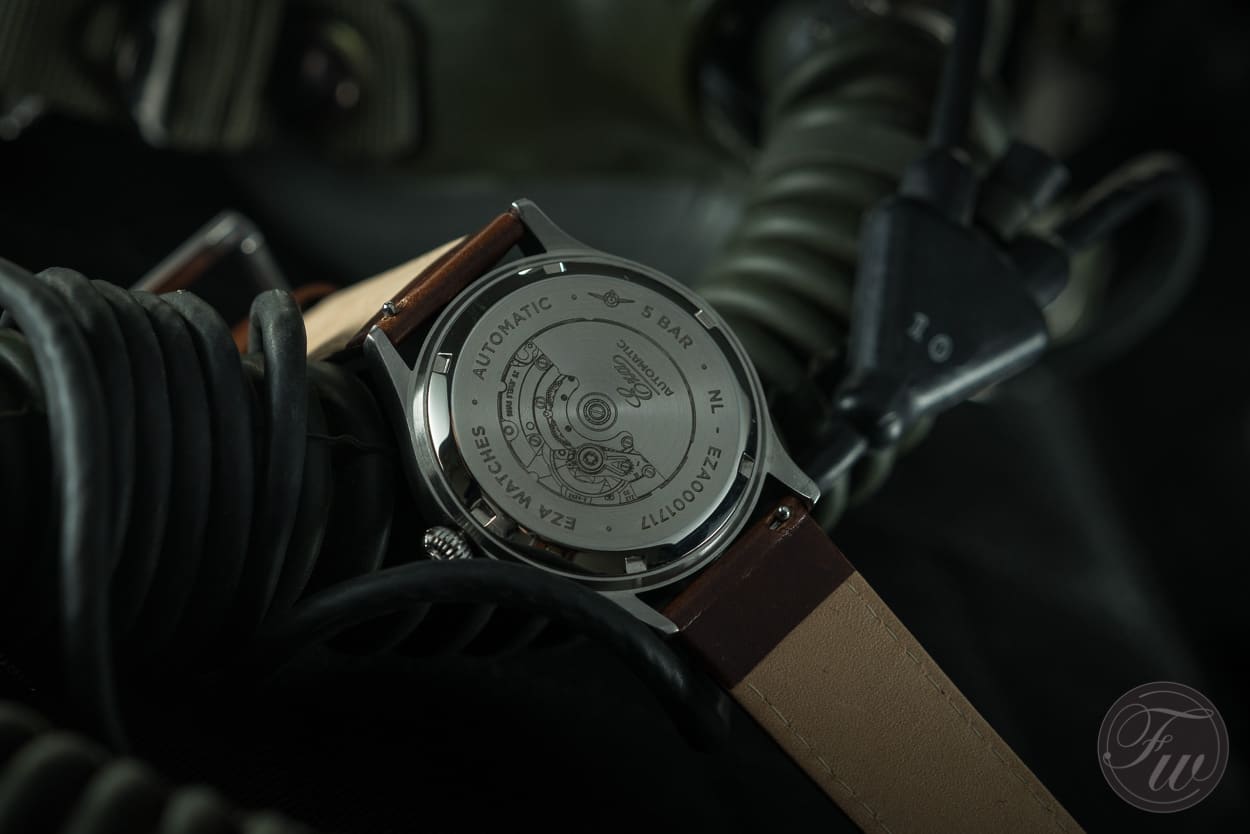 The Eza AirFighter will be available on leather and NATO straps. Furthermore, Eza will also offer a mesh bracelet for this model.
The watch will be launched in August 2017 and will retail at € 599,- excl. VAT, € 725,- incl. 21% VAT. As of now, the watches are available for pre-order.
I ordered mine as I believe – and also after handling the Eza Sealander last year – it is a very nice watch at a very fair price point. I don't have an observer style watch in my modest watch collection, and this Eza does tick a lot of boxes based on what I've seen so far. After wearing it for a while, I will get back to you with a proper review of the Eza AirFighter.