Falling In Love All Over Again With My (Finally) Fixed Chronoswiss Timemaster
This lume-dialed watch sure is the love of my life
The shock was so big that I went into a state of denial for many months. Do you know the feeling when you, with your sleepy head, try to put on your watch and drop it on the floor? It is, quite literally, a breathtaking affair. And the blanket of disappointment that wraps itself around you when you find out the watch has stopped working might also be familiar. It happened to a watch that I bought about two decades ago, the 44mm Chronoswiss Timemaster CH 6233 LU. The wooden floor harmed my beloved glow-in-the-dark watch quite a bit, and it hurt me quite a bit too. But strangely enough, instead of getting in touch with a watchmaker, procrastination held me in a firm grip…until recently. And now that the watch is back and up and running, I'm falling in love with it all over again.
The watch decisions I made in my life have not always been the best from an investor's point of view. In the early 2000s, I had saved a bit of money to buy myself a new watch. After a long search and much deliberation, two watches ended up on my shortlist — the Panerai Luminor Marina PAM00001 and the Chronoswiss Timemaster.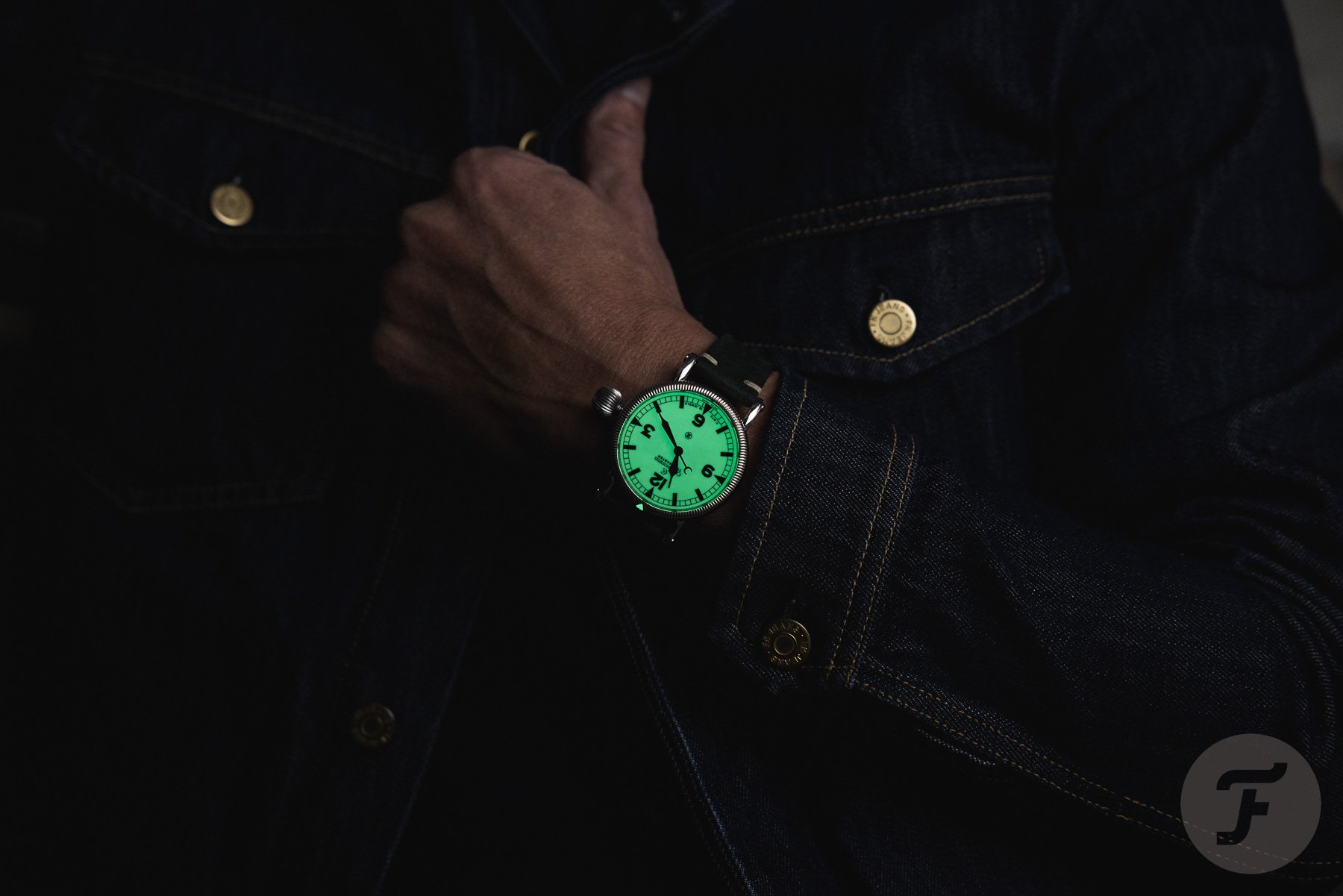 Deciding on the Chronoswiss Timemaster two decades ago
Both were 44mm watches and powered by a movement based on the Unitas 6497 caliber. If I had bought myself an A-series PAM00001 with tritium lume, that watch would have been worth around US$18,000 by now. But I chose a watch that, at the time, was more expensive than the Panerai. The Luminor had a retail price of €2,600, while the Timemaster cost €3,270. The full-lume dial, the onion crown on a stilt, and the extra decoration on the movement were the deciding factors to eliminate the Panerai from my shortlist and pick the Chronoswiss. If I were to sell my Timemaster, I wouldn't make a large profit like I could have with the Panerai, but I also wouldn't lose any money. I couldn't find a hand-wound Timemaster CH 6233 LU on Chrono24, but a regular 6233 with a black dial will set you back US$3,500.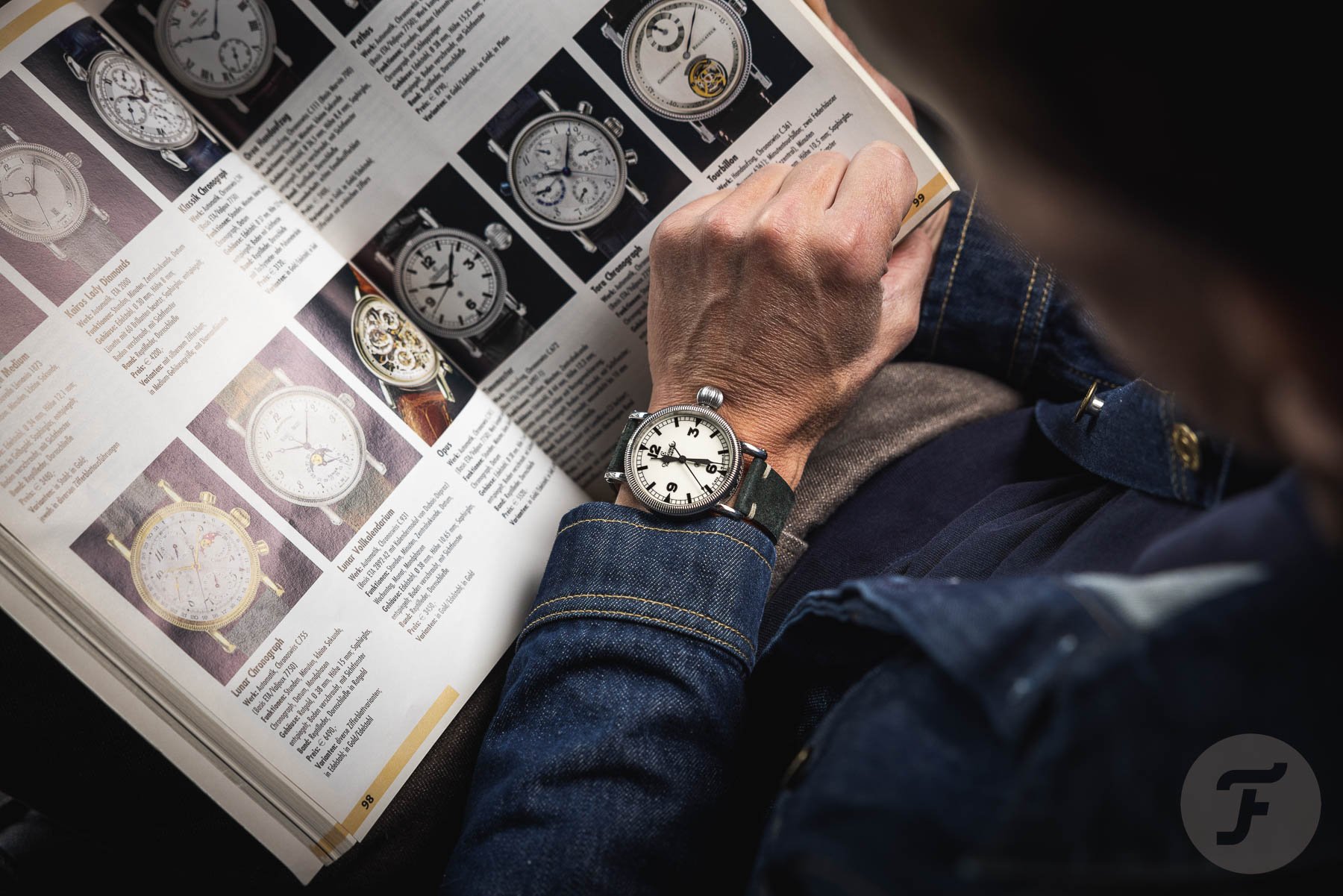 Chronoswiss from Munich
It wasn't just the luminescent looks and the way the movement of the Timemaster was finished that won my vote in the end. I also liked the story of the brand's founder, Gerd R. Lang. He started studying watchmaking at the age of 15 and then worked for Heuer for 28 years. Lang ended his career there as the after-sales service director of Heuer's German subsidiary in Kronberg im Taunus, and then he founded Chronoswiss in 1983 in Munich. Why he didn't name his brand Lang made sense, but the name Chronoswiss was a bit puzzling. Lang's reason was that the watches were conceived in Germany but made in Switzerland and that more important fact justified the name.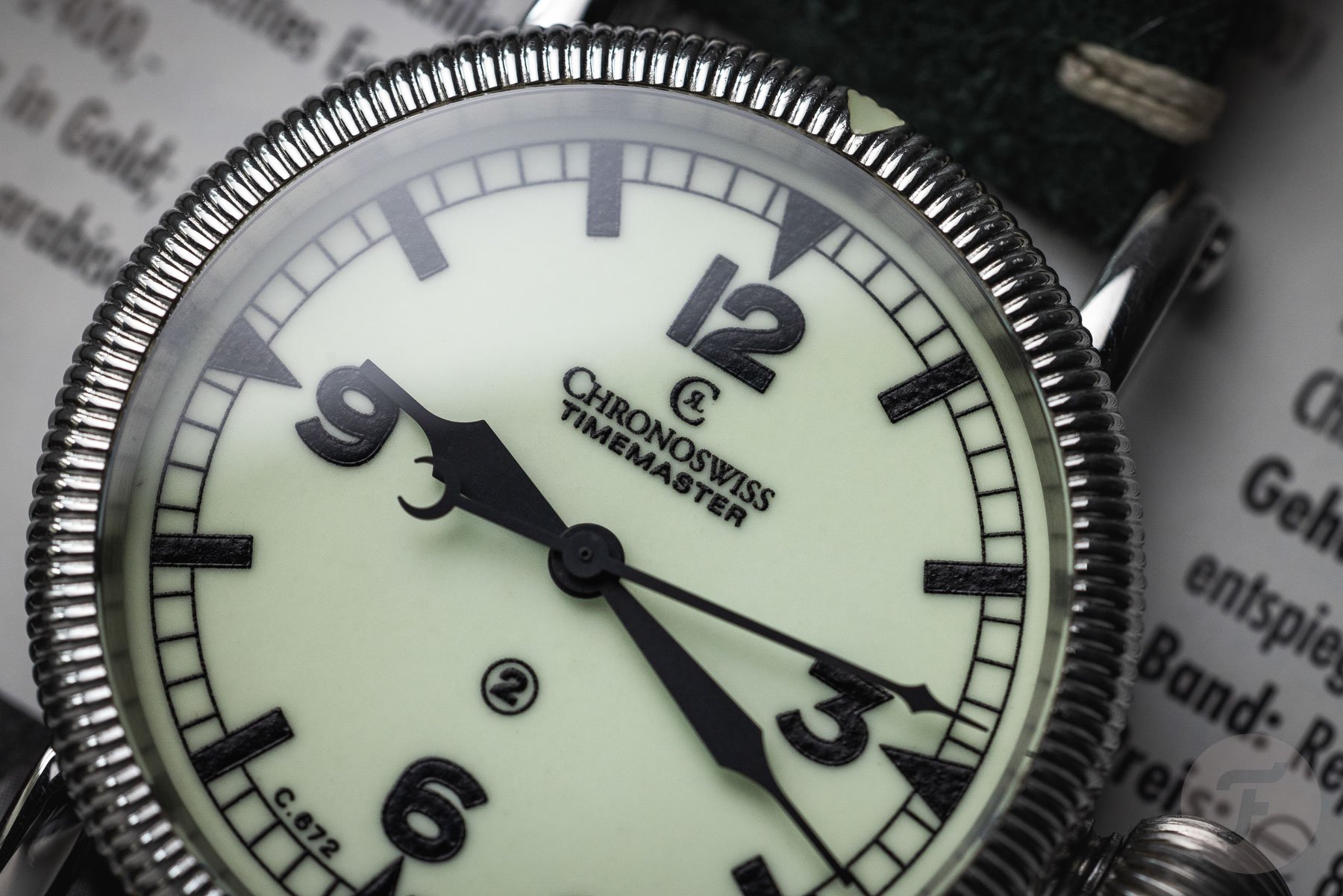 What Chronoswiss watches from the early days had in common were historical design elements like onion crowns, coin-edge bezels, and regulator dials. Also, exhibition case backs, which were not that common in the '80s and '90s, were a distinct Chronoswiss feature. Well, the way the uplifted Unitas, now C.672 movement presented itself behind the transparent case back certainly played a role in my decision-making process.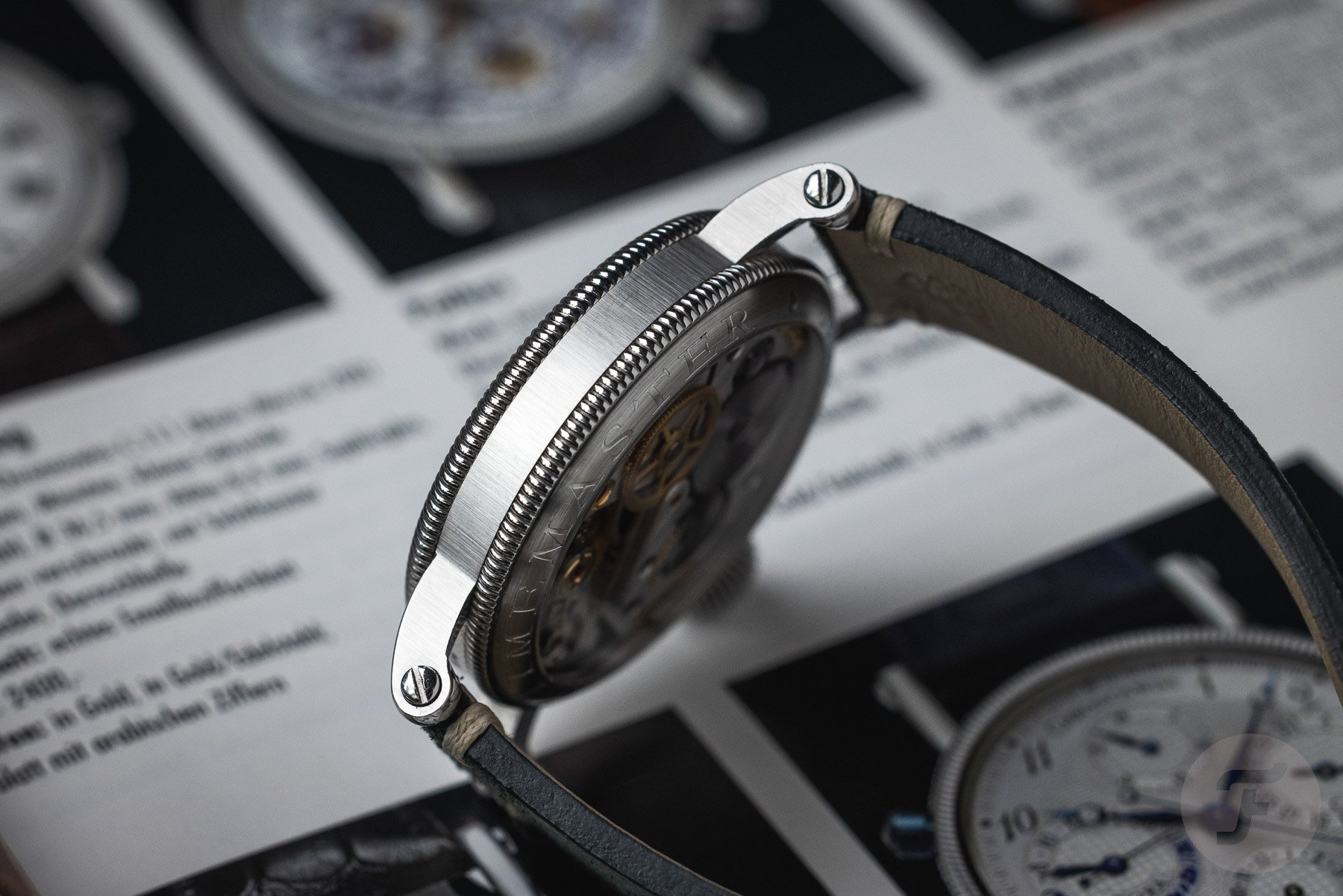 In 2012, Lang sold the Chronoswiss to Oliver and Eva Ebstein. He continued to work as a mentor for the brand Lang 1943, and he also never stopped writing about his beloved specialty complication, the chronograph. I remember a visit to Chronoswiss HQ, where an impressive collection of his chronographs was put on display. Unfortunately, on March 3rd of this year, Gerd R. Lang passed away in Starnberg am See, Bavaria at the age of 80.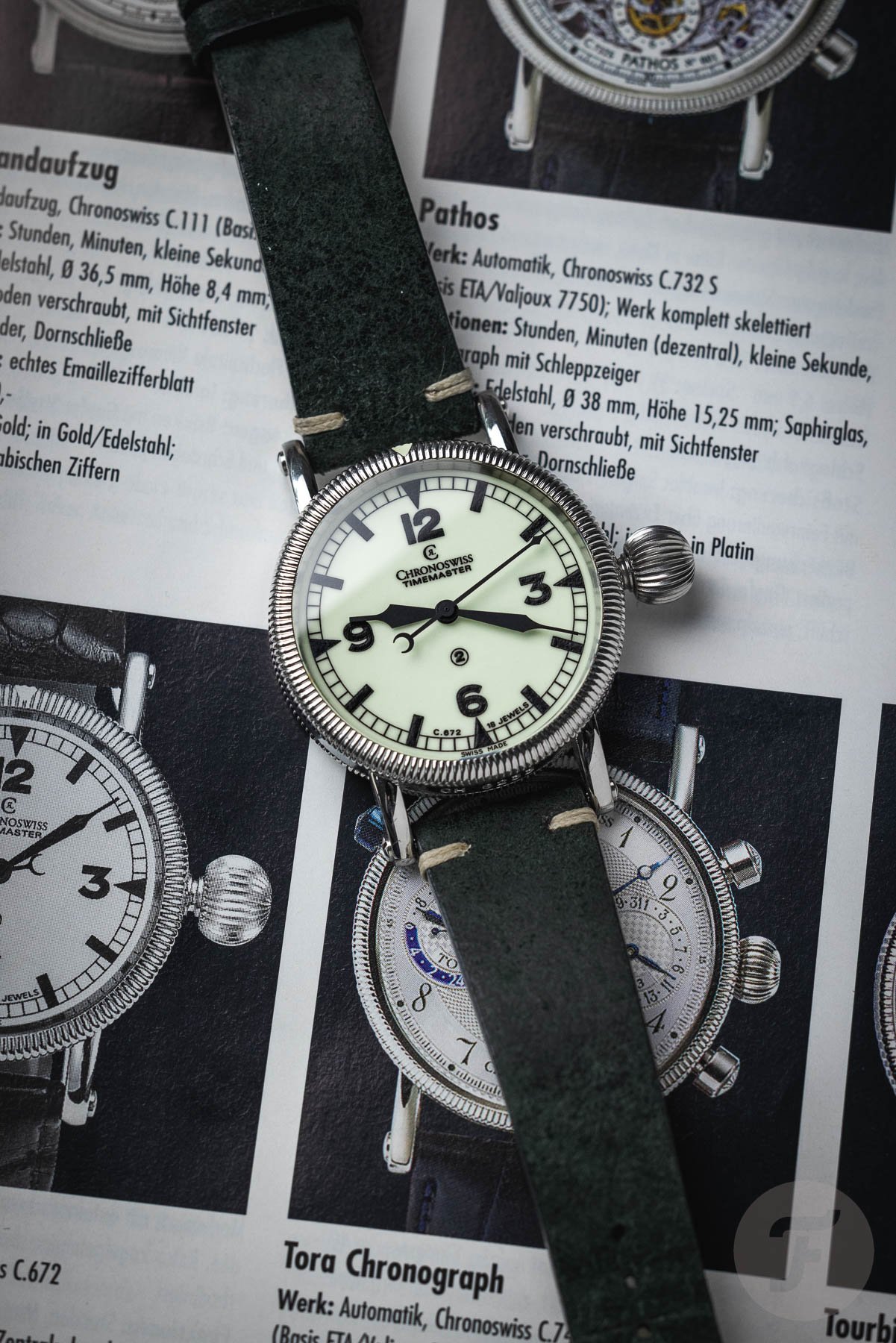 Procrastinating on the repair
Back to the watch — the one I dropped. As I mentioned, the Timemaster is powered by the caliber 672, which is based on the ETA/Unitas 6497. I suspected that the fall on the wooden floor caused damage to the central axis and/or the seconds hand because it couldn't pass over the minute hand any longer. The watch did still beat, though. And although the caliber 672, with its fancy striped decoration and swan-neck fine-precision regulator, looks nothing like a "tractor" movement, it is. However, I have to mention that the original small seconds of the Unitas caliber were converted to central seconds, and the caliber 672 also got a hacking-seconds mechanism, a feature not found on stock 6497 movements.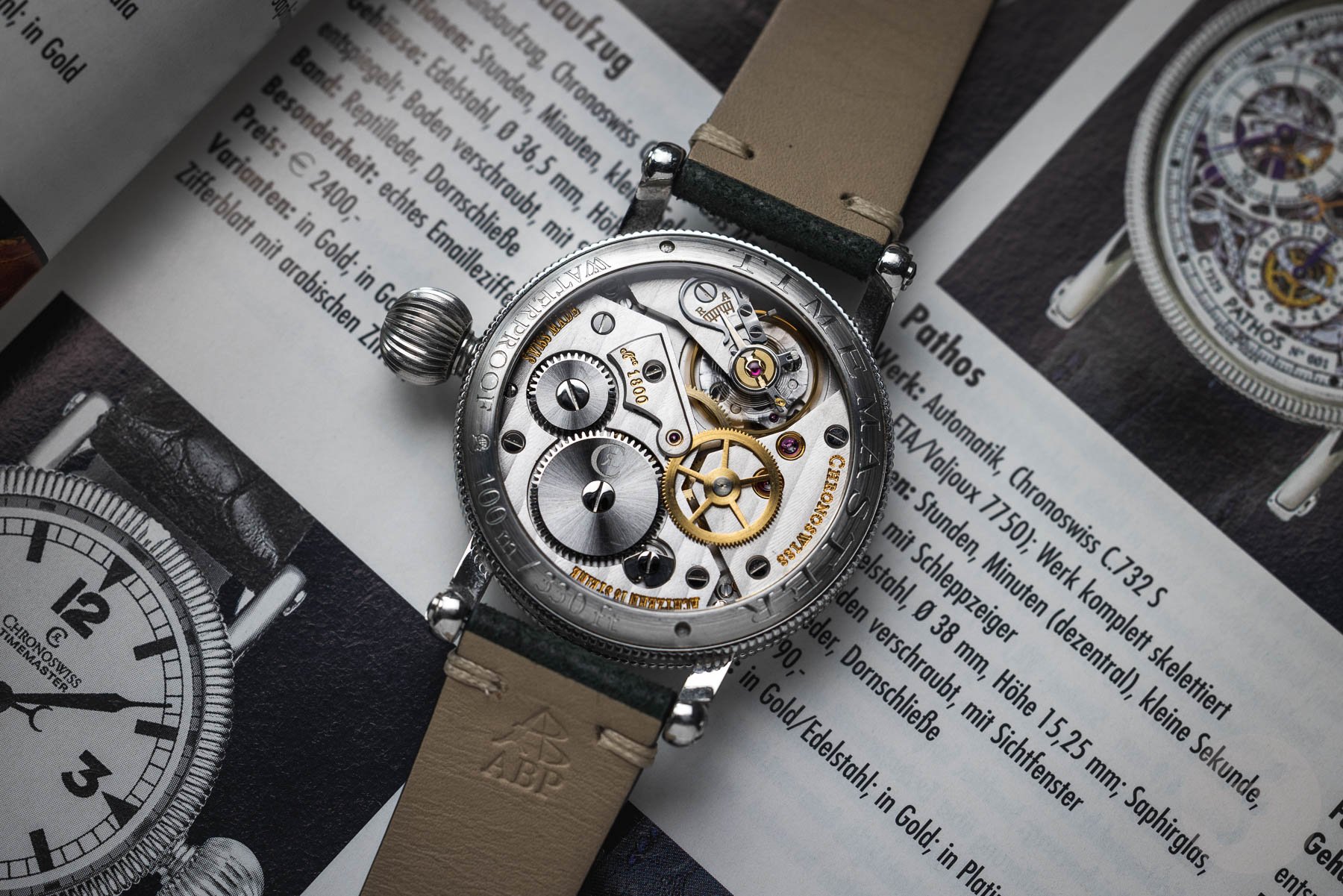 In other words, a non-functioning caliber 672 would, in the hands of a trained watchmaker, be turned into a fully functioning one in no time. Still, I didn't immediately take it to a watchmaker. Maybe it was because of subconscious shock. I put the watch in its box and tried not to think about what happened to it. And that strategy worked for many months. But a couple of weeks ago, I saw the crippled creature while I was reorganizing some watch-related stuff, and I decided I had to do it justice and have it repaired.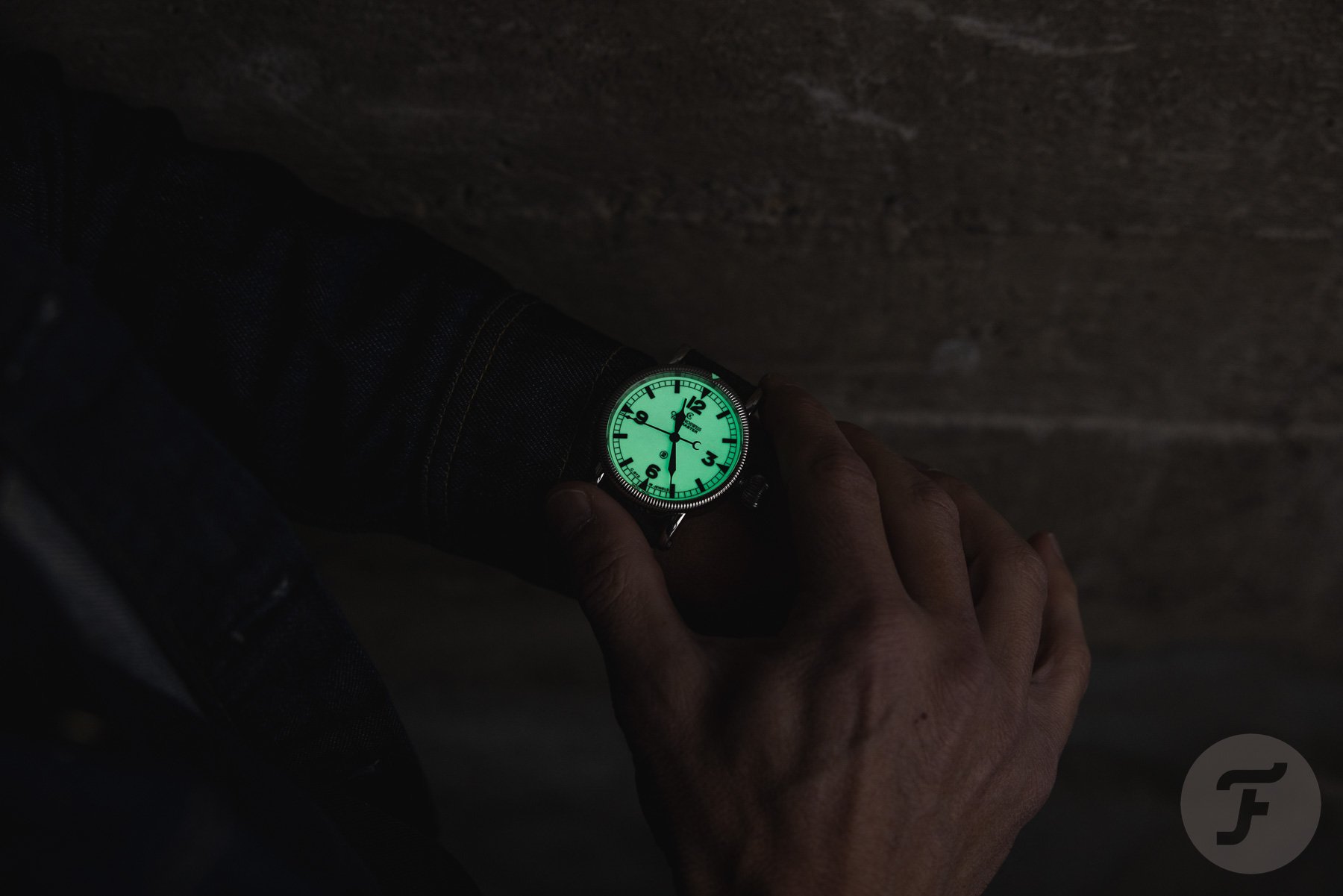 Back on the wrist and back in love
It's no use crying over spilled milk, so now I just enjoy my repaired Timemaster. A local watchmaker and friend of Fratello fixed it. Not only did the hands need to be fixed but the mainspring also didn't enjoy the fall and needed replacement. And as I thought, the lavish-looking but basic movement proved no problem for the watchmaker.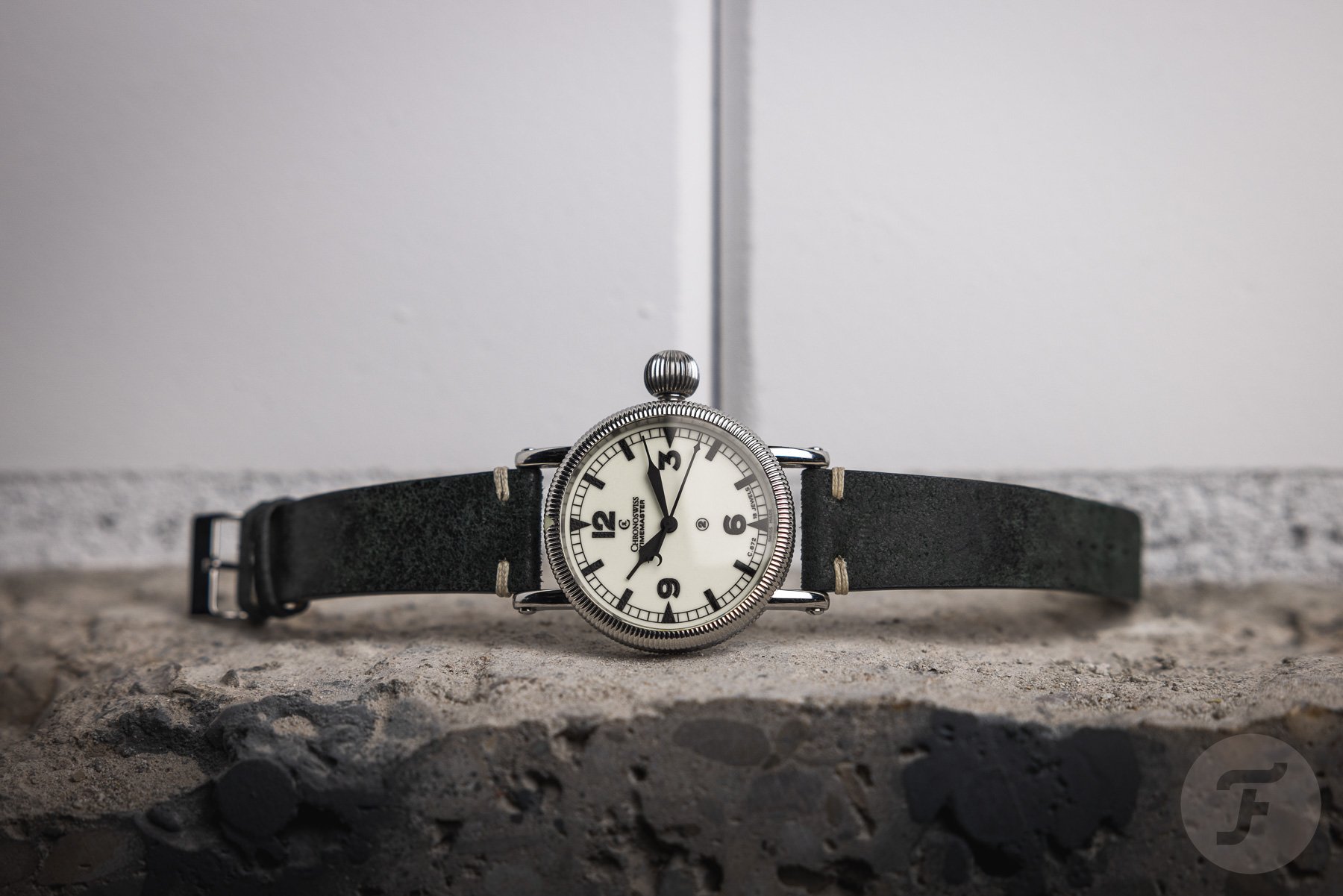 When I put the Timemaster back on my wrist, I did feel a bit guilty for having denyed it much-needed love and attention for months. But I'm making up for my neglect. Since I got the watch back, it has been on my wrist almost constantly. And how I love looking at its gorgeous coin-edge bezel with a lume pip at 12 o'clock.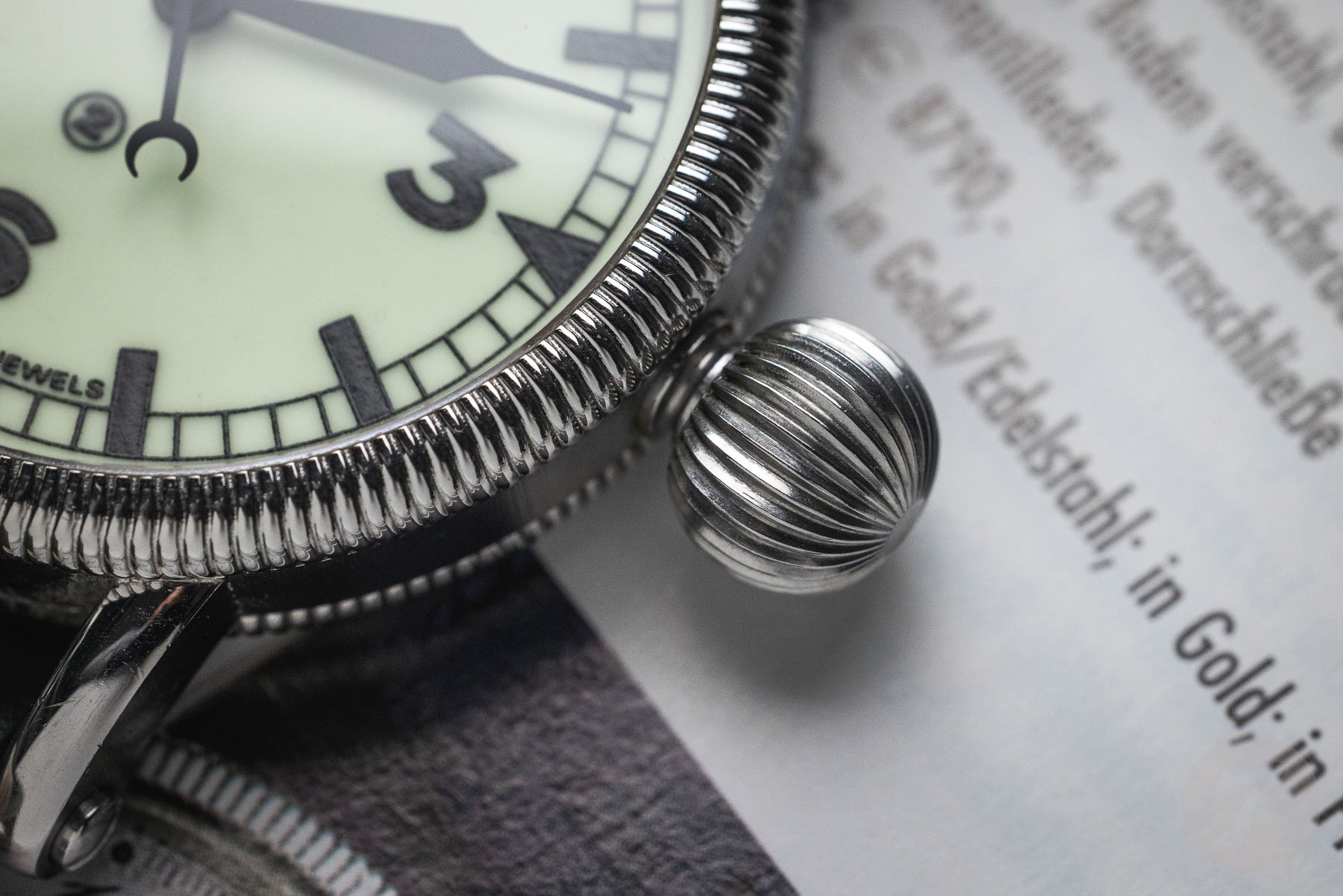 And the XL onion crown on a stilt also enjoy my admiration. The Timemaster takes inspiration from vintage pilot's watches that had such a crown, which allowed pilots to operate them even while wearing gloves. The long, sloping lugs with exposed screws on the 22-part, 100m-water-resistant, 44 × 12.3mm case are also a distinct touch. And the 22mm lug spacing proportionally matches the oversized case, which, if I do say so myself, looks great on this green nubuck strap from ABP.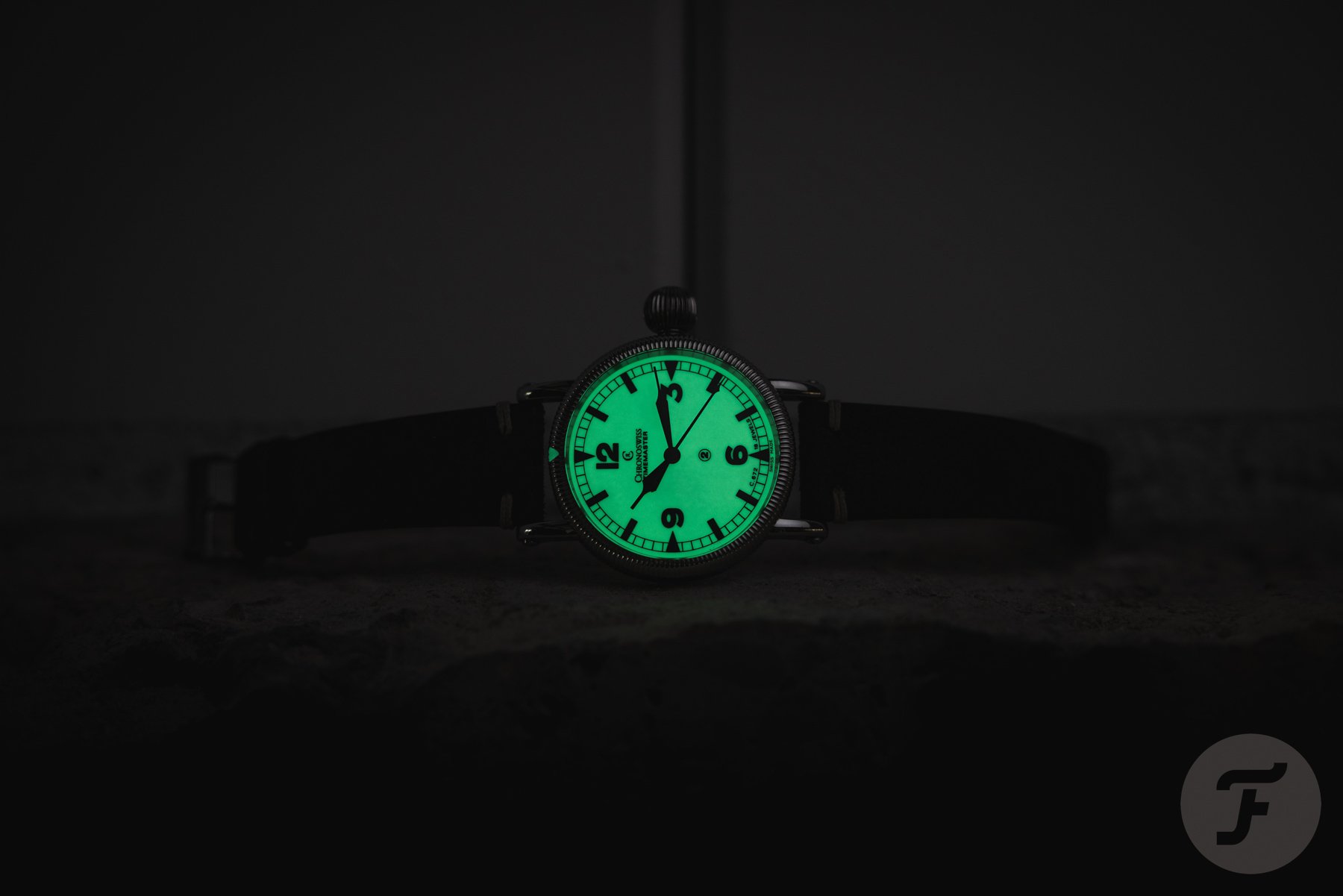 The Chronoswiss Timemaster is all about that lume
Without a shadow of a doubt, the absolute star of the show is the incredible Super-LumiNova C3 dial. Nowadays, there are quite a few watches around with a full-lume dial, but two decades ago, Chronoswiss was a pioneer. And so was I! I mean, I bought it when a full-lume dial was a sight to behold. And it still is. The watch catches eyes and starts conversations. Yes, that's also because of its size, but it's mostly because of the creamy white dial that turns bright, radiant, luminescent green when the lights go low. And it's when the lights go low that my love for the Chronoswiss Timemaster CH 6233 LU reaches its peak. It's all about that lume, baby!