Favre-Leuba: Bathy reborn!
The watch enthusiasts among you readers probably remember Favre-Leuba for making mediocre watches during the 1990s. However, what I didn't know, is that Favre-Leuba is actually quite old (1718). This brand from the 18th century is based in Basel, the city that we all know for the annual BaselWorld show. Fast forward to 1966 (a nice overview of Favre-Leuba's history can be read here), when Favre-Leuba introduced the first Bathy diving watch. This watch featured a mechanical depth gauge, graduated in metres (50m) as well as feet (160ft) and had a screw-down type of crown, to secure the watch against water.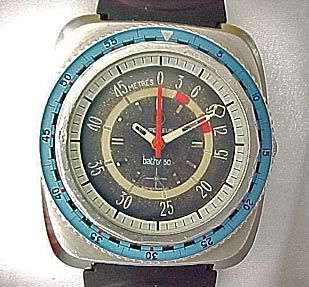 The picture above shows the original Bathy, dated 1966, with a water resistancy of 50 meters. I found this photo on a most interesting (French) website about the history of diving watches, make sure to pay them a visit: https://lesmala.net/plongee/histoiremontre.htm.
As you might have guessed, Favre-Leuba is back! The Bathy got a worthy successor in 2008, the Bathy V.2. The Bathy V.2 is a 46mm diving watch, with a depth gauge (45 m / 150 ft) and water resistant to 300 m.
In 2009, Favre-Leuba introduced the Bathy Chronograph Triple Time Zone. Based on the described Bathy V.2., but with a chronograph movement and able to display 3 different time zones. The depth gauge feature is not available for this model, too bad you might think, but I can't think of a way to include this on a watch with chronograph and GMT functionality. It would do quite some harm to the readability of the watch. The watch case is made out of titanium grade 2 and measures 46mm (diameter) and has a height of 18mm.
Considering the fact that Favre-Leuba wants to position itself amongst the serious (diving) watches, keep an eye on the vintage (Bathy) timepieces of this brand. You can find more about Favre-Leuba watches on the Favre-Leuba forum over at WatchUseek.com.
The price of this watch in The Netherlands starts at 11.500 Euro.