Feminine Watches I Love: Baby-G BG-169PB
Or my picks for the best summer watches
Summer is here, and with it comes watches suited for the season. This is another installment of my Feminine Watches articles, but it could easily be my addition to our Best Summer Watches series. The Baby-G BG-169PB collection is bright, bubbly, and certainly ready for anything summer has in store. Never mind that it's marketed for women. If you have '90s nostalgia and aren't afraid of bright colors, these watches are for you.
The first time I saw the BG-169PB watches, I had some thoughts and feelings. I was reminded of elementary school in the '90s, where a friend of mine had a Baby-G with the same rubber-coated roll cage. I was reminded of Tamagotchis — digital keychain pets that were all the rage in the late '90s — and the video game Metroid with bounty hunter Samus Aran's space armor. The Gorillaz song "Plastic Beach" from the eponymous album (though from later than the '90s) also started playing in my head. The chorus starts with, "It's a Casio on a plastic beach." I'm all about watches that make me feel something, and the BG-169PB watches had me feeling a certain way, for sure.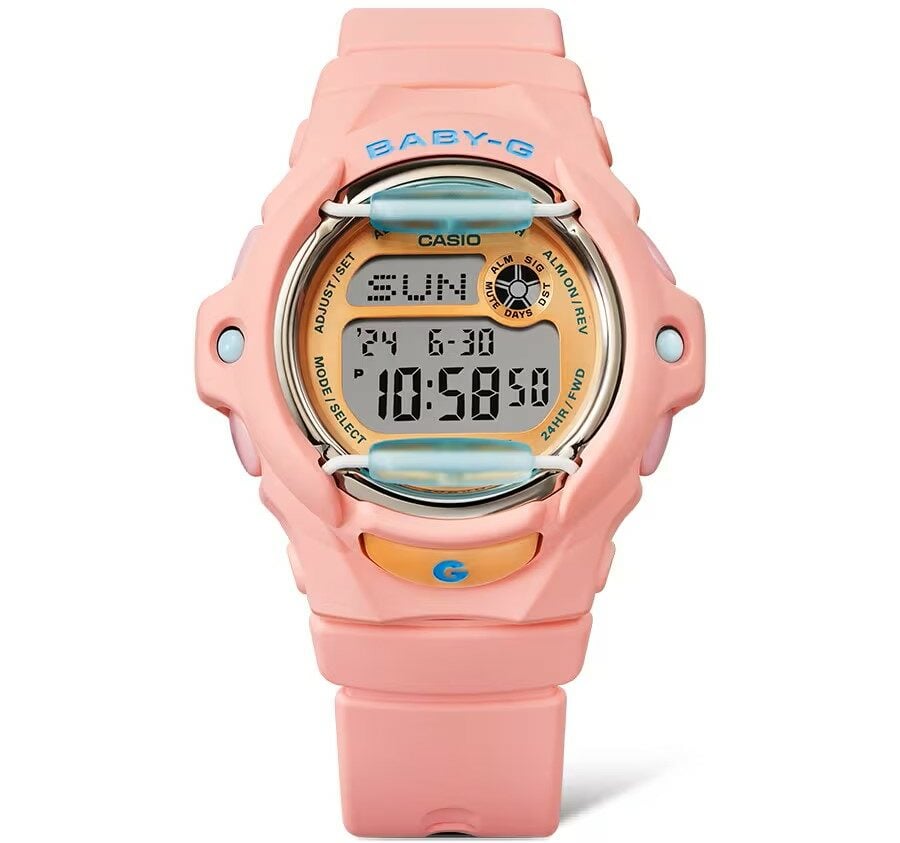 Baby-G BG-169PB — Continuous classics
The BG-169 design is not new. Baby-G scholars can trace its lineage back to the bubble movement of the mid-'90s, in which watches played a part. With minor tweaks and adjustments along the way, Baby-G has done a good job preserving the '90s like a time capsule. This is not something shared by its sibling, G-Shock, which has mostly remained rooted in the blocky, angular design language of the '80s (though the recent release of the G-B001 gives hope to us of the bubble era).
The watches employ flowing, rounded lines. Breaks in the flow serve as accent points for pushers, logos, or the completely unnecessary yet delightful dimples at 3 and 9 o'clock. The sharper lines present are from where mental references to Metroid arise. Overall, the watches read as "90s in space" to me.
"PB" means "Playful Beach"
I must have been at least peripherally aware of the BG-169 watches, as they've been around for a while. But the BG-169PB trio really caught my eye. The mix of an opaque case and jelly bumpers along with the contrasting colors of the "PB" variants turns up the playfulness factor. That's fitting too, considering "PB" stands for "Playful Beach." Though in my mind, it's "Plastic Beach."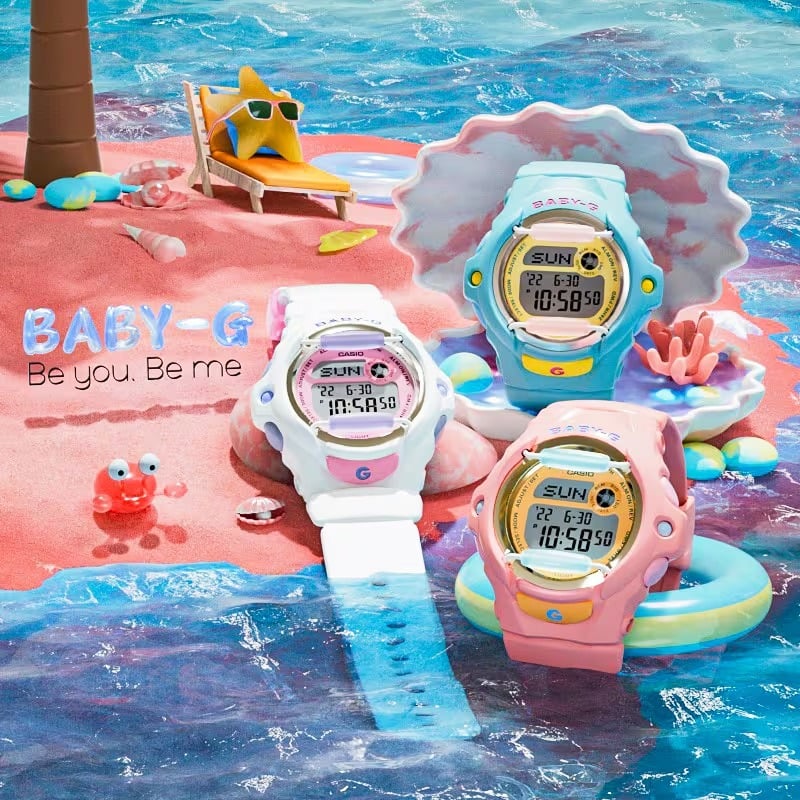 Three watches share the BG-169PB moniker. The BG-169PB-2 has an aquamarine bezel and strap with a yellow dial frame and accents and pink bumpers. The BG-169PB-4 is primarily salmon colored with a tangerine dial and accents and light blue bumpers. And the BG-169PB-7 is white, pink, and lavender. They work wonderfully as a trio, and if they were Tamagotchis, I'd say it's worth having one of each. Individually, without a digital pet living within, the white BG-169PB-7 is my least favorite. I would probably choose the aquamarine BG-169PB-2 for myself.
Less exciting modules
And I'm only half-joking about digital pets living inside the watch. Because Baby-G used to do a lot more regarding digital animals. Older and/or other models of Baby-G watches have animations that pop up on the LCD screens. The common one is a swimming dolphin, but there are also dogs, pufferfish, surfers, and more. I don't know why Casio ever moved away from this feature. For watches like the BG-169PB series, which are such strong callbacks to the '90s, a little swimming or prancing critter would be the *chef's kiss* to an already-playful watch.
But alas, we must make do with standard G-Shock and Baby-G functionality. For all their fun, the BG-169PB watches are water resistant to 200 meters. Of course, being Shocks, they're shock resistant as well. The center button illuminates the LED backlight.
Functions include the Casio standards of a countdown timer, stopwatch, world time, and five daily alarms. A "Data Bank" is also included, which is essentially a contacts list of up to five entries that include a name and number. Though perhaps outdated in today's digital age, it could serve as a secure backup for important numbers if a phone is lost or stolen while traveling. A day counter is also included, which counts down to a specific date in the future. While certainly a practical feature, I can't help but giggle at a doomsday clock within such flippant and carefree watches.
(Update July 4, 2023: I was able to get visual confirmation that the BG-169PB watches do indeed have animations in the top window, rendering the above section inaccurate.)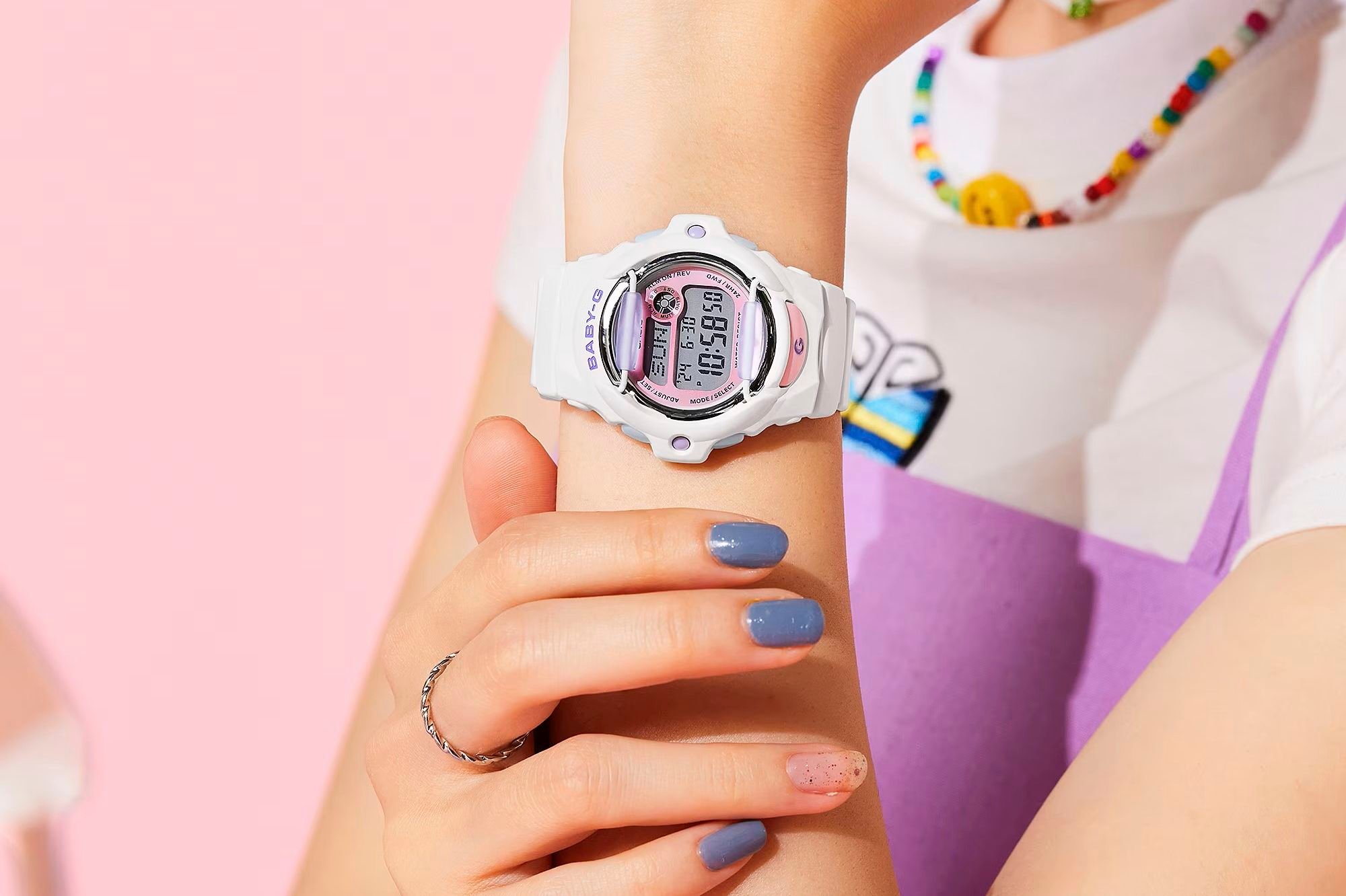 BG-169PB is for all but the "manliest" of wrists
Look, I've made the case before against gendered watches. I don't need a brand to decide which watches I should be looking at and shopping for as a male. I have strong tastes and am secure enough to unabashedly like the watches I like, regardless of colors, dimensions, and presence or not of precious stones or mother-of-pearl. Is it a good design? Does it function well? Does it make me feel something? If the answer to all three questions is yes, I'm interested. Thus, the existence of this article and the previous articles about other feminine watches I like.
…paired with a bright swimsuit, mirror-reflective sunglasses, and the beginnings of a sunburn, even the hairiest, burliest wrist could pull off a BG-169PB.
Casio markets Baby-G towards women. However, some of the watches in the line are toned down enough to just be miniature G-Shocks. The Baby-G line, with its reduced dimensions, is perfect for those with smaller wrists where a regular G-Shock might look comically large. That usually equates to women and children. The BG-169PB watches measure 42.6mm wide, 45.9mm long, and 16.4mm tall. While not small watches, they are petite by G-Shock standards.
But with the BG-169PB, there's such a strong element of '90s nostalgia and bright pastels that I think just about anyone could pull off wearing one in the right context. You're not going to slip one of the BG-169PBs under a dress shirt cuff, no matter your gender. That's not what these watches are for. But paired with a bright swimsuit, mirror-reflective sunglasses, and the beginnings of a sunburn, even the hairiest, burliest wrist could pull off a BG-169PB. It comes down to setting and confidence. A couple of colorful friendship bracelets framing the watch on the wrist wouldn't hurt either.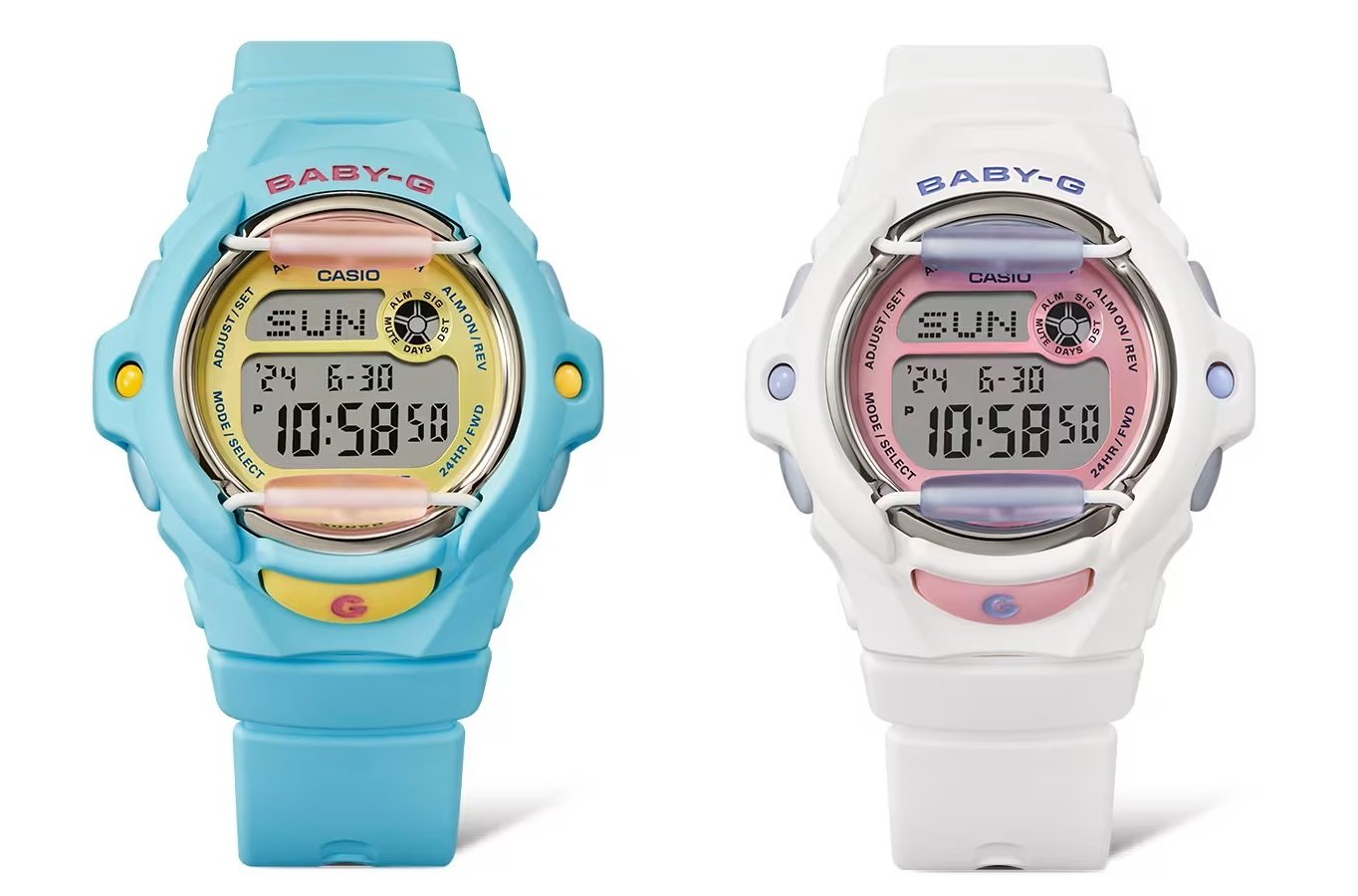 BG-169PB — The ultimate summer watch
And I know that's a lot of talk from someone who has no intention of owning one of these watches. Blame it on my minimalism and desire to keep my collection down to a few core pieces. But if I did own a BG-169PB (excluding the white one), you can bet I'd rock it. They're cool, they're capable, and my medium-to-small wrist has no qualms about having "Baby-G" on it. But it would also be a slippery slope. I'd start exclusively wearing faded Gecko Hawaii tank tops and flip-flops. Everyone would be a "bruh" to me. "Yes" would become "cheeyah," and come fall, I'd have to quit my day job and move to Costa Rica to continue the beach life.
I can't handle that sort of disruption in my life right now. The BG-169PB are just too potent summer watches for anyone but dedicated beach bums to handle responsibly. That said, if any of you feel like testing my masculine confidence and dedication to ungendered watches, you can send a BG-169PB my way. It will be a sacrifice, but I'm willing to lose my friends, family, and livelihood for the Plastic Beach. Anything for tubular waves, cool brews, and warm sand. I just gotta feed my Tamagotchi first.
Who remembers animations in Baby-Gs and G-Shocks? What's your favorite pastel plastic summer watch? Let us know in the comments below. You can find out more about the BG-169PB trio at Casio's official site. Hang loose. 🤙