Five Affordable Rolex Watches
Rolex, the most popular watch brand in the world but unaccessible for the majority of people. Of course. However, we show you the 5 most accessible and (relatively) affordable Rolex watches in this article. We notice a lot of people buying a (high) number of cheaper watches, but really long for a Rolex. It might be wise to refrain from buying all the cheaper watches you come across, and save up for something big. Something Rolex.
Five Affordable Rolex Watches
We show you five different affordable Rolex models, from really accessible models like the Oyster Perpetual to the classic Explorer and Datejust II and specific watches like the Milgauss and Air-King.
There is no reason to speak of entry-level Rolex watches. All Rolex watches today have an accuracy of -2/+2 seconds a day on average, and Rolex even gives a full 5-year warranty on this performance. There is also no difference in finish on cases, dials, hands, bracelets etc. All is of the same high quality. The difference is mainly in materials and complications. However, Rolex is careful with complications, as they focus on watches suitable for everyday wear. So no tourbillons, perpetual calendars or minute repeaters. Just watches to wear.
1. Rolex Oyster Perpetual
Introduced in 2015, the 39mm Rolex Oyster Perpetual. It is the purest Rolex you could say, no date, no chronograph, no diving bezel. Just the Oyster case & bracelet and three hands to indicate time.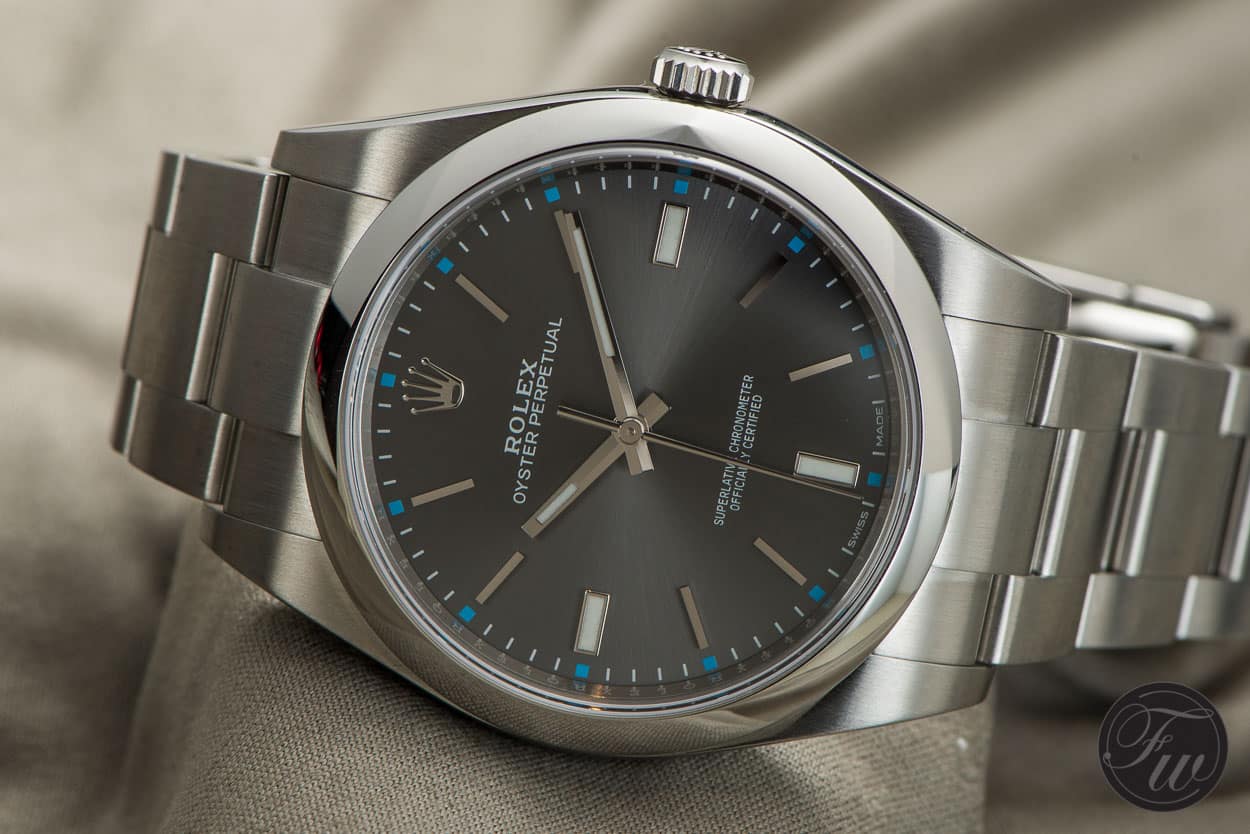 Is it the entry-level Rolex? Price wise perhaps, but it has everything it needs to be for a Rolex. 904L stainless steel case and bracelet, 100M water resistance, Twin-lock crown and the Rolex caliber 3132 movement. It has all the latest Rolex innovations like the patented blue Parachrom spring. As written in the introduction, accurate to -2/+2 seconds per day on average. The smaller versions of this watch (26mm, 31mm and 34mm) have different movements, but with the same standards.
Price of our first of five affordable Rolex watches, 5150 Euro. Available in different dial colors/combinations.
Read our hands-on article about this Rolex Oyster Perpetual 114300 here.
2. Rolex Oyster Perpetual Explorer
The Rolex Explorer is an icon. It was on the wrist of Tenzing Norgay during the first successful climb of the Mount Everest in 1953. For a long time, the Rolex Explorer was a 36mm timepiece. However, that changed in 2010. Rolex made the Explorer grow to a whopping 39mm.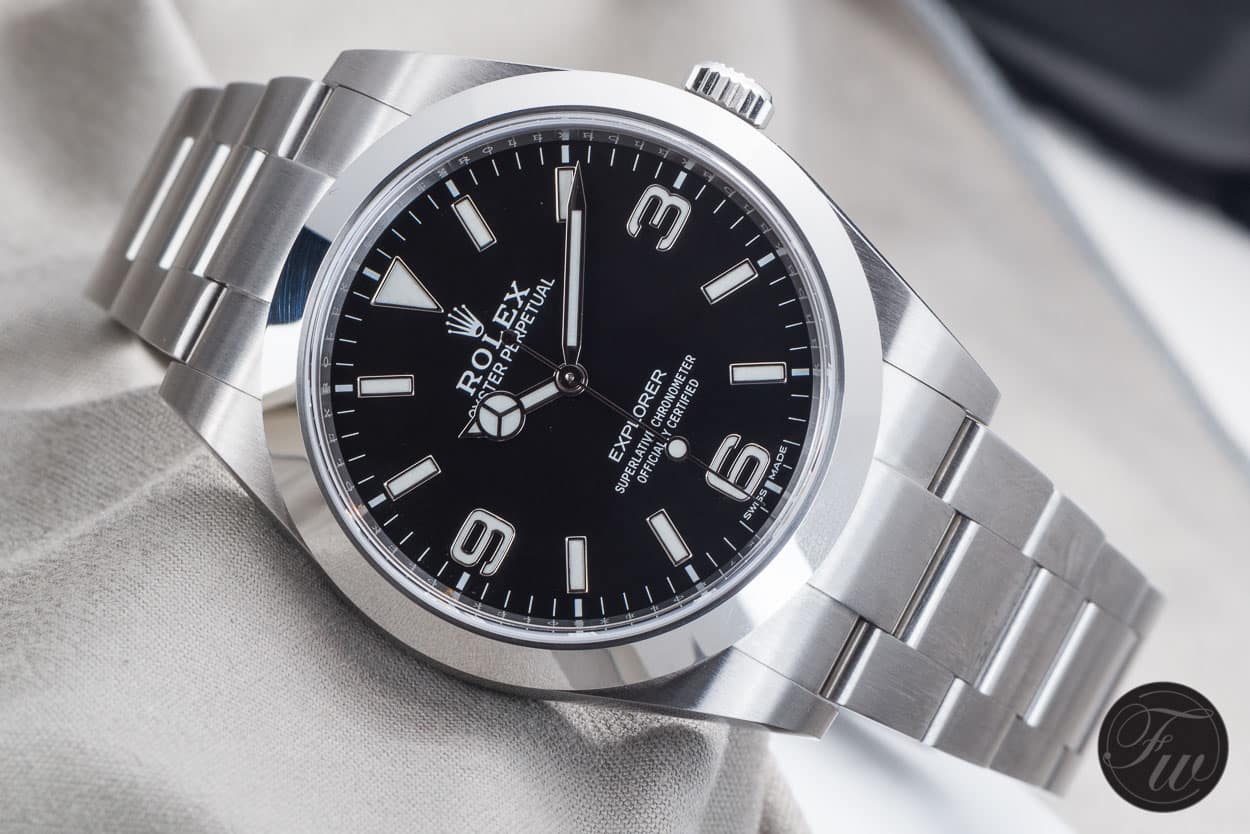 This year, Rolex did a small fix on the very same Explorer 39mm reference 214270. In the 2010 version, the hands were a bit off. Too short, according to many (including us). This new version has a set of new hands, and it immediately looks way better. Not only that, but the Arabic numerals also changed back to how they were on the 36mm models. Lumed instead of all-white gold. The movement is caliber 3132, identical to the one used in the Rolex Oyster Perpetual in 39mm. It is the purest Rolex sports watch in our opinion, and high on our want-list. Price is 5900 Euro.
We did an in-depth article on this new Rolex Explorer reference 214270 here.
3. Rolex Oyster Perpetual Datejust II
The Rolex Datejust was the first automatic watch with date, introduced in 1945. Put the first Datejust next to the current Datejust, and a child will see it is related. In 2009, Rolex introduced the Datejust II. A new design for an old friend, that grew from 36mm to 41mm.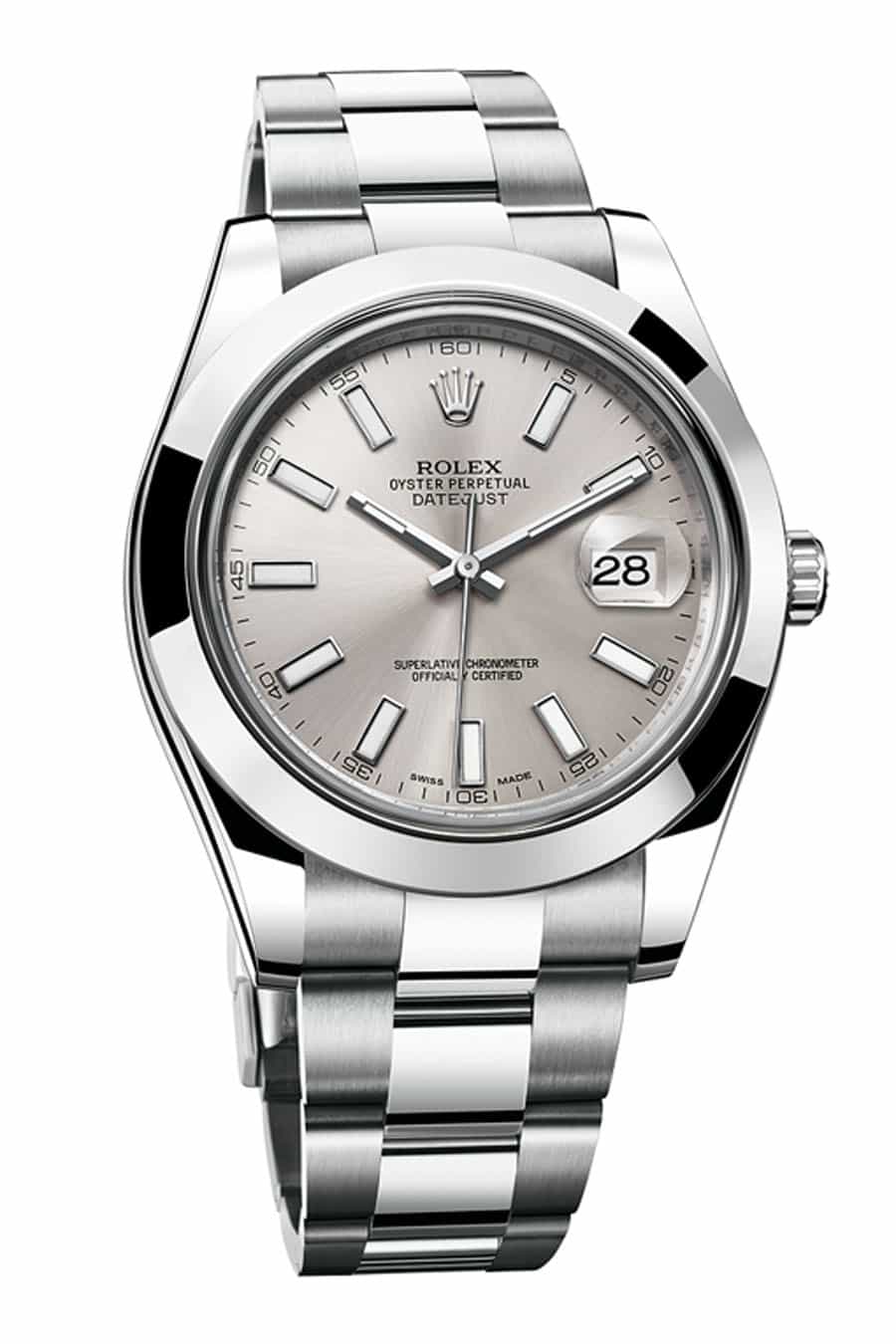 The Datejust II is a watch that is between a sports watch and a more classic timepiece (dress watch). This also means you can wear it with about any type of attire, or during any occasion. It is a very versatile piece. There is also a more dressed up version, with fluted white gold bezel and Jubilee bracelet. However, we talk about the Rolex Datejust II reference 116300, all stainless steel and with Oyster bracelet. Inside is Rolex caliber 3136, successor of the caliber 3135 movement that Rolex has been using for decades.
The list price of the Rolex Datejust II reference 116300 is 6500 Euro. The version with white gold fluted bezel, or Rolesor (gold & stainless steel) models are more expensive.
4. Rolex Oyster Perpetual Air-King
The Air-King is part of an old family of Rolex watches from the 1930s, targeted at pilots. The Air-King as we know it, was introduced in 1945, like the Datejust. However, after been discontinued a few years ago, it is suddenly back since last March. The Air-King reference 116900, the #4 piece in our five affordable Rolex watches overview.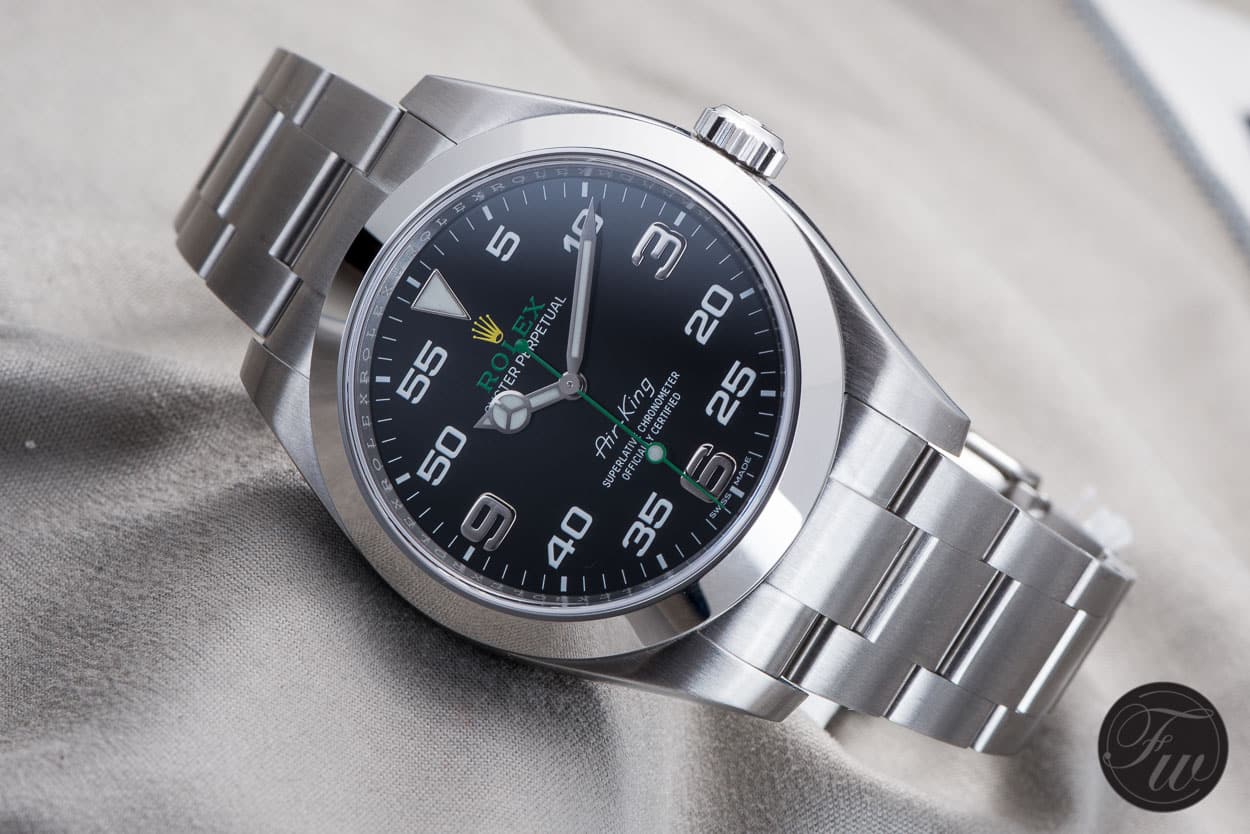 It is perhaps the most odd-looking watches of these five affordable Rolex watches, but all for a perfectly good reason (click the link below). The dial has some Explorer ingredients while the 40mm case is identical to the Milgauss case. Of course, with the same specifications. So basically it is as anti-magnetic as the Milgauss, for a lower price. The case and bracelet are made of 904L grade stainless steel and the movement inside is the Rolex caliber 3131, also identical to the one in the Milgauss.
The Rolex Air-King retails for 5650 Euro, priced between the 39mm Oyster Perpetual and the 39mm Explorer.
An in-depth write-up on this Rolex Oyster Perpetual Air-King 116900 can be found here.
5. Rolex Oyster Perpetual Milgauss
The original Rolex Milgauss was introduced in 1956, for engineers and people who worked in an environment where they could be exposed to (big) magnetic fields. A soft-iron inner case was the solution to magnetism at that point, patented by Rolex. After years of absence, Rolex introduced the new (or current) Milgauss in 2007 again.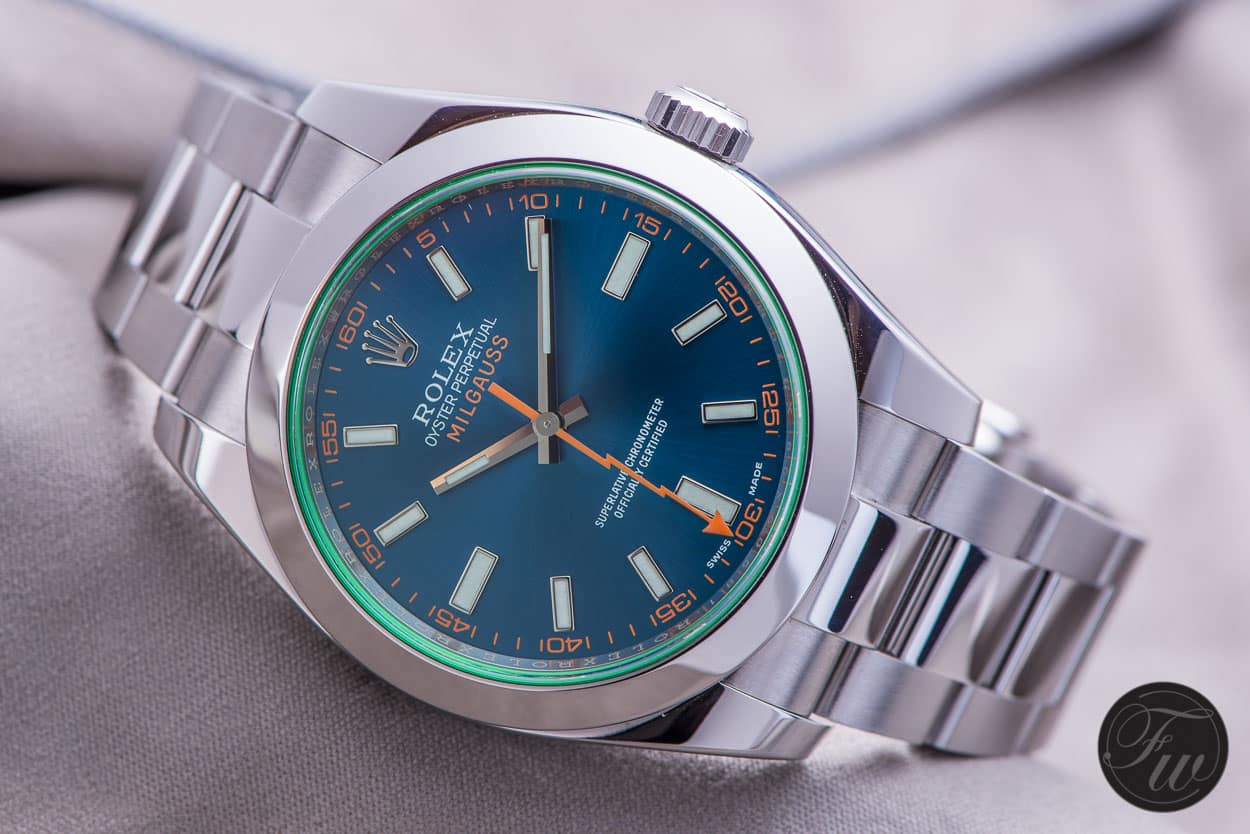 This new Milgauss, reference 116400(GV) is not only anti-magnetic due to the case, but also due to the movement that uses anti-magnetic parts. It is a watch for professional use, always was. The Milgauss is available in several variations, black dial and blue dial. Until recently, there was also a white dial version available. The caliber 3131 movement with its anti-magnetic parts, is also used in the Rolex Air-King. A watch that also shares the same case. However, it comes at a different (higher) price though. Retail price for the Rolex Oyster Perpetual Milgauss with blue dial and green sapphire crystal is 7450 Euro. It is the most expensive Rolex in our overview of five affordable Rolex watches.
*Article appeared in similar style on WatchTime.net, one of our sister publications.