Former Feyenoord Footballer Michiel Kramer Sells His Rolex For His Own Safety
A gang of thieves reportedly had their eye on his 2017 champions watch
This is a situation that is getting sadder by the day. Former forward of Feyenoord, Michiel Kramer, did not sell his Rolex Day-Date because he thought he might get randomly robbed on the street. No, he did so because one of the convicted members of the so-called Rolexgang (who is currently serving a one-year prison sentence for robbery) confessed that Kramer was on their list. They were already tracking Kramer's movements with a plan to rob him of his watch. It was the certainty that he would get robbed that pushed him to sell — for Kramer it was not a "what if?" It was a "when?"
Footballer Michiel Kramer was not the only target, many other local celebrities are also on the radar of these Rolexgangs (you read that right, there is sadly not just one). In some cases, their attempts go horribly wrong. The list of victims includes a Dutch singer, a well-known person in the Amsterdam hospitality and catering business, one of the former wives of footballer Ruud Gullit, and many others. These people have been robbed, often violently, of their Rolex watches, often leaving them not just physically hurt, but also psychologically scarred, and understandably so.
Sad times for the 2017 champion
In the local newspapers last week, a number of articles were published regarding Michiel Kramer's "champions watch". They discussed the fact that he sold it a few months ago for safety reasons. The watch is a rather special Rolex, in the sense that it was personalized for the 2017 Feyenoord team players. Feyenoord became the national Dutch champion in 2017. Its players were awarded a Rolex Day-Date with a personalized dial and an engraved case back to commemorate their success. In his case, the dial has the initials "MK" positioned next to the 9 o'clock hour marker. And on the case back it says: "Kampioen van Nederland 2016 – 2017 Eredivisie", which refers to the team's victory in that season of the Dutch premier league.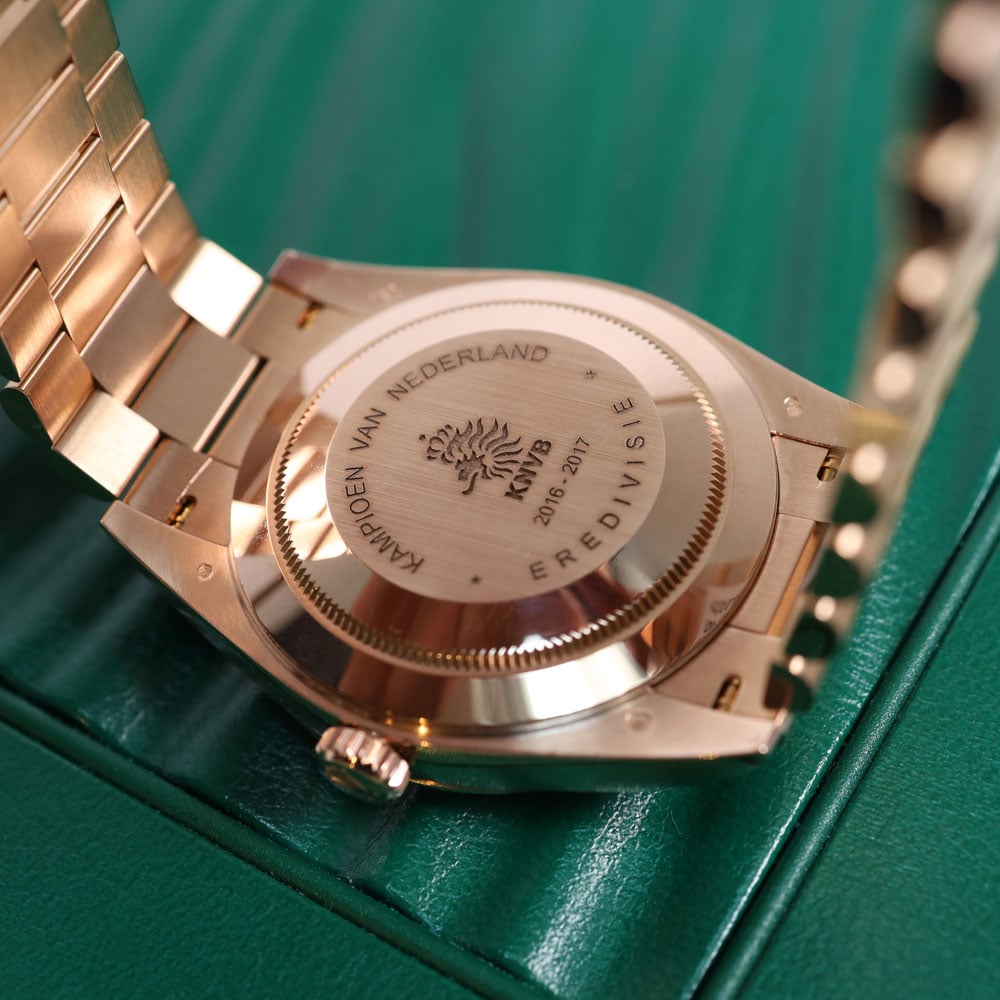 It is a sad enough thing that someone must feel forced to sell his watch. But especially when it comes to a watch that certainly held a lot of sentimental value. Michiel Kramer stated that he feels unsafe during his testimony in the trial for another robbery case. The victim here was former footballer Rene van der Gijp (a.o. PSV and the Dutch national team).  Van der Gijp gave his account of how the robbers were waiting for him to come home. When he drove up to his house, they attempted to smash his car's windows with hammers. All this to try and rob him of his watch and other valuables. He was, fortunately, able to get away but experienced some very scary and traumatizing moments. It also made Kramer realize that he doesn't want to jeopardize his and his family's safety over a watch.
Sold to the highest bidder
The champions watch of Michiel Kramer is now up for sale on the Burger watches website. It is listed at a whopping asking price of €51,000. It's a 40mm Rolex Day-Date reference 228235 in Everose gold with a brown dial and a President bracelet. It has Rolex caliber 3255 inside and comes with all the boxes and paperwork. You can find the watch offered here.
Reading stories like this makes me feel both truly disgusted, by the actions of the criminals in the so-called Rolexgangs, but also broken-hearted. Not only for Kramer or anyone else who feels as though they have to get rid of a prized possession for their own safety but also for all other watch collectors and enthusiasts. Nobody should have to feel unsafe in this way. It is a real shame that things are getting to a point where those of us who share this passion for watches feel as though we have a target on our back.
Feel free to discuss your thoughts on the matter in the comments below.
Header image (c) by ProShots