Introducing The Fortis Marinemaster M-44 In Three New Colors — Woodpecker Green, Ocean Blue, And Black Resin
Along with a Black Resin Gold Limited Edition
The Fortis Marinemaster M-44 is big, bold, and beautiful. And the beauty is also functional, as you would expect from Fortis. There are three new colors available for the Marinemaster M-44 — Woodpecker Green, Ocean Blue, and Black Resin. Technically speaking, black is not a color but a shade, but when you add an 18k yellow gold bezel, as Fortis did with the Black Resin Gold Limited Edition version, it certainly presents itself with a lustrous hue. Fortis takes the tool-watch theme very seriously but, at the same time, doesn't forget to have fun during the work break in style.
Last year, Fortis introduced the all-new Marinemaster in two sizes — 40 and 44mm. In particular, the latter has all the specs of a tool watch. But you had to like the color Amber Orange, the Fortis-specific, sole color option available. But the fact that Fortis chose orange accents for the debut of the Marinemaster 44 actually makes perfect functional sense. Orange not only symbolizes security and safety at sea — think lifeboats, for instance — but it is also known for its fantastic visibility underwater. Plus, several sources on Google will also suggest that "orange increases oxygen supply to the brain, creates an invigorating effect, and stimulates brain activity," all things that help keep a diver on its toes. But if your life doesn't depend on your watch and you really don't like orange, the flamboyant color could possibly be a deal-breaker. Enter the black-dialed Marinemaster M-44 with flanges in Woodpecker Green, Ocean Blue, and Black Resin.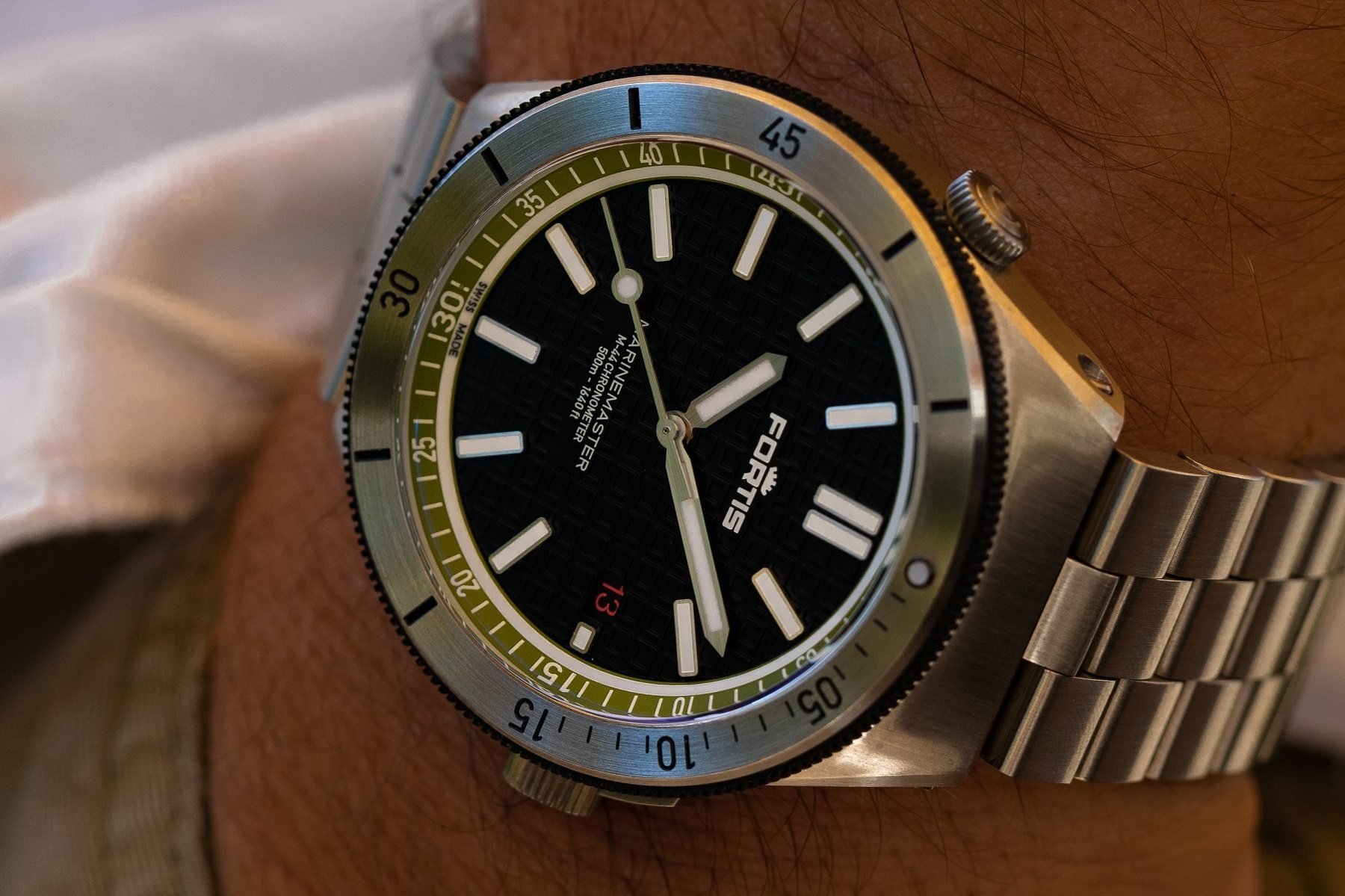 New colors for the Fortis Marinemaster M-44
Sure, the Marinemaster M-44 is a highly capable dive watch. The case made from recycled steel is water-resistant to a depth of no less than 500 meters. But from that impressive fact, you can also distill that it is a super-robust sports watch that you can take almost anywhere. On a hike, for instance. Picture yourself in a remote, mountainous forest with the sun slowly setting. What would be perfect in that rugged landscape in a shady low-light situation? The Marinemaster M-44 in Woodpecker Green. The green that Fortis uses is a muted shade that blends in. But fear not, there's plenty of strong and bright Super-LumiNova on the hands and indexes to keep track of time when it gets dark.
Contemporary connection with the past
I'm not going to elaborate on the new color option called Ocean Blue because that's pretty much self-explanatory. "Rose are red, dive watches are blue," you know? And vintage dive watches are black. That's where the inspiration for the Marinemaster M-44 Black Resin comes from. In this retro-tinted shade of black, the Marinemaster connects with the rich history of dive watches in a contemporary way. The bold pattern of the waffle dial certainly is modern. At first, you might feel that the repeating "O" from the Fortis logo as a background is a bit too much for a tool watch. But once you wear the watch, the dial pattern is not going to be a distraction. The pattern adds texture, depth, and even (hypnotic) calmness and is therefore functional; you won't panic reading the time underwater and under pressure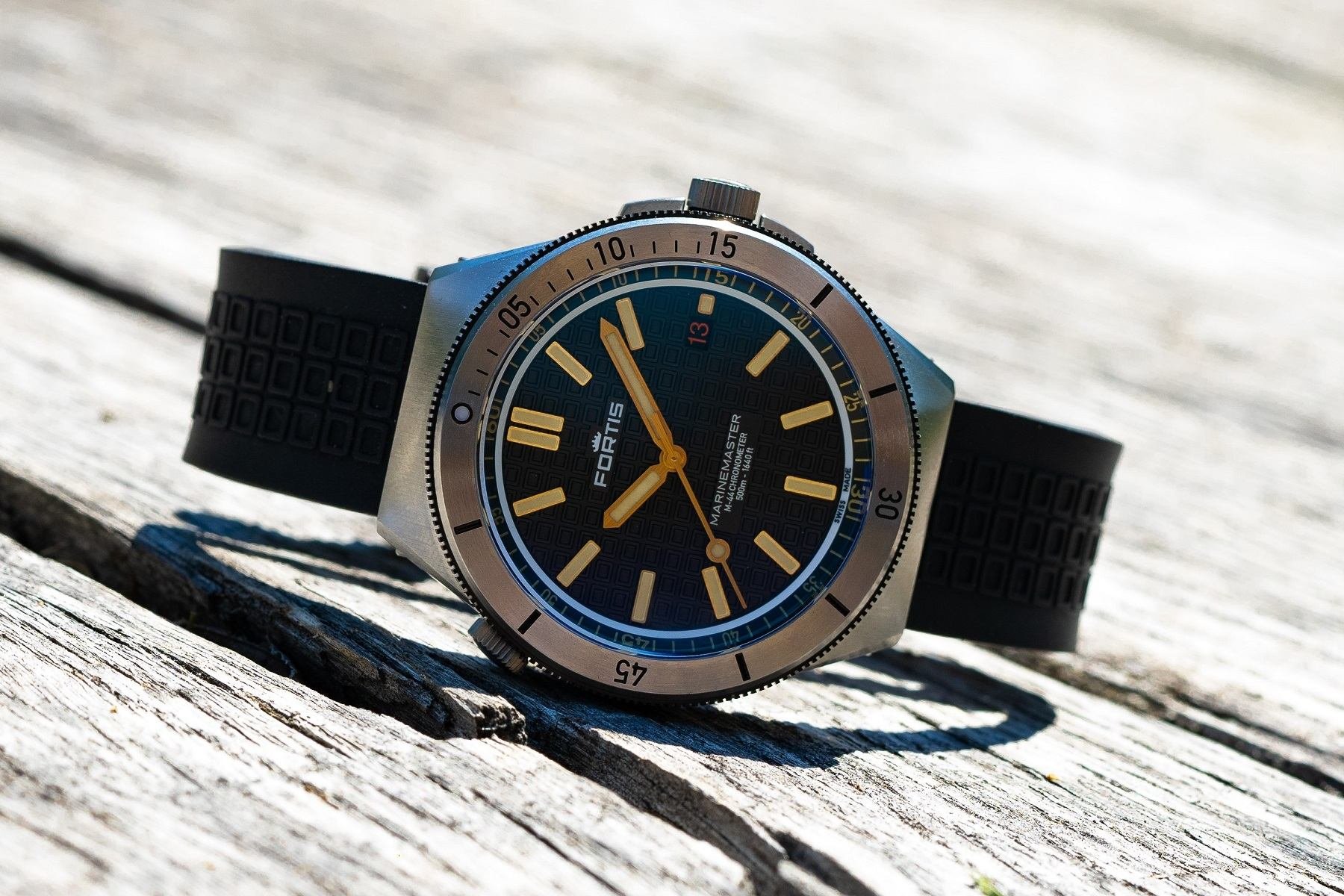 Another nice touch on the waffle dial is the date indication. No matter which variant you choose, the 13 on the date wheel is always in Fortis's signature Berlac Fluor Orange.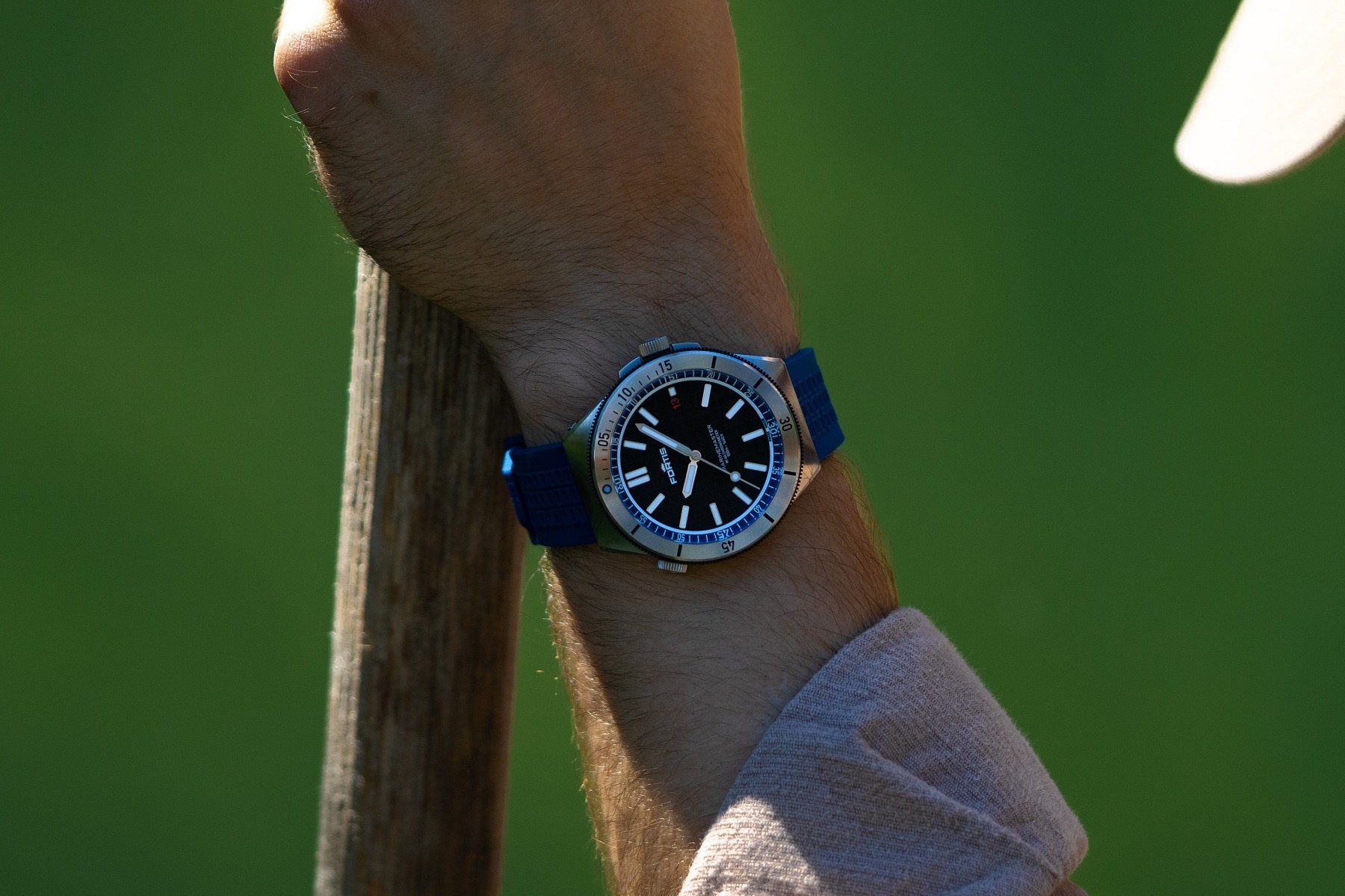 Modernity and safety first
Contemporary features include the shape of the case, the sturdy three-link Block bracelet with a quick-adjust Slide Clasp, and the very comfortable rubber strap with a folding clasp. A technical touch is the bidirectional Gear Bezel with a luminous pip at 12 o'clock and the Fortis Lock System. The crown at 10 o'clock locks and unlocks the diving ring, the Marinemaster's patent-pending extra safety feature.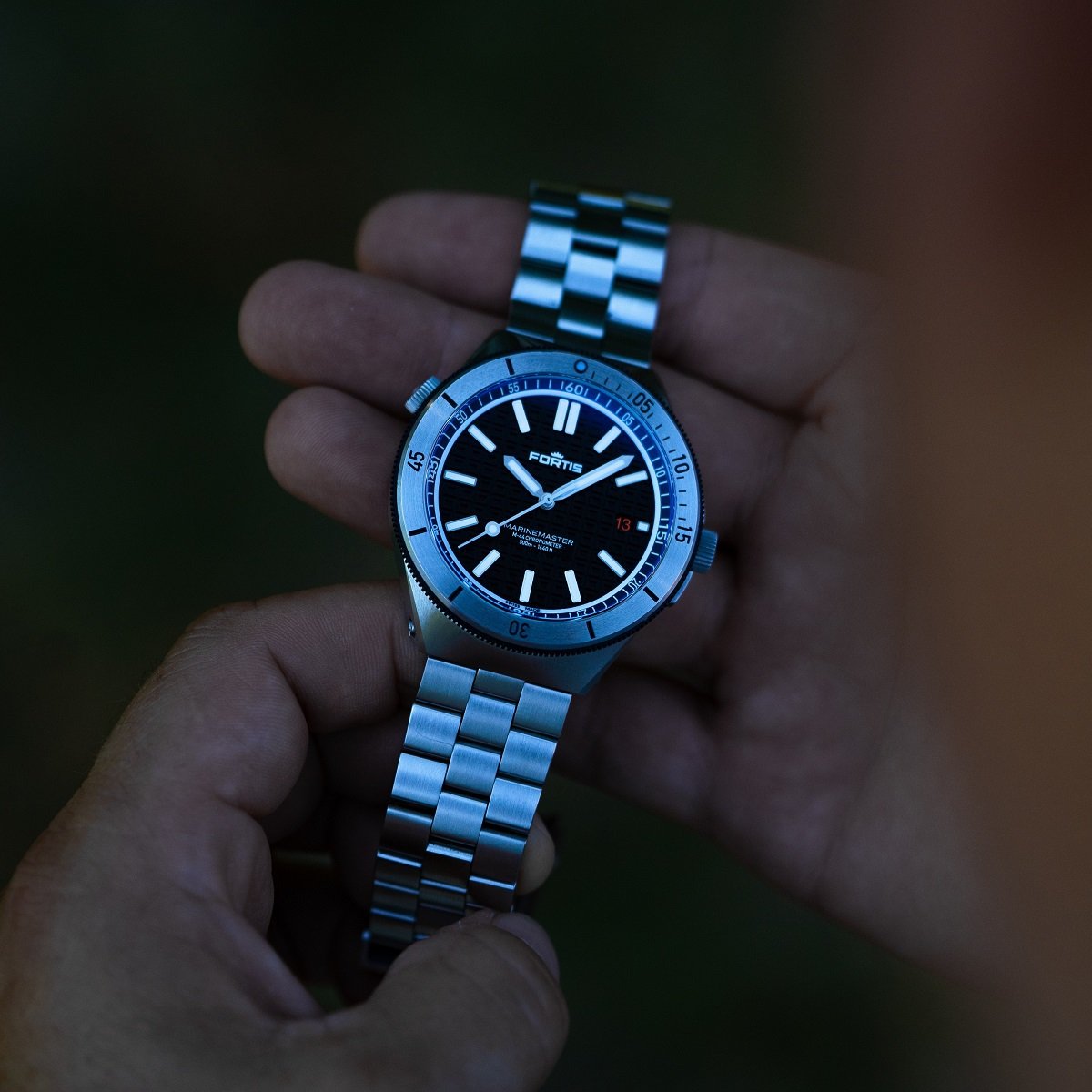 Even the movement is a safety feature inside this watch because it's a chronometer-certified automatic caliber with a power reserve of 70 hours. That means you won't run out of "juice" underwater, and it will run spot on. This caliber is called WERK 11. It's made by Kenissi and was designed and tested in conjunction with Fortis, keeping robustness and reliability in mind. And that shows in how the movement was constructed. The traversing balance bridge with a two-point fixation, for instance, improves shock resistance and allows precise balance positioning.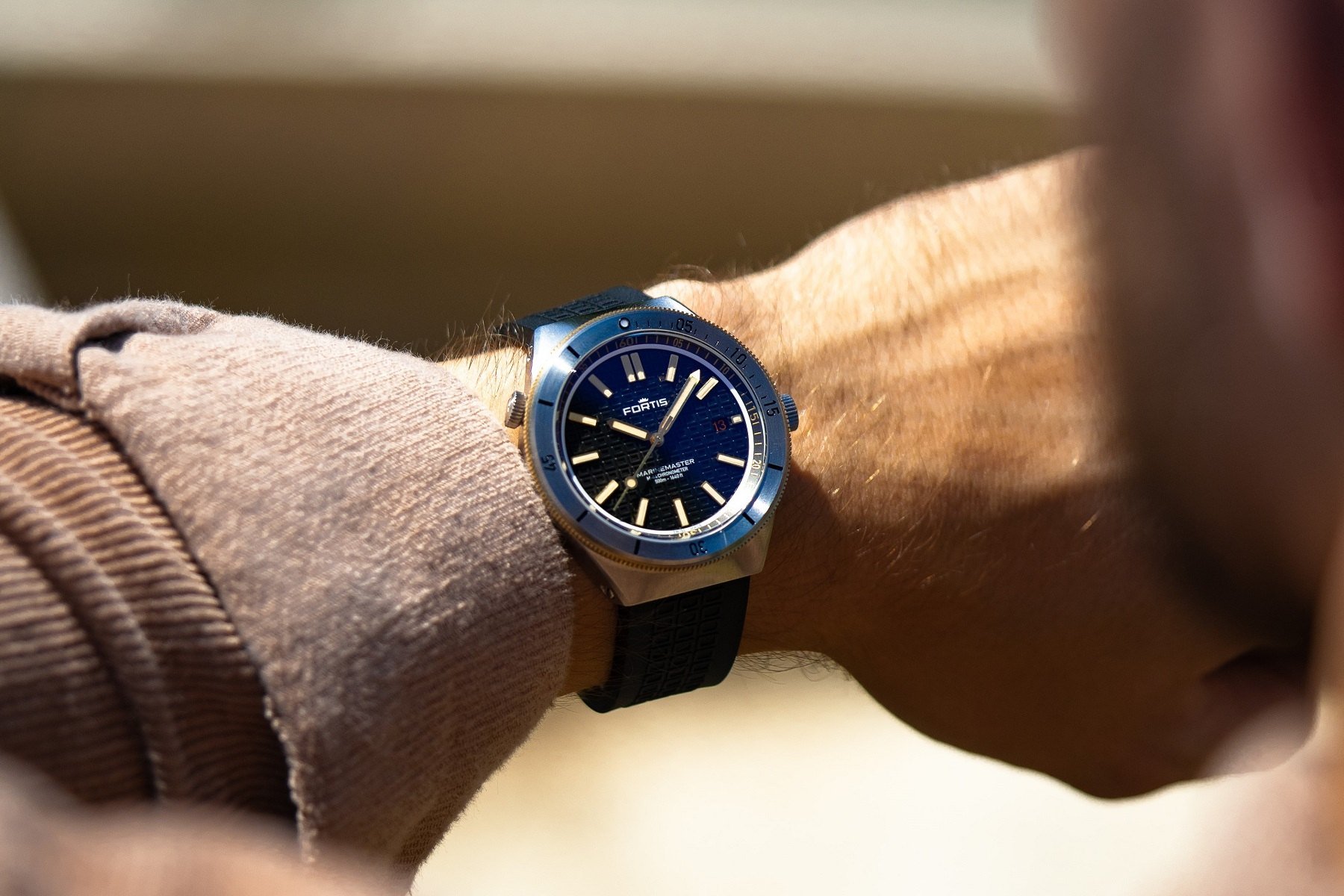 The suave Marinemaster M-44 Black Resin Gold LE
Apart from three new dial variations, Fortis also launches an exclusive version of the Marinemaster M-44. Instead of a bezel in recycled steel, the Marinemaster M-44 Black Resin Gold Limited Edition is outfitted with a dive ring in 18k yellow gold. And Fortis doesn't "go gold" in the most exuberant way but in a more sophisticated and understated way. The side of the textured bezel produces a golden glow that adds warmth and stature to the watch. And just like the full-steel Black Resin model, this 50-piece limited edition has golden Super-LumiNova to make a visual connection with famous dive watches of the '50s and '60s.
The suavest of all new Marinemasters doesn't forget its functional background, either. Just like its "simpler" full-steel brethren, it's outfitted with a triple-gasket screw-down crown, shock protection, and a sapphire crystal with anti-reflective coating on both sides.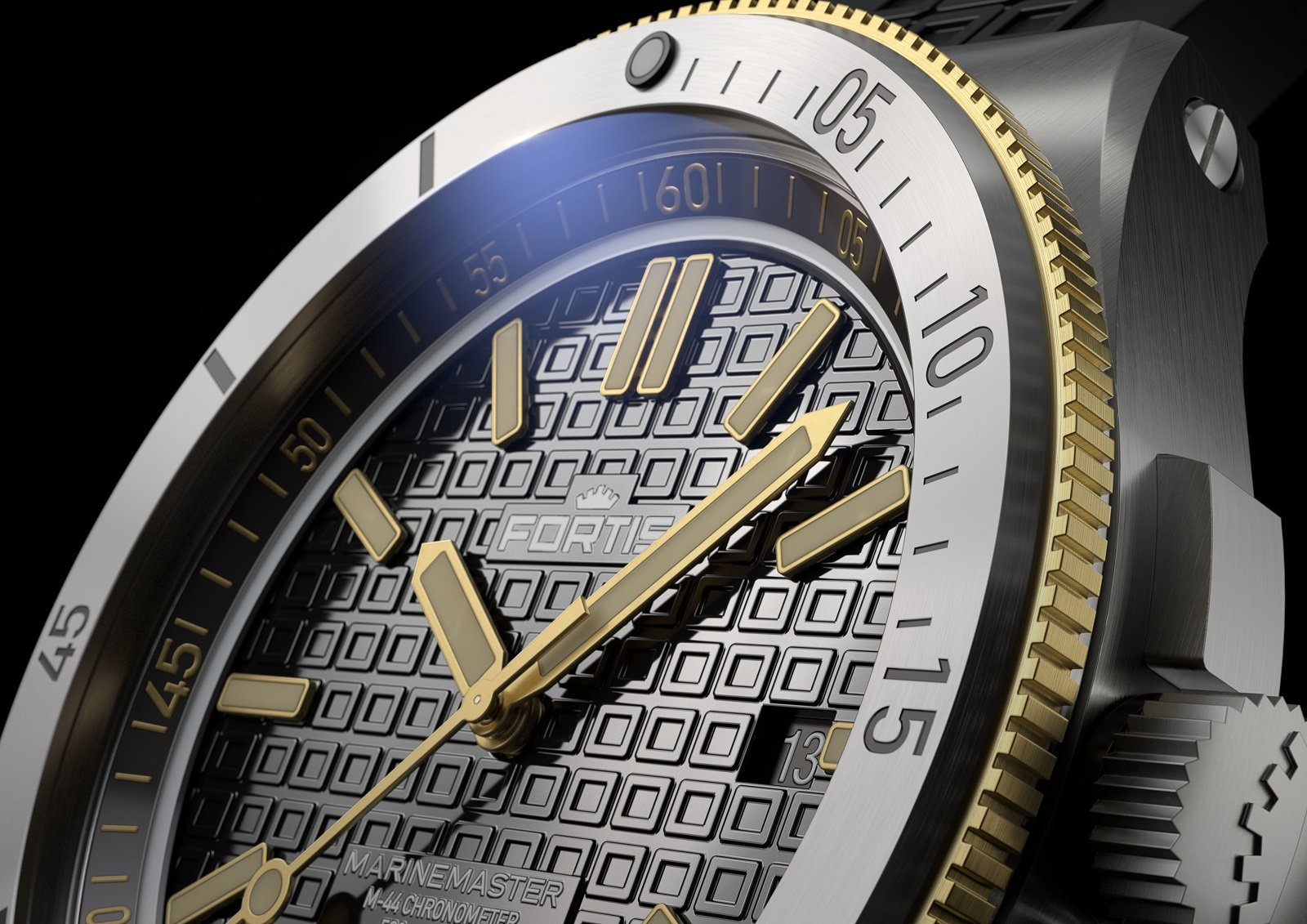 The Fortis Marinemaster M-44 Black Resin (F8120017), Woodpecker Green (F8120019), and Ocean Blue (F8120021) on color-coordinated rubber Horizon straps each have a price of €4,250 (US$4,150). On a steel Block bracelet, the price of all three color variations is €4,600 (US$4,500). The limited-edition Marinemaster M-44 Black Resin Gold (F8120015) has a price of €6,500 (US$6,300).
For more information, please visit the official Fortis website.
Find and follow me at Lex Stolk • Instagram.
This is a preferred-position post. Learn more.